In this digital age, inviting friends and family to a special occasion is now as easy as sending them an email or a link to a web page. For those who prefer a modern way of sending invites as opposed to the more traditional ones sent by post, Erly is a great option. The web service is free, easy to use and flexible enough to suit any event that matters to you.
Let's see how Erly puts out great event invites that is sure to catch anyone's attention.
You can create a free account by going to Erly and registering with an email address, or you can log in using your Facebook credentials. The welcome page defaults to the Updates tab, which will initially be a blank page with the Create Event button on the top right corner. To see any existing events, you can click on the Events tab.
There are two event categories to create: Past Event or Upcoming Event. Past Event lets you create a photo album and Upcoming Event lets you create invitations. This makes Erly great not only for a future event, but also for keeping an online archive of past events that you've organized and may want to refer back to from time to time.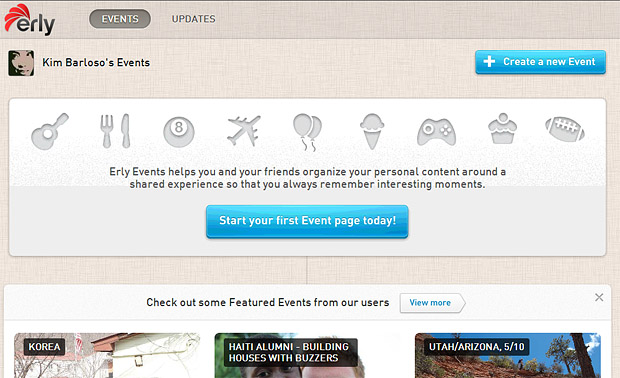 However, there is no doubt that this app's usefulness lies in its ability to create beautiful and simple invitations for any occasion. When clicking on the Create Event button, you are then prompted to put in details about the event, including the name, date and location (powered by Google Maps).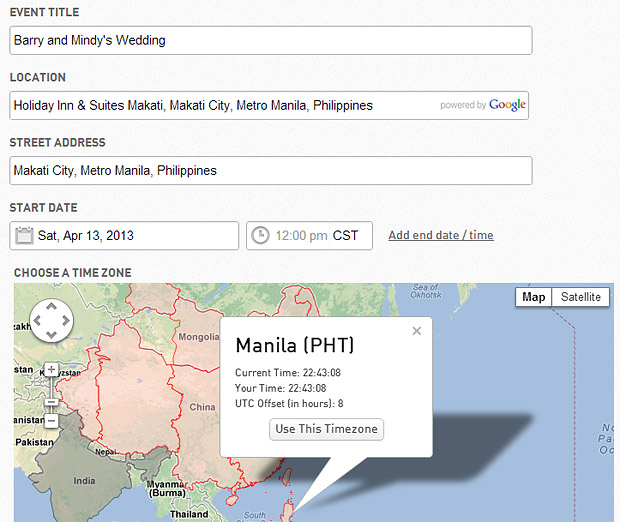 More security options are added below, such as hiding the guest list from other guests, and assigning a password for the invitation. Once done, you can click the Continue button and proceed with designing your invite.
The design interface for this app is impressive for both novice and advanced web app users. First, you need to pick a background image. You can use the ones from the app, search from the web, connect to other photo sharing sites (Flickr, SmugMug or Instagram) or even upload an image from your computer. There are some good selection of photos from the app itself, but if you opt for a more personalized feel, it's probably best to upload your own photo.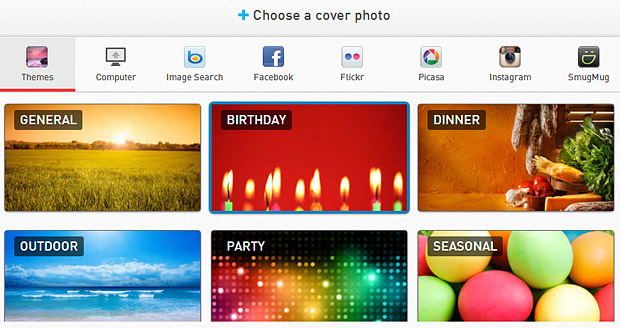 The photo will be your invite's background image, so make sure its resolution is high enough for it to look great. After choosing an image, the app will now lead you into editing mode where you can further customize other elements of the invite including font face, size and color. Hover over the event details box to see your options. You can also drag the event box's handle to move it to another place within the invite.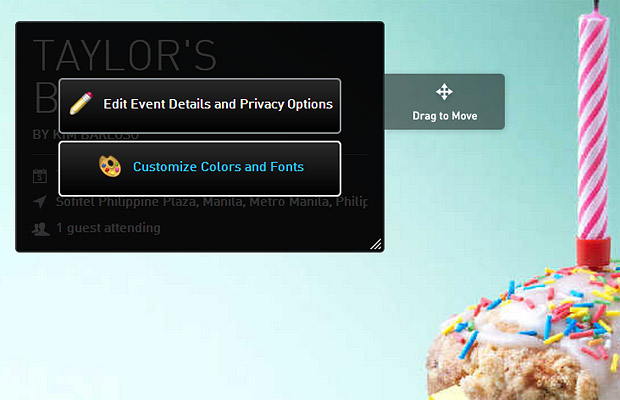 When finished, you now have the option to send the invitation by email. If you don't want to go through the hassle of manually typing email addresses, there is an option to import your contacts from Google or Yahoo. You can also add a note to go with it — something that adds a personal touch.
Even after editing your invitation's design, you can still go back and change it by clicking on the Customize Appearance button. A sliding tab on the right side allows you to add more content (photos, links and videos) and the tab on the bottom lets you view a special update page for your event, showing most recent activities from guests or the organizer. You can also invite more guests from here, or send existing guests updates about the event.
The emailed invite appears almost the same, except it will have response buttons (Yes, No, Maybe) so guests can either confirm or decline the invitation.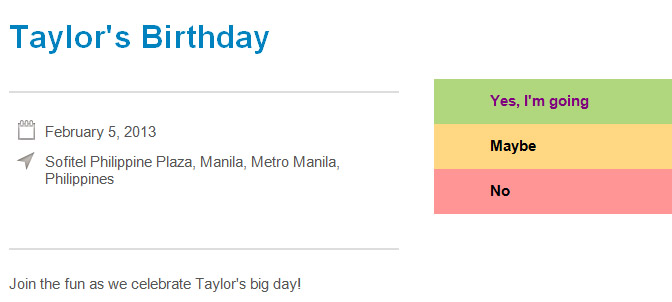 Although Erly's appeal is for creating interactive invitations, it's worth mentioning that it's also an excellent way of storing photos of past events. What's even more impressive is the many ways you can upload images — either uploading from your computer, from your Facebook albums (and your friend's albums), from your Instagram photos, or even from a Dropbox link.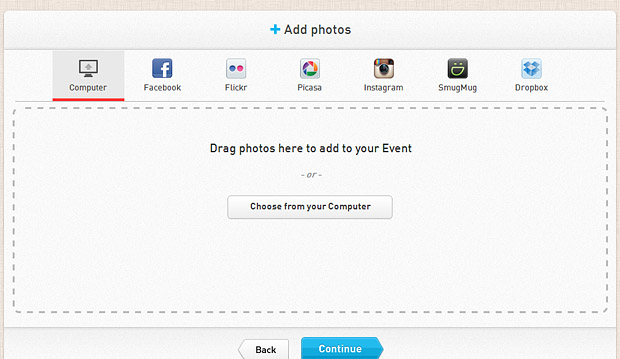 You can add photos to an event by emailing it to [email protected]. Just make sure to put the event name on the subject line and use the email account that's registered with Erly.
By default, guests who has been invited to an event or an album can add content. The event owner, however, is the only one who can change privacy settings, add or delete events and albums.
There are many things to like about Erly's event creation service, but one that stands out for me as a new user is how easily I navigated in and out the pages. The interface is attractive as it is simple, and I always felt guided with every step.
I also liked Erly's good mix of great design and social integration. With Facebook, Instagram, Flickr and Dropbox support, it made content creation so much quicker and did not feel like you had to build everything from scratch.
I would have liked to see more customization options, such as different themes and layouts, as I found the default layout to be a bit limiting in terms of design ideas.
Overall, Erly is an excellent way to celebrate events collaboratively, before and after they happen. The interface is simple but powerful; it has integration with a great number of photo hosting sites; and most importantly, it provides privacy for sharing only with people you choose.