There are a lot of tools and services for creating websites today. However, none of them are as popular as WordPress. In fact, WordPress powers around 43% of all websites: that include hobby sites, official government websites, and the biggest news websites. Some examples of websites built with WordPress are The White House, Rolling Stone, and the PMO India website among many others.
WordPress is popular for a large variety of reasons like making content management incredibly easy and user-friendly. There is also a huge community of people in the ecosystem ready to help others. Over 55,000 free plugins help extend the core functionality of WordPress to allow you to do almost anything you like. There are a lot of themes that you can install in order to get your website up and running quickly.
All these features mean that WordPress will take care of many time consuming tasks and save you a lot of time when you want to create regular websites. In this article, we will learn about website builders which are another important part of WordPress ecosystem.
What are WordPress Website Builders and Why are They Useful?
People usually want their websites to stand out not only in terms of the features and content that they provide but also in terms of design. It is easy to add your own unique content to a website built using WordPress. All you have to do is create a new post or page and then hit publish. Additional functionality can also be integrated into a website using a combination of thousands of free and premium plugins.
Creating unique page layouts is a bit different. You will need to have a decent knowledge of CSS in order to create complex layouts. This is where WordPress website builders prove helpful. WordPress website and page builders are plugins that you can use to design your own website layout using just drag and drop functionality. They come with built-in content blocks to quickly create sections such as FAQs, galleries, testimonials, carousels, and tabs. Many of them also have the option to load templates for entire pages where you just fill in the content you want.
In short, WordPress website builders are useful for people who want control over the design of their website but have no or little coding experience. These website and page builders can save you a lot of time if you are designing regular websites.
In this post, we will give you a brief overview of the features available in different popular WordPress page and website builders.
Elementor
The Elementor WordPress website builder comes with a free as well as premium version. This allows you to give the lite version of the plugin a try before making the purchase decision. You can get the free Elementor version from WordPress plugin directory.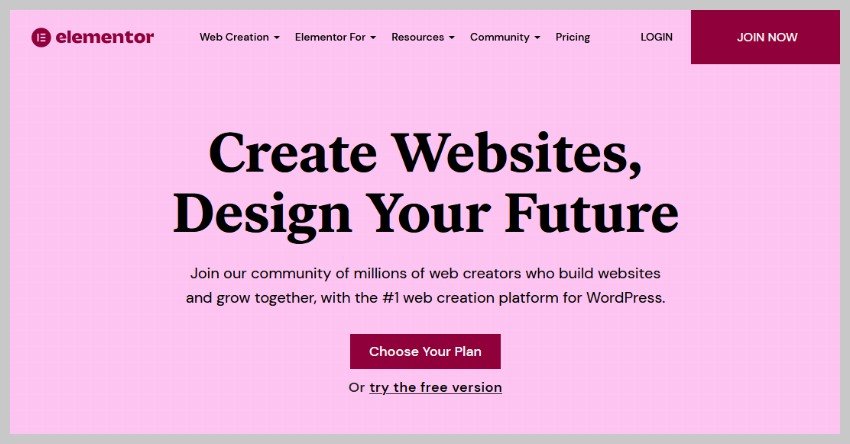 Here is a list of some of its features from the free version:
Drag and Drop Editor—Elementor is a drag and drop editor which means that you won't have to tinker around with any code to create a layout of your choice. It is responsive and supports live editing so that you can instantly see how the edits you make affect the look of your website.

Global Site Settings—The plugin offers some global site settings you to easily update the color, font and layout options. There are a lot of options available for you to change the value of almost all CSS properties of different elements.

Landing Page Builder and Templates—There are a bunch of different templates for included in the free version to help you create landing pages from start to finish. You also get specific UI blocks to create sections for FAQs etc. and place them anywhere you like.

Other features of the free version include the ability to mark widgets as favorites to find them easily. You can also put your website in maintenance mode and display a coming soon templates while making any changes.
The premium version of the plugin takes things a step further and comes with a built-in theme builder. You can use it to easily make updates to different pages and parts of the website like the archive page, search result page, header and footer etc. There is an option to add custom CSS to make any layout related changes to the website.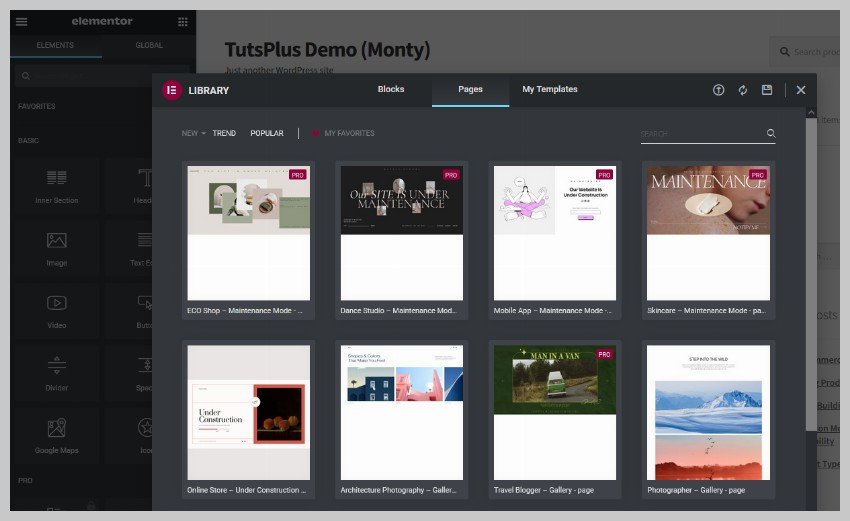 While the free version comes with just the landing page builder, the premium version offers a popup builder, form builder and WooCommerce builder. The popup builder has over 100 different templates and you can design your own popup from scratch.
Visual Composer Website Builder
The Visual Composer website builder is another great option for anyone without coding skills who wants to design their own website. This plugin also offers a free and premium version so that you can try out some of its features before going ahead with the purchase of the premium version. You can install the free version available on WordPress to see if you like it.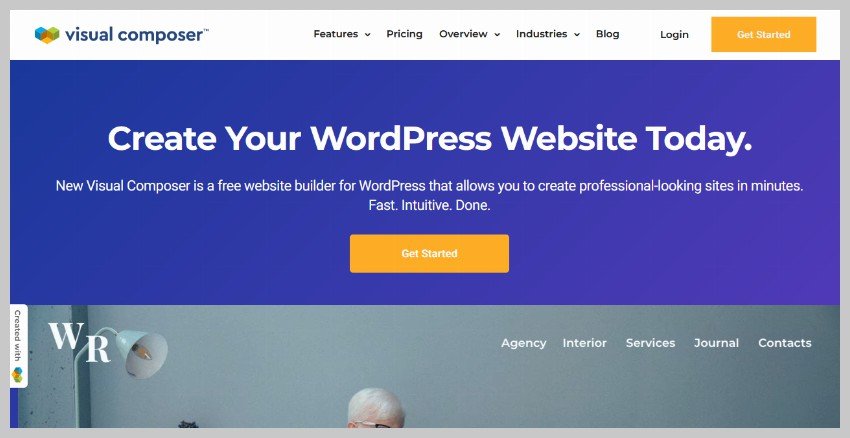 Here is a list of some of the features in the free version of the plugin:
Well designed UI—The UI of the plugin is very well designed so you will like working with it to create your websites. It is easy enough for beginners to use and powerful enough to keep handle the needs of professionals.

Drag and Drop Editor—I guess a drag and drop editor is expected in all website builders and visual composer also comes with its own implementation of the same. The layout changes you make within the plugin are reflected instantly in the website design.

Custom CSS—The plugin allows you to add custom CSS via the editor settings. The CSS can be applied locally or globally to either a single page or the whole website. This is very helpful for people who know how to work with CSS.

Most Used Elements and Recent Colors—Every website follows its own color scheme so it makes sense that you will use a specific set of colors for one website. Visual composer keeps tracks of your recently used colors and most commonly used elements to make it easier for you to access them again.

Visual Composer Hub—This is a cloud-based marketplace that you can access from within the plugin. It comes with a lot of elements, templates, add-ons and integrations for you to use in your website.
The premium version of the plugin comes with tools like a popup builder, theme builder, header editor, and footer editor. The theme builder allows you to create unique layouts for pages and posts. You can even overwrite theme-defined designs and apply your own custom layout globally.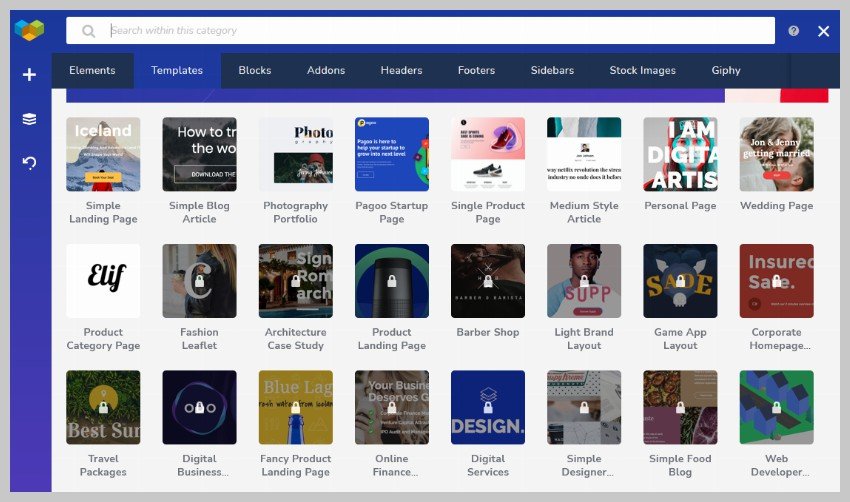 The premium version also comes with a WooCommerce editor as well as interesting design options such as advanced parallax effect. The free version also gives you the option to add gradient, image or video backgrounds.
WPBakery
The WPBakery page builder is another great option if you are looking for a WordPress plugin to design the layout of a website yourself. The plugin doesn't have a free version but it is available on CodeCanyon for a one-time fee making it cheaper in the long run. Another option is to buy a theme like Eduma from the CodeCanyon marketplace which comes bundled with WPBakery. This way you can get a lot of value out of one purchase.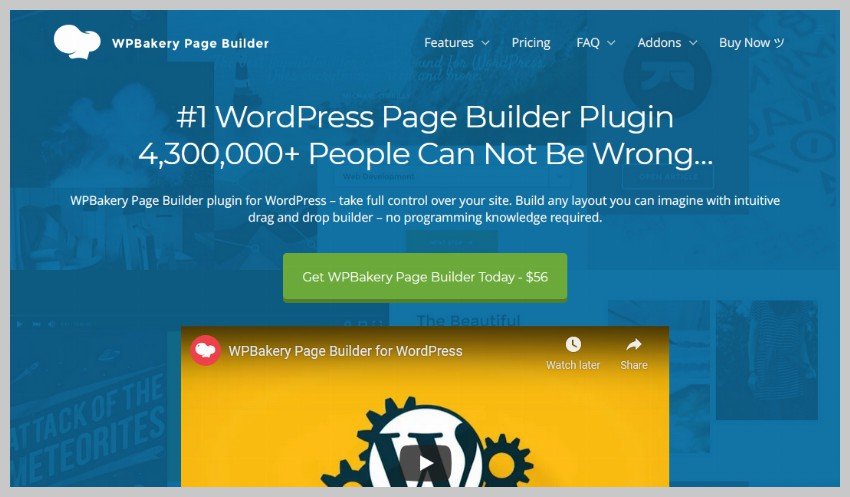 Here are some of the features of the WPBakery page builder plugin:
Drag and Drop Page Builder—You can build all kinds of complicated layouts using WPBakery by simply dragging and dropping elements around. You can also see any changes you make instantly.

Inline Frontend Editor—I really like the inline front-end editor in WPBakery. It has an intuitive design making it very easy to use. There is a consistency in the design of the UI that makes all the settings easily accessible.

Powerful Backend Editor—The backend editor of WPBakery is equally good and powerful. It gives you a simplistic view of the whole layout in a schematic manner.

Content Elements—The plugin comes with over 50 built-in content elements for you to add to your website with the click of a button. Each of them has multiple options to fully customize the overall layout.

Template Library—The template library is useful when you don't want to create entire pages from scratch but simply modify preexisting professionally designed templates. It also contains other content blocks like profile descriptions, hero sections etc.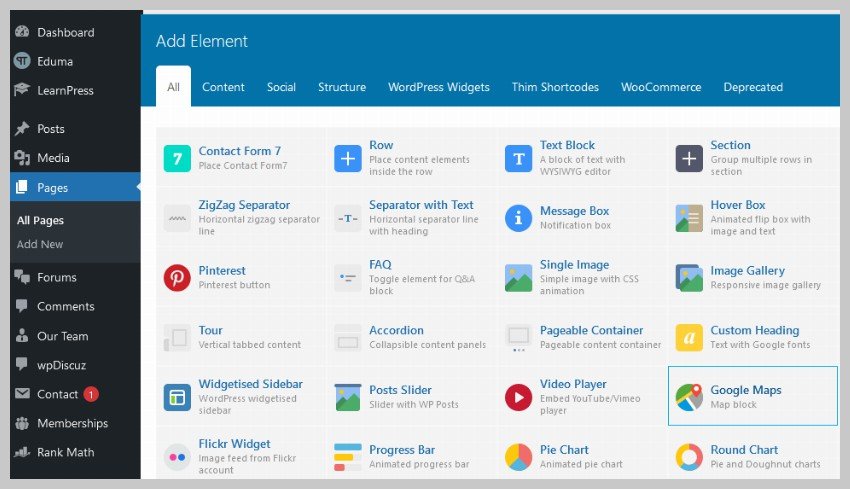 The WPBakery page builder works well with a large number of plugins and themes so you don't have to worry about compatibility. You can try it for free on a preview website by filling out your name and email address in the tryout form.
Beaver Builder
The Beaver Builder WordPress page builder plugin is a great option for anyone who wants to get a website up and running as quickly as possible. You can give the lite version of the plugin a try to see if it might be a good fit for your use.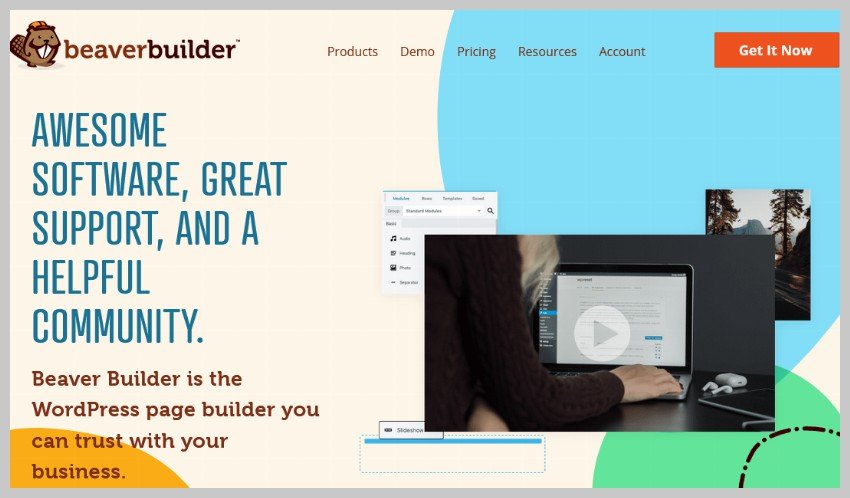 Some of the useful features in the Beaver builder include:
Built-in Page Templates—You will love the built-in page templates in Beaver builder. They are helpful for quickly setting up an about page, contact page, maintenance mode page etc. Select a template you like and then replace the filler content with your own.

Drag and Drop Builder—The drag and drop builder in the plugin is easy to use and you get an inline editor to make any changes to added elements on the webpage.

Column based Responsive Layout—The builder allows you to organize a page content into multiple columns whose width can be easily resized.

Content Modules—Beaver builder comes with a lot of built-in content modules to add text, images, videos or other elements. While the lite version has limited number of modules, the premium version gives you access to all of them.
SeedProd
SeedProd is yet another popular drag and drop website builder that you should consider trying. There is a lite version available inside WordPress plugin directory. The plugin initially started out as a typical coming soon plugin but later turned into a fully featured website builder.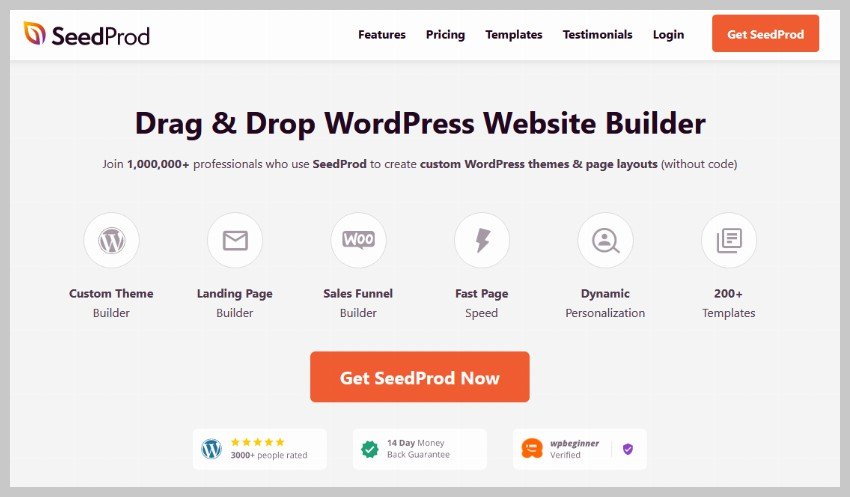 Here is a brief list of some of its features:
Drag and Drop Builder—Just like all other plugins, SeedProd also offers a drag and drop interface for creating different webpages. You can use it to create responsive, mobile ready pages.

Content Blocks—There are a lot of basic and advanced content blocks available within the plugin. However, many of them are accessible only in the paid version. You can fine tune the value of many properties and attributes for different content blocks.

Landing Page Templates—It offers a large selection of landing page templates to save your valuable time. You won't have to start designing a page from scratch. Again, many of these templates will only be available in the pro version.

Theme Builder—You can use the plugin to create headers, footers, archive pages, sidebars and more with its built-in theme builder which is available with its Pro and Elite plans.
Final Thoughts
If you don't plan to pay for a WordPress website builder right away, my recommendation would be that you use either Elementor or Visual Composer website builder. Both of them come with a decent feature set even in the free version. WPBakery is a good option if you are simply looking for a page builder. While Beaver Builder is more beginner friendly, you will find it lacking once you gain more experience and need some advanced features and granular control.