Do you want to create a mobile-friendly version of your WordPress website so it can load instantly on mobile phones?
Your regular WordPress website functions efficiently on desktops and tablets but it can be fatally slowly on mobile phones. It has too much code for smaller devices to handle.
The solution is to create AMP (accelerated mobile pages) version of your site so it can load faster and perform seamlessly on mobile phones.
Fast loading speed for AMP mobile version of your website: 
create excellent on page experiences for your visitors

increase your mobile conversions

increase mobile pages traffic in leaps and bounds

improve your SEO ranking
Even f you have no coding knowledge WordPress AMP plugins can help you create AMP mobile versions of your website.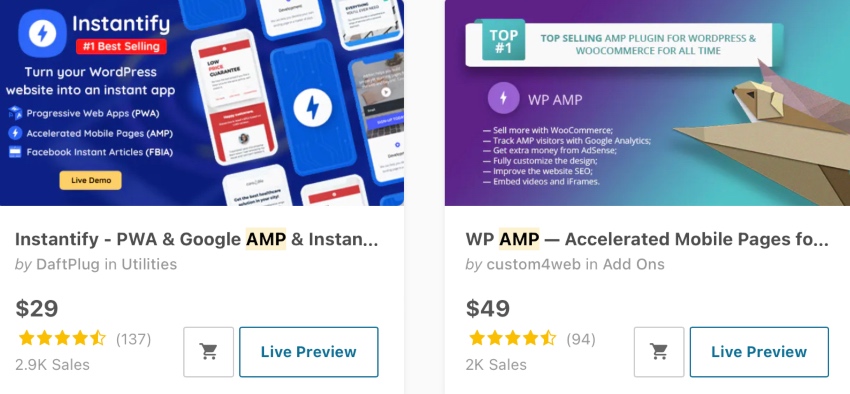 How AMP Works:
It creates a lightweight version of your website by stripping down all the excessive code that will cause it to load slowly on mobile phones. 
It achieves this by:
simplifying the HTML

limiting the amount of CSS

restricting the amount of JavaScript

caching the resulting AMP pages on Google serves for fast delivery
An AMP version of your website still carries the same content as your regular website but it is optimized to work smoothly on mobile phones. 
Also once the AMP version of your website has been created, Google caches it into Google AMP cache so it can be delivered to mobile phones at lightning speed.
WordPress AMP Plugins on CodeCanyon
We will look at two bestselling WordPress AMP plugins available on CodeCanyon. These plugins will help you create mobile-friendly versios of your website using the AMP framework. 
What is a WordPress AMP Plugin?
It's a piece of code that you add to your WordPress. It automatically generates an AMP version of your website by
stripping down excessive HTML, CSS, and JavaScript

adding AMP-specific HTML, CSS and JavaScript code that the AMP version website needs to function properly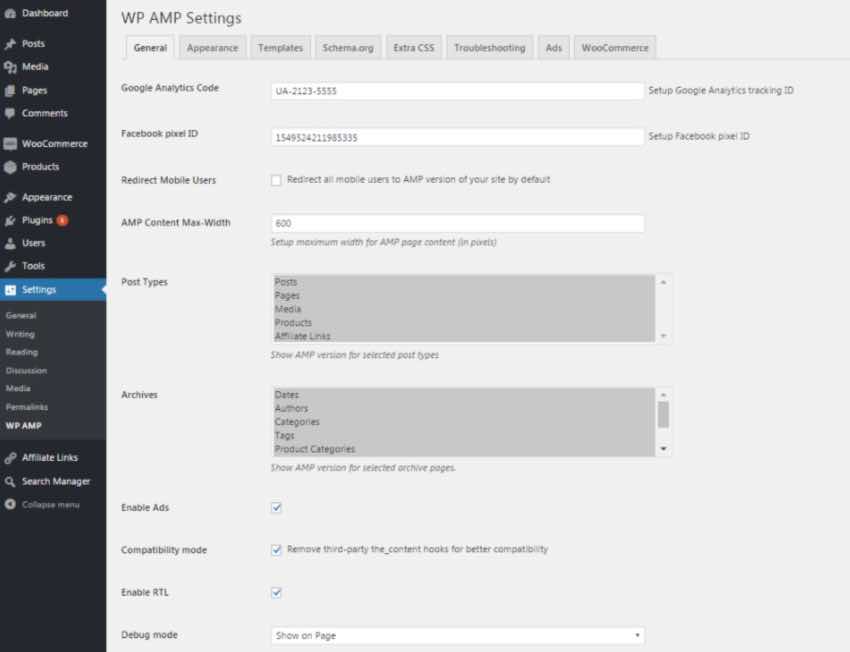 This plugin allows you to convert your WordPress and WooCommerce websites into a mobile AMP site in a few clicks. It will convert all content types and archives including home pages, blog pages, single posts, static pages, categories, author archives, search, 404 page, etc. It will also embed images, videos, audios, and iframes
The plugin comes with a drag-and-drop page builder so you can enable, disable, modify and rearrange AMP block for all the mentioned content types. 
Customize Mobile Site
In addition, you can customize logo, colors, fonts, footer content, header menu, featured images, Ad Blocks and more. 
WooCommerce Integration
WP AMP plugin works with the WooCommerce plugin meaning you can show products on your AMP site. It can only show: shop page, product pages, product categories and tags pages, cart page. 
AdSense Integration
You can earn from advertising by integrating AdSense into your AMP website and choose where to position the ad block.
Shortcodes
It also provides shortcodes that can be used with post contents. There are shortcodes for showing related posts, recent posts, social share buttons, AdSense ad blocks, 'switch to regular version' button.
Analytics
tracking your visitors with Google Analytics, Google Tag Manager, Facebook Pixel, and more. 
Languages
English, German, Spanish, and Russian
AMP WP is compatible with Page Builder plugins, SEO plugins, WordPress themes, Contact Form 7, and more.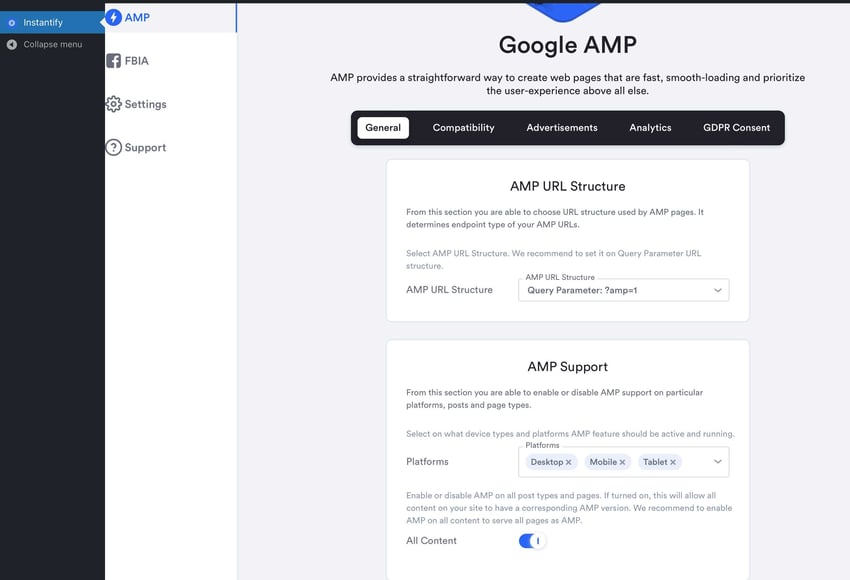 Instantify is a WordPress plugin that converts your website into a mobile-friendly site by adding to it the following frameworks: Accelerated Mobile Pages (Google AMP), Progressive Web Apps (PWA), and Facebook Instant Articles (FBIA). 
The PWA portion of this plugin boasts a 2.5 seconds loading speed. It will offer visitors a native-app experience of your website without them downloading any app. They can even do so while offline. It offers convenient features like:
pull-down navigation

swipe navigation

web share buttons

preloaders
The AMP part allows you to create fast, smooth-loading web pages.  It supports all types of content and you can also use active theme styles. It comes with features like:
auto-AMP generation

preload PWA from AMP

analytics integration

ad monetization. 
The Facebook Instant Articles feature allows you to distribute your content fast and instantly within the Facebook mobile app. You can
customize the look and feel of your articles

track responses

allow sharing
The plugin works across browsers, is available in multiple languages, and is compatible with all WordPress themes.  
Conclusion
WP AMP and Instantify are two bestselling WordPress AMP plugins on CodeCanyon. You can use them to create lightweight mobile version of your website that run fast and smoothly on mobile devices. 
Instantify combines three plugins in one, each used to create a mobile version of a website whether it's a Progress Web App, Accelerated Mobile Pages, or Facebook Instant Article.
WP AMP is a plugin exclusively AMP-focused. And while both plugins offer a range of customization features, only WP AMP comes a drag-and-drop visual editor. 
Get Your AMP-Ready Website Now! 
If you're simply looking for WordPress themes that are AMP mobile-ready to build a website that will load faster on mobile phones and other platforms, ThemeForest has hundreds of high-quality themes that you can download for a one-time affordable price. In addition to well-built premium features, you get support from the developers.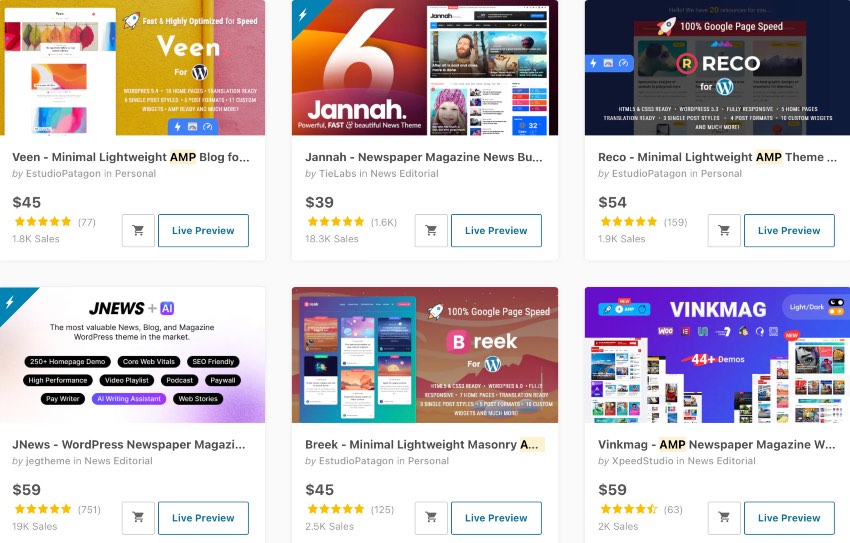 If you're looking for more plugins to help you turn your website into an app or templates to monetize your app, check out these articles: