Are you starting to use AI tools? Wondering how to use reference photos in Midjourney and more? Our Tuts+ instructors have you covered. They'll share their best tips on working with the new AI tools.
Watch the AI Tips and Tricks for Creatives Video
Jump to content in this section:
Hi everyone! My name is Jonathan Lam, and I'm a digital artist on a mission to empower, educate and inspire creative students just like you to gain the creative skills you desire! My skills range from graphic design to illustration, animation, 3D modelling/sculpting, concept art, and video editing.
"Ever since discovering Photoshop's Generative Fill tool on social media, I've started actively experimenting and using it to help my workflow as an artist."
My Photoshop AI Generative Fill Tips
1
Choose the Right Prompts
With the right prompts and just a few clicks, you can use it to expand your photos and images. It's incredibly fast, and it gives you multiple options to choose from.
2
Expand Images
This can be extremely useful if you find yourself needing to expand an image to a specific size and you don't want to enlarge the image, which would sacrifice quality.
3
Remove Elements
Another simple but cool example of how it can be useful is for easily removing unwanted elements in a photo (such as people, trees, shadows, etc.).
4
Add Elements
You can also add content inside the image. Just highlight the area, and the AI will automatically take the original photo into account by adding the correct lighting, shadows, and reflections to make it fit as perfectly as possible.
Read more useful Photoshop AI Generative Fill content here:
2.

How to Use Reference Photos in Midjourney

I'm a web design instructor for Tuts+, and my goal is to help students become better web designers and developers by creating content that's easy to follow and offers great value. Being self-taught myself, I strongly believe that constant learning is the only way to move forward and achieve your goals.

"Lately I find myself using Midjourney prompts a lot more. What was a fun experiment in the beginning is turning into a useful asset in my day-to-day activity."
My Midjourney AI Art Generator Tip
1
How to Use Reference Photos in Midjourney
Midjourney prompts will generate an image based on a given text prompt, but sometimes it can be difficult to describe what you want the AI to generate.
But you might be looking for something that's similar to an existing image. For that, you can ask Midjourney to describe an existing image using the "/describe" command. This will give you an idea of the keywords you're looking for and what kind of language you could use to prompt the AI to generate a new image.
AI is not perfect, so the information it generates might be flawed. If you're using an image generated by AI, make sure you have your T's crossed in terms of copyright. 
Curious about the Midjourney AI art generator? Learn more about it here:
3.

How to Use Bing's AI Image Creator

I'm a design writer, mentor, and entrepreneur currently based in Munich, Germany. With 12 years of experience in the design industry, I lead my own design studio and collaborate with other creatives on branding and editorial design projects.

"I don't dabble too much with AI, but I recently started using Bing for side projects—especially when I have a very specific image of how I want something to be photographed but I can't find it online, or it would take too long to find anything similar."

This is where the Bing image creator comes in. I input the specific style, sometimes the art period and types of objects I want on the scene, and often get specific about where I want the light to come from. The result is a reference image specially created for my specific needs.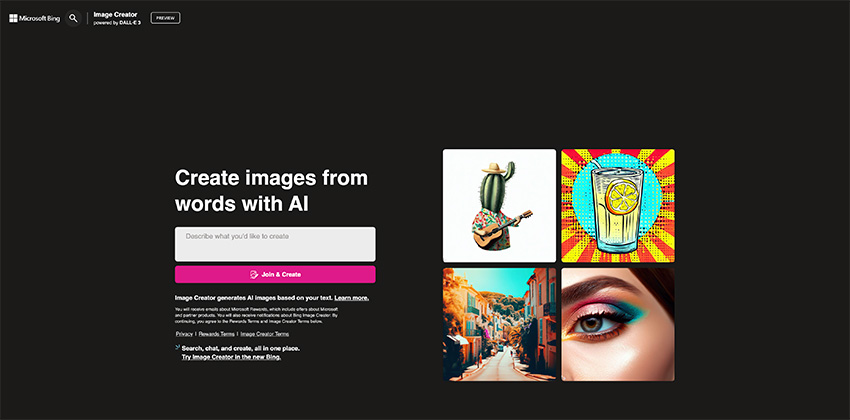 I think sometimes we can get too caught up in perfectionism and we get addicted to clicking the generate button too many times, so I think knowing when to stop is good. 
4.

How to Use ChatGPT as a Video Producer

I'm a multi-skilled content creator with a background in commercial film-making. I've worked as a Director, Producer, Editor, and Creative Director across television commercials, feature films, and large-scale corporate video events.

"I use ChatGPT a lot as a writers' room, a place to bounce my ideas around and then iterate on them. It's a really safe space to be creative."
How I Use ChatGPT as a Video Producer
1
Generate Video Titles and Scripts
When I'm coming up with a video or script idea, I'll start by asking ChatGPT: generate 10 titles that start with 'How To' and the concept I'm working with, and take it from there.
When I select a title, I then ask: can you give me a video breakdown for what should be included in this video? Then I'll go back and forth with it and use it to bounce ideas off.
2
Take It as a Starting Point
After I use ChatGPT as a basis for what I'm going to include in my video, I then use my own expertise and knowledge to adapt the script into my words, which I found super valuable.
5.

How to Use the Adobe Font Finder

I'm a graphic designer with over ten years of experience, currently working for a full-service data, digital, and print firm located in Florida. I'm passionate about all things design and know my way around the Creative Cloud suite.

"To aid me in my design work, I use the Adobe font recognition system powered by Adobe Sensei across multiple design programs."

Adobe Sensei uses a combination of AI and machine learning to identify and locate the right fonts for your project. It's a time-saving AI tool.

When I need to recreate logos or design assets for a brand but can't access the source files, Adobe's font finder recognition software comes in handy. It eliminates the guesswork in identifying fonts and helps me pinpoint the exact font being used. This saves me time and ensures accuracy in my work.
 Simply uploading an image that focuses on the desired text will suffice.


You'll need a Creative Cloud account to use the Adobe font finder.

Sometimes it may not be possible to identify the precise font being used, but Adobe will always offer a selection of fonts that closely resemble the uploaded one. Please note that the accuracy of the results cannot be guaranteed.
6.

How to Use Photoshop Generative Fill as a Photographer

I'm a drummer and photographer from Ontario, living in Dartmouth, Nova Scotia.
How to Replace Subjects in Images
1
As a photographer, this tool is incredibly useful in a lot of situations where you'd need to replace a subject: weddings, parties, reunions, etc.
2
Using Generative Fill, simply create a selection around them, select Generative Fill, enter whatever prompt you can think of, and BOOM! Photoshop will remove any trace of that person and seamlessly blend in whatever prompt you entered.
"This kind of technology fundamentally changes the way images are created, and we must be aware of this going forward. All kidding aside, this is some incredibly powerful technology that's now in the hands of the consumer, so while it can be used for a lot of fun and creative good, it also can easily be used maliciously, so tread carefully when using AI and looking at images in the future."
7.

How to Use the OpenAI Playground for Idea Springboards

I'm a mixed media artist and freelancer with over ten years of experience in digital art. I love to take fashion-forward modern-day photography and transform it into the unusual and macabre. But while I typically like to play with surreal themes, I'm experienced in various styles and genres.

I use the OpenAI playground to create idea springboards or to generate ideas. It saves me time that I can use to do the things I'm more interested in, like scripting real information, instead of coming up with punny quips. It basically writes the stuff I don't want to write. 
My Tips on Other Ways to Use ChatGPT
1
Be Specific When Using OpenAI Playground
I'm very specific. I say how I want things formatted, how many words, or how many ideas I want. If I want a fast step-by-step, I'll even clarify the difficulty level, e.g. "write this in a way a beginner would understand."
2
Always Edit 
Edit and improve everything AI spits out. I'd never suggest using it for an end product. At best, it's a draft or a starting point.
Our instructors covered a few helpful AI tips here, but if you want to go deeper and learn more, the Envato Tuts+ YouTube channel is here to help. Learn about artificial intelligence tools and news, including everything you need to know from the Adobe MAX 2023 conference:
Or if you prefer written tutorials, we have a library of AI tools, tutorials, and other practical resources. Here are a few to get you started: