Hearts are among the most popular of graphics, so today we're focusing on heart graphics.
Here comes a whopping list of over 50 of the coolest heart graphics to be found at Envato Elements. Enjoy!
Heart Graphics at Envato Elements (Unlimited Downloads)
If you love hearts and are always on the lookout for great heart graphics, then you've got to head over to Envato Elements. Elements has an enviable collection of top-quality graphics created by a host of talented designers. And you can download as many as you want, as often as you want, for one flat monthly fee. How cool is that?
What's more, that monthly fee also allows you to access thousands of other premium digital assets like logos, graphic templates, mockups, photos, business card templates, and much more. 
Now that you know what Envato Elements is and how it can support you as a designer, let's look at the best handwriting fonts it has to offer. 
50+ Best Heart Graphics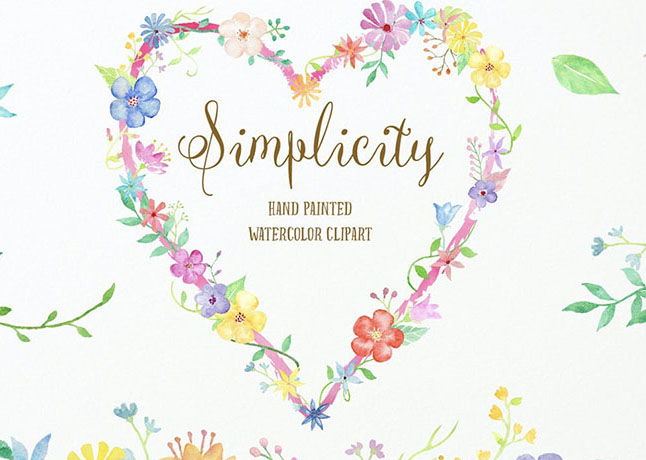 Let's kick things off with this heart clip art collection, which features four floral heart-shaped frames of hand-painted daisies, leaves, berries, and other decorative elements. This collection, which contains a total of 68 individual floral elements, is perfect for creating wedding invitations, greeting cards, blog headers, and more. 
Looking for a black heart graphic with a bit of a twist? Then take a look at this ever so cool black heart vector that's filled with many a random thing. Because it's a vector file you can scale it to any size without loss of resolution, and you'll also be able to change any colour or detail of the graphic easily.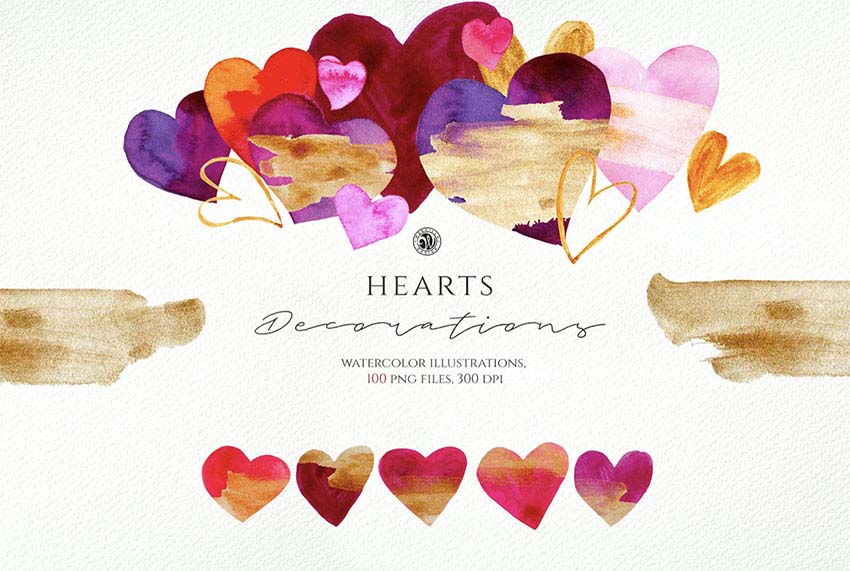 These Valentine heart graphics are perfect for Valentine or other greeting cards, scrapbooking, invitation, and a host of other projects. The file contains 100 PNG files that consist of single hearts, heart arrangements, and gold elements.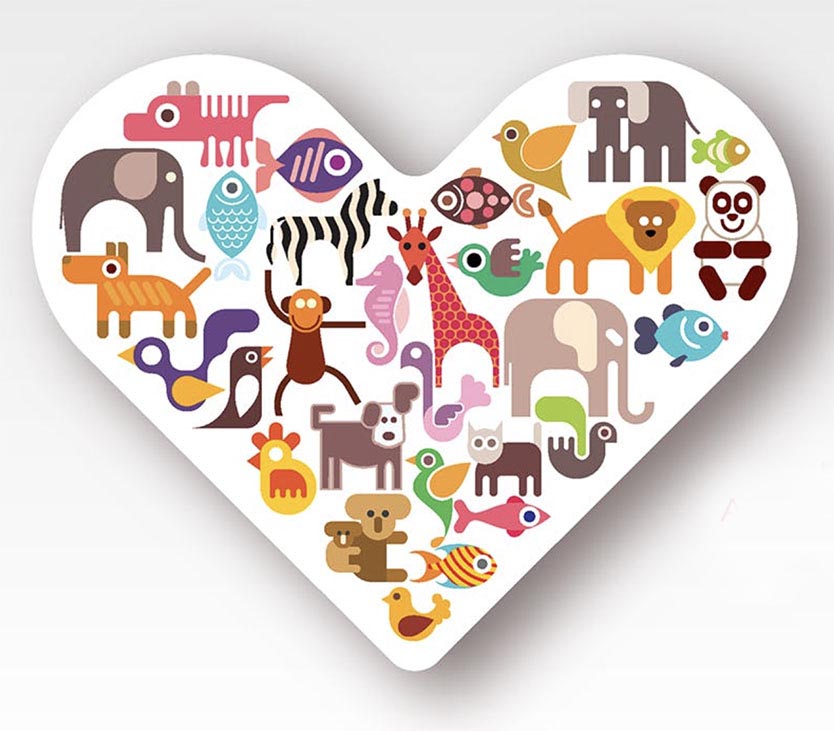 This white heart graphic with its wonderful illustration of different animals is perfect for child-related themes. Use the heart-shape vector on greeting cards, apparel, linen, or any other projects you have in mind.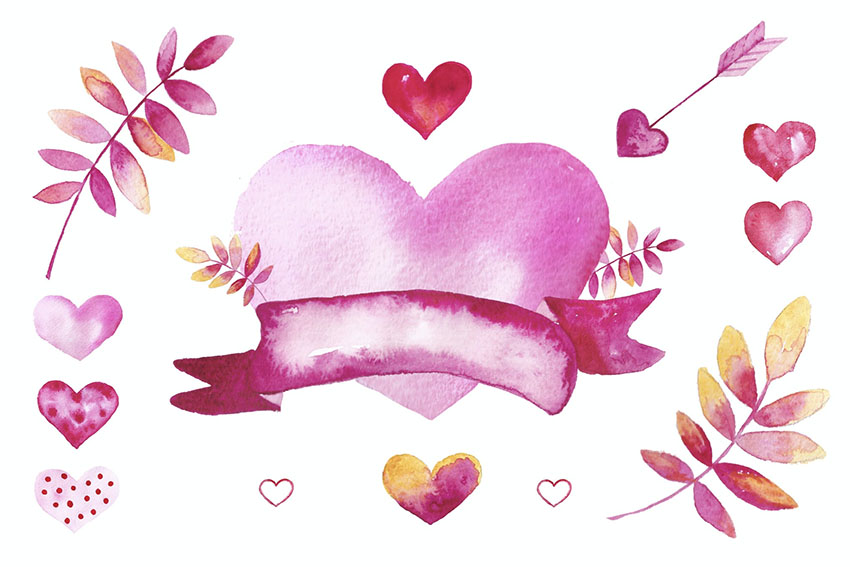 This delicate Valentine heart graphic has just the right whimsical quality to complement cards and other Valentine-related paraphernalia.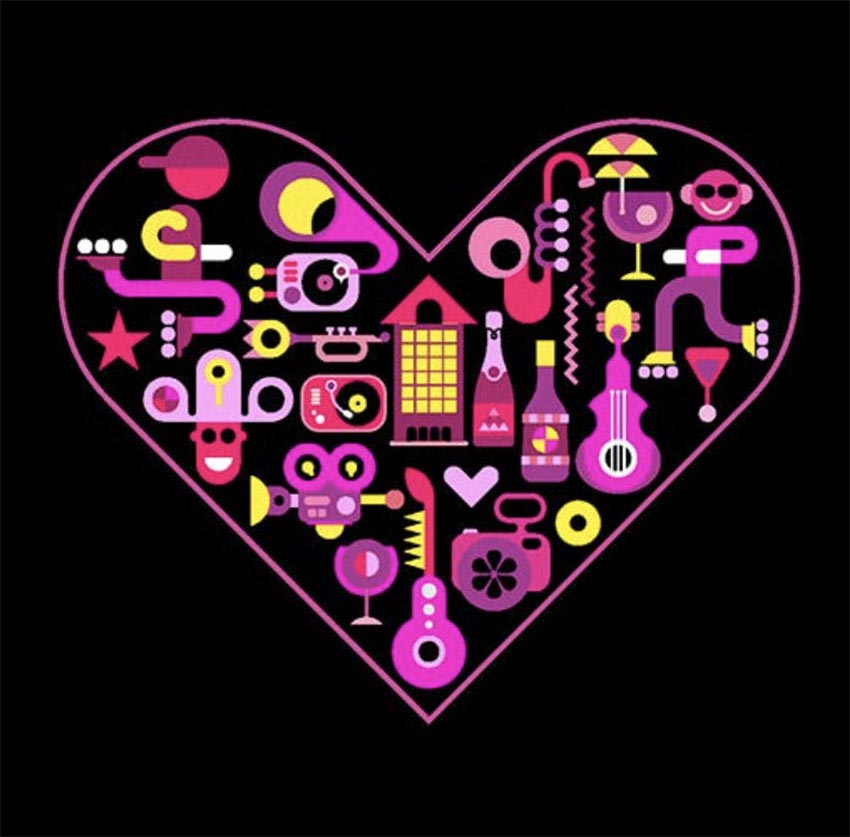 If you're looking for a black heart vector, this one may work for you, although technically it's a heart outline vector filled with various objects against a black background rather than just a straightforward black heart. Nevertheless, if it suits your needs, that's all that matters.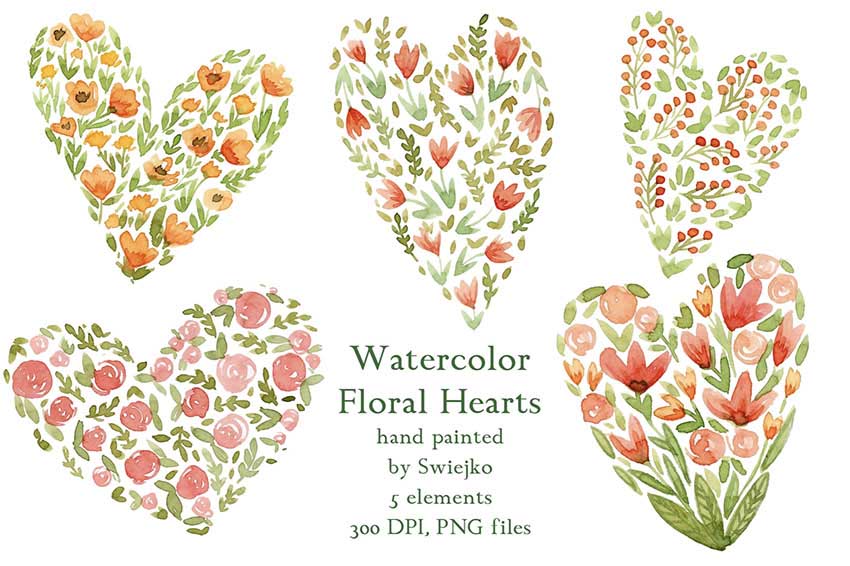 Check out this beautiful collection of five floral watercolour hearts. The set is made up of two versions of each heart: one without background and one with a white background. 
Now this is a bit of a departure from the heart graphics we've featured so far. This one is a vector papercut illustration of a young man and woman looking at each other and surrounded by clouds and trees. It's a terrific piece of heart vector art for celebrating love, anniversaries, engagements, or any other love-themed occasion.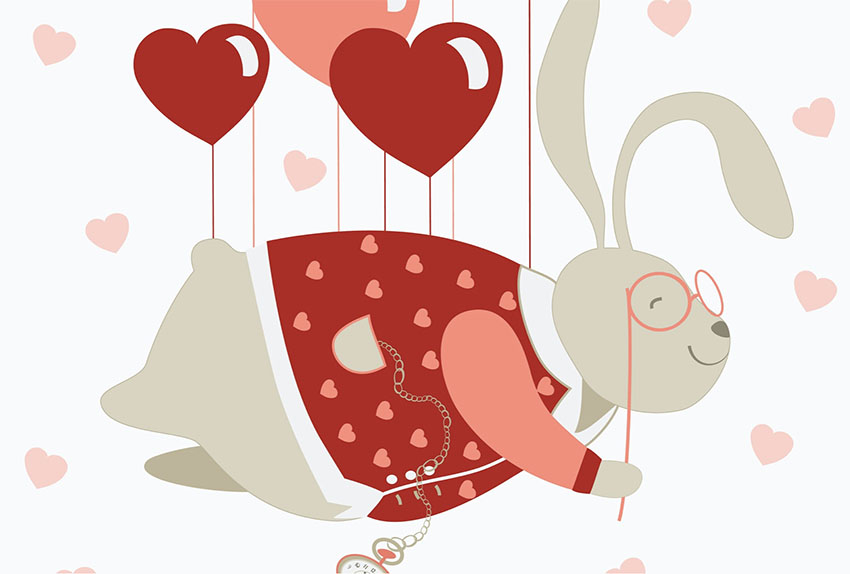 Does it get any cuter than this heart illustration vector of a sweet rabbit soaring through the air, buoyed up by heart-shaped balloons with heart clouds floating by? A terrific piece of heart vector art for many different occasions.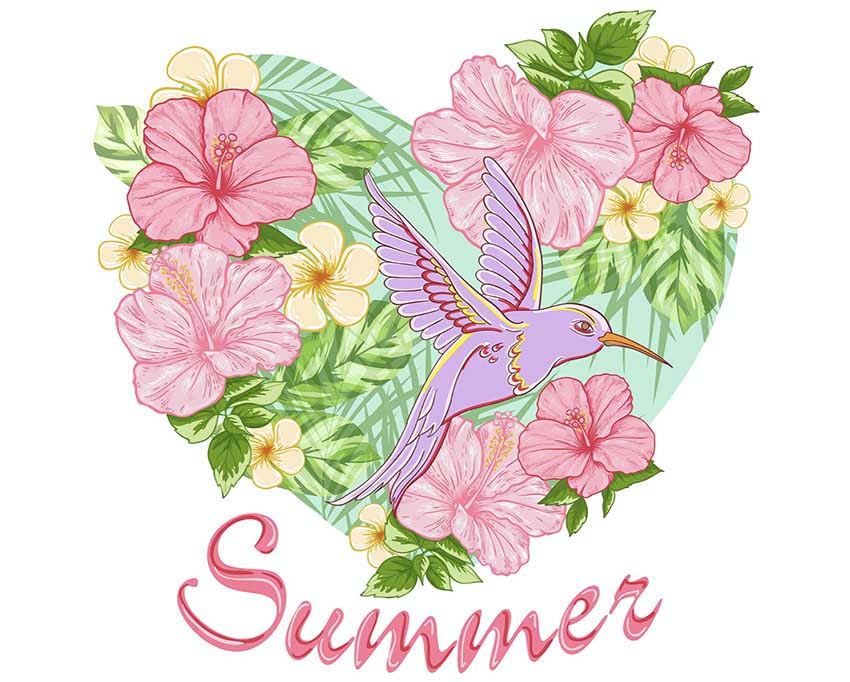 Bring a touch of the tropics to your designs with this wonderful summer-themed heart illustration vector. Filled with hibiscus flowers, frangipani, variegated leaves, and a lovely hummingbird, this exotic heart-shaped vector is exactly what you need for a mid-summer party invitation to get your friends in the mood for a good time.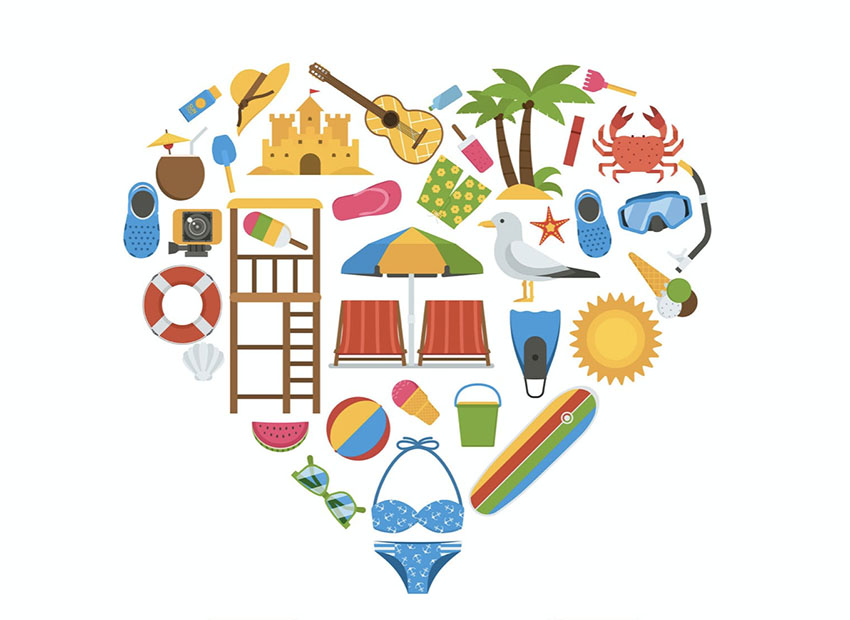 Here's an alternative clip art heart to the one above. It also captures a notion of summer fun, but uses fewer tropical references to do so. In fact, this vector is a completely different style from the one above, favouring summer beach items in a heart shape. Check it out for that summer experience.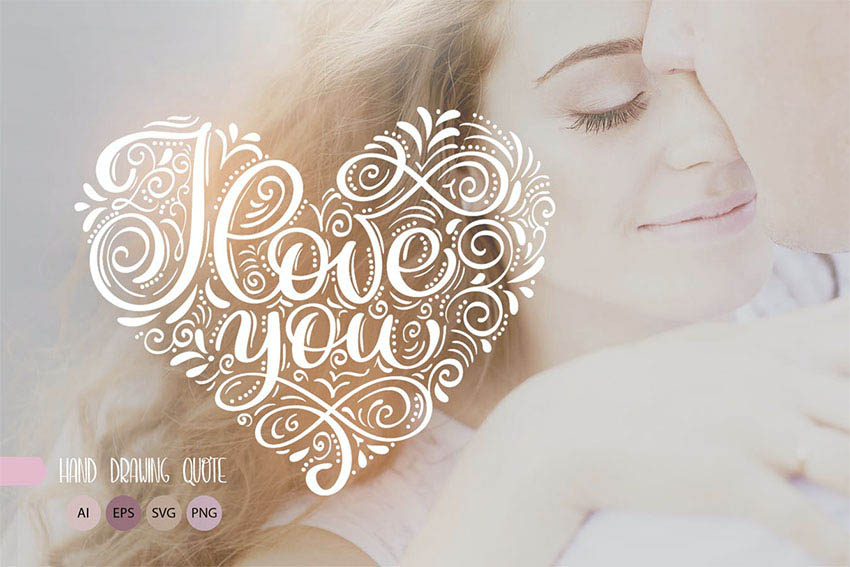 If you need the perfect romantic heart art text for a T-shirt, photo overlay, mug art, greeting card, or something else entirely, this transparent heart vector is it. The 'I love you' text is beautifully framed with floral doodles that keep the design pretty and romantic.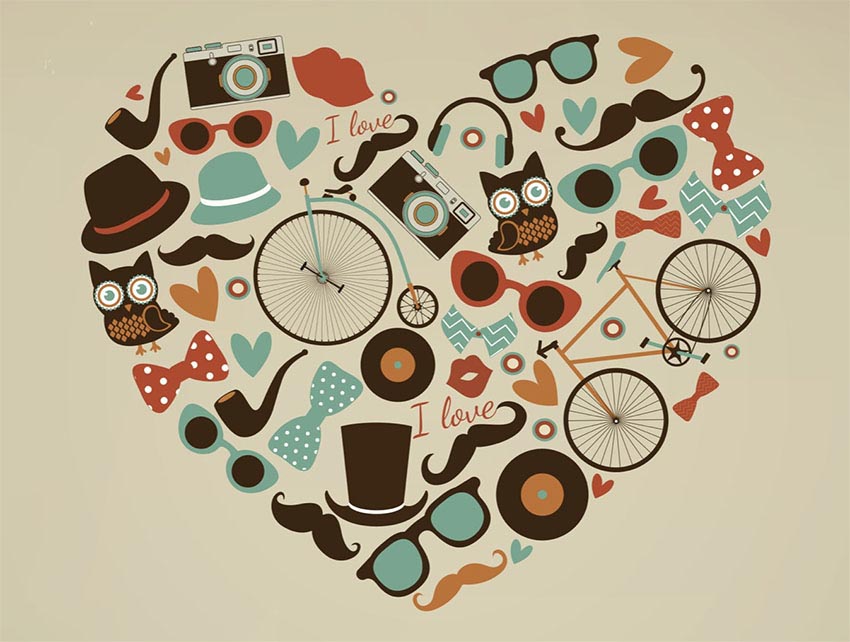 If you're a hipster, then this heart is probably the kind of heart you relate to. Full of vintage and speciality items like film cameras, bow ties, handlebar moustaches, etc., this heart style vector is a hipster's dream.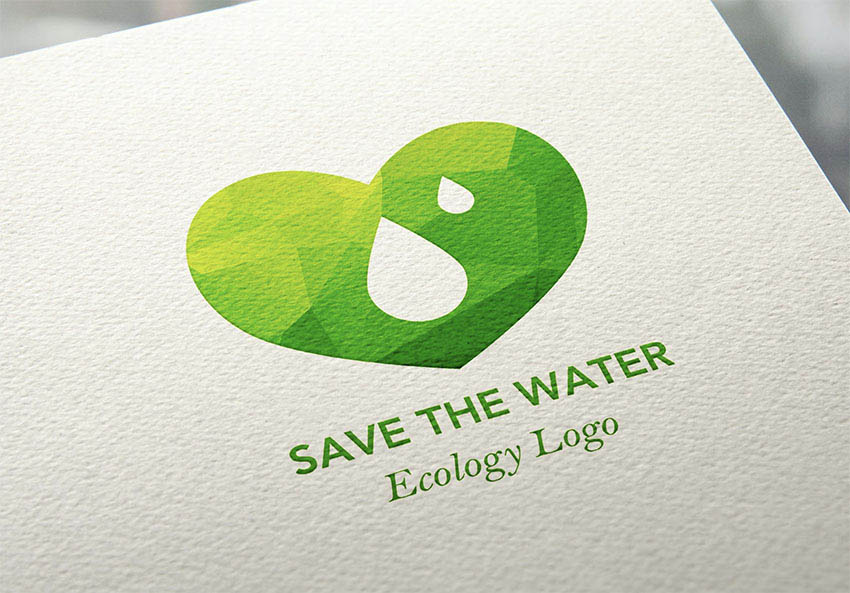 Combining the heart and water droplets is a great way to accentuate the importance of water in our lives. If you've working on a project related to the environment and/or specifically water, this is a great heart-shaped vector to consider.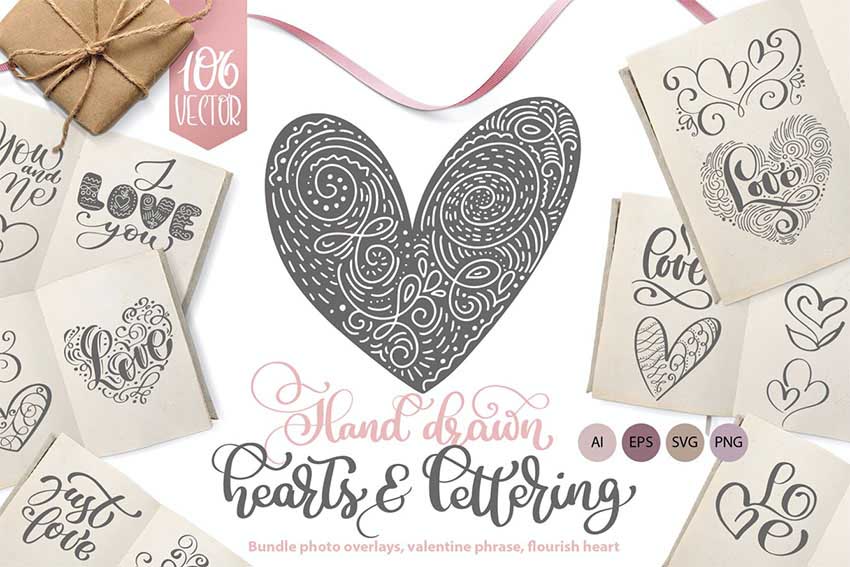 Whether you're looking for a graphic heart tattoo or heart text art, this hand-drawn heart vector collection has got what you need. Flourishes, vintage backgrounds, heart pixel art, calligraphy and lettering phrases—you name it, it's in this collection. Download it and have fun exploring the possibilities it offers.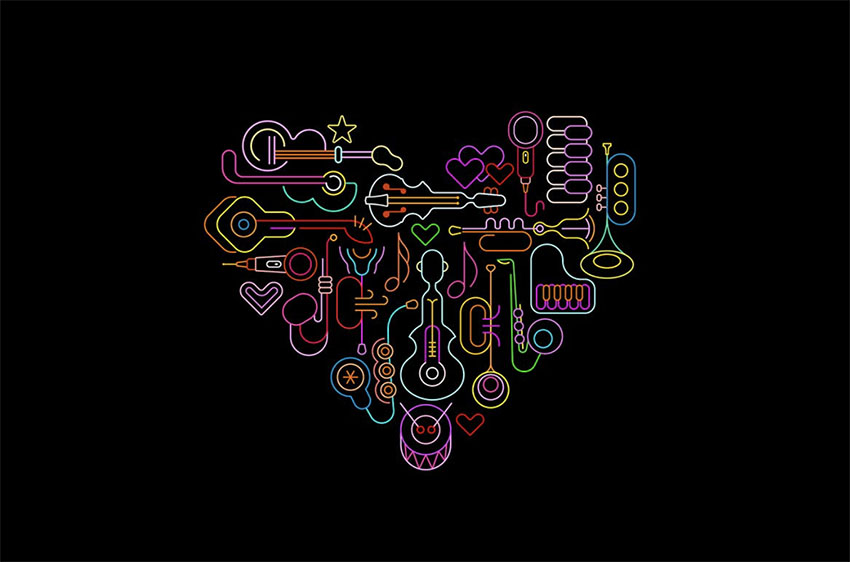 Are you a music lover or musician? Does this heart shape of musical instruments make yours skip a beat? This gorgeous collection is perfect for creating music-themed cards and posters. Each element is placed on a separate layer, making it easy to change the colour or modify, so that if you wanted to turn this piece into a pride heart vector, you could change to accommodate that theme.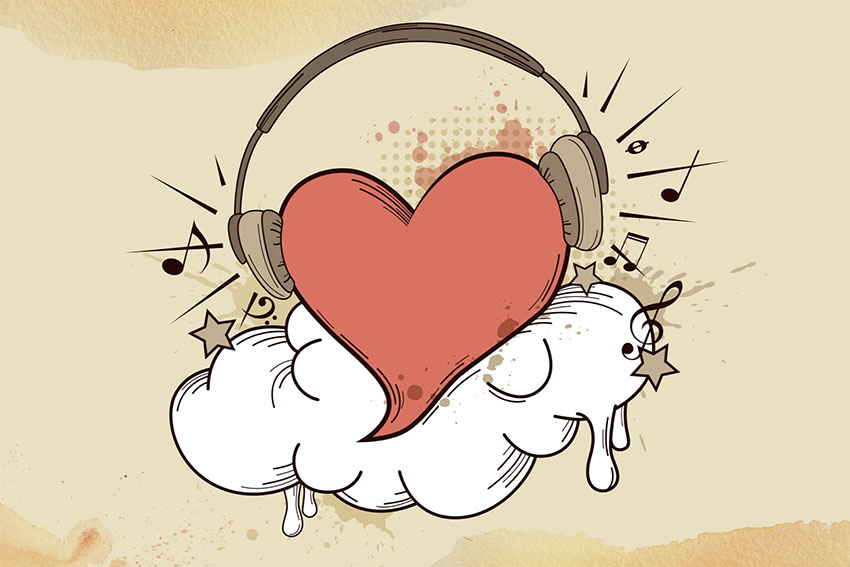 If you love all things retro, you'll love this red heart vector. Use it for your album covers, T-shirts, posters, or promo flyers.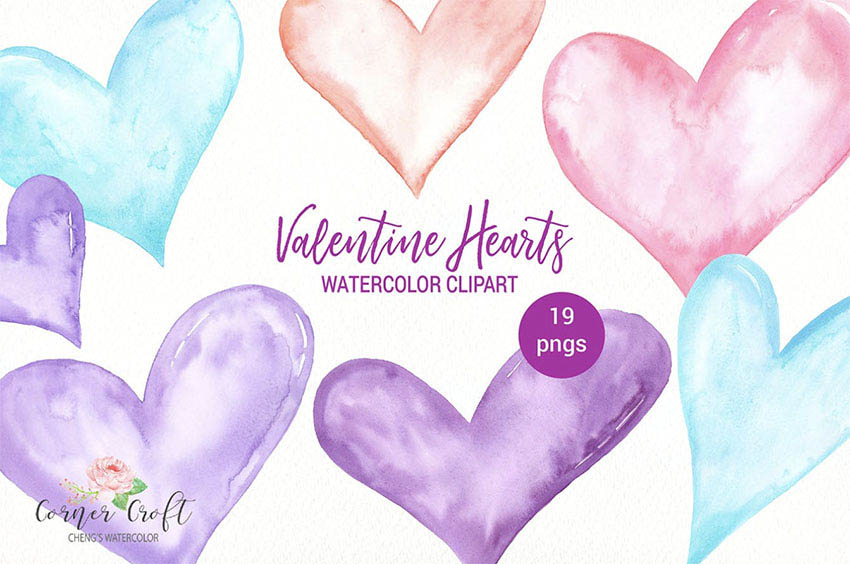 These lovely Valentine heart graphics are a perfect collection for Valentine cards, greeting cards, and prints.The collection contains ten large hearts and nine small ones in a wide range of colours. 
This may not be a human heart vector, but if you're looking for a heart graphic for medical-related purposes, this blood donation heart design could just be the thing you need.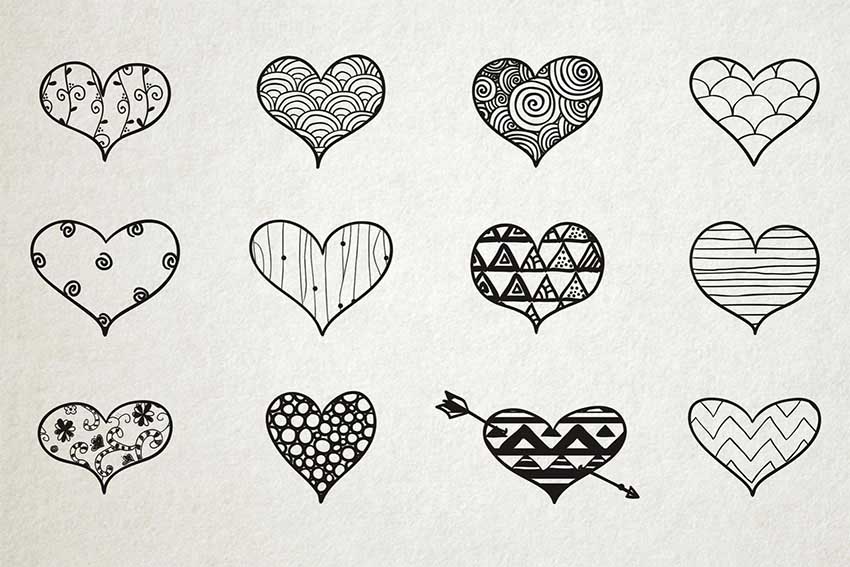 These lovely hand-drawn heart vectors are an excellent choice for greeting cards, T-shirts, craft projects, and the like. The beautifully rendered hearts also have the benefits of being transparent heart vectors, which means they come free of background encumbrances.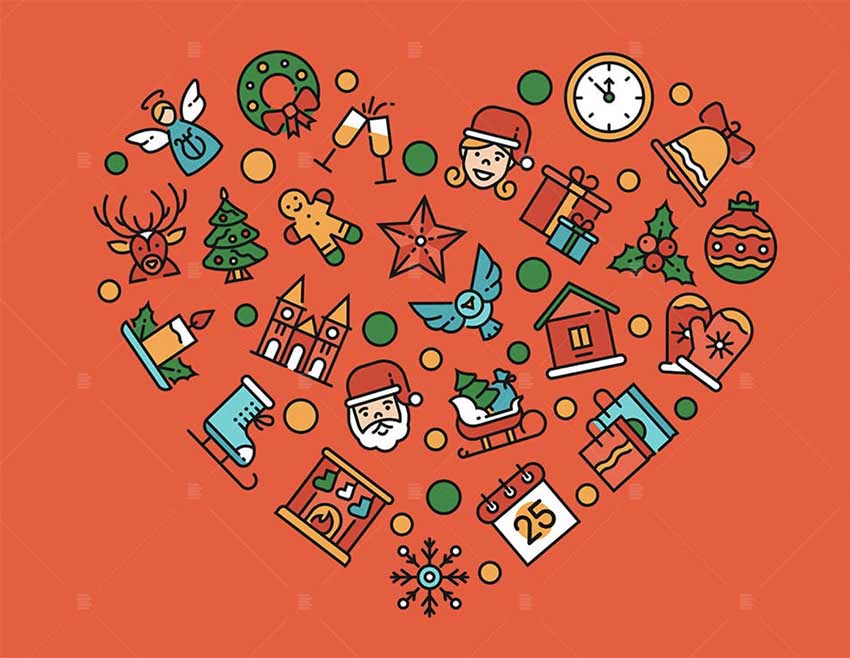 This red heart vector is all about Christmas and the holiday season, so you can use it to create your own unique Christmas cards or deck the halls.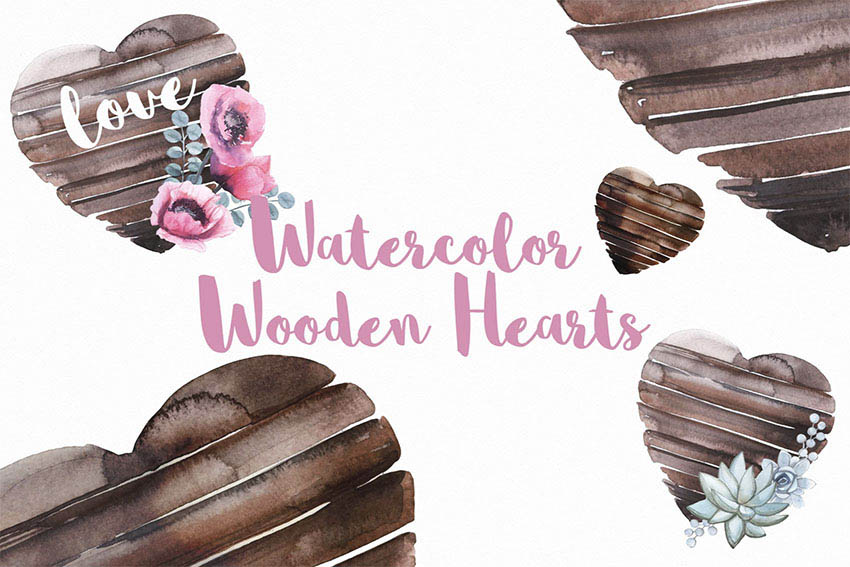 This package is all kinds of lovely as it combines the hard (wood) with the soft (watercolour), and to add a bit of whimsey, various floral elements are thrown into the mix. The package contains eight PSD and eight PNG files for your convenience. 
This isometric heart illustration vector is for those who want to bring a different quality to their Valentine's Day designs. This composition, which centres around a giant heart, features male and female characters getting presents and love letters against a white background.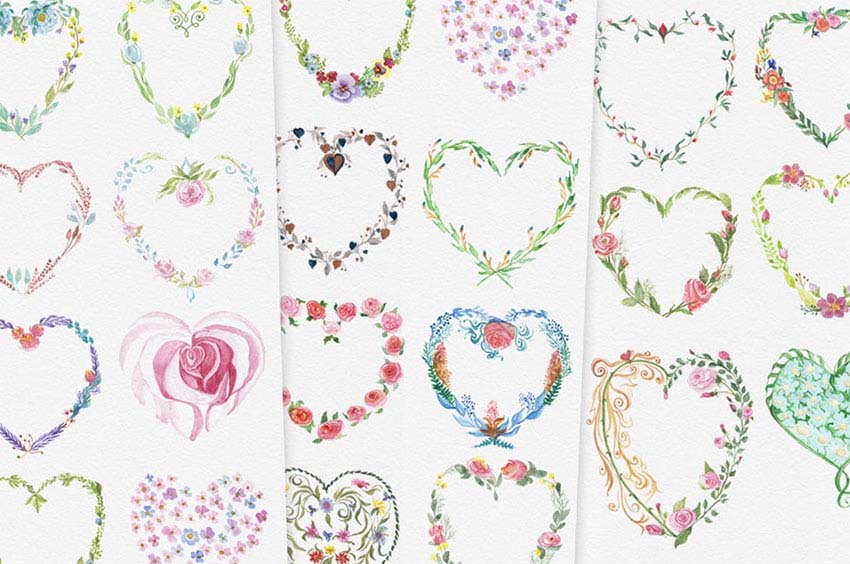 These 23 watercolour hearts are all made of different flowers and and create a delicate romantic picture which is perfect for Valentines, engagement, wedding cards, and paraphernalia.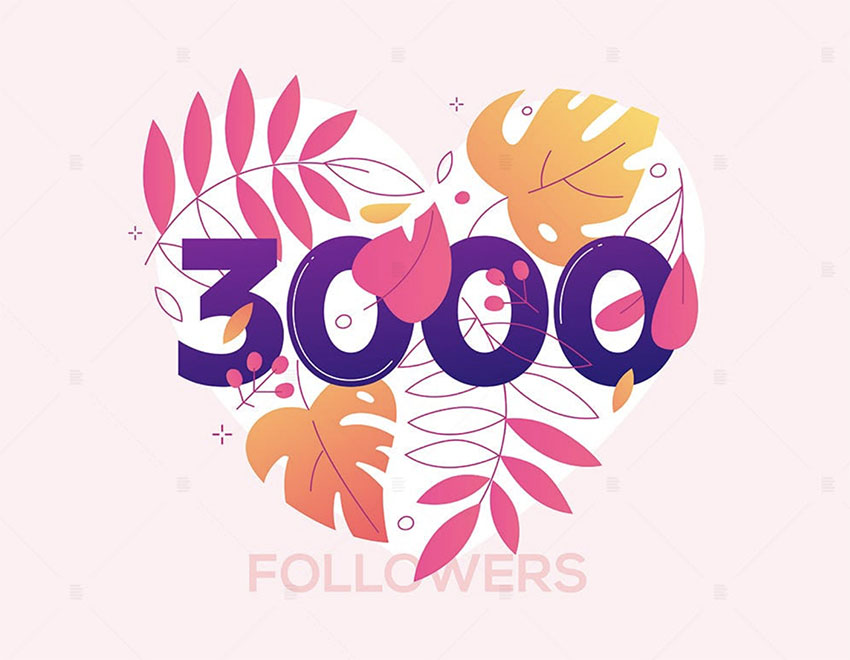 Use this heart text art to celebrate the magic moment when you reach 3,000 followers. This beautiful heart illustration vector is made up of flowers, leaves, and berries.  A great way to thank your subscribers.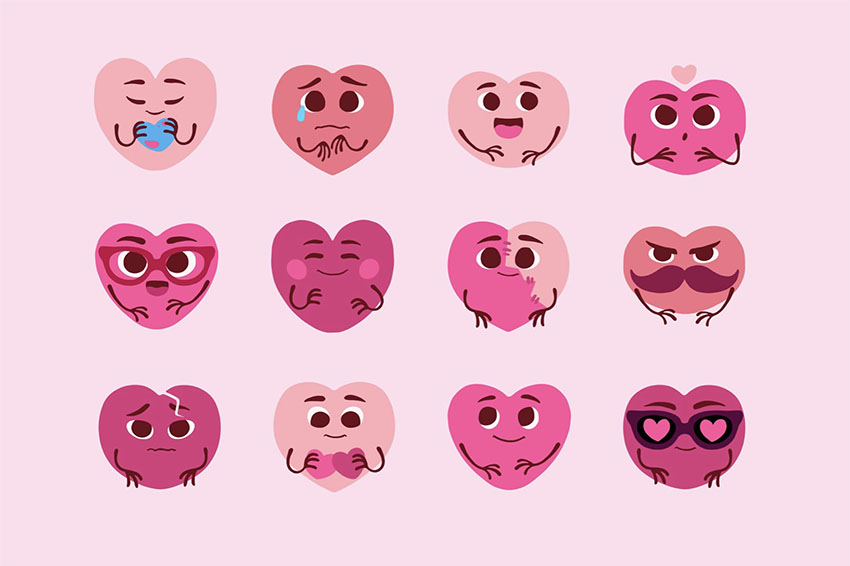 Lighten things up a bit with this package of moody clip art hearts. Each heart expresses a familiar emotion like joy, sadness, anger, or surprise. There's even a broken heart graphic, which let's hope you'll never need.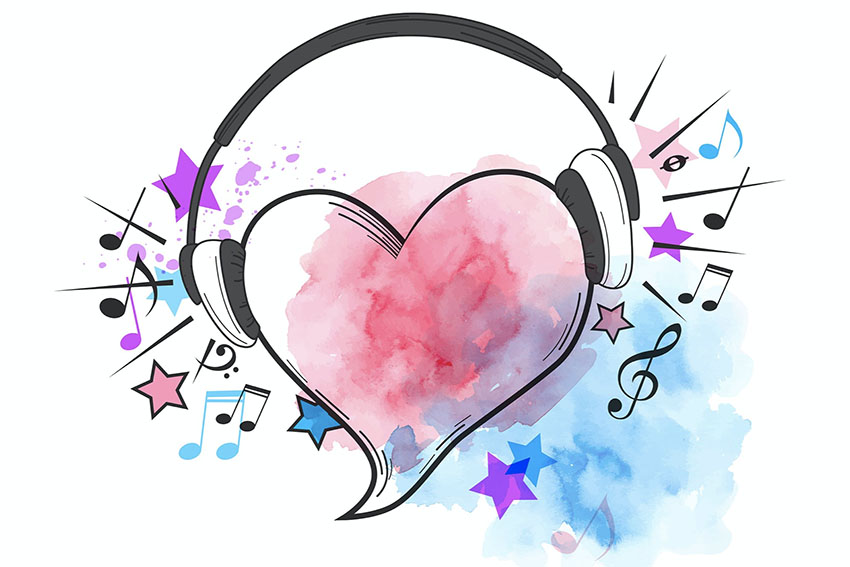 Looking for a cool graphic heart tattoo vector? This could be just what you need. The awesome graphic features a headphone-wearing heart outline vector with watercolour accents.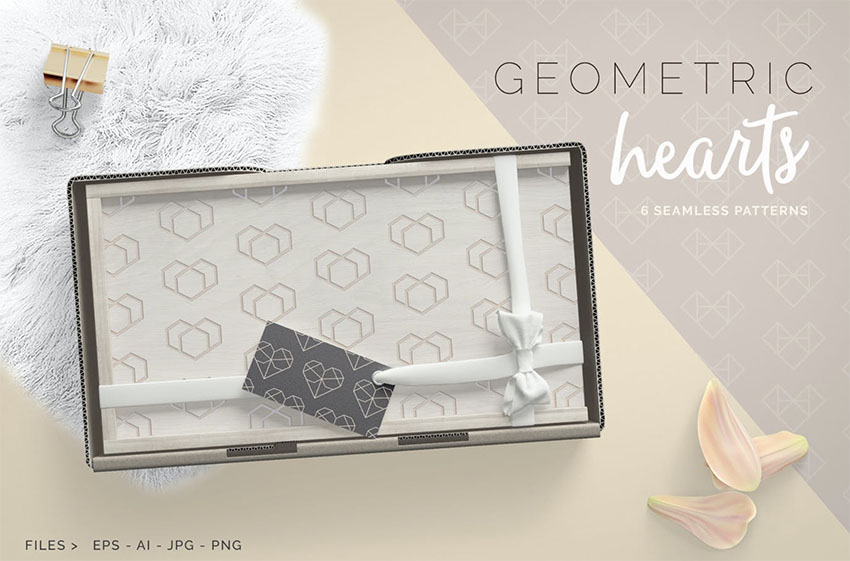 Go geometric with these diamond heart vectors. These beautiful patterns are a great choice for craft or fashion projects, greeting cards, and more. The pack contains six seamless patterns in EPS, AI, JPEG, and PNG format. 
This lovely heart art features elegant white paper-cut flowers in a heart shape, with optional text in the centre of the heart. Use this graphic for greeting cards, posters, flyers, and more.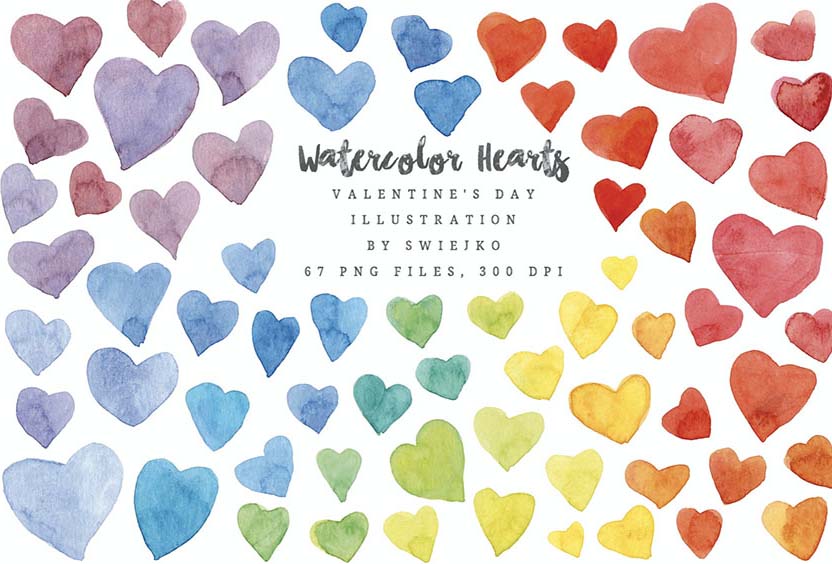 Let it rain hearts when you use this fabulous watercolour heart graphic. The set contains 67 individual images. An excellent resource for when you need magical Valentine heart graphics.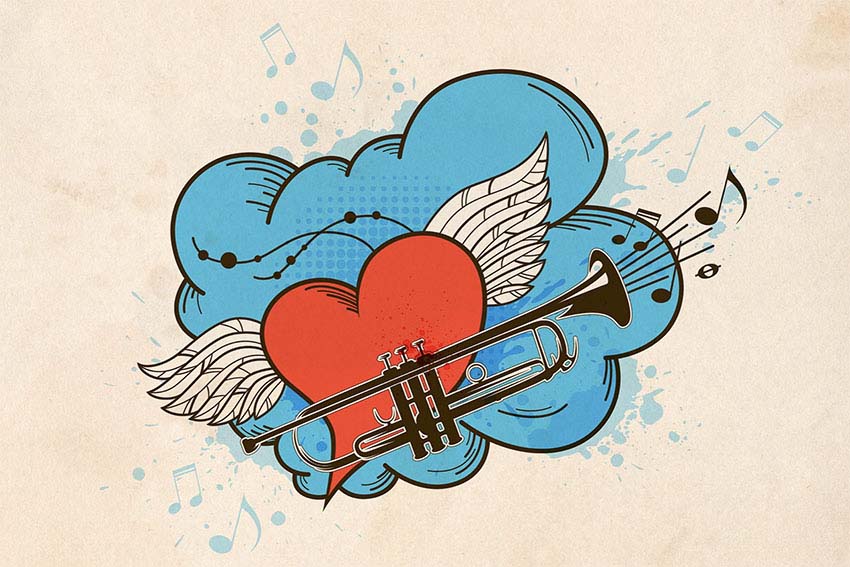 Here's a red heart vector that has all the hallmarks of a great graphic heart tattoo. Just download it and open it up in Illustrator to customise it and apply it to your special project.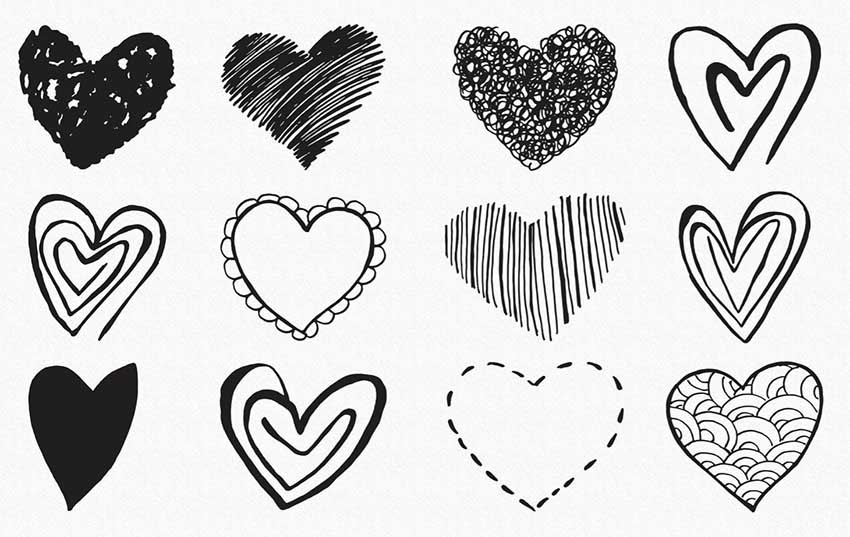 There's something visually satisfying about these hand-drawn heart vectors. The heart clip art set contains over 15 heart doodles in AI, EPS, SVG, and DXF. There's also a PNG file format with a transparent background and a JPEG image with a white background.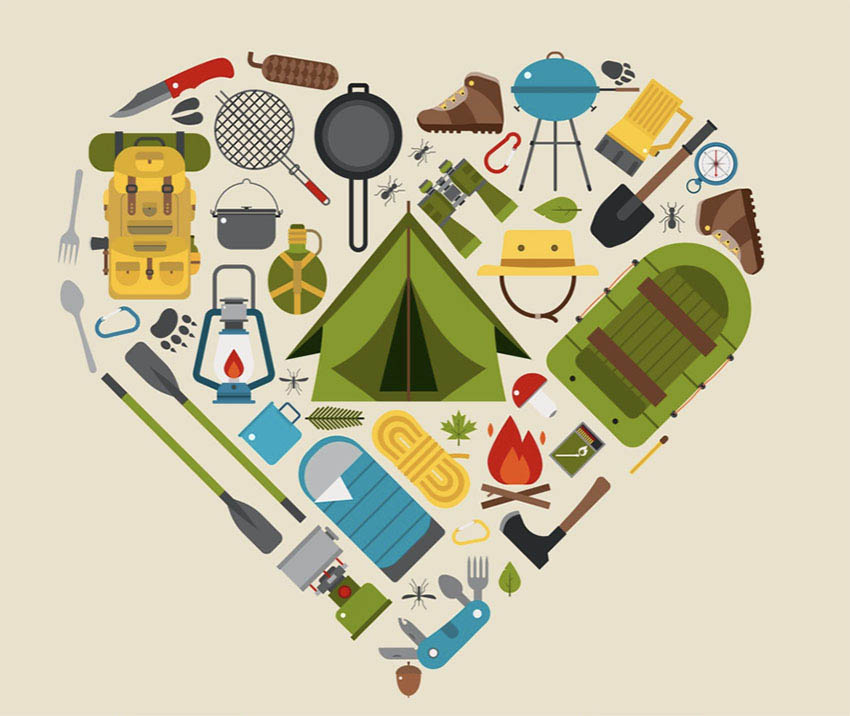 If camping is your jam, then you'll love this heart icon vector made by arranging camping gear into a heart shape. Use it in your branding or on posters, flyers, etc.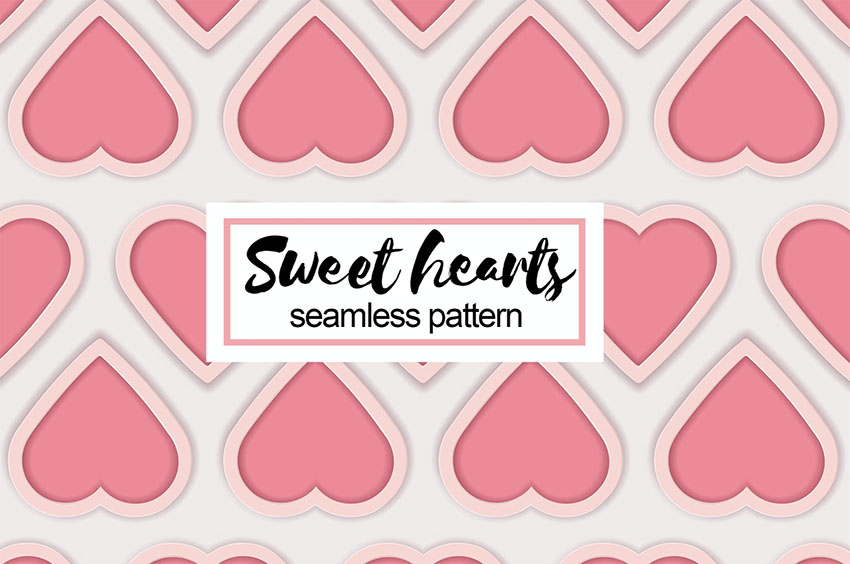 This decorative seamless pattern with pink 3D hearts would make excellent wrapping paper for Valentine's Day or a background element for your digital scrapbooking project. The zip file contains a fully editable EPS10 vector file and a high-resolution RGB JPEG image.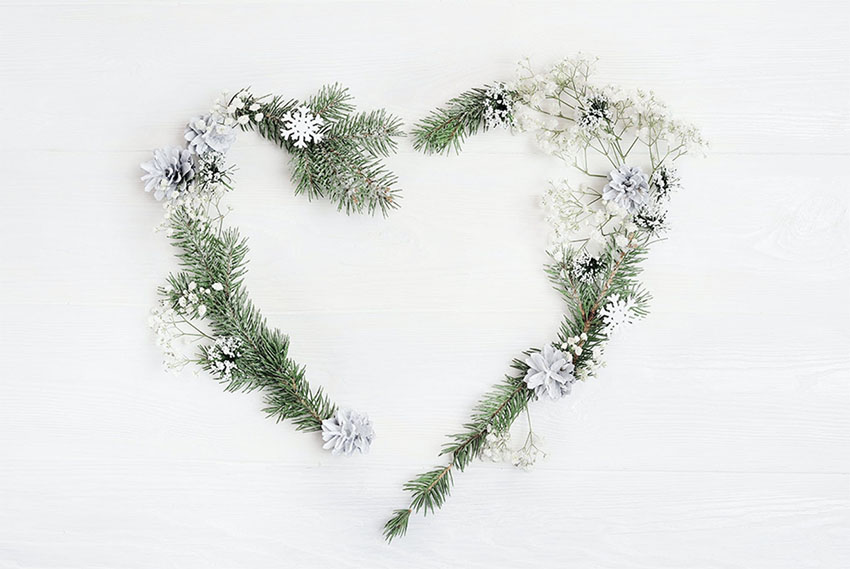 Here's something a bit different. This wonderful heart photo features a Christmas wreath on a white wooden background. An excellent choice for Christmas greeting cards and invitations, to promote your blog posts, for social media, etc.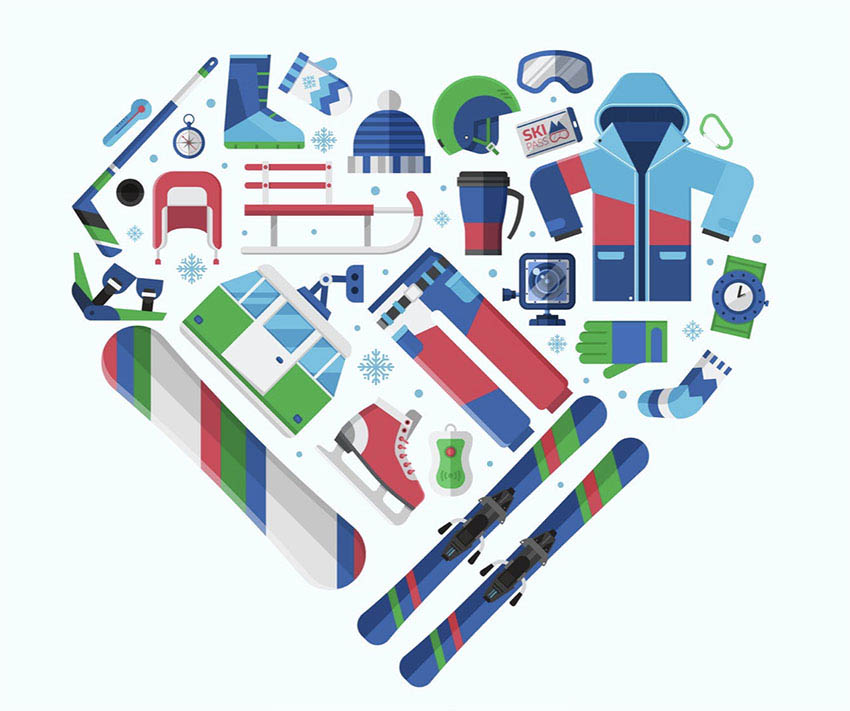 And since we're in the winter season, how about this awesome sports heart vector? This time, winter sports gear is used to create a heart. So if you love your snowboarding, skiing, etc., then don't hesitate to add this heart icon vector to your toolkit.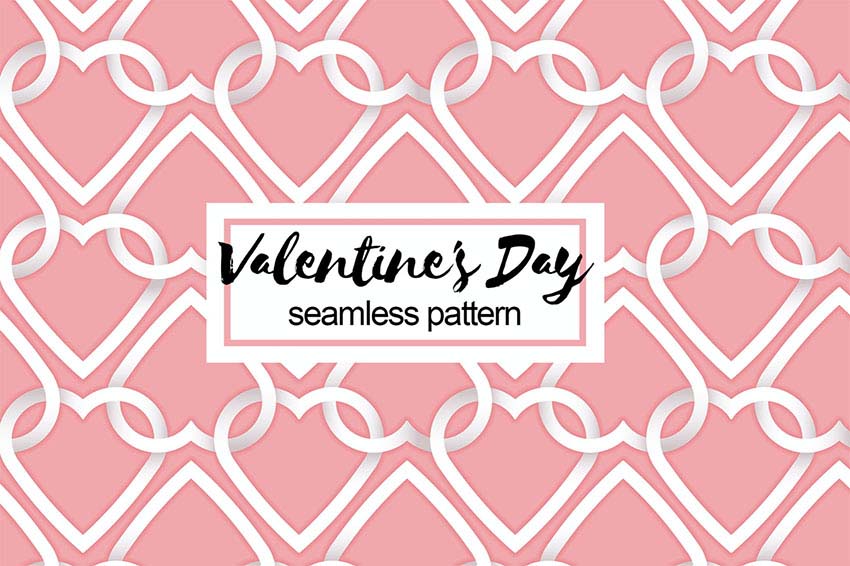 This is another heart illustration vector featuring a decorative seamless pattern with white paper hearts on a pink background for Valentine's Day. Download the EPS file, open it up in Illustrator, and modify as needed. 
Isn't this the perfect transparent heart vector for adding a bit of romance and prettiness to your life? Use this vector to spice up accessories as shown or to create cool T-shirts or greeting cards.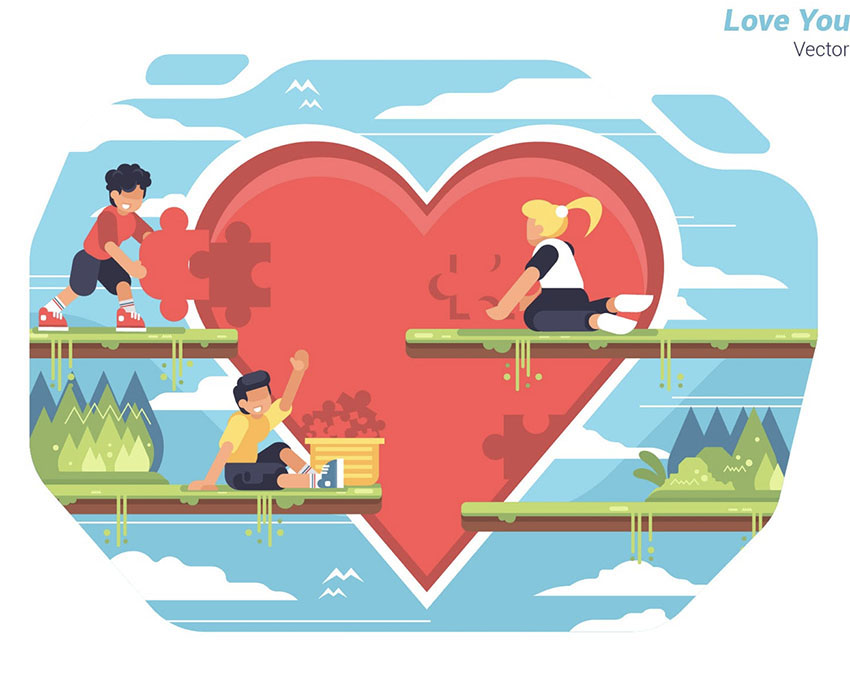 A great heart vector for child-themed projects, Red Heart Vector Illustration tells a little story in one incredible image. All the elements in this template are editable in Illustrator, so go ahead and make it your own.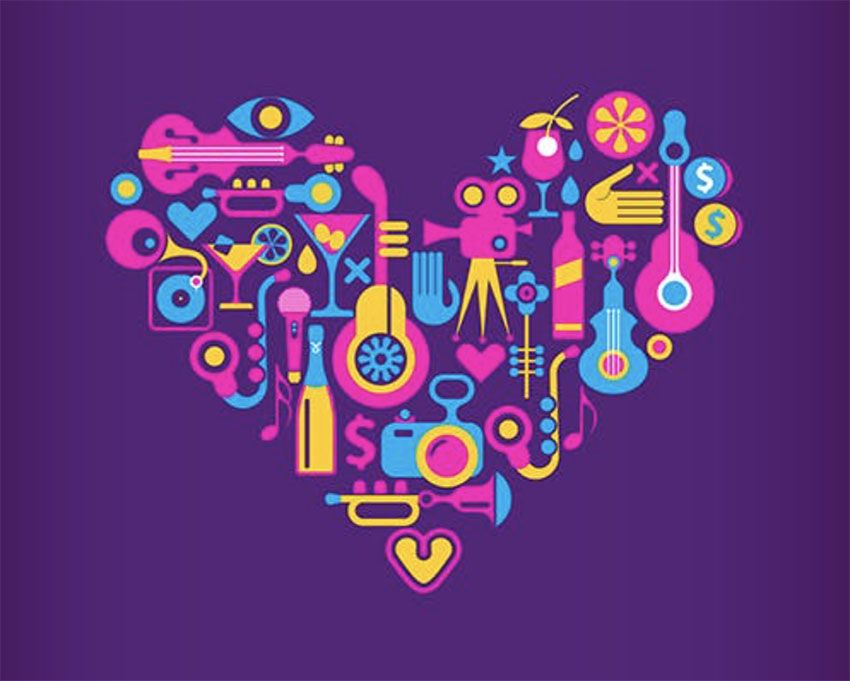 Start the party with this disco-themed heart shape vector, which features a vibrant, colourful heart made up of a collection of entertainment-related icons. The package offers three options of disco party heart shape designs: neon colours on a black, dark violet, or white background.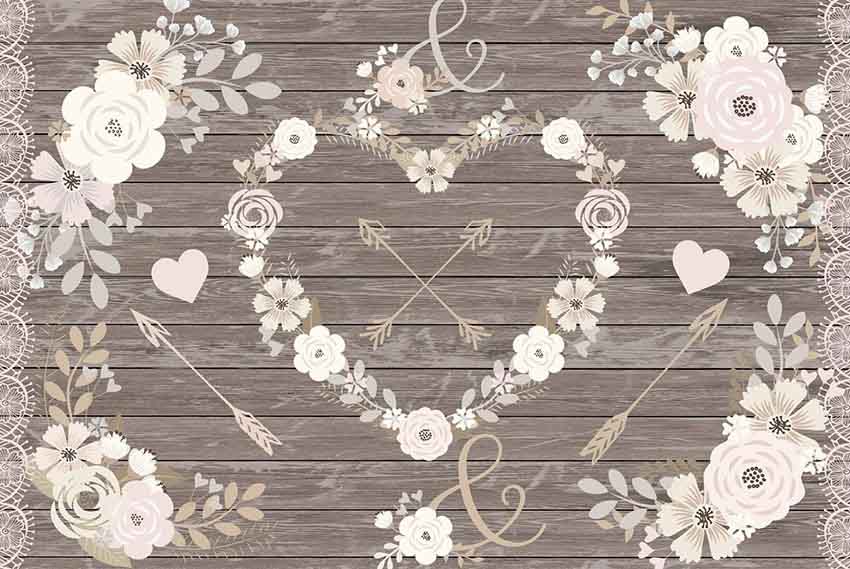 Spring Flower Heart Clip Art offers 20 separate flower clip art PNG files with transparent backgrounds, five flower arrangement clip art PNG files with transparent backgrounds, one wood background JPG file, and one EPS vector file with all the aforementioned heart clip art images.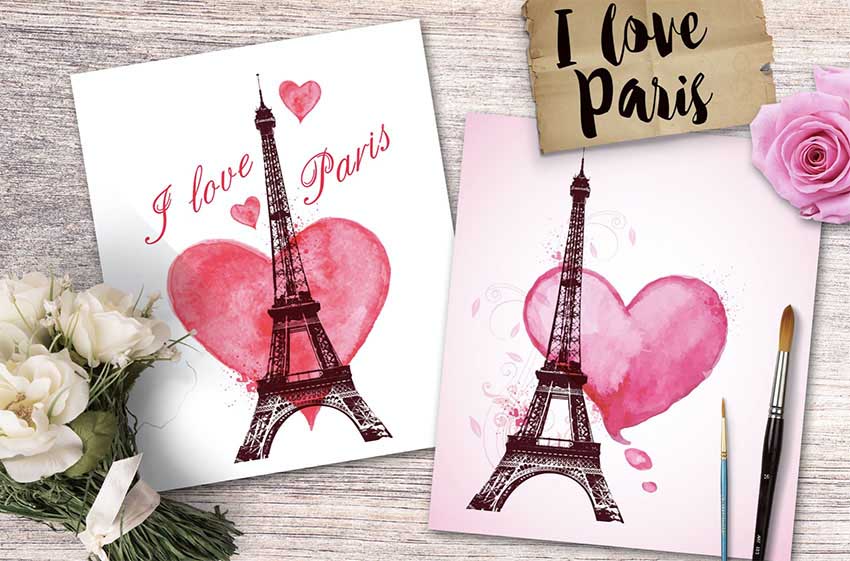 This romantic Valentine heart graphic uses the city of love as its inspiration. The package contains two fully editable EPS vector files that you can customise to create images for T-shirts, posters, cards, or any other project you have in mind.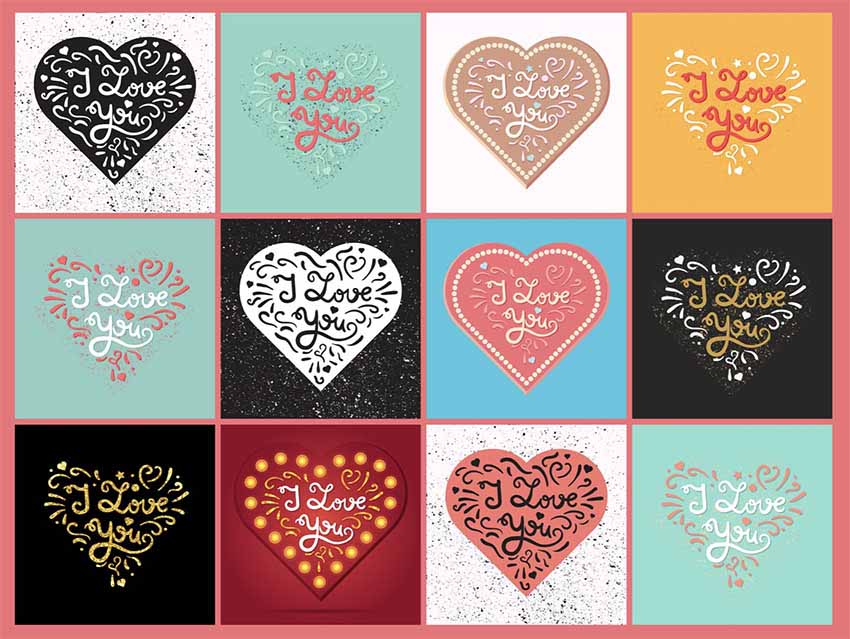 Looking for heart text art? Check out the collection of 12 hearts with the words "I Love You" at their centre. Each card has its own flavour and personality, so choose carefully to complement your projects. 
Be ready when Valentine's Day sweeps around again, by getting your greeting cards banners, posters, and invitations created way ahead of time. These three vintage Valentine's heart illustration vectors give you the perfect image to customise for your projects. The hand-drawn heart and text are offered in three colour themes. Take your pick and get to work.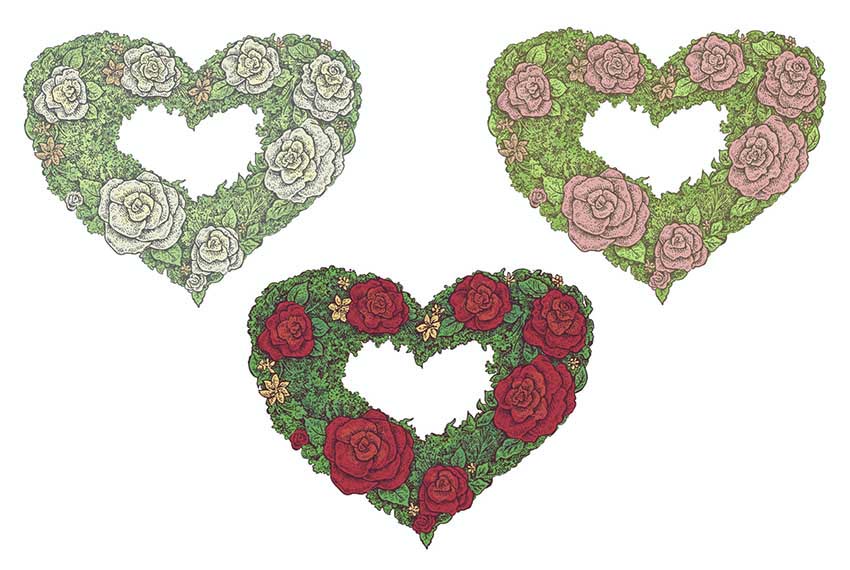 If you love flowers, then why not try this flower wreath set in the shape of a heart? Perfect for Valentine's, engagement, and wedding cards, the set contains one EPS vector, one JPEG, and one PNG on a transparent background.
This whimsical depiction of a couple holding hands is framed in a heart and is a great choice for any project that relates to love, relationships, romance, etc. The vector file is scalable, so you can resize it without fear of losing quality. 
Looking for some romantic, whimsical design options? Here's the perfect option. You get hearts intertwined with various decorative elements from nature. Pull out any of the elements and use them individually or in combination.
Looking for clip art hearts? Look no further. These beautiful pastel hearts are perfect for invitations, scrapbooking, stationery, and more.
Wow, there's something both romantic and a little unsettling about this white heart graphic on a red grunge blot background. Is that blood? Never mind. It's best not to know. Use it on a Valentine's card if you dare.
Here's a seamless pattern you'll love. It looks great on this bag, but you could also use it on a range of backgrounds, banners, cards, and other design projects. In fact, you get three separate high-resolution patterns with this download, each one chock full of those cute little 3D hearts.
What could be more romantic than this beautiful Valentine's illustration, which combines three separate motifs of love in a single white heart graphic? A rose inside a heart, shot through by Cupid's arrow. It's guaranteed to win someone's heart.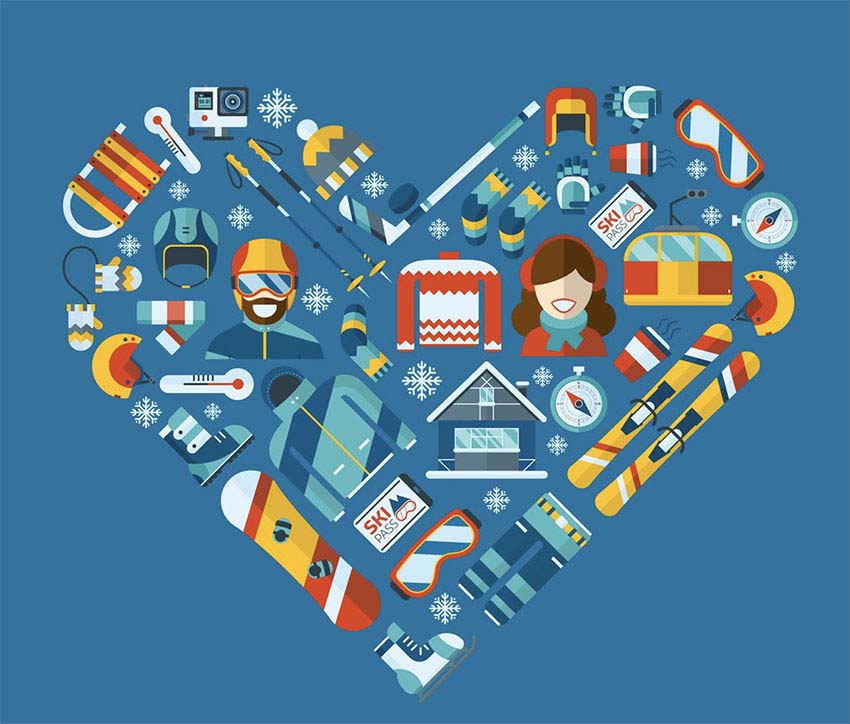 Show your love for winter sports with this cool vector illustration, featuring a series of winter sports icons forming the shape of a heart. You can even pull those icons out and use them individually as well if you want. Download it today and enjoy that fun Alpine vibe!
Choose Your Favourite Heart Graphic Today
Envato Elements is an excellent resource for a range of amazing heart graphics. If you also regularly need fonts, mockups, icons, and other design resources, Elements offers unlimited downloads for one flat monthly fee. Head over to the Elements website today to choose your favourite heart graphic and download it for use in your next project.
And finally, if you want more information on other terrific graphics and vector resources, check out these really helpful articles below: