Looking for the best 80s fonts to complete your projects? Check out this new list for exciting pro fonts!
Everyone is in love with the 80s. Inspired by everything from the futuristic sci-fi films to the awesome retro graphics, designers are getting really creative with their 80s style fonts.
Want to incorporate a few into your next poster? Enjoy this inspiring collection of high-quality fonts from Envato Elements and Envato Market. 
If you're a graphic designer or digital artist who constantly needs the best retro fonts from the 80s, then you can benefit from Envato Elements, our subscription-based marketplace. For a low monthly price, you get unlimited downloads of all the fonts that you need. And that's not all. You can also download templates, add-ons, photos, videos and more with your subscription.
On the other hand, if a subscription isn't your thing and you prefer to get 80s style fonts one at a time, then you'll love our single-purchase marketplace, GraphicRiver. There you'll find everything you need for your creative digital projects.
40+ Best 80s Retro Fonts 
Without further ado, let me show you some of the coolest retro fonts from the 80s you can get from Envato Elements and GraphicRiver.
Hanahelia is a great example of an 80s style font. Add some neon and shiny effects, and you'll get a cool 80s lettering design. This script font is perfect for logos, flyers, posters, and more. 
In the 80s, futuristic looks were very popular. And this eighties font is all about it. Take advantage of this very complete pack. It comes with the OTF typeface, as well as cool backgrounds and elements in EPS, JPG, PNG and PSD files.   
Neon was trending in the 80s, and it sure is trending now. Check out this cool 80s type script and add a really cool touch to your retro designs. Use it for logos, branding, business, or any project you've got in mind.
This nice sans-serif eighties font is described by its creator as the result of mixing "the trends of aesthetic design with the implementation of vintage poster design, and 80s disco boogie music". We think it's a really cool 80s typeface for your designs.  
Gorgom is another cool futuristic font that looks awesome as an 80s style font. It looks great on gaming projects and any other retro designs.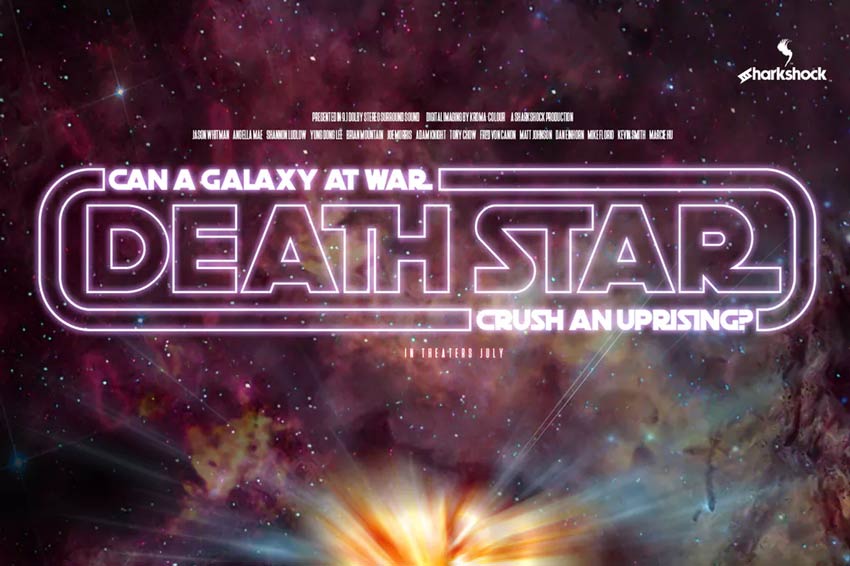 This wicked 80s type design is inspired by Star Wars. Crush the competition with a cool retro font that's perfect for sci-fi projects and games. Included in this download are letters, numbers, and additional alternates and ligatures. Check it out!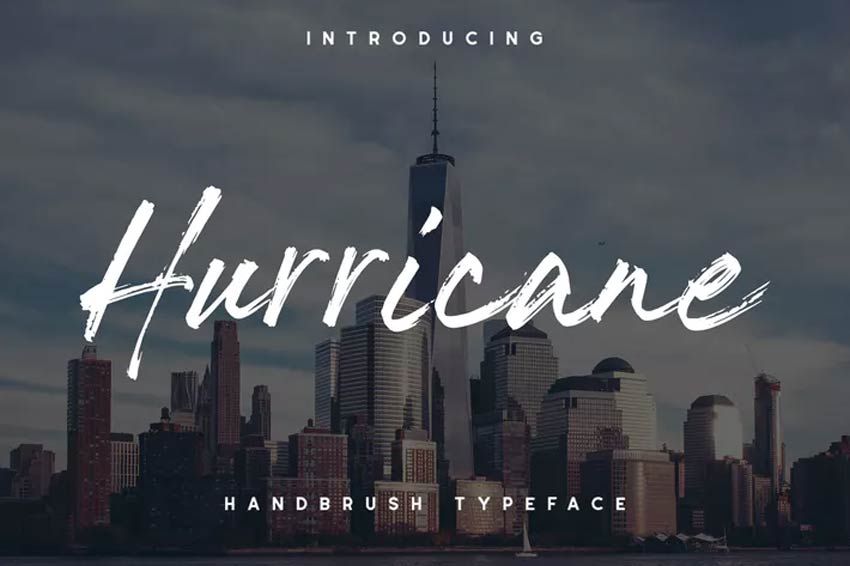 Handmade fonts are created by scanning in high-resolution images of letters elegantly brushed by hand. This set of 80s typeface includes a versatile brush typeface inspired by simple masculine vibes. Try it out on posters, invites, or stationery.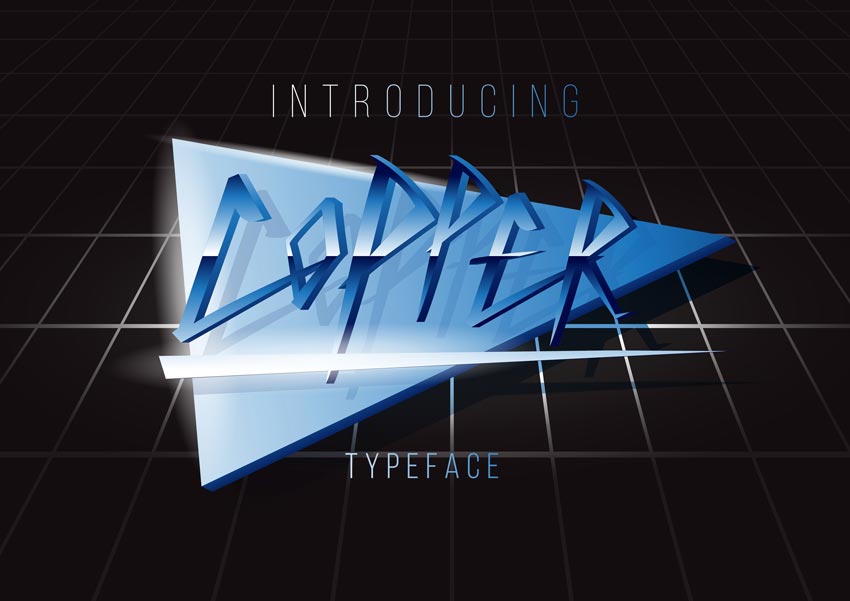 Looking for a clear 80s retro font? This popular trend often features a great metallic sheen that will work on many 80s projects. Add it to a movie or product title like the image above. For more great results, personalize the 80s lettering to fit your brand's style.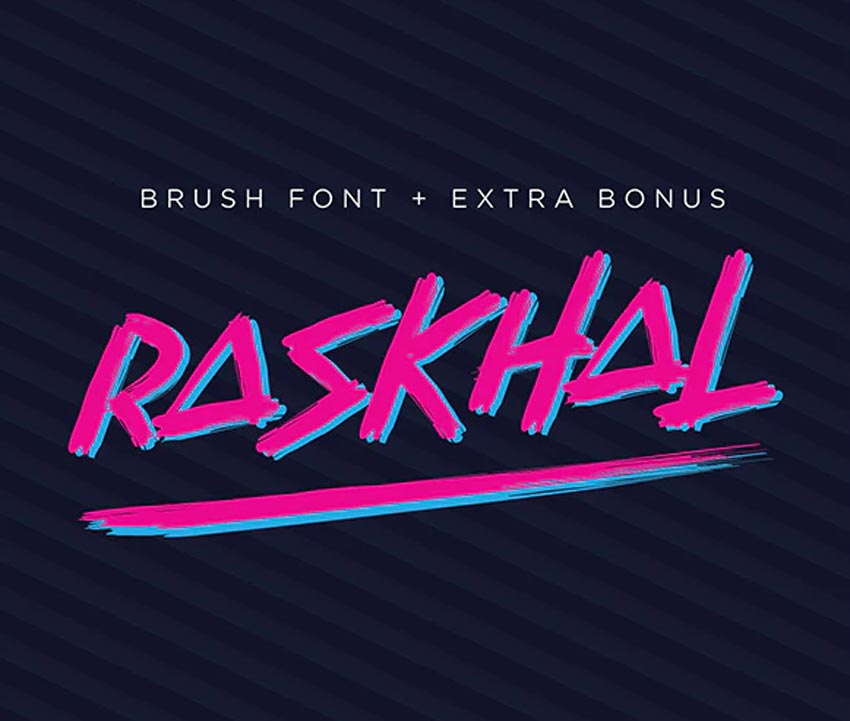 Eighties-style fonts like this one don't often come with extra bonus features. So make sure to grab this creative typeface inspired by the neon lights of the 1980s. You can even test drive this 80s type font with any word by visiting the preview link. Try it out!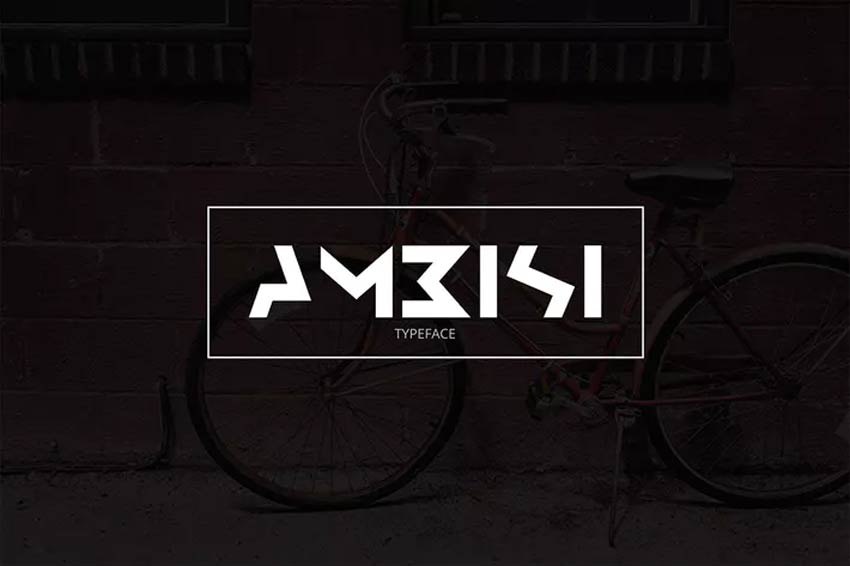 Eighties text fonts like this Ambisi font are like no other. They feature interesting geometric shapes inspired by abstract and futuristic concepts. Make your work stand out with this cool and unique eighties font text style.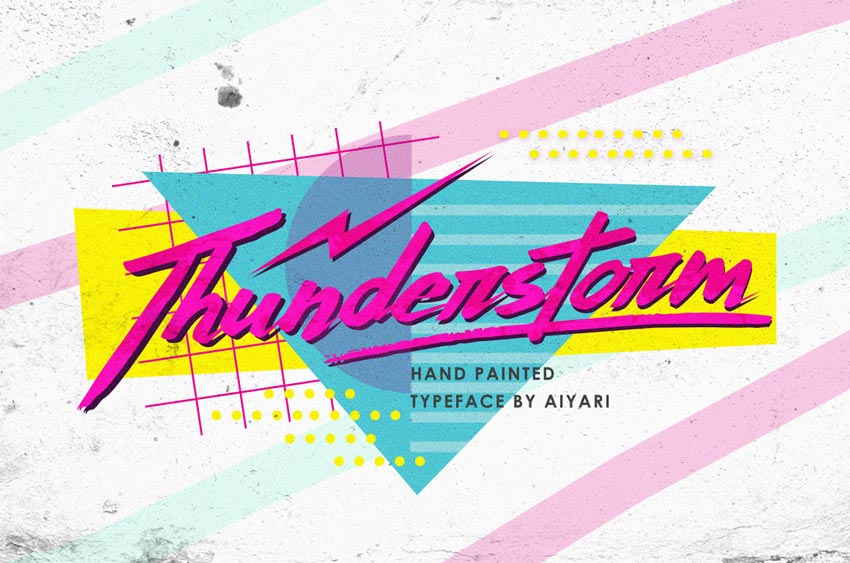 Need another great retro font for your collection? Thunderstorm is a hand-painted 80s typeface that emulates classic show titles from the past. Add it to your YouTube videos, social media pictures and more for a whole new look!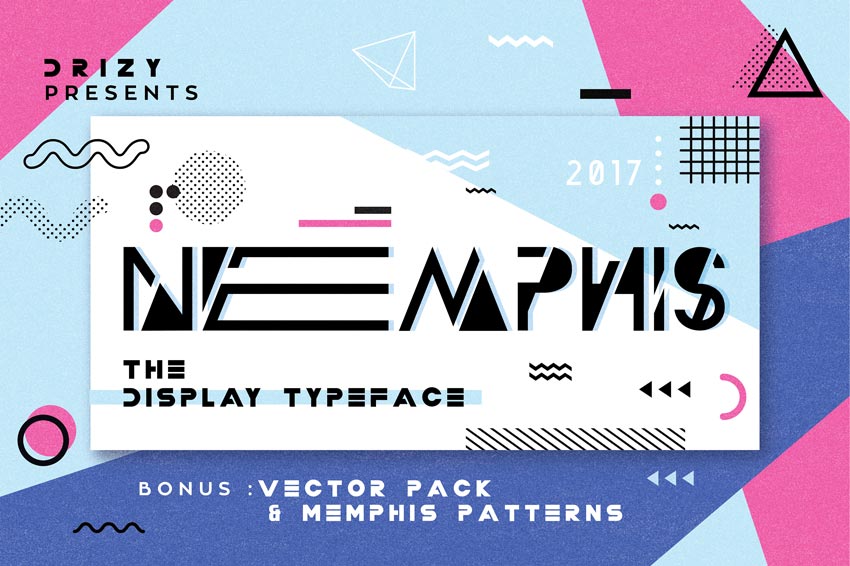 Nemphis is a brilliant new font based on the popular 80s Memphis Design trend. It uses funky shapes and letter arrangements to create intricate letters with lots of personality. Use this display 80s typeface on almost any project, from web work to print design.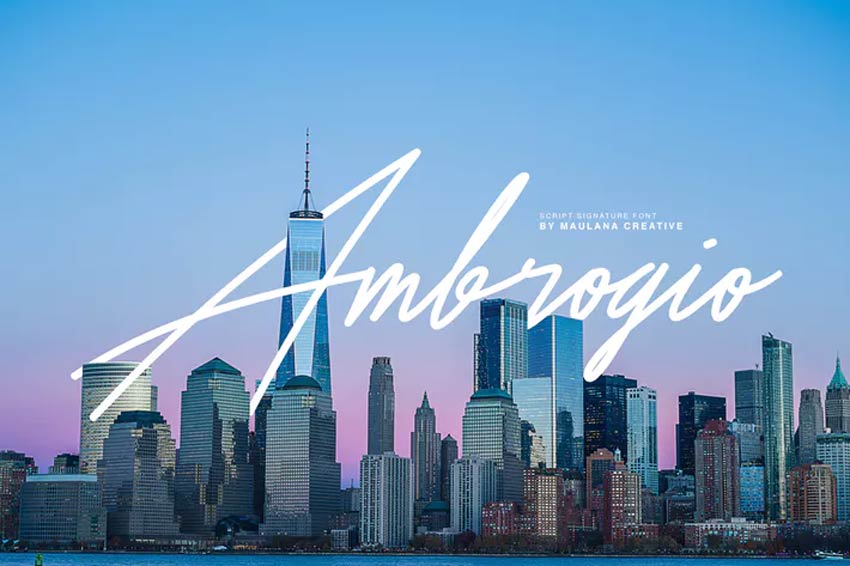 Or wrap your signature around a stunning skyline with the Ambrogio eighties font. This 80s script font is destined to give your work a bold new aesthetic. Designed entirely by hand, this signature font will work perfectly with book covers, magazines, and text effects.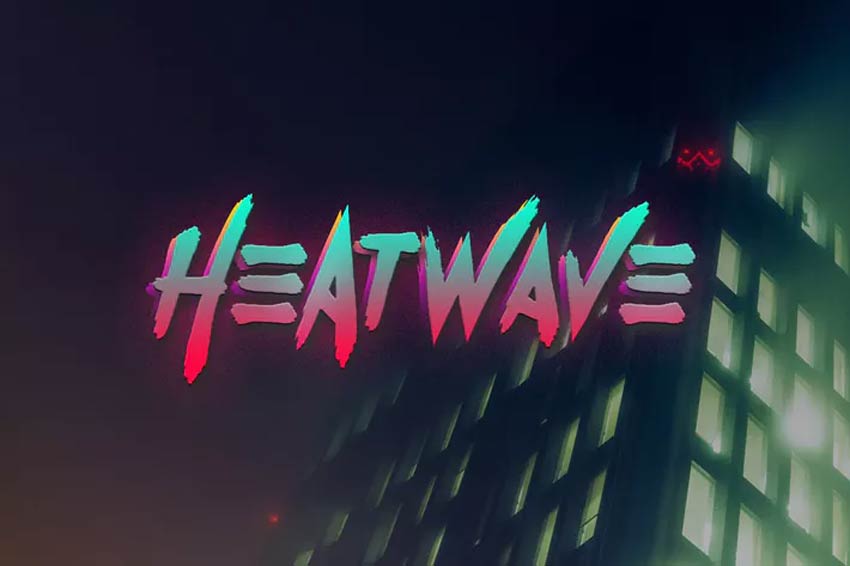 Need a neon 80s font? This Heatwave font might be just the fit for your 80s poster. Inspired by classic retro 80s graphics, this font is cool and edgy. Included in this download is a full set of letters, numbers, and punctuation. Multi-language support is also included!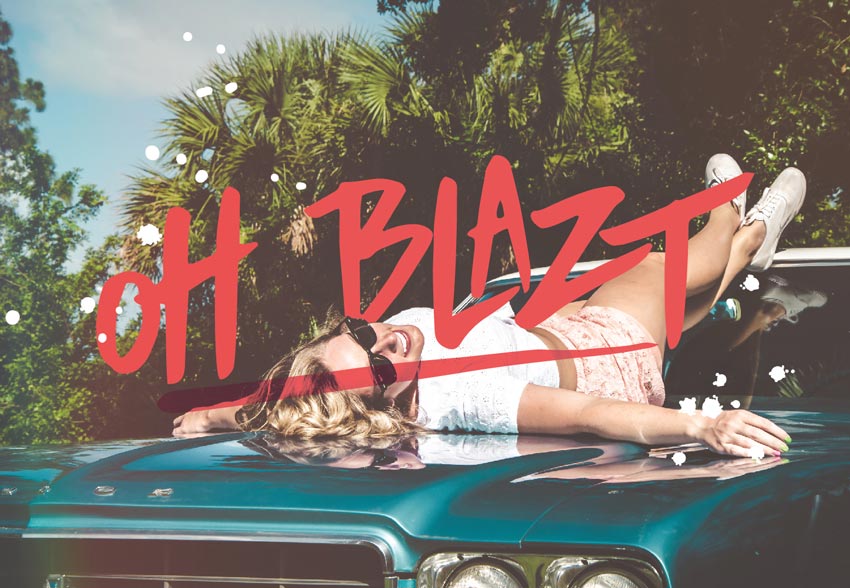 Get inspired to make great graphics. This next cool 80s font really stands out on posters, logos, and header designs. You can also add it to illustrations for a nice comic effect. Grab this pro 80s text font for just under $20!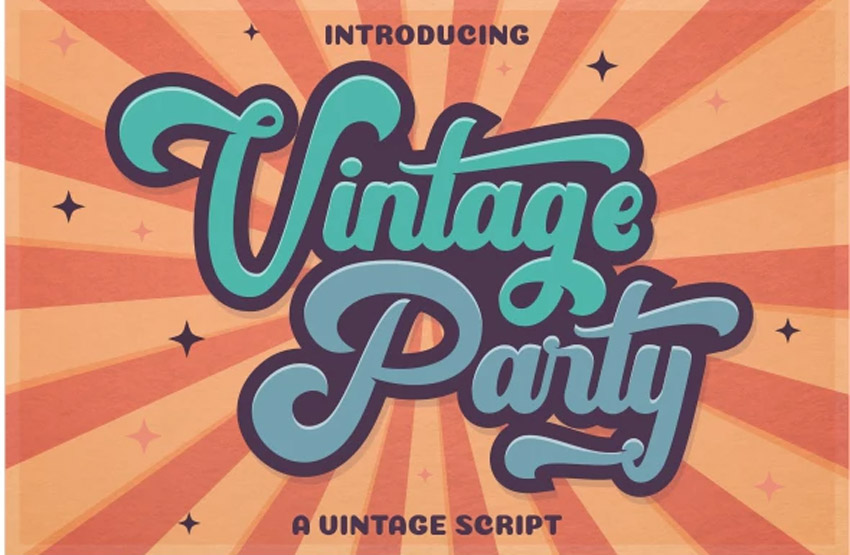 So where's the party? Lay out the plans with this incredible 80s script font. Whether you're throwing a party or creating signs for a tropical bar, this 80s type font will help you set up your brand right. Grab it today for just under $15.
17. Burnout 80s Font (OTF, TTF) (Envato Elements)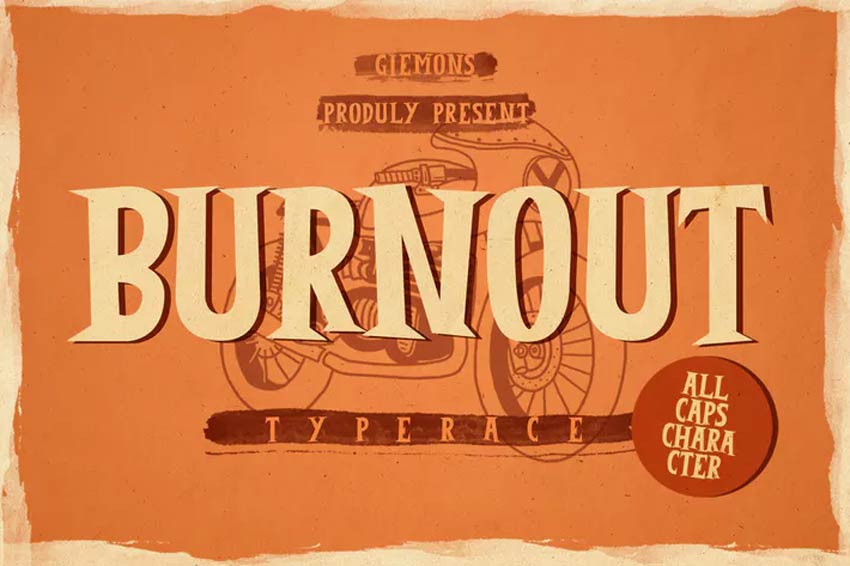 Feeling burnt out? Stay inspired with a creative typography project. This burnout font is an all caps typeface that is loud and proud. So stand out with this complete set of letters, numbers, and punctuation. Perfect for retro album covers too! 
18. Boldwest Font (OTF) (Envato Elements)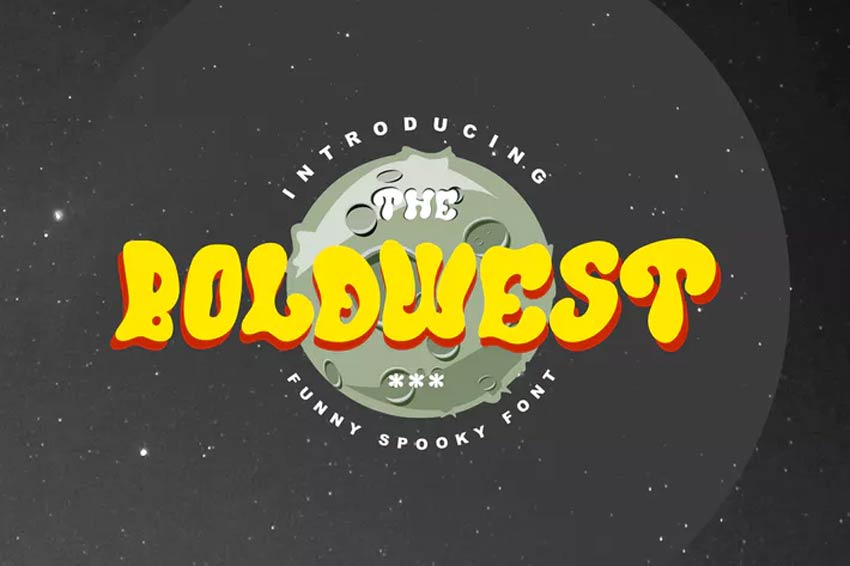 Want a bold font next? Boldwest is a creepy and spooky font type. Inspired by Halloween, the letters were created to emulate spooky ghost shapes and funny characters. Add it to your work for a cute and funny typeface.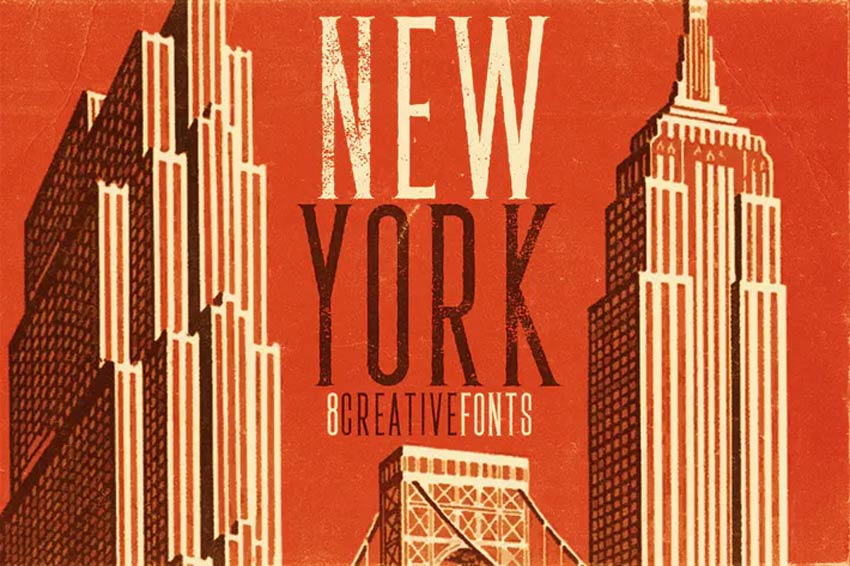 Many of New York's famous buildings were made in the 80s. Now you can get that 80s New York vibe with this retro font. Featuring eight creative fonts, this pack includes amazingly detailed grunge textures and serif typefaces.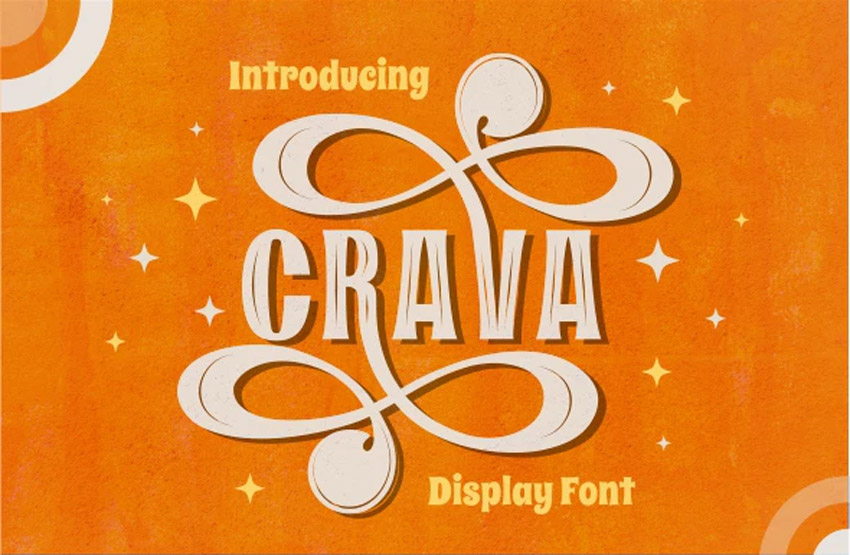 Craving a little nostalgia? Step into a time machine with the wonderful Crava retro font. This 80s font is curvy and big. It's a unique display font with large, looping letters and an all caps style. Use it for a retro twist to any poster or project.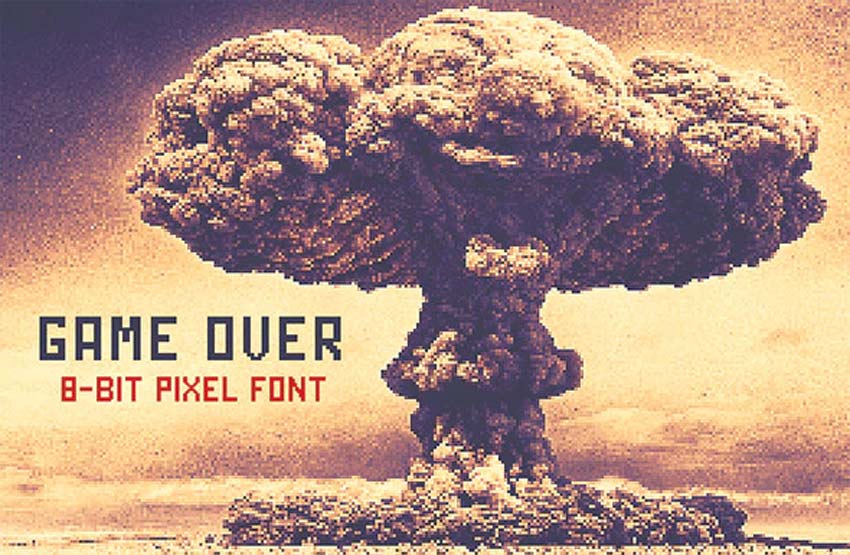 What was your favorite game in the 80s? Many of the 80s style fonts we've seen already are inspired by eight-bit pixel games and sci-fi films. And the Game Over font is no different. Grab it for just $11 to see how it will look on your next design. Try it out!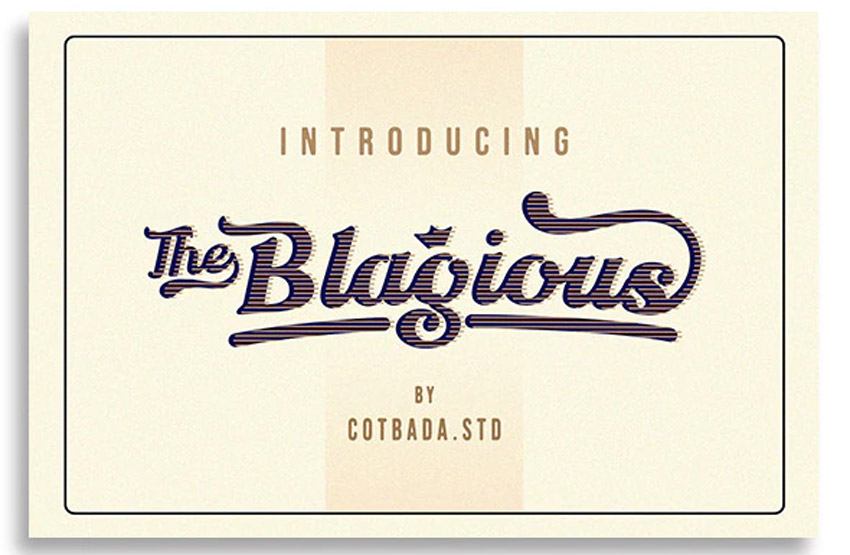 Create bold logos with the Blagious script typeface. An extraordinary design by Cotbada-studio, this script is flirty and makes any packaging stand out. Visit the preview link to see more examples and to test it out!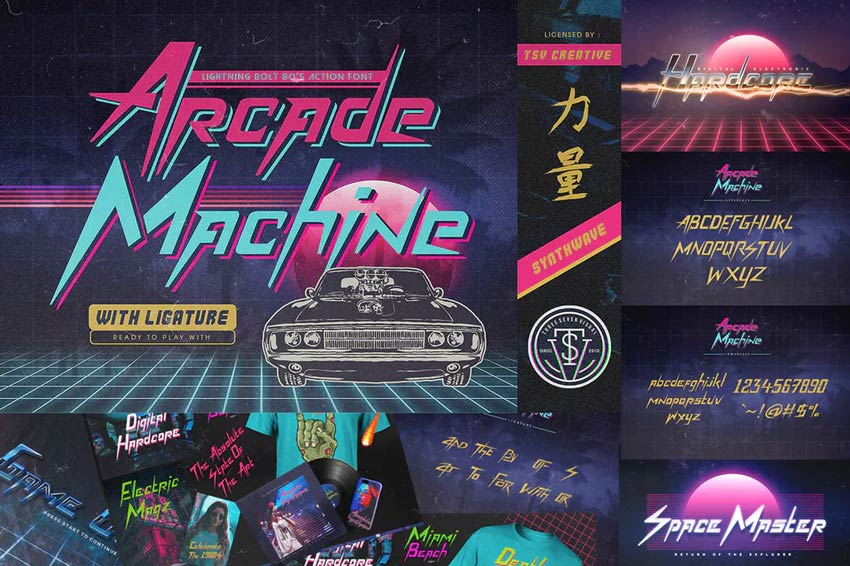 Relive the magic of the 1980s arcade. Inspired by 80s classics like Knight Rider, Miami Vice, and arcade games, this retro font pack is sure to make your T-shirts and posters shine. It comes with uppercase and lowercase letters as well as additional ligatures. 
Here's another great neon 80s font to add to your collection. This retro, classic script could easily have come out of any vintage film. It features stylish capital and lowercase letters you can definitely bring into modern designs. Try it out with your work!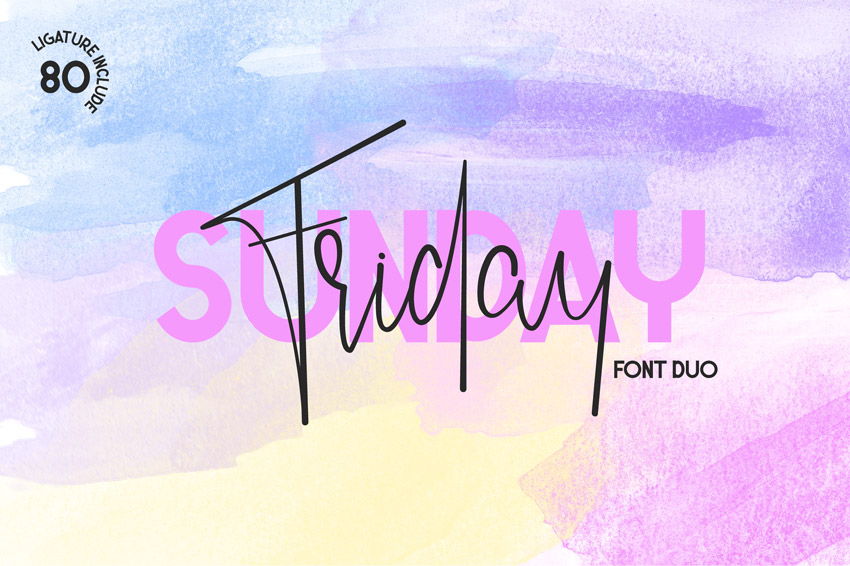 Create more harmony in your designs with this creative font duo. Friday Sunday is a cool retro font with a nice modern edge. Easily implement it into logos, websites, and stylish branding material. The possibilities are limitless with this one.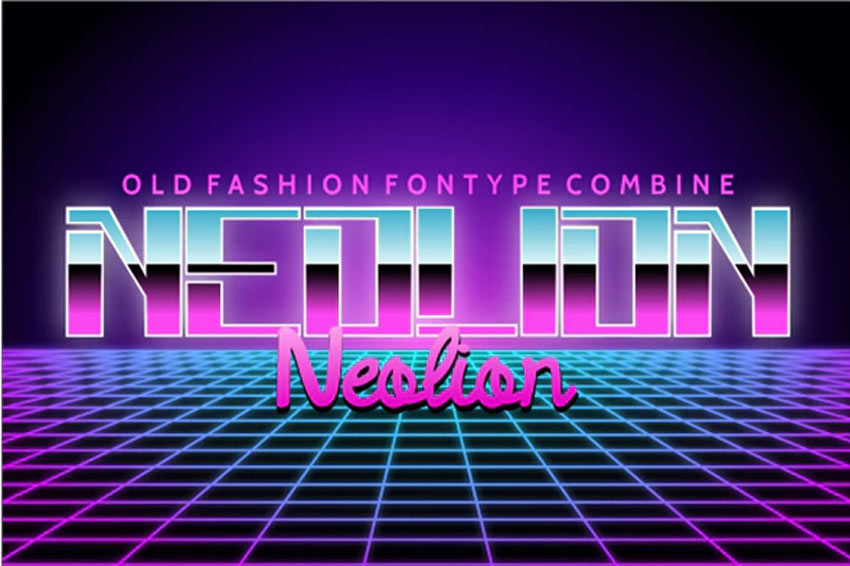 The neon 80s font trend has seen many great fonts, like this Neolion font duo. This download comes with amazing regular, italic, and script neon styles. Suitable for a variety of purposes, this font can definitely help if you need a boost in your creative content.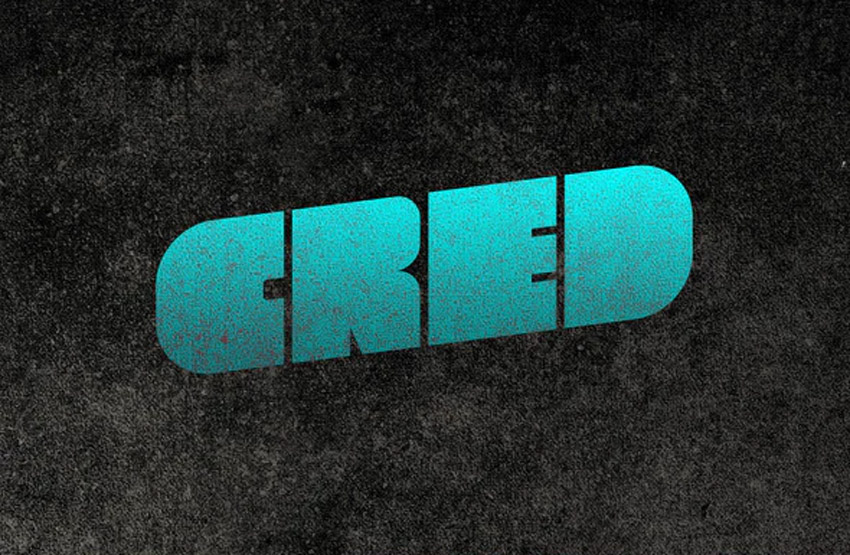 Many fonts from the 80s are just plain old quirky, like this Cred font. Inspired by the fun and funny fat typefaces from the 80s, this typeface is full of texture and personality. It'll certainly take up space too, so use it wisely for the best impact.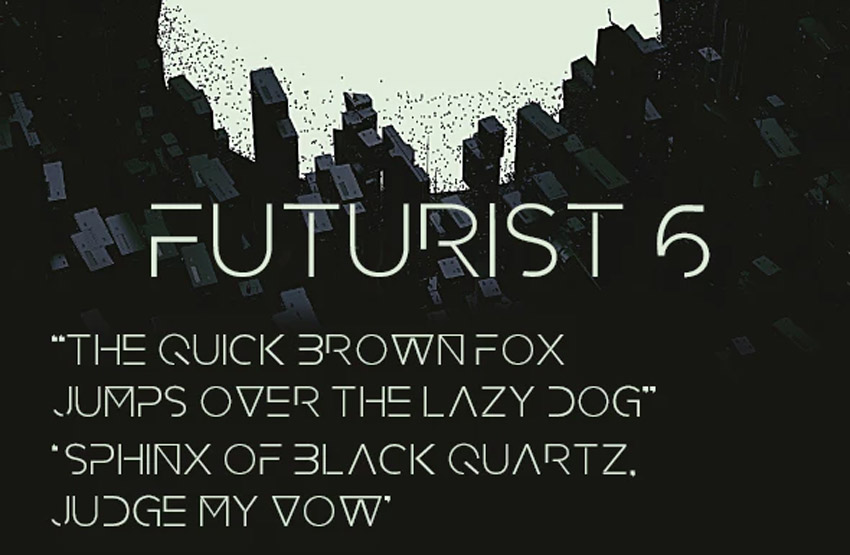 There is nothing like a classic sci-fi movie from the 80s. The Futurist 6 font explores the wonderful geometric trend with angular shapes and minimalist lines. It's legible enough to read as a book title or a bold logo. Add it to your collection today!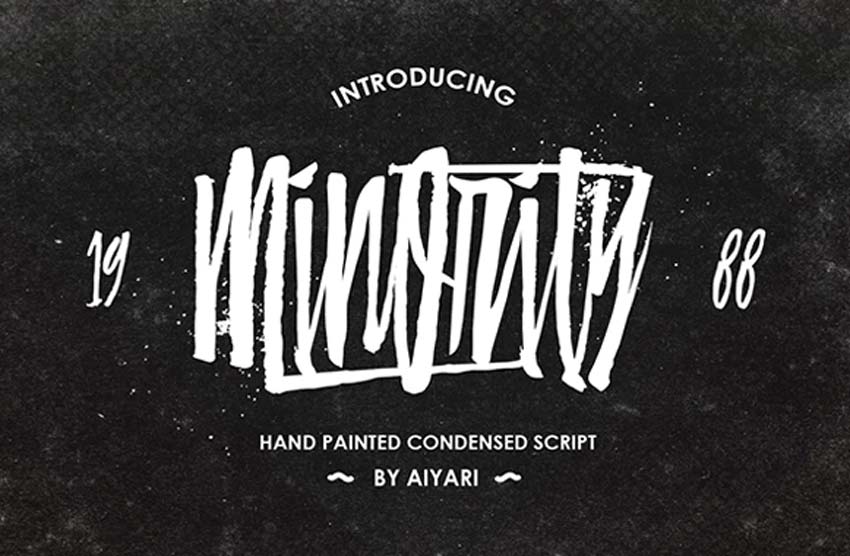 Eighties text fonts are sometimes messy too. The Minority retro font features a hand-painted condensed script that is bold and explosive. Enjoy the realistic spray-painted effect and epic stylistic alternates. How would you use this font in a project?
30. Broken Font (OTF, TTF, WOFF) (Envato Elements)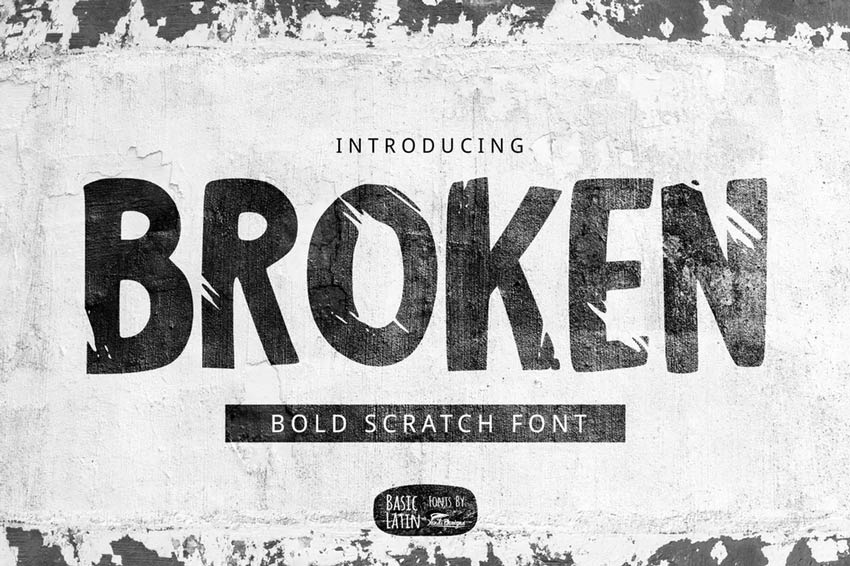 You can fix just about anything with good design. So fix your work with the Broken font. Made by designer yandidesigns, this bold scratch font is new and unique. It features a full set of uppercase letters with realistic dents and scratches. Give it a go!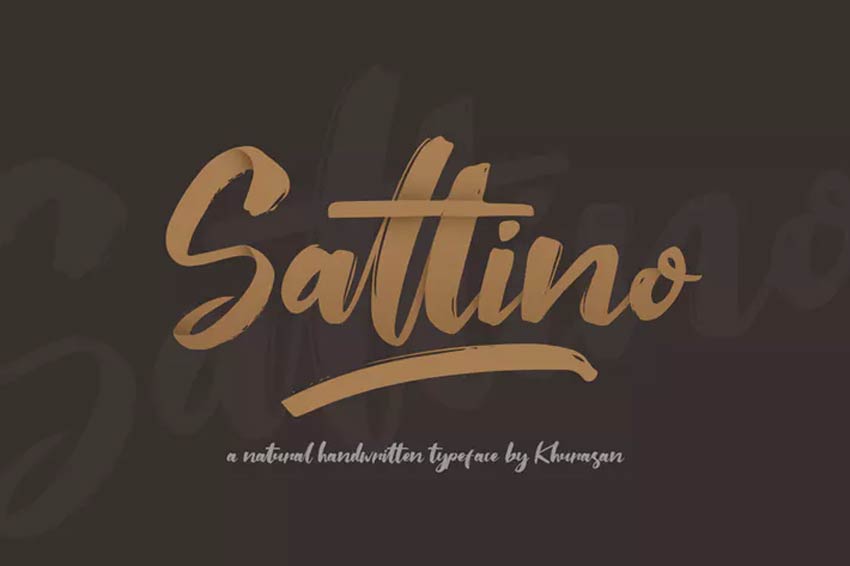 If you're looking for a logo design that looks effortlessly natural, try the Saltino typeface. This natural, handwritten typeface was made by designer khurasan. Its sultry style is soft and elegant, making it the perfect fit for wedding designs.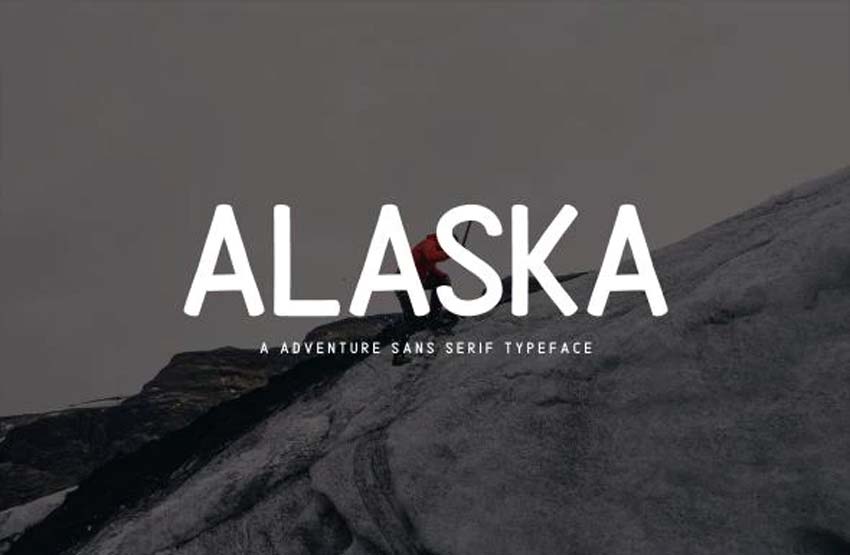 Want another great 80s text font? The Alaska Adventure typeface has a clean, sans serif style. The subtle letter arrangement has awesome character to it and works incredibly well with minimalist projects like logos and headers. Try it out on invites and print design too!
33. Kust Brush Font (OTF, WOFF) (Envato Elements)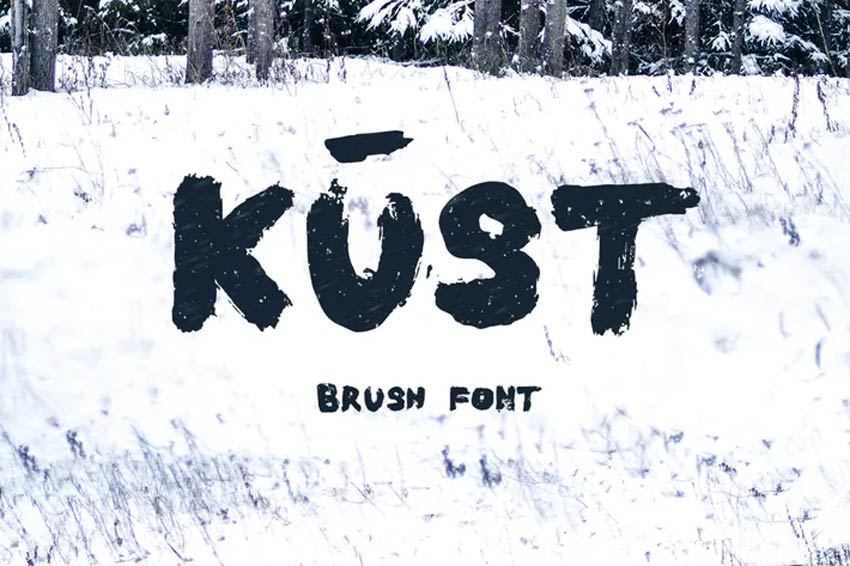 Here's another impressive brush font to add to your arsenal. Kust Brush is both bold and effective. It features a realistic brush style with lots of texture. Every letter has been given a distorted look, so you'll truly get a unique vibe with this typeface.
34. Video Game 80s Font (OTF, TTF, WOFF) (Envato Elements)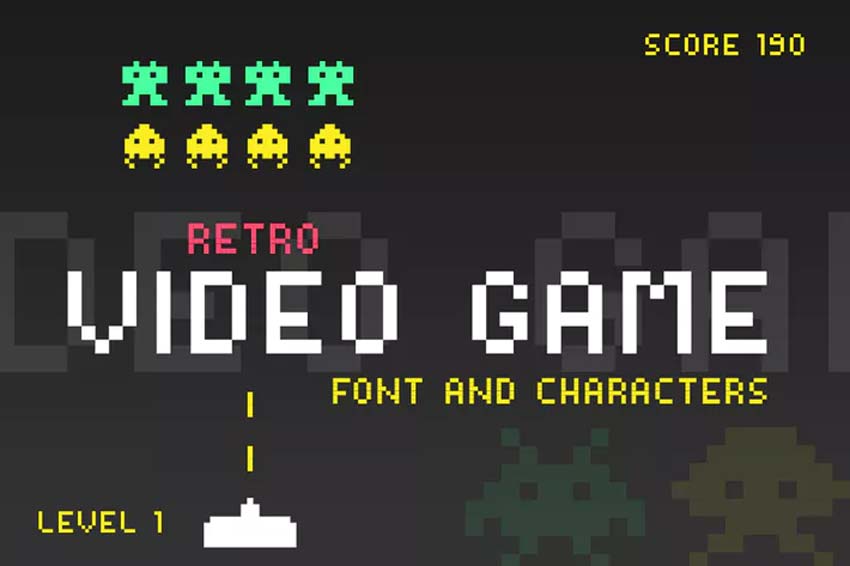 Love the video games of the 80s? Create your very own video game titles with this amazing video game font. The designer created this pack of fonts and video game characters, including 17 retro Martians. Mix and match this pack for a cool result!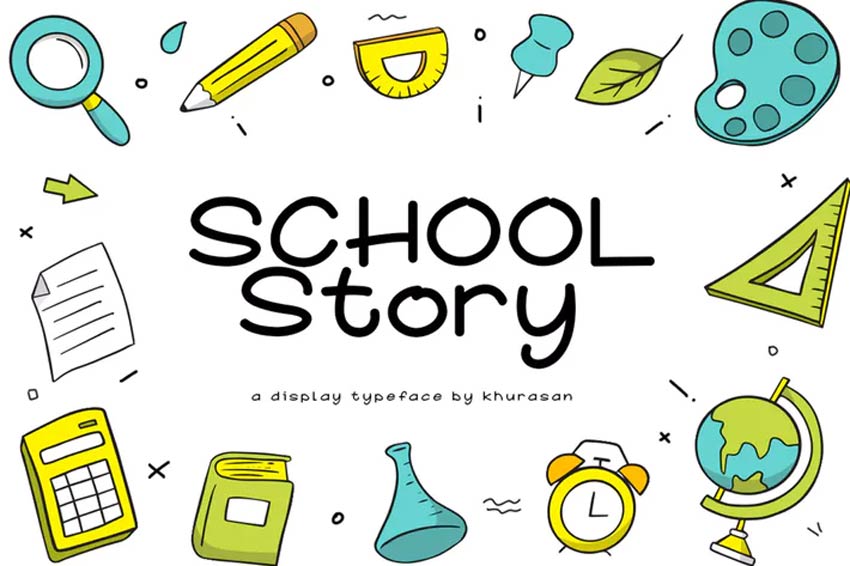 Or tell your story as you would in school. School Story is a cute display typeface made with a lot of creativity. It can instantly add a cheerful element to your designs and works well with presentations and more. Get letters, numbers, and punctuation with this set!
36. Artzopo Font (OTF) (Envato Elements)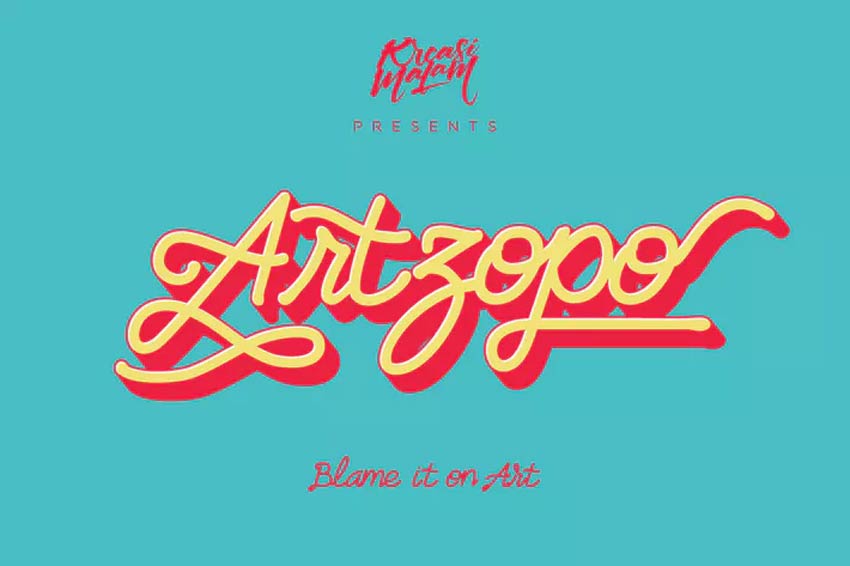 Feeling a little artsy? Express your creative juices with the Artzopo font. This handmade font can easily be fitted for logos on T-shirts and apparel. Make an impact with a cool handwritten look that's hard to miss. Try it out!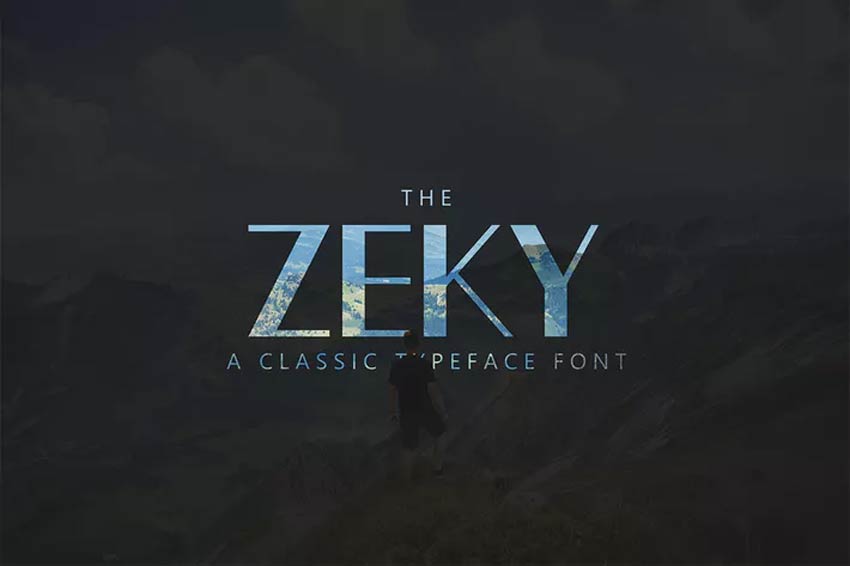 This next 80s text font is sleek and sophisticated. Zeky is a classic typeface with tall characters and sans serif letters. Download this font to get everything you need as well as a helpful instructional guide. Easy installation too!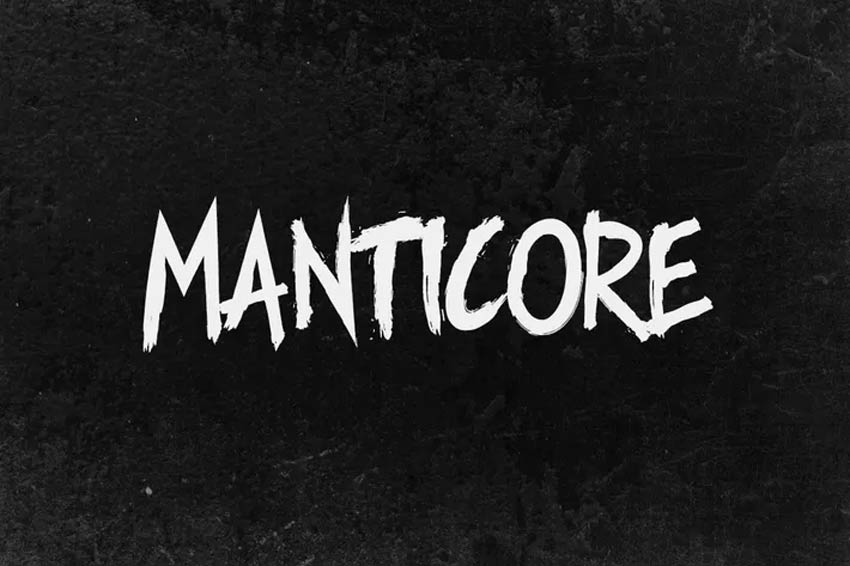 Brush fonts are one of the best ways to add a little edge to your projects. The Manticore font is an 80s brush font with letters, numbers, and extra glyphs. It works best on 80s styled prints like punk graphics or horror themes. Check it out!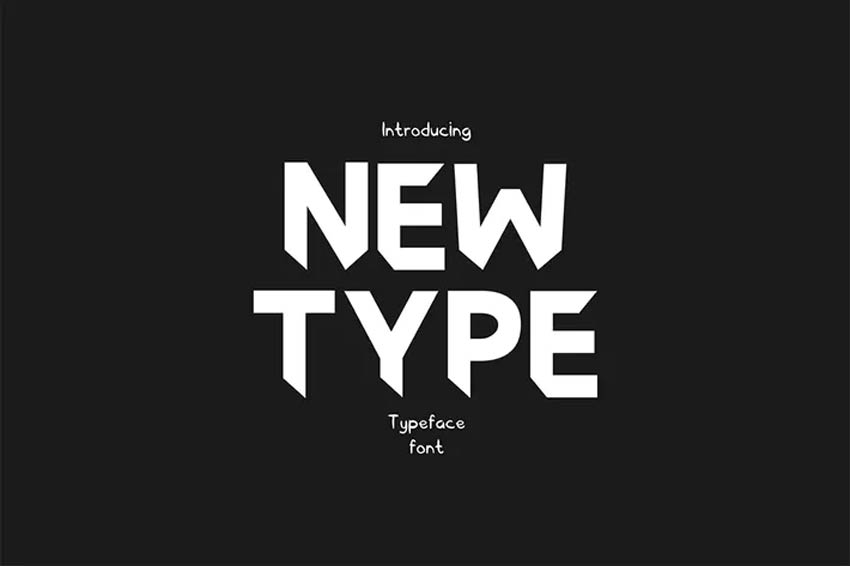 Looking for something new? Step out of the box with the Newtype typeface. This fresh and unique font is sure to add character to your typography. It's available in OTF and TTF format and works well with various media. Try it out on video games or movie titles.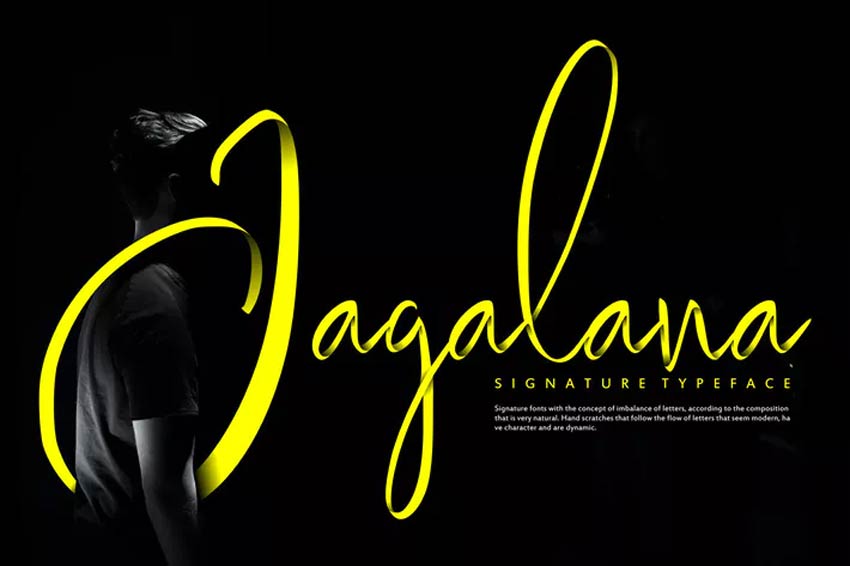 Or make a lasting impression with the stunning Jagalana typeface. This 80s script font has beautiful, swooping letters and a nice, elegant feel. Calligraphy styles like these are lovely on invites, but you can also try them out on branding material and more. So add it today!
Megaton is a really cool 80s typeface. Check this big and bold stencil font with uppercase and multilingual letters, numbers, and punctuation. If you mix it with a cool sans-serif or script font, it will take your design to the next level.
We close the selection with a really cool neon 80s lettering. This is a bold display font with a vintage feel, totally inspired by the 80s. The pack includes a neon sans-serif font and a neon script font. Use it to make your logos stand out!
Learn More About Retro Design Trends
Now that you've seen our coolest 80s lettering styles, I'm sure you'd like to know more about this retro design trend that is taking over social media and brands. I've got this useful video where you can learn more about it:
Don't forget to visit our Envato Tuts+ YouTube channel, where you can find dozens of interesting and helpful tutorials and videos.
You can also try out these epic 80s design tutorials:
Find More Font Inspiration
Fonts used in the 80s are getting their long-overdue praise this year. So how will you incorporate these cool designs into your next work? Let us know your favorites in the comments! Learn more about 80s styled fonts. Check out these links:
This has been a selection of premium resources perfect for the avid
designer. For more retro fonts from the 80s and cool 80s lettering, check out Envato Elements and Envato Market Happy designing!