This subscription-based marketplace offers tons of graphic templates, fonts, logos, add-ons, and more, all for one low monthly fee.
Best Car Wash & Detailing Flyer Templates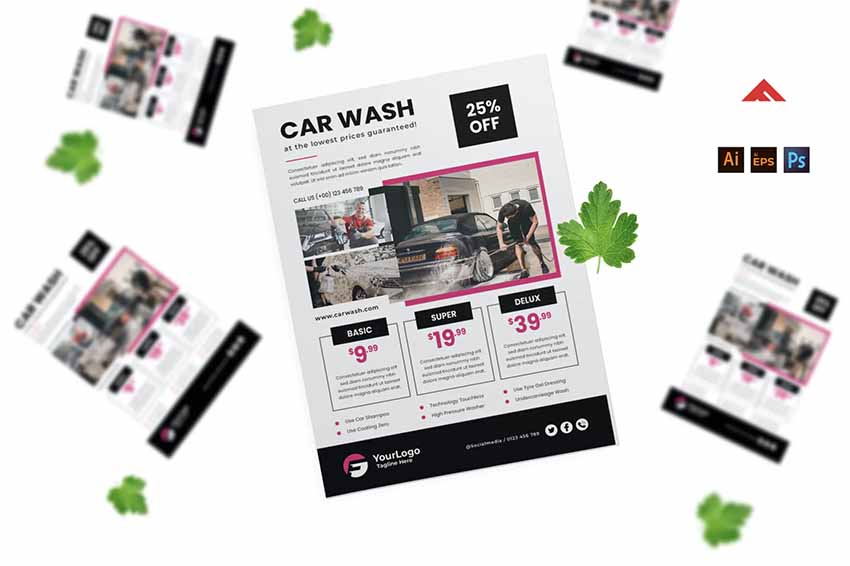 The Car Wash Flyer template will help you create a terrific flyer with all the essential information in no time at all. The template is fully customisable in both Illustration and Photoshop.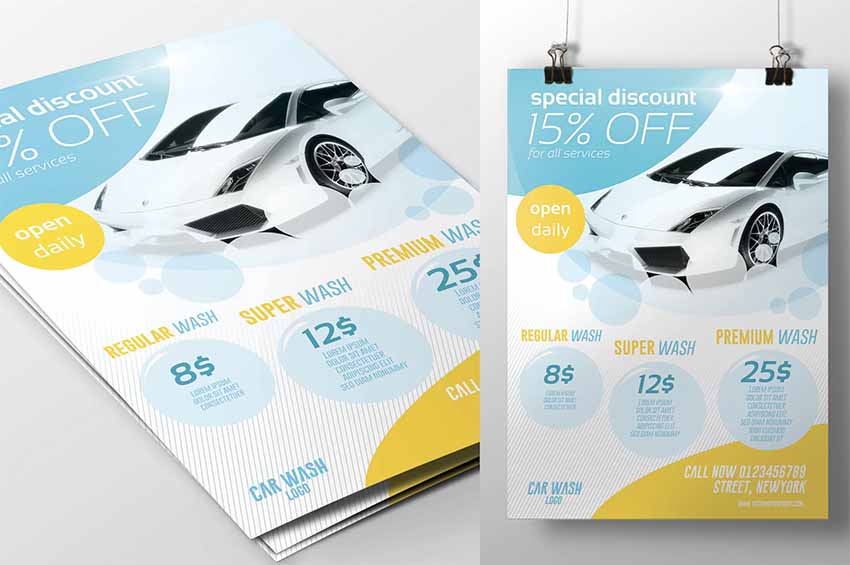 This professional Car Wash Price List Template is a great choice for letting your potential customers know about the services you offer. The template is completely editable using either Photoshop or Illustrator. Just add your own photo, text, and business colours, and your new flyer is ready to print and distribute.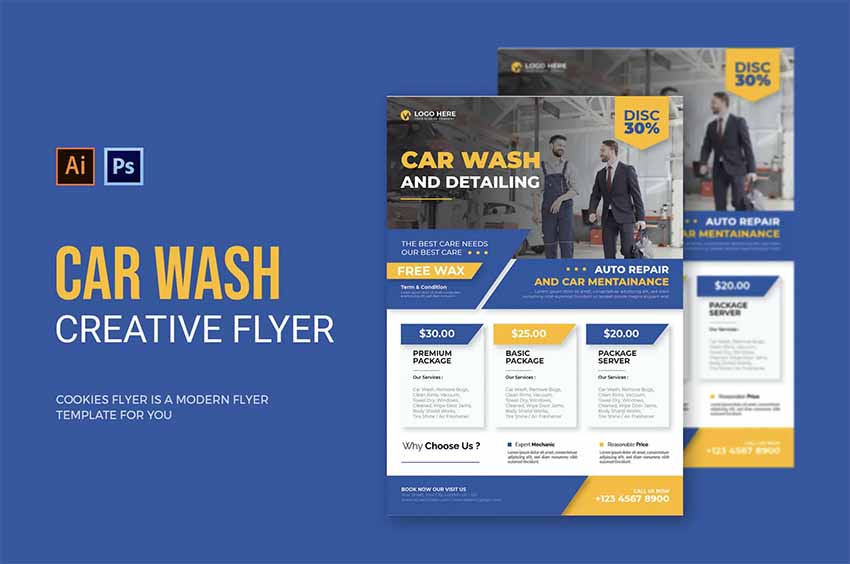 When you need a professionally designed car wash flyer for your new business venture, choose Car Wash Flyers Sample. The layout is professionally designed for you, so all you need to do is add your own photos, text, and colour scheme to make the template your own.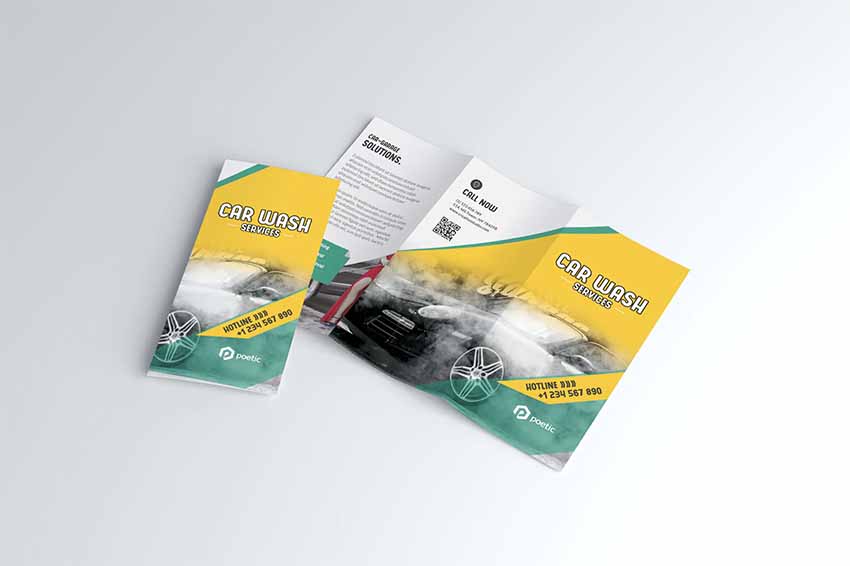 Well-organised files make the job of customising your template easier, and one of the terrific qualities of the Car Wash Fundraiser Flyer is that it is very well organised and thus easy to customise in both Illustrator and Photoshop.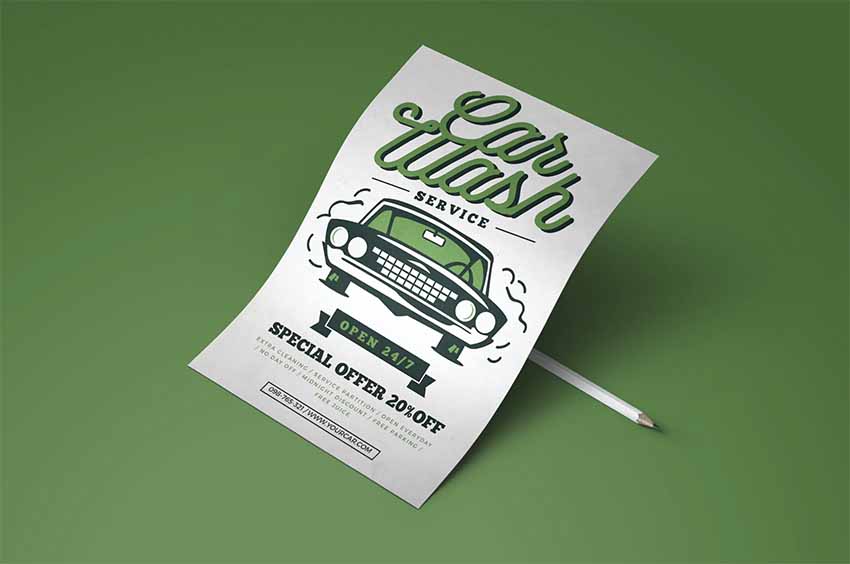 Keep things simple when you use this Car Wash Flyer Template. Its minimalist design will focus your potential customers on the information that's most important: your company name, the services you provide, special offers, and your contact details.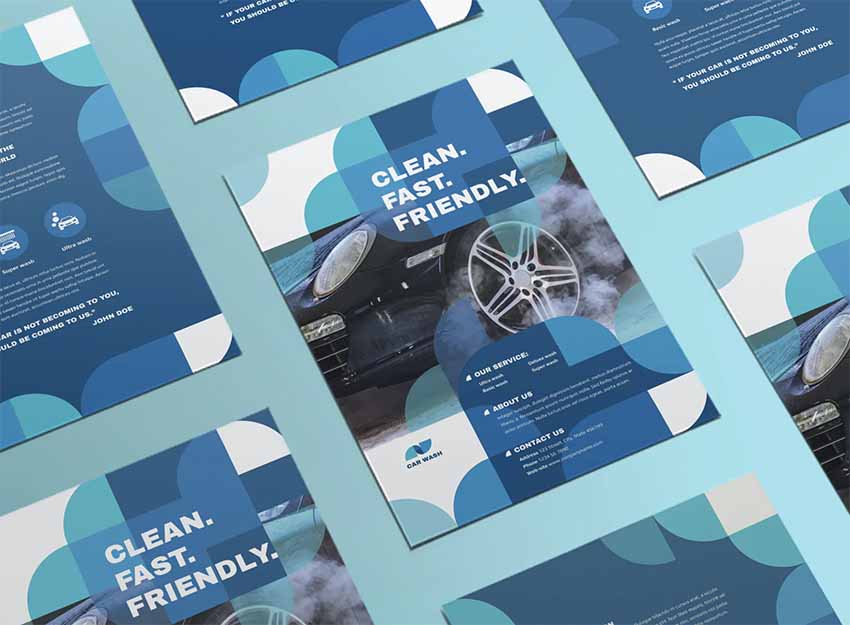 Create professional and engaging flyers when you use this Car Wash Flyer Ideas Template. The double-sided template includes both A4 and US Letter sizes which are fully editable using Photoshop or Illustrator.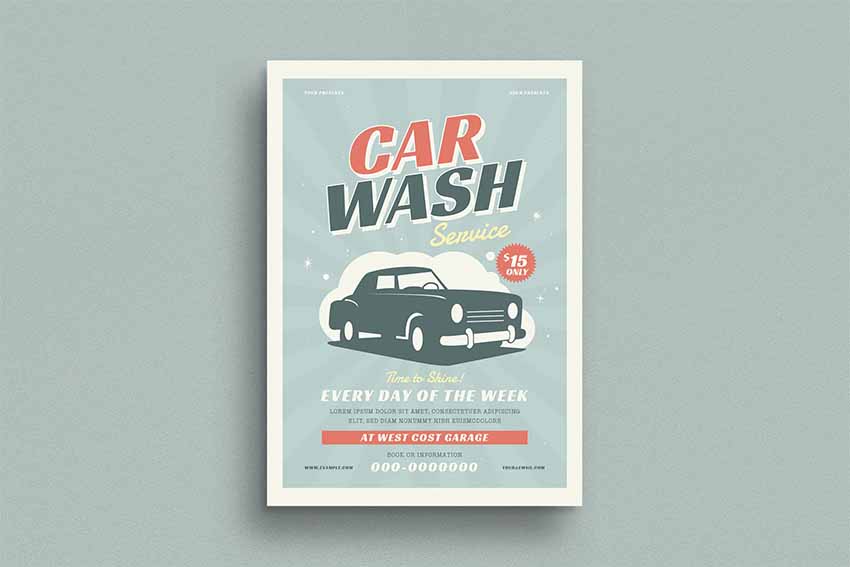 Use either Illustrator or Photoshop to customise this retro car wash flyer temptable and create an eye-catching flyer to promote your business. The A4 flyer features well-organised layers, which help make editing easy.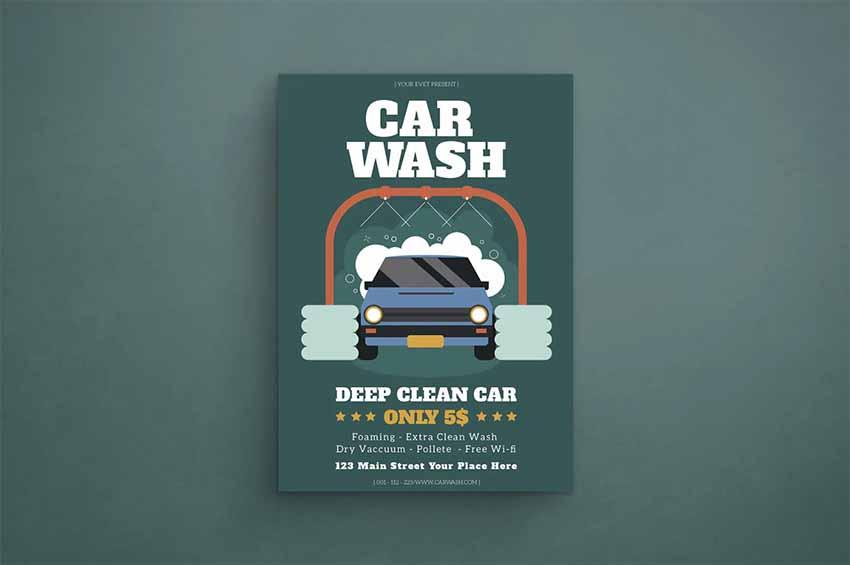 Here's an A4, print-ready flyer template that's a great choice for your car wash service. Car Wash Fundraiser Flyer Template is a well-laid-out template that is print-ready and easy to edit.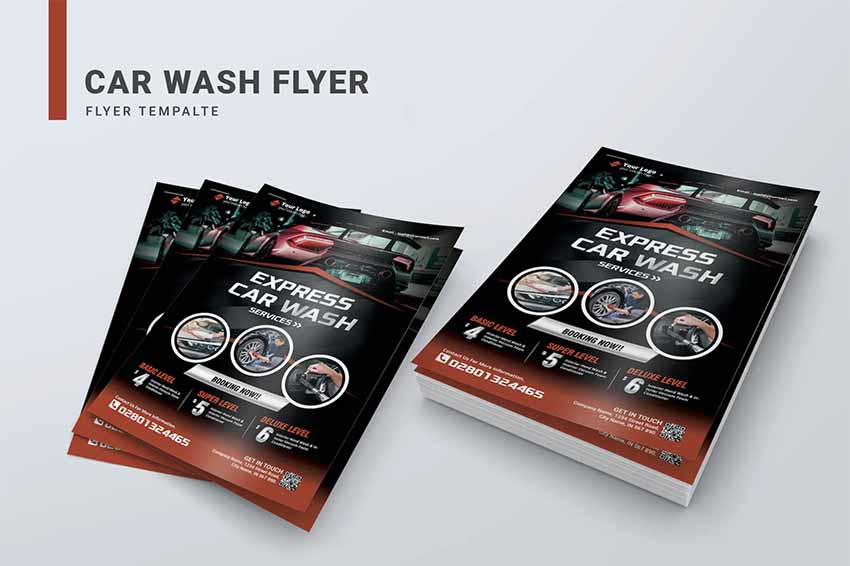 This Car Wash Flyer Template provides you with a great way to create a flyer for your business. All the elements in the 8 x 11 inch template are fully editable.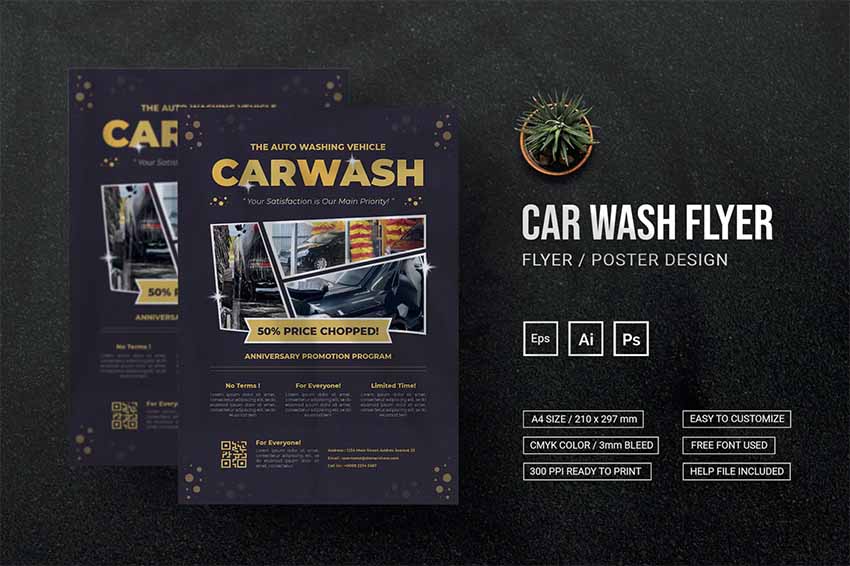 How about this cool flyer for your carwash business? The unique design is both functional and eye-catching. Add your images and text using Photoshop or Illustrator.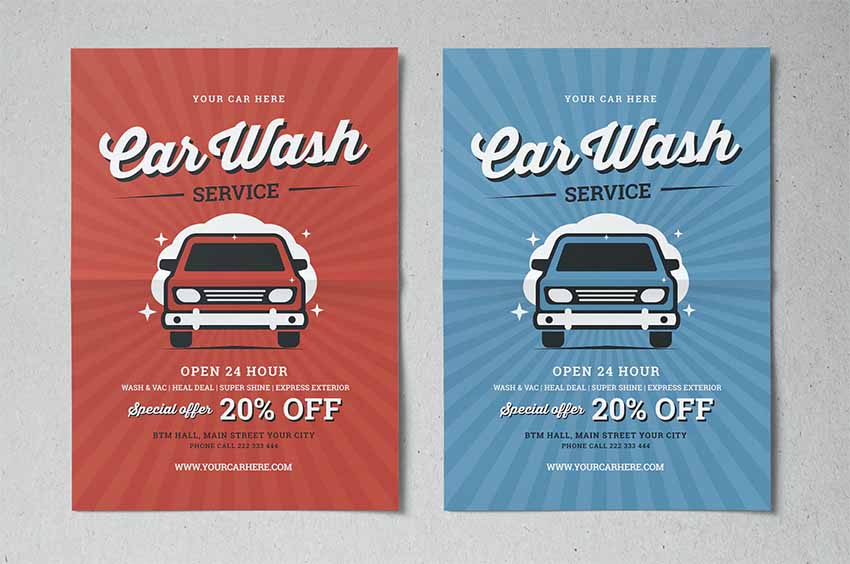 Create stunning car wash flyers with this terrific A4 template. The template is offered in two PSD files to give you a bit more versatility.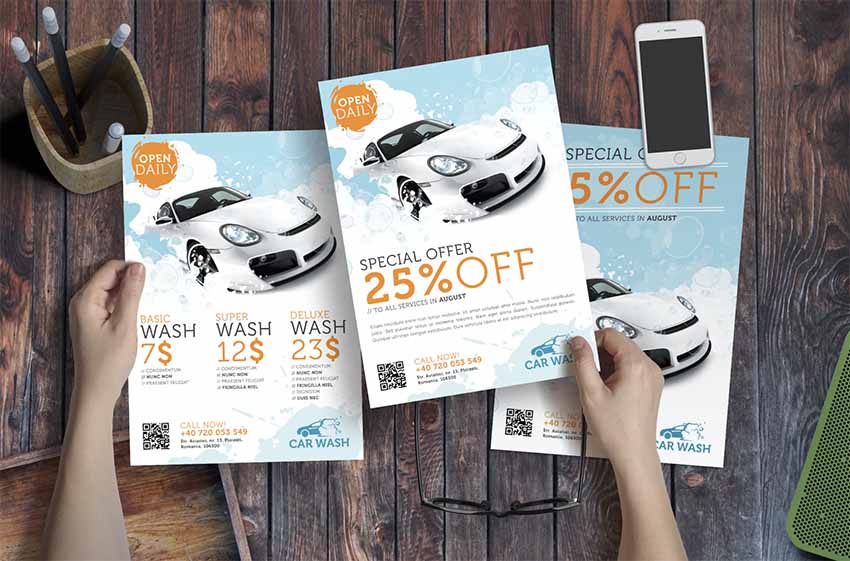 Promote your car wash service effectively when you use this terrific template to advertise your prices and deals. Available in three different design variations, the templates offer great flexibility so you can create multiple promotion campaigns.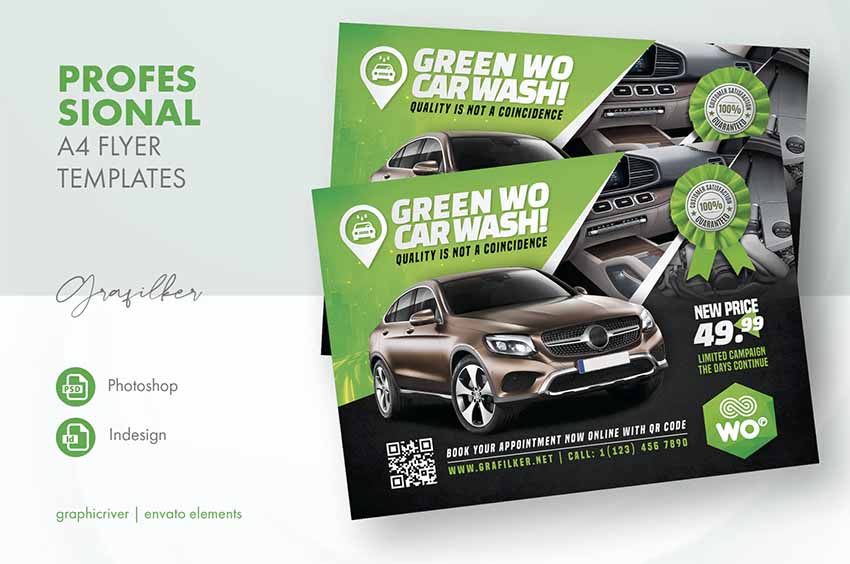 Green Car Wash Flyer Template contains two professionally designed templates: one in InDesign and one in PSD file format. The A4 templates are fully editable and print-ready.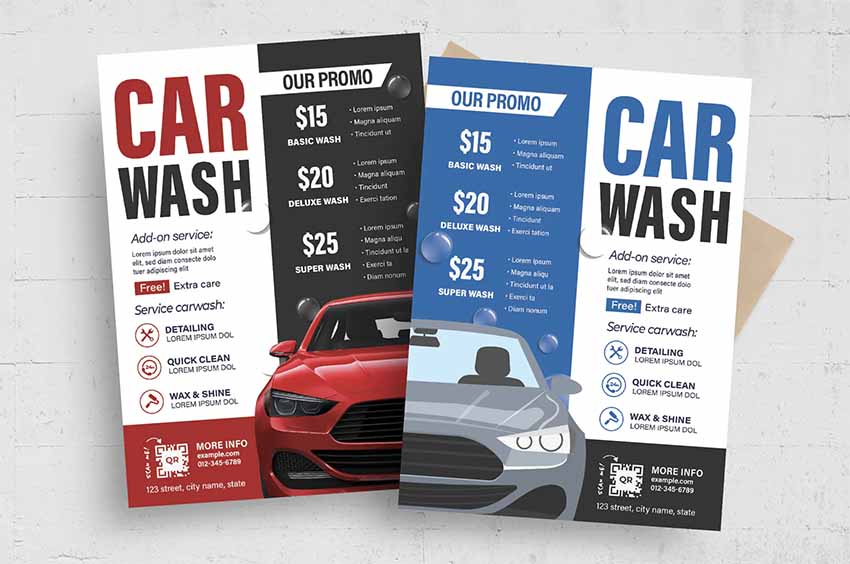 The Car Wash Fundraiser Flyer Template is a terrific choice when you are planning a car wash fundraiser. You will need a working knowledge of Photoshop or Illustrator to customise the template.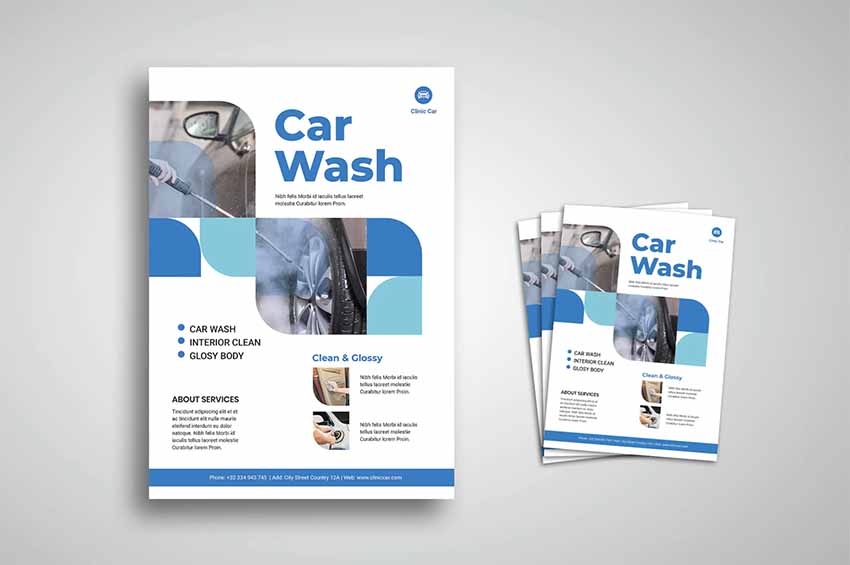 Promote your business with this car wash leaflet. The clean, modern layout comes in well-organised layers in Photoshop that can be edited to reflect your needs.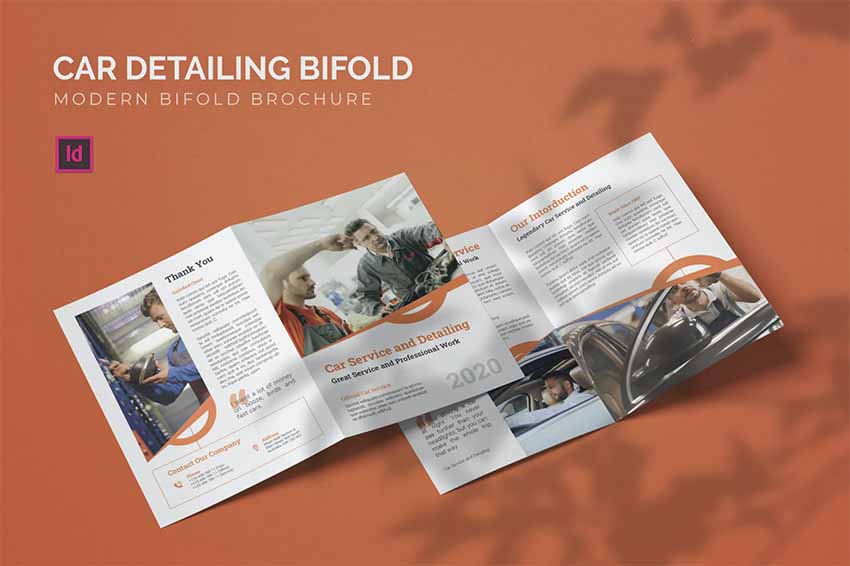 This is definitely a template you want to get your hands on because it offers four pages for you to use to promote your business. Bi-Fold Detailing Flyer Template offers an A4 landscape layout that is fuly customisable in InDesign.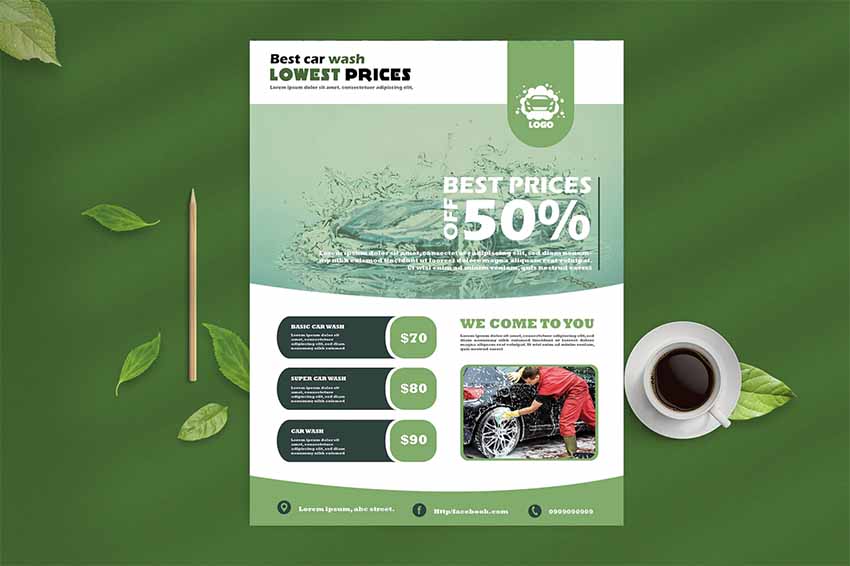 Whether you are looking for a car wash flyer or fundraiser flyer, this template can help. The US Letter size template is fully editable in Illustrator and is print-ready.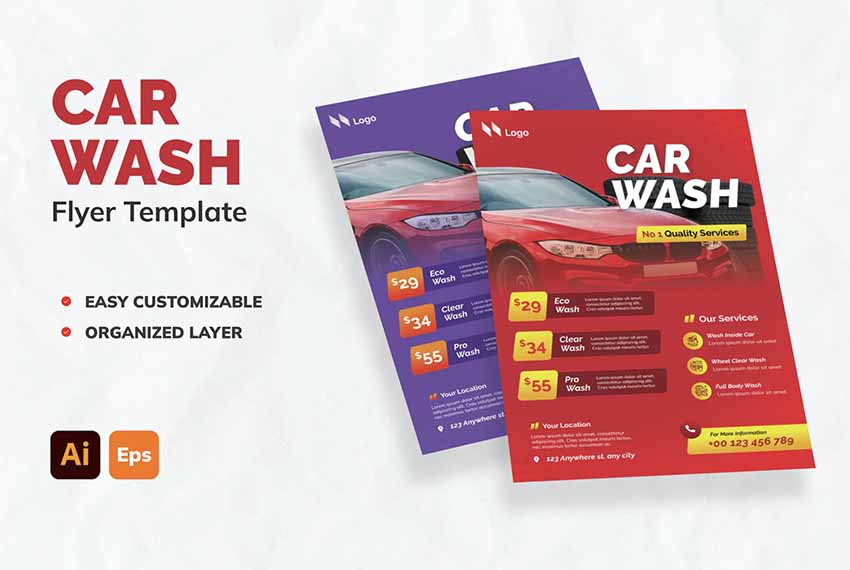 Car Wash Price List Template is a great way to promote your business and let your customers know what your services cost. All the text is editable, and you can swap out the placeholder images using the smart object tool in Photoshop.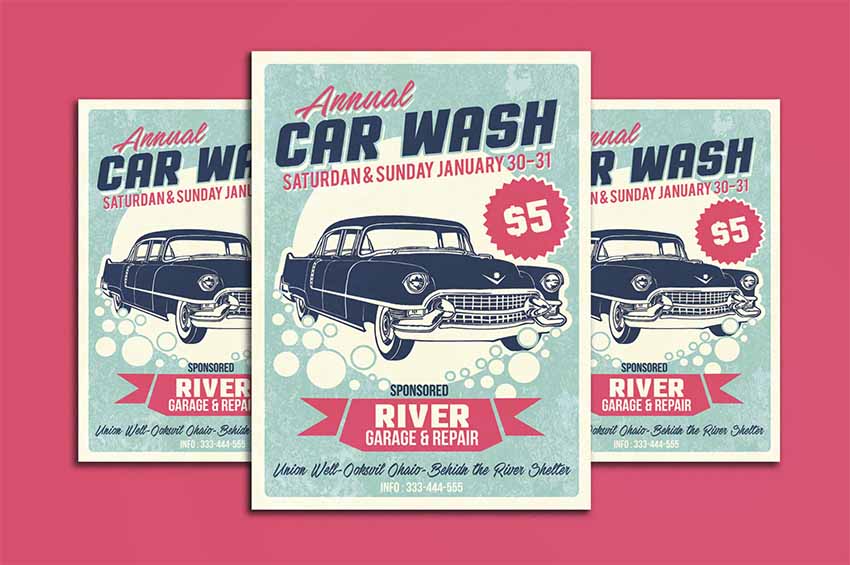 This simple yet elegant Retro Car Wash Flyer Template is just what you need to promote your company's services. The A4 flyer is designed in Photoshop and is fully editable and print-ready.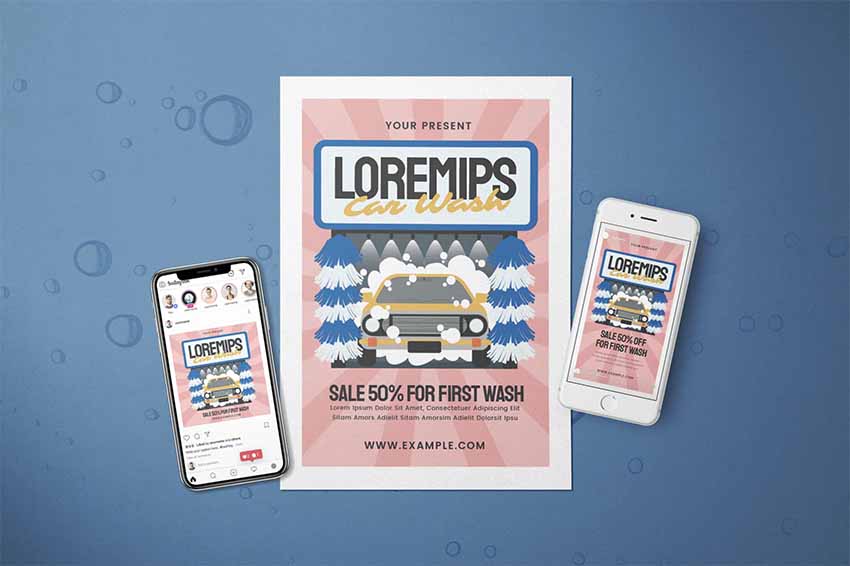 How about this car wash flyer template for your next business promotion campaign? All the elements are editable in Photoshop or Illustrator. So you can add your own text and change the colour scheme to reflect your brand.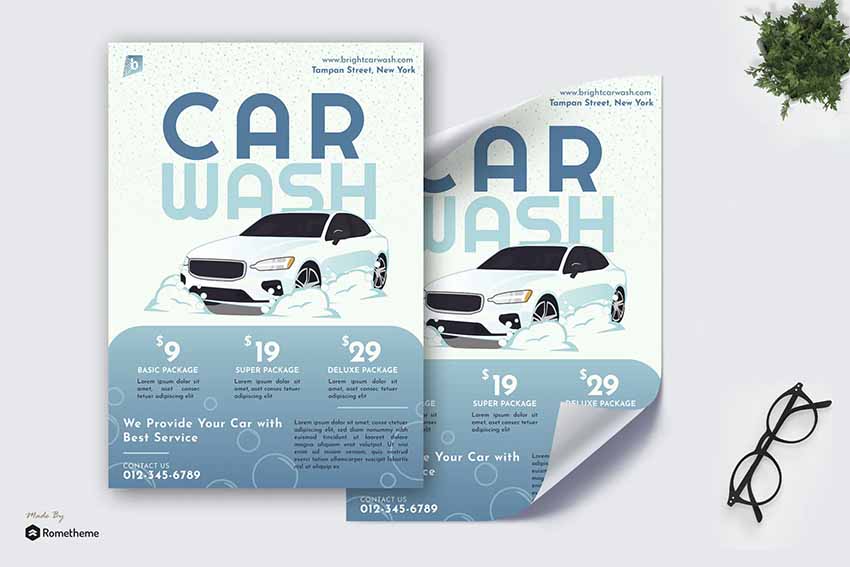 Sometimes, all you need is a simple layout to get your message across. And when that's the case, this car wash flyer is the perfect choice. The A3 flyer offers enough room for both your images and your text. Customisation is easy in Photoshop or Illustrator, so choose the program you're most comfortable with and get to work.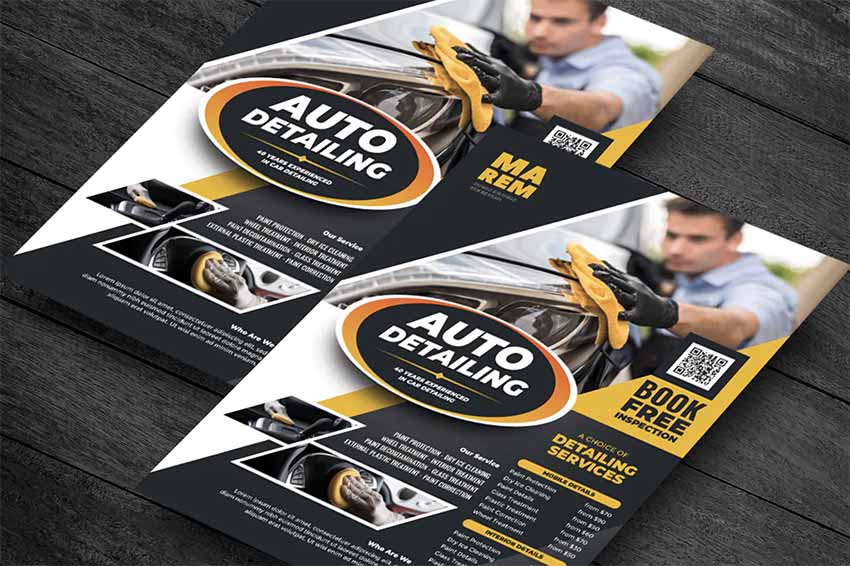 If you run a car detailing company, then you will love this modern and professional flyer template. Just change the images and add your text and colour scheme, and just like that, you have the perfect flyer to share on social media or to print and distribute to your customers.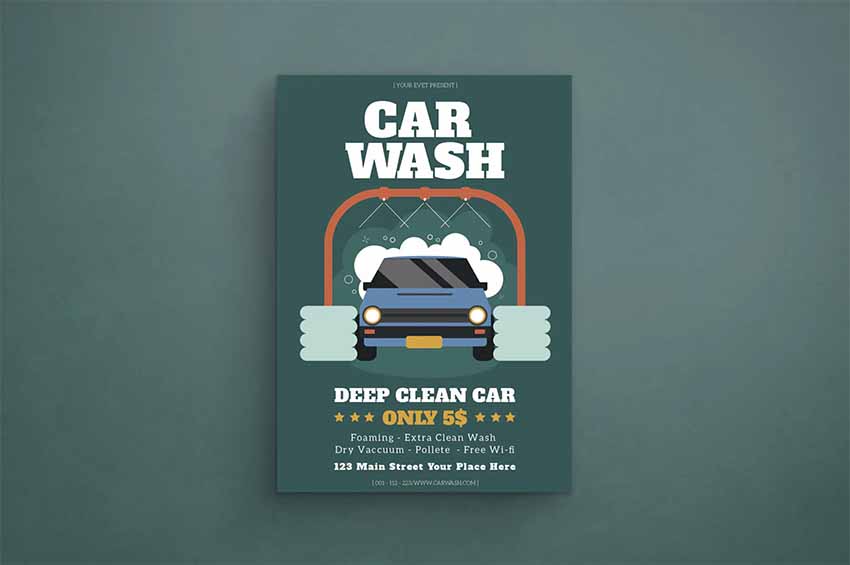 This Car Wash Flyer Template will help you promote your car wash service using a professional and attractive layout. Edit this A4 template in Photoshop or Illustrator.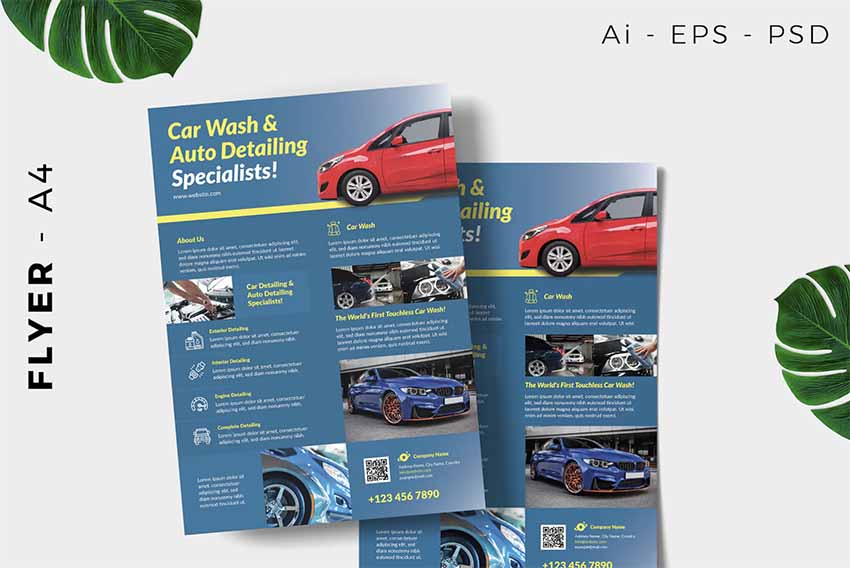 This A4 template offers a complex layout that allows you to add more images and text than many of the other flyers offered here. The Car Wash and Car Detailing Flyer is fully editable in both Illustrator and Photoshop.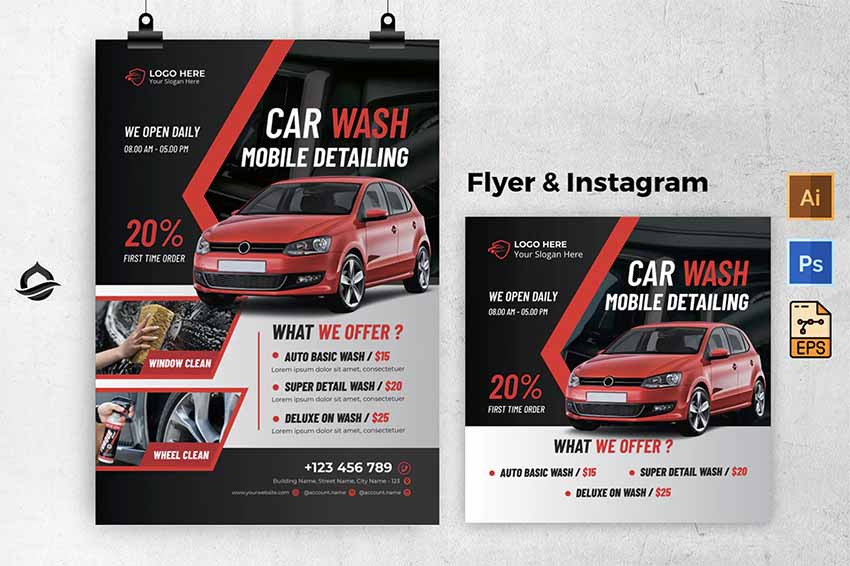 Create high-quality, professional mobile car wash flyers in minutes with this easy-to-use A4 template that offers CMYK colours and 300 DPI resolution. It's also print-ready.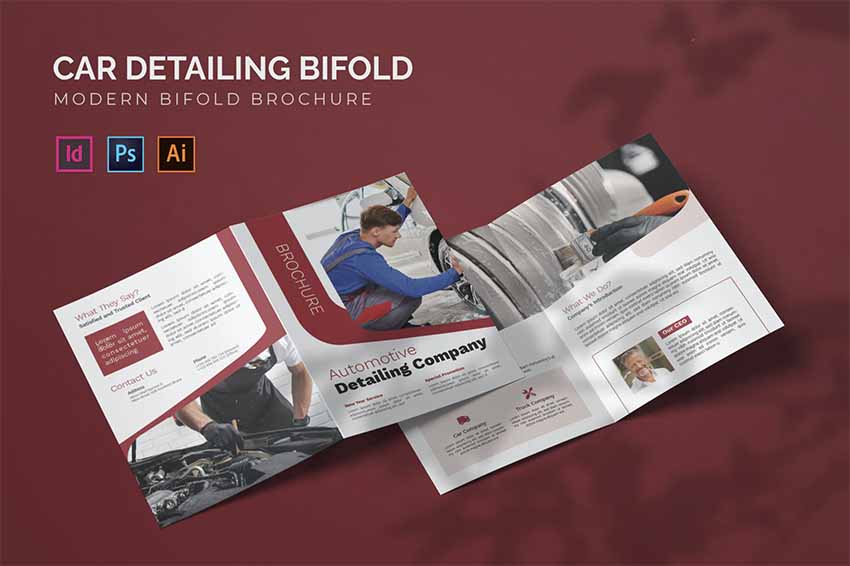 How terrific is this car detailing flyer? The bifold flyer offers four unique layouts that you can use to create an informative and eye-catching document. The template comes in A4 size and is fully editable using InDesign, Photoshop, or Illustrator.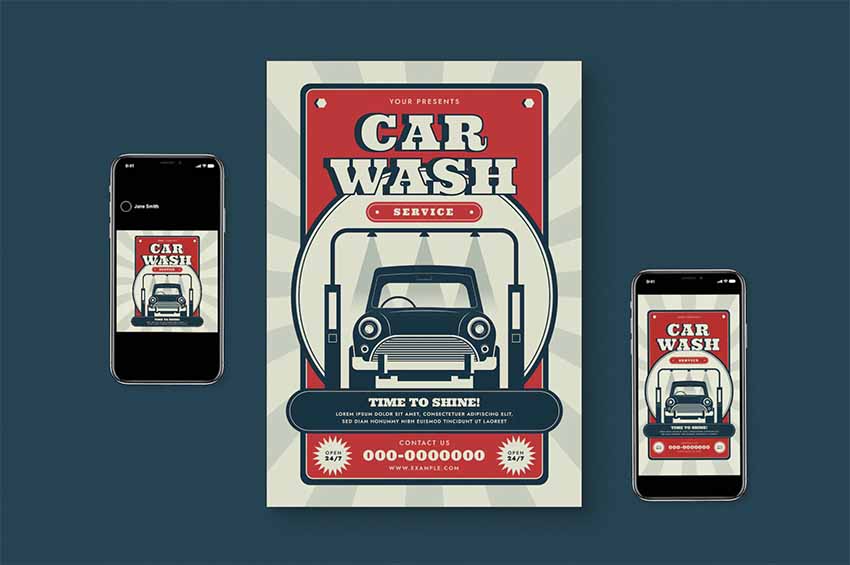 Using Retro Car Wash Flyer Ideas is a great way to boost your business profile by calling attention to the services you offer. Save time and money when you use this carefully and professionally designed template to create your own flyer.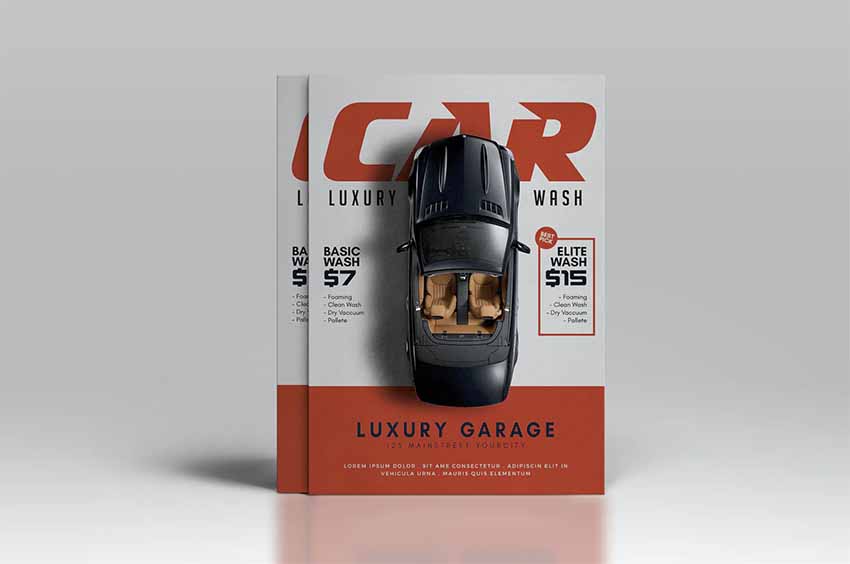 When you're running a luxury operation, you definitely need a brochure design that reflects that. That's exactly what Luxury Car Wash Flyer Template does. This professionally designed logo offers the same well-organised layers as other templates showcased here, allowing for quick customisation.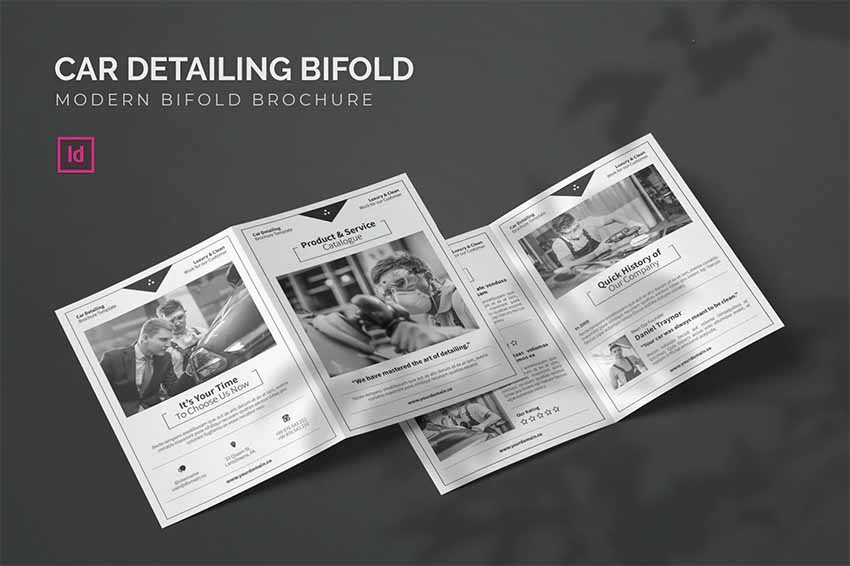 This car detailing flyer offers a huge amount of versatility for business owners. That's because it offers four unique page layouts that you can use to create a wonderful bifold flyer or a bigger brochure.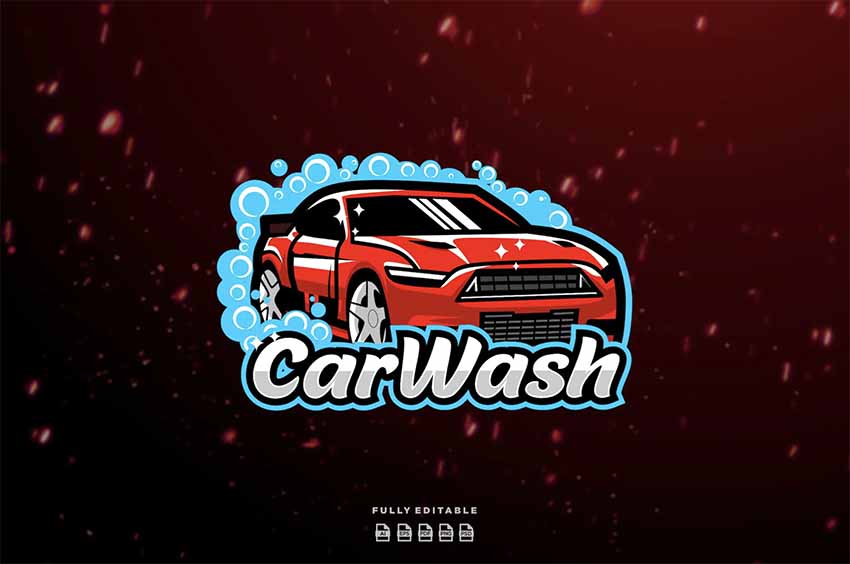 You can't beat this Car Wash Flyer Template for simplicity. All the elements are editable and resizable.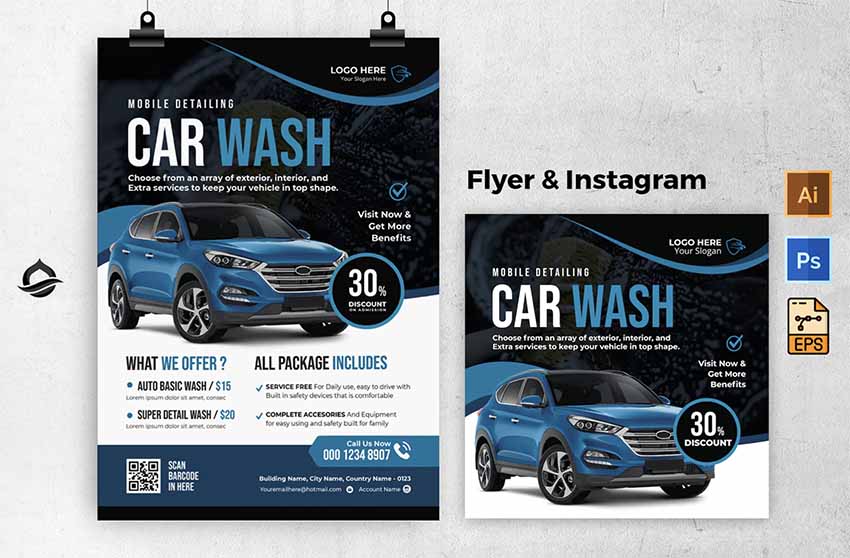 This set of flyers is offered in both A4 and Instagram post size. Both can be edited in Illustrator or Photoshop, so select the software you are most familiar with and get to work.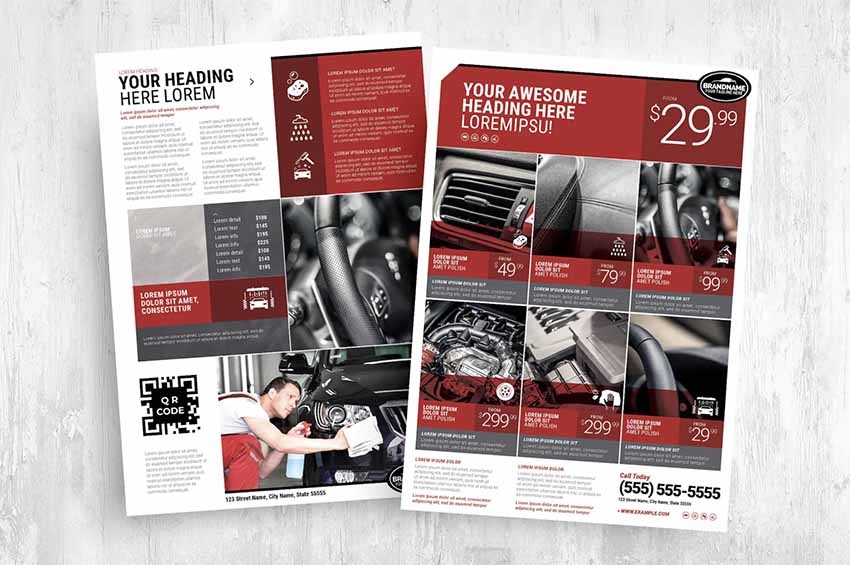 Car Detailing Collection offers five useful templates: an A3 poster, A4 flyer, A5 flyer, DL rack card, and tri-fold brochure. That is serious value in one package. The templates are very easy to customise in InDesign by simply editing the text and adding your images.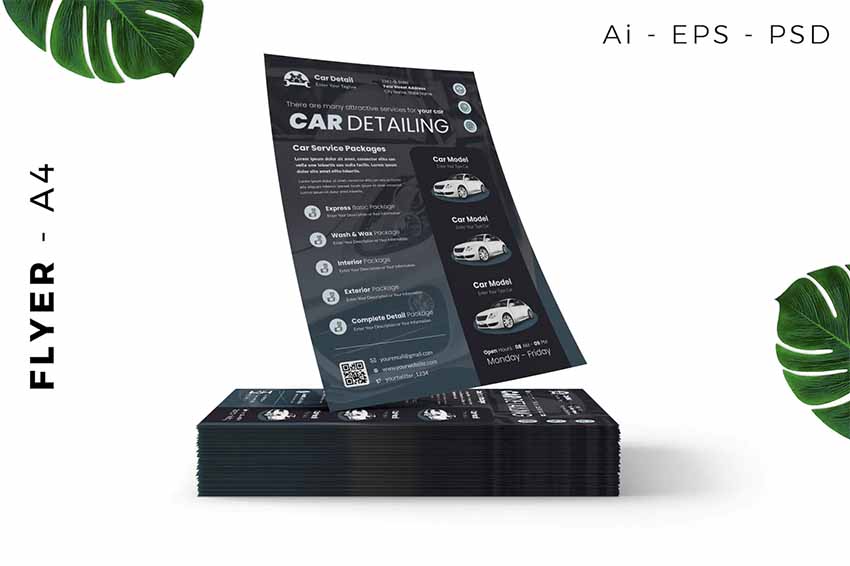 This fully customisable and editable template is a great option for promoting your car detailing service. The text, images, and graphics are organised on separate layers, which makes editing a cinch.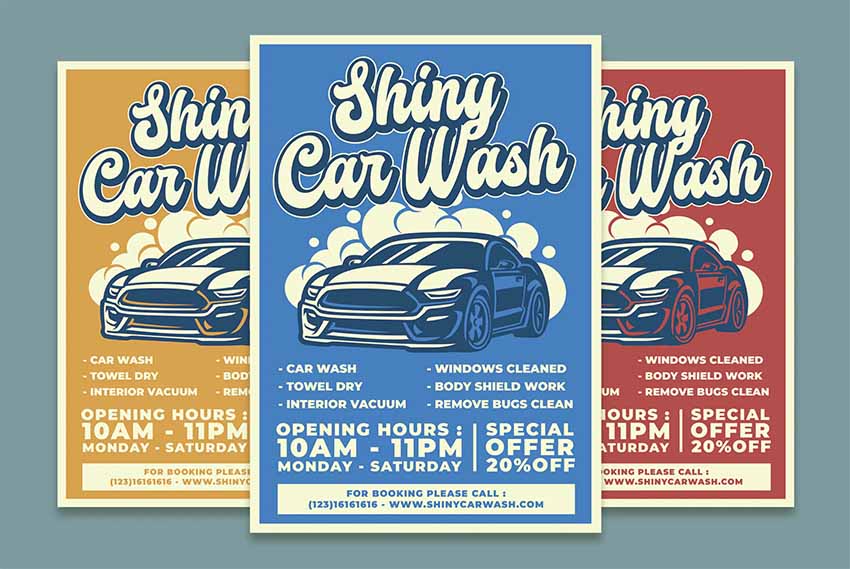 It doesn't get better than Shiny Car Wash Flyers and Posters. There are vector files within the file formats offered, so you can edit and resize as needed without loss of quality.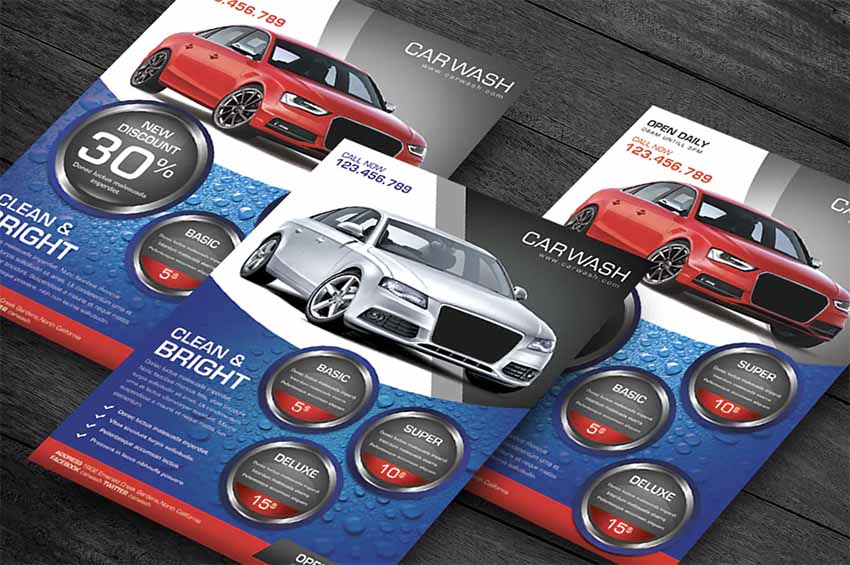 Car Wash Flyer Ideas Template is great for car washing or detailing businesses. It offers well-organised files in two designs that are fully editable in Photoshop or Illustrator.
Choose Your Favourite Car Wash & Detailing Flyer Templates
Now that you know just where to find the best car wash flyer templates when you need them, head to Envato Elements and download your favourites today. 
Here are more top resources and tutorials to try from Envato Tuts+: