Let's dive into the 12 best appointment scheduling software apps
for 2024. All of them have stood out in terms of functionality, user-friendliness, and adaptability.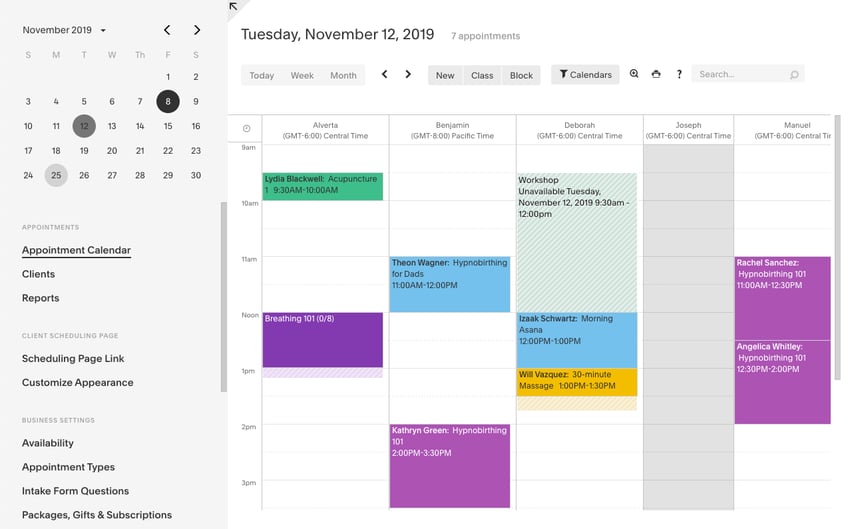 Acuity Scheduling is a feature-rich online appointment scheduling software. It enables easy client booking, secure payments, and automated workflow management.
The software integrates with calendars to prevent double bookings. It allows customizable appointment settings like recurring slots and buffer times. Acuity sends automated reminders to reduce no-shows. Users can conveniently schedule on-the-go with multi-platform accessibility.
The user-friendly drag-and-drop interface also ensures straightforward navigation. With robust capabilities like seamless scheduling, flexibility, and automation, Acuity Scheduling is an intuitive solution for appointment-based businesses.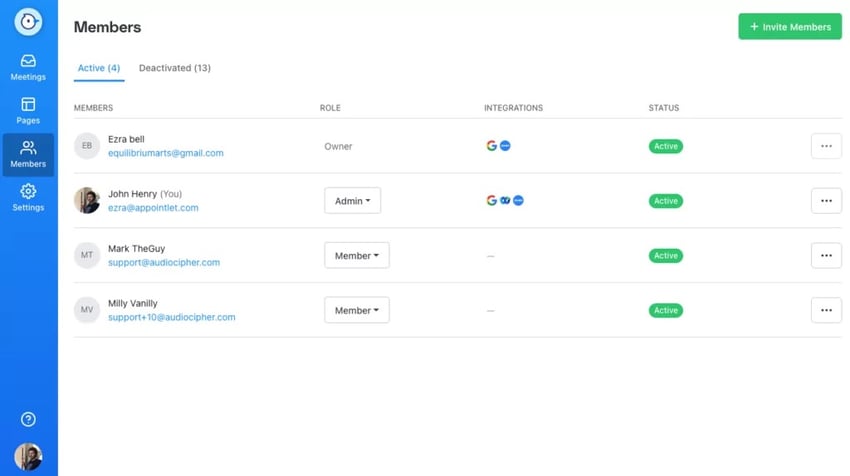 Appointlet is an intuitive online appointment scheduler software that seamlessly integrates with calendars to prevent double bookings. It provides flexibility through customizable time slots and appointment management.
The software sends automated reminder emails to reduce no-shows. Appointlet enables easy on-the-go booking for both users and clients from its mobile app.
It also offers a user-friendly setup process, simple settings adjustments, and an intuitive dashboard. Key features like calendar syncing, customizable slots, automated reminders, multi-platform accessibility, and ease of use make this appointment scheduler an efficient solution for streamlining appointment scheduling.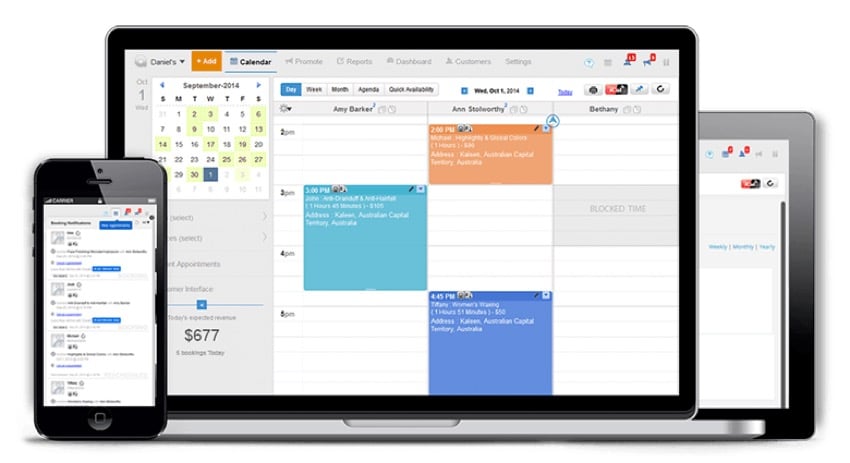 This online appointment scheduling software is tailored for service-based businesses. It offers an easy way for clients to book appointments while allowing businesses to manage their schedules effectively.
It stands out with advanced features like email and SMS customization, resource management, and the ability to create gift certificates. Integration with Google Calendar and social media, coupled with support for online prepayments through multiple gateways, amplifies its utility.
Automatic reminders further reduce no-shows. Despite its plethora of features, Appointy remains user-friendly with an intuitive interface, making it ideal for small businesses seeking a seamless scheduling experience.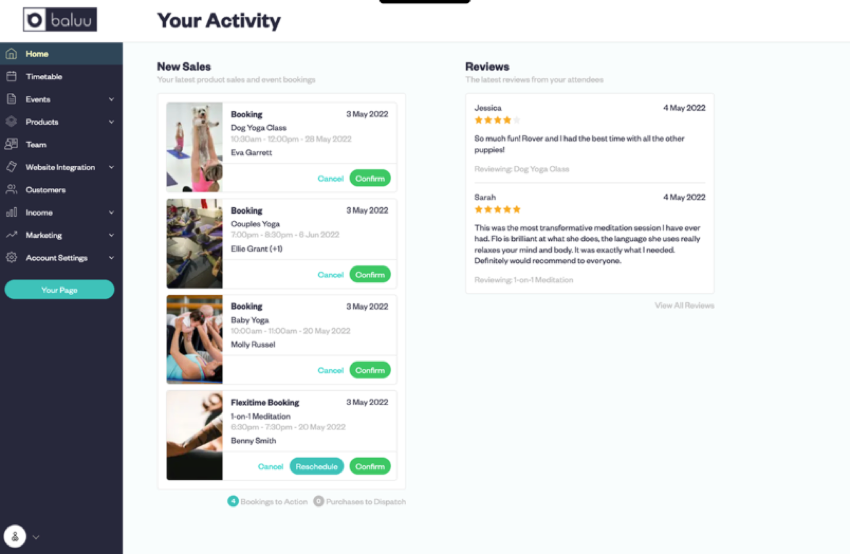 Baluu is a versatile appointment scheduler tailored for comprehensive booking management. It features seamless integration with major calendar platforms like Google, Outlook, and iCal, ensuring synchronized appointments and preventing double bookings.
Baluu's notable features include customizable branding, fields, and automated reminders that reduce no-shows by sending tailored notifications to clients and staff. The appointment scheduler's flexibility supports custom time slots, buffer times, and recurring appointments.
Accessible across mobile, desktop, and tablets, Baluu offers an intuitive interface, drag-and-drop functionality, and simple adjustments, ensuring a user-friendly experience without the need for coding or extensive training. Real-time notifications and analytics further enhance its utility.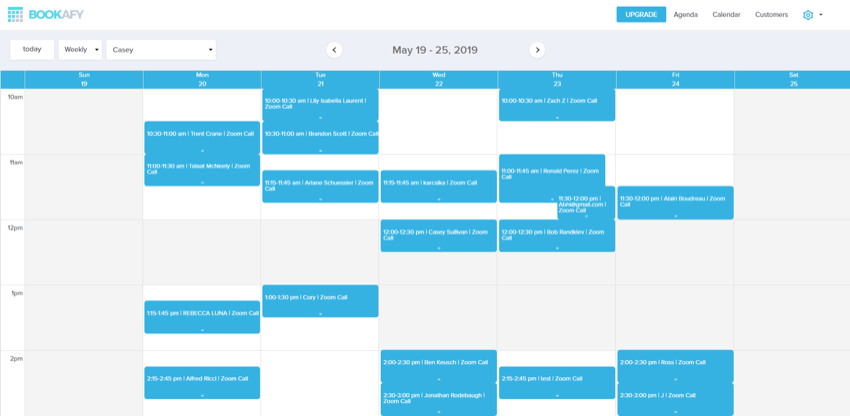 Bookafy is an advanced online appointment scheduling software suitable for various business sizes. It seamlessly integrates with popular video conferencing platforms, including Zoom and Skype, streamlining video call bookings.
The platform stands out with its rule-based logic, open API for custom integrations, and deep customization capabilities, such as adjusting colors, fonts, and adding logos to its interface. More than just scheduling, Bookafy emphasizes customer experience, supporting customer acquisition and retention through a refined booking process.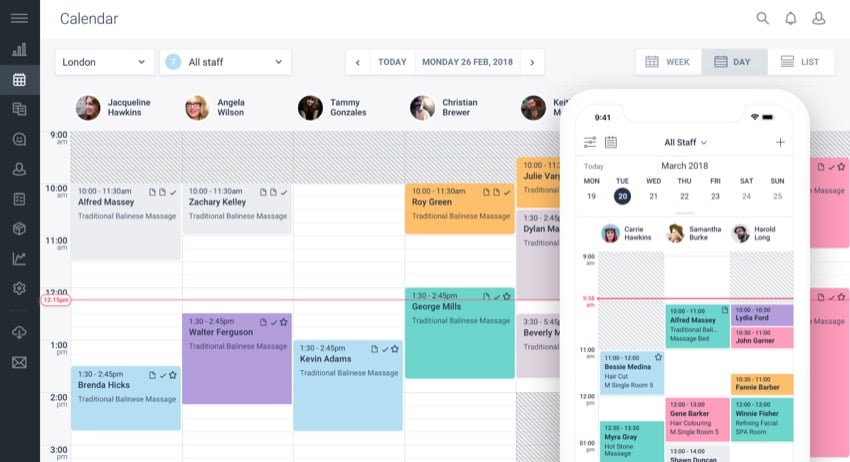 Book Like a Boss is a versatile appointment scheduling software that offers customizable booking pages with themes, descriptions, images, videos, and testimonials.
Integrated with major calendars like Google and Outlook, it ensures synchronized appointments and prevents overbookings. Automated email and SMS reminders are included to minimize no-shows, while the software supports online payments via platforms like PayPal and Stripe.
Catering to diverse service types, it provides flexible in booking options and is easily accessible across mobile, desktop, and tablets. Its intuitive interface features drag-and-drop functionality, straightforward settings, and a simple setup process.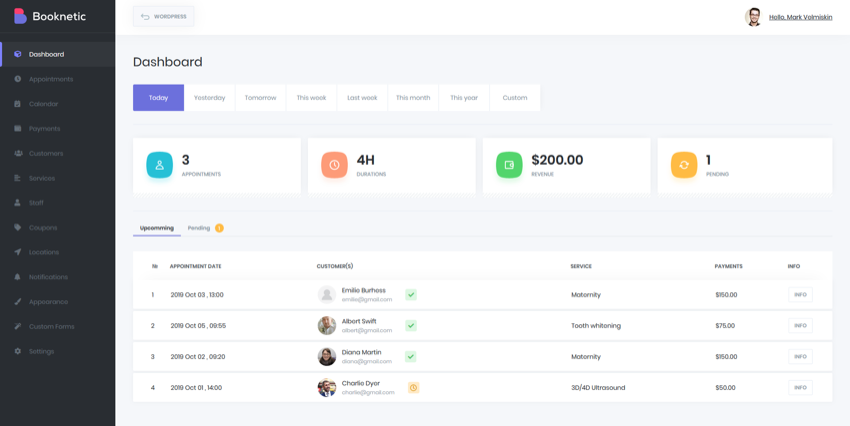 Booknetic is a comprehensive appointment scheduling software equipped with features that optimize the booking process. It supports unlimited appointments, offers a calendar view, and integrates with popular payment platforms like PayPal and Stripe.
Looking for unique appointment software for small business? This one includes a waiting list, a 365-day frequency graph, and a payment link for appointments. While ensuring seamless synchronization with major calendars to prevent double bookings, it also provides customizable email and SMS reminders, minimizing no-shows.
Accessible across mobile, desktop, and tablets, its user-friendly design, inclusive of drag-and-drop functions, promises a smooth experience for businesses and clients alike.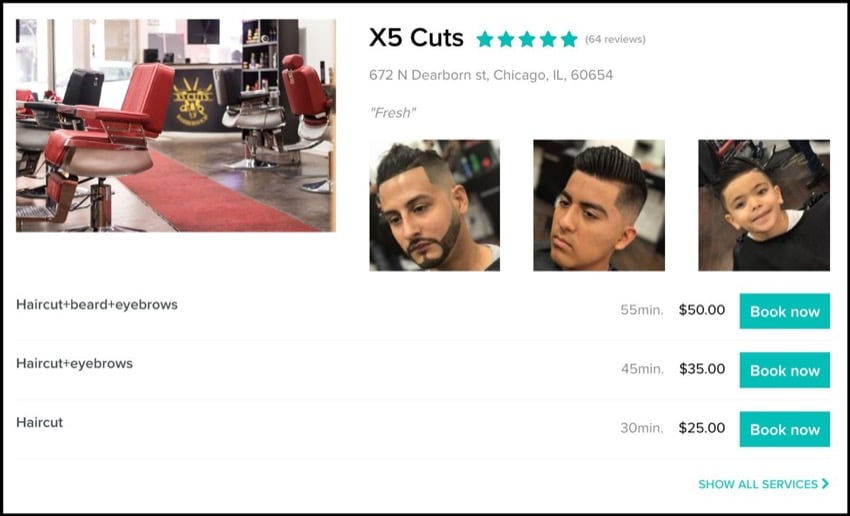 Booksy is a dynamic software to schedule appointments designed for versatile business needs. Offering features from mobile client apps to a point of sale system, it facilitates managing appointments, calendars, and clients effortlessly.
Unique to Booksy is the "Bottom Line Protection" that aids businesses in countering no-shows and a dashboard that provides performance snapshots. Additionally, it boasts marketing tools to foster community engagement and advanced solutions for professional users, including diverse revenue streams and front desk solutions.
Accessible across multiple platforms, Booksy prioritizes user experience with its intuitive interface, easy navigation, and simple setup features.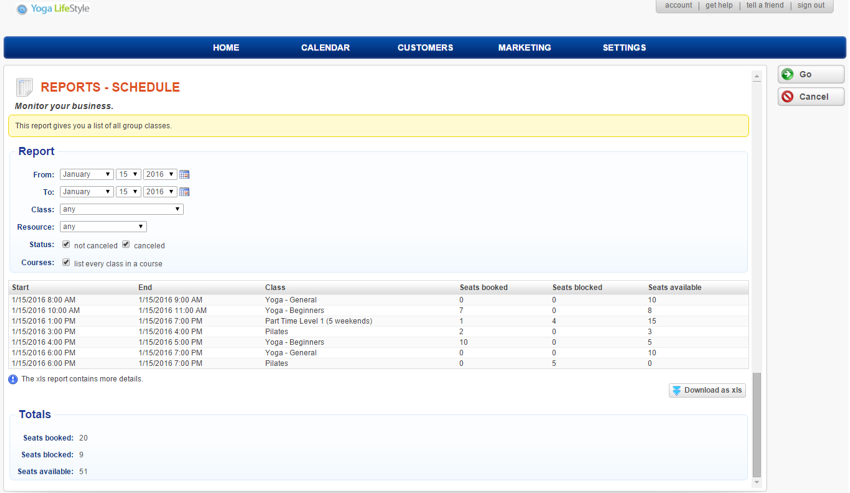 This best appointment scheduling software is an all-inclusive scheduling software that enhances the booking experience. Providing 24/7 access to appointment calendars, it facilitates real-time views of schedules, rosters, and payments.
The platform is mobile-responsive, removing the necessity for additional apps, and features automatic booking confirmations and reminders to clients, thereby minimizing no-shows.
Staff remain informed via automatic notifications about appointment updates. This is also a great appointment software for small business. Customization capabilities allow tailoring of appointment calendars and tracking of reservation actions.
Plus, it can be embedded into websites or used independently, ensuring a smooth booking experience across various devices.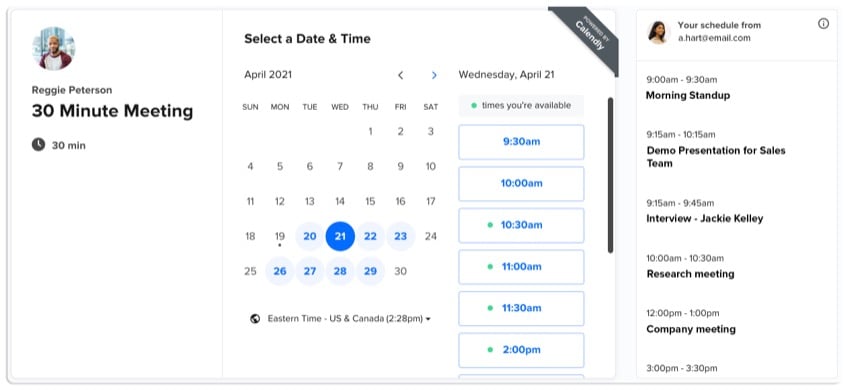 This best appointment scheduling software streamlines scheduling by offering an intuitive platform that eliminates the need for time-consuming email exchanges. It's features include customizable event types, time buffers, and automated round-robin scheduling. With its user-friendly interface, events can be set as recurring or one-time, offering flexibility based on user needs.
This software to schedule appointments integrates seamlessly with platforms like Outlook and Salesforce and provides advanced features like custom notifications, enhanced privacy, and comprehensive metrics reporting. Designed for convenience, Calendly ensures a seamless and efficient scheduling experience for both businesses and their clients.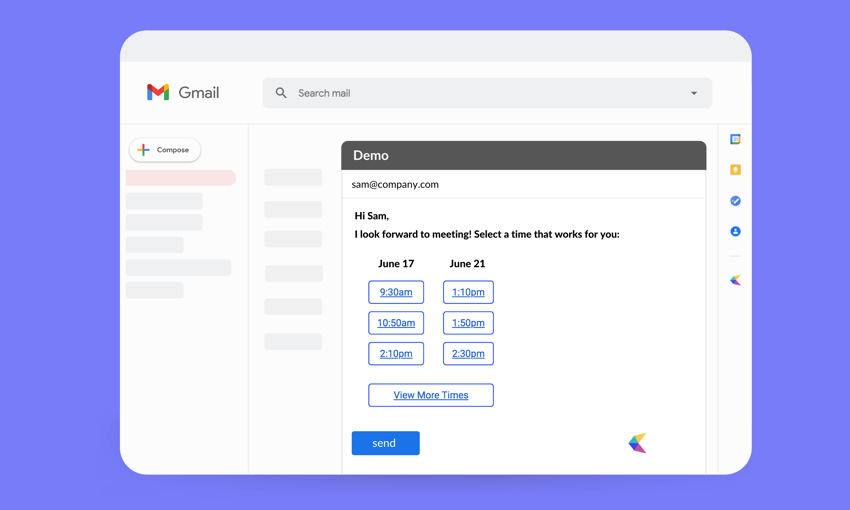 Calendar Hero is an advanced appointment scheduling software designed to optimize and simplify meeting arrangements. With features like personal scheduling links, automated meeting requests, and the ability to embed available times in emails, it enhances efficiency and remote collaboration.
Especially beneficial for sales teams, it accelerates client meeting setups. Its integration with Gmail and seamless syncing with platforms like Google Calendar, Outlook, and iCal prevent double bookings.
This online appointment scheduling software prioritizes user experience with its accessible design across mobile, desktop, and tablets and an intuitive interface that includes drag-and-drop functionality. Through automated reminders and customizable settings, it offers a streamlined scheduling solution for diverse business needs.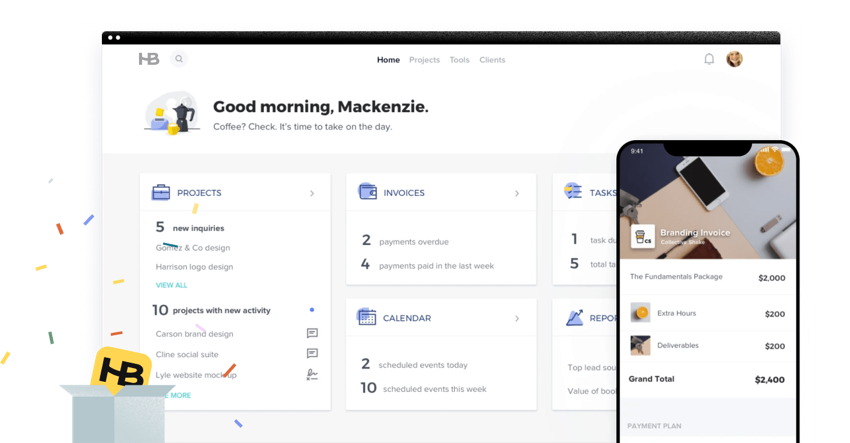 Honeybook is a dynamic appointment scheduling software tailored for small businesses, combining features like secure digital payments, contract management, and automated workflows.
Its scheduling tool displays real-time availability, allowing clients to book with ease, while also offering customization for session types in terms of duration and availability. Integrations with platforms like Zoom, QuickBooks, and Google Calendar optimize efficiency.
Honeybook's all-in-one client management system, complemented by a great mobile app, covers bookings, payments, and reporting.
Gain Access to High-Qualit Presentation Templates  (With Unlimited Use)
Have you found the right scheduling app your business? Maybe you'll also be needing other creative tools for your team. Start working with professional schedule presentation templates to share key dates and results to your team and clients.
Envato Elements has just what you need to supercharge your next project and save time. Plus, it's the best place on the web for creative tools of all types. 
Get unlimited downloads of document templates, PowerPoint templates, photos, fonts, and more. All for a low monthly fee!
Envato Elements has thousands of high-quality creative assets that you can use for all your upcoming projects.
Learn More About Productivity
We've covered the top appointment scheduling software apps for 2024. Now you might want to see how you can further your businesses productivity.
Give your business a boost in efficiency by delving deeper into scheduling and productivity tools:
Start Using a Appointment Scheduling Software Today!
Not all scheduling apps are the same.
We talked about the best scheduling apps for 2024 in this article. Each one has different things it can do well. Some might be better for big businesses, while others are great for smaller ones.
The best app for you will depend on what your business does, what you need the app to do, and how big your business is.
Choose one of these apps and make setting up appointments easier for your business today. This choice can help your business run smoother and keep your customers happy.
Be sure to check out all of the top creative assets on the web with Envato Elements.