There are all kinds of social networks and websites where you can get involved, gain exposure for your work, and even send traffic back to your website or blog. Probably the most difficult part is deciding which social networks justify the time and effort, and managing to use those networks effectively without being tied to them for hours every day.
One social network that designers should consider is Pinterest. Pinterest is visually oriented, so it's naturally a great fit for designers, photographers, and others in creative fields. The fact that Pinterest's user base and popularity has grown so quickly provides plenty of potential for getting exposure to your work.
In this article we'll take a detailed look at Pinterest and how designers can use it effectively and efficiently to drive more traffic to their portfolio and gain more exposure.
What is Pinterest?
Pinterest allows users to pin items and categorize them in specific boards. As a user you can set up your own boards for whatever types of items you will be pinning, and you can also edit those boards and your pins at any time. Once you have an account, you can follow other users or specific boards.
When you are logged in, you'll see the recent pins of those you are following right on your homepage. So others who are following you will see your pins as well. You can re-pin items that have been pinned by other users, leave comments, and as of August 2014, you can send messages to users who are following you.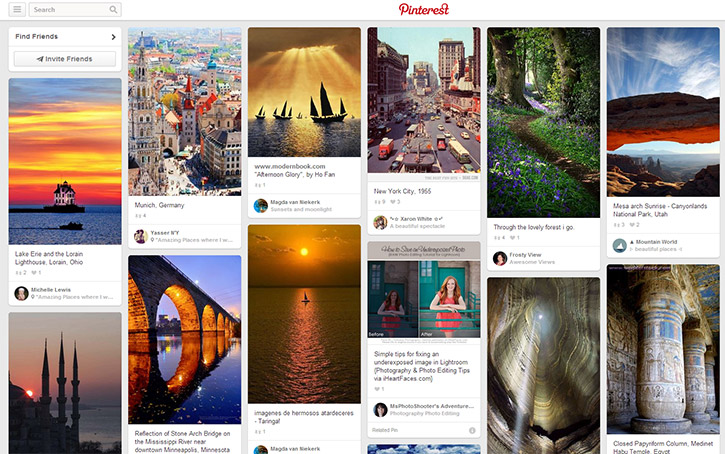 Pins can be linked to specific pages, so if you were to pin an image from an item in your design portfolio, you could link that pin back to the page for the item on your portfolio site. Pinterest users would then be able to click through from Pinterest to your site. For this reason, Pinterest can be a nice source of traffic, especially if you are using it to promote your blog posts.
What Makes Pinterest Unique for Marketers
From a traffic perspective, one thing that makes Pinterest a little different from most other social networks is that the traffic tends to be sustained for a longer period of time. With a social network like Twitter, you can share a tweet with a link to your recent blog post and send some traffic to your site, but in most cases the traffic from that tweet will mostly or completely dry up in 24 hours or less. Even if your tweet gets re-tweeted by several different users it still is not likely to send traffic to your site for more than a couple of days. With Pinterest, it is not uncommon for pins to continue to send traffic for months. Of course, in order for this to happen you will need to get your item pinned by some users that have a decent following, or you'll need a significant following of your own. Still, Pinterest provides an opportunity that many other social networks do not.
1. Pinterest has more than 70 million users (source)
2. Pinterest has 53 million monthly active users in the US (source)
3. 80% of Pinterest users are women (source)
4. The average time spent on Pinterest per visit is 14.2 minutes (source)
5. The average social shopper spends $ 140 – $ 180 when arriving from Pinterest, as opposed to spending $ 60 – $ 80 when arriving from Facebook (source)
These numbers obviously show that Pinterest has a large and active user base. What's also important to note is that Pinterest users tend to spend more money than users of other social networks. The audience of Pinterest is a bit more mature than the audience of other leading social networks, so a higher percentage of users will have income, and more specifically, disposable income.
Why Should Designers Care About Pinterest?
Because Pinterest has a large and still growing audience, and because it is so visually oriented, it is a great fit for designers. Whether you want to use Pinterest to send traffic to your blog posts or to showcase your work and find new clients, Pinterest is a social network that should not be ignored.
A few years ago when Pinterest was first coming onto the scene, there was a lot of concern among designers and photographers about copyright issues and protecting your work. This is certainly a valid concern. In my opinion, if you embrace the opportunities that Pinterest presents and use it wisely you can get a great deal of exposure that can outweigh any of the negatives. Brand your images (we'll cover this a little bit more later) and link them to your own site and you will receive some benefits from participating. If you find other users that are pinning your images without crediting or linking them back to your site you can always contact those users and ask them to update the pin with the credit and a link. And if that doesn't work, you can report it to Pinterest.
Pinterest Tips for Designers
So now that we've covered some of the basics of Pinterest, let's take a look at how you can use it effectively.
1. Create a Business Account and Get Verified
The first step is to create your account. Enter your email address and a password.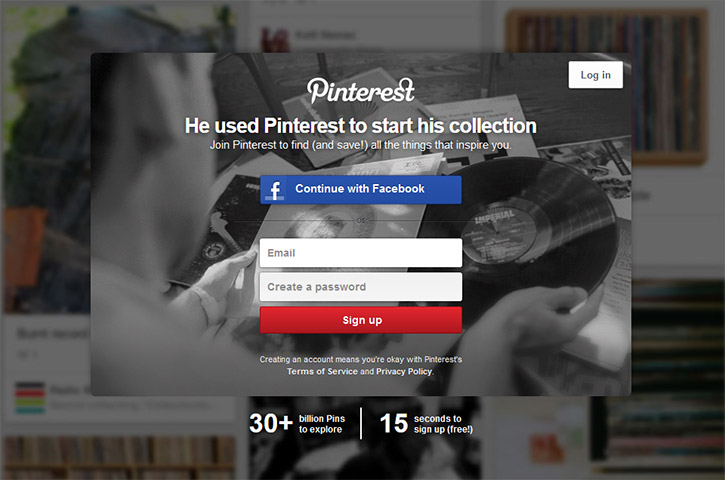 The next step is important. Pinterest allows you to create a business account, which gives you a few key benefits like analytics and the ability to use rich pins. Rich pins add some extra details to your pins. If you are pinning blog posts it will add the post title. If you are pinning a product it will add details like the price. In general, rich pins help your pins to stand out. You can see more about rich pins here.
To sign up as a business, click on the "continue as a business" link.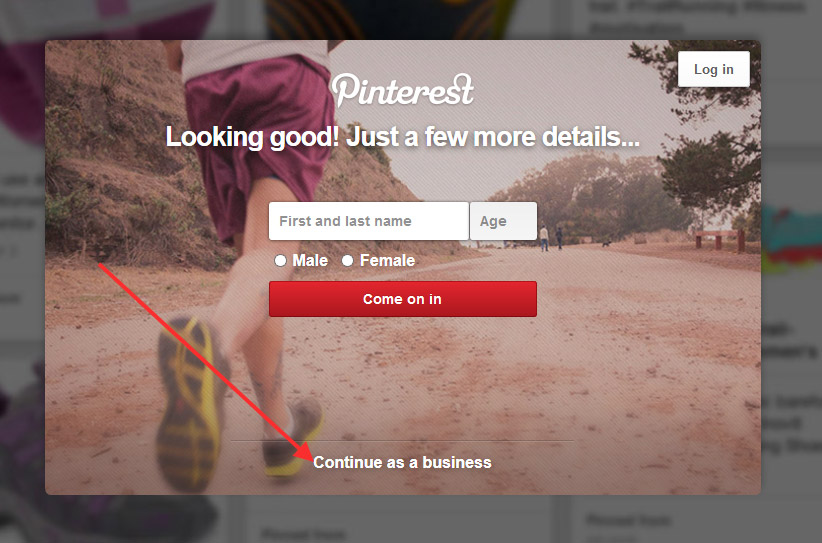 2. Complete Your Profile
After you have your account set up, the next step is to complete your profile. Completing your profile is important because most users will check out your profile before deciding to follow you, so an incomplete profile can cost you followers. Your profile should include an image or gravatar. Nothing looks worse than going to a user's profile and seeing the default icon/gravatar that hasn't been replaced. You may want to use the same image that you use at other social networks for branding and consistency.
You should also complete the "about you" section with a brief, but interesting, bio. You'll also want to add the URL of your website in the "website" field. Pinterest will then lead you through the process of verifying your website. The process is simple and you'll want to verify it so that others will see it listed on your profile. When users come to your profile you'll want them to be able to see your URL and click on it to visit your site.
Optionally, you can also connect Pinterest to your other social profiles from the account settings. You can connect to Facebook, Twitter, and Google+.
3. Plan Your Boards
One of the things that makes Pinterest unique, and highly useful, is that you can create different boards for your pins. Think of boards as categories that you will use to organize your pins. For example, you could create a board to pin logo designs from your portfolio. You could create another board to pin web designs from your portfolio. You could create another board for design inspiration where you pin things that you come across. You could create another board for design tutorials where you will pin some of your blog posts and posts from other blogs.
You can set up whatever boards you would like, but it is important to think about the types of things you plan to pin and how you want to organize them. Using your boards wisely is critical to getting the most out of Pinterest for a few reasons. First, other users can choose to follow all of your boards, or they can choose to follow specific boards. Most users choose to only follow specific boards that interest them because it creates less clutter in their stream. So you'll want to create boards that will be well organized and attractive to other users. Second, boards can also be used for search engine optimization. Many boards rank quite well in searches, and getting some extra traffic from those searches is nice.
You can make changes to your boards later, but it is best to start out with a plan and avoid the need to make changed later.
4. Use Attractive Cover Images for Your Boards
Each of your boards will have a cover image. The cover image is also critical for attracting the interest of other users and encouraging them to follow. By default Pinterest will use the first item that you pin to a board as its cover image. You can change it by hovering over the board on your profile and clicking "change cover".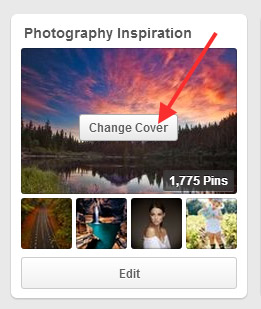 If your first pin doesn't happen to be a great cover image for your board, make sure that you change it to something that will catch attention and entice visitors to follow the board.
5. Get Involved
Pinterest is like any other social network… you will get out of it whatever you put into it. In order to have the best impact with Pinterest, you will need to be regularly involved and active on the site. This includes re-pinning items that have been pinned by other users, liking pins, commenting on pins, following other users, and following specific boards. The more involved you are, the more other users will see you, and you will increase your opportunities for getting followers. More followers, of course, means more visibility for your own pins and more clicks on the links that lead to your site.
To re-pin an item, all you need to do is hover over it in your stream and click "pin it".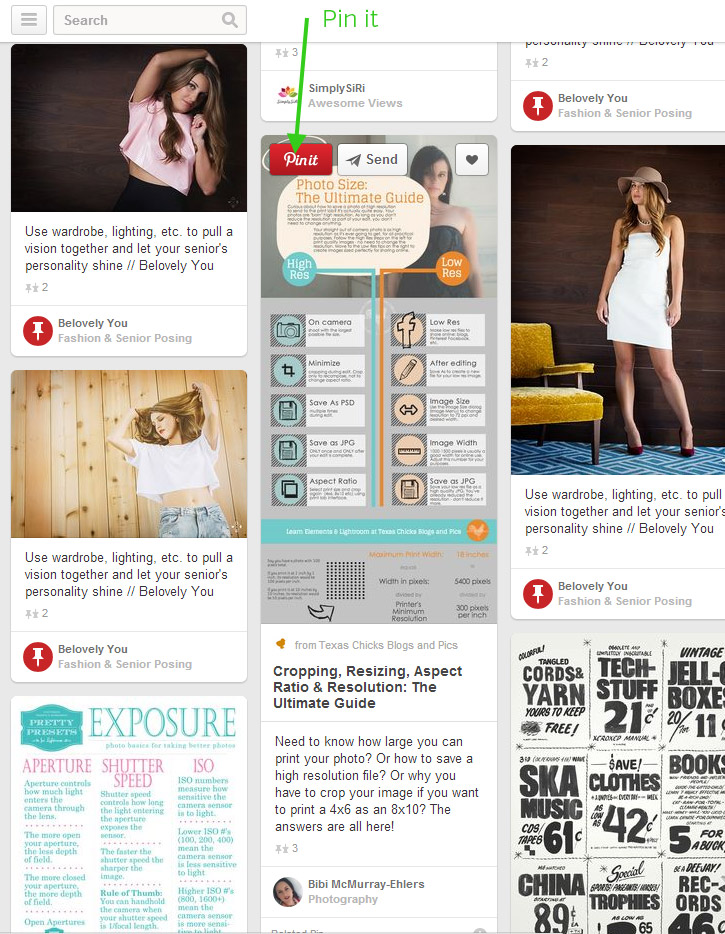 When you pin it, you will select the board that you want to pin it to, and you will be able to enter a description. If you are re-pinning an item by default it will include the description that is already in use for the pin, however, you can change it and use your own description.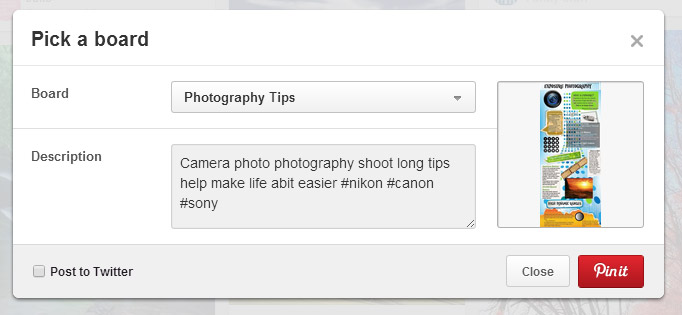 If you want to like an item, you can hover over it in your feed and click on the heart.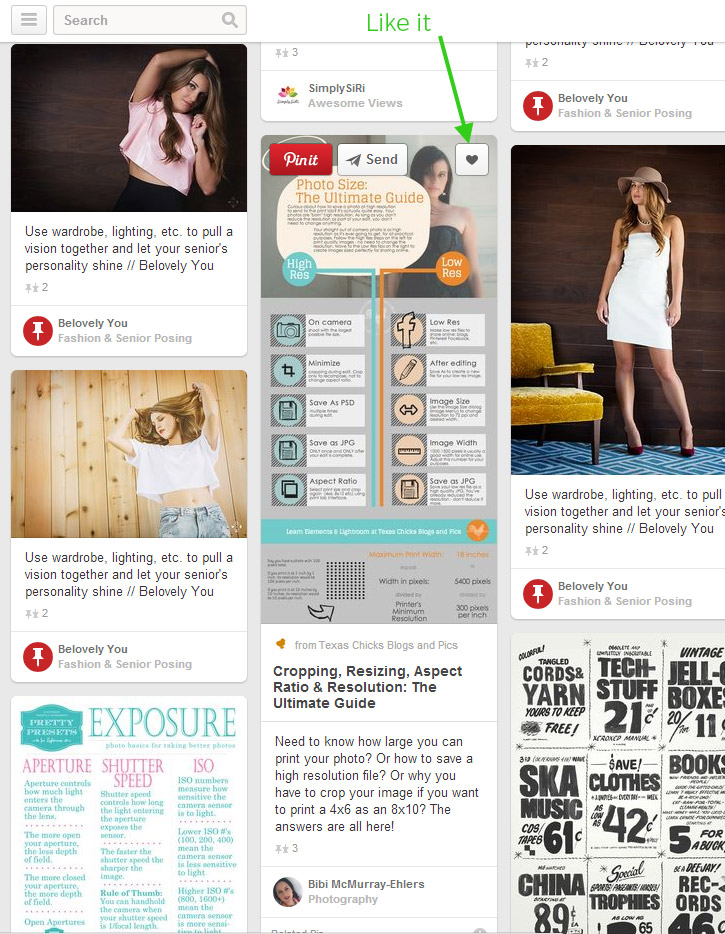 When you like a pin, it will not be added to any of your boards, but it will give a notification to the other user that you have liked one of their pins. Pinterest provides notifications whenever another user re-pins one of your pins, likes one of your pins, or follows any of your boards. This is a key thing to realize because being active means that other users will see a notification about your actions, and they may choose to follow you. The more involved you are, the more opportunities you will have to be noticed by other users.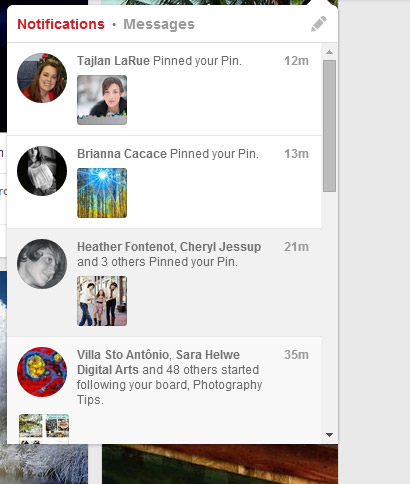 You can also leave comments on pins. While it is a good practice to get involved through the comments, Pinterest has a different vibe than other social networks and commenting is not the most active aspect of the site. In general, I would recommend leaving no more than a few comments per day as it can be viewed by some users to be spammy if you are commenting too much.
6. Create Eye-Catching Images/Graphics
A big factor in your success with Pinterest lies in the types of images and graphics that you pin. When you are pinning content from your own site you will want to create images that are ideal for getting noticed within the stream on Pinterest. The more your images stand out, the more likely they are to be clicked or re-pinned. More re-pins, of course, means more exposure for your pins, and more opportunities to gain new followers.
The first thing to keep in mind is that vertical images generally work best. Within your Pinterest stream each item will be of the same width. So if your image is taller than it is wide it will be larger and get noticed easer.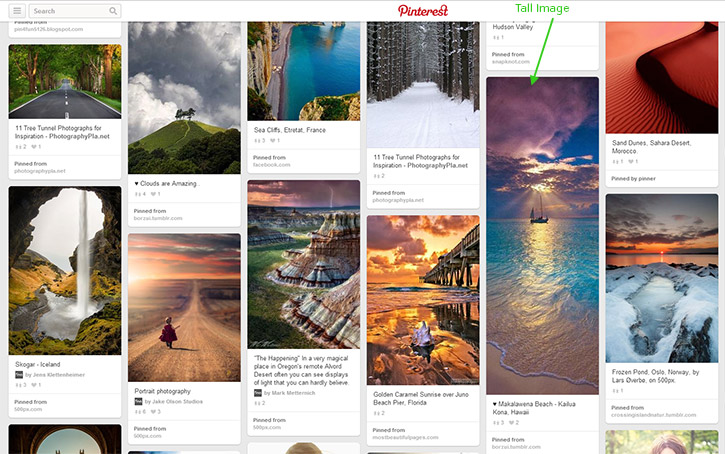 7. Use Text in Your Images
The next thing to consider is the use of text on your images. Many of the images that are pinned are simply photos, so if you want your image to stand out, you can use some text in the graphic. Using text also makes it easy for users who are scanning to quickly know more about your pin. If the pin is for a blog post, the user can see that there is a reason to click rather than just thinking the item was pinned because it is a pretty picture.
In the screenshot below, you can see examples of a few graphics that use text very well.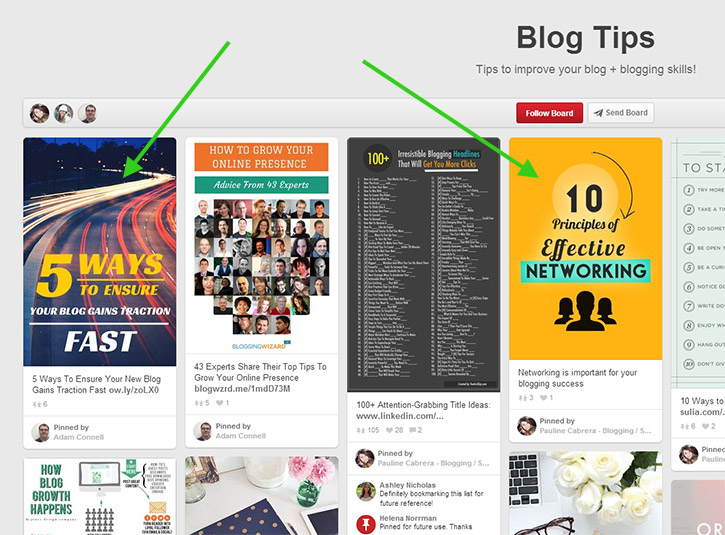 I'd also recommend branding your images by including your logo, especially items from your portfolio. That way you'll get exposure everywhere the image is pinned, even if someone pins your image without crediting you or linking to your site.
8. Space Out Your Pins
When you are logged in and on the Pinterest homepage, you will see recent pins from all the users and boards that you are following. The pins are in chronological order with the most recent on top. For this reason it is best to space out your pins so that they are spread out in the streams of people who are following you. If you post too many pins all at once, it may overtake the streams of your followers and some of them may unfollow you. It's the same concept as a Twitter user that sends out huge volumes of tweets and loses some followers as a result of the over activity.
Another reason to space out your pins is that it will give you better visibility. If you are on Pinterest once a day for 30 minutes before work, you will see the most recent items pinned. If someone you are following is only pinning at a different time of day, you may never see their pins. You want to space out your pins so that your followers are not missing them, and this can lead to more re-pins, more exposure, and more traffic.
There are a few options for spacing out your pins. First, you can visit Pinterest at different times throughout the day or manually pin items throughout the day. While this does work, it may require more time than you want to spend. A better alternative is to schedule pins throughout the day so you won't have to manually do it every time you want something to be pinned. With scheduling you can do your pinning once a day, once a week, or at some other interval and still have pins being added to your boards throughout the day.
There are a few different apps and tools that you can use to schedule pins, but most of them are a part of programs or suites that you will need to pay for. The one free option that I am aware of (please leave a comment if you know of others) is ViralWoot. On the free plan you will be able to earn "seeds" by following other users or pinning their items. The seeds that you earn can then be used to schedule your pins, or to attract followers or re-pins. You can also buy seeds if you prefer.
9. Use Your Blog to Attract More Followers
If you have a blog, you can also use it to attract more followers for your Pinterest profile. Having an active blog is a great way for you to promote your work, so hopefully you already have one. You can include a widget or badge from Pinterest in your sidebar to make it easy for people to follow you. Pinterest makes it easy to create your own widget or badge. The follow button and profile widget are ideal for use in sidebars.
You can also add "pin it" buttons that will make it easy for visitors to pin images in your blog posts to Pinterest. And when someone does pin an image from one of your posts, it will be linked to the URL of the post, so it will be able to send traffic from Pinterest to your blog. WordPress users can use plugins like Pinterest Pin It Button for Images and Pinterest "Pin It" Button to easily add this functionality.
Another option that can be extremely powerful is to embed pins or boards within your posts. You can use Pinterest's widget builder to easily get the embed code for a pin widget or a board widget, and then just add it to your blog post. Embedding the pin or the board in your post will increase the exposure and lead to more re-pins and followers.
10. Use the Description Wisely
The description of a pin is often overlooked. Some pins are posted with no description at all. Use the area that you have (descriptions can be up to 500 characters) to your advantage. Enter a description that will give users an idea of what to expect, and tell them why they should care about the pin. You can use keywords and hashtags in your pins in order to increase the chances of them being found. Pinterest searches can be quite useful for finding something specific, but you'll need to make use of the description of your pins in order to maximize the likelihood that they will be found. Most users will leave your description when they are re-pinning rather than writing their own, so if you write a good description on a pin that gets re-pinned many times it could have quite a reach.
Also, when you are re-pinning items from others you should consider entering your own description, especially if the existing description is not very good. Entering your description will take a small amount of time, but it can pay off in higher visibility.
11. Link Your Pins to the Source
When you are pinning be sure that you are linking pins to the source, including items from your own website. If you use a "pin it" button from a website or blog, or the pin it button added to your browser, the pin will automatically be linked to the page where you found it. But if you are entering a pin manually by uploading an image from your computer, it will not give you the option to enter a URL when you are adding it.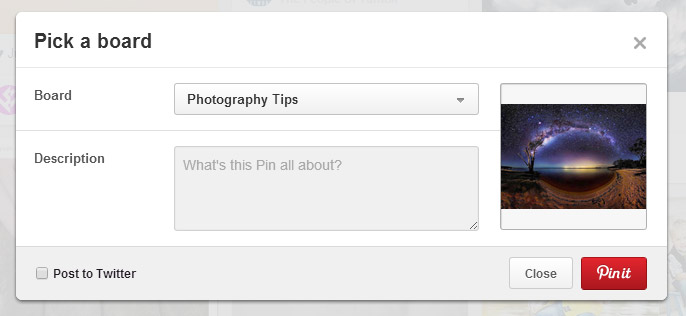 When you are adding pins this way, you can go back and edit the pin after you have added it in order to link it to a specific page. To edit a pin, find it on your board, hover over it, and click on the pencil icon.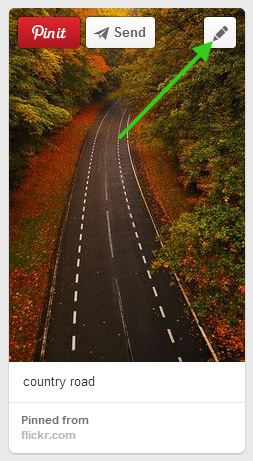 You will then be able to enter the source URL and save it. Now the pin will link to the URL that you entered.
12. Participate in Group Boards
Group boards provide an excellent opportunity to expand your reach on Pinterest. When you set up a new board, by default, you will be the only user who is able to pin items to that board. However, you can invite other users to join the board if you'd like. There are loads of already existing group boards, and some of them are open to new users. If you are able to join a few group boards that have a decent number of follower,s you can greatly expand your reach and exposure by pinning to those boards (of course, you don't want to spam the boards).
The first step to using group boards is to find them. PinGroupie is a directory of group boards that you can sort and filter to find the best ones for you. You can select a particular category, including "design", and you can order them by things like number of followers, number of contributors, number of pins, number of re-pins, and number of likes. With PinGroupie you can quickly find group boards that would be ideal to join.
Unfortunately, the process for joining a group board is not as simple and may require a little effort. You'll need to be invited by the board owner, but there is no official way to request an invite. Before the board owner can send you an invite, you must be following at least one board of the owners. It is best just to follow the board that you want to join.
When you are looking at a group board, the owner will be the first icon listed.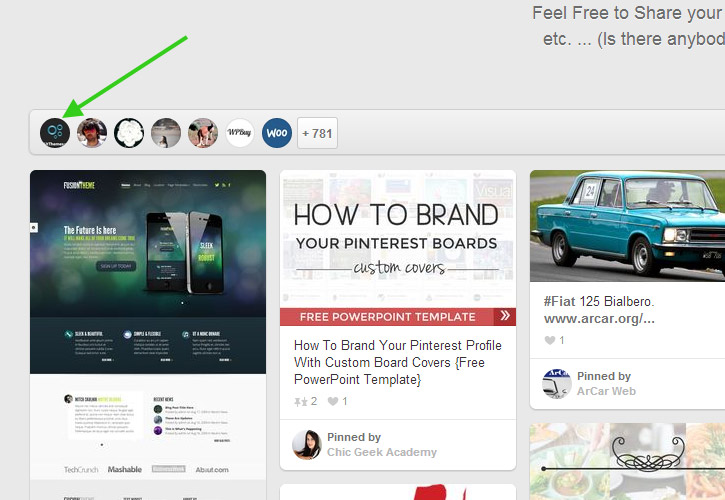 Click on that icon to see the profile of the group board owner. In this case, the board owner's profile lists a URL and a Twitter profile, so you could contact them either through their website or Twitter and ask if they would be willing to send you an invite to the group board. Be sure that you give them a link to your Pinterest profile, and it's also a good idea to mention the specific board that you are asking about because they could have several different group boards.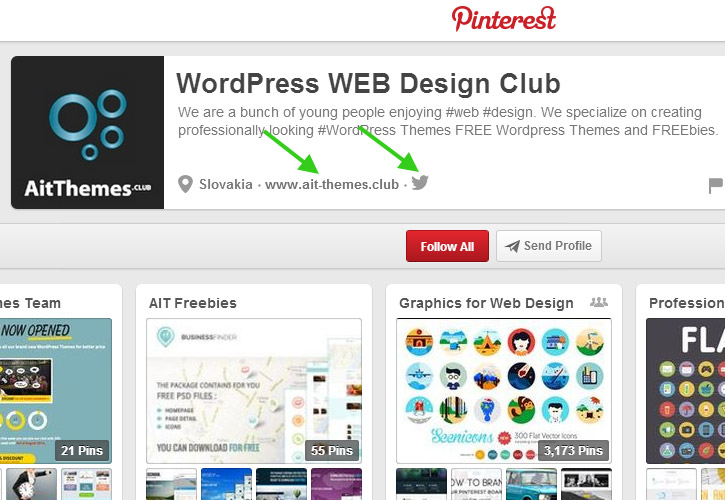 If they send you an invite, it will show up at the top of the notifications (top right of the screen) when you are logged in. Once you accept the invitation you will be able to pin to that board. Some group boards have very large followings, so this can be a great way to reach a large audience even if you do not have a lot of followers yet. It's best to pin more than just your own stuff in order to get involved and not be viewed as spamming. Many group boards will have specific rules or guidelines so be sure to follow them or you could be removed.
Get Started!
If you haven't already set up a Pinterest account take a few moments and do it now. If you have any suggestions or feedback from your own experience with Pinterest, please feel free to leave a comment.