Whether you run an in-person school or an online learning platform, you need a learning management system (LMS) that will help you run your enterprise efficiently. 
PHP learning management systems are a great option. Classes, courses, and training are now commonly delivered and administered through learning management systems. Lessons are created and uploaded on these systems and can be accessed anytime, anyplace. Learning can happen on desktops or mobile devices, with websites and apps. 
In addition, PHP learning management system scripts automate every aspect of school management, from administration tasks to online classes and exams, payments, managing students, teachers and staff, and so on. 
On CodeCanyon you will find learning management system scripts that will help your business excel. 
Have a look at these trending PHP learning management systems.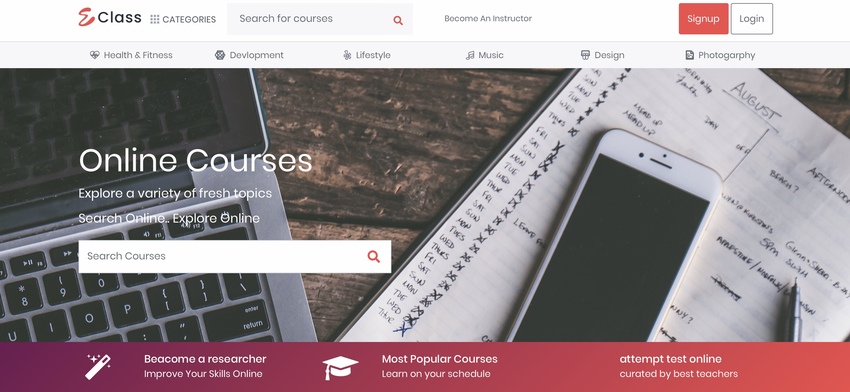 The Best-Selling PHP Learning Management Systems on CodeCanyon for 2020
Grab one of these PHP learning management scripts and transform the way you deliver classes and run your school—whether online or in person.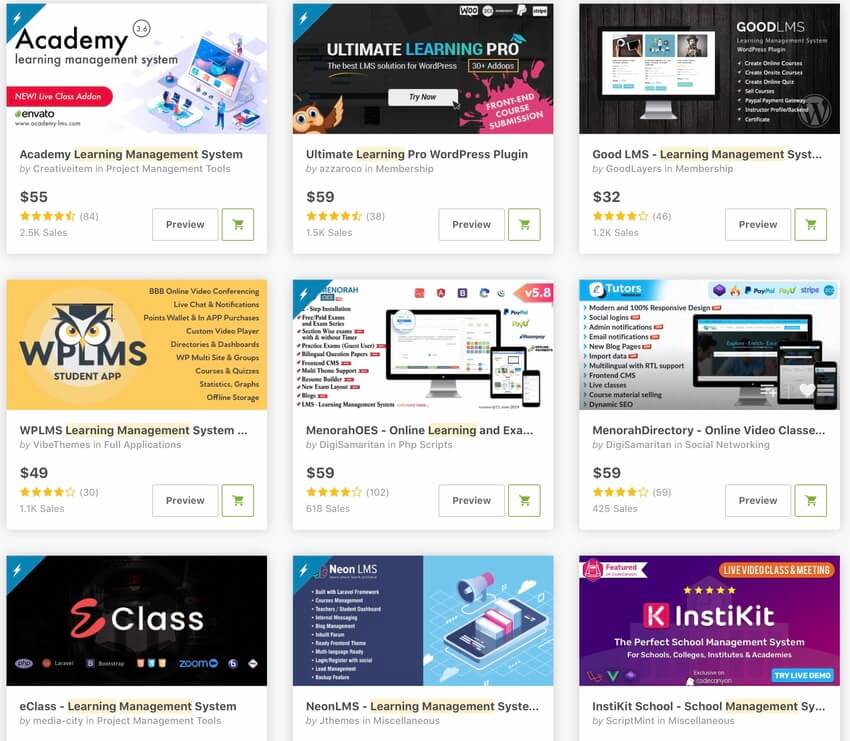 At CodeCanyon, you'll find PHP learning management systems that will help you offer top-notch online learning services. 
Let's have a look at the best of the best.

Academy is a marketplace script for online learning. Here, students and teachers share knowledge through a structured course-based system. 
Teachers or instructors can create an unlimited number of courses and upload videos and documents according to their expertise. Students can enroll in these courses and learn anytime and from anywhere.
Academy also has a number of add-ons to make it even more powerful. Note: These add-ons only work with Academy LMS. You have to purchase and install Academy LMS on your web server before purchasing them.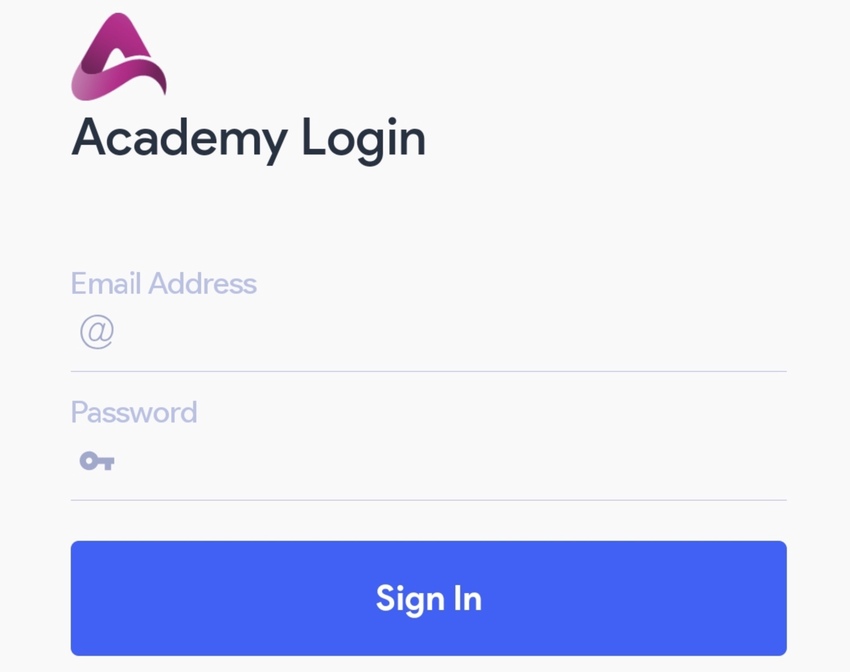 Using this app, students can learn directly from their Android phones. Features include an account page, a student "my course" page, course homepages, course list pages, downloadable material, quizzes, wishlists, and more. The app can be uploaded and hosted on the Google Play store as your branded LMS App.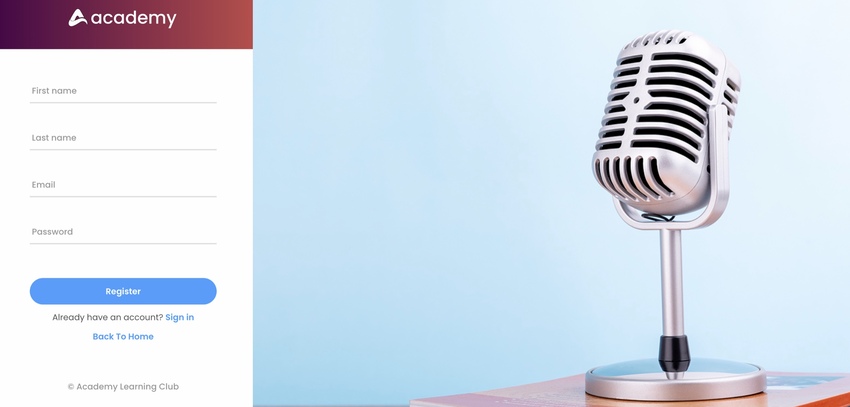 Elegant theme is a modern UI template for Academy LMS. The layout brings a professional look and feel to your LMS web portal.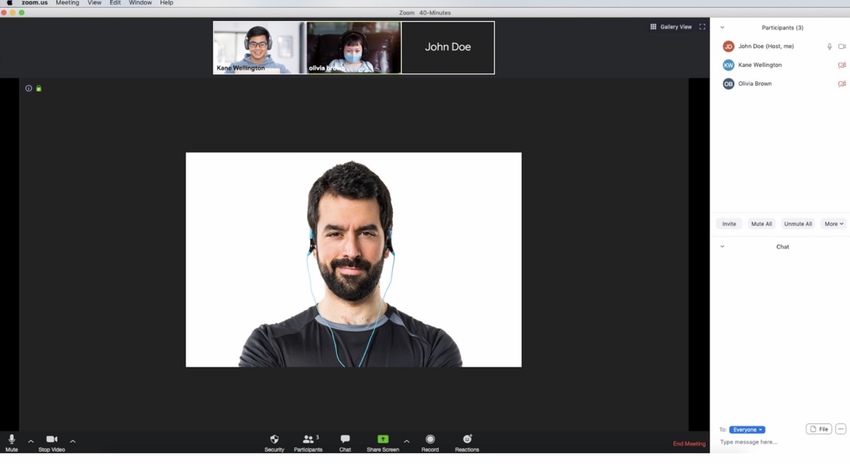 This addon provides Academy LMS instructors the ability to teach online courses to students using the Zoom live streaming service. If the course has no more than 100 students, you can start with Zoom's free package.
This live streaming add-on for academy LMS is extremely secure. Zoom meeting IDs and passwords can't be accessed by an outsider. Only valid and enrolled students are able to join in the live class with the course instructors.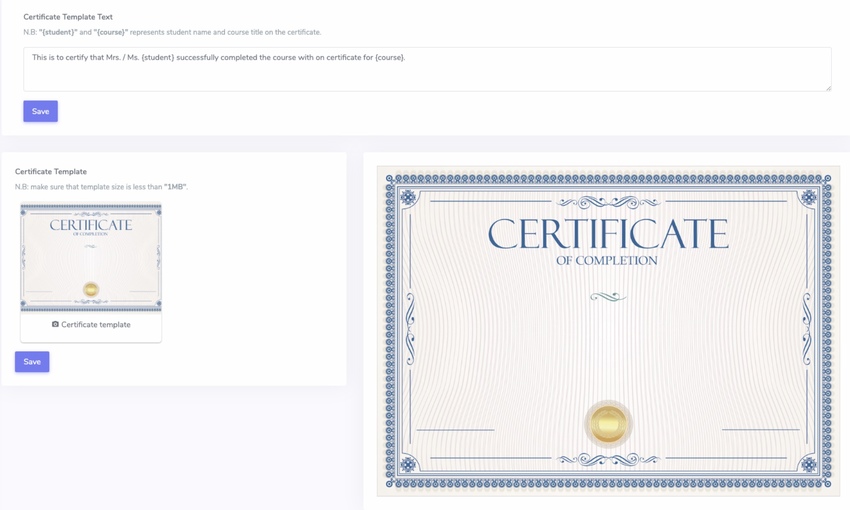 This add-on provides certificates to Academy LMS course students. Once students complete a whole course, they can download its certificate. The certificate can be also shown online for verification through a public URL.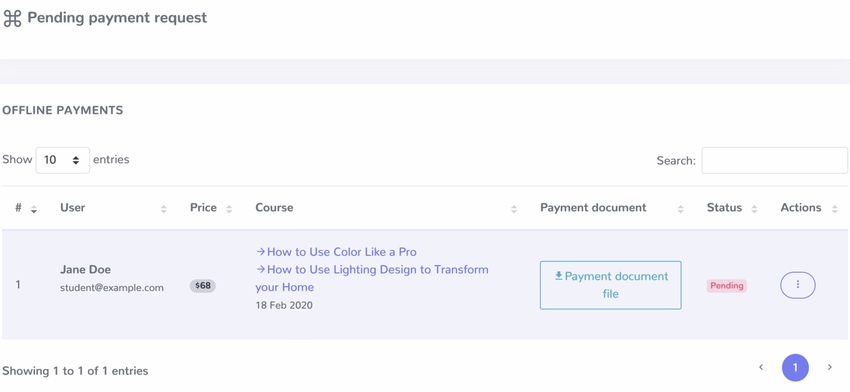 This add-on provides offline payments to Academy LMS students during the purchase of a new course. When making a payment on the course cart, this add-on gives an option for uploading a payment document. The school admin can then verify the payment evidence and approve the purchase from back-end. This will bypass the use of online payment gateways in areas where they are not available. Using this convenient payment add-on, you can sell courses to your students by any medium.

Managing students, teachers, exams, and many other resources is crucial for any school. Smart School helps you to manage everything in a centralized way. 
This modern and complete school automation software works for every educational institution. It covers all aspects of school management, from student admission to student leaving, from fee collection to exam results. 
It includes 30+ modules with 8 built-in user types: super admin, admin, accountant, teacher, receptionist, librarian, parent, and student.
On the student management side, you can:
Create a detailed student admission form that also asks for multiple documents to maintain a complete record in the student profile. 
Manage classes, section subjects, teacher, assign subject, and create a class timetable.
Manage downloadable content for students like the syllabus, assignments, and study materials.
Promote students to the next academic session based on results.
Send messages to students, parents, and teachers through the noticeboard.
On the financial management side, you can:
Use the advanced fee collection mechanism to adopt any type of fee structure. 
Implement due date, fine, discount, fees, and discount allotment based on more than five different criteria. 
Manage the school's other income and expenses.
View and create various fee reports.
Get various reports on students: fee statement, transactions, fee balance, attendance, and exam results.
When it comes to day-to-day logistics for efficient running of the school, you have: 
A complete library management system for adding, issuing, and returning books. 
A system for managing school vehicles, as well as their routes and driver details.
A system to manage school hostel rooms. 
Smart School Android App is a native Android application for Smart School.
This add-on is a simple and intuitive app that students or parents can use to access their school's information on mobile devices. The aim is to enhance the learning experience of the students and let parents monitor their children's academic activities.
Smart School Android App is highly customizable—that means you can change its logo and app theme colors, as well as enabling or disabling modules.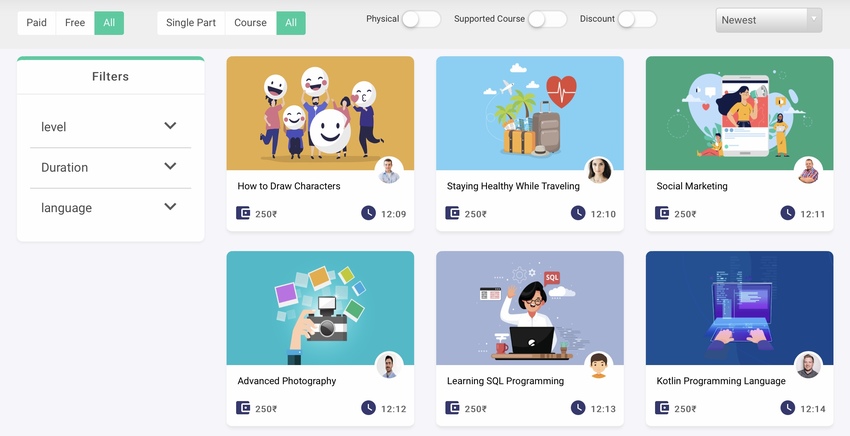 If you want to run an online education marketplace like Udemy, Coursera, or Skillshare, then Proacademy is a sure bet. 
This all-in-one solution provides many features based on real business needs, so you can start your online education business right now! 
Proacademy is built with Laravel and React Native. These technologies have great community support and allow Proacademy to easily handle many users at once. 
In addition to video courses, Proacademy also lets you provide articles for users who enjoy learning from text-based content.
Payment methods include PayPal, Paytm, Paystack, and PayU.
This Proacademy mobile app add-on is developed for both Android and iOS, so all your customers can use it. 
Students can purchase, manage, and access courses easily in different categories. They also can download lessons to view offline. Instructors can manage the teaching process so they can see course sales and support messages. 
Proacademy mobile app is based on the Proacademy LMS core, and all its processes are managed by the Proacademy LMS script. Connecting the application to the Proacademy website is very easy and can be done without development knowledge.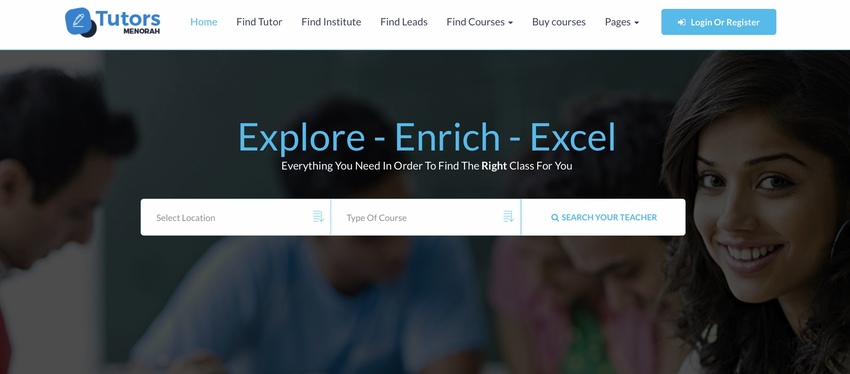 Tutors Menorah is a powerful, user-friendly LMS. Anyone with a basic knowledge of computers can use this system.
Tutors Menorah automates student management, credits system, timetable management, salary management, and records. 
Users can log in with their Facebook or Google accounts. They can also pay using different payment gateways like PayPal, Razorpay, Stripe, and 2Checkout. 
It is also translation-ready!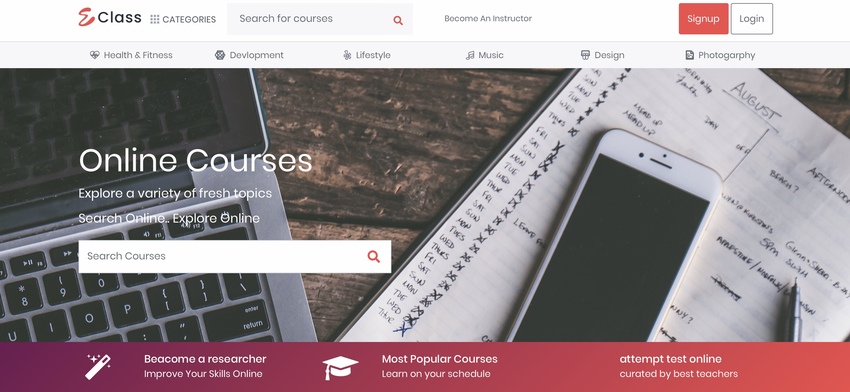 eClass is an all-in-one learning management system that is user-friendly, secure, scalable, reliable, expandable, and flexible. This highly affordable, highly customizable, and great-looking system comes packed with features to help you connect your audience with the right learning. It also uses SEO best practices so you can optimize your courses to sell more.
With eClass, you can build a global marketplace for learning and instruction where students can buy your courses whenever it might suit them.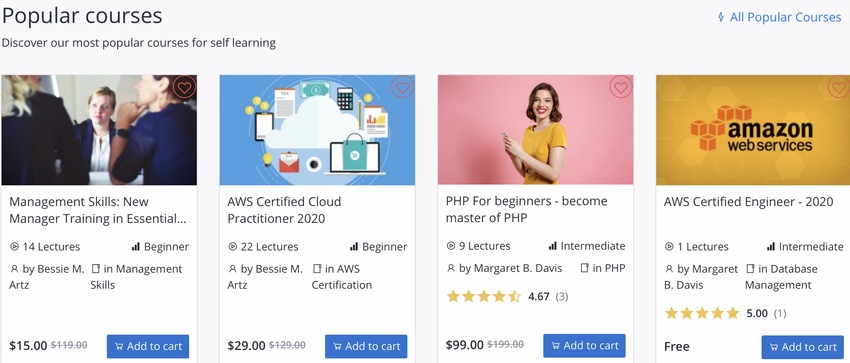 Teachify LMS is a smart choice for building an e-learning platform. You can create an advanced, scalable, and robust e-learning website similar to Udemy, LinkedIn Learning, or Lynda within just five minutes. 
This intuitive drag-and-drop course builder helps you create a satisfying learning experience. You can create courses, lessons, quizzes, and assignments to test a student from all corners.
The Teachify learning management system covers all types of instructional course platforms, from schools to coaching, personal trainers, and professional instructors.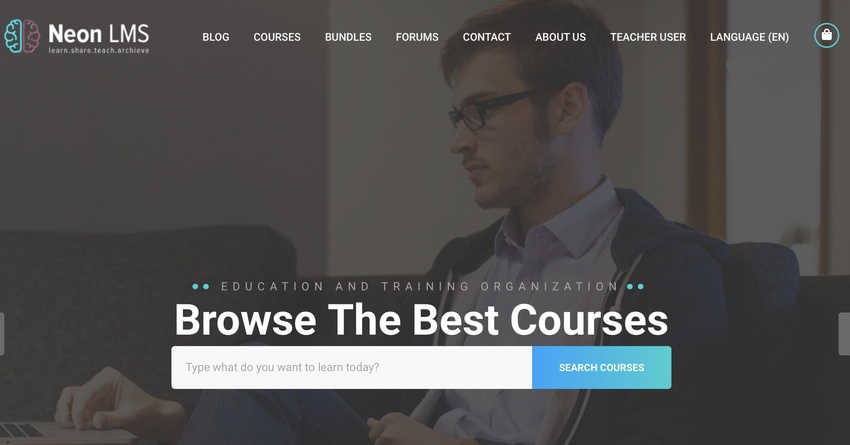 Set up your online school and earn by enrolling students using NeonLMS. You can offer courses with articles, videos, and quizzes.  
The bundle includes a responsive front-end website managed by a full-fledged dashboard for admin, teachers, and students. It also has a blog to publish articles, and a forum to help users to communicate among themselves and learn as a group. 
Admins can manage every aspect of the system. Teachers create multiple courses with lessons and tests. Users can browse through this list and enroll as students by paying for the course—they can learn anytime and from anywhere.
The LMS is built with Laravel 5.7 and comes with detailed documentation.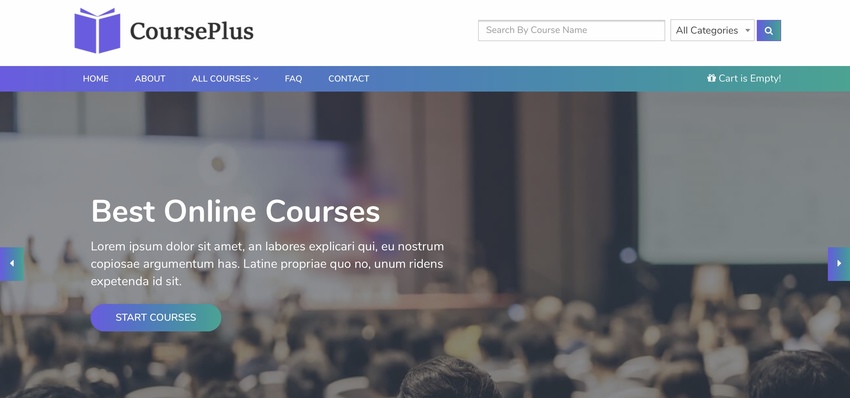 CoursePlus is a full-featured learning management system (LMS) made with the CodeIgniter PHP framework. 
This LMS system is very easy to use for both students and instructors. Instructors can create courses for free and earn revenue from the students. 
Admins will get a percentage from each sale of each course. Students can pay via PayPal and Stripe to enroll on a course.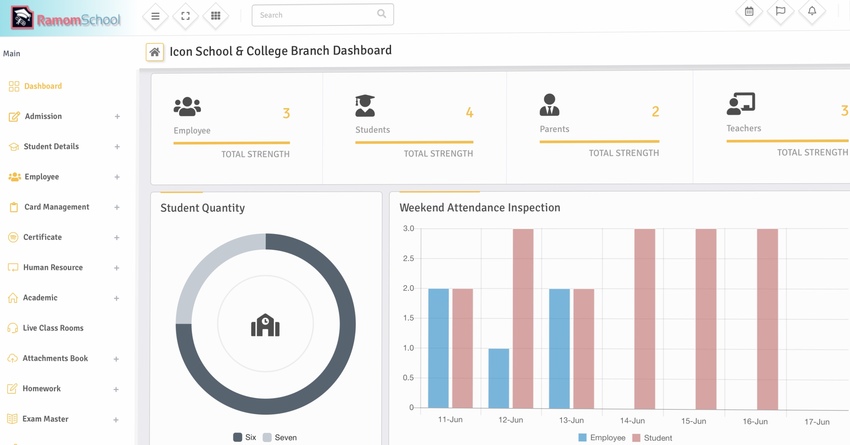 If your school, polytechnic, or university has many branches and different locations, then Ramom School Management is your ideal choice. It is an invaluable tool for planning resources for your enterprise. 
A super admin can manage all branches and their staff. Each branch in turn is controlled by an admin, and information is kept separate and secure between locations. 
This system also comes with language translation systems. Users can select the language they want to use for the interface and school resources.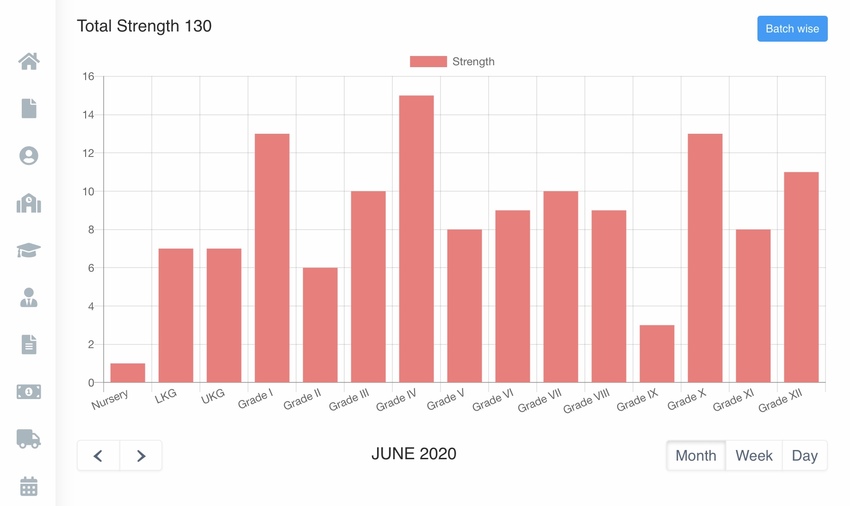 InstiKit is a real-time management solution for your school, college, institute, or academy. Administrative tasks take less time when you use InstiKit, so you can focus on students and improving their performance. 
Here are some things you can do with InstiKit: 
Match the application to your own branding with pre-built themes and color options.
Manage students, teachers, and staff with detailed profiles.
Control access for students, parents, and staff with powerful roles and a permission control system.
Create multiple academic sessions and manage courses, classes, and subjects.
Manage fees, including billing, concession, and cancellation.
Use a powerful library management system to manage books. Filter and search books by author, publisher, subject, and topic.
Keep records of the books issued and returned, and track late fees and penalties.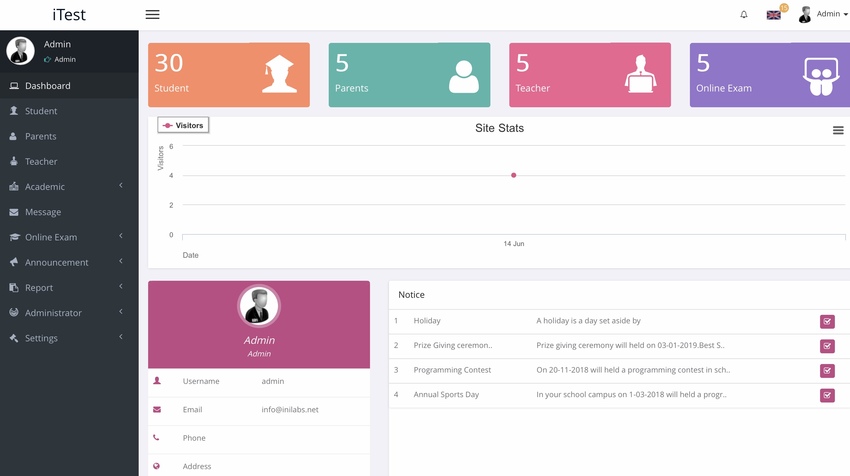 iTest is a dynamic system dedicated to managing exams that students can take online. 
Through this system, admin can manage and track information on students, parents, and teachers. 
Admin and teachers can:
create and manage question banks 
manage the question levels: basic, intermediate, advanced. 
manage online exam instructions
send private and group messaging for all users 
This LMS is available in 15 different languages! 
PHP Training Management Systems 
This is an important category of learning management systems that allows companies to offer e-learning content for their employees to develop crucial new skills and improve their performance.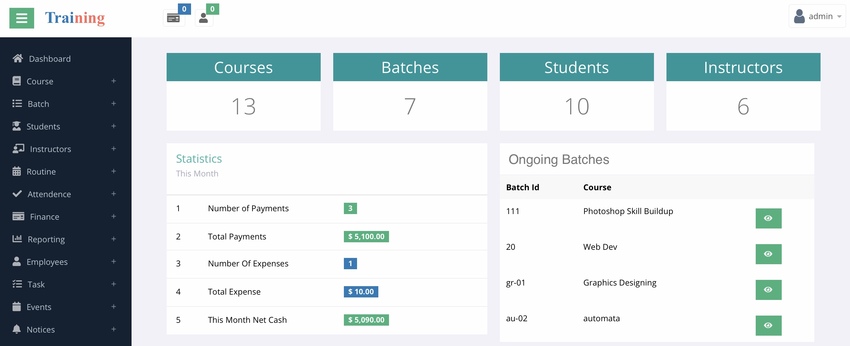 Training Manager is the ultimate learning management system for any kind of training center, coaching center, or learning institute.
This responsive learning management system has a dynamic dashboard packed with features, including: 
management of students, teachers, employees, and courses
management of invoicing and expenses
management of tasks and notices
Teachers, students, and employees can manage their own workflow through the system.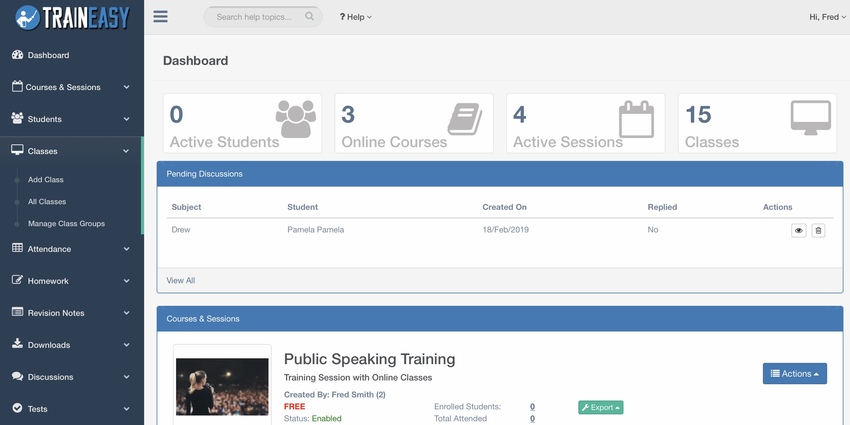 Do you organize training programs online or at physical locations? If yes, then TrainEasy is the perfect software for running and managing your entire training program!
Some features of this learning management system include: 
student front-end and admin back-end
manage and schedule offline training
session and course management
online tests and assessments
blogging and content management
It also supports multiple payment gateways and multiple currency.
This is the training mobile app for TrainEasy, available for iOS and Android devices. 
Its features include: 
course enrollment
online payments
offline support
student forum
instructor chat
homework submission
computer-based testing
certificate download
Thing to Consider When Choosing a Learning Management System
An LMS is made up of many components that enable different users to achieve their objectives. To make sure you're getting the best bang for your buck, your choice should be guided both by your budget and by the features of the LMS. 
Automated Administrative and Communication Tools
Communication is key to any successful venture. Automating communication takes a load off administrators' shoulders. Communication with teachers and students can include notification about accounts and payments, email reminders, weekly course summaries, real-time onscreen progress indicators, and so on. Administrative tools include tools for registering teachers and calculating teachers' commissions.
Diverse Course Options

An LMS should combine different learning methods. For example, learning content can be delivered via audio, video, PowerPoint, multimedia, text, games, social learning, and more. 
Course Content Creation Tools
An LMS comes with built-in authoring tools that allow for easy creation of course content. 
Student Engagement and Collaboration
Online community tools—like chats and forums—integrated into the LMS offer opportunities for students to engage with their peers and collaborate on assignments. 
Assessment and Testing Tools
A good LMS will let you test to see how students are learning and retaining material in the courses through quizzes and exams.
Instant Feedback
Teachers should be able to give learners feedback to show them where they need to improve. 
Grading and Scoring
Your LMS should allow you to track student progress and performance over the duration of the course. 
Certification
If you want to issue certificates, check that the LMS comes with the ability to create certificates for students that complete a course. 
Reporting
As a school administrator, you'll need access to data like the number of students taking a particular course, individual reports for each student, and how much time students spend on each lesson and quiz. 
Feedback
The only way to improve is through user feedback. That's why you might look for features for gathering feedback and suggestions from students to learn what they think about the quality of the courses and the system itself.
Reviews
Many learning management systems offer students tools to review and rate their experience with courses. This will be helpful for others who want to take the course. 
The Best PHP Scripts on CodeCanyon
The free libraries on Packagist are wonderful for basic functionality—the foundation for a good app. However, for more specialized features or for complete applications that you can use and customize, take a look at the professional PHP scripts on CodeCanyon.
Explore thousands of the best and most useful PHP scripts ever created on CodeCanyon.
Here are a few of the best-selling and up-and-coming PHP scripts available on CodeCanyon for 2020.