Are you having trouble keeping visitors on your website? Do you want to boost your conversions and sales?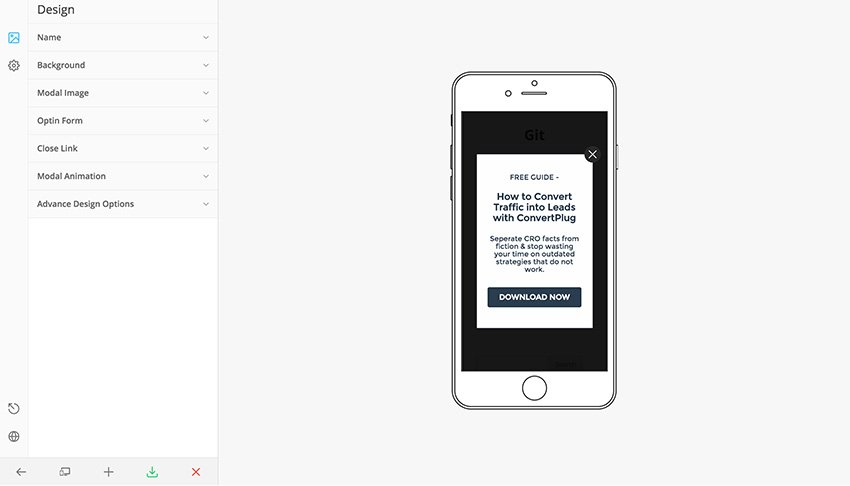 Keep website visitors on your website and grow your business with exit intent WordPress plugins. These plugins will quickly improve your retention, sales, or conversions depending on how you set up the plugin. 
Exit intent WordPress plugins are essential for any WordPress website. The exit intent plugins most popular use is to offer your website visitors a special offer to your products and services when they try to exit out of your website. When you deliver a powerful offer before they exit, it incentivizes them to stay on your website and make a purchase.
Check out all the top-selling exit-intent plugins available on CodeCanyon. Consider picking one up today to quickly improve the conversions and sales you make on your website.
Best Exit-Intent Popup Plugins for WordPress on CodeCanyon (With Unlimited Use)
Explore the hundreds of the best WordPress plugins on CodeCanyon.  CodeCanyon has some of the best prices for the highest-quality WordPress plugins on the web. There is plenty more on CodeCanyon that just WordPress plugins. You'll find:
PHP scripts 

eCommerce extensions

WordPress themes

HTML5 templates
All the products on CodeCanyon are ready to use and have great features that can help you take your project to the next level. Check out CodeCanyon today!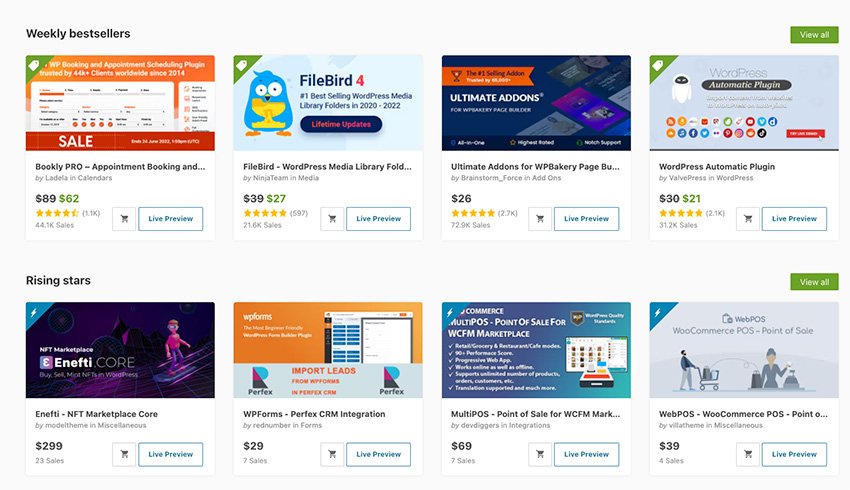 Let's now have a look at the top plugins on CodeCanyon that you can download right now!
Top 10 Exit-Intent Popup Plugins for WordPress on CodeCanyon  (For 2022)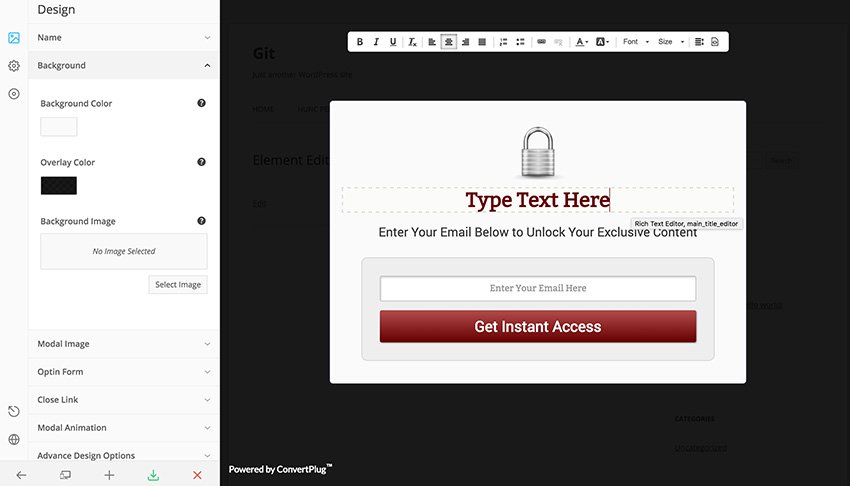 ConvertPlus is one of the more popular popup plugins on the market. This fully featured exit-intent plugin can transform your website into a lead generation powerhouse. ConvertPlus can help you reduce shopping cart abandonment, get more email subscribers, and increase your social following.
Here is what you can expect from this fully featured popup plugin: 
100+ beautifully designed templates 

12+ different visitor behavior triggers & filters

10+ popup display positions

page level targeting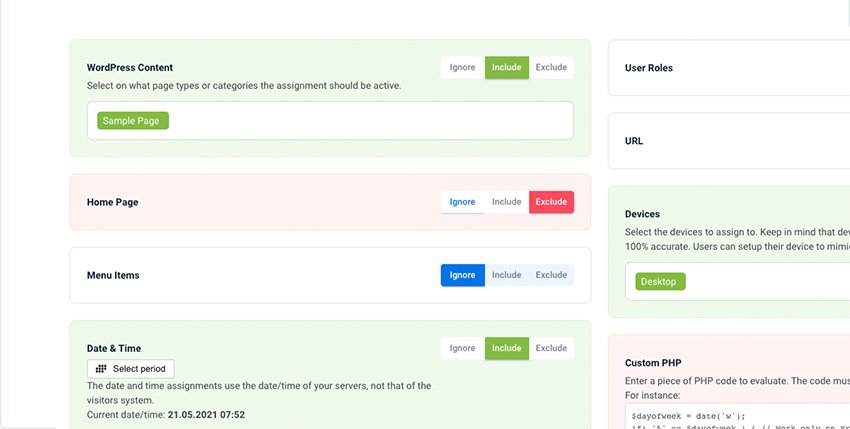 Snitcher is one flexible popup and notification plugin. You can design the pop up to with any content of your choice. You can even display subscription and registration pop ups on any page of your website. 
Here are the main features for Snitcher:
customizable overlay size and layout

12 popup appearance positions

10 triggers for open and close popup

build a modular chain of popups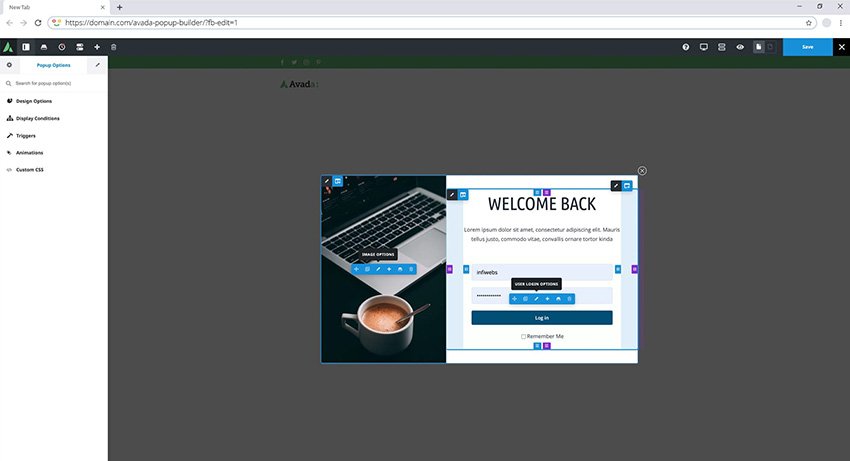 If you need to set up a exit intent popup on your website quickly, this is the WordPress plugin for you. Not only does it come with an exit intent plugin, but it comes with a timed pop up and on scroll trigger pop up. This gives you the ultimate flexibility for when you show your website viewers the popup.
Here is what you can expect from this exit intent WordPress plugin:
pre-built popup library

timed popups

on scroll trigger

popups fully cutomizable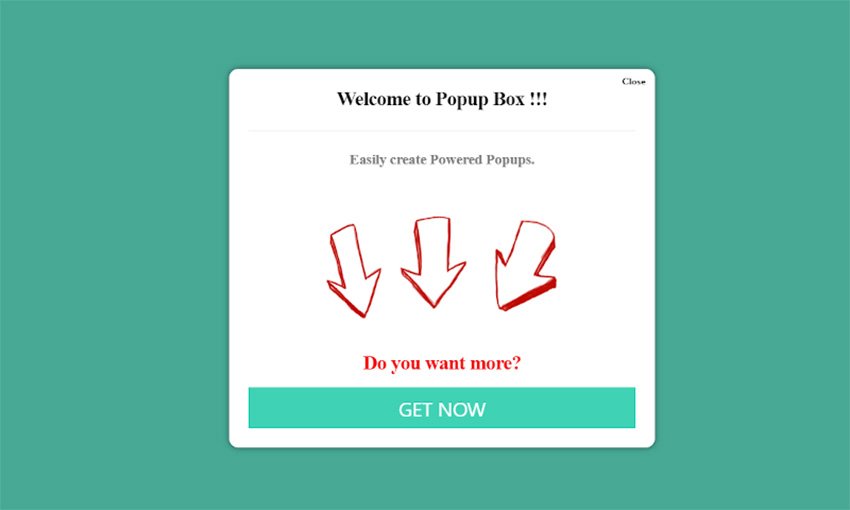 Popup Box for WordPress gives you the ability to easily create popups with different behaviors and designs. The plugin comes with thirty-three different animations so you can find the perfect animation for your website. The plugin also supports multiple languages and has a simple and easy to use live editor. 
Here are the main features for Popup Box
forced interactions

auto close

scheduling popups

video support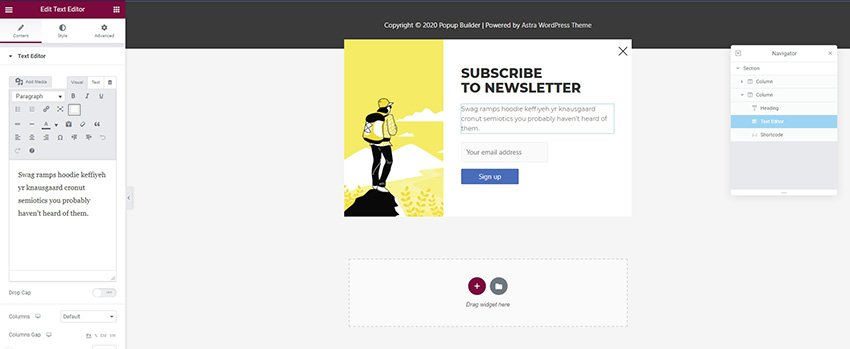 You can easily make a GDPR popup, a popup with a subscription form, a popup with a contact form with this exit intent WordPress plugin. The best part about the plugin is you can use it on any page builder. 
The main features for this plugin are:
14 ready demos

compatible with other popular WordPress plugins

create unlimited popups

engaging animations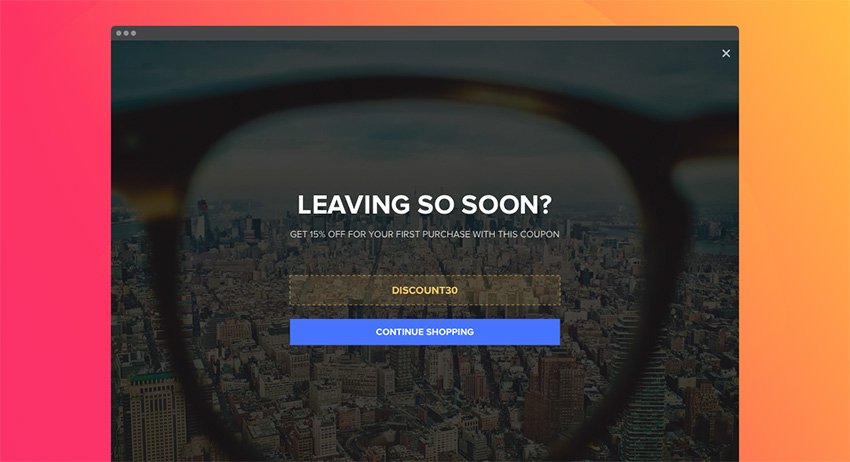 You can create various types of popups for your website for more leads and higher sales on your website with this WordPress plugin. With this plugin, you can attract more clients to your website and create trustworthiness. You can design an authentic and efficient popup, apply different types of included blocks, such as videos, buttons, texts, banners, and more.
Here are the main features for Popup Maker:
precise popup targeting

comprehensive design and style options

12 various element blocks to configure a popup

5 popup layout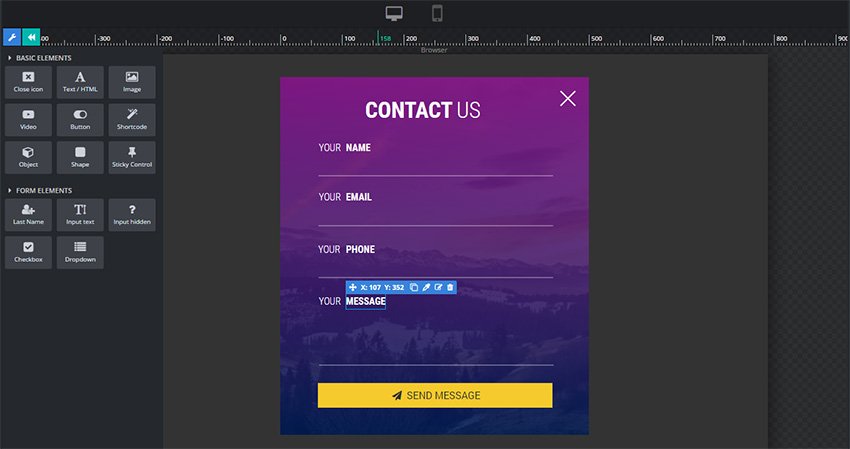 Master Popups allows you to convert your website visitors into subscribers and clients. The plugin has an easy to use and powerful visual editor. All you have to do is drag and drop the elements on to the editor to create a visually appealing exit intent popup. 
The main features of Master Popups include:
70+ popup templates

ability to connect 50+ email marketing services

drag and drop popup editor

more than 500 customizations available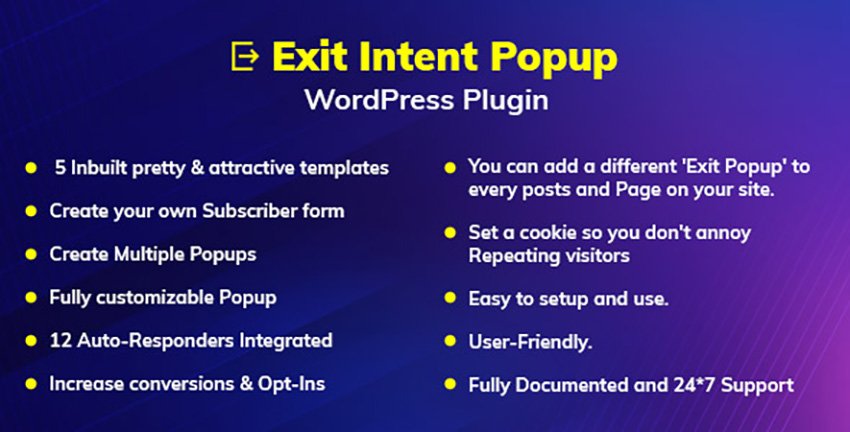 Exit Intent Popup Plugin is a plugin that allows you to easily create and manage popups on your WordPress website or blog. You can also trigger popup forms based on user behavior. All the popular email marketing software are supported by the plugin. The popups are fully customizable and can be used to display anything you want to your audience.
Here is what you can expect from this plugin:
5 attractive templates

12 auto responders

create multiple popups

set up cookies so you don't annoy repeating visitors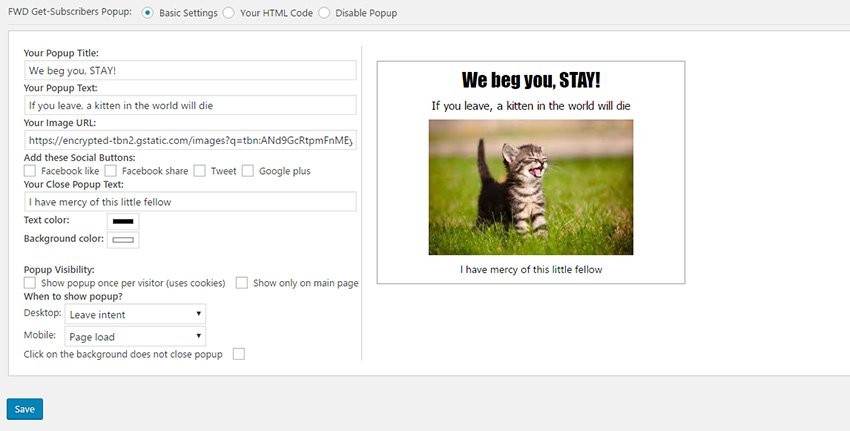 This full-featured exit intent WordPress plugin can display on browsers that have ad blocker enabled. The plugin supports a wide range of browsers and will work well on mobile devices. This flexible plugin is sure to help you get more email subscribers. 
Here are the main features for Get Subscribers:
social sharing buttons 

responsive layout

choose pages displayed on

fully customizable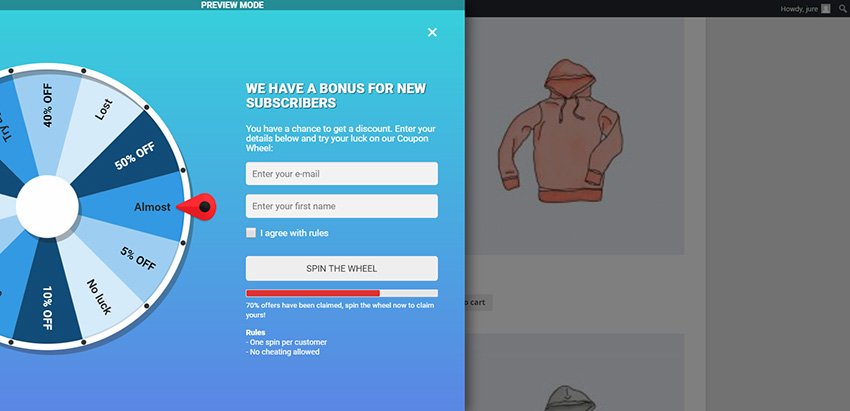 Coupon Wheel takes a unique approach to exit intent plugins. You can engage your customers when they try and leave your website with a coupon by spinning a fortune wheel. You can also display a coupon urgency countdown to entice your customers. On the wheel you can show various discounts and prizes that they could win for spinning the wheel. This gamification of the exit intent popup is a great new way to keep customers on your website and buying your products. 
Here are the main features for the plugin: 
12 customizable wheel slices

connect with popular email service providers

advanced anti-cheat engine

250+ backgrounds 

unlimited wheels
Looking for even more WordPress plugins that weren't covered in this article? In the next section, we'll go over even more best-selling templates designs that can help you take your project to the next level. 
Discover More Great WordPress Plugins
WordPress plugins can help transform a mediocre website into a fully featured professional site. There are plenty more WordPress plugins that you can discover to help your website and your business. Check out the articles below for even more great WordPress plugins. 
Get Your Exit-Intent Popup Plugin for WordPress Today!
In this article, we went over the top exit-intent popup plugins that can help you make more sales and conversions. The various plugins allow you to create fully customizable popups with no coding required. 
CodeCanyon has hosts all of these amazing exit intent popup plugins and much more. If you are looking for other types of WordPress plugins, CodeCanyon has you covered as well!  
Take advantage of the all the exit intent popup plugins and WordPress plugins on CodeCanyon today!