<!–
–>
We're always trying to do things faster and better and accomplish more in less time. That's good, but it's easy to become obsessed with trying to figure out how to go about boosting our productivity.
If we're not careful, our obsession can become stressful and counterproductive. The digital age has given us many excellent tools to work with. But it has brought with it more tasks to do and less time to do them in.
Fortunately, we have project management, time-tracking, prototyping, and workflow streamlining productivity tools. They give us more time to attend to the tasks we love and were hired to do. Or, the tasks that require knowledge skills, intensive focus, and careful thought.
We've carried out some in-depth research activities. This is in order to present what we believe to be the top productivity apps going into 2019. These go with the 5 top productivity tips designed to make you more efficient.
That said, let's dive right in.
1. Mason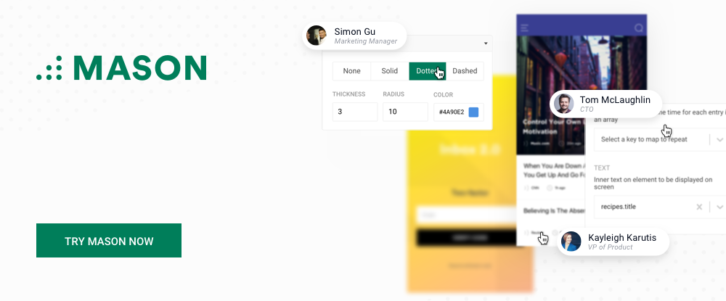 Mason is a different type of design tool. It enables you to skip steps you thought to be important if not mandatory, it allows you to take other steps immediately that you typically had to wait before taking, and it makes digital product maintenance far easier and less time consuming than you might have thought possible.
In short, instead of calling Mason different in its approach, it's not much of a stretch to call it radically different.
This productivity tool's frontend feature building and editing capability and visual interface allows you to create precise software features for websites, apps, and almost any other type of digital product. Once you complete your design in the visual builder, it's ready to be handed right over to production or product maintenance, and with pixel-perfect accuracy.
Teams can build front-end experiences with lightning speed, they can avoid the overhead costs associated with prototyping, QA inspections, and the documentation often required by developers, and they can often skip the development phase as well since Mason handles the HTML/CSS coding.
Radically different? We think so.
2. Proto.io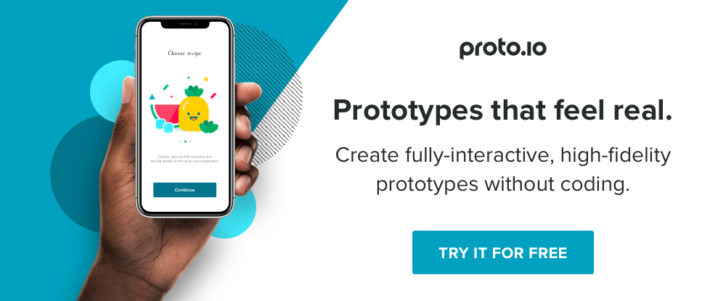 Mobile and web app designers, developers, and product managers alike have found that this prototyping tool meets their every need, whether it involves wireframing and mockups, high-fidelity prototyping for user testing, or rapid prototyping design techniques.
Proto.io is a handy, time and labor-saving productivity tool you can use from the conceptual stages of web and mobile app design all the way to final approval and design signoff.
The Dashboard helps you maintain a full overview of your projects and users involved with your account, promoting collaboration among team members. Proto.io's Editor does most of the work involved in constructing a prototype, while the Player lets you see what you've accomplished on your browsers and assists in user testing.
The latest version of Proto.io features an easier to use and more intuitive UI, new transitions and interaction design patterns, and improved user testing integration.
3. monday.com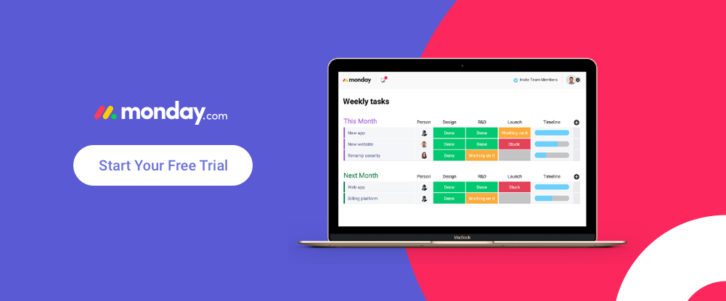 monday.com is a team management tool you can employ to centralize your workplace processes no matter whether your team consists of a pair of freelancers or thousands of teams and individuals who need to collaborate and share information.
monday.com provides greater transparency more than other productivity tools of its type. In doing so, it empowers team members by providing them with the same information their team leaders and managers receive. More than 50,000 teams around the globe currently use monday.com, and based on reviews, many of them no doubt wonder how they ever got by without it.
A secret to monday.com's success, is that to effectively change the way teams work, team members have to love the team management tools their using, and that appears to be the case here.
4. ActiveCollab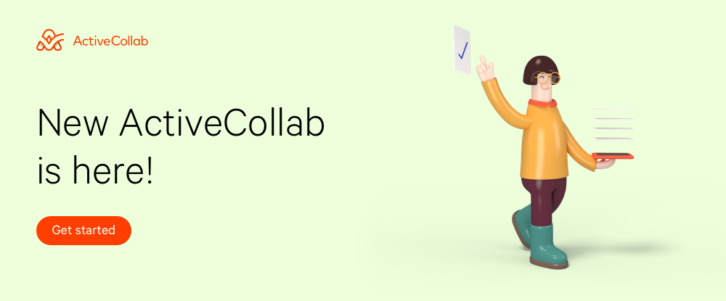 The new ActiveCollab is bigger and better than the popular old version in nearly every visual and technical category, and it features a variety of new customization options.
It has been heavily redesigned, and its star feature, task dependencies with automatic rescheduling, automatically manages dependencies between tasks. When one task is updated, dependent tasks are appropriately updated at the same time. ActiveCollab is modern, powerful, and a pleasure to use.
5. Nutcache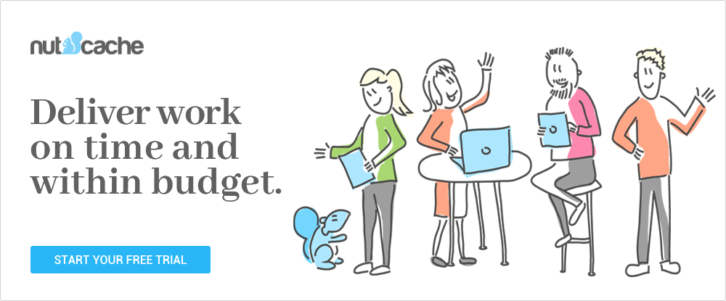 Nutcache is a team-oriented tool designed to help Agile project teams manage their workflows more efficiently and effectively. It's ideal for project managers, design teams of any size, and also for clients in that it allows them to monitor a project's progress. Nutcache's advanced task management, time & expense tracking, and billing make it much easier to manage a project from start to finish, on time and within budget.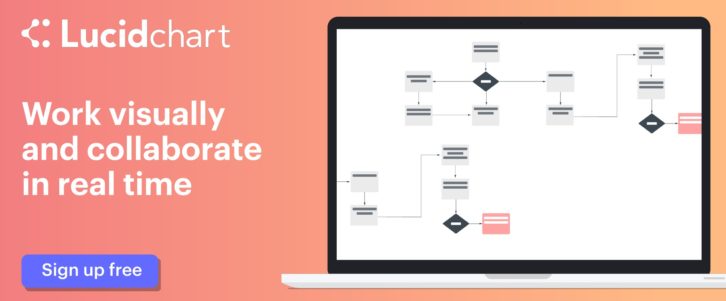 A visual spread is a good way to present complex flows or ideas; it helps people more easily understand what is being presented. Visualization is what Lucidchart does best. This productivity tool's custom shape library allows you to create virtually every type of diagram you can imagine. Lucidchart provides an especially useful means of presenting complex information flows to technical and lay audiences alike.
Make These Top 5 Productivity Tips Habits & You'll Achieve More and Experience Greater Peace of Mind
1. Keep a written record
Write down every task that should be on your to-do list, and every commitment. Trying to remember everything takes away time and energy. You could be putting these to better use. Plus, you'll never have to go and stand in the corner because you forgot something important.
2. Do the dreaded tasks first
We tend to put off what we dread doing, and in doing so we sometimes move priority tasks toward the bottom of the list. Make the task you dread the next one you do. You'll end up feeling good about it.
3. Take Breaks
Put the Pomodoro ("Tomato") technique to work. Take a 5-10 minute break every 40 minutes or so; whatever works for you. No matter how deep you're into a task. If you work too long without a break, the law of diminishing returns sets in and your effectivity suffers.
4. Make exercise a habit
Whether you work up a good sweat, take a walk, or stretch and exercise to keep muscles in trim. Exercise is good for both your physical and mental health. Get some exercise every day.
5. Get out of the habit of saying yes to every request
If you say yes to everyone in hopes of being liked, you can end up letting others control your life. Not good. It can kill your enthusiasm and productivity.
Conclusion
Here is a choice of 6 of the best productivity tools on the market and 5 common-sense productivity tips. They should give you an opportunity to make some positive changes. Especially, in the way you approach your work and your day to day tasks.
You'll also save time and money by not having to scan through the literature for helpful hints. Or, try one productivity tool after another until you find something that works.
Go for it!

0 Comments