You might be building a website for your own needs and doing all the work yourself. In this case, you may think there's no need for a collaboration tool to smooth out your workflow. Still, having one or more extra pairs of eyes looking over your work can be beneficial.
It's a different story for the design and development teams. There, quality communication and collaboration are often obligatory. This is especially if budget overruns and missed deadlines are to be avoided.
There's a host of different collaboration tools available. Some are better than others. But the key is to find one that fits in with whom you intend to collaborate and how you plan to go about doing it.
We've rounded up several of the best collaboration tools on the market, one of which should be perfect for you.
1. Mason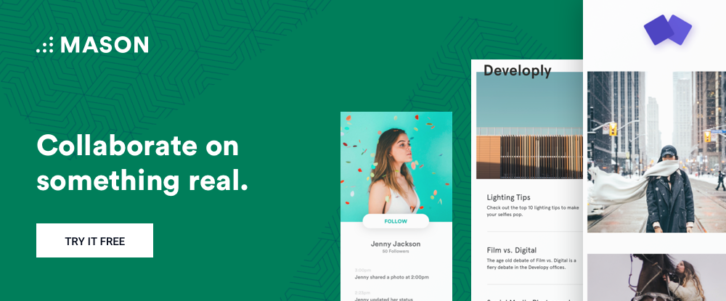 Many tools treat collaboration as an extra, although necessary activity. Your team goes about its business and uses the collaborating tool on an as-needed basis. With Mason, product design, build, deployment and collaboration are managed from a single platform.
Mason's front-end-as-a-service capability offers a better way to build, not only in terms of its drag and drop building-block approach, but also in terms of how easy it makes it for teams to interact and keep all the data and information in one secure place and available on demand. Collaboration couldn't be easier.
Mason disassembles and reassembles digital products. By doing so, design and development are much easier to control, and the deployed products are much easier to maintain or modify. Non-tech types can make minor changes to a product and avoid having to repeat the deployment cycle in doing so.
Mason is free to use during your products design and test phase. You only pay when a finished product or its changes are to be viewed by downstream customers.
2. monday.com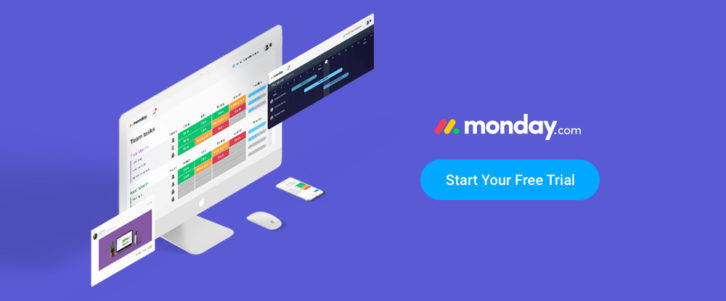 monday.com is a team management tool that can be used in any industry sector, by teams of any size, and for single projects or for multiple projects. It is exceptionally easy to use which may be why roughly 70% of its 22,000 paying teams are non-tech oriented.
monday.com is finding considerable use in Fortune 500 companies including Samsung, NBC, Discovery Channel, Uber, Adidas, and McDonalds. This team management tool could find a place in your shop if you've become tired of lengthy whiteboard presentations, plowing through page after page of Excel sheets in search of key information, or attending what seem to be an unending series of long meetings.
Instead, monday.com's colorful displays show tasks being performed when and by whom on a platform that readily adjusts to your workflow instead of the other way around.
3. Fleep — Collaboration Software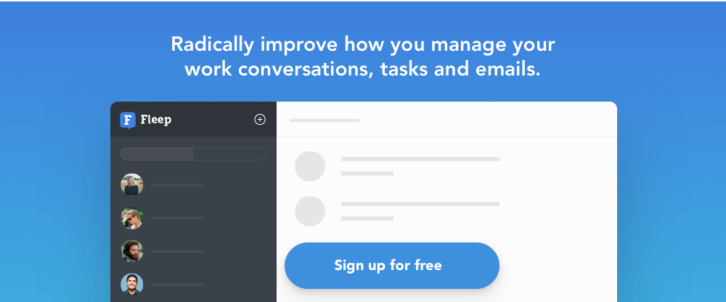 If your team and task management activity could be improved, Fleep offers a solution. Sign up for a Fleep account to collaborate with your team and with any other Fleep user or other teams on Fleep. With this communications and collaboration platform you can always see who the participants are, store and track information, and pin important messages, links and files
With Fleep's task management features at your fingertips you can do away with piles of messages on your desk, sticky notes covering your monitor, and other methods of "managing" information that often cause more problems than they solve.
Fleep also works with email so you can tie non-Fleep users into your conversations and problems-solving discussions.
Visual Inspector is used by 40,000 designers around the world to fix design bugs on websites and iterate faster on client feedback. You can use it for HTML, WordPress and SketchApp for better collaboration between UI designers & copy writers & development team. If collaborating on UI design & copy is a constant struggle in your workflow, VI could be just the solution you've been looking for.
Making changes to live websites is totally free, and you can grab unlimited collaboration for lifetime for just $49.
Conclusion
A manual collaboration system might be serving its purpose perfectly well. But the larger the team or the greater number of projects involved, the more likely it is to break down over time.
That's not likely to happen when you have the right tool in place. Such tool helps team members and project stockholders communicate with one another. It also actively encourages collaboration and team transparency. A top-of-the-line collaboration tool like those featured here is worth its weight in gold.
1 Comment