With JQuery Calendar and Date Pickers it is quite simple to add cool calendar features to nearly any website. You can directly incorporate these plugins into your website as they only require minor modifications and styling. JQuery is a cross-browser JavaScript library designed to simplify the client-side scripting of HTML. Today we are featuring 15 Useful JQuery Calendar and date picker plugins. Enjoy!
This item is ideal if you want to add information about bookings to your rentals website. The Back End is easy to use and can be easily integrated into your own CMS as the Front End can be easily integrated into your website. Both Back End and Front End can be customized separately, and the number of usages on your webpage or website is unlimited.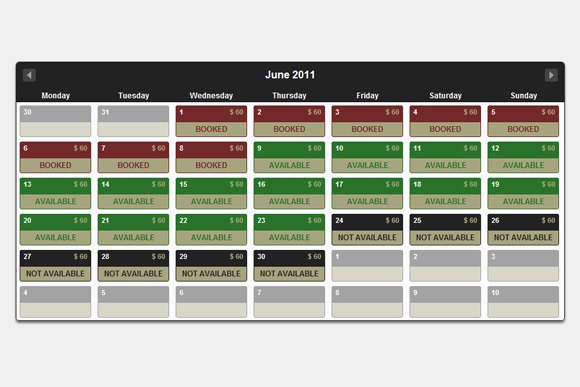 Full month calendar jQuery plug-in that looks like Google Calendar.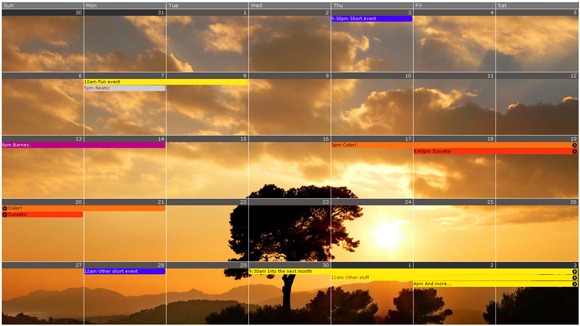 Event Calendar is a jQuery and ColdFusion event calendar that works a lot like the Google Calendar system. With Event Calendar, you can share calendar information throughout your organization. There is also a simple user facade, that you can extend, to help control user rights.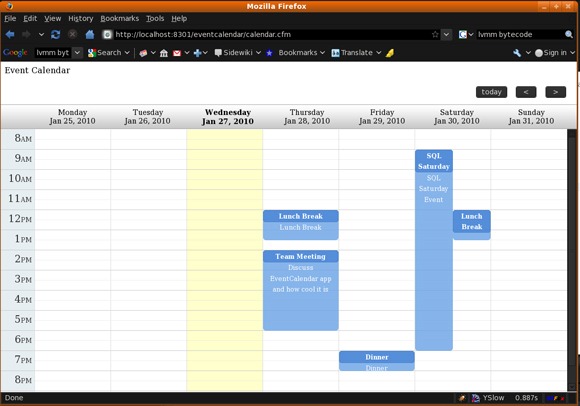 VCalendar (Virtual Web Calendar) is an open source Web calendar application for posting and maintaining events and schedules online, in calendar format.

wdCalendar is a jquery based Google calendar clone. It cover most Google calendar features. User can choose to have a daily view, weekly view or monthly view. User can easily create, update or remove events by drag & drop. It is very simple to to integrate wdCalendar with a database.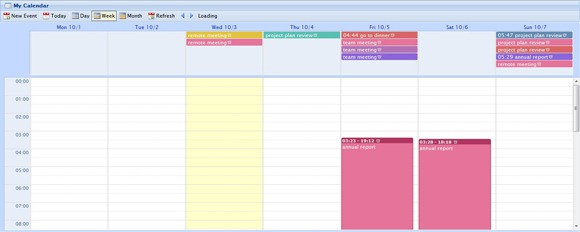 oCalendar is a jQuery plug-in that allows you to add an event calendar to your sites or projects easily. You can add, edit and delete events from the client side.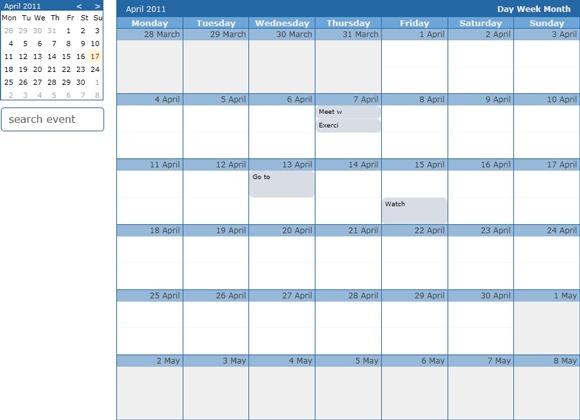 Professional & Elegant Calendar, special for Modern web designs, templates etc.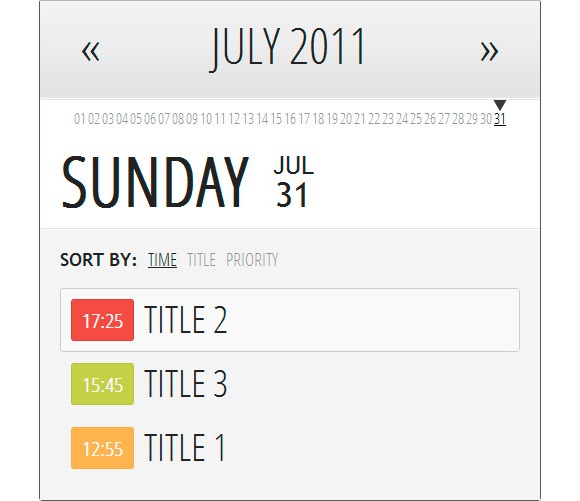 Multi-day, multi-month animated date picker jQuery plug-in that weighs in at 14KB with the uncompressed development version.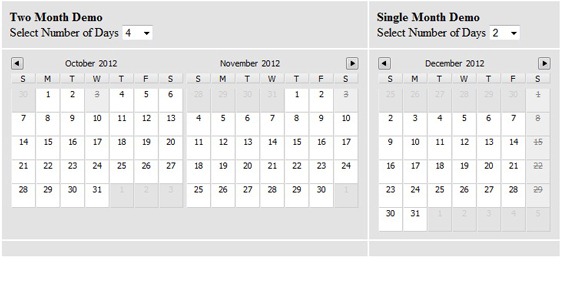 Simple jQuery UI date picker extension to allow user to choose date ranges. When user chooses a date, a hidden form is submitted. Uses jQuery 1.6 and jQuery UI 1 .8. Tested in and compatible with IE 6 -9, Firefox, Safari, Chrome, and Opera.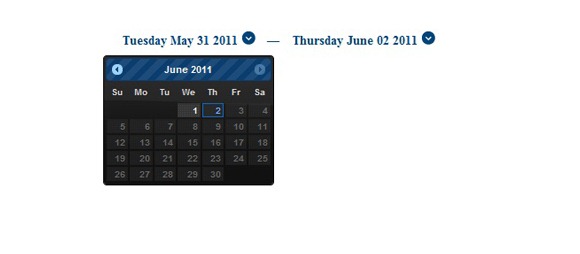 This component is a light-weight calendar/date-picker.

TimelineXML is the perfect addition to your blog, magazine, news site, portfolio, you name it. The script takes time-stamped pieces of content and puts them on a timeline. The best thing about TimelineXML is how flexible it is.

Timeline is simple JavaScript driven calendar, which is written on top of jQuery JavaScript framework. Timeline is a horizontal representation of days in month. It can be used to display unlimited number of events with their descriptions.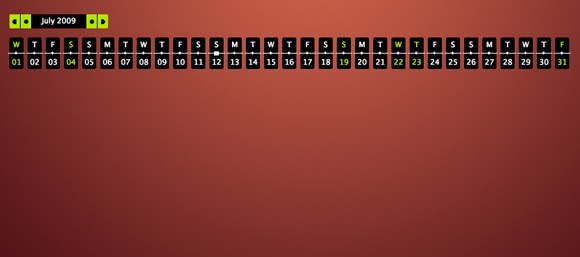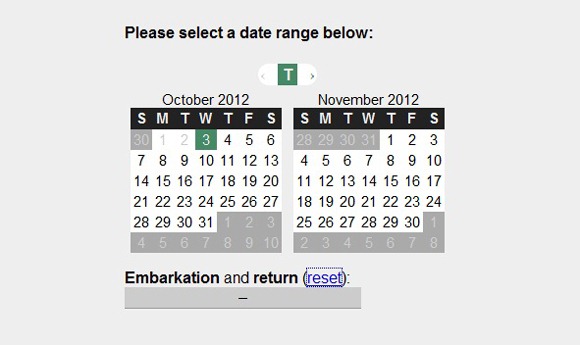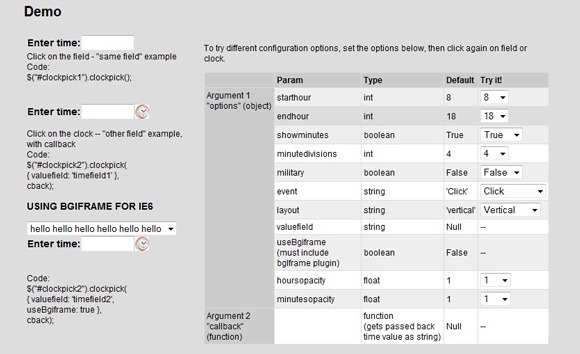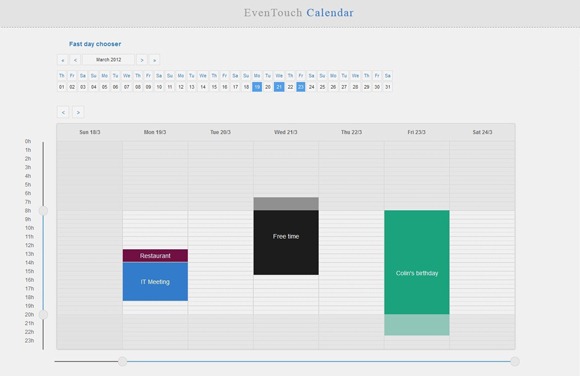 Hope these Plug-ins are useful for you, please drop down your valuable comment.