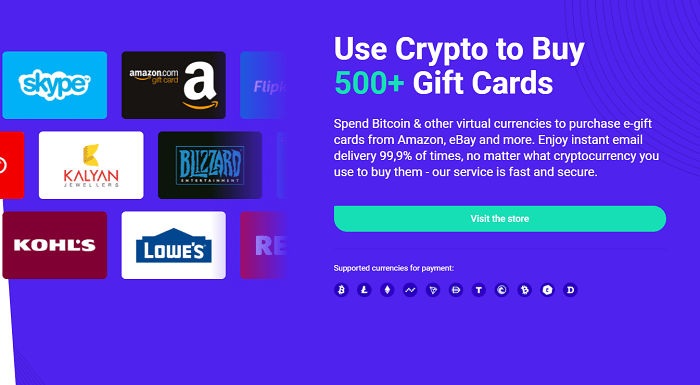 Gift cards are convenient and practical replacements for cash when you need to make purchases or want to give gifts to friends, family members, colleagues, and clients as a simple gesture of appreciation. There are two types of gift cards—physical and digital (e-gift cards). Physical gift cards can be used in stores or online, while digital gift cards are used online or over the phone. When using e-gift cards, you're assigned a unique gift code number that you can use to redeem at online retailers when making purchases. Also, digital gift cards can be added to mobile wallets to make purchases simpler and more secure. Below, we made a list of websites with great-looking and tech industry-friendly web designs.
CoinGate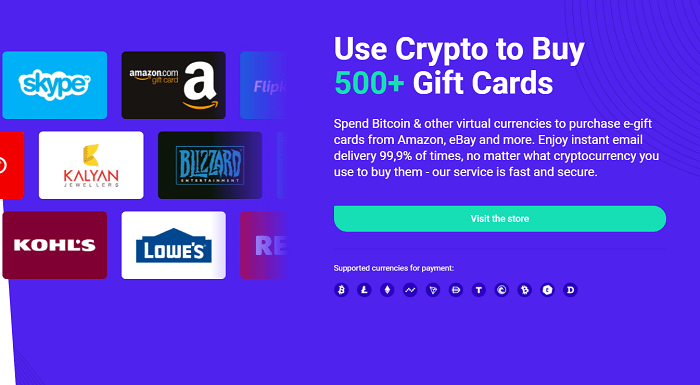 The CoinGate website guarantees fast and secure services. The distinguishing feature of this website is that to buy a gift card – you can use any virtual currencies, such as Bitcoin (BTC), Litecoin (LTC), Ethereum (ETH), XRP, Nano, Dai, Bitcoin Cash (BCH), Telecoin (TEL), TRON, and BitTorrent Token (BTT). All gift cards can be delivered instantly by email, no matter what cryptocurrency you use to buy them. On this website, you can easily find various gift cards: Amazon gift cards eBay gift cards, Xbox gift cards, Kohl's gift cards, and many more. The website allows you to attach a pleasant message to your gift card and send it over to someone else's email instead of yours.
PayPal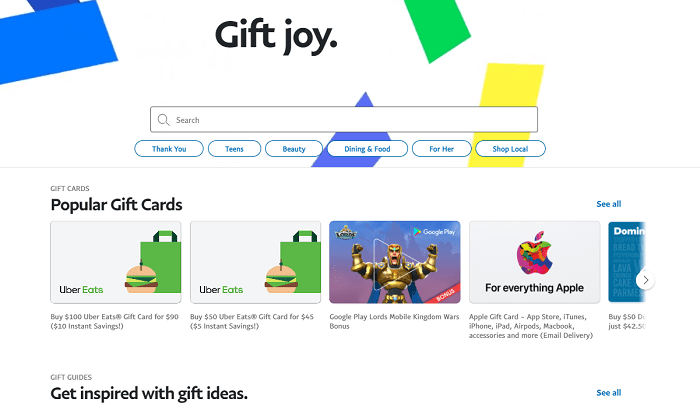 On the PayPal website, you can buy and send digital gift cards to friends and family from a wide selection of top brands, such as iTunes, Lowes, Dominos Pizza, Best Buy, and more. The gift card comes in the form of a code that can be emailed to you (if you're buying it for yourself) or your recipient (if you're gifting it). It's a handy website because the recipient does not need to have a PayPal account – you only need your recipient's email address to send your gift to them. Also, you can choose the perfect gift card to be delivered today or schedule the card to be sent in the future. To find more, check the link.
Gyft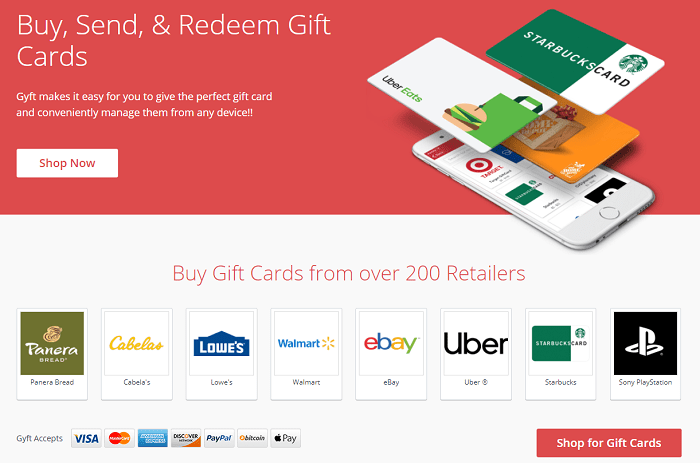 The Gyft website is a gift card platform where you can easily buy, send and redeem gift cards from any device. The website has one of the biggest selections of retailers to shop from, including GameStop, Amazon, iTunes, Starbucks, Target, and many more. Use Gyft to keep track of gift card balances and immediately send friends and family gift cards. Gyft.com is an exceptional service for paying with Bitcoin at places that don't yet take it directly. For further information, check here.
eGifter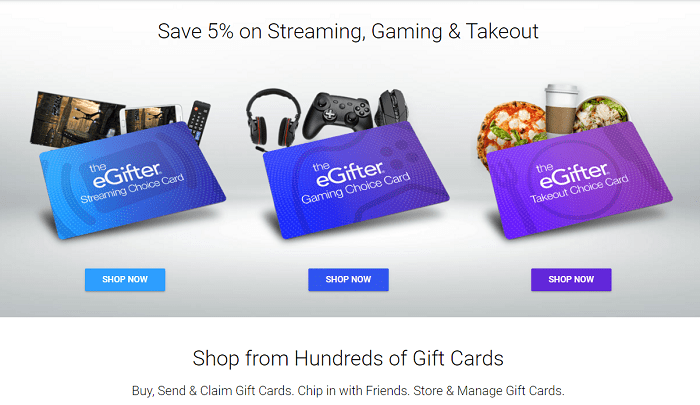 The eGifter website is a gift card dealer, well popularized with various trending gift cards such as Amazon, iTunes, Paypal, etc. You can choose from among 300 top brands – for a fun, memorable, and rewarding experience for yourself and your lucky recipient. Their operation and web interface is friendly for their user to buy eGift cards for friends and family, or even for yourself.  On the site, you can accumulate eGifter points when purchasing gift cards for yourself and enjoy deep discounts that add up to great savings. To find more, check the link.
GiftCards.ca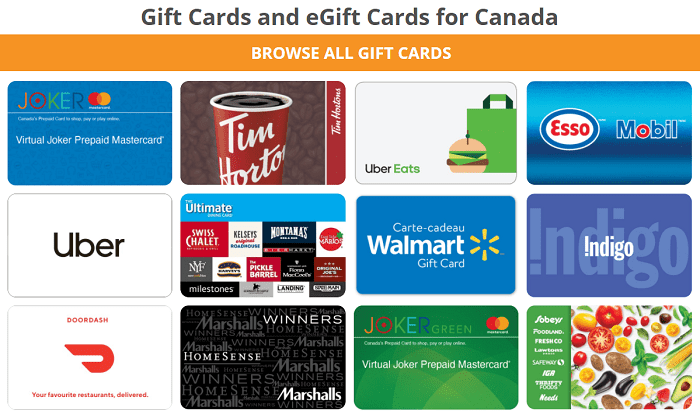 GiftCards.ca is one of the leading gift card websites with nearly 100 popular brands available to buy online. On this site, gift cards can be sent via email and can include a personalized message, making it easy for you to send them as a gift straight to someone's mailbox or email them to yourself for your use. This website is also well-known for topping up apps like Speedpass+ for Esso, Spotify for music, Tim's app, DoorDash, and both the Uber and Uber Eats apps, and more. To dig deeper, check the link.
GiftCards.com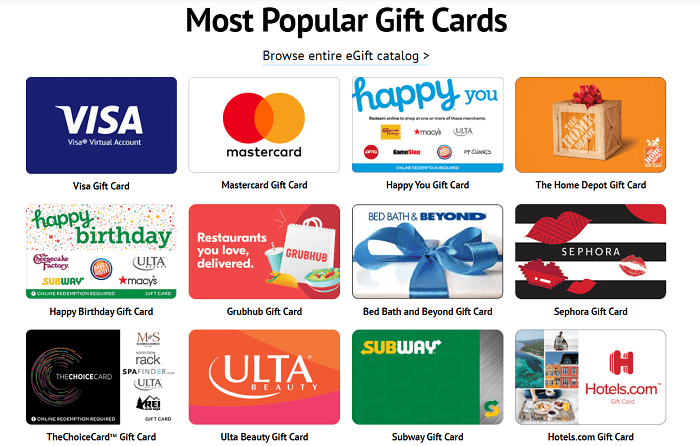 On Giftcards.com, there are countless different cards available from a wide range of companies. The website is a genuine site offering a huge choice of gift cards all in one place. The site offers gift cards in various formats and from many brands, including eGift cards, physical gift cards, and Visa prepaid shopping cards. The appeal of the website is mainly in its convenience. You can order a last-minute gift for somebody or just browse a large collection to get some inspiration for a gift card. To find more, check here.
Target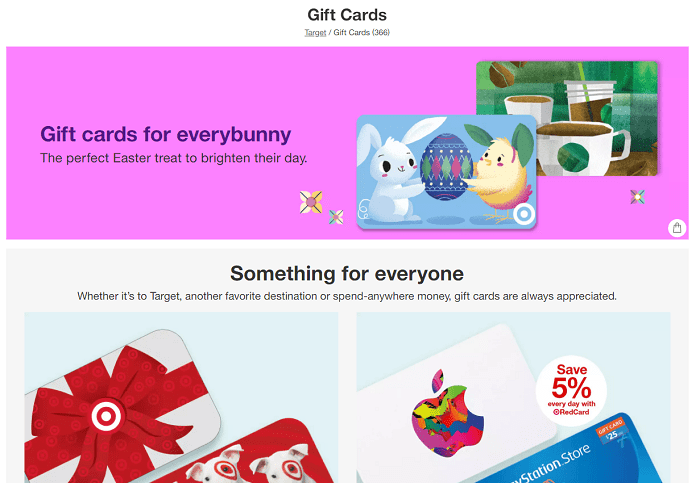 On the Target GiftCards page, you can find gift cards that can be used to purchase goods at any Target stores on Target.com. Physical Target GiftCards, Mobile Target GiftCards, and Target gift cards can be purchased on Target.com by following three simple steps.  You need to visit the Target GiftCards page, select your gift card design and your gift card value amount, and choose your delivery method. On this site, gift cards can be sent via email, mail, or text message. To find more, check here.
All in all, these websites boast a vast selection of gift cards available to make shopping and giving presents more convenient for every occasion. Not to mention, their great-looking web design alone will make you want to come back.
Author:
Spyre Studios