If you are a WordPress fan, WooCommerce needs no special introduction.
Statistics reveal that around 28% of today's online shops are built using WooCommerce!
Brief Intro:
For those who are new to WooCommerce, a brief intro. WooCommerce, is a free (Open Source) Ecommerce plugin from WordPress Family(Automattic). It was originally owned by WooThemes and WordPress.com acquired it in 2015. And WooCommerce complements WordPress a lot.
Now you can have a blog as well as an online shop under same platform, WordPress.
WooCommerce 3rd Party plugins: Give more power to your online store
WooCommerce is, without doubt, one of the best and most popular eCommerce plugin available on WordPress. It comes with amazing features out of the box and online store owners just love it.
However, it is always those third-party WooCommerce plugins that gives more power to a WooCommerce store. Combine the power of these WooCommerce additional plugins with your WooCommerce and now you have an amazing store users would love!
Let us take a look at these handpicked plugins that can adds more power to your WooCommerce store.
#1 Abandoned Cart Lite for WooCommerce


Abandoned Cart Lite for WooCommerceDid you know that, the average shopping cart abandonment rate is as high as 70%? And In travel segment it is as high as 81%!
"..Shopping cart abandonment, refers to visitors who add items to their online shopping cart, but exit without completing the purchase.. "
Source: Webopedia.com
Abandoned Cart Plugin is here for the rescue!
What the plugin does is, for the customers who have abandoned orders, it sends email reminders about their order. This simple tactic has helped store owners recover, on average of around 20-25% of abandoned orders. Not bad right? This tactic is also referred as Email Remarketing.
Just imagine, without this plugin, that 20-25% revenue goes unclaimed. That is lost sales!
In addition to timely reminders, Abandoned Cart Lite plugin also has some additional amazing features.
Like, it can also capture abandoned guest carts. And Site Admin gets email when an order is recovered. It also gives you plenty of email templates, that can be used to design your email that gets sent fort timely reminders. And it knows when a customer has recovered an order and made a purchase. It then automatically stops sending email notifications.
Please note the plugin is free. It also has a Premium(paid) version as well.
Premium version has some advanced features like tracking expired coupons, tracking email open rates etc.
But to get started, the free version is good to go! This plugin is a real boon to a WooCommerce Store owner.
https://wordpress.org/plugins/woocommerce-abandoned-cart/
#2: WC Vendors Marketplace Plugin – Create our own marketplace!

What's common between big ecommerce giants like eBay, or Amazon?
They have their own marketplace where sellers/vendors can setup their own shops to physical products as well as digital products. The way it works is, the site owner gets a small percentage as fees or commissions for each sale.
WC Vendors Marketplace was created with same concept in mind. At present, it is the #1 multi vendor marketplace plugin for WooCommerce( and WordPress).
Here are some of the awesome features of this amazing plugin.
For Vendors:
– Ability to register and then add or edit products from WordPress dashboard.
– Submit products for admin review, or send new products live to the site immediately.
– View live sales stats from dashboard
– Comment/reply for each order (when required)
– Reports: Export orders to a CSV file
– Vendors can add bank details to their profile to be paid out via bank transfer
– Email notification of new orders
– Have own storefront that displays it's own products
Site Owner features:
– Setup wizard for setting up marketplace
– Lot of Flexible options to define commission rates.
– Commission can either be set globally or per Vendor as well as per product
– Commissions payments can be integrated to Stripe gateway or paypal and more..
– Vendor Approvals: Manual review and approval or automatically accept all applications
– Test Payment Gateway for testing your store
– WPML Compatible
And lot more features to list here.
It has free as well as Paid versions. Features listed above are of the free version.
To see complete list of features and details, check out:
https://wordpress.org/plugins/wc-vendors/
#3 YITH WooCommerce Wishlist


If you shop regularly via Amazon.com, I am positive you know what a WishList is.
A Wishlist ia a very essential feature for an online shop. This feature lets the customer save products to his wishlist. It strongly encourages a doubting customer(window shopper) to always come back and view the products they once considered buying or that was interesting.
WishLists also has another big advantage. When a customer shares a wish list(especially holiday season or birthday parties etc), his friends and relatives also get a chance to know what product(s) to buy as a gift. And your online shop is getting free promotion as well. So a wishlist is high utility marketing tool. It is like you hit two targets with one rock!

Now that you have seen advantages of a WishList.the YITH WooCommerce wishlist plugin is a fantastic addon for your estore. that lets site visitors making their shopping lists or "wish lists". This makes a lot of sense during buy holiday season and you will be glad you added this plugin.
Let us take a look at few of it's important features:
– GDPR compliant
– Multi-Language(TRANSLATORS) support
– Use shortcode(s) and decide where to display "add to wishlist" feature
– Site Owner can decide which columns will be displayed in wishlist table
– Display "Add to Cart" button inside wishlist table
– Once a product is added to the cart, remove it from wishlist automatically
– Ability to share a wishlist on social media
– Color and style customization
– Site Admin can send promotional emails to users who have a wishlist. This can boost sales.
While this is a free plugin, it also has a Premium version which has more useful features:
Here a few of important ones.
– Customers can create multiple wishlists
– Add a "Ask an estimate" button, that permits customers to send their wishlist products to site admin so that they get a free estimate.
– Multiple "Add to Cart" buttons inside wishlist area
The free version has good features to get you started and you sure will appreciate adding it to your store.
See more details at ==> https://wordpress.org/plugins/yith-woocommerce-wishlist/
Recommended WooCommerce Resources:
How to create an awesome WooCommerce online store? Full Setup Guide
WooCommerce Hosting – Get everything you need to sell online
#4: Ultimate Reviews Plugin for WooCommerce Sites


A bit about Importance of honest reviews and ratings: Honest product reviews and ratings are very important for any estore. (Amazon for example). Positive feedback and good ratings for a product can boost sales.On the other end, bad ratings and bad reviews for a product can reduce sales for that product. In either case, ability to leave honest reviews significantly improves engagement rates as well as trust factor.
WooCommerce, by default, has a review system enabled. But having an power review plugin like Ultimate Reviews can do wonders. You can manage your reviews better and you have more control over reviews fields and styling.
That said, Ultimate Reviews is a plugin that can be integrated into any WooCommerce store. As an admin, you get 2 shortcodes, one for displaying the reviews and other one to capture the review, the review form. Good news is that, after the most recent WordPress 5.0 came out with the famous Gutenberg editor, it has special Gutenberg "blocks" for displaying reviews and also for the review form.
Some of the most important features:
– Create detailed custom review forms by adding more review fields
– Ability to enable multiple rating systems that includes points and percentages
– Ability to Filter reviews. You can filter by score or product name
– Permit users to upload a product image(video as well) along with the review
– Rich snippets / schema microdata support(great for google rankings)
– Ability to restrict products that can be reviewed
– Allow to Flag certain reviews as inappropriate
It also comes with a Premium version.
Premium version includes features like
– Including verified buyers
– Ability to send HTML email reminders to customers(automatically) and ask the to leave reviews
– Infinite scroll
– Review karma
– Replace the default WooCommerce Reviews tab with reviews from Ultimate Reviews
– Admin Approval prior t display of reviews, captcha support
And many more options to list!
Get all the details from:
https://wordpress.org/plugins/ultimate-reviews/
#5 WooCommerce PDF Invoices – Automate the invoicing process!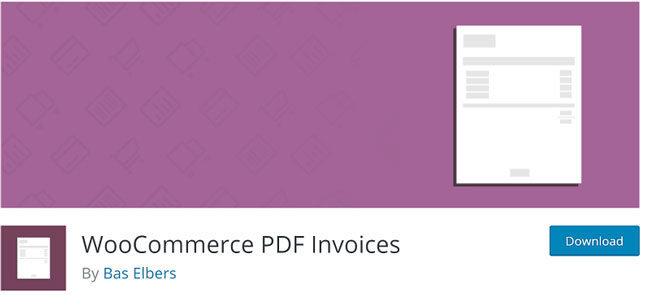 Any successful online shop owner will tell you how important invoicing is. But it is time consuming.
WooCommerce PDF Invoices makes invoicing easy by automating the process of generating invoices in PDF format and then sending it to your customers direct. If needed, you can manually create PDF invoice as well(you can delete as well, as required). You also have plenty of nice highly customizable PDF templates for invoices. It makes your invoice look professional.
It can generate PDF invoices as well as PDF packing slips and can deliver to email boxes or cloud storage places like Dropbox, Google Drive, OneDrive or Egnyte. You can also Download invoice from "My Account page".
Find more details :
https://wordpress.org/plugins/woocommerce-pdf-invoices/
Final Words:
Even though WooCommerce was acquired by WordPress in 2015, so many plugins have popped up that improves the performance of a WooCommerce store. We have chose best 5 that can be really useful to the Site owner as well as for customers. These additional plugins sure have a big role to play.
What do you think? Do you think there are better ones that need special mention? Why don't you leave your comments below and share with other readers?
Cheers!
Author Bio: Tom George is a freelance writer and webmaster, who loves to read and write articles on wordpress, web design and web development. You can find more interesting articles in his techie blog.