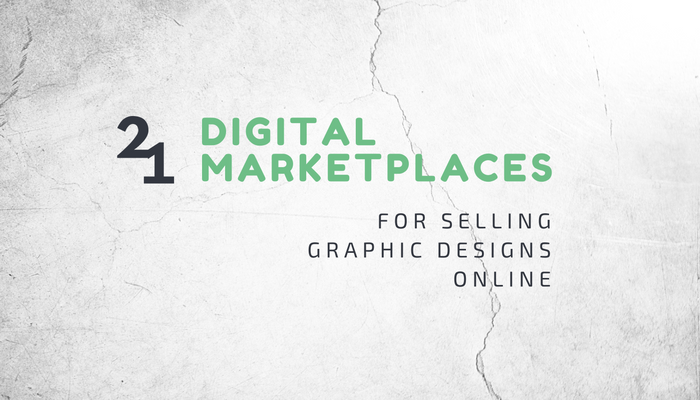 Looking for a place to sell your graphic design goods? This collection of digital marketplaces features some of the best places to sell graphics designs online, including web elements, themes, vectors, clipart, hand illustrations, fonts, and more.
Digital Marketplaces:
The Envato alternative for a top-notch digital marketplace will surprise you with a gorgeous handpicked collection of graphic designs. The Creative Market has a special selection process and invites in only the best of the best which keeps the design files at the marketplace at a high quality. The designs here have a hand-crafted, artsy feel that distinct them from most digital designs and this counts for website themes as well as graphic elements of all kinds.
Known for its massive collection of top-quality website themes, Theme Forest is the Envato marketplace for all things web design. All goods go through a special testing to ensure only the highest quality themes get to the sale stage. Theme designers also provide full theme support and updates along with the end files.
The Envato marketplace for graphic elem
ents allows designers to sell vector art, fonts, logos, icons, and more. Designers can also sell infographics and presentations along with a large number of print designs.
Started originally as a marketplace for handcrafted goods, Etsy gradually expanded its market towards digital goods creators. Currently, designers can upload and sell their own graphic design files, photos, graphic templates, and offer services in their online Etsy shops. Since shops have no review process, most of the goods here have a lower quality which makes the really good ones easily stand out from the crowd.
The all-time-favourite portfolio website also has a shop feature that allows designers to sell their creations through their profiles. DeviantArt is suited for illustrators, designers, photographers, and more.
Fonts:
If you're a typography designer you should definitely go and sell your products on MyFonts. It is a digital marketplace for high-end font designs and it's one of the most popular places to purchase cool fonts online. The featured designer's board and multiple categories make it easy to browse while the high-definition font design thumbnails quickly grab the buyer's attention.
Anyone who's looking for a top-quality custom font design knows FontShop offers some of the best solutions. The site is also a great place for font designers to submit their own work and sell their fonts through the marketplace.
Stock graphics:
Did you know stock photography websites now support the selling of digital design goods? Dreamstime is not only a great image source but a place where designers and illustrators can sell their own work in the form of graphic templates, posters, patterns, backgrounds, and more.
Yet another stock photography website which is suited for selling digital design files like hand illustrations, high-quality clipart, design templates, and others. Since ShutterStock is so good at advertising and product suggestion it serves as a great marketplace for selling graphic designs.
VectorStock is a stock file digital marketplace suited exclusively for vector designs. Like any other stock file marketplace, it has a credit-based pricing system. The free vectors section is a smart marketing move that popularized the site and brings in more fresh buyers while the audience expands.
Shopping Carts:
Sellfy is targeted at writers, designers, and filmmakers who wish to sell their digital products online. Sellfy is not only a digital goods selling service but a well-designed digital marketplace, as well. Visitors can browse through categories and discover new cool creators and items to purchase.
Gumroad is an all-in-one solution for selling digital design goods. The product setup is extremely easy and offers an in-depth analysis of the sales. A unique signature feature for Gumroad is the "Pay what you want" option which allows buyers to write in their own price for a product and pay as much as they want.
The Pulley app reminds a lot of Big Cartel and allows the selling of various media content, such as videos, music, books, digital designs, fonts, and others. It offers convenient statistics tracking and offers a neat buy now button. It comes with a 14-day trial and a monthly subscription fee with no commissions.
Yet another digital content selling platform with tons of features. It allows users to sell PDF files, design work, music, and more. Users can embed a checkout button on their website and track their selling data. Simplegoods has unlimited bandwidth for file storage which allows users to sell large-sized digital files with higher quality.
One of the new players on the market, Selz offers tons of convenient features for digital goods sellers. The 4GB file support allows movie creators to sell high-quality videos. The platform offers a WordPress plugin and provides a free Facebook store account for each seller. Another unique feature is the built-in chat and direct messaging service for Selz shops.
Design Product Marketplaces:
Threadless is a digital marketplace that allows indie creators to sell their designs in the form of various products. Designers can offer their work in the form of clothing, accessories, decoration, and more.
Another digital marketplace that lets designers turn their projects into apparel, wall art, home decor, phone cases, and others.
An inspiring community of artists and sellers that provide unique products with an artsy illustrator feel.
Just like the upper mentioned websites, Zazzle is a digital marketplace for custom designed products of all sorts.
Spreadshirt is targeted mostly at creatives who want to turn their ideas into apparel design and sell clothes online.
If you are a digital illustrator with a thing for fine art and realism, you'll find a great marketplace for your products at Imagekind.