It's not a big secret that TemplateMonster offers its customers a plenty of excellent products that can be used for various purposes. The collection of ready-made templates on the website is not only impressive but incredibly qualitative. In addition to this, the number of templates is growing every single day and everyone can find something according to his or her own liking. We think that time for some amazing changes has already come. That's why we are glad to announce that TemplateMonster has become a digital Marketplace.
The Marketplace is a platform where amateur-designers can show their talent and, no less important, earn money for their astonishing works. Moreover, it's a great opportunity for those who are not novices in the website development to become even further famed. So, if you are in a search for a place where it's more than easy to sell your digital products and earn up to 70% commission from each sale, you're welcome to join our MarketPlace.

Crucial Reasons To Become TemplateMonster Marketplace Vendor
To start with, it doesn't matter if you are a beginner or an experienced web-designer who has already earned the recognition. TemplateMonster MarketPlace is a compilation of talented people from every corner of the world, all united by one common idea.


Now, let's find out benefits of being a vendor on MarketPlace:
– You can sell exclusive and non-exclusive products using 1 account (if we are talking about ThemeForest, its vendors should choose what digital products they want to sell);
– It won't take long to review a product (ThemeForest does it for 2 weeks or even longer);
– Your imagination is only the limit (it means that you can upload the eternal number of the products, unlike ThemeForest Vendor who can upload 1 product to 1 category at a time);
– It's easy to earn high commission from each (moreover, it's a faster process than on ThemeForest);
– TemplateMonster's Review Team is always ready to help you and answer all possible questions;
– Net15 payments.
A Short Guide to Join & Start Earning Money on TemplateMonster MarketPlace
In order to start making money on the MarketPlace any person who wants to become a vendor needs to know this 4 easy, but important steps:
1. Fill in and submit an author application. There you need to define what kinds of digital products you can develop.
2. Contact your personal manager who knows all the details about your vendor's activity.
3. After your product page is ready, you will get an email notification.
4. Start making money. You will receive information about your selling progress every month.

What is the difference between exclusive and non-exclusive products?
You have an opportunity to sell both exclusive and non-exclusive templates. It's a vendor's choice whether he wants to sell products only at TemplateMonster.com (this way he gets up to 70% commission from each sale) or on other sites, too (in this case, he earns 40% from each sale).
A digital product that was submitted by a vendor, will be reviewed by the experienced team of designers and coders. According to digital product quality, the vendor will be suggested with the lowest and highest cost of his work. The final cost can be changed by the vendor himself within a 15% price range.
Do you have any questions?
If your answer is yes, you can easily get in touch with your personal advisor who will gladly help you with any issue.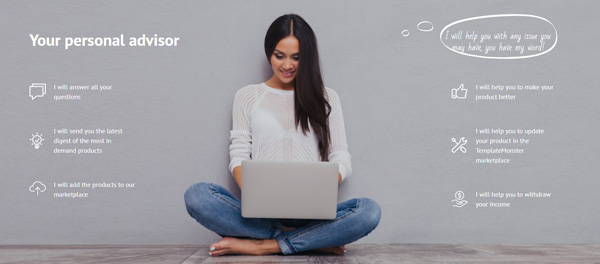 Do you want to be a part of something that sounds as amazing as TemplateMonster MarketPlace?
So, don't hesitate and become digital Marketplace vendor. You will be definitely satisfied with your choice!