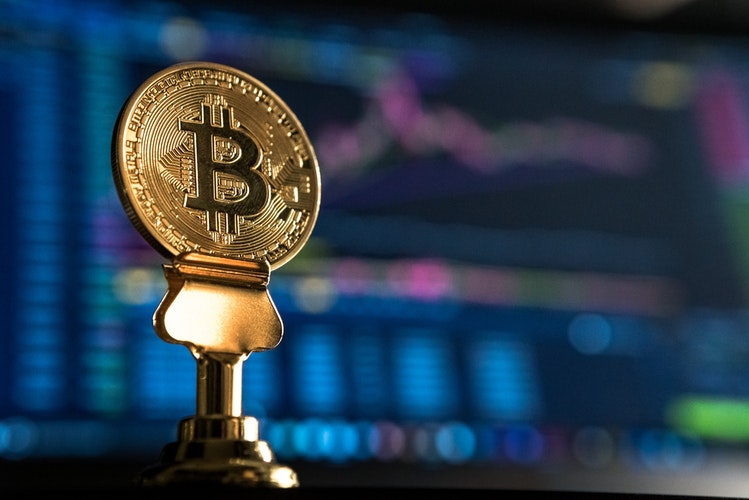 Cryptocurrency has changed the vertical of currencies with maximum impact. Specifically, Bitcoin has managed to garner all the attention and market favoritism in recent times. Providing a new edge to currency exchange, Cryptocurrency is no more a hit and miss for the experts. With a lot of people getting on board with the idea of this currency exchange, the web development world of WordPress has managed to reel in.
People are now looking for ways to integrate Bitcoin and other cryptocurrencies into their WordPress blogs and websites. To help them achieve this, a lot of Cryptocurrency plugins have already found their way into the market. However, each of them serves different functions. So, in this blog post, we want to furnish a listicle with the 9 best Bitcoin and Cryptocurrency plugins available in the market for WordPress. So, let's begin.
9 Best Bitcoin And Cryptocurrency Plugins For WordPress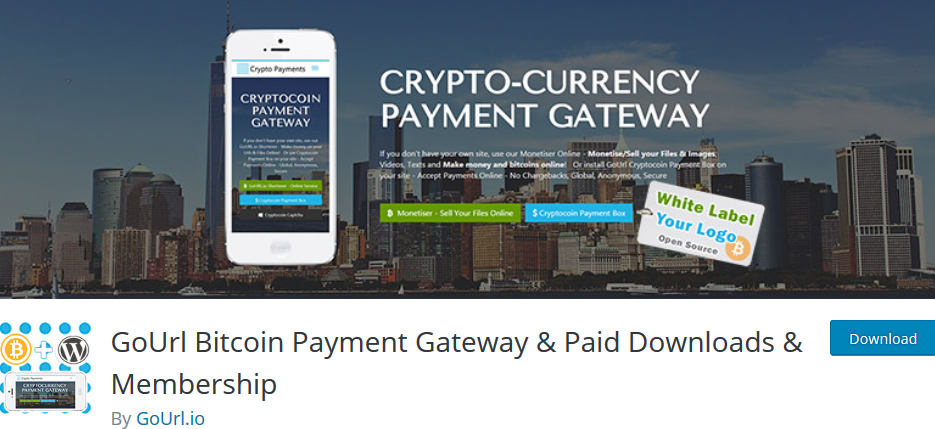 Looking to get a bitcoin payment gateway on your WordPress website? If yes, the GoUrl Official Bitcoin/Altcoin Payment Gateway for WordPress will be your ideal pick. It is a 100% Free Open Source on Github.com that is a White Label Solution and lets you use Bitcoin/Altcoin Payment Box with your own company logo. The plugin is free of cost and does not require an ID or a bank account. So, if you are looking for an anonymous and secure cryptocurrency plugin with no Chargebacks and zero risks, this plugin is the answer.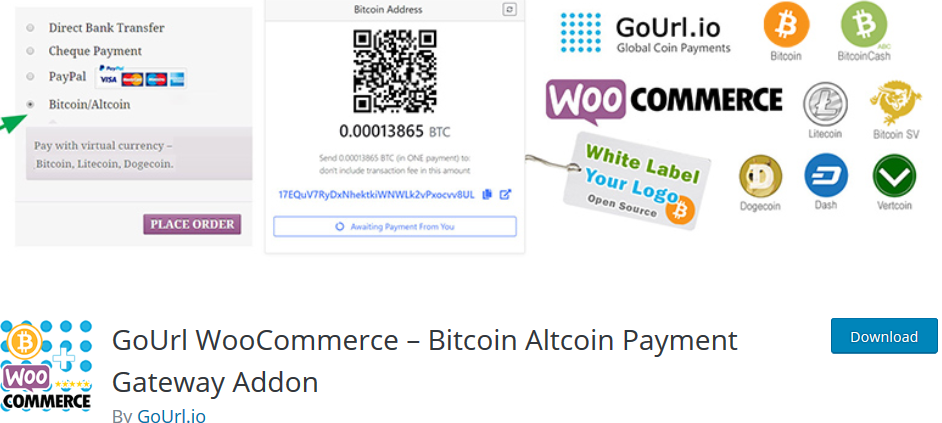 With this plugin, you will easily be able to set up a bitcoin store in a jiffy and process bitcoin/PayPal payments in WordPress/WooCommerce. With over 5000+ active installations, this bitcoin Altcoin payment gateway add-on comes with no monthly fee or the need of having a bank account. Also, the platform is secure and there are no chargebacks. Talking of security, you must always ensure that you use a reliable web hosting provider if you are looking to integrate Cryptocurrency as a payment option into your website.
This addon will provide you Cryptocurrency Payment Gateway for WooCommerce 2.1 or higher. With its installation, you will be able to accept Bitcoin, BitcoinCash, BitcoinSV, Litecoin, Dash, Dogecoin, Speedcoin, Reddcoin, Potcoin, Feathercoin, Vertcoin, Peercoin, MonetaryUnit payments in WooCommerce. The plugin offers free tech support and also provides a Mobile-friendly customizable Payment Box and direct integration on your website.

If you are a blogger and are planning on setting up a blog around the genre of Cryptocurrency or Bitcoins, then the Bitcoin News plugin will be of huge help for your WordPress blog. Using this plugin, you will be able to create custom Bitcoin News and also add relevant news headlines to appear on your website. The plugin lets you choose where you want to add your feed and it also lets you set up keywords. You can easily remove unwanted articles from your website.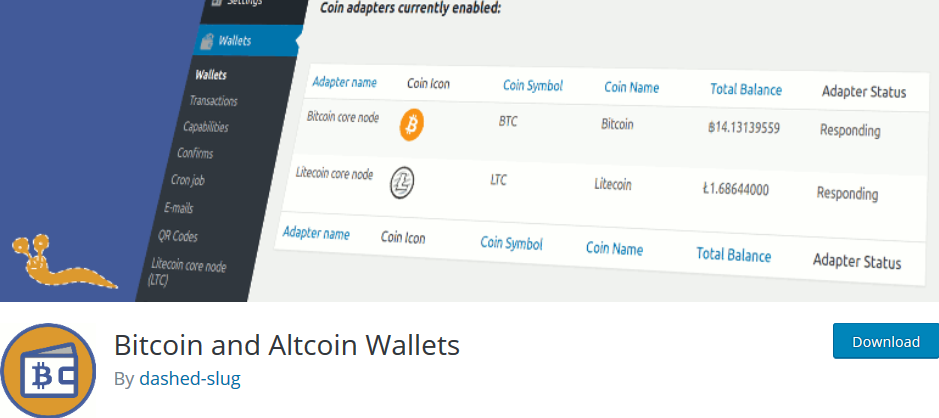 If you are a blog owner and are looking to earn good money by turning your blog into a money churning machine, then the Bitcoin and Altcoin Wallets plugin can help your WordPress blog do the same. With the installation of this plugin, your blog can let its users Deposit, withdraw, and transfer bitcoins and altcoins on your blog site. 
Made available by dashed-slug, the Bitcoin and Altcoin Wallets is a FREE WordPress plugin that will help your users perform financial transactions on your site via Bitcoins and other cryptocurrencies. With this, logged-in users can perform the following common tasks:
deposit from the blockchain,
withdraw to an external blockchain address,
transfer funds to other users (on-site transactions that bypass the blockchain),
view a history of past transactions etc.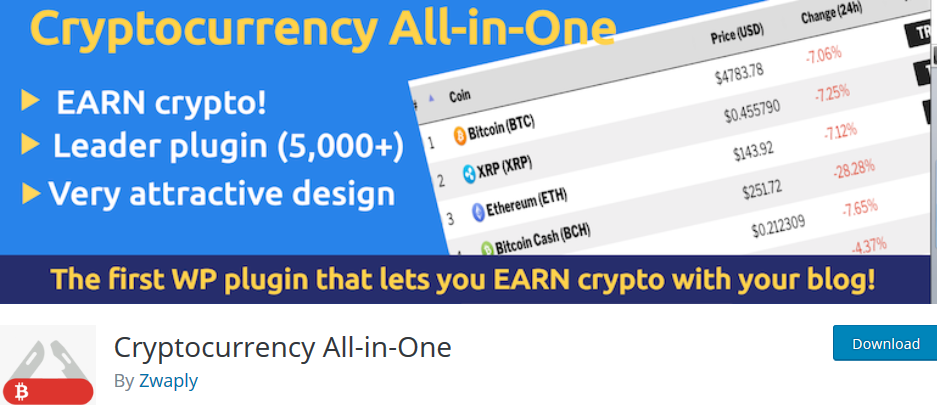 Of all the cryptocurrency plugins for WordPress, this may be the most comprehensive. By getting this plugin for your cryptocurrency focussed website on WordPress, you can bring up a coin market cap i.e. the list of all cryptocurrencies with prices and market capitalization. The plugin also provides you with a cryptocurrency ticker widget and shortcode. So, you will get a live update badge with the logo, price, and 24h change of one cryptocurrency. 
A premium version of this plugin is also available wherein you get all the features from the free plugin as well as the ability to easily accept orders and payments: Bitcoin (BTC), Ethereum (ETH), Litecon (LTC), Bitcoin Cash (BCH), Zcash (ZEC). By going for the premium features, your WordPress website will be able to display the prices and exchange rates of all cryptocurrencies and also display candlestick price charts for all cryptocurrencies.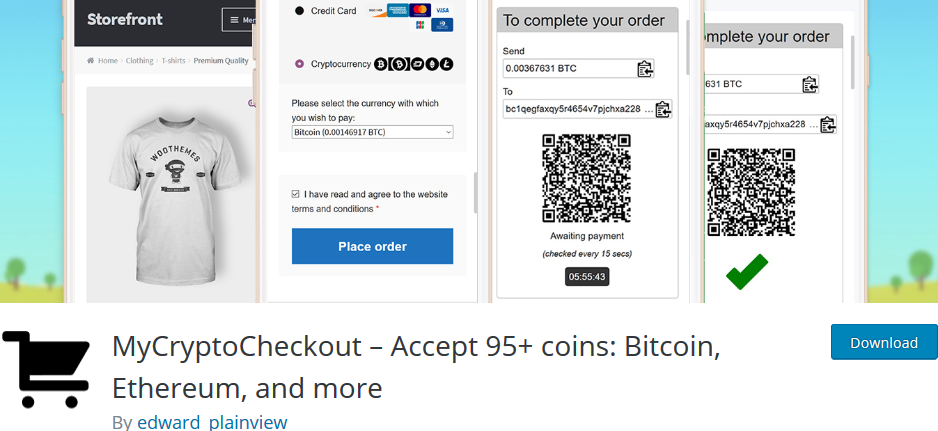 If you want to allow your website customers to pay in cryptocurrency, the MyCryptoCheckout plugin is your best bet. With a 0% transaction fees on the offer, and no KYC or product restrictions, this plugin is quite the popular one in the market. It is supported by eCommerce platforms such as the Easy Digital Downloads and WooCommerce.
When you install and run this plugin on your website, you will enable peer-to-peer transactions and in fact, use any crypto wallet that you want. A great feature of this plugin is that it does no redirection to 3rd parties or iframes. All kind of unique payments can be automatically detected using one wallet address. If you go ahead with the free license of this plugin, you will be permitted to process 3 sales per month. If you think you will require more, you can choose the flat rate license that can be purchased for your account that includes unlimited transactions.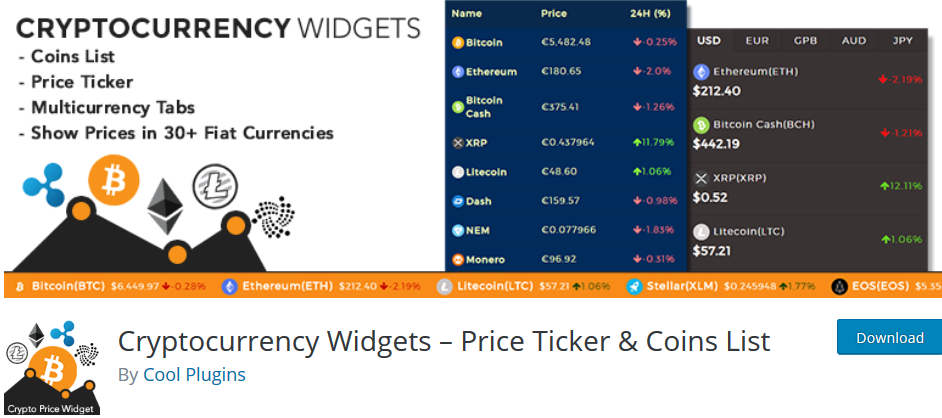 Offered in a free as well as a premium version, the Cryptocurrency Widgets WordPress plugin helps your WordPress website generate crypto coins price widgets & coins list shortcodes for all major cryptocurrencies such as Bitcoin, Litecoin, Ethereum, ripple, dash, etc. With support from this plugin, you can come up with a price label, crypto list widget, multi-currency tabs widget, and a crypto price ticker for your website. The free version of the plugin lets you add an advanced Ticker i.e. add fixed crypto price ticker inside header or footer. You can also manage ticker speed, colors according to your requirements.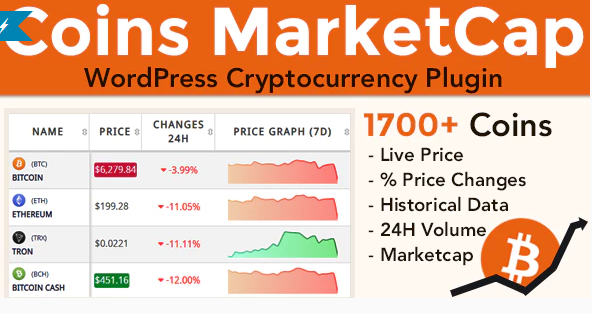 A premium plugin, the Coins MarketCap is a plugin that will help you create a fully automatic crypto coins price listing of up to 1700+ crypto coins on your WordPress website. By using the coinexchangeprice.com crypto data API, the plugin will benefit your website with the display of live crypto prices, market cap, charts and other data related to a crypto coin. You can get this plugin at the price of a regular license as well as an extended license.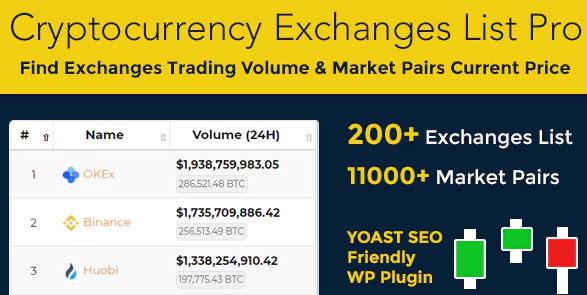 Again, this is a popular premium plugin that will help you create a list of 200+ best cryptocurrency exchanges by using crypto markets API data. This data is being derived from coinexchangeprice.com public API. With this plugin, you will be able to generate dynamic 200+ exchanges content pages inside your WordPress website. Also, you will be able to display crypto coin historical price table and chart on single coin pages.
Conclusion:
Like we said earlier, all the above-mentioned Bitcoin and cryptocurrency plugins are meant to serve different purposes and will suit a different kind of WordPress website owners. Based on your needs, you can choose the one that is best suited to you and power your website. 
Author:
Spyre Studios