This week at Ironhack, we had our first solo project. We've been asked to create the feature of our choice for an already existing app. I opted for a time limitation for the fantastic yet time-consuming one that we all know: Netflix.
"One last episode and I go to bed"
We all know this sentence. We've all used it thousands of time to convince ourselves that our iron will is going to win the fight tonight against our laziness. But do you know the common thread between this sentence and a good UX design?
Both are iterative process…
Anyways… Does anybody remember the story of this guy, King-Salamander, who posted a message on reddit a year ago about how he went through severe depression last summer and ended up watching 188 episods in a row of the fabulous TV Show "The Office" on Netflix? After that, he claimed that Netflix sent him a message to know if everything was alright which helped him feel better. But a few months later, this news has been relegated to the status of "Fake news".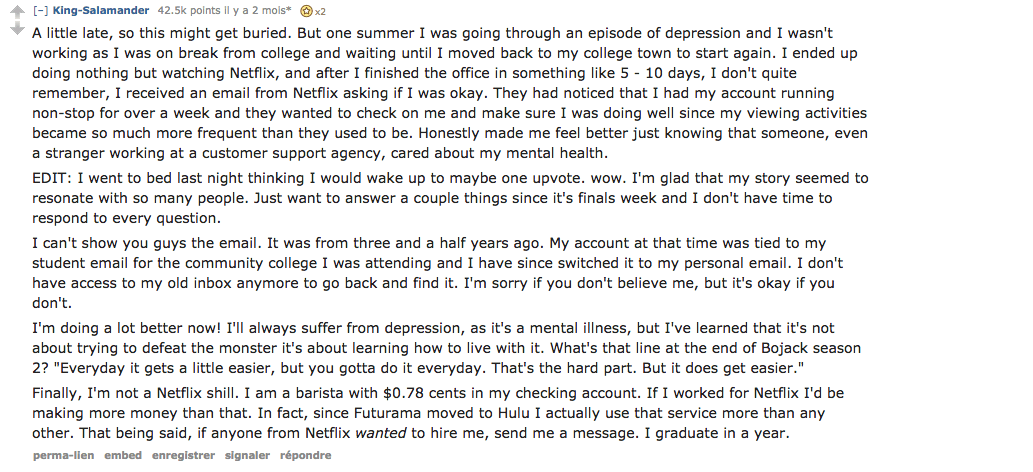 Why I am talking about that? First, it's to remind you that you don't have to feel guilty when you binge-watch 20 episodes of your favorite TV Show in a row… You're still far away from the 188 episodes. But secondly, it's to make us think about that: "What if Netflix would had actually sent this email?" I mean, it wouldn't be that absurd for a company to care about its customers mental health, would it?
As George Colman once said, "Business is business", that's a fact, but what if business was more than that? What if business was finding the sweet spot between our own benefits and our customers' condition.
People are like this introduction. They need to know when to stop. They need limits. But that's often a tough thing to do. Either if we're going through depression, euphoria or whatever feeling you want it's hard to control ourselves. We think we've got a handle on our Netflix watching habits, but one episode slowly turns into 10, which turns into a season in only hours.
We all remember this page: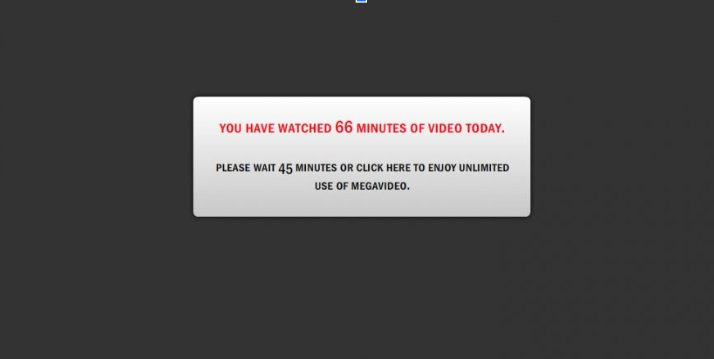 We all cried and got mad after this page because it wouldn't allow us to finish our episode of Buffy the Vampire Slayer. But maybe thanks to this page, we accomplished many great things instead ( I said maybe…). Maybe limits, if handled correctly, are just what we need. After all, as A. Einstein once said: "Once we accept our limits, we go beyond them".
In order to understand people's watching habits, I did some research and went in the street to conduct some interviews. I also asked them about what they would think if Netflix could suggest them a limitation. I got some interesting yet contradictory insights from that. Basically, half of the interviewees wouldn't mind if an option could allow this limitation, but they probably wouldn't use it. On the other hand, the other 50% considered this option as a must-have for Netflix and would love to use it on every occasion as they struggle to limit themselves.
This lead us to the first decision to take. Obviously, we cannot force people for some restriction if they don't need/want to. So let's create a page, after the user one, that gives them the choice between the classic "Open Netflix" and the "Limited Netflix" if they know that they're will isn't strong enough today.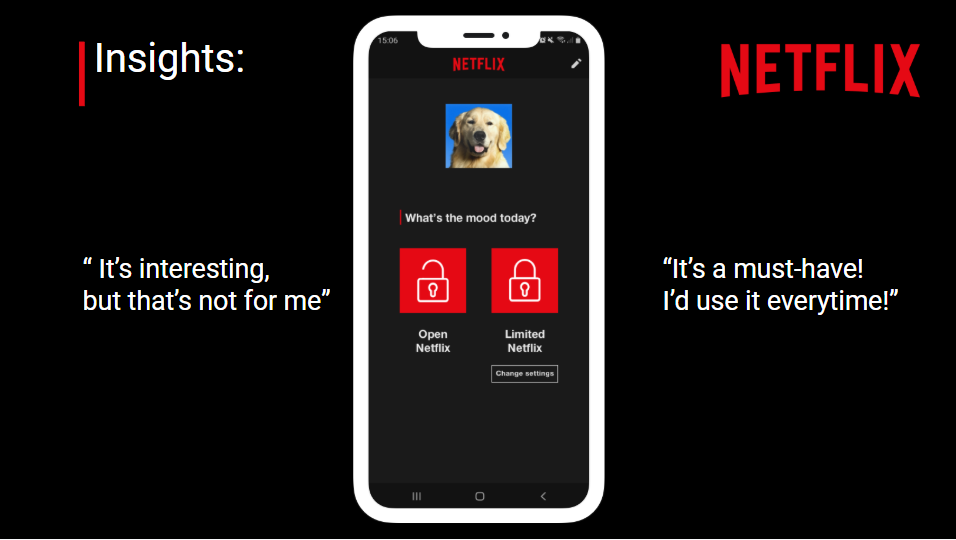 Another interesting feedback I got is that some people would rather have a "time-limitation" where others would rather have an "episode-limitation". Okay, then let's add this option in the settings after chosing the "Limited Netflix".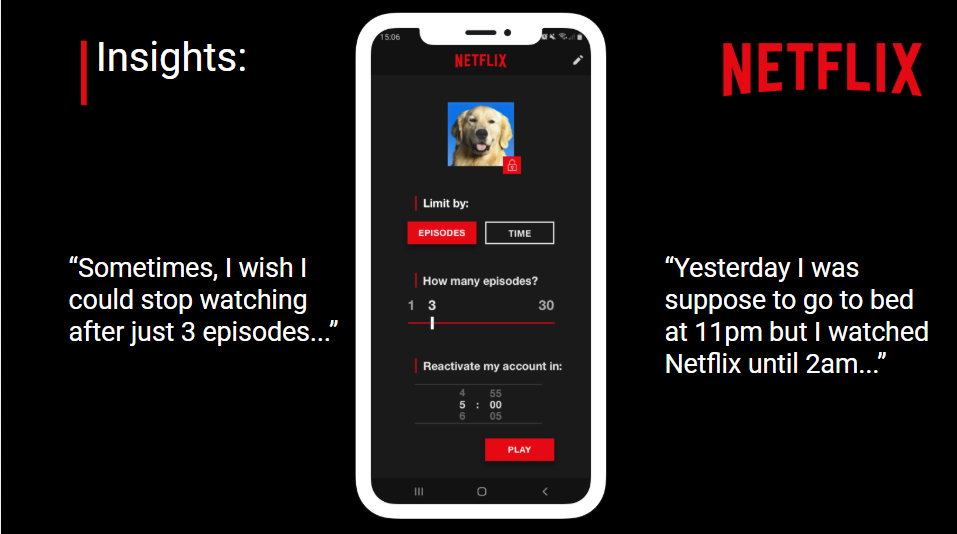 I could show you the pages I've made one by one but it would take too much time to write and to read and we all want to go and watch a few episodes of our favorite TV Show afterwards so let me show you a quick video instead.
I've asked a potential user of this new feature to give the Hi-fi prototype I created a try. The task was for him to set a timer so that he will stop watching Netflix at 8pm tonight as he has a lots of thing to do tomorrow.
Here's the brief:
"I'm currently working on adding a new functionality on Netflix that helps user regulate the time they spend watching TV Shows.
I want you to help me with this by testing this new functionality. Gathering your impressions will help me to move forward in the right direction.
If you don't mind, I'll record the test. This will help me to recover as much information as possible and will facilitate the analysis of the result. I will present you the prototype on the screen and ask you some little task to accomplish. I'll also ask you about how you feel using the app.
You are a Netflix user. You tend to spend a lots of time on it recently on you try to regulate the time you spend watching tv shows. « One last episode before I stop » is a sentence you've said hundreds of time but not tonight! Tonight you want to be sure that you'll close the app at 8pm because you want to sleep early as you have a lots of things to do tomorrow.
Can you show me how you would proceed?"
Reaching the goal was pretty easy for the user, he was surprised by the clarity and simplicity of the flow. On the following video, you can see him clicking on his user profil, going for "Limited Netflix", setting everything on time so that his account will be locked at 8pm for 5 hours. He also ticked the "Let me finish my episode" option that would allow him to finish his episode if the clock hits 8 in the middle of the show. He loved that option! He also saved the settings for later but that part was unclear for him. I'll have to fix that! He then watches and realizes that there's only 7 minutes left. The goal is to give the user some freedom to offset the time restriction. That's why he has the choice to stop now or to start one last episode knowing that it would probably end after 8pm. Finally, when he reaches the limit, the account is locked for the time set.
let's have a look:
Once again, I got great feedbacks. I tested the prototype on 5 users and all of them would love to be able to use this new tool.
One last thing I would like to try in a further iteration though, would be to test a less strict limitation. Some people are afraid they might be frustrated if they change their mind. They were wondering if they would have the possibility to bypass the restriction. In this iteration you cannot. But it might be interesting to try a soft-limitation like Screen-Time and go for an A/B testing to see what people would prefer.
Another next step would be to think responsive and design this new feature for the website and not just the app (it would actually make even more sense in my opinion).
I've learned so many things this week and I'm so glad I could make a good use of it to reach my goal.
If anyone from Netflix Design Team wants to know the backstage of the story or would be interested to have some more feedback, feel free to contact me! :)
As always thanks for reading!
Cheers!