Methods and products for more mindfulness, intention, and purpose in 2022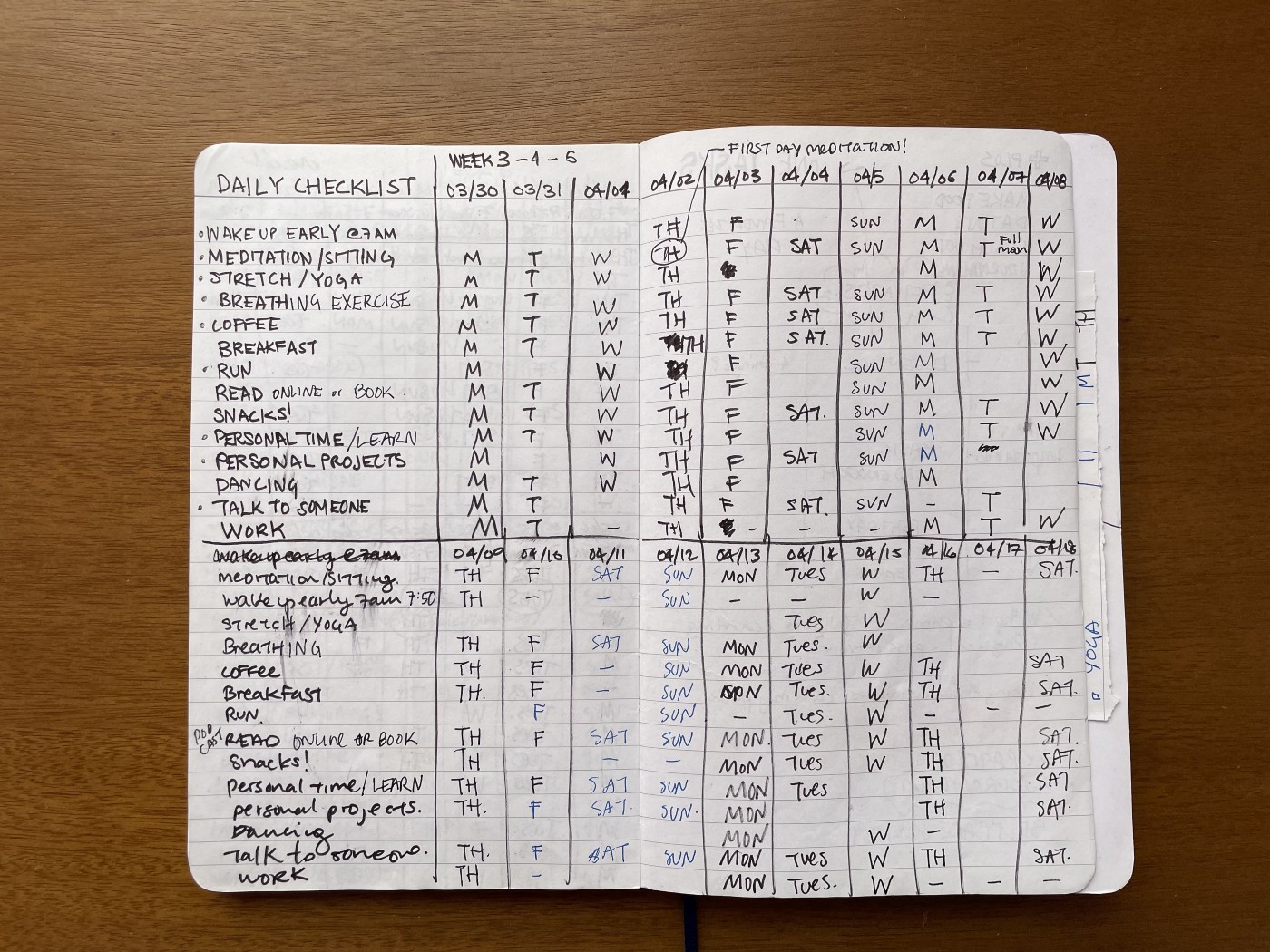 Right around 2 years ago, or 730 days to be more precise, things shifted during our daily routines. If we pay closer attention, it has been our individual and societal habits that have gotten the most attention, and revision.
Remember 2 years ago?
At the start of the pandemic, most of us were confined to stay indoors with little to no understanding of the circumstances that were happening outside of our homes in our cities, countries, and the world at large. During this time I believe most of us (consciously or unconsciously) had to confront one, multiple, or a combination of what we know as mental models.
As author James Clear explains, the phrase "mental model" is an overarching term for any sort of concept, framework, or worldview that you carry around in your mind. Simply put, mental models are how we understand the world and therefore we can find thousands of them.
Yet rest assured, there are about two dozen that arise in our daily life and have resonance across industries like business, economy, psychology, biology, chemistry, physics, engineering, and mathematics that ultimately help us make sense of our physical and digital surroundings. Some of the examples include 'supply and demand', 'diversification', 'the illusion of control', 'working backward', 'evolution by natural selection', 'redundancy', and 'velocity', to name a few.

Basic Needs
Since learning about mental models, there's been one, in particular, I reference in my daily life: Abraham Maslow's Hierarchy of Needs. I was presented with this insightful framework while benefiting from free therapy counseling in college, and since then, I have returned countless times to this psychological model to understand myself and others' motivations both personally and professionally, and everything in between.
Like any mental model, this particular theory of developmental psychology allows us to have a common set of languages to map what it means to navigate the world, what are our driving aspirations, and how we adapt as human beings during the trajectories of our lives.

Change is Uncomfortable
In addition to external forces like the ongoing Covid-19 pandemic, the shift in existing mental models, and new ones taking place, we (individually and collectively) experienced a forced pause, slow down, and even recentering.
Even though it has likely been an unpleasant and/or a traumatic experience on the onset, with lasting effects like languishing; I'd like to think most have benefited in the longer term from a collective worldwide reset — simply because we had to stop doing things for a moment in the way we had been doing them for years, if not lifetimes.
Behavior & Knowledge
In the last two decades, individuals like BJ Fogg founder and director of Stanford's Behavior Design Lab: Models and Methods For Behavior Change: have been bridging research, psychology, technology, and products in and outside of the lab. Two of his most notable contributions have been the publication of "Persuasive Technology: Using Computers to Change What We Think and Do" (2003) as well The Fogg Behavior Model (FBM) which visualizes how three elements must converge at the same moment for a behavior to occur (amongst them motivation, ability, and a prompt.)
In recent years, literature from Robert Sapolsky's "Behave: The Biology of Humans at Our Best and Worst" (2017), Michael Pollan's "How to Change Your Mind: What the New Science of Psychedelics Teaches Us About Consciousness, Dying, Addiction, Depression, and Transcendence" (2018), James Clear's "Atomic Habits: An Easy & Proven Way to Build Good Habits & Break Bad Ones" (2018) and most recently Adam Grant's "Think Again: The Power of Knowing What You Don't Know" (2021) have been igniting broad stroke dialogues around how our brains work, what are some of the usual tendencies and extreme adaptive conditions, as well as ways to hack and master our behavioral habits.
Another resource from Palo Alto in the last decade has been scientist Andrew D. Huberman's work, founder of Standford's Medicine Department of Neurobiology's Huberman Lab. He has been bridging scientific-based and popular interest topics into long format lectures available to broader audiences in the forms of podcasts where he shares the latest studies, and cross-collaborative projects from medicine, psychology, neuroscience, and brain development.
Today, organizations like Madefor, founded by Blake Mycoskie and Patrick Dossett, are bringing step-by-step toolkits to train and improve behaviors, and make lasting change to individuals in the United States, and internationally.

Brain's Chemistry
Despite all the resources available out there, as individuals, we are often left to our own devices and curiosity to understand our habits and rituals, comfort zones, and how we adapt.
Yet we rarely speak out loud about the direct connectors in our own bodies in charge of responding to internal and external stimuli. So it can often be a good start to take a closer look at some of our body's chemical messengers, in this case, the most known happy or feel-good hormones.
Dopamine: Considered the reward chemical. This chemical can often be experienced when completing a task, doing self-care activities, eating food, and celebrating little wins. This chemical regulates attention and motivation.
Oxytocin: Considered the love hormone. This chemical can often be experienced when engaging in activities such as playing with a dog, playing with a baby, holding hands with a loved one, hugging your family members and friends, and giving a compliment to a stranger. This chemical activates our desire to be vulnerable and open.
Serotonin: Considered the mood stabilizer. This chemical can be experienced when moving, meditating, practicing breathwork, running, walking in nature, swimming, cycling, going on a walk, or simply spending time outside and having exposure to the sun. This chemical impacts how we sleep, eat, and process information.
Endorphin: Considered the natural pain reliever. This chemical can be experienced when laughing, exercising, or taking a break to relax. This chemical activates our "feel-good" sensations.
Mindful Practice
As I identify my habits and routines, I cannot help to consider that the root of much of these curiosities lies somewhere between the "want-to-know" and "how-does-it-work" frameworks to better understand my habits and therefore how to develop a more mindful practice. In doing so, most of us tend to come back to routines that involve one, a handful, or a combination of some of the following frameworks:
Tracking: The routine of keeping track of what you are engaging with. Some people track their weight by jumping on a scale every morning, while others find satisfaction knowing how many steps they accomplished in a given day. It's a practice that often involves measurement over a dedicated time.
Journaling: The routine of writing down your thoughts, ideas, or projects in a structured or unstructured way. Also known as "stream of consciousness" or "brain dumping" to put everything on paper. Some people can also practice this through silence, self-inquiry, and reflection.
Gratitude: The routine of expressing gratitude internally and/or externally through meditation, prayer, or acknowledgment. Some people like to put loving-kindness forward, letting others know their impact, or simply thanking a stranger for helping them in their tasks, however small or big they might be.
Selfcare: The routine of taking care of oneself with behaviors that are positive, promote wellness, and prioritize healing and relaxing. This can be achieved by following some of the practices highlighted above, or with bespoke solutions.

Peaks and Valleys
So as we were forced to pause, understand our basic needs, comprehend our brain's chemical inputs and outputs, and developed routines in our daily lives, we still don't have a clear sense of the journey or the destination, nor how these methods and practices weave in and out of our lives. Hence a common continuum of challenges and difficulties in staying on track across changing life events and circumstances, seasons, and years.
What I am describing is perhaps the lack of acknowledgment as to how this process is evolutionary — and that most often than not, like in life, we get to experience peaks and valleys rather than a predictable flat journey full of time-tracked accomplishments and super-rewarding habits.
As Brandon Read suggests "if we are a craftsperson trying out new tools and mediums, we should not expect silver-bullet solutions right away (…) we often need to imitate and apply practices in a clunky way before we know what works for us."
In short, it's a reminder that habits, goals, and therefore change are by no means linear, nor can be expected to be a positive Moore's Law trajectory, but rather a sinuous and ever-evolving path that has as many ups, flat zones, many downs, and uphill experiences.

Technology Survey
Along these lines, it is natural to look at our technology, devices, and gadgets, in search to improve our performances, and here's where habits meet technology.
With the countless proliferation of habit tracker tools in the market like Momentum and Habit, you could argue that there are existing macro trends & markets influencing software development that are available today in iOS, Android, and web experiences.
Early-stage Product
In the fall of 2020, I had the experience of working with an early-stage startup Tiny Rockets to refine their habit tracker's web-app user experience to improve conversion metrics. Naturally, by participating in their project as a researcher, product, and designer consultant I was able to understand how the startup's app was centralizing users' productivity tasks while helping them stay on track, monitoring progress, and connecting with a community of doers.
One of Tiny Rocket's main challenges was "to onboard new users in a way that was meaningful and setting them up for success and retention, while simultaneously getting them started in a practical and guided way for users just starting to learn about habits" as shared by founders Orlando Osorio and Alberto Saade.
As I worked on the refinement of their landing page, a proposal for an onboarding quiz flow, and a simpler version of their current web app for newcomers it became clear the power of technology and design in this space.

Jump Forward, Track Daily
So after experiencing my peaks and valleys in this journey, learning about the overwhelming amount of tools and software in the market today, and even working with an early-stage startup's product, you might be wondering, what else is there to cover?
I believe there is room for improvement and positive contributions with existing and new paradigms that can help us achieve the goals we want while building a core foundation for mindful growth.
So how does it work? Allowing users to tap into the following modern techniques inspired by ancient roots:
Consistency: Establish internal peace. Inspired by Sadhana, which involves developing your daily practice.
Connection: Finding inner purpose. Related to the notion of Dharma, of uncovering your purpose.
Community: Communal growth and support. Tied to the ancient practice of Sangha, which often translates to sharing your journey with others.

Working Prototype
In short, a simple tool that accomplishes one thing: Keep a tally of your goals, daily. As the ethos of the calculator or an alarm on your device, the goal is to solve one single thing very well. What it doesn't do is include a paywall after the third habit, no gamification, moving away from competitive lingo, removing expectations of streaks, defocused from goals by percentages, and simply provide a board to track your daily habits.

Future Thinking
A challenge I continue to think through is how to encourage users that this tool can work best when used for essential habits. For example, think of the following five choices on the scale of 1 to 5: 1) Essential, 2) Basic, 3) Good enough, 4) Great, and 5) Bonus. Where 1 is ranked as "priorities", and 5 is "self-actualization" (back to Maslow's Pyramid of needs) — so when you are setting up your daily habits, try focusing on habits in the categories of 1s and 2s, like flossing, drinking less coffee, or simply stretching. In return, you likely would want to avoid relying on the highest efforts or sporadic aspirations in 4s and 5s just like eating dessert for every meal.
Another layer is the social sharing that builds accountability, belonging and as Nikolas Klein explains "the more we create next to each other, the better we can learn from each other." This element can be achieved in a low-tech scenario simply by screen-shot sharing with others via text-based integrations, or with a hi-tech solution hitting 'share' to send to a friend or anyone you choose for support.
Improvements with a time factor could spark further imagination and possibilities. By including timelines beyond the day and the week, monthly or quarterly goals can be surfaced as they relate from the foundational daily habits. In an ideal scenario, this could also add up to formulate your yearly goals. Not mutually exclusive, you could start inputting goals from a year's perspective and move backward to the quarter, a month, down to the day.
Takeaways: Micro Window
At last, an important takeaway in this quest is that there is no one-size solution-fits-all and the journey is truly bespoke to each one of us. As much as we can honor our basic needs, comprehend our brain's chemistry, develop a mindful practice, acknowledge the organic nature of these endeavors, and ideate technology to serve or aid us in our path, we are ultimately relying on our micro experiences to cultivate a sense of purpose and meaning.
As introspection and self-work evolve, I continuously return to the Johari Window Model to resume my self-inquiry, curiosity, and acceptance of my practices. Initially designed as a framework to help people better understand their relationship with themselves and others, is an exercise that can help us achieve a deeper understanding of ourselves and therefore increase our awareness when developing a mindful practice.
In my takeaways I certainly rely on my micro experiences and do not expect you (the reader) to have similar, nor fully fleshed answers, yet I would challenge to think, what are some of the qualities of your open self, hidden self, blind self, and unknown self? With no particular order here are some of my reflections:
Be an observer of your behavior and your surroundings.
Be a listener of your needs and others.
Be open to guidance, and receptive to feedback.

Acknowledgments
Some of the foundations around the happy or feel-good hormones, as well as developing a mindful practice are thanks to the work available at O-p-e-n. Since the start, I have valued their ethos to bring forward information to build mindfulness and create a digital experience to make breathing, moving, and sitting accessible to everyone.
In addition to the resources shared above, inspiration comes from other technology products like Fabian Masso's breathing app Calmaria, Josh Singer's lil software projects, and most recently with Josh Wardle's Wordle — where simple design goes a long way to incentive users to do one thing.
Thanks to Brandon Read for proofreading this article's revisions, sharing resources, research sources, and personal anecdotes.
Disclaimer
This article is not a finite resource, nor employs a top-down hierarchy of curated, recommended, or prescriptive interests.
The intent of these reflections and resources is not to diminish nor celebrate the experiences and disruptions of an ongoing global pandemic, health and mental side effects, long-haul conditions, and other conditions related to Covid-19. Yet due to the complexity of individual experiences, this article can contain personal bias and personal privilege behind some and/or many of these observations highlighted above.
Thank You
Thanks for reading if you made it all the way here! I'm open to hearing any feedback or thoughts you have about this article or answering any questions.
Please feel free to leave a response below or shoot me an email directly to [email protected] Visit francescostumpo.com for more.
References and Resources