First thing first: If you have a few friends in your life, care is not designed to fit your skillset. Having a lot of friends proves how much effort and time you have spent to build a loving community around you. Care requires the same effort and it should be mandatory for every startup.
"Caring is expensive, but it also generates loyalty and word of mouth. In the long run, an organization that puts in extra effort gets rewarded." 
― Seth Godin from his article "Caring is Free"
Here's my story about how I crashed into care and designed a scalable process to boost users to root for my first startup, Peter.
You've got mail ????
When I started dealing with care, I looked closer to my user persona to understand its core behavior. In my case, it was pretty straightforward: our users are all teenagers. Peter was a Messenger bot connecting thousands of French K-12 students for their homework. And what's teens favorite app to chat? Snapchat! ????
We always offered support to our users from our bot menu. First, Peter sent in Messenger our support email to the user. Then, we replaced this message with a short Typeform. We still asked for emails until we realized the best platform to talk to our users was Snapchat. This support form was our entry point to collect Snap IDs and displaying ours. We duplicated the form to push it in Messenger when needed (example: somebody swore a few times, Peter invites the user to fill the form to learn what went wrong).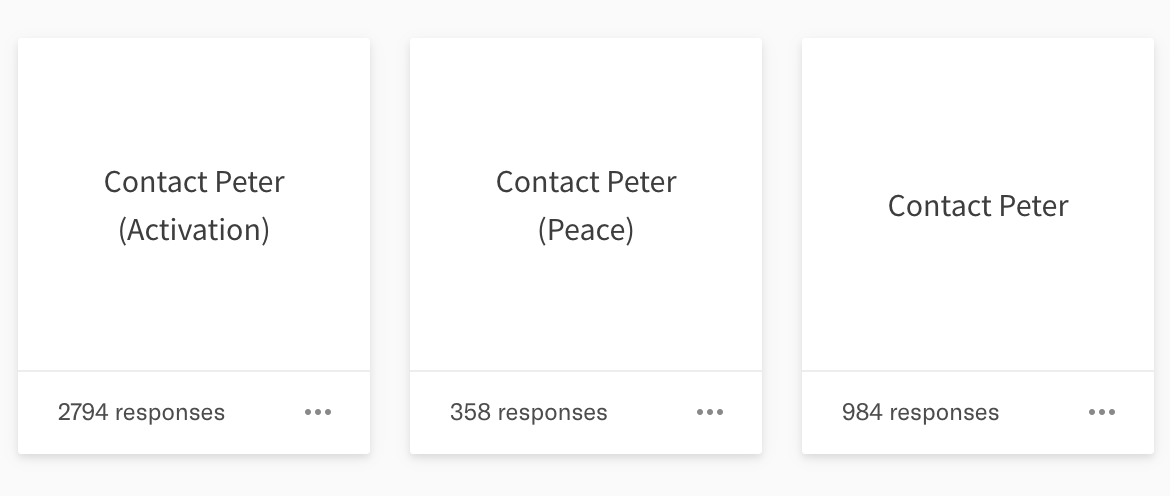 Our support forms recorded 4136 entries. We asked our users three simple questions:
"What's going on?"
"Please tell us more about it."
"What's you Snap ID or email?"
Peter has collected 1777 snap IDs (43% of the entries) and 523 emails (12% of the entries). 1055 users added Peter on Snapchat. I have deleted 142 for spam, blocked 41 for misconduct and 539 didn't reply to my friend request.
It's noteworthy that sending a friend request can be enough to start a chat with the user, it depends on the settings. People often discuss first and decide then to add back or not.
Wait a minute! Is Snapchat designed for user care?
In my case, it was clear I had to take advantage of Snapchat as our users love it (the only app they may love more is Musical.ly)
Moreover, Snapchat blends private conversations and mass communication with the stories. Services like Messenger can do that too but posting stories over there is not as engaging as it is on Snapchat.
Don't overthink it: Snapchat is the home of the story, it's part of its DNA.
There is one major flaw using Snapchat for care: only one person can log in at the same time. It makes total sense as it's designed for a personal use, there's no "pro plan" yet.
If your early stage startup aims to sell a product to teenagers, you may consider Snapchat for care.
Otherwise, find out what app your users love to use: Slack? Facebook Groups? Discord? Anyway, there are many good places for building a great community.
First contact ????
Now we have two scenarios:
The user added me on Snapchat.
The user left its Snap ID in the form.
When the user took the initiative to add me on Snapchat, 99% of the time he or she immediately sent me a message. Most of the time, I'll reply first then add the user to my friend list.
The other way is great too: I could add somebody, send messages to help to fix the issue and leave. Even when I had no real conversation, I could still do my part and tell the user I'm around in case of he or she needs to talk.
Here was my intro when I added somebody on Snapchat:
Hello ????
I'm Jeremy from Peter ✌️
I've read the message you left on Peter
About… (Quoting the issue)
Don't worry, here's what to do: …
[OR]
I'll need your Messenger ID to check what's going on and help you ????????????
In a few messages, I showed up in a friendly fashion and told the user who I am and where I'm from. Then, I turned the tables by saying I've received his or her message. Now, I answer the call with a fix or ask to learn more about the issue. This approach has never failed.
Quite often, users reached me out to have a look of what was going on underneath the hood! ????
This is the ultimate best case scenario for anyone dealing with care! You're connected with somebody who's familiar with your product. The user might have experienced an issue but that's not what matters. His or her intention is to learn more about you and your startup. Chats like these are match balls in care! You can drag these users all the way down the marketing funnel ????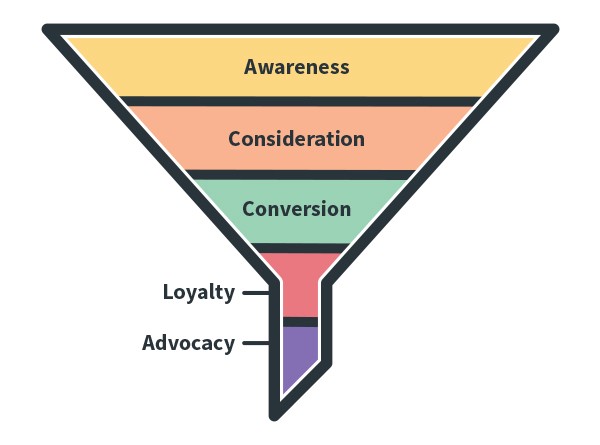 The marketing funnel
One last thing to know about Snapchat: it's okay to save the messages! Where screenshotting snaps always looks very intrusive, saving texts is fine! People do it all the time to keep track of their chats, there's nothing wrong in here.
Modern Talking ????
This is it!
After connecting with my users on Snapchat, I had to show how close to them we were @ Peter. That meant to be available 24/7 and to love to chat & help. But here's the problem:
Users can ask off-topic questions that are hard to answer.
Here's my top 3:
"How old are you?"
"How many people are online?"
"Can you send me a selfie?"
Good luck with that ????
How old are you?
I've turned 30 in February. How freaky is it to chat with kids who are — for the oldest — 17/18 years old?
Don't get them wrong: they know all about the bad things going on the Internet. A 30 years old man has nothing to do on Snapchat talking to teenagers and they are careful. Except here I'm not only an adult, I'm also a co-founder of Peter. Here's how I dealt with this very important question:
User: How old are you?
Me: Well, we are a team of 4 behind Peter and it goes from 26 to 31. I'm 30.
User: Oh OK!
Me: Yeah I know, I'm getting sooo old ????????????
User: No that's okay! It's great that you have created Peter, I like him ????
Me: Oh thanks!! We're working really hard to help you all ????????????
Moving the focus from a personal question to a team effort marks a step back. Here I acknowledge that if I was not part of Peter and in charge of user care, chatting would be wrong.
Reacting with a classic "OMG time flies and you make me realize how prehistoric I am" is always a good move to turn the tables.
From a tricky question, I'd ended up pushing my users to care me back!
It never went wrong: some users asked a few more questions (Is this your job? How did you build Peter? Can you teach me?), some others nodded and left.
How many people are online?
This question is trickier than it looks like. It is not 100% off-topic but still, it's not necessary to know the key metrics of Peter to talk to him. In the end, it's up to anyone to share or not a KPI with their most curious users.
Our weekly active users (WAU) was the only metric I shared with our users. Why? First, we were doing pretty good with +20K WAU, it was always nice to quote them. And second, telling my users they are a lot more than they thought always created a WOW effect ????
User: How many people are online?
Me: A few thousands today.
Me: You're more than 20K to chat with Peter every week.
User: Really??
Me: Yes mate! Peter is busy as hell with all your homework ????????
User: ????????
Once they realized that, they felt immediately part of something. Peter's mission was to a solve a problem that only teenagers have and nobody else cared about but us: homework.
Every time I explained this in a couple of messages and showed how important it is to spread the word, they were in.
Can you send me a selfie?
Different personal question but the same trick!
We booked a very nice house near Barcelona after raising seed round money and moved over there for 10 weeks. During our stay, we shot this: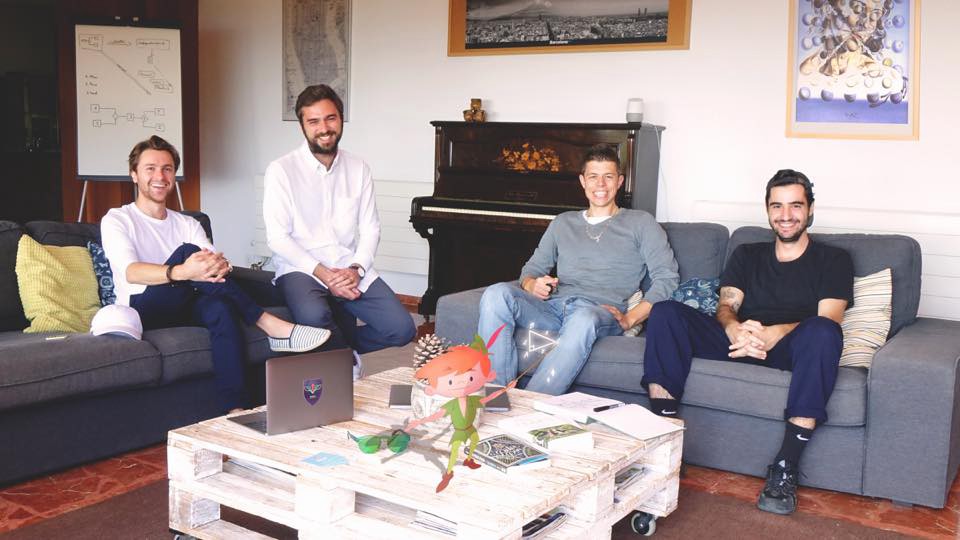 Former Peter team from left to right: Jean-Sébastien, myself, Stephen and Laurent ????
Once again, let's turn this question into something more team-focused:
User: Can you send me a selfie? ????
Me: Oh wait! We recently shot a cool team picture, let me find it!
Me: [Sending the picture above]
Me: Voilà! From left to right: Jean-Sebastien, myself, Stephen & Laurent ????
User: ????????
Well, you got the idea. This "Personal 2 Global" trick worked every time. They saw me as expected and bonus, they also had a look at my teammates! Welcome on board! ????
Worst case scenario
Some users tried to cross the line, that happened too and you can't do much about it (unfortunately).
"Do you have a girlfriend?"
"Do you find me pretty?"
That kind of freaky questions you don't want to read ????????????
I pressed stop button every time, most of them apologized and we moved on a different topic. This is part of the job and in the long run, it helps to build a lasting relationship.
When things went out of control, it's better to cut short and leave. When the user was persistent and the chat was going nowhere, I waved goodbye and deleted. When the user fired swear words, I blocked him or her. It's always a heartbreak but the truth is you can't help people all the time ????
Audio & video calls
I've tried video & audio messages to interact with the users but it never proved to work better than messages. Why? Everybody save texts both sent and received, this is not always true for the audio. Video messages can't be saved. Losing record of the chats doesn't help to grow relationships with the users.
Calls are different: I always declined to answer because it wasted my time. Texts go straight to the point, not calls. And it's even worse with teenagers!
One of the most usual chat pattern I had with my users was them shooting audio messages and me replying with texts. They didn't lose time typing and I made sure they saved my answers ????
Small talks
No magic recipe here, only checkpoints:
What time is it? I started receiving snaps and texts night and day meaning I was visible on their radar. Users never called for support in the middle of the night but some wanted to chat a little bit: this is a good signal.
Am I excited to receive a message from a user? I always was and this is mandatory to me. Sometimes, they came to talk to me with nothing in mind but still, I was happy every time a user thought about me to chat.
Hello / How are you? / What are you doing? Most of the chats started this way. Whenever it was, I always answered: "I'm working ????". This meant "I'm busy (and I haven't free time for streaks ????????????)" and "I love my work (and that's why I'm still on Snapchat at 2 AM"). Lots of users were happy for me and eager to learn more about Peter and my position.
Who are my favorite users? Tam, Jorge, Juliette, Sylvain, Romane, Emilien, Justine, Maxime to name a few. They were my favorite pals and I always got news from them. They'd tell me about their grades, send me jokes, care about how Peter & I were doing: they were my best allies. Ultimate care here! ❤️????????????????????????????
Small talks are not rocket science: you must go with the flow.
I'd chat a little bit and leave if it was going nowhere. Topics such as school life, our product, our belief, my job or coding were worth my time. How cool is to chat with a 13 years old kid in love with what you're doing and enthusiastic about learning how to clone your product? ????
Group conversation
You can create and invite up to 31 people in a group chat on Snapchat.
I used this feature only once: for beta testing. Grouping a dozen of fans was great as they met each others and discussed about Peter. Collecting their feedbacks was very easy and triggered debates about what they liked or not in the product. This goes a bit beyond care but still worth mentioning it as it worked great.