The concept of responsive design has been around for quite a few years but it is in the past two years, responsive design has really become the talk of the town. Almost everywhere you see designers and website owners are talking about responsive designs. Some readers would find a lacuna in understanding the real definition and the need for having a responsive designed website.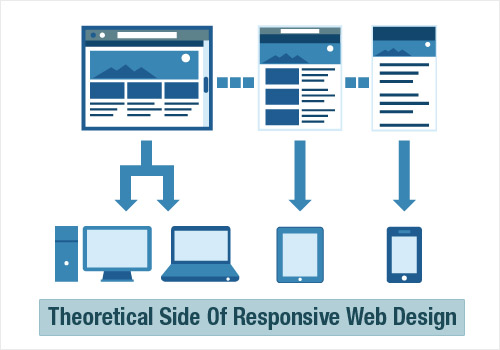 There is a lot of buzz going around trying to understand the benefits that come along with having a responsive designed website. Some try to analyze the cost attached to the creation of such a website and whether it's all worth in the end or not.
So let's put an end to the misery of these people and find out what exactly is a responsive design. We are not going into too technical. Instead, I'll stick with the theoretical part so you don't have difficulty in understanding the concept without having in-depth knowledge of technical or coding part.
There were days when people would sit in front of their computers browsing the websites with perhaps just three to four screen solutions; however smart phones and tablets with 3G and 4G Internet have become roaring since the past few years and the web designing industry had to find a solution for all these multiple screen solutions. That is where responsive design comes to the rescue and offers solutions for the same.
There are numerous ecommerce software tools that specialize in ecommerce product configuratorion. Out of which, responsive design is one of the most useful web based product configurators that ease the lives of many website designers.
So what makes a website design responsive?
A responsive website design is a brilliant way of designing a website in a particular way that will respond to multiple screen sizes. It is different than defining a website in pixels. In a responsive website design, responsive codes are written in percentages. By doing so, a website will work on all devices such as smart phones, laptops, tablets, desktops.
To put it simply, a responsive website design is having just one website using just one url and has exactly the same content that is accessible to any device used individually.
What is the need to have a responsive design for your website?
Why do you need responsive web design? Whether we like it or not, we are all living in a smart phone influenced world. Usage of web capable mobile devices such as smart phones, tablets and phablets is increasing in each passing year. The number of users having access to the internet on mobile friendly devices is rapidly growing. Everybody wants to know about companies and do business with them through smart phones and other similar devices. Nobody has the time or the willingness to sit on a desktop computer and surf the websites.
Keeping in mind this gradual lifestyle change among the internet surfers, it became of paramount importance for website developers to think of ways for their information to reach these users. All users expect a hassle free experience while surfing the website regardless of what device they use to access a website. In order to provide the best buying experience to the online consumers, you will find several website configurator tools in the market that have become a popular hit among website developers.
Due to all these reasons one can understand why a responsive design for a website is essential and why it will become a standard practice for all developers to come up with a responsive design. Moreover, responsive websites are very easy to manage.
Is it a good idea to create an independent mobile site and desktop site?
Certainly not! Having two different sites, i.e. mobile site and desktop site is high maintenance. If you update any content on the desktop site, you would have to do the same for your mobile site. You would be just increasing your work load.
The fiercest disadvantage of having a mobile site is that it tends to have less information as compared to the desktop site. You need to keep in mind there are more people surfing your website on smart devices than a desktop.
P.S. Note: Many developers believe it is better to start the designing process with a mobile outline and grow the design to other sizes when planning a responsive site. They find it a lot easier to expand visuals than shrink it.
In a nutshell, it is better to have a responsive site with one url, as it will give your readers, a similar experience no matter how they prefer to see your website.
Is it right to believe that a responsive design is a must for every business?
There is no rule of thumb asking you to have a responsive designed website for your business. However, having said that, a responsive web design is always a better option than a standalone mobile site for majority of the businesses. It is still possible that it is not the right solution for your business.
If you are a small sized business entrepreneur and you find the cost of developing a responsive site to be exorbitant, in such cases, it is better to have a separate low cost mobile site than not having mobile presence at all.
What mindset should one follow while developing a responsive design?
As a developer you would be aware of the flexibility aspect that comes along with several website product configurators and responsive design.
Everything is flexible starting from the grid to the type, photos, etc. While working on the designing aspect, understand design flexibility. Be absolutely flexible in your approach while designing a responsive layout.
Understand that your customers who are viewing your responsive website are different. They would all have different needs at different times. For instance, if it's a restaurant website, it would be a good idea to show the brunch menu on a Sunday morning as the surfers getting online on Sunday morning would expect to see something similar on your website. A smart web developer will be aware of the possible needs of the customers and design the site accordingly.
As a designer, how do you manage quality and image sizes?
Learn to balance the quality and size of a respective image. Image quality is crucial since nobody appreciates pixelated image. The concern is that a low quality image simply does not look good to the eyes and a good quality image that is visually appealing takes time to load. So, in this case, what is a designer supposed to do?
The art lies in balancing the two. You could scale images and optimize images for the internet. A simple rule, which you as a designer should follow, is to crop images, and save them in smallest size possible before uploading the image.
Your images should not take lot of time to load and also should be sharp and visually appealing!
What about the type of fonts those go along in a responsive designed website?
One important thing you need to take care when it comes to responsive typography is line and length. It is essential to maintain readability. For desktop websites, between 50-70 characters in a line are ideal; for mobile devices, between 35-50 characters should be good. The amount of spaces given between the lines affect strongly on how long a reader can read tirelessly.
The type of font used also plays a pivotal role. All heavy and curvaceous fonts look fantastic on desktops but it affects readability on small devices. Safest font to be used that would work for desktops and small devices is normal sans serif styles.
How do you handle mapping of responsive designed websites?
As web designers of a responsive designed website, we need to give undue importance to navigation!
To ensure a smooth user experience, mapping of the website has to be good. A designer should design the page by paying attention to the width of the browser.
Keep the mapping simple. Don't complicate it or else the site will look messy. Your users should be able to navigate the site easily.
Are Responsive websites slow?
Any responsive website should be aptly optimized for speed. You need to make sure that your site is optimized for speed by avoiding downloads of any unnecessary resources.
Devices other than desktops generally use the internet via wifi connection or by data connection. Sometimes the internet speeds could be low so it becomes important to optimize the speed of your site.
Is Responsive design beneficial for SEO?
All website product configurators including responsive designs should help the web store owners to sell more. Good news is that responsive designs benefit SEO.
If you are building a website to create awareness of your company and its products, having a responsive designed website is ideal solely because it will have just one url and linking remains simple. All the keyword redirects eventually land on the same web page.
Another benefit is for the purpose of collecting data. You don't have to track many url's since a single responsive page will collect all data regardless of what device is the user using.
It is necessary to consider SEO for your website since majority of your audience will be directed from search engines. For this reason, a responsive website performs better. It will be unwise of you to not consider SEO for your website especially when Google, world's largest search engine has said that they prefer responsive sites with a single url.
What is the cost for developing a responsive website?
It is hard to say. Pricing a web based product configurator such as responsive designing is very subjective, depending on your needs.
There are many things that a web developer would want to know before quoting a final price.
How big is the website? (How many pages will it contain?)
Who is going to provide the content?
What are the basic and advanced features it needs?
Timeline?
All the above and many more specifications are required before giving a figure to the project.
To Conclude
Responsive web design is a concept that is still evolving. Our users continue to evolve and their surfing habits are likely to grow and change. More and more advanced devices are going to be launched and practices for surfing the websites will keep on changing.
After you make your website responsive, it will keep on providing a similar experience on every device that has and is going to launch in the market.
Don't assume that responsive website is the solution to all your problems, it is not! Responsive designs have its limitations, and despite those restrictions, you need to start having a responsive website now.
Many people are currently using internet on various devices and the number is likely to grow. The main advantage here is to have your own responsive website and be accessible to users on any mediums they prefer to use. In a responsive design website the size of the template is designed based on the size of the screen and not the device itself. Therefore, even in the future new devices are going to be used for surfing your website; your responsive site will still look the same.