If you already know what is a Landing Page and what it is for, I will call you a "Smarty Pants", but please give me just 58 seconds to explain it to those who don't really know what it is.
So a Lead Capture Page, Lander or as most of us know it, a Landing Page, usually serves one, single, yet very important purpose. It is designed to be one large Call to Action.
Usually it's a single web page and contains very focused and deliberate sales copy with Call to Actions throughout.
Brilliant! I managed to explain it in less than 58 seconds.
Now that you know what a Landing Page is, I'm going to show you how to create, and launch, your own.
What's more exciting is that you do not need to be a coding guru or an über cool designer.
It's just that simple – You and this ultimate guide.
Before I start let me show you a quick example of our own 1WD Bootcamp Landing Page.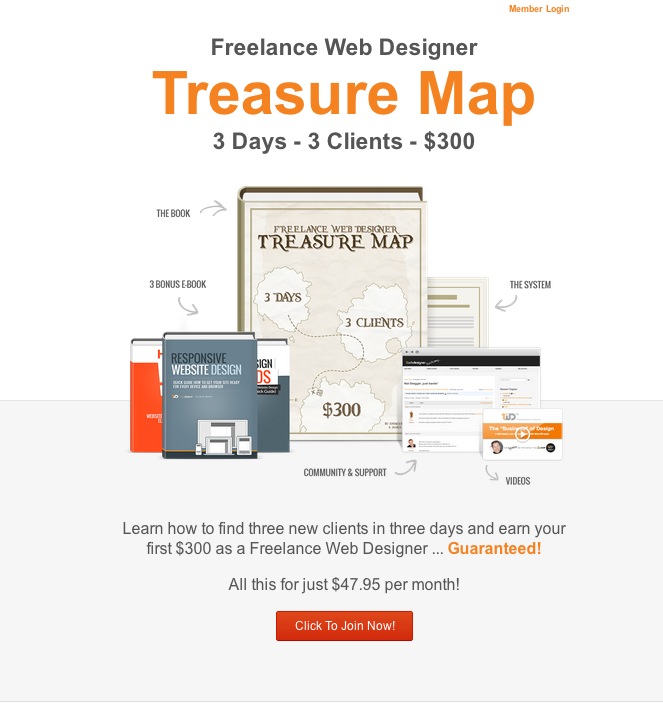 There are three things here:
It answers what is the landing page all about: a product named "Freelance Web Designer Treasure Map".
A catchy graphics that captures the essence of the product.
And a call-to-action button "Click to Join Now!"
If you have an ebook, video course, software, or just about anything that you want people to know of, then you'll definitely need a landing page.
This Is Where Your Landing Page Will Live – Hosting
Choosing the right type of hosting can make a massive difference to whether your landing page will look like the way you want it to or not.
Why?
Because there are a lot of hosting companies that promise more than they can deliver.
Put simply – Would you still smile if your landing page were offline when your potential customer tried to visit it and who knows, was ready to spend some money on you, your products or your services?
I wouldn't, and I my guess is neither would you.
"Just like flowers need the right environment to grow, WordPress works best when it's in a rich hosting environment." -WordPress.org
So I think it's safe to say you trust us, otherwise you wouldn't still be reading would you?
So this is the hosting we have always recommended and still recommend now.
20% Discount when you register on Bluehost via 1stwebdesigner!
How Your Landing Page will Look – Theme
Even though we all have heard the controversial saying "Content is King", it's not the content alone that makes a good impression on potential customers.
Content needs good design, just like you need to breathe, but good design does not always have to be colorful, fancy or flashy.
Often, it's the minimalistic looking design that is much more effective. A minimalistic design will nearly always put more emphasis on content, which in this case is your sales copy.
It really depends on your situation, you have to think about your audience, your potential customer, your message, your brand and the impression you want to leave.
WordPress once again proves itself, because you don't have to code theme or entire design from scratch. There is no need to reinvent the wheel.
All you have to do is pick one of 10,000 themes WordPress has and then just customize it or build upon it.
"What separates design from art is that design is meant to be… functional."
― Cameron Moll
And I'm here to help you out once again.
I have a handful of themes for you to choose from.
But just to let you know – I spent a good amount of time going through a lot of them and I hand picked 4 of them for you. So you can be sure of their quality – I pinky swear!
Apley is the perfect way to show off your amazing application for any mobile device. Thanks to it's straightforward and easy to use controls, you'll be able to modify it within minutes after you purchase it.
WordPress Customizer
Change anything you'd like from within the WordPress built-in customizer.
Custom Homepage Items
Align your featured media (video, image, google map or flexslider) to the left, right or full width. Choose a background color or image and add a scroll effect to it.Change the text and header color.
Ready for Anything
You can use Apley to showcase almost anything from a mobile app to icon sets. You can also use the shortcodes plugin to create special homepage items within minutes.
Apley Features
Fully working blog
Responsive
Custom homepage items
Display or hide a download button
Display or hide a subscribe form (powered by mailchimp)
Display or hide a down button
Align featured media to the left, right or centered
Add background color or image
Asign a scrolling effect to background items
Change accent colors ( the blue accent color on the demo)
Upload a favicon
Upload a logo image
Show social icons in the footer
Appley From Different Angles
Different Angles Of Apley









Appify is an extremely versatile WordPress theme that is great for landing pages, spotlighting your latest product or anything else you can think of.
It was built with customization in mind and offers the ability to transform the theme without ever touching the code.
Customizable
Easily adjust the background images, colors, logo, and more through WordPress' native Theme Customizer. This fine grain control means there are virtually endless uses for the theme.
In addition to the great built in features, Appify also includes support for "Features by WooThemes" and "Testimonials by WooThemes". Quickly and easily add feature overviews and testimonials with style.
Keeping up with the latest trends, Appify is also fully responsive. This means when you view Appify on a desktop computer, tablet, or mobile device, it will always look amazing.
Appify Features
Responsive Design: Tablet and Mobile Optimized
Unlimited Colors Options
Plugin Support: Testimonials, Features, Easy Digital Downloads, Contact Form 7
XML Dummy Content Included For Easy Setup
Full Localisation Support (contains .po/.mo files)
Full Design Customization i.e. Logo, Background, Text Colors See Here
WordPress 3.5+ Ready (Menus & Featured Images)
Built on the _s-ThemeFramework
Extensive Documentation
Appify From Different Angles






Get This Theme Now! 
The last 2 themes are free ones. Yes, exactly – they're free, but before you jump up and down from excitement, I shall warn you that very often free themes are nowhere near as well designed or as functional as the ones you pay for.
And if you think, most of the paid themes are under $ 40 it really is hell of an investment.
This theme features a countdown timer to let your visitors know when your website will be live, social buttons and a simple e-mail opt-in form to allow users to follow your progress.
You can customize basic typography within the theme and there is full support for Google Fonts in the font selector.
Alternative Styles
The theme includes 5 alternative color styles which you can preview in the demo, and also has styling options for background color and image in the options panel.
Coming Soon is a WordPress theme that can be used in a lot of different ways. In the design settings, they have provided options to choose colors for every aspect of the theme.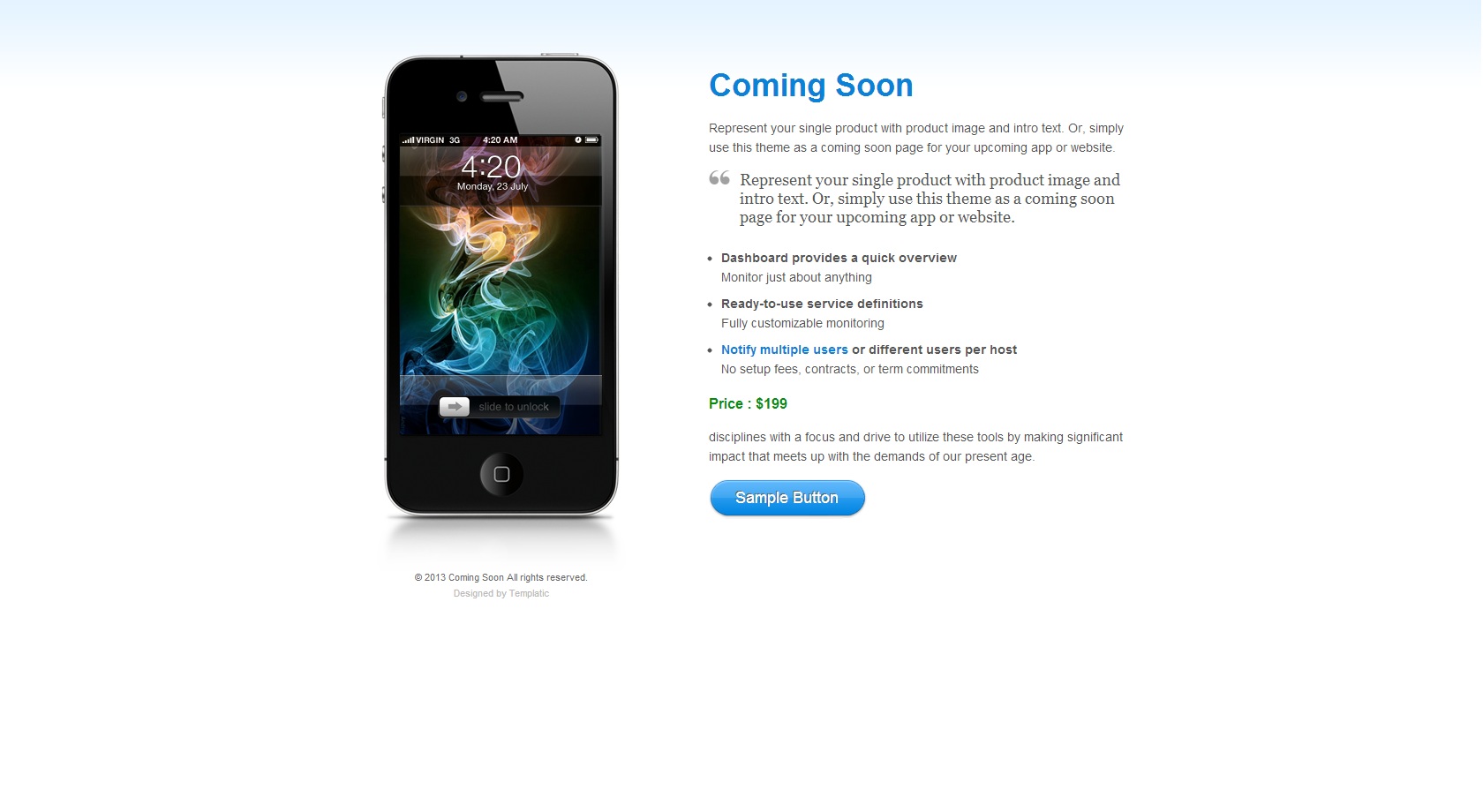 Easily Customizable
You may change fonts, background color or image, content color, product image and so on. So, your imagination is the limit. Be creative and create a unique design for yourself.
The color picker will help you choose colors without having to know exact color codes. Check some of the quick customization we did with this theme.
Features
Use as a Coming Soon page for your website / application / software
Showcase your product with featured image and description on the right. Lots of iPhone App websites are built this way. You can use this theme to create a website just like that.
Showcase your digital product by creating a very quick website by previewing screenshots.
Use this theme as a list builder by enabling Feedburner Subscription Form from the design settings. Any other way you want.
In Case You Are Not Familiar Yet – Installing Themes
Installing a WordPress theme is easy, all you need to do is login to your dashboard and hover your cursor on "Appearance" and a window will slide out, click on "Themes".
After clicking on "Themes" a new page will appear. By default you will see two themes for the fresh installation. In order to install a new WordPress theme, you need to click on "Install Themes".
Now you have two options:
Install via upload
Install via search
To install by uploading, of course you will need to download the WordPress theme files. After doing so, simply click on Upload.
Next steps will be pretty straightforward:
after clicking upload, a new page will appear
click on "choose file" and select your WordPress .zip file
click "install now"
followed by "Activate"
Your new WordPress theme is now ready!
Get Your Landing Page Functional – Plugins
Landing pages are more different and than your usual everyday blogs, news or corporate websites.
Therefore, most of the times they do not even need separate plugins to be fully functional.
The most common purpose of a landing page is to collect the emails of potential clients.
You want your visitors to give you their email address to get updates about new products you're launching, upcoming events or for your email marketing strategy.
And the 2 most popular online email marketing solutions are Aweber[aff] and MailChimp[aff]
Here are 2 ways to integrate them in your Landing Page.
Great Landing Page Examples
KissMetrics is a SaaS and Ecommerce Customer Intelligence and it teaches you who your most valuable customers are and how to get more of them.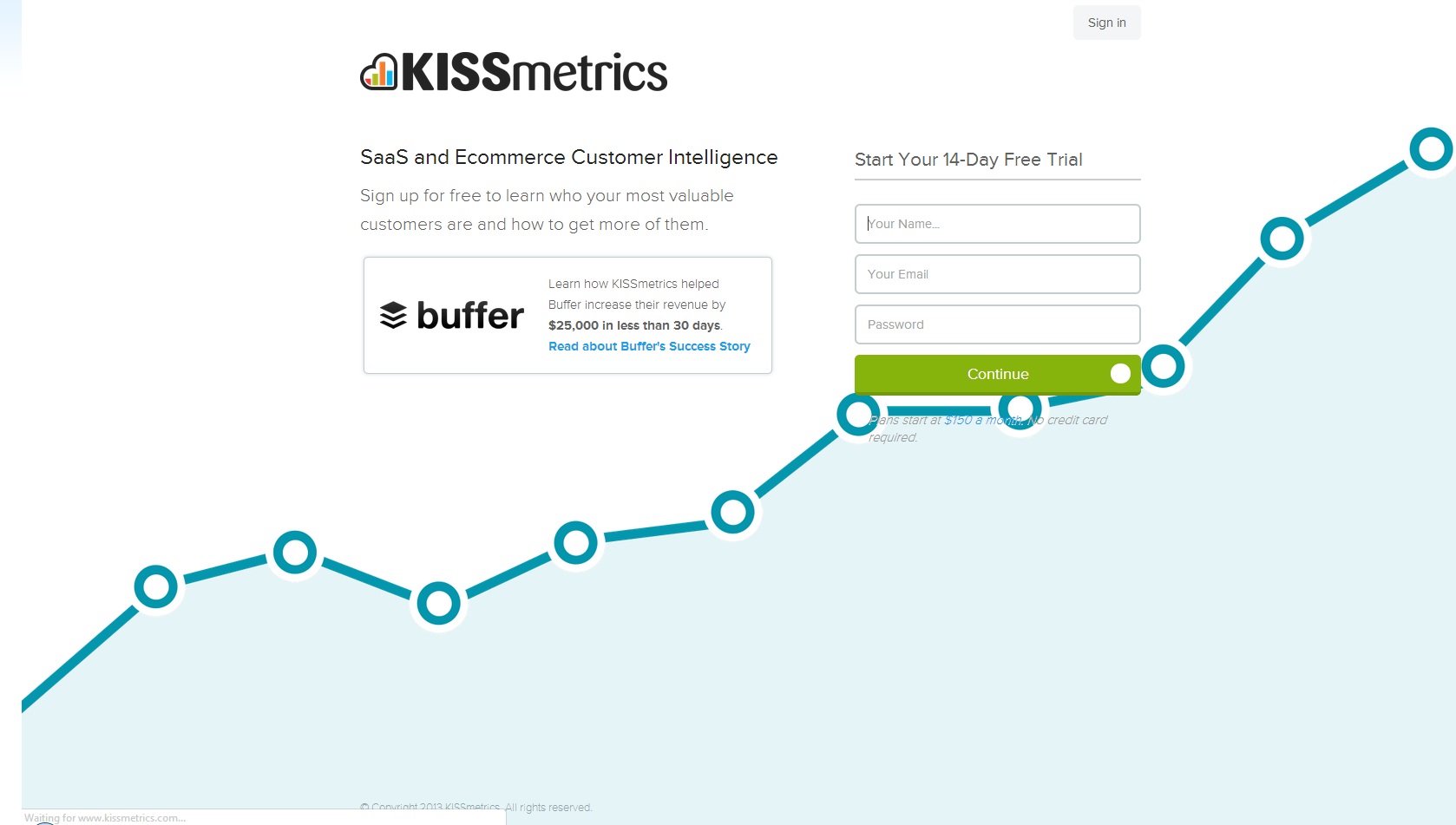 Do you really need any sort of explanation about this website? I think not!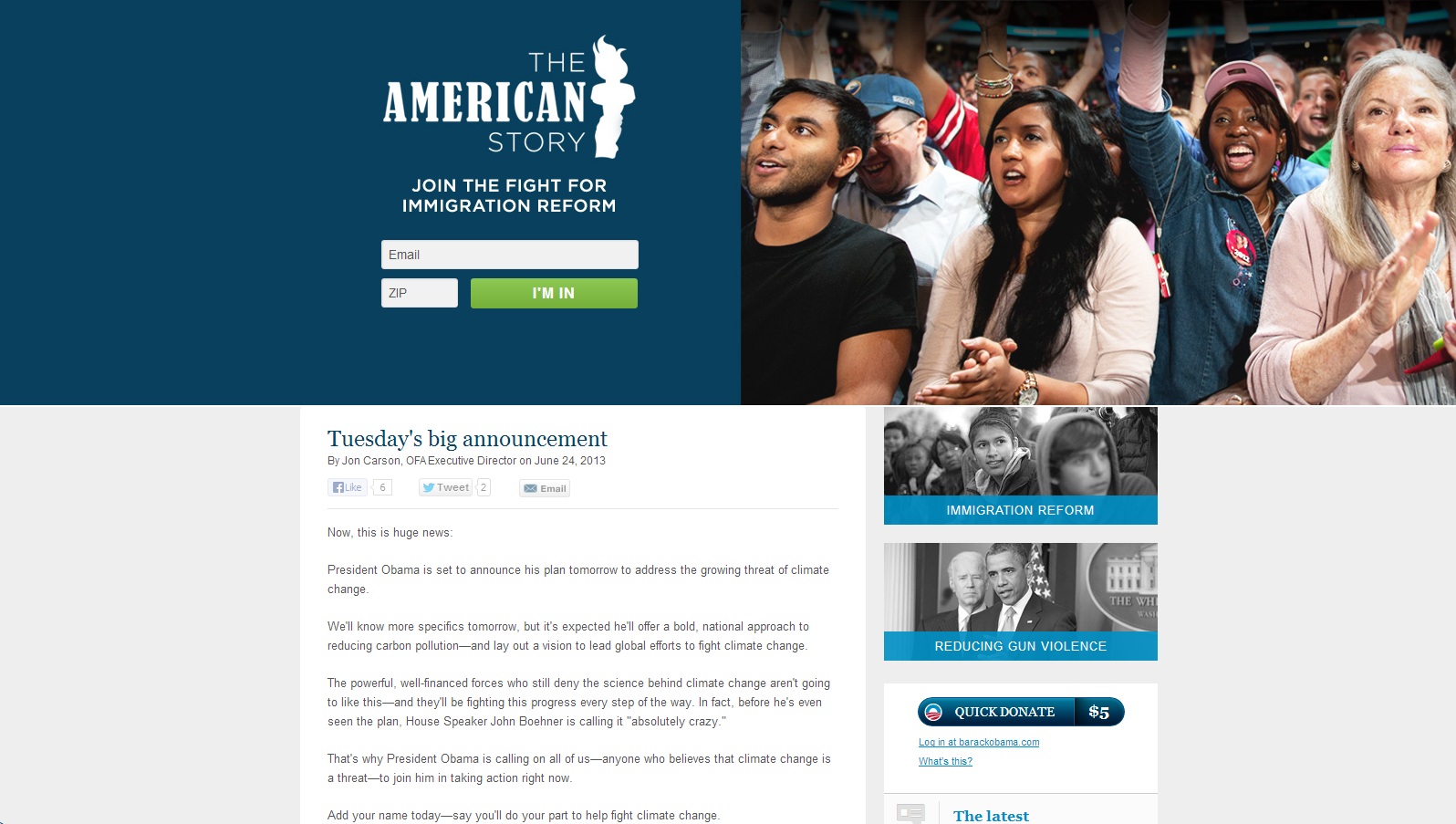 You can use Shopify to create an online store.
ShipmentApp helps you keep your files right where they belong and helps you turn Dropbox files into beautiful projects anyone can participate in.
Building the Best Landing Page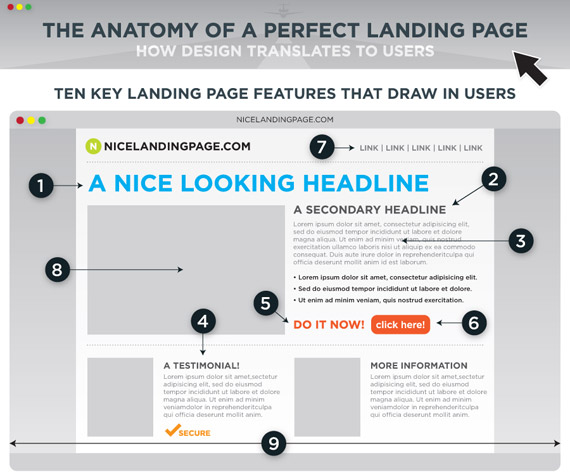 More of the infographic at Formstack.
Basically, it all boils down to the following:
1. Best Headline You Can Think Of
Think of it like writing a tweet, only shorter and without the hashtags. Your goal is to make people want to read more, make people understand the gist of things in just a sentence – or phrase. Write several headlines and ask people you know about what they think of them, ask both related and disinterested parties to have a broader view of how your headline sounds and looks like.
More than half of the time this will determine whether a visitor will stay for more information or simply just leave!
2. Secondary Headline to Emphasize a Point
This one is optional, but when used well with a great headline you can go to the stars! Think of it as a supporting message, something that adds value to your main headline. They should work in unison, or you can write a totally different thing, provided that it will still pique the interest of the audience.
It can be a preview of what visitors can expect, a quote, or even a call-to-action.
3. A Brief but Concise Description
This section should answer:
What is this page all about?
Why should I bother reading?
Why should I believe you?
What will I gain if I sign-up?
You don't want to bore your audience, remember that everyone's busy! Keep in mind that you need to make your point in under 7 seconds. If you can keep their attention for more than 7 seconds, then you know that you're headed the right path.
4. One Clear Call-to-Action
You will need to muster all the copywriting skills you have here. Make people click, signup, and feel that irresistible power you're giving off, that if they act upon what you are offering they will make their lives significantly better!
5. Testimonials and Additional Information
If you are selling a product, promoting an event, or spreading awareness, most likely you already have people who are in the know of what it's all about. Ask them for their feedback and put their feedback/testimonial on your landing page. Take Amazon as an example. People tend to buy more from sellers with great feedback, from items with great reviews. How should it be different from the one you are promoting?