If you're into food blogging or product photography, capturing the perfect shot often means shooting from above. Overhead photography brings focus to your subject by eliminating extra dimensions. But, snapping those perfect 90-degree overhead shots isn't always straightforward, especially when using a smartphone.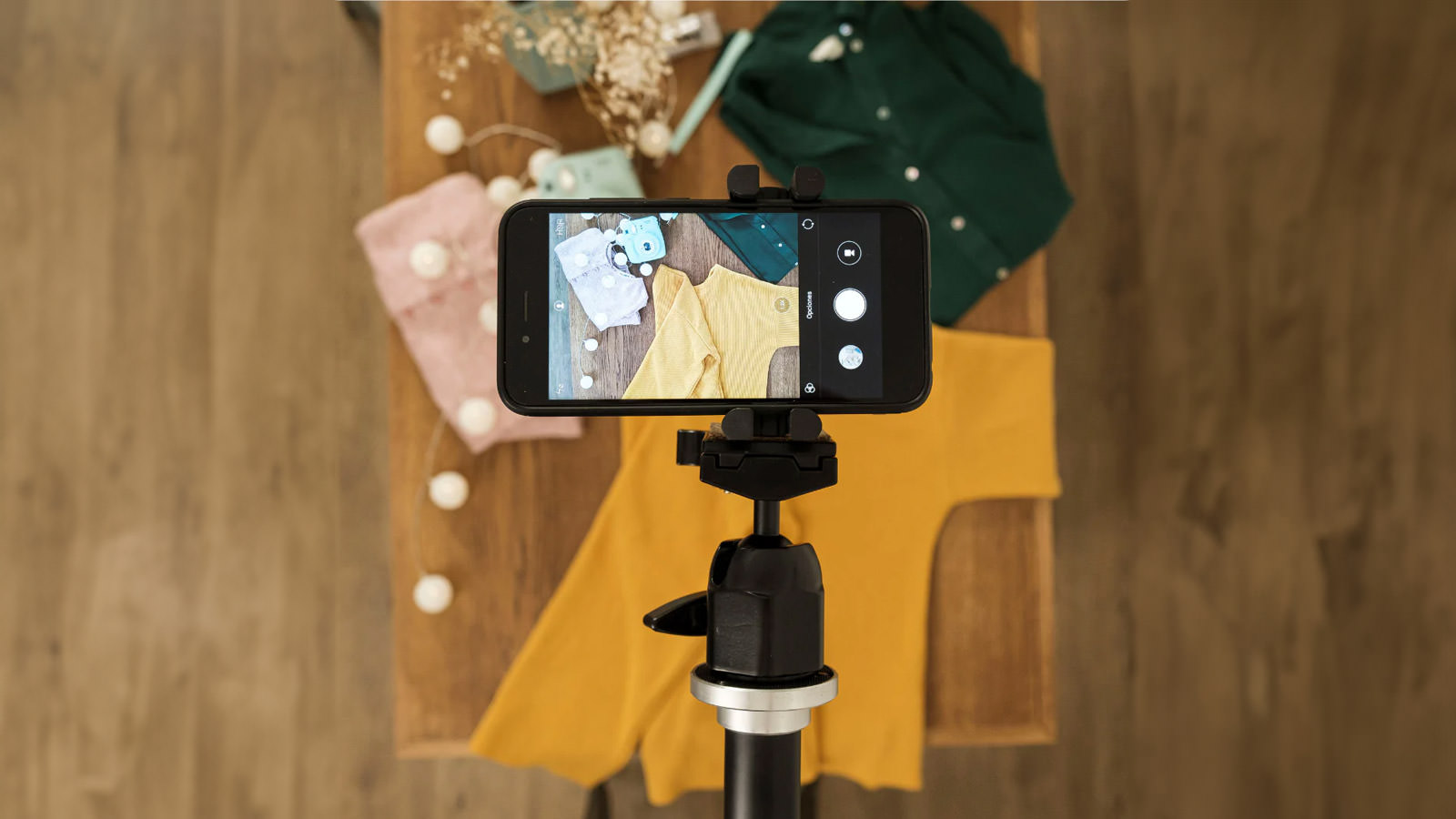 To nail those top-down photos, you need a reliable overhead tripod. While the choices for these tripods are somewhat limited, I've found 6 outstanding options. Some are specifically designed for smartphones, while others are versatile enough to do the job. If none of these catch your eye, don't worry – I've also got some DIY tripod ideas for you. So, let's explore these options.
Read Also: 
10 YouTube Channels to Learn and Master Photography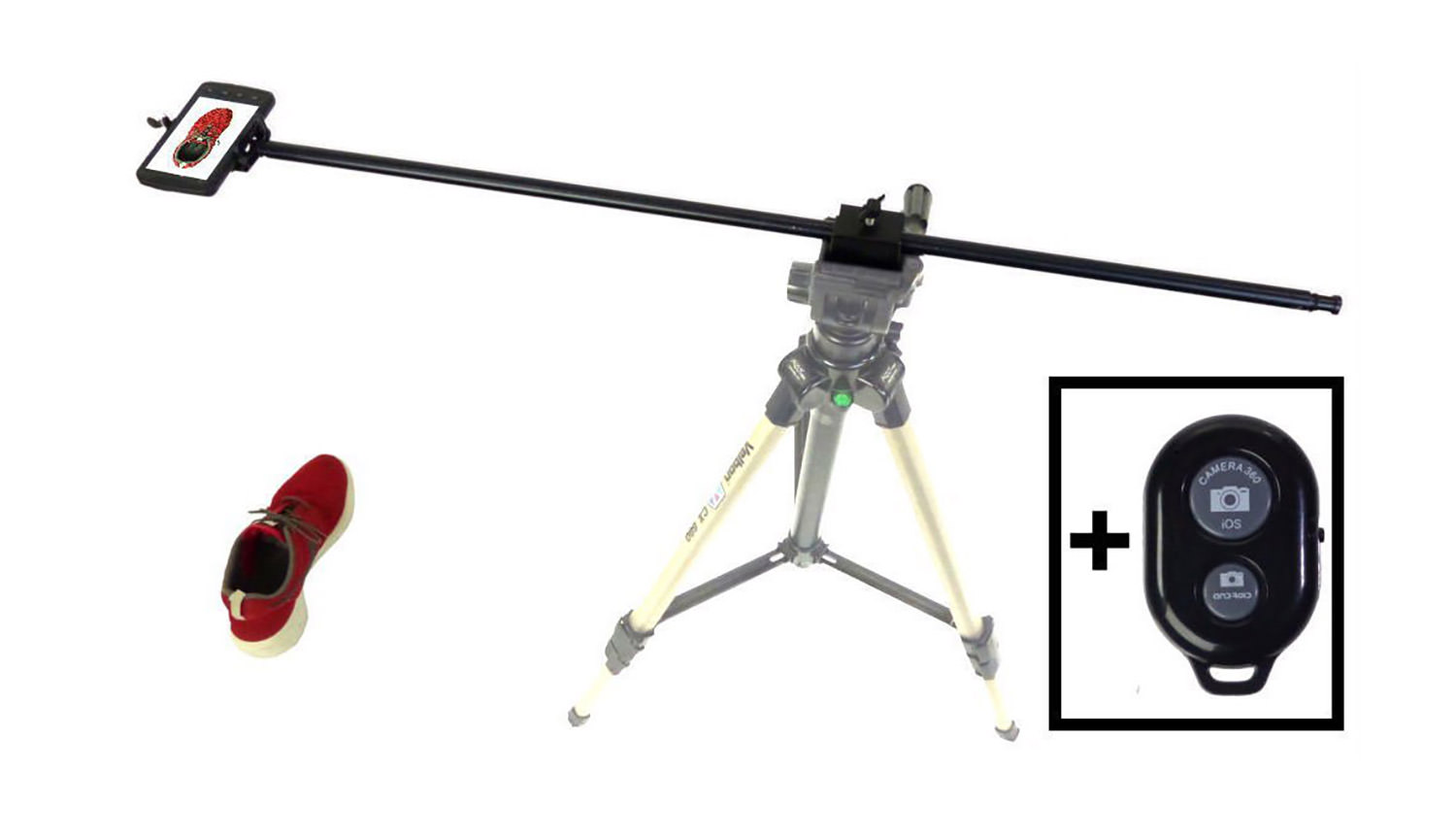 Pros
Versatile mounting with adjustable rod.
Wireless Bluetooth shutter included.
Cons
Lacks tripod.
Missing weight bag.
For an affordable yet effective overhead photography solution, check out the ALZO tripod mount. It's a versatile tool that fits onto your existing tripod and is ideal for top-down photos. It's robust enough to support all iPhone models and most Android phones.
You can adjust the rod to your liking and position your smartphone both vertically and horizontally.
Its standout feature is a wireless Bluetooth shutter, allowing you to control the camera remotely – perfect for creating demonstration videos.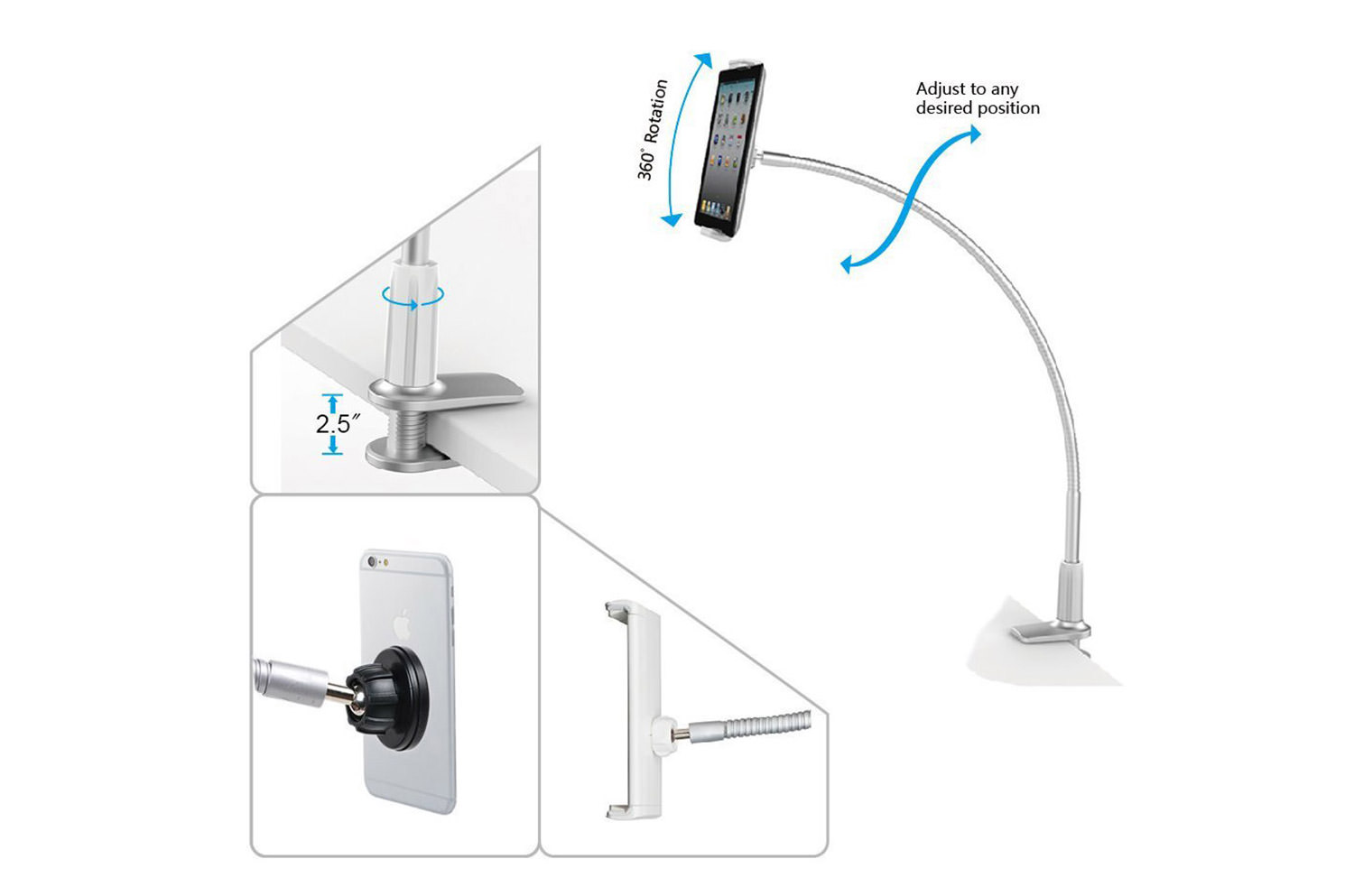 Pros
Easy to adjust and use.
Secure clamping to surfaces, no weight bag needed.
Cons
Limited arm length of 29 inches.
The Klsniur Gooseneck Tablet Holder might not be a traditional tripod, but it's a great tablet and smartphone holder for those who need flexibility. It's designed to support devices up to 10 inches, making it suitable for both smartphones and tablets. Plus, its flexibility makes it useful for overhead photography, even though it's not its primary purpose.
Despite not being specifically made for overhead shots, its affordability and versatility make it a surprisingly effective option for such tasks.
The holder features a 360-degree adjustable mount, and the stand itself is very flexible. This means you can position your device just the way you want, even at a 90-degree angle. It clamps securely to surfaces up to 2.5 inches thick, making additional weights unnecessary.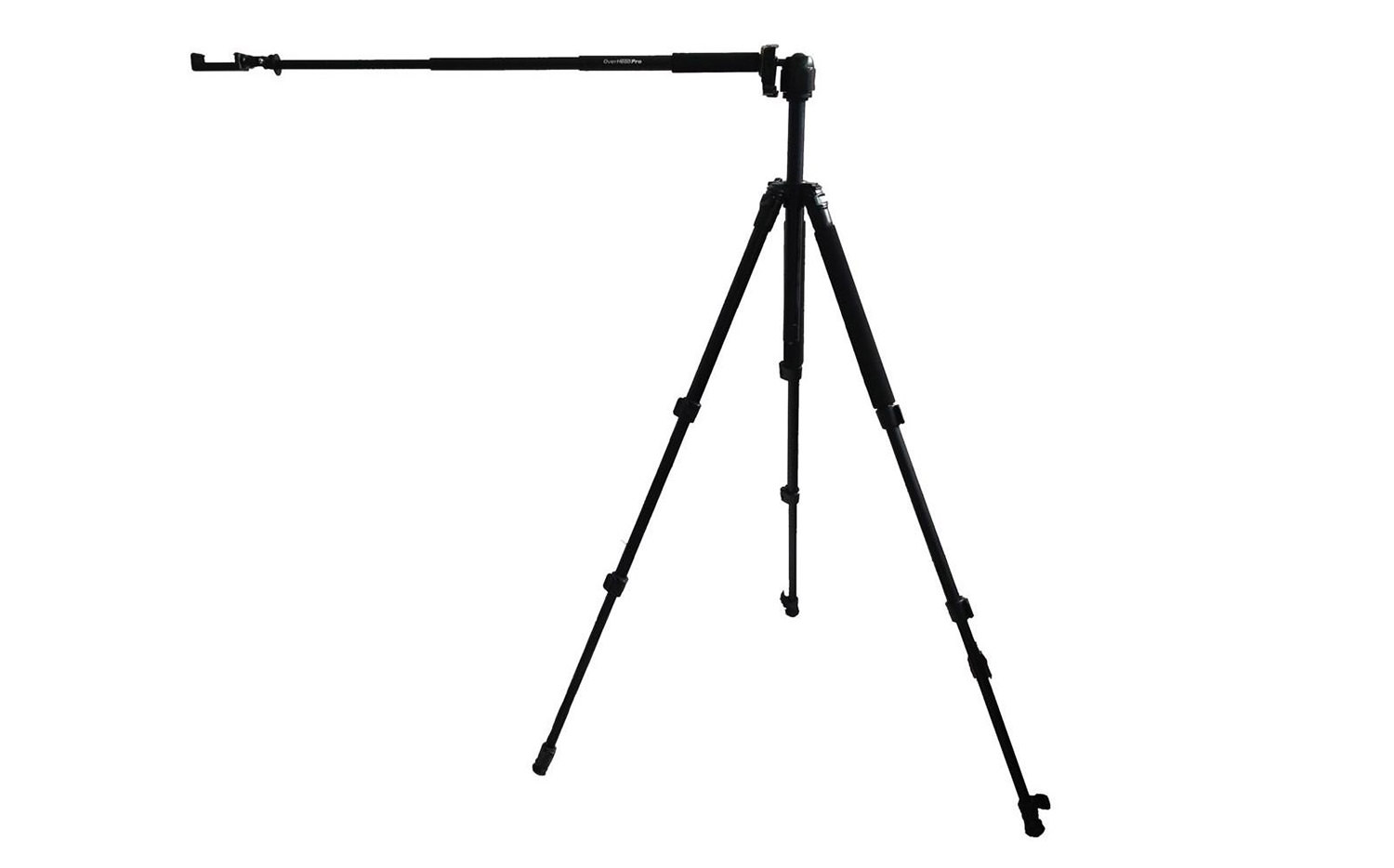 Pros
Compact and portable.
Highly flexible and adjustable.
Stable with rubber legs.
Supports smartphones up to 150g.
Cons
Unsuitable for heavier phones.
The Overhead Smartphone Tripod Kit is a comprehensive solution for overhead smartphone photography. This kit includes a tripod with three adjustable legs and a lengthy, adjustable arm. The tripod can extend up to 5 feet in height, while the arm can reach a length of 3 feet.
It's compatible with all iPhone models and most Android phones, featuring a mount that can rotate 360 degrees for the perfect shooting angle.
Designed with travel in mind, the tripod has a hand grip for easy transport and comes with a carrying case.
The Acuvar Camera Tripod is a budget-friendly complete set that includes a smartphone mount, suitable for both overhead and standard photography. Priced at just $13.95, it offers all the essentials for smartphone photography from above.
But why so affordable? The answer lies in its lightweight and somewhat delicate build, weighing barely 1 pound.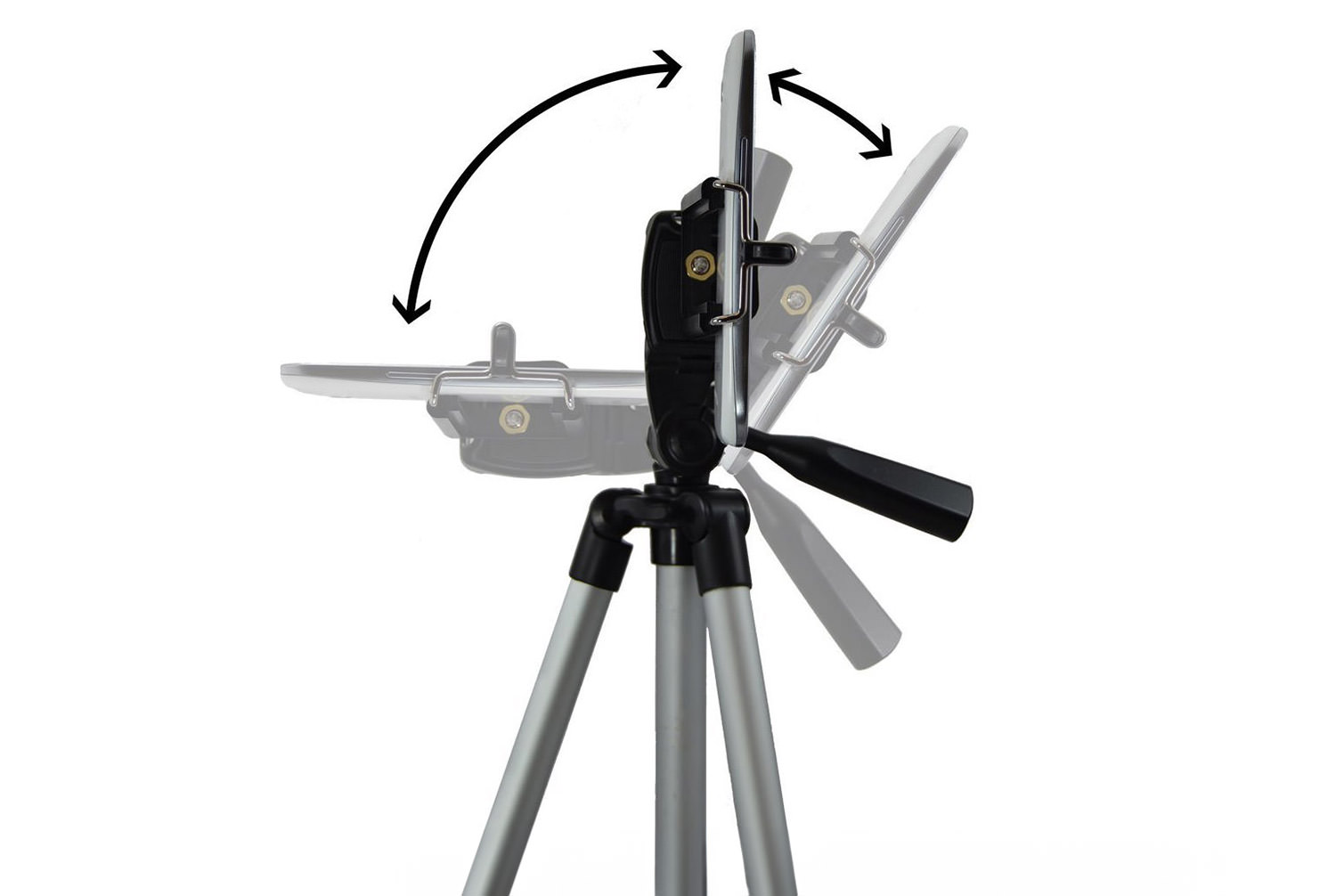 It's a good choice if you handle it with care and if it can support your smartphone's weight. While it can extend up to 50 inches, using it for overhead shots at this height might be challenging due to its lightweight build.
Pros
Highly affordable.
Comes with tripod and smartphone mount.
Lightweight and portable.
Cons
Delicate construction; handle with care.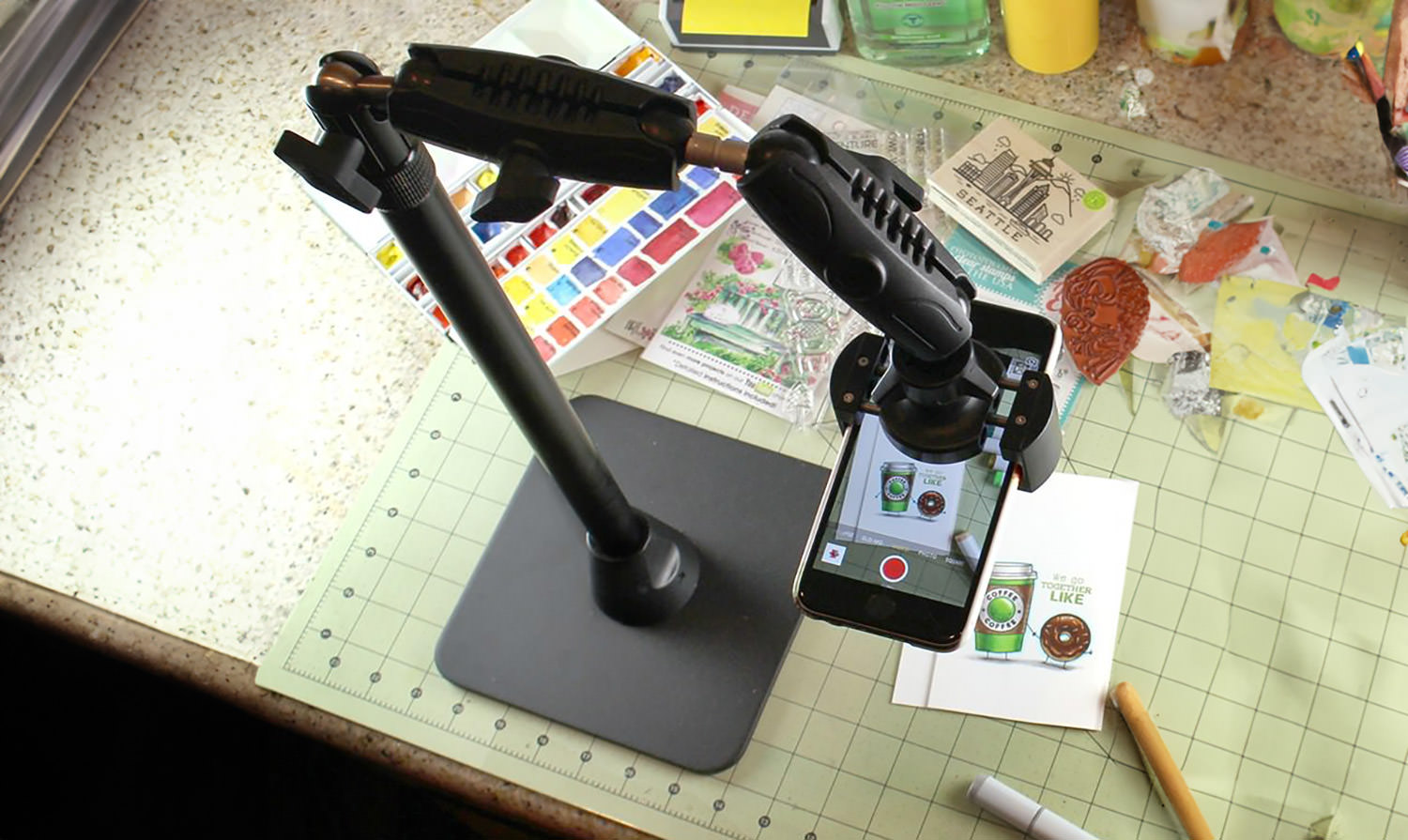 Pros
Supports heavy smartphones.
360-degree adjustable mount.
Cons
Limited stand height and arm length.
The Arkon Pro Phone Stand is a solid choice for creating top-down videos. Although not a traditional tripod, it performs admirably. The stand's arm can extend up to 12.5 inches and the height is adjustable to 29 inches.
With its square base, it provides enough stability to support most Android phones and all iPhone models. It can accommodate phones (including those in cases) up to 2 pounds and 4 inches wide.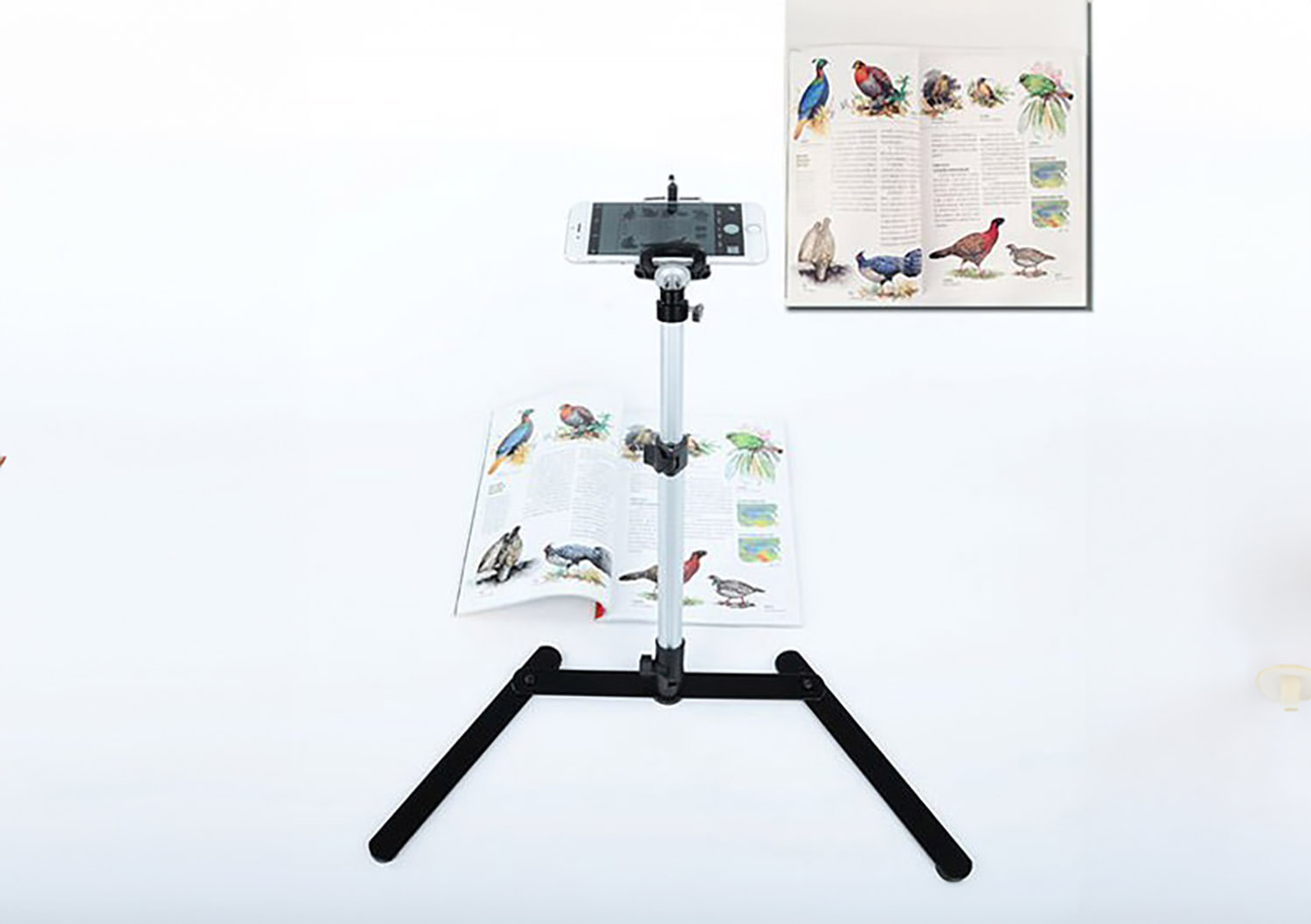 Pros
Affordable and effective for overhead shots.
Portable due to its foldable design.
Cons
Potential for tipping over with heavier smartphones.
Limited height adjustment.
The ChromLives Copy Stand is another budget-friendly option for overhead photography with smartphones. While it's constructed of metal, it's relatively lightweight and may become unstable with heavier smartphones. However, it features flat legs that can be secured to a surface or weighted down to enhance stability.
Its foldable design makes the stand easy to transport, and you can adjust its height up to 18 inches.
Ideas to DIY Your Own Overhead Tripod
If you're feeling creative, you can make your own overhead tripod stand using common household items and a few simple steps.
While you'll need to purchase a smartphone mount (which are quite affordable, often under $10, like this Ulanzi Tripod Mount for $7.99), you can also opt to build one yourself.
Here's a tutorial to create a DIY tripod mount:
PVC Pipe Overhead Tripod
Create a cost-effective and simple PVC pipe overhead tripod using elbow, caps, and tee PVC pipes. Don't forget, you'll need a smartphone mount to attach to your DIY tripod.
Water Bottle Overhead Tripod
This one is a bit more limited in its use but is incredibly easy and cheap to make. Simply modify a large water bottle to hold your smartphone. For stability, you can use either water or sand as a weight.
Overhead Tripod Using a Box
This straightforward DIY project requires just a box and a stick, like a broomstick. Just cut a hole in the box and insert the stick with your smartphone mounted on top, and you're ready for overhead shooting.
Ending Thoughts
Overhead photography is fantastic, but the tools for it are somewhat limited. If your goal is simple functionality, the UTEBIT Copy Stand is a great, budget-friendly choice. However, for those more serious about overhead photography, the OverHead Smartphone Tripod Kit or the Arkon Pro Phone Stand are superior options.
Read Also: 
5 Top 360° Cameras for Creating Virtual Reality Videos