What is Adobe InDesign used for? How long does it take to learn Adobe InDesign? And where can you get started with some free tutorials and templates? We'll answer all of those questions in this comprehensive guide.
Let's start with the basics: what is Adobe InDesign?
In this section, we'll introduce you to the software, give you a brief history, and show you what InDesign is used for.
We'll also give you a video to watch to learn more about the basics of InDesign.
We'll begin with a basic definition. Here's how Adobe describes InDesign:
"Adobe InDesign is the industry-leading layout and page design software for print and digital media."
InDesign was first launched by Adobe in 1999 as a successor to its earlier desktop publishing program, Adobe PageMaker. At the time, QuarkXPress was the industry-leading software, but InDesign quickly became more popular thanks to its powerful features and easy integration with other Adobe apps like Photoshop and Illustrator.
These days, although Quark is still around and the newcomer Affinity Publisher is providing some fierce competition, Adobe InDesign is still the leading page design app. Want to know more about InDesign? Watch the video below:
What is Adobe InDesign used for?
Adobe InDesign is mostly used for print design (i.e. making documents that can be printed, like brochures and magazines). It offers sophisticated features for managing multi-page documents, so you can use it for anything from flyers and pamphlets to full-length books.
And because InDesign is so versatile, you can also use it for digital designs like eBooks and interactive PDFs. Again, here's how Adobe positions it:
"InDesign has everything you need to create and publish books, digital magazines, eBooks, posters, interactive PDFs, and more."
How to Learn InDesign Quickly
Now that you know what InDesign is, you probably want to learn how to use it.
In this section, we'll go through some fabulous (and free!) InDesign tutorials and courses to get you up and running as quickly as possible.
How long does it take to learn InDesign?
This is a common question. To learn the basics of InDesign, the best way to start is by watching the introductory course below. It lasts 2.5 hours, although you should also allow some extra time for following along yourself and mastering all the techniques on your own computer. Then you can watch the A to Z of InDesign, which is just 15 minutes.
InDesign for Beginners
This massive 2.5-hour InDesign training course takes you through all the major features of Adobe InDesign. By the end, you'll have created a brochure in InDesign and will have picked up plenty of skills to apply to your own projects.
A to Z of InDesign
Or maybe you want to learn some specific features of the software. This free InDesign course introduces you to 26 cool features—one for every letter of the alphabet—along with some tips and tricks to help you make the most of the software.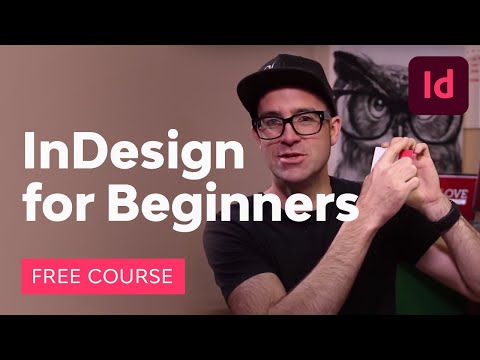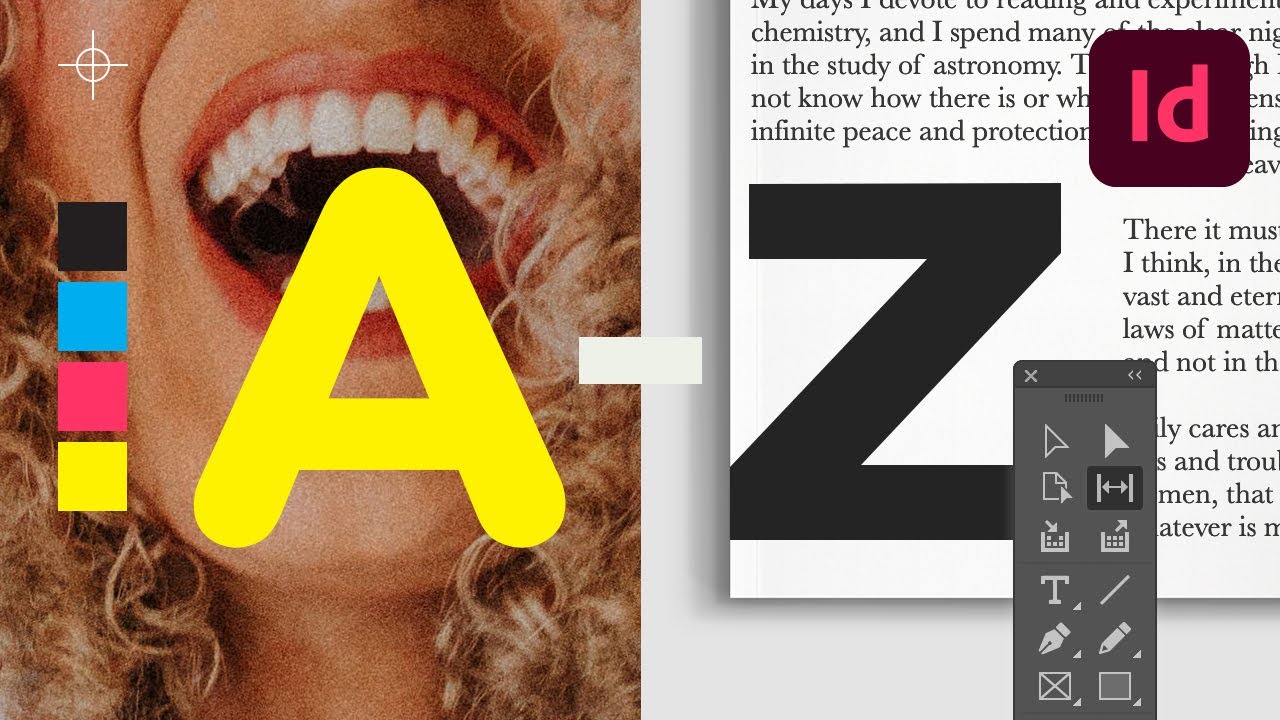 These InDesign training courses are so comprehensive that you can learn the InDesign basics in just a few hours. But InDesign has so many features that, of course, to truly master the software will take much longer.
That's why we've also provided a selection of excellent InDesign tutorials below to help you learn more. Each one comes with a practical project to help you get some much-needed practice.
Need more InDesign tutorials? Don't worry. We'll also introduce you to plenty more learning materials throughout the rest of this article.
Another great way to get up to speed quickly in InDesign is to use professionally designed InDesign templates. You get a head start on the design, and you can learn a lot from seeing how the templates are put together. Here are a few great examples to download and explore:
Sometimes you just need to figure out how to use some of the basic InDesign tools.
For example, how do you insert a table in InDesign? How do you set up a document for printing?
In this section, we'll look at some resources to help you with the InDesign basics.
How to Insert a Table in InDesign
If you want to create an InDesign table, watch the video or click on the link below to read the written instructions.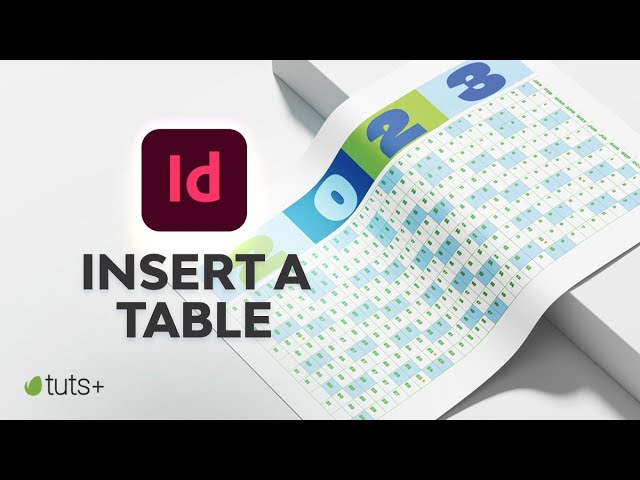 How to Make an InDesign Table of Contents
If you need to create a table of contents, you'll want to make use of InDesign's built-in features to help you keep the pages updated automatically. Learn how in this tutorial.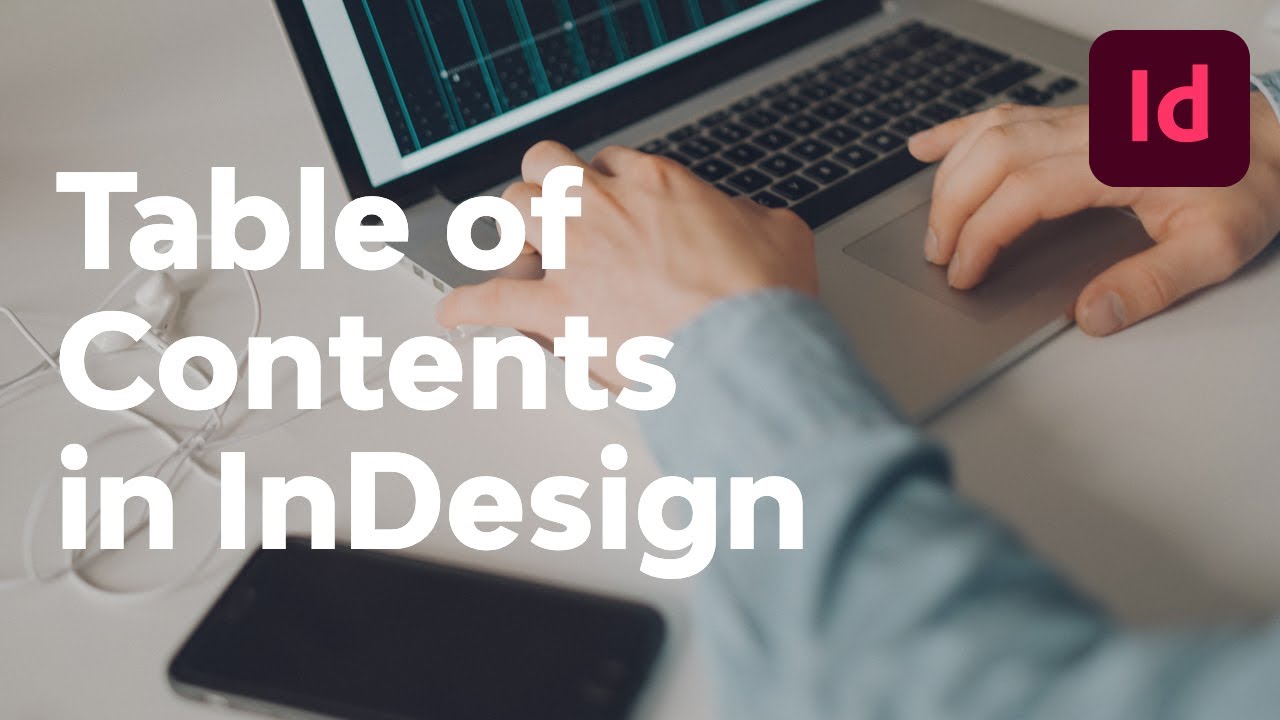 How to Insert an Image
Using InDesign to insert an image is easy. This quick tutorial takes you through a few different methods you can use.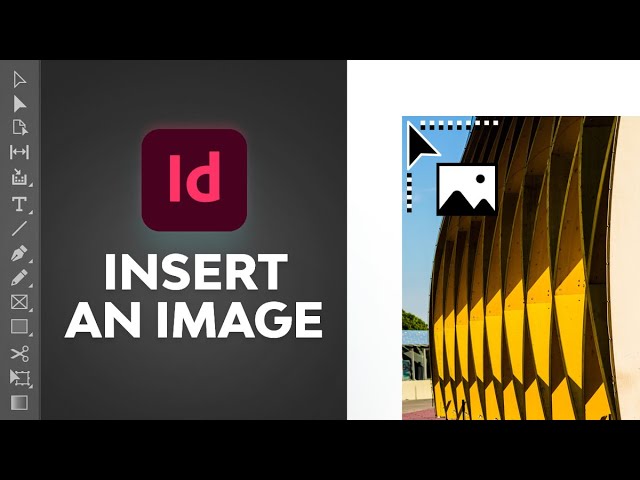 How to Type on a Path in InDesign
Want to learn how to use the Pen Tool in InDesign to create a wavy line, and then add text that follows that line? This tutorial is for you!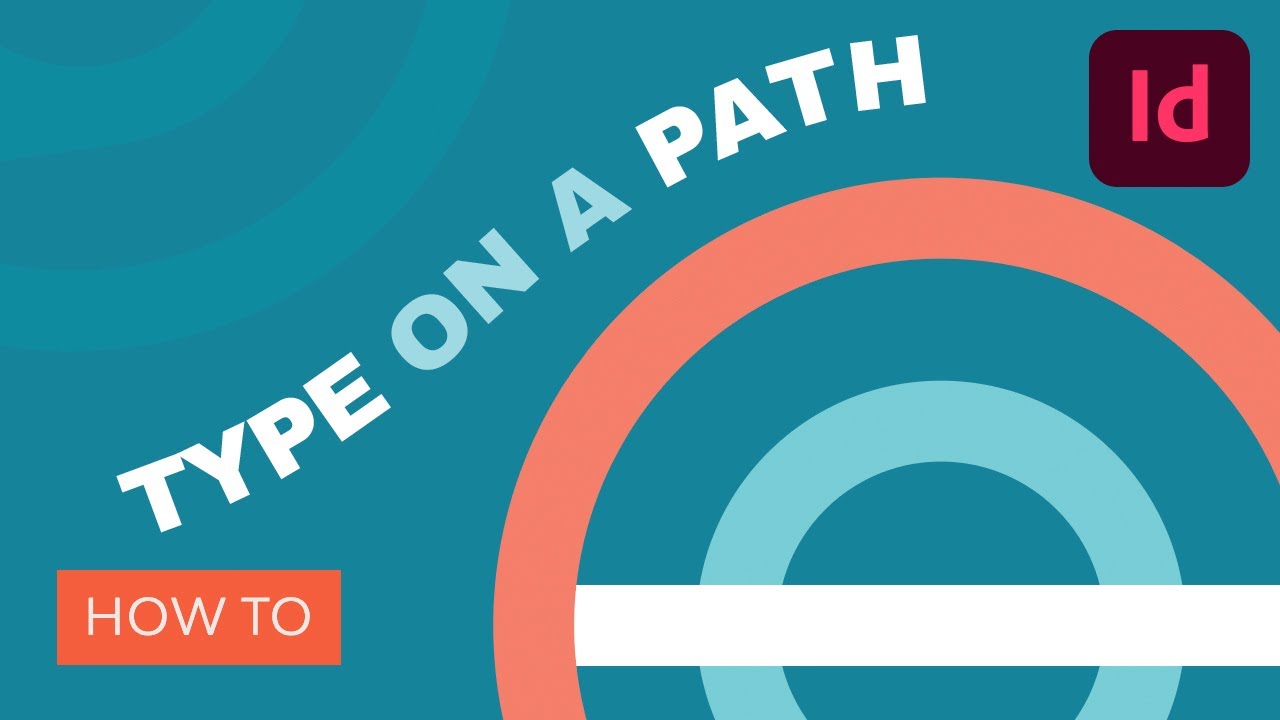 Learn more InDesign basics and discover more useful InDesign tools in these tutorials:
Working With Text in InDesign
InDesign documents often contain plenty of text, and you want to be able to style that text in various ways.
So in this section, we'll cover various techniques such as how to curve text in InDesign and how to add fonts in InDesign.
You can also use the software to create some pretty stunning InDesign text effects, so we'll look at some great examples of that too!
How to Curve Text in InDesign
Watch this video to learn how to curve text in InDesign using a simple circle to create the curve!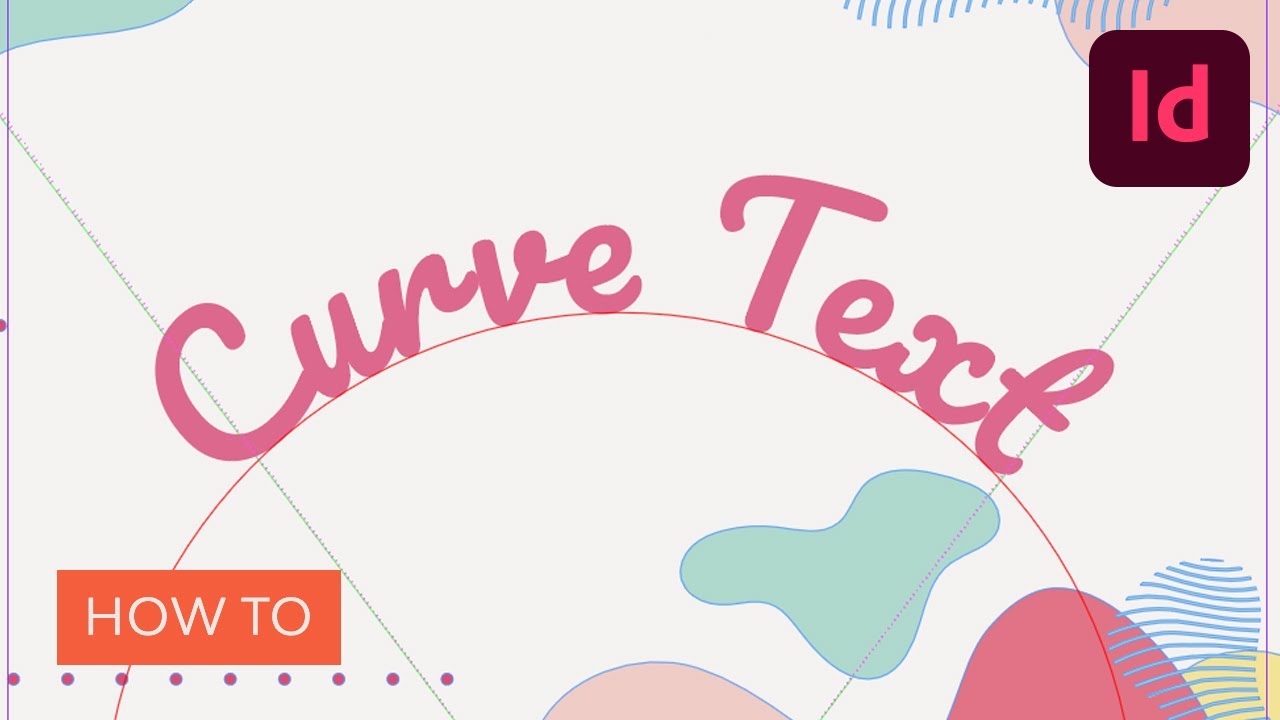 How to Add Fonts in InDesign
Are you getting that common error message about a missing font in InDesign? Or maybe you've just downloaded some stylish new typefaces and want to know how to add fonts in InDesign. This video answers all your font-related questions.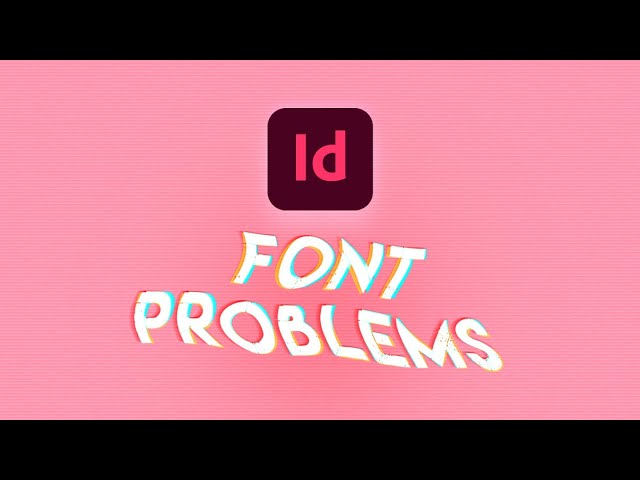 How to Embed Fonts in InDesign
Have you ever created a beautiful PDF, only to find that it doesn't look right for your recipients because they don't have the right fonts installed on their machines? Avoid that problem by learning how to embed fonts in InDesign so that your PDF has all the necessary fonts included.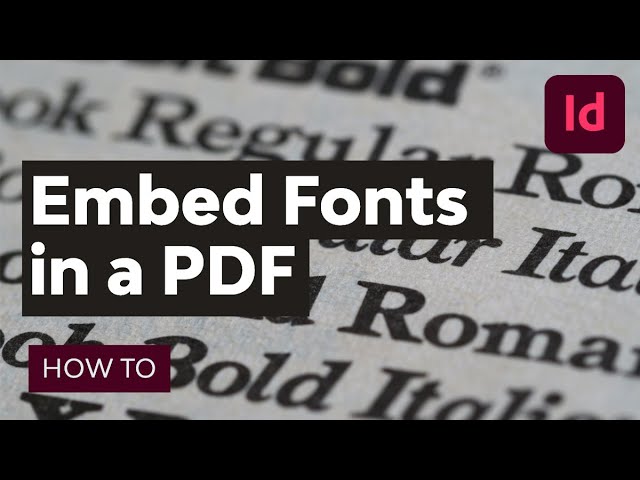 How to Create InDesign Text Effects
Although you may think of Photoshop as the software for creating cool effects like the ones shown below, you can actually create some pretty cool InDesign text effects using the Effects panel. Check out these examples: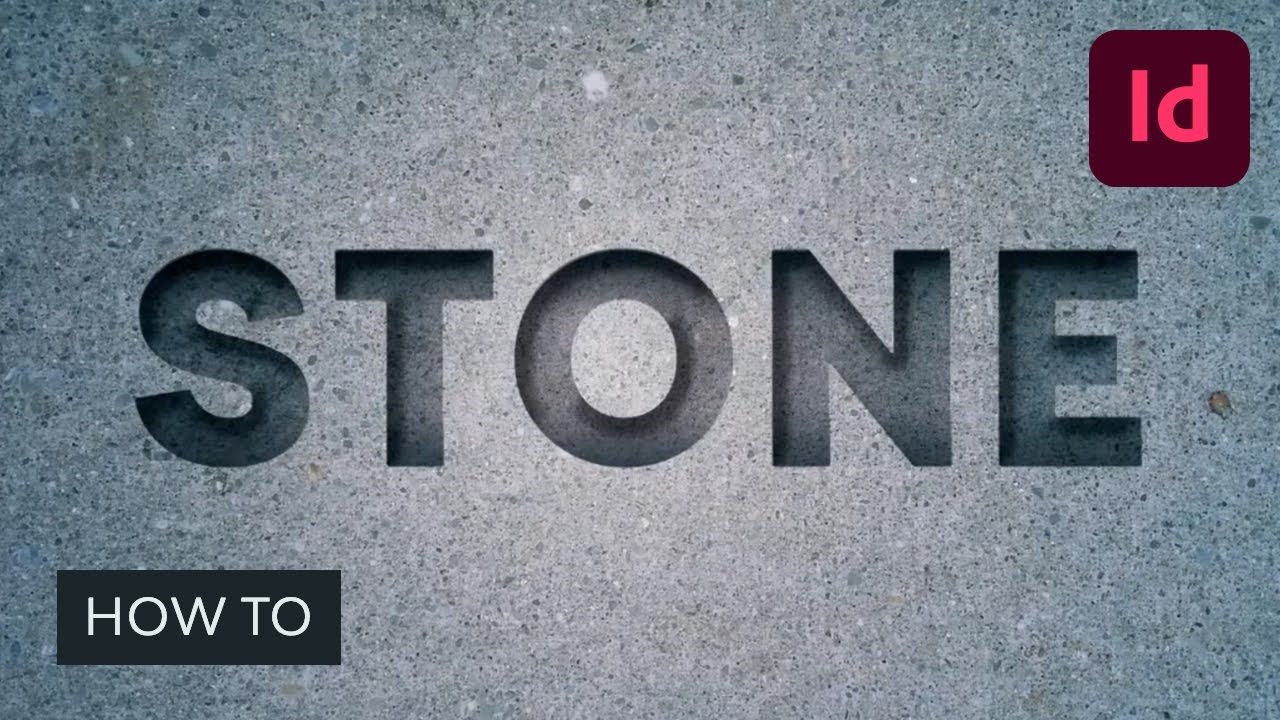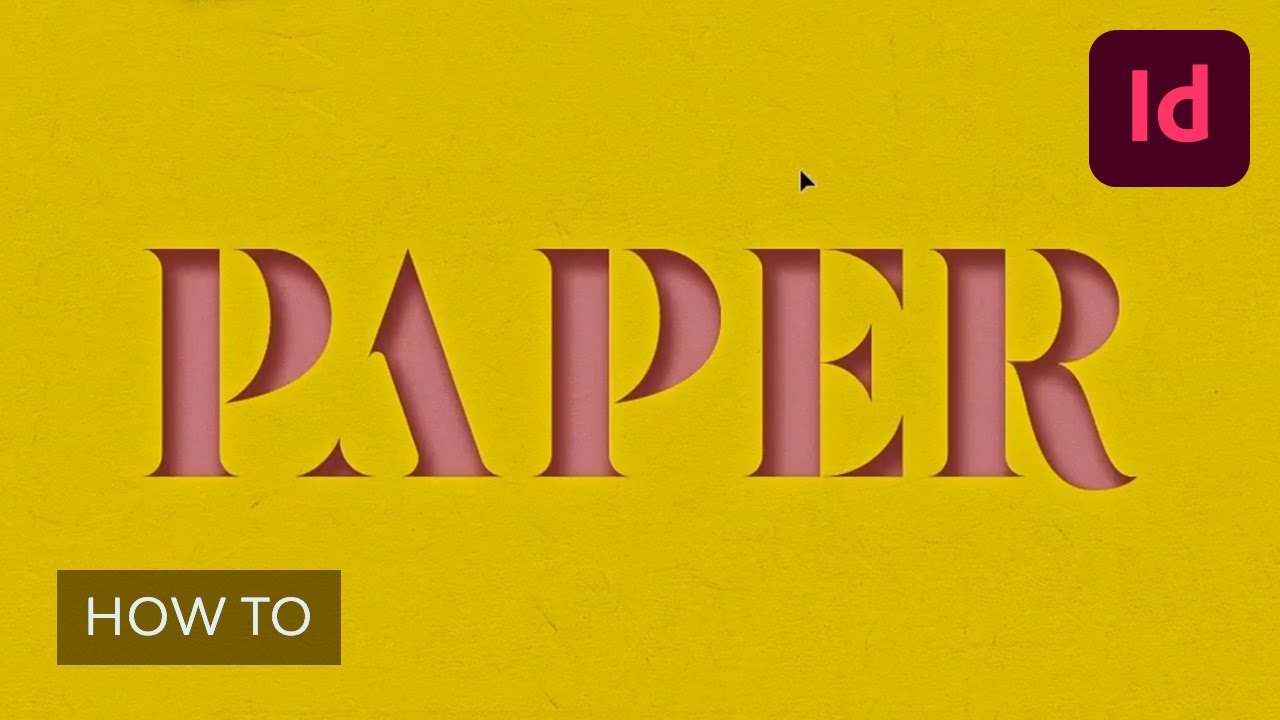 There's so much more you can learn about text in InDesign! Read these tutorials to learn how to highlight text in InDesign, how to work with text wrap in InDesign, and more.
How to Work With INDD Templates
Now that you've got a handle on some of the InDesign basics, it's time to work on a project!
The best way to get started is by using InDesign templates. In this section, we'll look at how templates can help you work faster and produce better results. And we'll cover how to edit a template in InDesign.
The Benefits of Using InDesign Templates
Sites like Envato Elements give you thousands of ready-made InDesign templates in a range of styles. But why should you use templates instead of starting from scratch? Let's count the ways.
Setting up an InDesign document can be complex and time-consuming. With professionally designed templates, you don't have to worry about creating gutters and automatic page numbering, setting up front and back covers, adding bleed marks, defining paragraph styles, etc. It's all done for you.

There's a huge range of templates out there, so you can find one that's right for you, e.g. a fitness flyer or an annual report template. Then you'll have to do minimal customization to make it your own.

The templates are set up to make customization easy. So you can replace images, add text, and change styles, all without needing too much InDesign expertise. You'll often get detailed instructions and even video instructions to help you.

You get professional designs that adhere to the principles of design and produce pleasing layouts to make your documents eye-catching and easy to read.

You save huge amounts of time on the setup and design, and you can spend that time working on the most important part: the content of your document.
Want to see how easy it is to edit a template in InDesign? Watch the video below.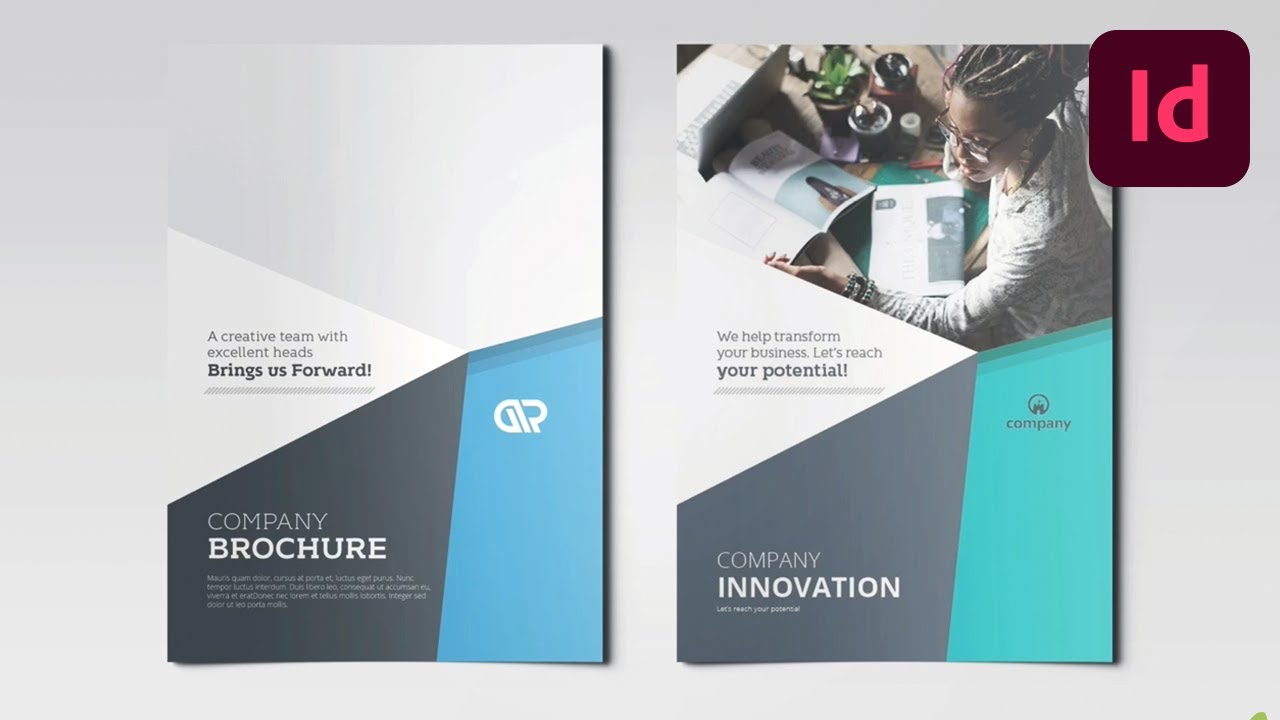 How to Edit a Template in InDesign

1
Open Your Template
Most templates come as ZIP files, so you'll need to decompress them. Also be sure to install any required fonts.
2
Edit the Template
It's as easy as placing images and typing over text, but you can also do things like changing the paragraph styles and color schemes—watch the video to find out how.
3
Export Your Document
Press Command-E to export the file for printing or sharing as a PDF. Because the template is already set up ready for printing, this part should be easy!
Check out these templates for inspiration:
Looking for something else? Don't worry—there are plenty more templates coming your way in the following sections!
Creating Brochures, Flyers, and Posters in InDesign
Now that you know how to work with InDesign templates, let's explore some of the different types of documents you can create.
In this section, we'll look at InDesign brochure templates, flyer templates, and poster templates. We'll show you how to make these documents from scratch, as well as highlighting some templates to give you a head start.
InDesign Brochure Templates
Wondering how to create a brochure in InDesign? Watch this video to learn how to set up your own tri-fold brochure template in InDesign: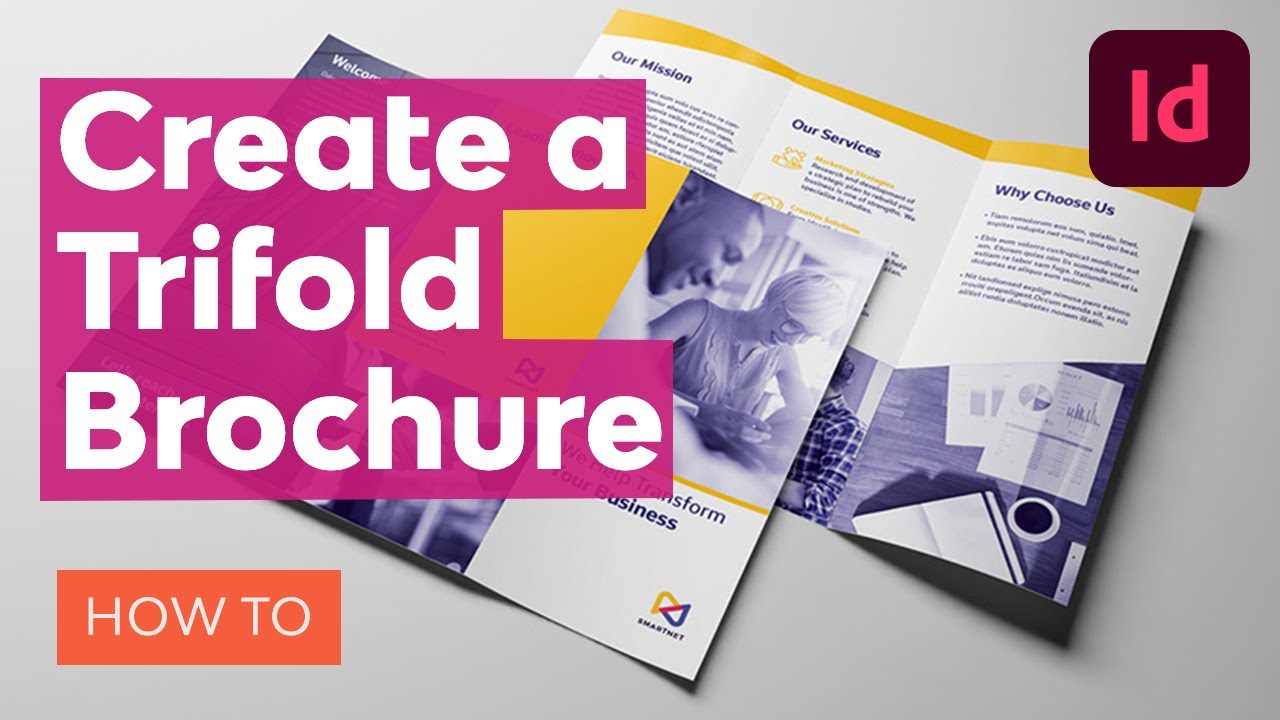 And here are some tutorials to help you create all kinds of brochures from scratch:
Prefer to start with some ready-made InDesign brochure templates? Here are some wonderful options:
InDesign Flyer Templates
Flyers are great beginner projects because they're so short. And a good template makes it even easier! Here's a guide to ten of the best InDesign flyer templates: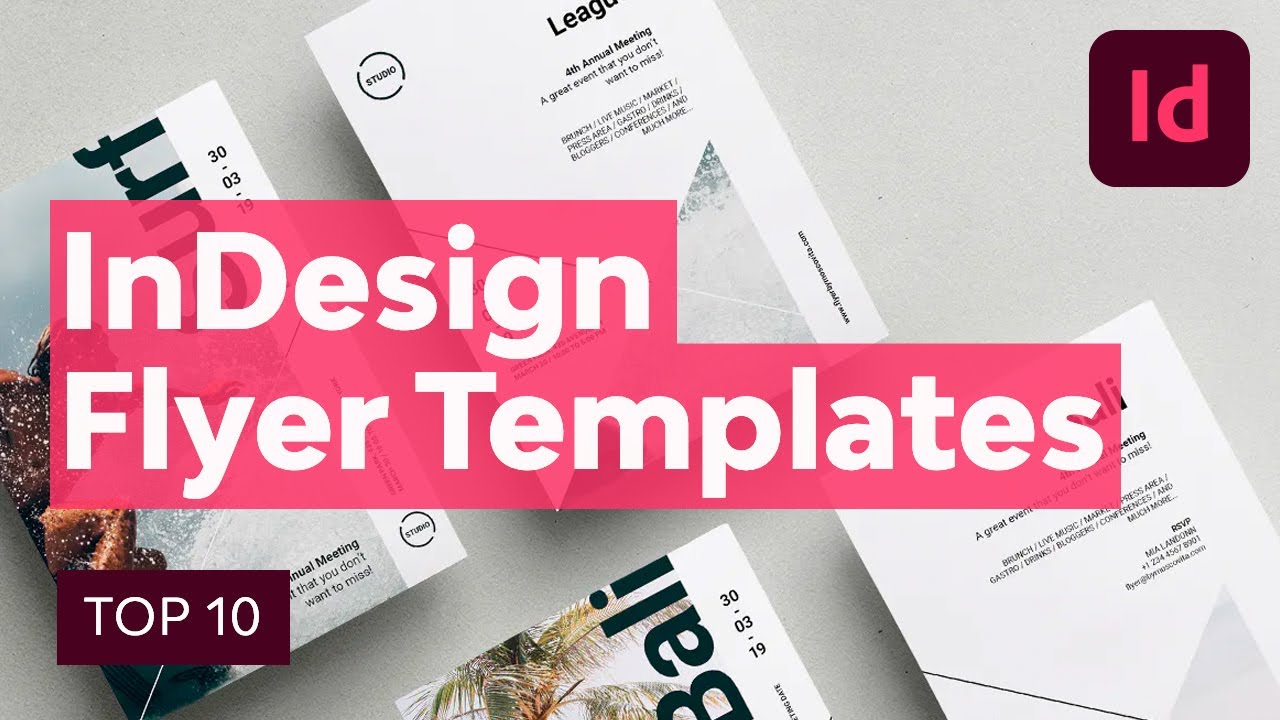 And here are some recommended tutorials on flyer design:
Want to click straight through to some cool, ready-to-use InDesign flyer templates? Scroll through the gallery below and choose your favorite:
We've also got a guide dedicated specifically to flyer templates. Check it out:
InDesign Poster Templates
InDesign is a great tool for creating posters, especially ones that rely heavily on stylish typography. Watch this video for a perfect example of that principle in action.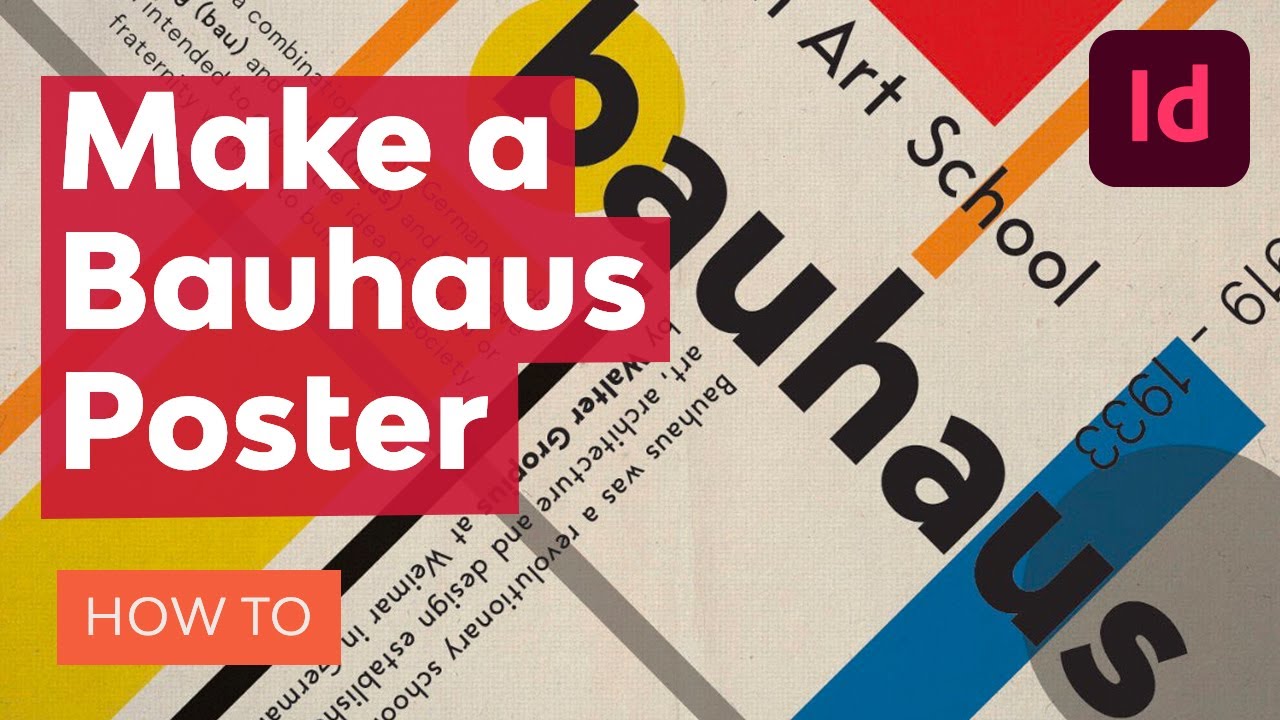 You can also follow these tutorials to polish up your InDesign poster-making skills in a variety of fun projects:
Or if you just want an InDesign poster template to download and use right away, try one of these:
The skills you've learned in this section on brochures, flyers, and posters can help you create all sorts of amazing projects! For example, once you've learned how to make a tri-fold brochure template in InDesign, you can apply those skills to making a restaurant menu: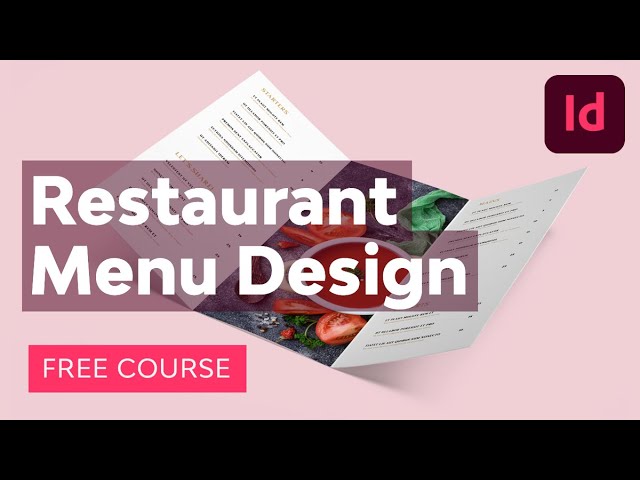 InDesign Magazine Templates
Sleek, stylish, and with complex layouts—magazines are the perfect fit for InDesign, with its sophisticated page layout features.
In this section, we'll look at some magazine design tutorials and videos, and then we'll explore some beautiful InDesign magazine templates in several different styles.
Want to design your own magazine cover from scratch? Fire up InDesign and follow the steps in this video:
Or you can follow these magazine design tutorials—check out the stunning results in some of these!
Browse through the options below to download different kinds of templates, such as a food magazine template for InDesign, a travel magazine template, and more.
Books, Newsletters, and Other Print Templates
There are so many other types of documents you can create using InDesign, from books to newsletters, photo albums, and more!
In this section, we'll look at some great examples of InDesign book templates, newsletter templates, and other types of print templates. And we'll also include some tutorials to help you create your own.
When it comes to creating books and newsletters in InDesign, we've got loads of educational options for you. The first thing you should do is read our comprehensive guide to book design:
Next, try one of these videos:
Or check out these tutorials:
How to Create InDesign Book Templates
How to Create InDesign Newsletter Templates
How to Create Other InDesign Print Documents
And click below to download some wonderful ready-made InDesign book templates, newsletter templates, calendar templates, and more.
Conclusion
I hope you found this article useful. To put everything you've learned into practice, download an InDesign template and get started on your next project!