In this quick tip video you'll learn what tags are in WordPress, how you can put them to good use, and how you can add and edit your own tags. This tutorial is perfect for anyone who's just getting started using WordPress. Let's dig in!
What Are Tags in WordPress?

What is a Tag in WordPress?
Tags are one of the predefined "taxonomies" in WordPress. Taxonomies are ways to organize information and tags are used as a means to categorize WordPress posts.
You might already be thinking "WordPress already has categories, why would I need to use another form of categorization?" and that's a fair question!
Post categories and sub-categories can be found in the WordPress admin under posts > categories or pages > categories and you can add them to posts and pages in the WordPress editor. Categories tend to be very broad and they're used to group posts and pages in a very general way.
On the other hand, tags can only be applied to posts and are very specific; think of them as being more like keywords. Instead of organizing posts into a broad hierarchy, they associate posts with a specific idea which might only be shared with a couple of other posts on your website.
How to Add Tags in WordPress

Add a new tag by going to posts > tags and entering the details in the form.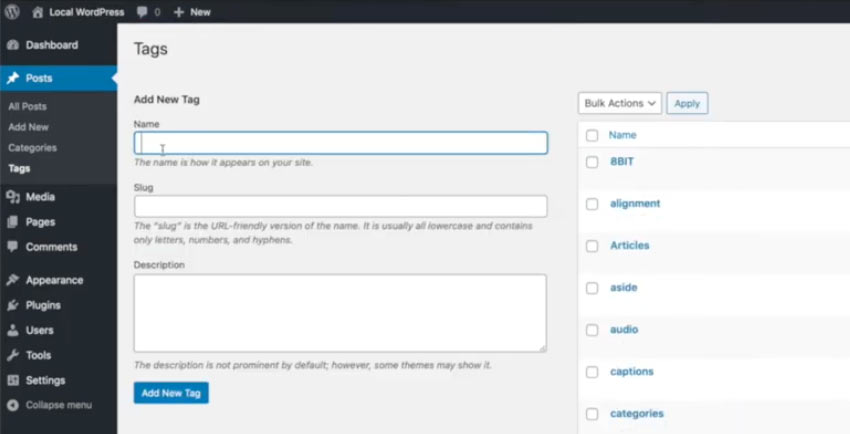 You really only need to add the tag name as WordPress will take care of the slug for you. You may or may not want to add a description, depending on your needs.
Once you've added a tag, you'll find it available in the post editor. Begin entering the tag you want in the tag field and the autocomplete will bring up some suggestions for you.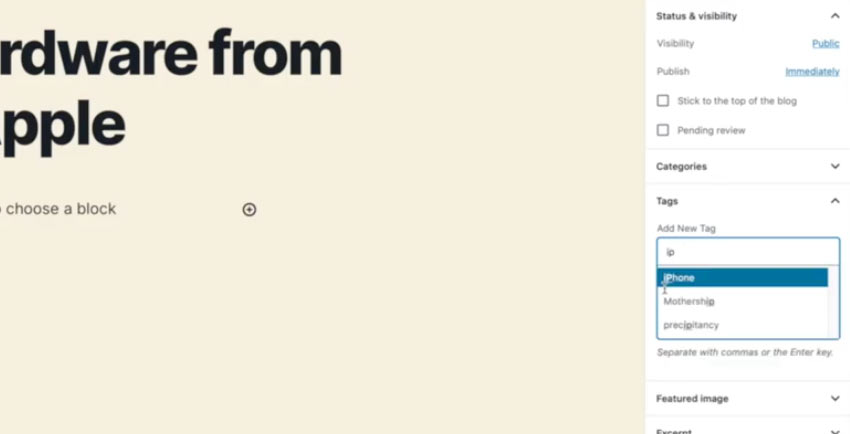 You can also add new tags directly in this field. Enter the tag you want, and if it isn't already available just hit enter and it will be added!
Depending on your chosen theme, the tags you attach may be displayed on the post on the front end. If so, you'll be able to click those tags to be shown an archive of posts with the same tag.
How to Edit or Delete a Tag in WordPress
If you want to edit a tag, or delete it (for the sake of housekeeping) you can also do that by going to posts > tags. There, you'll see a list of all the tags currently entered in your WordPress website, their slugs, descriptions, and also a count of how many posts they're used on.
Find the tag in question, then click on it to edit, or delete by clicking the delete link.
That's a Summary of Tags in WordPress!
I hope this quick WordPress tutorial has answered some of your questions about tags and given you a good start in understanding them. For more beginners tutorials on WordPress, check out the resources listed below: