Do you want to offer your website content in more than one language and reach a wider customer base, including international customers?
The best way to offer a personalized and localized customer experience is through users' native language. You can reach audiences in languages they speak, even if you do not know a single word of their language.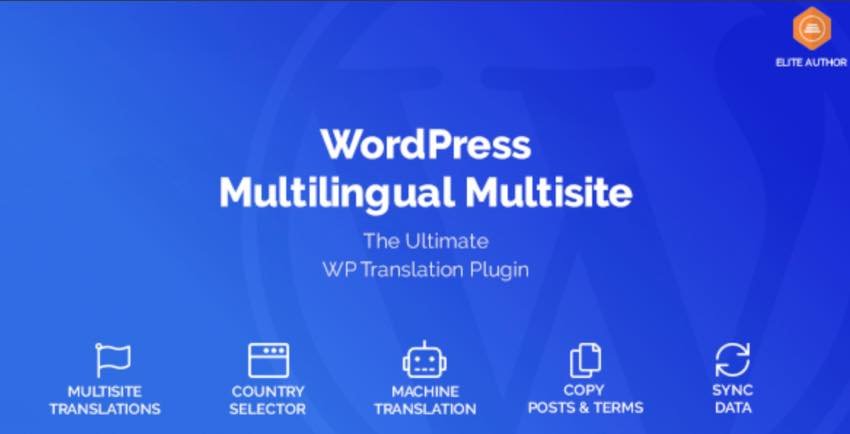 The benefits of having a multilingual website are many:
high user satisfaction rates

increased customer loyalty

high customer retention rates

worldwide customer base

increased traffic

increased sales and profits
But WordPress does not come with built-in multilingual support. This is where multilingual plugins come in: to help you translate your website into any language.
In this post, we'll look at two WordPress multilingual plugins that have very high sales on CodeCanyon.
Best WordPress Multilingual Plugins
We'll start with the WordPress Multilingual Multisite plugin, which is made specifically for WordPress Multisites.
A Brief Look At WordPress Multisite
Let's say your website is in English. Let's call it your master website. And you want to reach out to customers of different languages in different countries. You will have to translate the master website so that customers visiting from other countries can read content in their native languages.
Once the file has been translated into a particular language, it needs to be hosted on a website where speakers of that language can read it. So imagine 100 languages, 100 websites. WordPress Multisite works perfectly here.
Why? You will have to create and manage a network of websites for each language and country. Customers of each language and country are redirected to these country- and language-based subsites within the multisite network.
WordPress Multisite will let you manage this network of websites from a single WordPress admin panel and easily copy and translate content between them. It allows you to create and manage a network of multiple language websites from the same WordPress dashboard.
The two articles below will explain WordPress Multisite in detail and instruct you on how to set up your multisite website: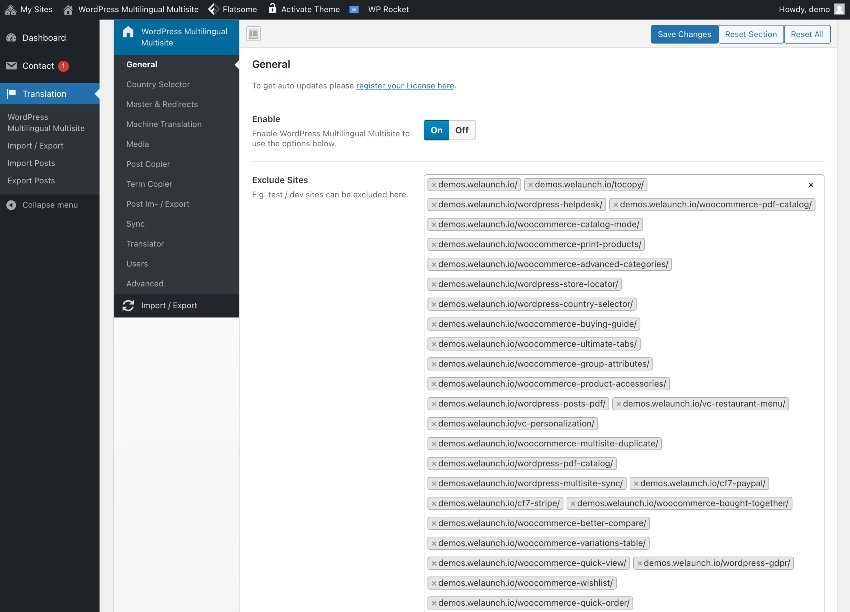 From one master file written in your main language, in this case English, you can translate your content into hundreds of languages. You will need a plugin to do that.
This is where WordPress Multilingual Multisite comes in: to remove the headaches of translating your WordPress website. This easy-to-use plugin is based on WordPress core multisite, making it really fast. It is perfect for your high-performing multisite website.
WordPress Multilingual Multisite has a lot of great features. Let's have a look!
Unlimited Languages and Countries
The plugin allows you to translate your content into hundreds of languages, and visitors just need to select their country and read content in their language.
Automatic Translation
You don't need to do the translation manually. To help you translate your content smoothly, the plugin uses automatic or machine translation services like Google Translate, Microsoft Translator, or DeepL. The plugin saves all machine translation files in the database of the subsite, so you don't have to translate the same page again and again.
Automatic Language Redirection
The plugin has a built-in automatic redirect function to redirect users to their correct language. You can enable this in the plugin settings.
Assign Translators
Here is where you manage the translators for your website. When you want your posts translated into particular languages, you can create new translators, assign them roles, and assign them posts to be translated. Submitted translations appear as pending, so you can review them before publishing.
Synchronize Data
There is no need to manually synchronize data. The plugin has built-in functionality to synchronize connected posts, including custom post types, custom post meta fields, terms, and more. It can also create posts.
Copy Posts
With a single click, you can copy posts or terms from one language to another. You can also copy posts from one site to another. The copied costs are automatically assigned as translation items to the source post.
Copy Blog
You can use the plugin to copy a whole blog—for example the English version of the blog—including content and images, and then automatically connect all posts from the source to the destination blog.
Export/Import
For posts that are to be translated externally, you can import or export them via JSON.
One Media Library
Media for all your network can be stored in one database so that all you need to do is enable syncing in order to upload files to subsites instead of individually for each site.
WooCommerce Integration
The plugin fully supports WooCommerce. It allows you to translate products, product categories, attributes, terms, and so much more. You can also set different payment options on your subsites.
Finally, this easy-to-use plugin comes with very detailed documentation.
How to Use the WordPress Multilingual Multisite Plugin
Installation
Download the WordPress Multilingual Multisite plugin from CodeCanyon. Activate it on your WordPress admin in order to use it. When it's set up correctly, you will see a new menu called Translation inside your multisite network.
This plugin is for WordPress Multisite networks, so if you don't see Translation, then it's possible you don't have a multisite WordPress installation.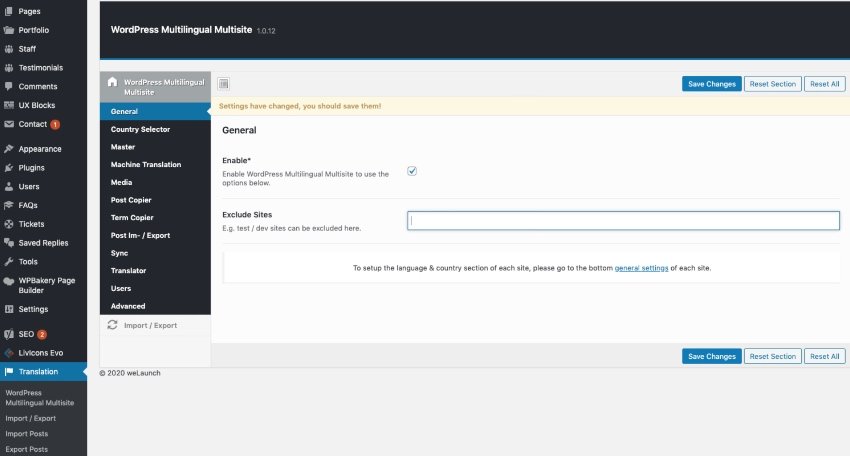 In the general settings, you can:
enable or disable the plugin

set up the site language and country

exclude sites that you don't want to appear in the country selector
Country Selector
Use this setting to specify how the country and dropdown list should appear in your menu. There are also shortcodes you can use to embed the country selector anywhere else on your site.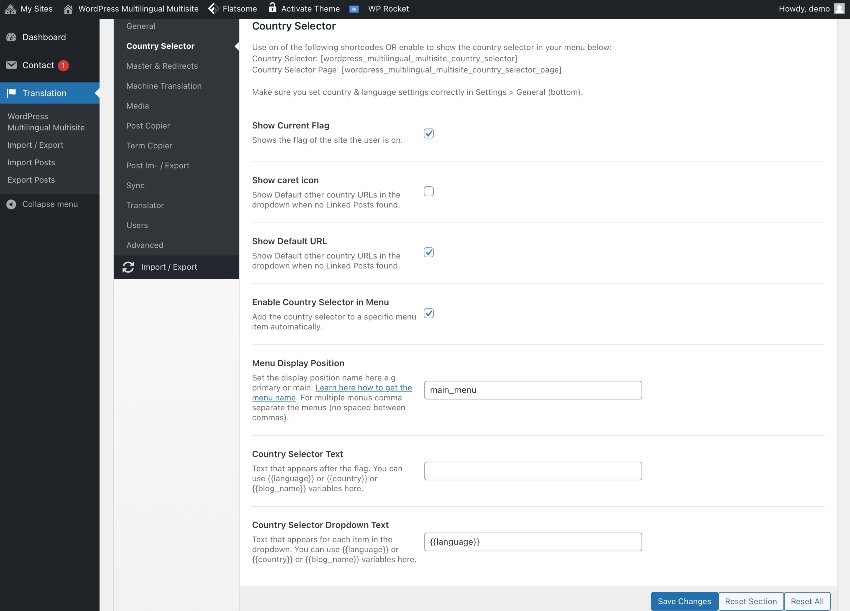 Master and Redirect
Set up your master site which is the main URL—for example, example.com.
Then specify your subsites which are language-specific, such as:
example.com/en

example.com/jp
Whenever you make changes on your master site, you can then spread them to your subsites.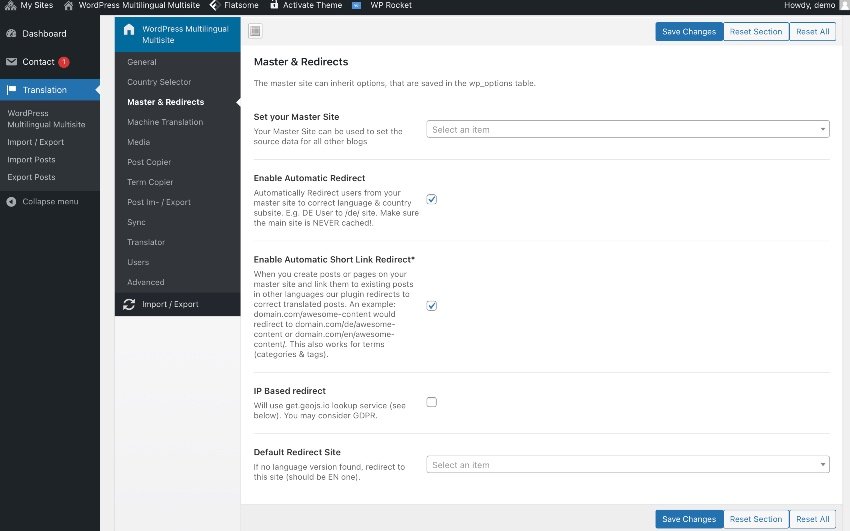 Machine Translation
With translation services like Google, DeepL, or Microsoft Translator, you can automatically translate posts individually or in bulk. But you can't do that without API keys.
You can enter your API keys in this settings pane. You can also configure the post, term data, and meta keys you want to translate automatically.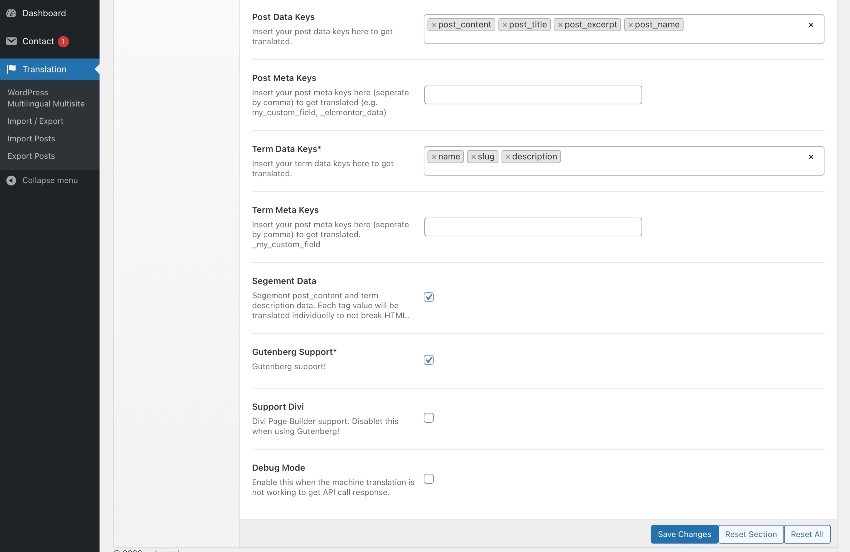 Media
Enable this feature and have one media database for all your subsites.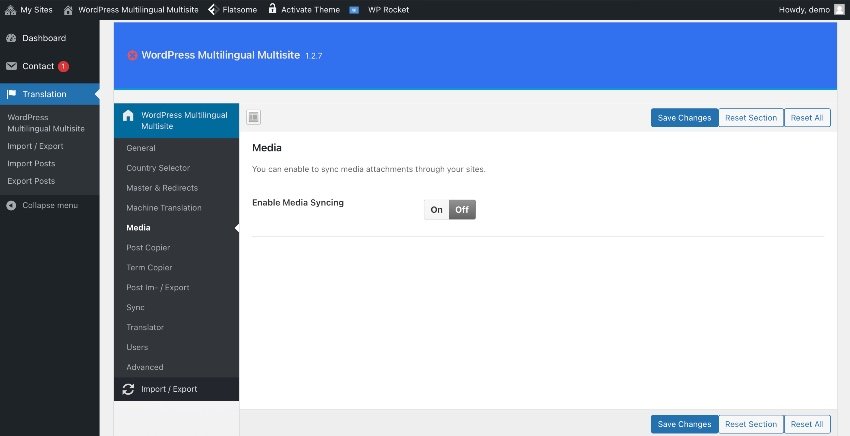 Copy Post and Terms
Copying is simple. Click on a flag in the admin panel where there is a plus icon, and the plugin then copies posts, terms, and data.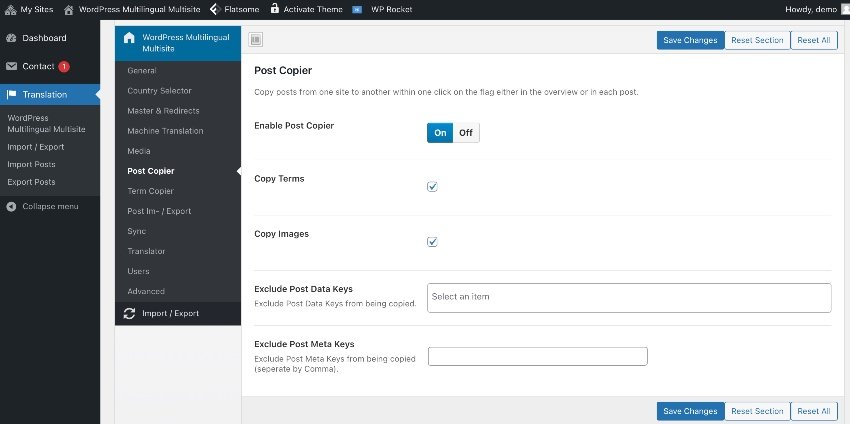 Post Import/Export
Working with external translators is easy. Export data as JSON or XML and reimport it after it's translated. In short, you can import and export translations on this page.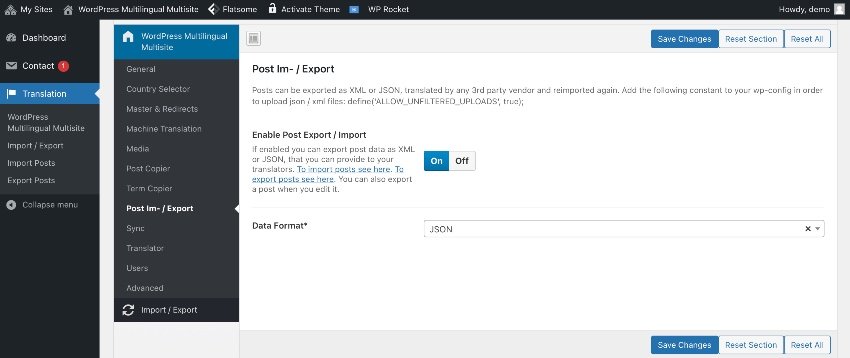 Synchronize Data
Enabling this feature allows you to update post data across all multisites. Enabling page sync allows data to update on all subsites, and you can set it to update only from the master site. You can also use this feature to update WooCommerce products, posts, and more.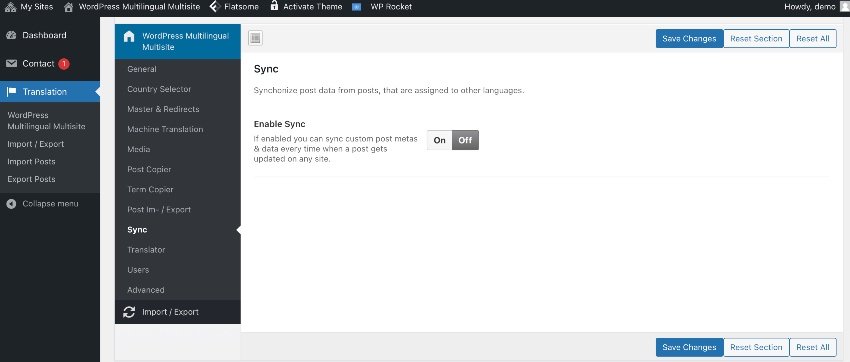 Translator User Role
If you want to assign translations for specific posts, you'll have to create a "translator" user role. The translator will be notified by email when there is a post to be translated. When the translation is finished, the status is set to "revision" so the admin can check it before publishing.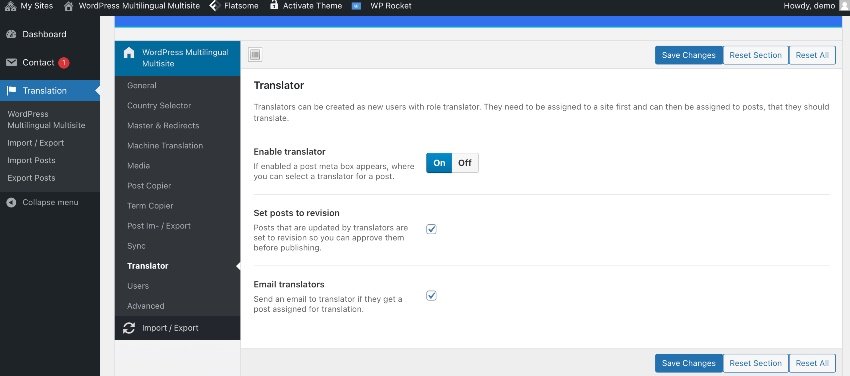 User Sync
This setting synchronizes new users across the multisites.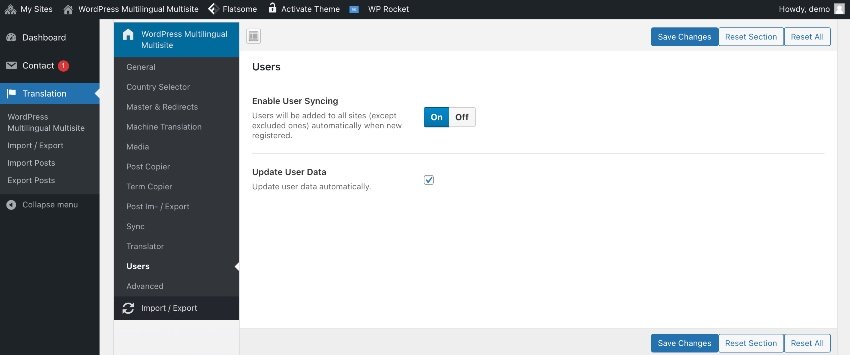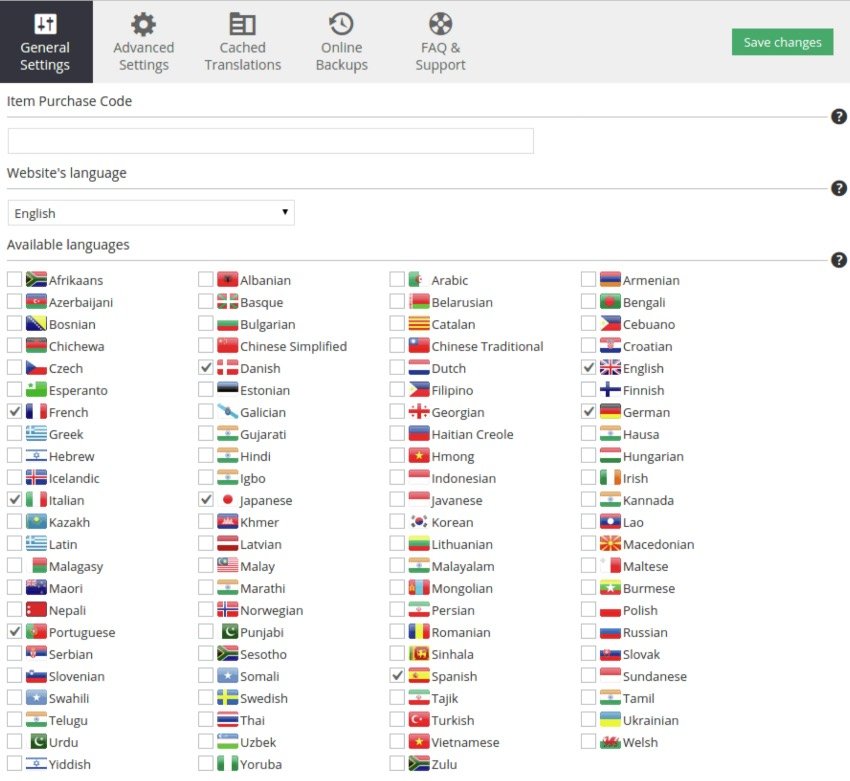 As far as translator plugins go, Ajax Translator Revolution WordPress Plugin is hands down one of the best in the market.
Not only is it affordable, but it's also easy to install, very simple to use, and it has a whopping 87 customization settings.
Some of the main features of this awesome WordPress translation plugin include:
Over 100 Languages
The supports more than 100 languages, so you can reach audiences on all continents.
The translation interface is located at the top of the website, but you can position it wherever you want on your website.
You can show languages in these formats:
flags and names

names

flags
Easy to Install and Set Up
Since your website content comes from different sources, you can translate any content you want, including:
pages, posts, categories, and tags

carousels, galleries, sliders, and portfolios

themes and plugins

popups, tables, and forms
Select What to Translate
You can select what to translate or even exclude parts of the webpage.
Edit Translation
If you are not satisfied with how some phrases sound, you can edit the translations and give them an even more localized flavor.
Tutorial on the Ajax Translator Revolution Plugin
If you want to know how to use this plugin to translate your website, then you're in luck.
With this step-by-step tutorial, you can use the Ajax Translator Revolution plugin to automatically turn your website into a multilingual website:
And finally, you can check out this demo:
Free WordPress Multilingual Plugins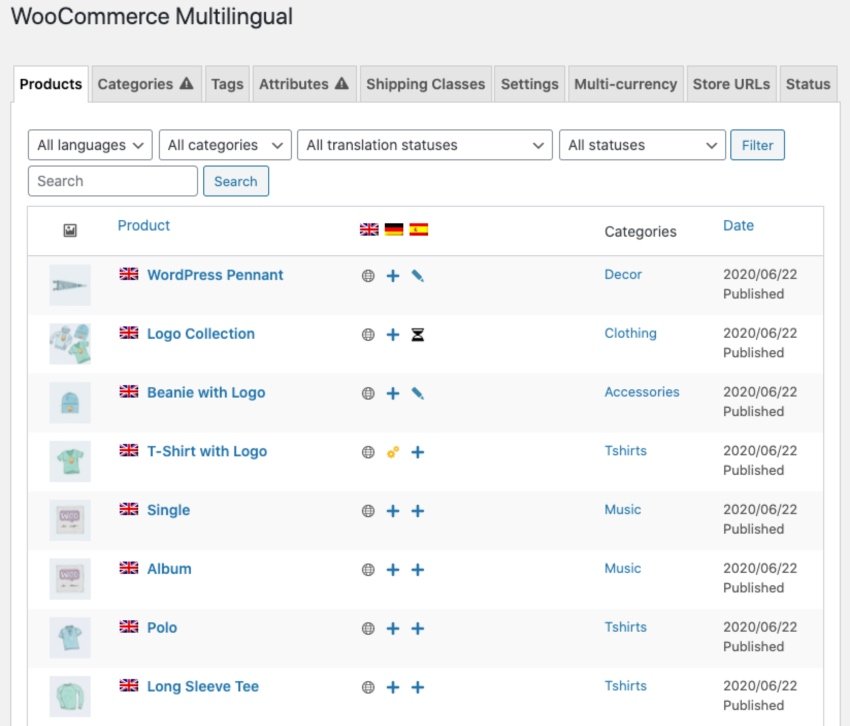 This plugin links together WooCommerce and WPML so you can run a fully multilingual eCommerce website. You can translate all WooCommerce products, categories, and attributes. It keeps the same language during checkout, sends clients and admin emails in their languages, and more. The plugin is compatible with WooCommerce extensions like WooCommerce Bookings and WooCommerce Table Rate Shipping.
This plugin is the glue that makes it easy to build multilingual BuddyPress and BuddyBoss websites with WPML. It's perfect for WordPress multisite or a single site. Guest bloggers can select their own language and also create multilingual content. Each guest chooses their own admin language.
Conclusion
The best user experience you can offer is making your website available in many languages. I hope the WordPress multilingual plugins covered in this article will help you reach out to customers from other parts of the world.
On Envato Tuts+, you will find many tutorials to help you build a multilingual website. Here are some we've selected for you: