If you manage projects, you know the value of strong project management. Project management is the art and science of steering work from start to finish efficiently. You can use project management PowerPoint slides to guide the process.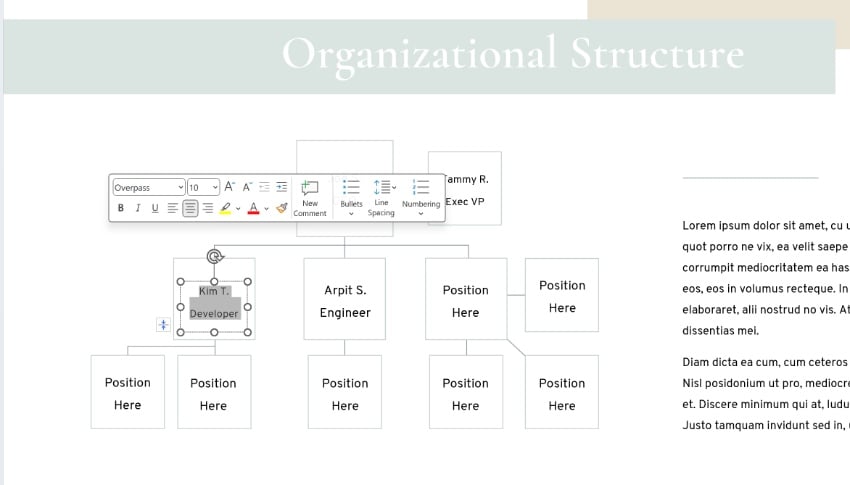 With project management, you'll set goals, develop expectations, and form a team. Then, you'll collaborate to track progress and march towards a successful conclusion. And the best tool to use for project management software might be one you already know – Microsoft PowerPoint!
In this tutorial, you'll learn how to build a project management presentation using Microsoft PowerPoint. We'll work with a template and craft project management slides in moments. This will be a key part of your project toolbox. As you work, think of ways to apply these ideas to present a project of your own. 
Why Use PowerPoint for Project Management?
Project management is an essential part of business. Just as important are the tools you use for it. Project management software like PowerPoint is a leading example. By building a project presentation, you'll work together with a team to succeed in a project.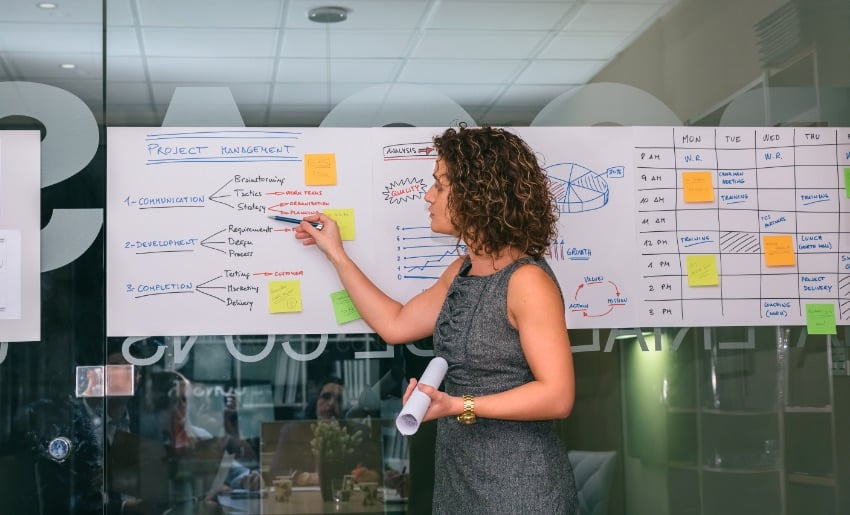 Why should you build a project management PowerPoint? The advantages are many. We already defined the idea of project management. It's the task of planning tasks to achieve a goal and tracking them in real time. What better way to do that than with a visual, collaborative app like PowerPoint?
Consider these key advantages for using PowerPoint projections for your projects:
Stakeholder communication.

Project management slides are shareable across the world. That makes it easy to connect with all interested parties.

Visual tracking.

Powerful visuals like charts and tables help you illustrate tough project concepts. Doing in a clear, easy-to-follow way is easy in PowerPoint, and it helps you keep others engaged. 

Collaboration.

PowerPoint is built for working together. You and your team can collaborate on slides in real time.

Documentation.

Project plan slide designs serve as useful documentation during and after any project. 
As you can see, Microsoft PowerPoint is your best friend as you present a project. Let's dive in and learn how to build project management slides.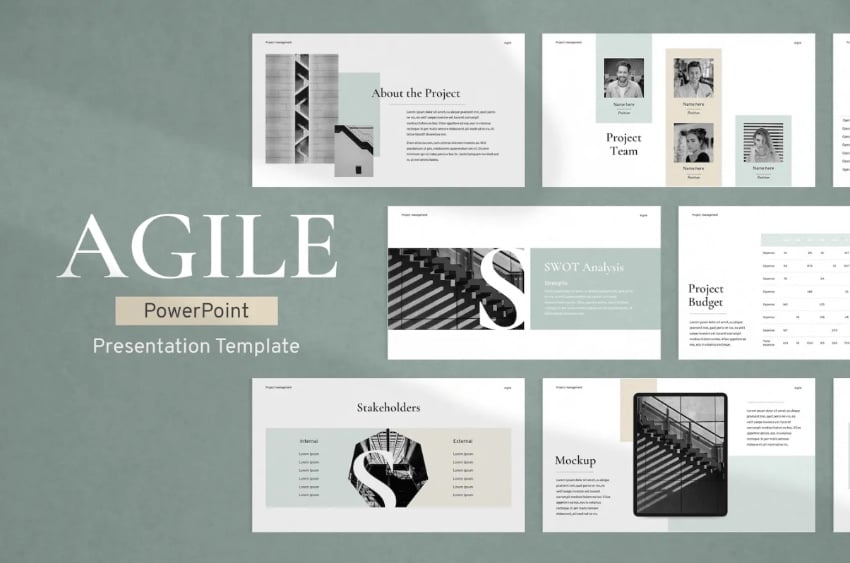 The best way to begin is with a premium project management PowerPoint template from Envato Elements. Here, we'll use the beautiful and versatile Project Management template design. Download it today to follow along.
How to Build Project Overview Slide Designs Quickly (Step by Step)
With the template open, let's get to work. We'll work through several slide design ideas with new ways to present a project. But keep this in mind. Premium project management slides like these have dozens of layouts inside.
The key is to choose a few that best fit your project needs. We'll look at several layouts that you should plan to include in your next project presentation. 
1. Introduce the Project with a Project Plan Slide
PowerPoint is powerful project management software! You can use it to build an array of project management slides on any topic. 
The first step is to introduce your project with a project plan slide. Slide #2 in our template is a great choice for this. As you can see below, it's an About the Project intro slide.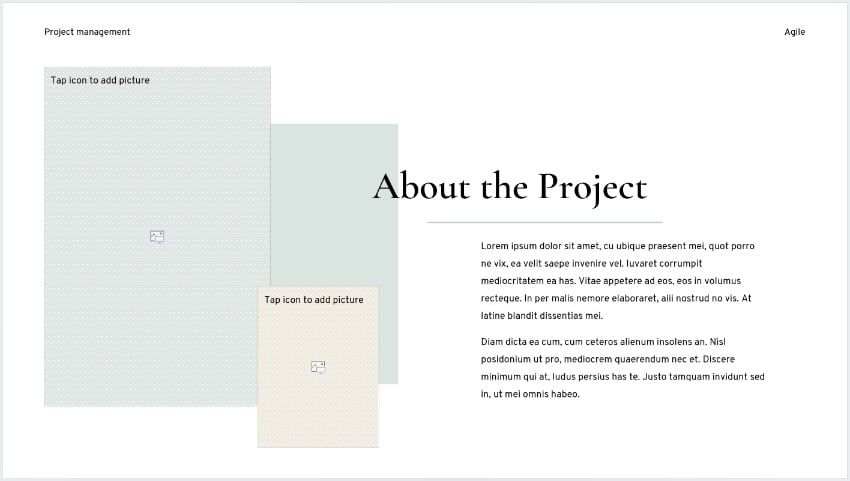 The text you see is merely a placeholder. All you'll have to do is swap out this text for your own words. To get started, click into one of the text boxes and select the contents inside. Then, start typing! Fill in your own details.
To present a project well, a strong start is key. Don't be too wordy here – the details, after all, come later. But be sure to add an eye-catching title. Then, briefly describe what you'll be doing in the explanatory paragraph below.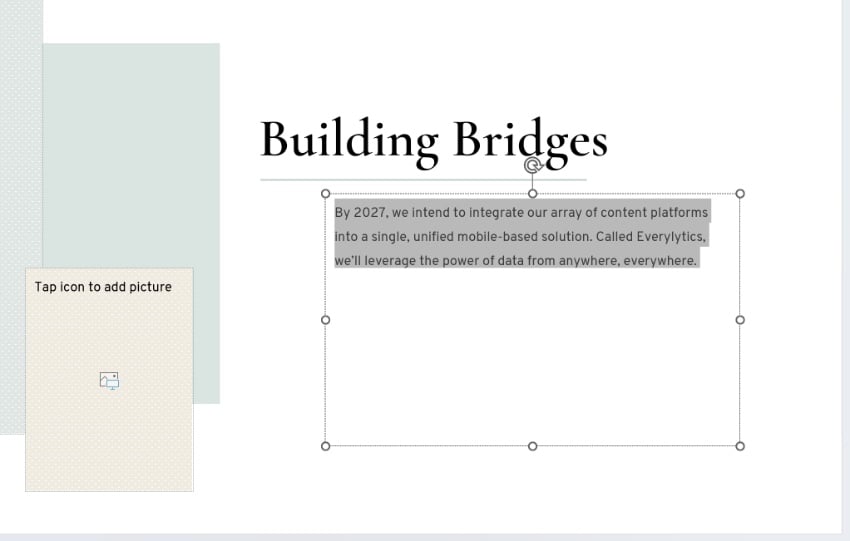 Finally, you might want to add an image. Photos in project management slides are very important. After all, they often are worth a thousand words! To add an image, find the placeholders on the left side of the slide.
Then, browse to an image stored on your computer. Click on it, then drag and drop it onto one of the placeholders.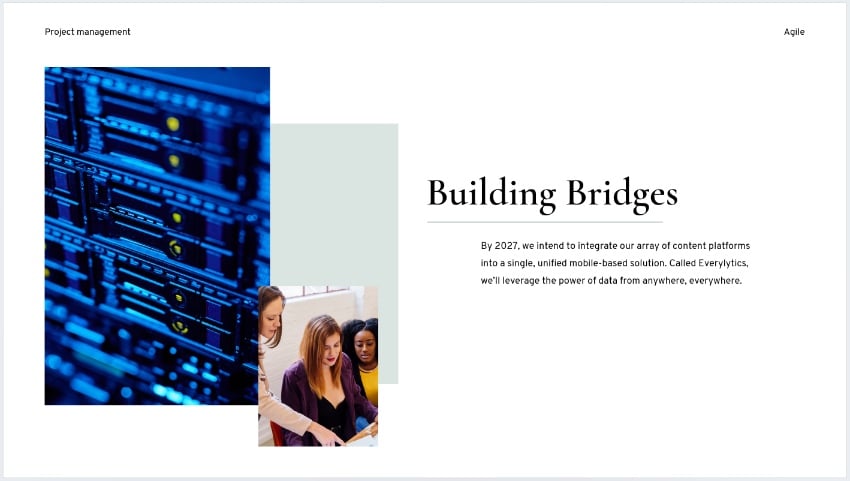 The image will appear, sized, and scaled to fit perfectly! You can repeat this across your project plan slide to add these all-important visual aids. 
2. The Methodology Slide: Your Charter and Goals
Slide #3 is the place to dive deeper into your project. Think of it as a methodology slide. Here, you'll specifically state what you want to do. And you'll map out specific goals to accomplish it.
With a layout broken into sections, it's easy to outline these key ideas. Be specific, but brief. Projects that become too complex risk going adrift with confused, varying expectations. Set specific metrics, keeping them to a small handful. Once again, you can easily drop them in by selecting the text boxes and adding in your own details.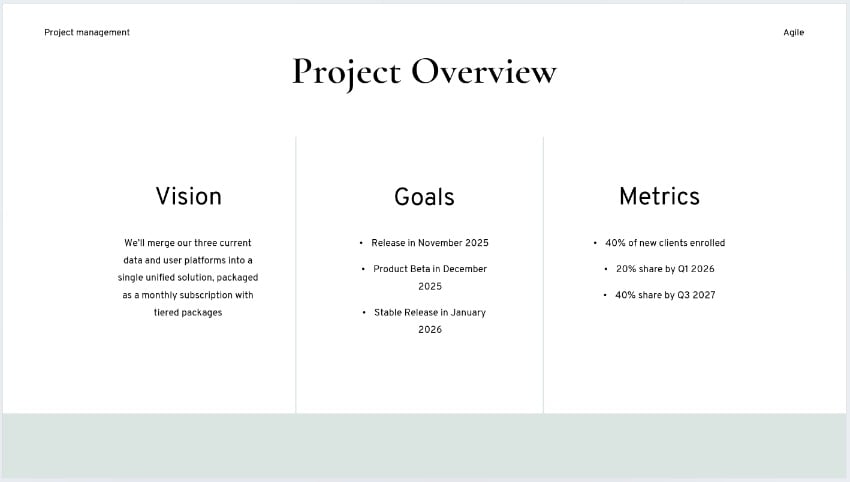 When you're finished, your project overview slide clearly informs your audience of your project scope and goals.  
3. The Magic Behind a Project Presentation: Introducing the Team
Projects are only as good as the team behind them. And your project presentation should acknowledge this. Early in your deck, be sure to introduce your key team members.
Also, make sure to always list their titles or main role in the project. After all, without context, a list of names doesn't mean much by itself.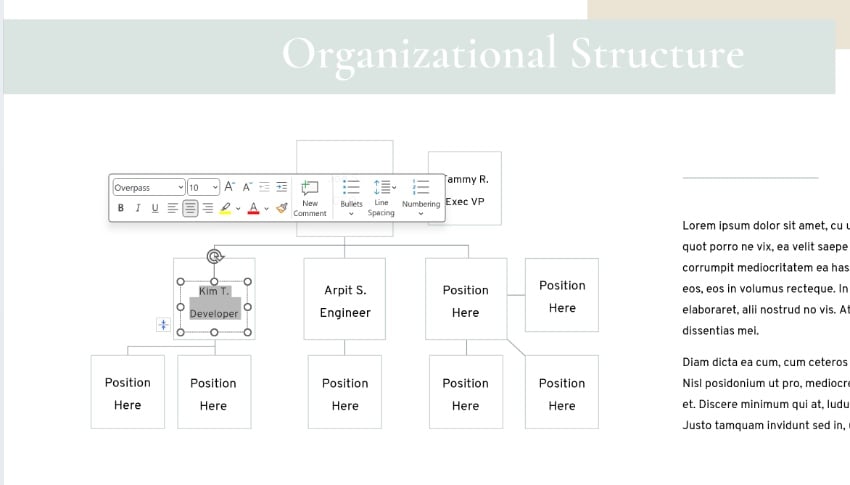 In our template, slide #5 has a handy organizational chart built in. As you can see, it's easy to add your own team to the slide. When you do, audiences will instantly grasp the structure of your organization. They'll understand who is involved in the project, and the roles each person plays. 
4. Staying on Track: Project Management Slides for Timelines
Successful projects have a defined timeline. These timelines help you track milestones and stay on pace to complete projects by a set date. But it's often challenging to map these out on a project overview slide.
Fortunately, premium templates like this include robust methodology slide layouts like Gantt charts. With a Gantt chart, you can precisely illustrate tasks in each project. You can show off dependencies, and easily sequence tasks in logical order.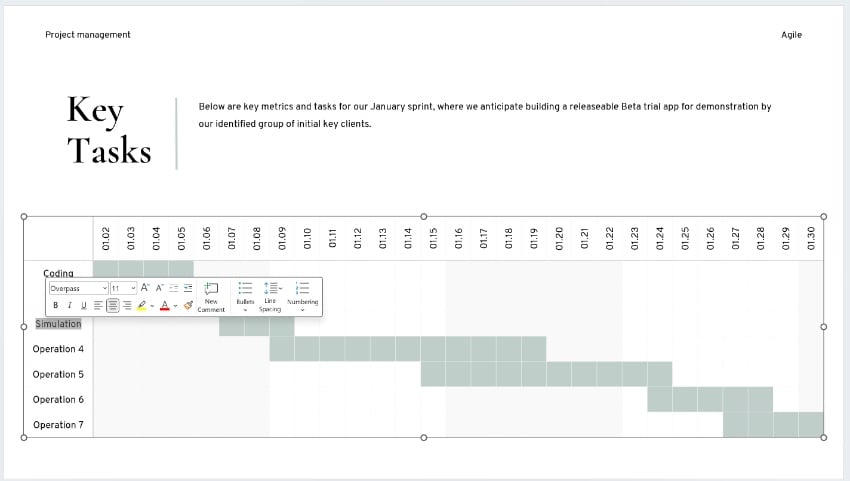 You'll find this feature on slide #15. As you can see, slides like this can't be left out of a good project management PowerPoint. At a glance, readers can see the tasks needed to complete the project. They'll know the key part they play and be able to intuitively grasp if a project is correctly on track. 
5. SWOT Analysis: Mapping the Landscape in a Project Presentation
A SWOT analysis is a hugely valuable asset in any project plan slide deck. SWOT is an acronym for Strengths, Weaknesses, Opportunities, and Threats. By examining each of these four aspects, it shows how your project fits into its competitive landscape.
A SWOT is vital in project management because it helps measure your chances for success. It also provides a clear picture of positive and negative externalities that impact the project. It's an essential first step in PowerPoint projection slides. By clearly understanding your environment, you're poised to succeed within it.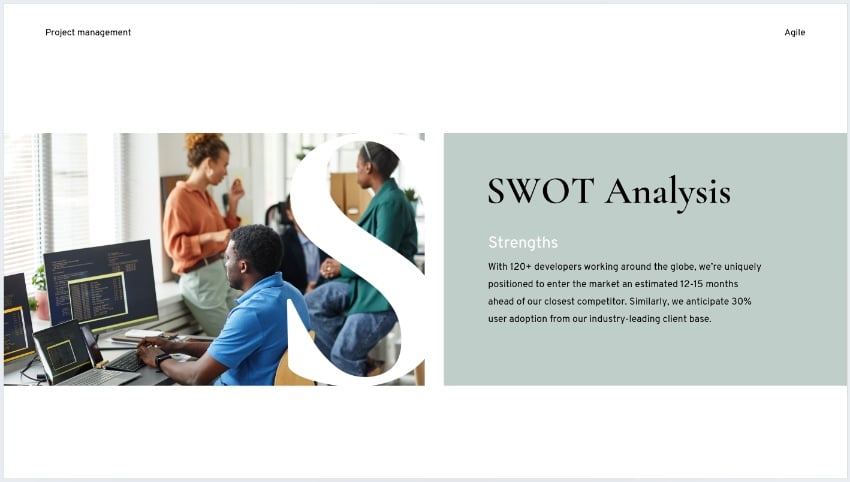 This template has several SWOT slides, like the one shown above. Perform these PowerPoint projection steps and map out your findings. Be prepared to engage with your audience, and brainstorm in real time. Building a SWOT analysis is an excellent way to develop stronger and more robust project goals to guide your future success. 
6. Engagement: Gathering Feedback
Any successful project presentation answers many questions during its course. But as you present a project, engagement is imperative.
No matter how strong your slide deck is, you must always collect feedback from your audience. Often, this comes in the form of questions at the end of your presentation.
Always offer time for questions and answers. That way, you can ensure that your core project presentation message is understood. You can provide clarity as you present. By engaging, you'll develop stronger ideas and tactics to successfully execute your project.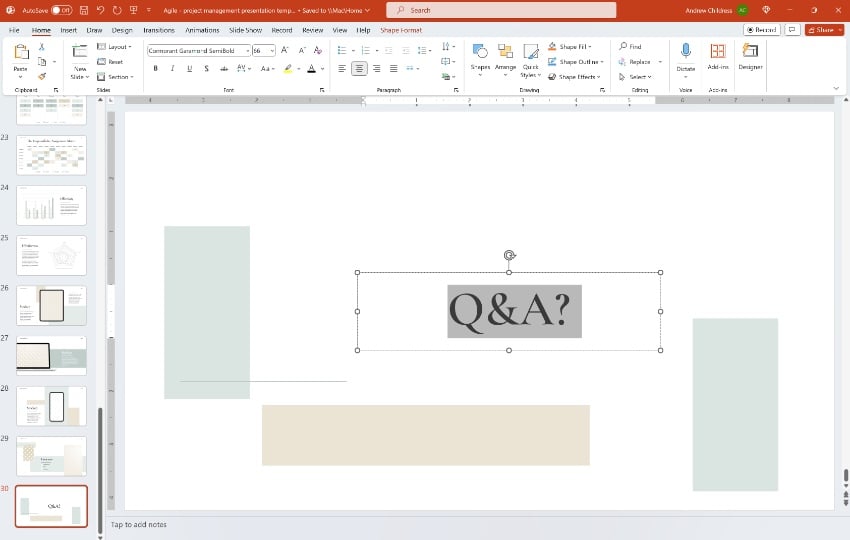 A slide like this should always go at the end of your project management PowerPoint. Think of it as a Q&A time with your audience. Transition from a narrative delivery to conversation. This way, you'll truly engage project stakeholders and inspire them to join your journey. 
7. Collaboration: Working Together to Present a Project
You've just learned several key ways to present a project in PowerPoint! But here's a final tip that you can bring to your own work. Don't build project management presentation slides all by yourself!
After all, you're working as part of a team. Enlist this team to help you craft even better project management slides. This way, you'll leverage the very best that your group has to offer. Your slides – and your project – will surely benefit.
Fortunately, PowerPoint makes it very easy to collaborate as a global team. You don't have to be physically present to contribute and work together in real time! As you build project overview slide designs, these features are your best friend. It's a sure way to steer any project towards success.
The Best Source for the Top Project Management PowerPoint Templates (With Unlimited Downloads)
You've seen the value of sleek project plan slide designs. The best place to find these is Envato Elements. With thousands of PowerPoint themes to choose from, finding the perfect project management slides is a breeze.
The Elements offer is powerful. For a flat monthly rate, you'll enjoy unlimited downloads of the full library of content. Along with PowerPoint slides, there are millions of stock photos, fonts, music, and more. All are included in the unlimited offer.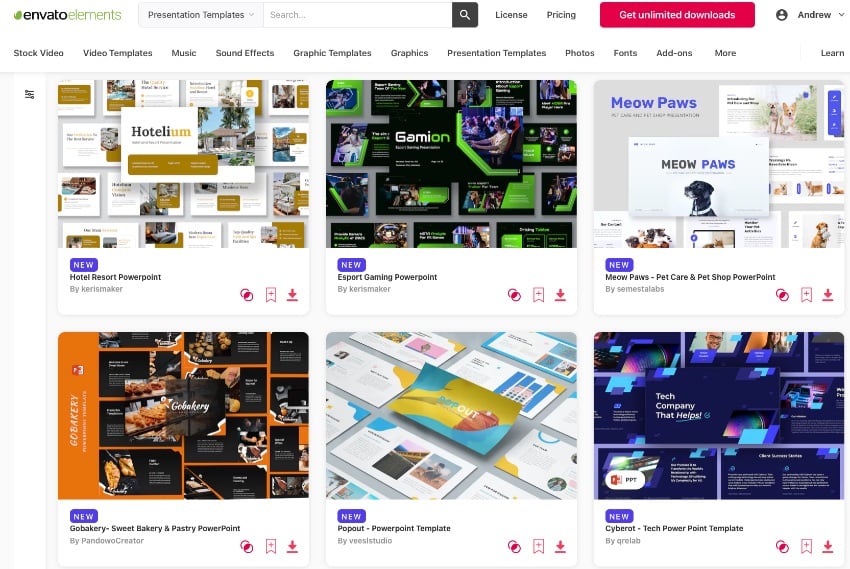 When you manage a project, don't trust free project overview slide designs you might find online. Your project deserves the best, and the best it will get from Envato Elements. Embrace premium project management presentation designs and enjoy:
Sleek project plan slide designs.

You won't waste time building slide layouts from scratch. Premium Elements templates are hand-crafted by designers with your needs in mind.

Easy-to-use layouts.

Not a PowerPoint expert? Or just pressed for time? Elements project methodology slide templates have you covered. Each one is easy to use, with helpful tutorial guides often included.

Inspiring slide decks.

Any project overview slide should be clear, concise, and to the point. Premium layouts help you with this. You can simply drop your own content into place.
As you can see, Envato Elements is the ultimate value for project management slides (and more) in 2023! Join today and explore the vast library. 
Build Project Management PowerPoint Slides Today!
You've seen the value of making a project management presentation in PowerPoint. When you use PowerPoint for a project plan slide, you'll create deliverable reports that are clear and easy to understand. You can instantly highlight key details and share with project stakeholders.
A PowerPoint projection slide for projects also helps you stay on track. Think of project overview slide layouts as a way to document progress. You can set and track milestones and share this progress with your team and other stakeholders.
You can't afford to miss out in 2023 and beyond. Use PowerPoint to build a project management presentation of your own today!