Being a successful web designer does not only require creativity and a keen eye for aesthetics. The keys to turning your ideas into a reality are practice and skill. The easiest way to achieve them is by digging around through hundreds of online tutorials and for every hour you waste you'll get one minute of precious information that will help you get better at what you do. In order to help you out, we've compiled a list of five helpful design tutorials that will let you get the hang of a few new things and step up your game.
Beginner's Guide to Responsive Web Design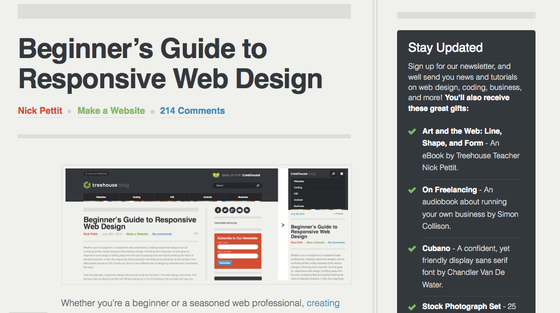 It's no longer news that users browse through sites as frequently from their laptops as they do from their tablets and smart phones. This is why it's essential for your site to work on all mobile platforms. It's never fun when pictures and text look disproportionate on your phone and you have to struggle in order to find the information you need. Here's a useful responsive design tutorial that will walk you through the steps of the process that may be a little different than what you're already used to.
How to Create Flat Style Breadcrumb Links in CSS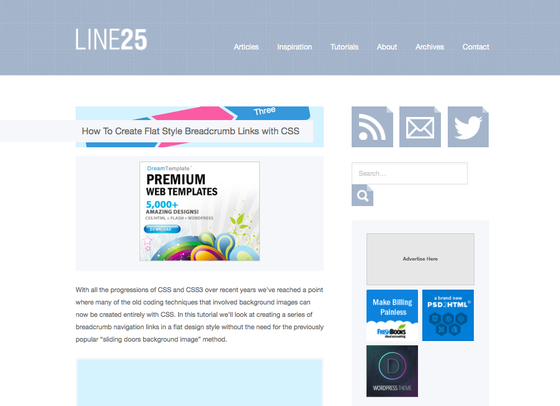 The reason why flat design is getting more and more attention is because websites that use it can load faster, resize easier, and still look sharp on high-definition screens. Following this easy tutorial you'll be able to use flat design for graphics, logos or even your entire website. Take a look at the details at Line 25.
How to Make an HTML5 iPhone App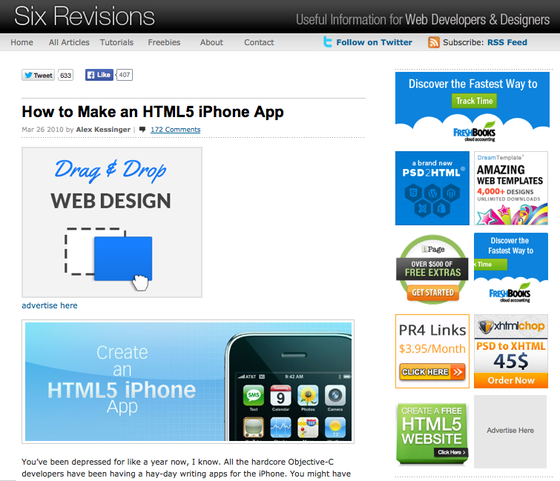 There's a bunch of iPhone apps out there, but I'm pretty sure you have an idea for a unique app that hasn't been created yet. If you were wondering how to get started with putting your idea into practice, then this HTML5 app tutorial is perfect for you. After a careful reading and some practice you'll be ready to create the new Angry Birds.
Thumbnail Hover Effects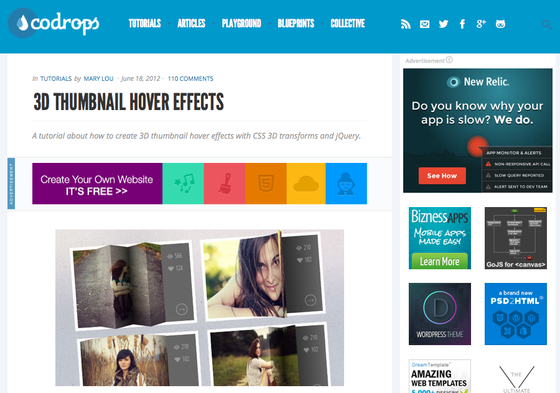 We all like hovering effects. They add personality and a fun factor to a simple website, clients love them and they're a nice touch for any plain page. Creating graphics that show on mouse hovering or creating a folded page effect is only a tutorial away. You can follow the steps at Tympanus, which even features a demo and the option to download the source.
A Backwards Compatible HTML5 Portfolio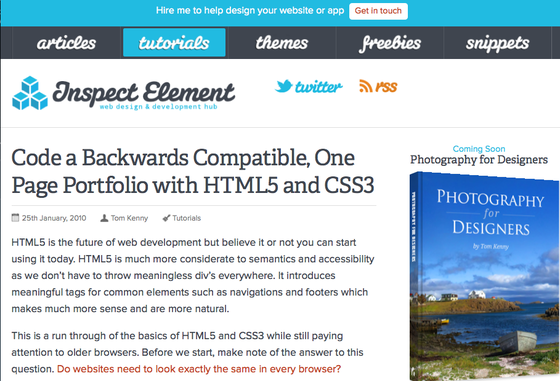 Showcasing your work portfolio, your work history and your skills is becoming more and more important when applying for a job or a project. It's a unique way to make a presentation. HTML5 is the future of web development and using it yourself is not impossible. If you need or want to learn to make a backwards compatible HTML5 portfolio, head over to InspectElement. You can watch the demo and also download the files.
Web design is growing and developing at lightning speed, so as a web designer it's important to always keep in time with the changes, embrace the new tools and features and incorporate them in your work so you can really stand out from the web designer crowd. Online tutorials are useful and on point, free, and you can read them as many times as you want. All you need is patience and your skills will improve considerably.