As a web developer or designer nowadays can be both stressful and rewarding. Rewarding because your services are some of the most sought after ones in the current market and stressed because the expectations of your clients seem to increase with each passing day. It's clear that we no longer need plain, functional websites, but interactive, memorable designs. This is why we've compiled a list of 20 of the best tools and services available to help make your job a lot easier.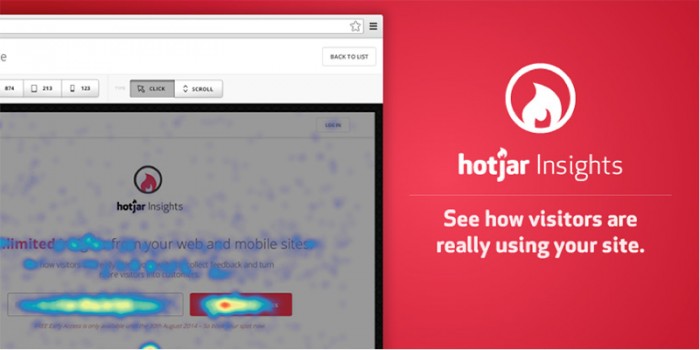 It's essential for all developers and designers to know how users are really using their websites. By careful analysis of this information, you will be able to offer your client useful data and help them improve their UX and conversion rate. And HotJar is just the tool to help you accomplish all of this. HotJar is a platform that offers you tools to gather all the information you could possibly require in order to get a complete picture of the way users interact with your website. Unlike its competitors, HotJar offers all its features within a unified dashboard so you'll be able to review the collected data in one place as opposed to flitting from one screen to another in order to have a good grasp on what's happening.
As far as what the features offered, HotJar offers you: feedback and exit polls that can help you get first hand information about how user-friendly your website is, online surveys so as to be in tune with what your visitors require, heat maps that show you the areas of interest within your website, funnel and form analysis so that you'll know what pages or sections prove to be the least interesting to users, full visitor session playback and much more.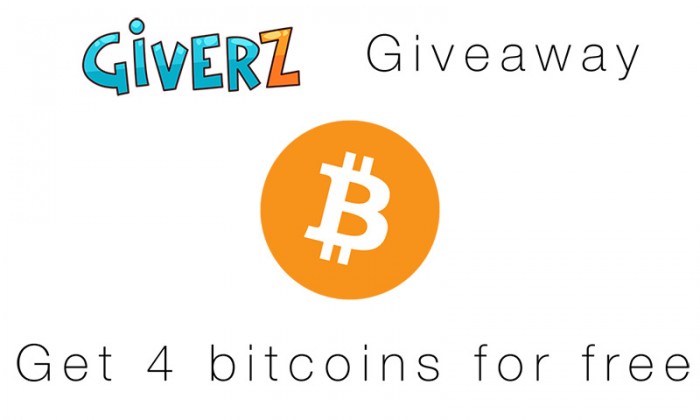 Giverz is currently hosting a giveaway from which you can get up to 4 bitcoins. Do you need to know more or are you already typing in their name in your search engine? Well, if you do, here's what Giverz is all about: they are a team dedicated to gathering all the best giveaways available on the Internet and offering them up for grabs to their emailing list. How it works is that you go over to their website, subscribe to the mailing list and join in on the fun. In no time, you will hear about one of their amazing campaigns (be sure to follow them on Twitter and Facebook in order to always be up to date) and the countdown begins. As soon as the timer hits 0 the entire emailing list will receive an email with a link letting them know the giveaway is up for grabs. The fastest ones to click on the link will be the lucky winners, so time is of the essence. What are you waiting for?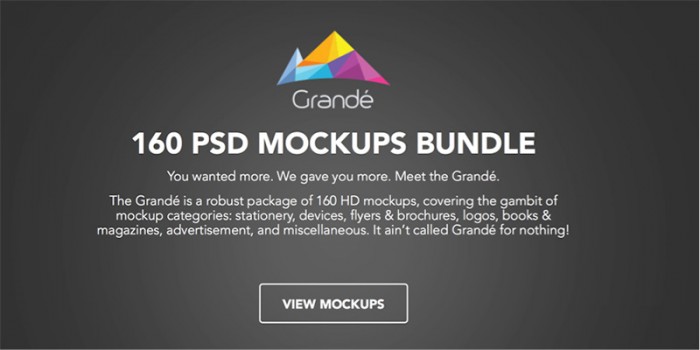 ZippyPixels is a platform that aims to supply developers and designers with some of the best products available at very reasonable prices. The whole idea started of after the team over at ZippyPixels (who are experienced web developers and designers as well), searched the Internet for a place where they could get the resources they needed without having to pay an arm and a leg. They found none. So the decided to create their own service and keep in close touch with the community they aimed to help. This is how bundles like Grandé came to life. The community asked for a comprehensive bundle that will supply their every need and ZippyPixels was more than happy to oblige. The Grandé bundle offers 160 HD mockups that cover categories such as:
Logos
Books
Flyers and advertisements
Device
Magazines
Stationery and more
Go over to ZippyPixels and take a look at just how awesome these mockups look and start thinking about all the cool ways in which you could use them.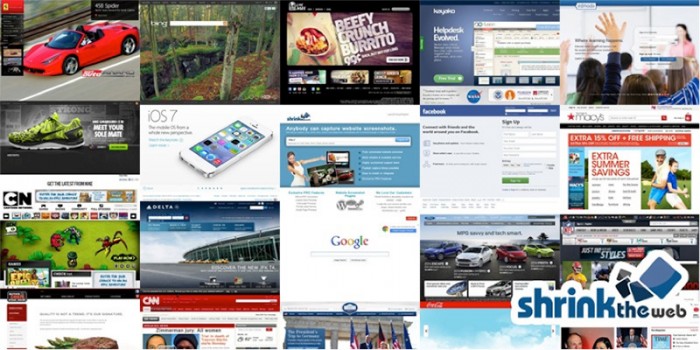 ShrinkTheWeb is the tool that all mobile and web developers have been looking for. By using ShrinkTheWeb, they will be able to turn the process of taking screenshots and including them into their websites from a pain into a breeze. This tool has an automated screenshot system that is capable of scaling the pictures to any need, not to mention a speed of capture and delivery that is unmatched across the Internet. All you have to do is write a singe line of code or use an existing plugin and ShrinkTheWeb will set off to do all the hard work. In addition to its screenshot features, ShrinkTheWeb also offers URL to PDF Conversion, Custom Size Previews and Private Label Service that will help you make your website stand out from the crowd. ShrinkTheWeb is not only a free service, it also offers unparalleled tech support in case you need assistance.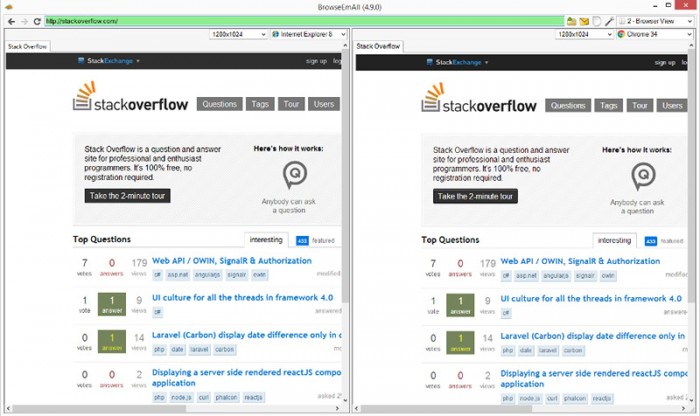 Writing code that ensures your website is compatible cross browser is a best practice, but it's not always the way things go. This is why BrowseEmAll is a tool that will make web developer and designer's lives all the much easier. By using BrowseEmAll, you will no longer have to test out your website on a variety of browsers, the analysis is done automatically. This tool offers you the possibility to view your website in multiple browsers at the same time and track down compatibility issues faster and easier. Also, BrowseEmAll offers a wide range of mobile simulators that will not only help with the responsive aspect of your website, but they will also help you optimize your website for mobile access. What's more, you will be able to test your HTML and raw files directly within BrowseEmAll, so you won't have to upload them to a server beforehand. In conclusion, by using BrowseEmAll you will be able to ensure that your websites will look good on any browser or device.

Paddle.com is an eCommerce platform made especially for digital content creators. It has been created with the intention of taking away the boring aspects of eCommerce like payments, file hosting & delivery, taxes and chargebacks to let sellers focus on what they're really enjoy: creating products.
An analytics dashboard complete with sales stats, customer data and the ability to manage/create products means that sellers can control everything in a single location. And Paddle's beautiful Overlay Checkout creates a seamless buying experience for customers, since they're able to complete purchases on the same webpage.
Getting started couldn't be easier: sellers just need to name and price their product, upload their file and that's it, they'll be given a dedicated checkout link they can use to sell their products. Paddle handles the rest! If you'd like an easy way to sell digital content, sign up for free here.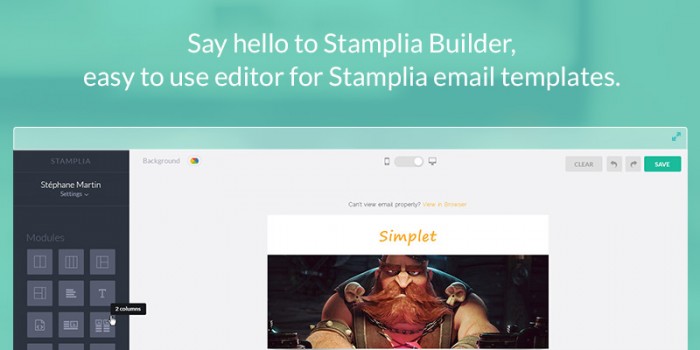 Stamplia Builder is an editor that allows you to modify purchased email templates easily and more efficiently than ever before. Getting started with Stamplia Builder is a quick process and before you know it you will be working on your first template like you've been using the editor your whole life. Within the Stamplia Builder you will have access to automatic export of templates into email providers like MailChimp, CampaignMonitor and SendGrid. Also, all the templates you create with this tool will automatically be compatible with the email provider's editor. In addition to this, you will be able to see your modifications on the email template in a real-time responsive visualization mode and add amazing images with the aid of the faster image editor. When you've finished, Stamplia Builder makes sure that the template you have modified will look good both on computer and mobile and you will be able to test it in order to make sure your emails won't accidentally get into Spam.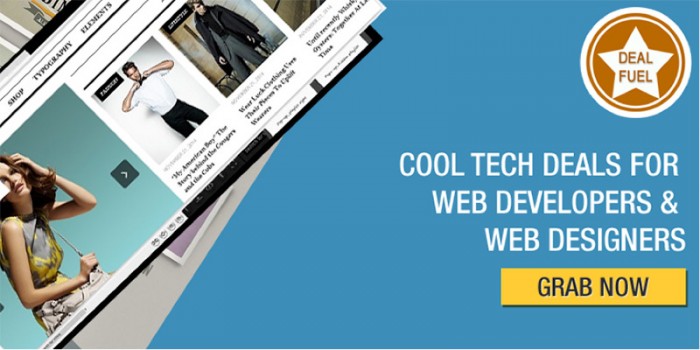 A variety of developer tools, an impressive assortment of graphic resources, an extended array of eBooks and eCourses and numerous bundles to gather them all, this is how DealFuel could be described. As you can see, this website is the perfect place to head to regardless of what your needs might be. Here you're sure to find first rate WordPress themes and plugins, SEO tools and dedicated software for your website. You'll also find elegant mockups, professional textures, vectors and Photoshop actions for all your visual needs. And don't forget about the numerous bundles that include a whole selection of useful resources.
What's more, DealFuel has a dedicated section for freebies that contains some of the best free products that you can find anywhere. And even if it so happens that the product you've had your eye on isn't in the free category, don't worry too much about it, DealFuel has already negotiated a deal for you that will ensure you get the best possible price for it. And here is an exclusive coupon code that will get you an additional 10% discount over and above the discounted offers – WONDER2014.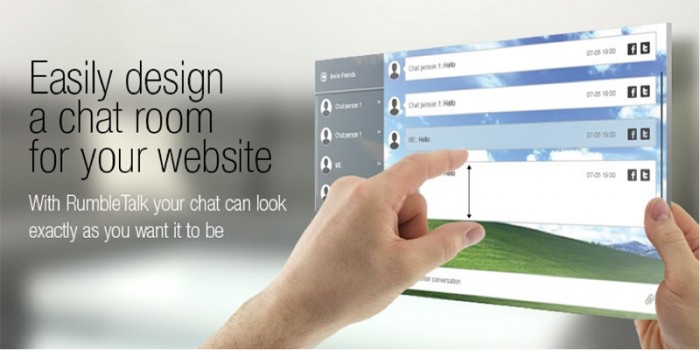 With RumbleTalk you will be able to add an active HTML5 chat room to your websites in a matter of minutes. The chat rooms offered by RumbleTalk are highly customizable and are sure to fit in seamlessly with any kind of website that requires them. The chat rooms come complete with moderators, SSL and a variety of themes. You also have a choice about the way you integrate them, either by embedding them in a webpage or featuring them as a floating toolbar. Regardless of the way you choose to display them, you can be sure that the chat rooms will be a pleasant experience for all your users as they will be free to add videos and photos straight into the chat room and steer the conversation towards anything they see fit. Don't hesitate to start your business relationship with RumbleTalk straight away, they are a team dedicated to keeping their customers happy and creating a relationship based on trust and mutual understanding with them.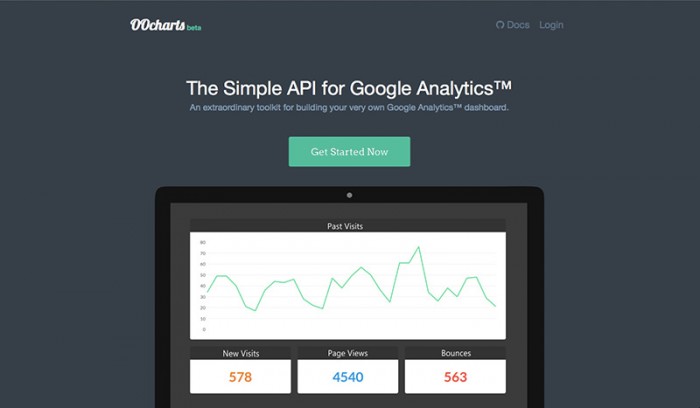 OOCharts is the API that will help you create your very own Google Analytics dashboard. This tool is completely free and could prove to be invaluable in your future projects. It will help you make chats of your website's activity, it will queue your requests that exceed the limits of Google Analytics and make sure you get your information reliably, it will cache requests of previous reports so that they'll load faster next time you call them up and all you need to do in order to get stated is connect your Google profile and make an API key for your website.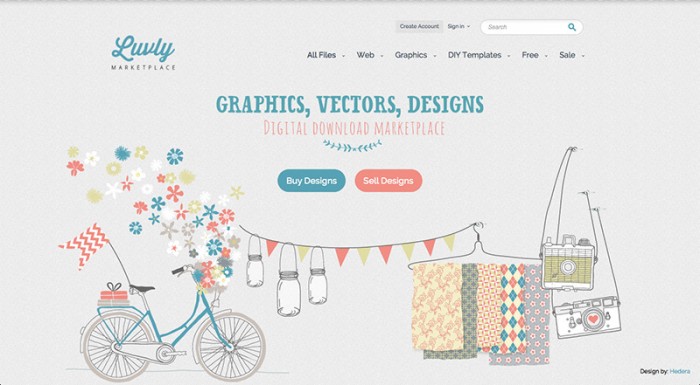 Luvly is a premium digital marketplace that encompasses an extensive collection of resources that are meant to help you make your website more visually appealing. Since the way your website looks is one of the most important things to your visitors, it is essential that you select only the best tools available for your graphics. This is why Luvly is the perfect marketplace for you. All resources available on this marketplace have gone through a thorough approval process destined to ensure that only the best make it online. The range of requirements that Luvly supplies is impressive. You will find any graphic resources here from mockups, to icons, vectors, patterns, logos and more. They also have dedicated sections for both WordPress and Blogger templates that are sure to respond to all your requirements. What's more, Luvly is dedicated to helping its community grow and empowering designers, so they organize numerous workshops and tutorials to help them get their feet under them.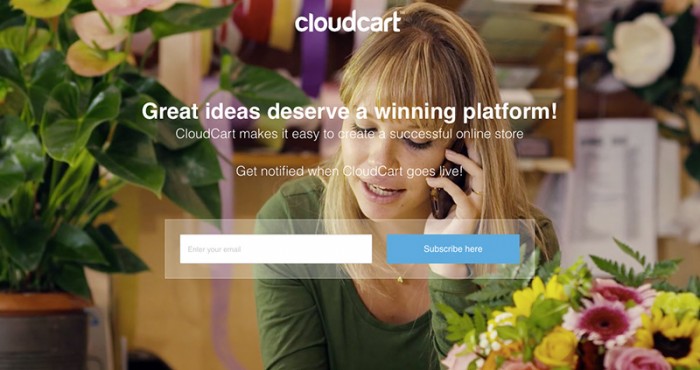 In order to create an online store, you need all the expertise you can get. Luckily, CloudCart has the best know-how about making an online store and then some. By employing CloudCart all you'll have to worry about is having all the products you're selling in stock and ready to go out to clients as soon as your website comes online. CloudCart will take care of everything required in order to create a successful website for your business. They will provide you with secure hosting, beautiful themes that are completely search engine optimized and make sure that word about your website is spread over a variety of social networks like Twitter or Facebook. What's more, they will offer you Integrated Payments, 1-click checkout, international payments and a delivery and tax calculator so that you'll be ready to start selling as soon as your website is live. And, in addition to all of this, you will have advanced reporting tools at your disposal that will let you know how your business is doing at any given time.
Adding opinion polls to your websites can prove to be highly beneficial for their user friendliness level. Opinion Stage allows you to register to their service and add your first poll on your website in under 5 minutes. By using polls provided by Opinion Stage you will be entering a community of users that are currently using on of the best platforms for online surveys available. And that's no small feat. Opinion Stage not only offers completely customizable polls for your pages, but they also offer an all-encompassing dashboard where you can view all the results gathered by your polls instantly. In addition to this, you have complete freedom to filter these results by a number of criteria and even display them in charts and graphs in order to read them easily. Another cool feature that Opinion Stage provides you is the possibility to monetize your polls by either including ads within them or by promoting other polls from the Opinion Stage network.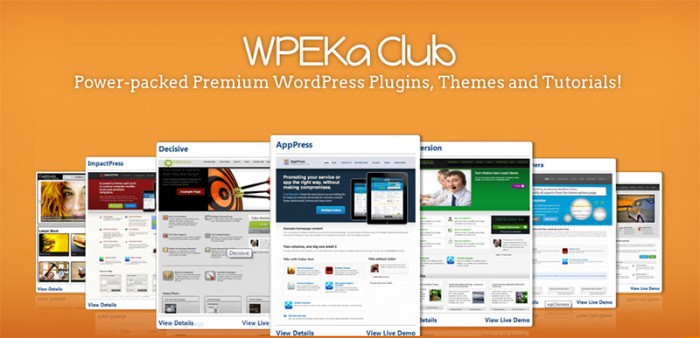 A repository of first-rate WordPress themes and plugins is something that sounds good to a lot of people. WPEka Club is such a place. With a collection of more than 60 themes and plugins that cover a varied array of products for Business, Auctions, Social Media, AdSense, SEO and more, WPEka Club is the perfect place to head to for all the WordPress awesomeness. By opting for their all-inclusive plans that begin at only $ 27 a month, you will have complete access to the entire WPEka Club collection as well as all the brand new releases that are released while you're an active member(and the team over at WPEka promises that you will enjoy at least 4 new releases each month). Don't hesitate to join WPEka Club's community and enjoy all the premium WordPress themes and plugins as well as one of the best support systems available in the premium WordPress market.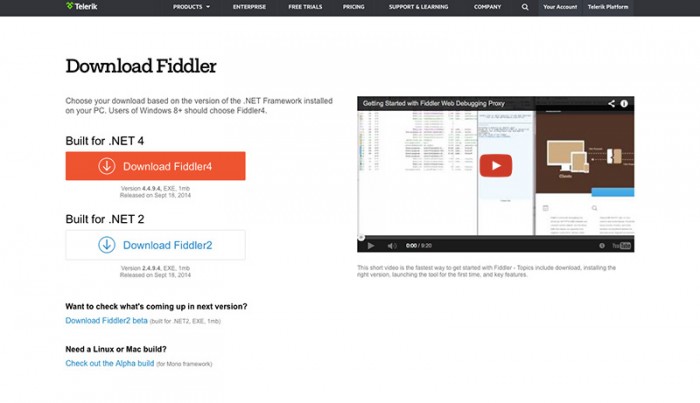 Fiddler is a Web Debugging Proxy that is guaranteed to make your life a lot easier. By using this tool you will be able to test the security of your website, detect bottlenecks within the communication between server and application and manipulate and edit all your webs sessions. With Fiddler you will be able to put your website to the test regardless of what operating system you're using (Windows, Mac or Linux), browser or platform (Ruby, Php, Java and more).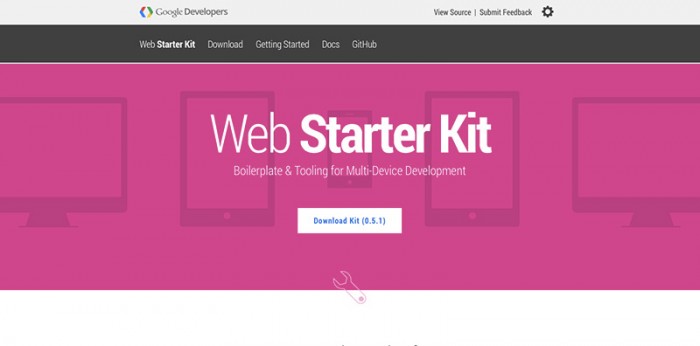 If you're looking to start work on a project that is destined to be used on multiple devices, then the Web Starter Kit is the tool you need. Amongst its features you will find: multi-device responsive boilerplate, living component style guide, live browser reloading and more. Also, by using the Web Starter Kit you will be following the Web Fundamentals guidelines out of the box.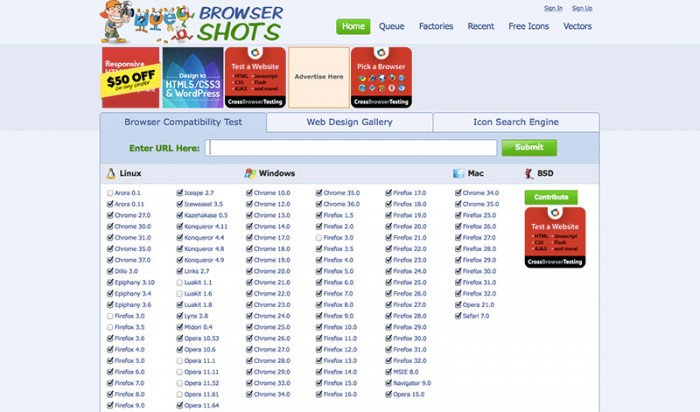 If you're looking for a fast way to see how your website looks on a variety of browsers, head on over to BrowserShots. All you have to do in order to get the information you require is enter your website's URL, choose the browser you need and click Submit. In a matter of minutes you will have a snapshot loaded an ready to be examined.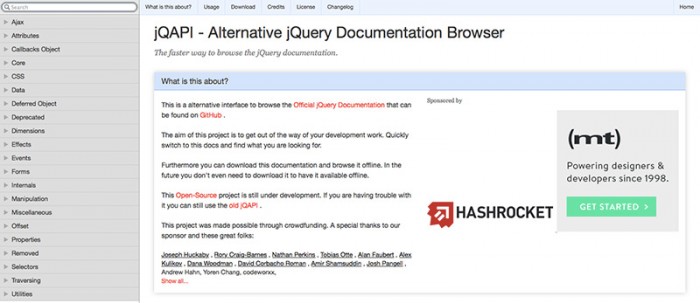 jQuery is undoubtedly being used to its full potential nowadays and many developers turn to it frequently. This is why it is so important to have access to its documentation easily and within a well structured browser. This is what jQAPI provides, an alternative jQuery Documentation Browser that is available both online and offline and that will make developer's lives a lot easier.

New Relic is a tool that will help you gather performance data from all your applications and allow you to make informed decisions about their future. Among the products that New Relic offers you'll find: Application performance manager, native mobile application performance manager, real time big data analytics for business decision making, server monitoring for cloud and data centers and more.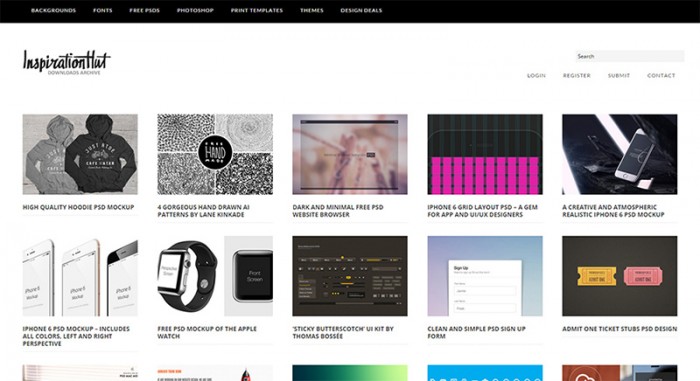 It's always good to be able to have access to honest reviews and feedback from fellow developers and designers and Inspiration Hut is the place where you can find that. Inspiration Hut features a diverse array of products available for the entire web development and design community and it also encourages this community to share its work with others. By browsing through their gallery you are sure to find numerous resources that will help you in your work. The best part is that most of them are free. Inspiration Hut encourages its community to contribute to its ever-growing repository and create an online go to place that guarantees quality. Among the cool resources you'll find over at Inspiration Hut are: backgrounds, Fonts, Brushes, Free PSDs, Icons, Mockups, Patterns, Print Templates, Textures, Themes, UI Kits and much, much more. So head on over to Inspiration Hut and enjoy their collection and don't forget to credit when required.