When creating a website or app, it's essential to have a bunch of resources on hand to play with. That is, you don't want to recycle the same old designs over and over again. Nor do you want to create the same designs everyone else is making – because they're all working with the same resources. 
That's why if you work with Figma, it's essential to add a variety of templates to your toolbox. From dashboard templates and UI Kits to landing pages and eCommerce templates, we've compiled a decent selection of some of our favorites to help fuel your creativity. 
8 Dashboard & UI Kit Templates
We start here with a collection of dashboard and UI kit templates for Figma that offer visual interest, compelling features, and flexibility.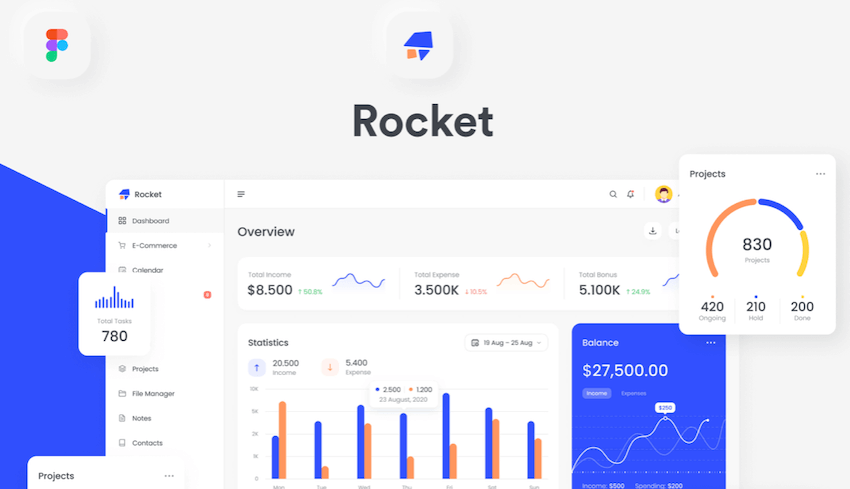 First on our list is the Rocketboard Admin Dashboard template, which offers several built-in features to serve a variety of purposes. In fact, it comes with a total of 107 different templates you can put to work immediately. Many of these are dashboard templates, covering screens like chat, notifications, or menus. Others provide eCommerce features. Other templates for dashboards and UI here cover things like: 
Calendars 

Mail

Chat

Task boards 

Various project management screens

Contacts

Profile

File Manager

Errors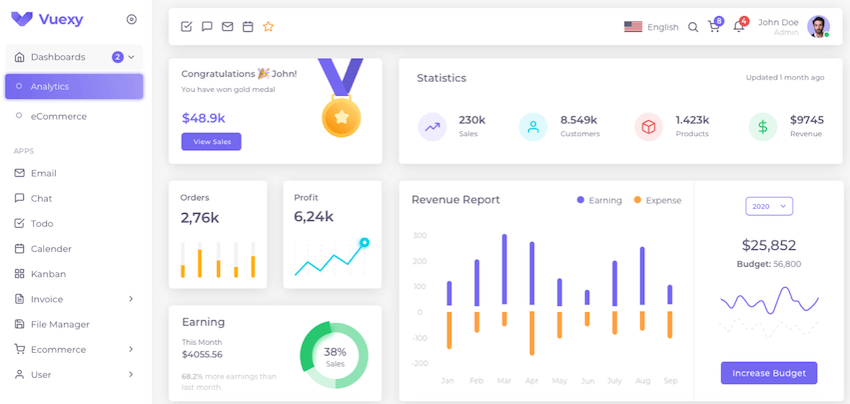 Another dashboard Figma template option is the Vuexy template. This one provides a clean and modern design that can be used for a variety of industries and niches. It's built on the Atomic design system and makes it super easy to create projects quickly and efficiently. 
Just a few of the features included in this template kit are: 
12-grid layout for quick page setup 

2 dashboard layouts 

30 page layouts 

40 widget layouts 

15 UI elements

A multitude of text and layer styles to choose from 

Quick element and component resizing 

A robust components library 

Includes dark and light layout options 

Google Fonts included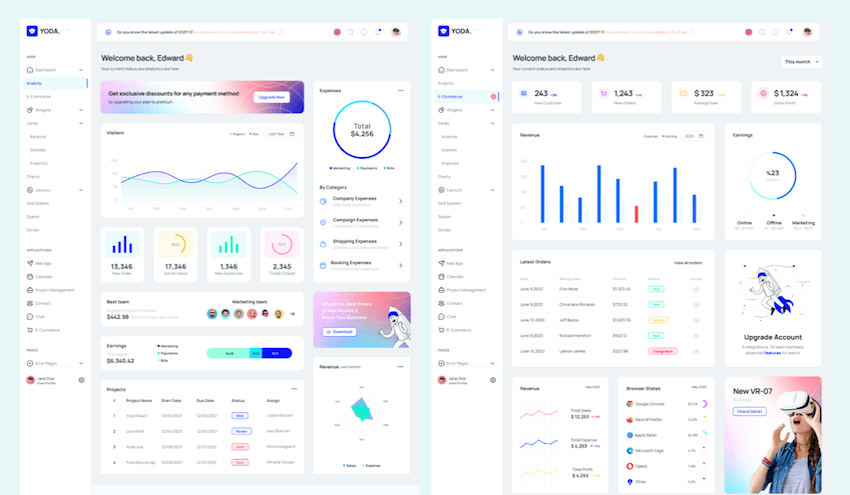 Or you might opt for the Yoda admin dashboard template kit instead. This kit includes everything you need to make engaging interfaces. It's fully scalable, easy to set up, and quick to customize. These dashboard templates and UI kit components are beautiful to look at and performance-optimized as well.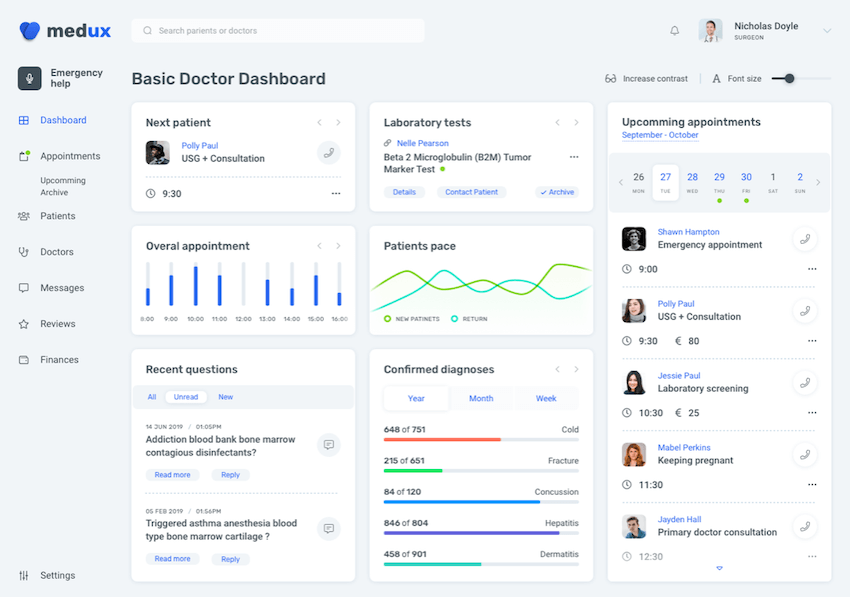 Next on our list is the Medux dashboard UI kit and template for Figma, which is a great choice for anyone in the medical field. This one is loaded with features you can use to build a compelling app or website in a fraction of the time. It comes with a clean and modern design that's in keeping with the latest trends while remaining timeless, too.
Some standout features include: 
Dark and light options 

26 layout templates

50 widgets (several of which are suitable for the medical field) 

11 dashboards

Form elements like radio buttons and checkboxes 

Font Awesome 5 Pro icons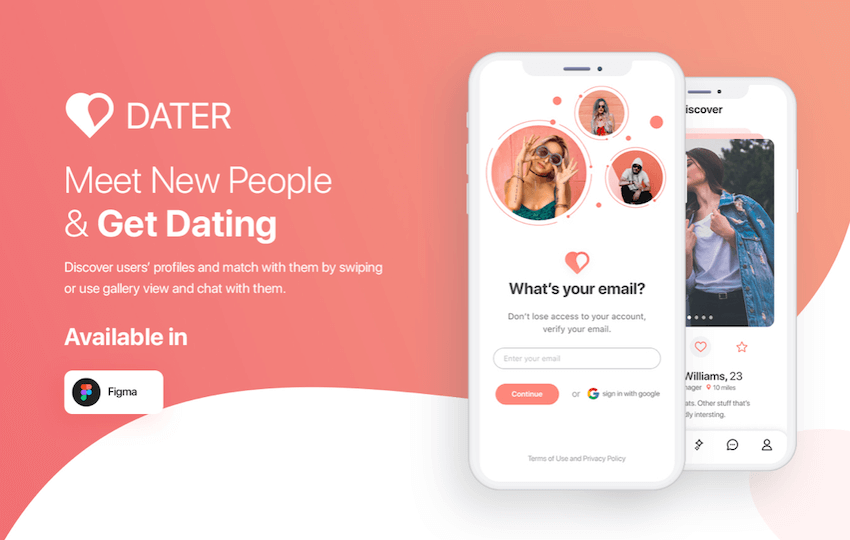 Now if you have a mind to create a dating app, the Dater Figma template and UI kit is a fantastic choice. This one comes with tons of features based on popular dating apps like Tinder and Match, offering everything you need to build and launch a dating app in no time at all. 
Features we'd be remiss not to mention include: 
48 screens 

Editable vector illustrations 

49 custom icons 

Layered and organized well 

Includes Google Fonts 

Well documented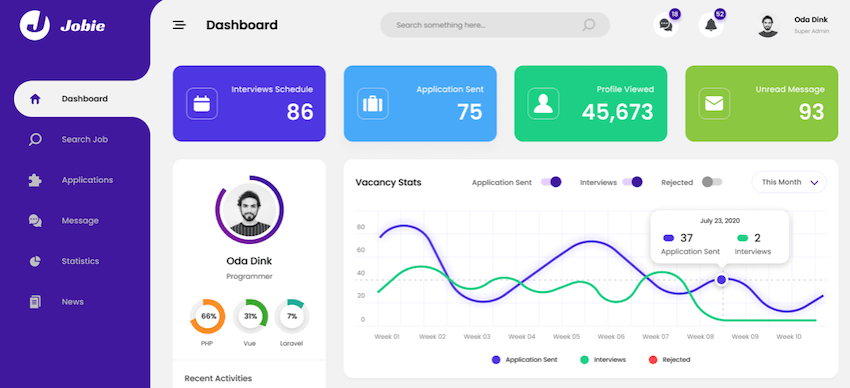 Still another option is the Jobie Admin Figma template, which offers a convenient way to build a job board app, hiring app, or career app. It's easy to set up and use and the end result is a dashboard or website that captures attention and encourages people to use it. 
A few features that stand out include: 
A light and dark mode 

12 screens to choose from 

Google Fonts 

Straightforward editing 

Full documentation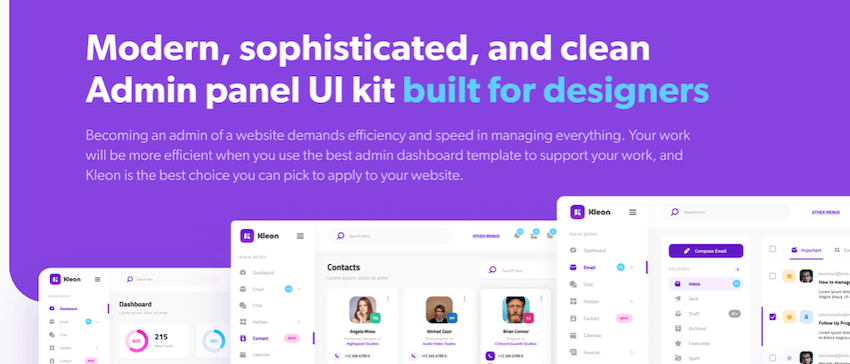 Next on our list is Kleon, an admin panel and dashboard template for Figma that offers designs and layouts for creating everything from a custom email dashboard to a Kanban board. It offers a variety of uses for the corporate lot, with panels centered around invoicing, project management, team management, and more. 
A few notable features include: 
Over 100 Figma template screens

Light and dark color schemes

Clean design

Google Fonts

Full documentation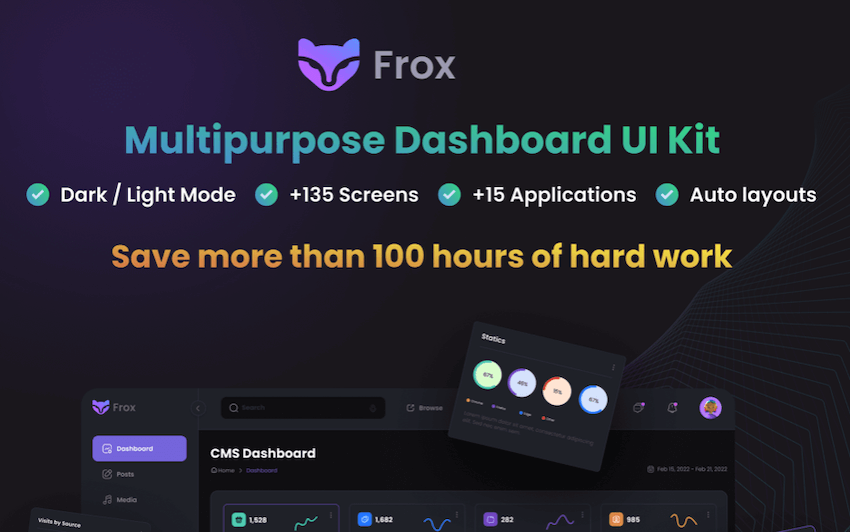 Another dashboard template for Figma worth checking out is Frox, which includes dashboard and UI elements you can put to work immediately. It offers features that designers, developers, and site or company owners can make use of. 
Some of these features include: 
135 premade templates for a variety of screens 

15 applications with support components 

Several symbols and elements you can customize 

Drag-and-drop editing 
3 Landing Page Figma Templates
Along with the dashboard templates discussed above, we've also sourced a few landing page Figma templates that can come in handy for setting up a compelling user interface. It all just depends on the intentions you have for creating a mobile app or website in the first place.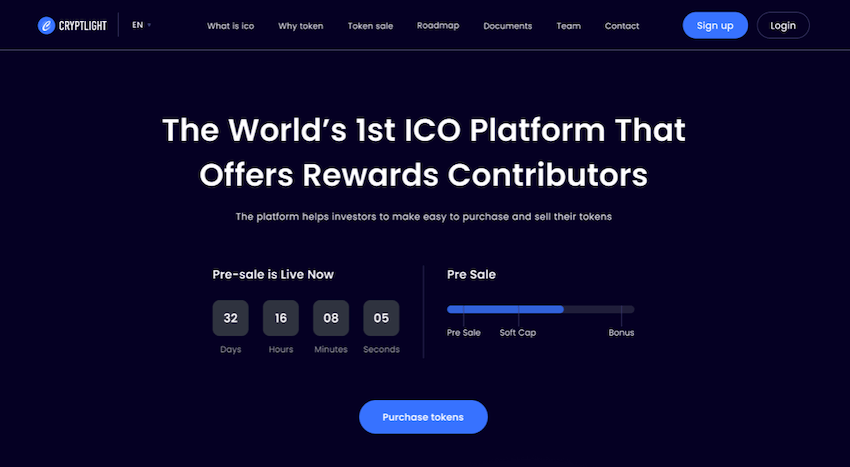 The Cryptlight template is a fantastic choice for building a landing page with Figma. It offers a clean design that serves those in the cryptocurrency space quite well. You can use this template to create a landing page for a website or for an upcoming app. And it includes several sections that allow you to give visitors all the info they need to stay in touch. 
Top features include: 
Countdown timer 

Sale token 

Funding allocation section 

Free icon fonts and Google Fonts

Fully customizable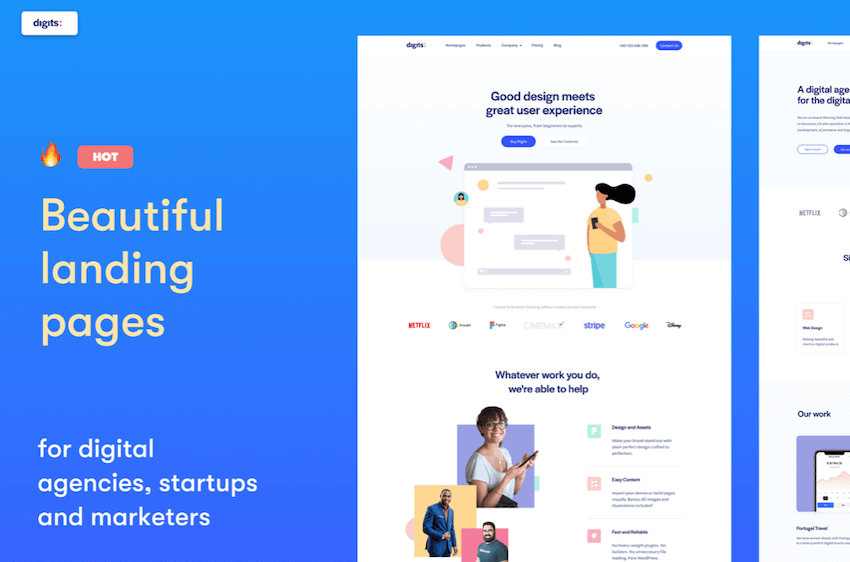 Next up is the Digits landing page template, which acts as a great way to streamline the design process to get a landing page up and running quickly. Its design has been thoroughly vetted for conversion optimization, too. 
Here are a few features of note: 
8 pages 

Simple customization options 

Multiple headers and section options 

Includes vector illustrations and icons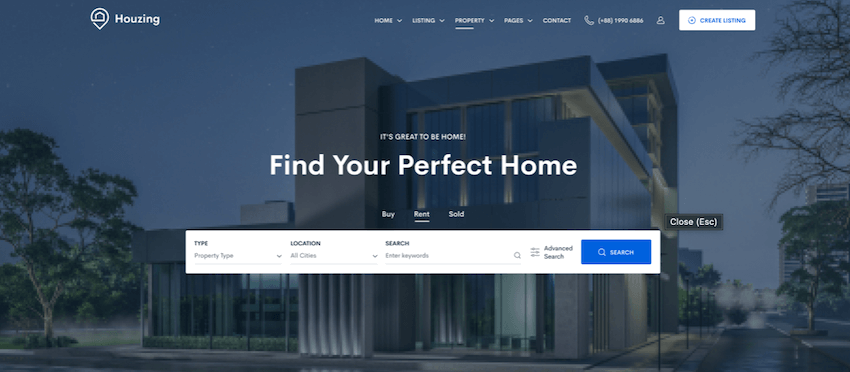 Another landing page template worth considering is Houzing, which targets the real estate industry. This template offers a clean design that's easy on the eyes and expertly guides visitors through the sales process. This template comes with a wide range of custom pages that you can use to build the ideal landing page. 
With Houzing, you'll get: 
64 artboards 

10 homepage layouts 

Multiple property list and single property layouts 

Pages for agents, agencies, blog, and shop 

Includes well-organized layers that are easy to edit in Figma 
5 eCommerce Figma Templates 
The final group of Figma templates of UI and web designers we'll be discussing here today are those intended for use in the eCommerce space. What follows are 5 templates that offer UI elements that improve the overall online shopping experience.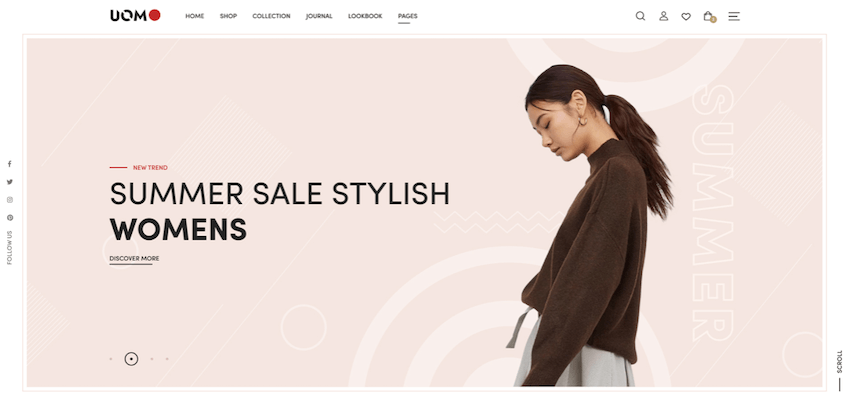 First up is Uomo, a modern Figma template that includes tons of UI elements you can put to work immediately in Figma. It's designed with eCommerce in mind but is ultimately a multipurpose choice, with design options that can be customized to suit everything from a clothing boutique to a grocery store to a beauty shop. 
Just a few of its features include: 
23 homepage designs 

12 shop list and 16 shop single layouts 

84 artboards 

Multiple headers and footers options 

Dropdown menu support 

Well-organized layers and full documentation 

Includes vector illustrations and icons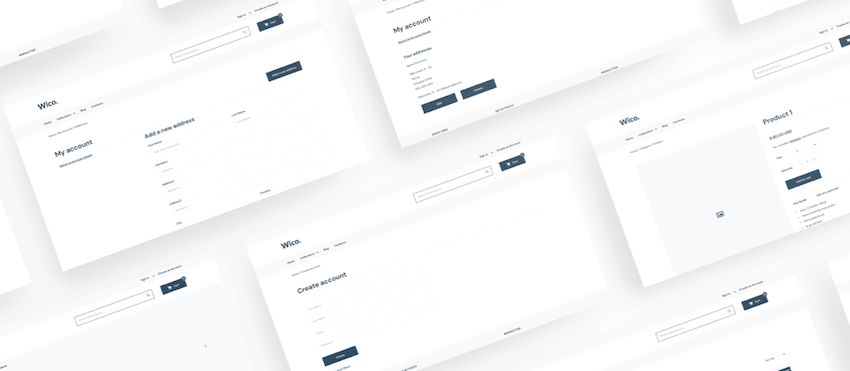 Next is the Wico template, which is designed specifically for building a Shopify website using Figma. It comes with several user-interface options you can use to create a modern, streamlined online store that truly speaks to customers. 
This template comes with: 
51 pages 

Google Fonts 

Multiple text styles 

Free vector icons

Properly layered and organized files

Another great option is Axies, which is a Figma template targeted toward those looking to create an NFT marketplace. This UI template includes all the features required to create a marketplace where traders and creators can connect to exchanged works. It can be personalized in a variety of ways to fit your specific brand. 
When you work with Axies, you'll gain access to: 
2 page options 

57 UI screens and UI pages 

Straightforward editing and customization options 

Modern, clean layout 

Well-organized and layered files 

Google Fonts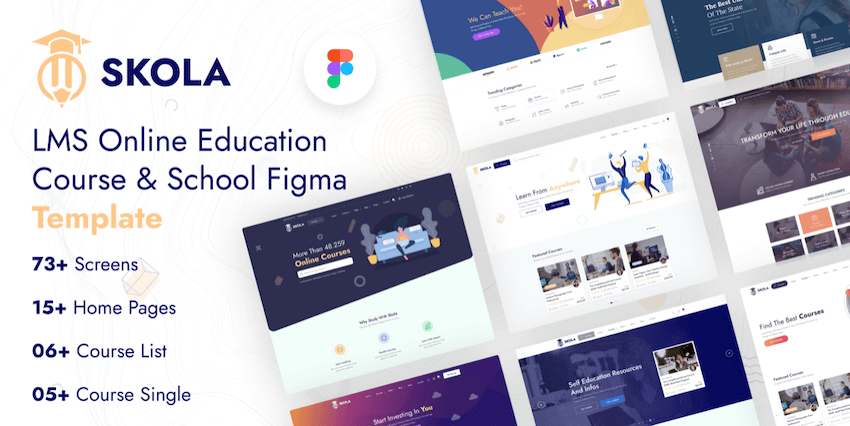 And then there's Skola, a Figma template aimed at the online education crowd. This template makes it much simpler to create an LMS website for the purpose of online schooling. It offers a design and layout that's appealing to students, meaning they'll have a much more engaging experience taking your e-classes. 
Skola comes with: 
73 artboards 

15 homepage layouts 

6 course listing and 5 single course layouts 

Fluid UX dashboard design 

Supports multiple lesson types including video content, student feedback, assignments, surveys, forums, quizzes, and dictionaries. 

Well-organized layers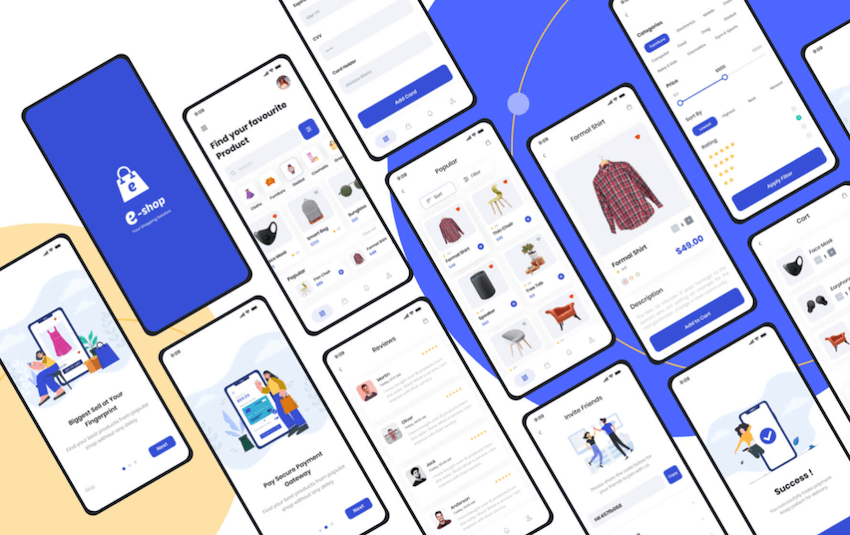 And lastly, there's E-Shop, which is a robust eCommerce UI Figma template designed for creating mobile apps for iOS and Android devices. With it, you can easily create an online shop and it includes a wide range of UI kit elements jam-packed with trendy and modern designs that are sure to engage users. 
A few features to be aware of include: 
16 screens 

Vector icons 

Well-organized and layered files 

Includes a style guide 

Fully customizable 
Where to Find Figma Templates for UI and Web Designers 
Though there are many places to source Figma templates for UI and web designers online, you'll likely find those offered at ThemeForest to be superior. There's a wide range of options available for building all kinds of mobile apps and websites using Figma.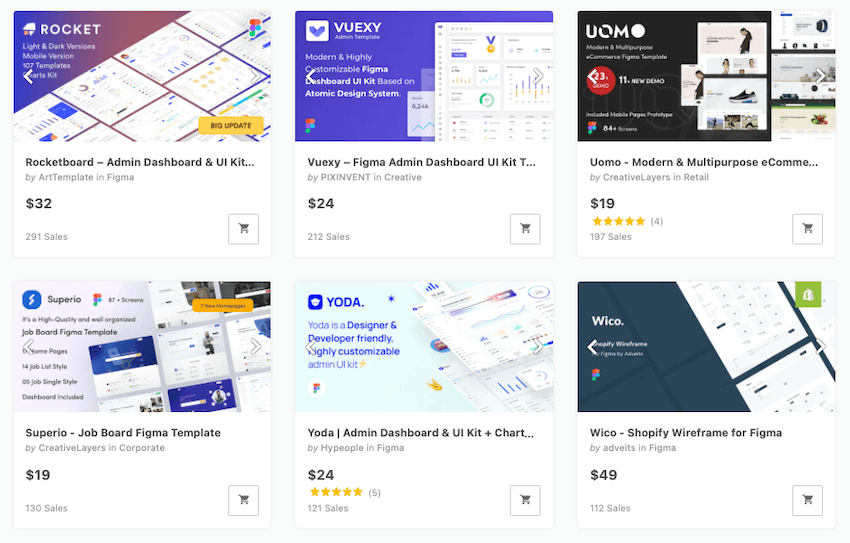 And while you can select something generic or multipurpose, there are several options available that hone in on specific niches as well, including finance, real estate, cryptocurrency, health, education, and more. 
Learn More About Figma 
Free Figma UI Kits on Tuts+
Download these free UI kits for Figma, created especially for you by our talented designers:
Create a New UI or Web Design with Figma Templates 
Now you know, there's no reason to put your next design on hold. With eye-catching and high-performing UI Figma templates, web designers and UI designers can build apps, websites, and more with relative ease. 
And even if you're new to Figma, these templates will prove to come in handy.