If you wish to create an automotive shop online, there are several factors you need to consider before you begin. For starters, you need to think about the types of products you want to sell and how you wish to present them to your customers. You also need to think about the features you want your website to have and what sort of user experience you wish to provide.
A key part of designing a Shopify automotive store is selecting the appropriate theme. So while you have a lot of factors to consider, we hope to take at least one burden off your plate today by offering up a collection of some of the best themes for Shopify automotive stores currently available in 2022.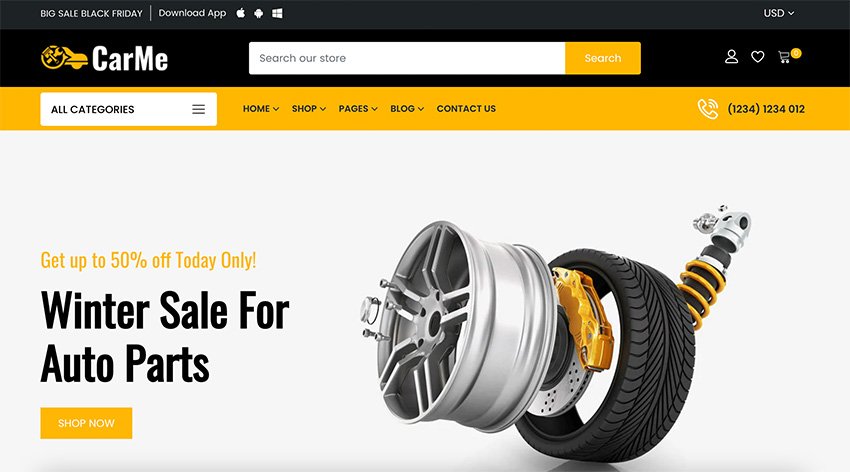 Types of Products Sold on Online Automotive Stores
If you haven't decided on the types of products you'd like to sell in your automotive store yet, there are generally three broad categories of products you can offer. We're not referring to mufflers and tires, here. Rather, the types of products you sell will have a lot to do with who your target customer is. Let's review your options now.
Original Equipment Manufacturer (OEM). This describes auto parts that are made by a company and then put together as the manufacturer describes. So, auto parts a car maker itself uses and/or makes.

Original Equipment Seller (OES). This category of the product describes those auto parts made by other auto companies for replacements and repair parts.

Aftermarket Auto Parts. This last category describes auto parts made as alternatives to the original parts. A different brand than the car maker produces these parts to use as replacements when the original parts are difficult to find or cost-prohibitive.
Once you know the type of automotive store you'll be running, we can discuss what features your Shopify store needs to have to meet the needs of your customers.
Features Shopify Automotive Stores Should Have
Individual needs will vary, but most automotive stores should have the following features to satisfy customers and make for a more pleasant online shopping experience.
Make/Model/Year Lookup. You can save customers a lot of time and trouble if you have a make/model/year lookup feature on your site. This allows people to search for their specific car to see which parts will work with it. This eliminates confusion and ensures customers are always purchasing the correct parts – reducing the need for returns.

Search with Autocomplete. Save customers time to autocomplete search. This way, even if a customer only has a general idea of what they're looking for, autocomplete can suggest the appropriate search term to them. These are all conversion-boosting features.

Filtering. Along with a refined search process, appropriate filtering options streamline the shopping process, too. Allow customers to filter by make and model or year; by part type or price.

Categories. Featuring solid product categories is another way to boost conversions and aid customers of their search. Auto part categories help visitors narrow down what they're looking for.

Auto Part Fitment Search. This is related to the make/model/year search mentioned above. Having a part fitment search option means customers will only be shown auto part options that will fit their specific car.

Garage. An integration with a garage or auto shop directory is a great way to help customers purchase the parts they need and then immediately book services to have the part installed. This helps both your online business and workshops local to the customer's place of residence.
Now with a clear idea of what features your store needs, we can turn our attention to what you should be looking for when browsing for Shopify automotive store themes.
Browse a Variety of Themes for Shopify Automotive Stores on ThemeForest
If you want to build an online auto parts store, you're going to need a high-quality theme to tie it all together. Thankfully, you can find some of the best themes for Shopify automotive stores right on ThemeForest.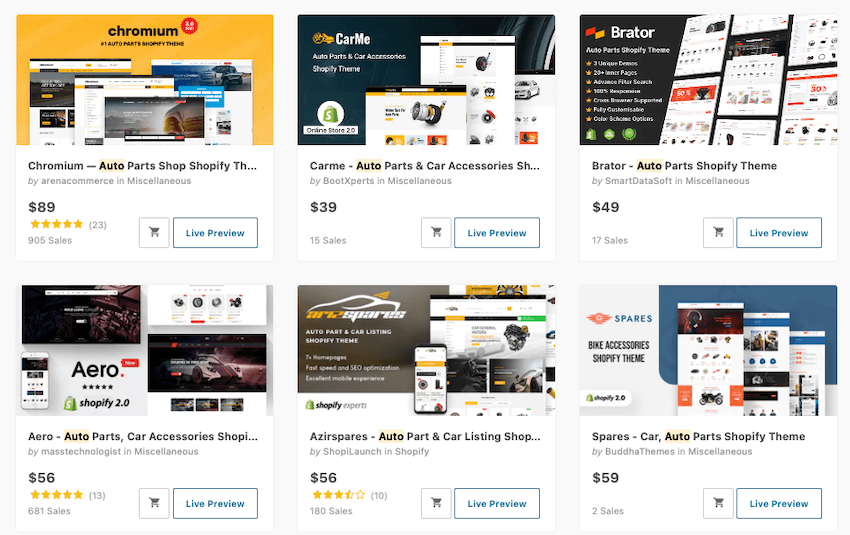 At ThemeForest, you can find tons of Shopify themes across every industry to use for your next eCommerce project. But the resources go beyond that. The marketplace also offers templates and files for creating PowerPoint presentations, resumes, cover letters, WordPress websites, and more.
12 Best Themes for Shopify Automotive Stores in 2022
Now's the time you've been waiting for: the very best themes for Shopify automotive stores you can put to use right now.
First on our list is the Brator Shopify theme, which offers a modern and clean layout for displaying a wide variety of auto parts to your customers. A few notable features include:
Responsive design.

Fully customizable.

Two homepage layouts.

Two header styles.

15-page designs.
Brator is a great theme for displaying auto parts in a straightforward way.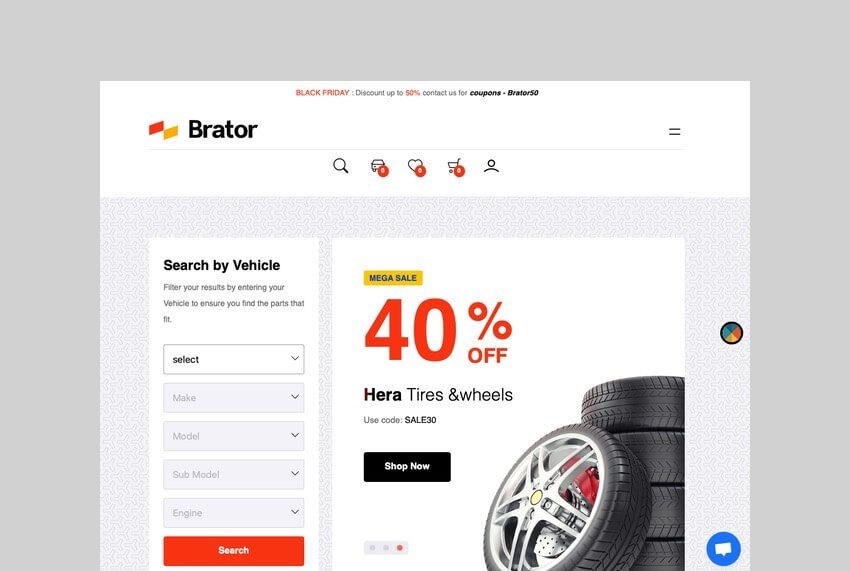 Another theme you may wish to consider is Chromium, which is another ideal choice for displaying auto parts within Shopify. It boasts of a speed-optimized design and modern layout. Features include:
Responsive design based on Bootstrap 4.

Advanced typography options.

Full support.

Free updates.

Unlimited colors.
This theme also works with numerous Shopify apps like customer reviews and FAQs.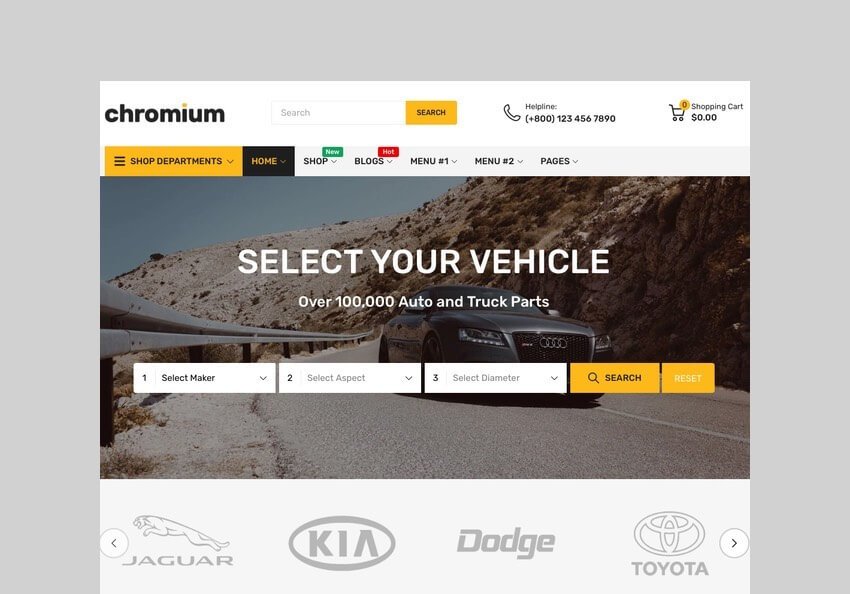 Or perhaps you'd be more interested in Carme? This auto parts Shopify theme offers a fantastic way to showcase auto parts you have for sale along with car accessories. The design is clean, modern, and functional. Features include:
3 different home page variations.

Drag-and-drop editing capabilities.

3 slider variations.

3 headers.

3 footers.
You can also expect a speedy installation process and tons of color options with this theme.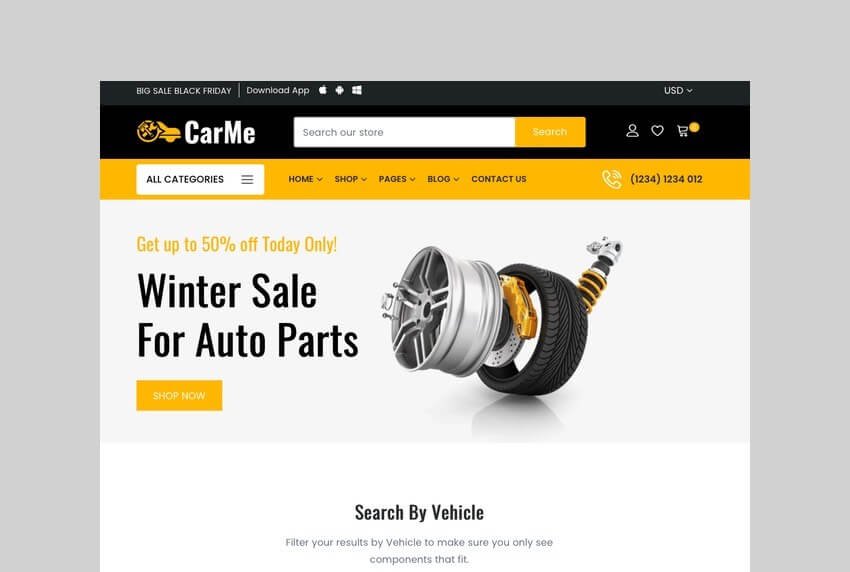 And then there's the Aero theme for Shopify automotive stores. This theme is ideal for selling car accessories – and looks great while doing it. Notable features here include:
Full range of unique page designs like Contact, Products, and Location.

Slideshow for displaying top products.

Multiple headers, footers, and sidebar styles.

Responsive and retina-ready design.

Makes full use of Opencart extensions.
Aero also includes demo data for easy setup.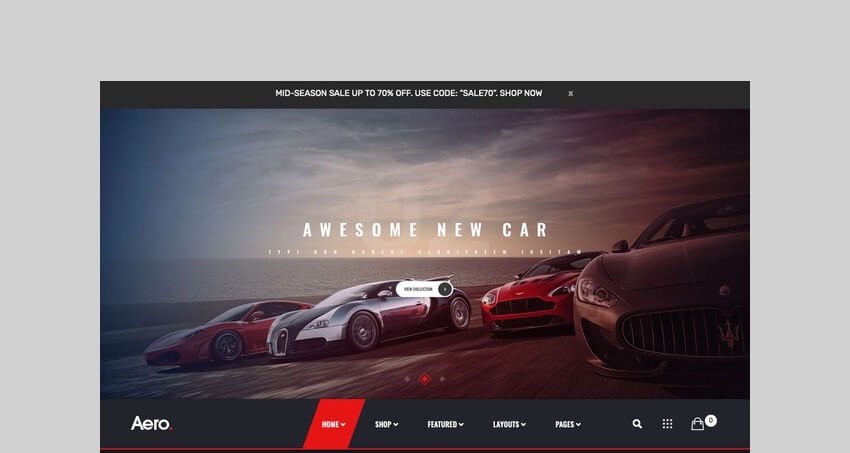 Another top Shopify theme to consider is Azirspares. This auto part and car listings theme is a great choice for car parts sellers, car listings websites, and car dealers themselves. It offers true versatility in this way. Features include:
Quick and easy installation.

Full range of customization options.

Full filtering options for search.

One-click checkout.
Azirspares is also fully speed optimized for top performance.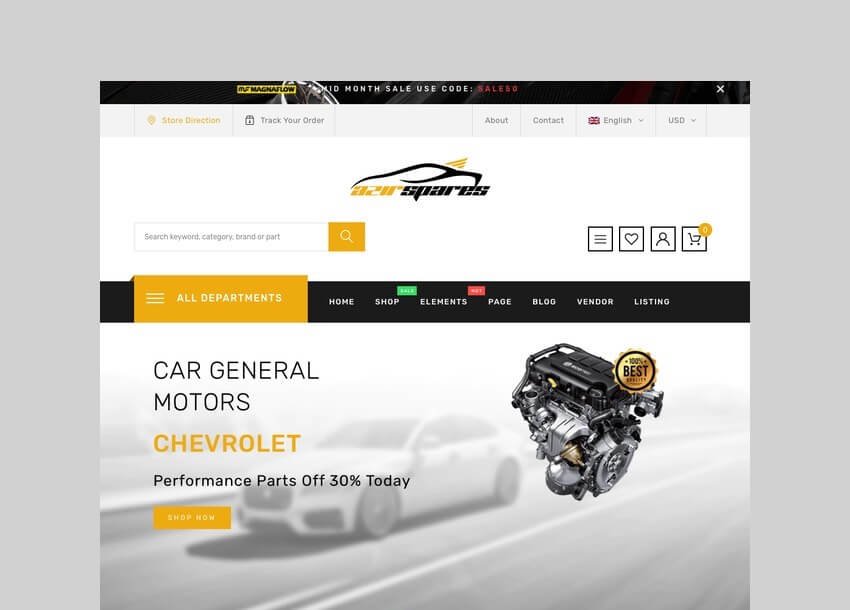 Or you might be interested in the Spares Shopify theme, which is a fantastic choice for stylishly offering auto parts for sale. The theme itself is modern in design and offers a wide range of options for customization. Features include:
Speed optimized.

User-friendly interface and design.

Multiple page layouts and page sections.

Fully editable via drag-and-drop.

Multiple inner page layouts.
This Shopify theme is still another way to display your products with flair without having to code a thing.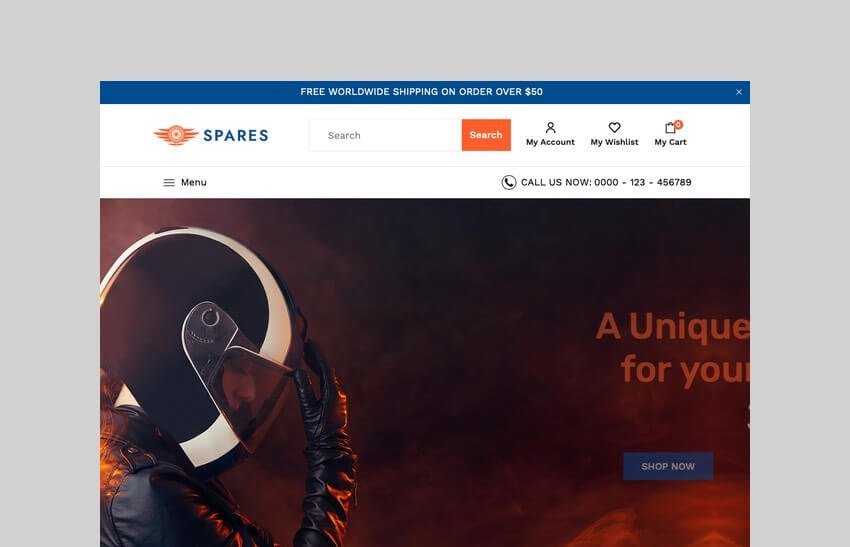 Another option worth considering is the aptly named AutoParts theme. This responsive theme is fully customizable and offers a convenient way to sell all things car-related with just a few clicks. Features include:
Optimized to edit with the Shopify Sections customizer.

Can be used for other store types, too like tech and fashion.

Uses key Shopify tools like Mega Menu and Product Color Swatches.
Using AutoParts also means you can take advantage of layered navigation and product quick view features.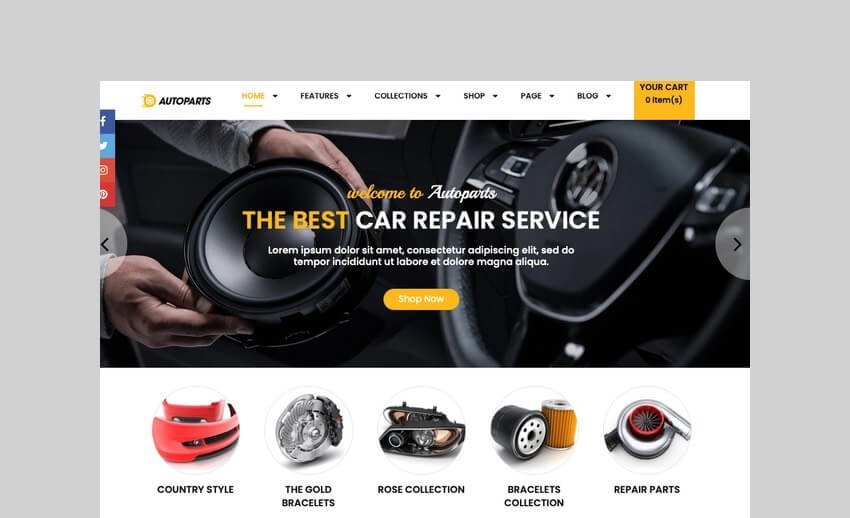 Perhaps the Autima Shopify theme is more your speed? This theme offers a classy design that comes across as upscale without being pretentious. It comes with a wide range of features, including:
Quick and easy installation.

Tab Products.

Multiple product options like manufacturer and thumbnail images.

Fully responsive and retina-ready design.
Autima also makes it easy to showcase your best-selling products, discounts you have active, top viewed products, and more.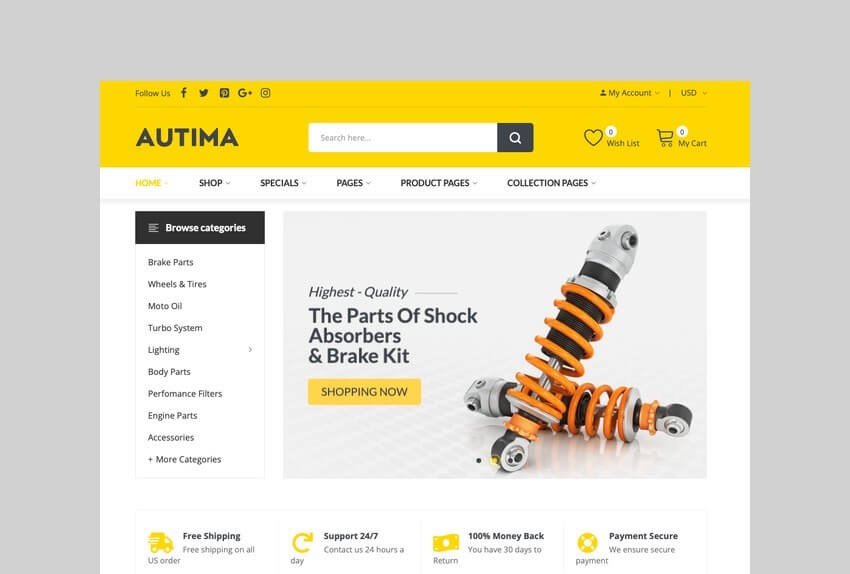 Another solid option is Autodaily, which is a great Shopify theme for housing auto parts and car accessories. The theme is optimized and designed to suit selling car parts of all kinds. Notable features include:
A fully responsive design.

8 different homepage layouts.

Multiple styles to choose from.

Demo content.
This theme is super easy to set up, which means you can launch your store faster.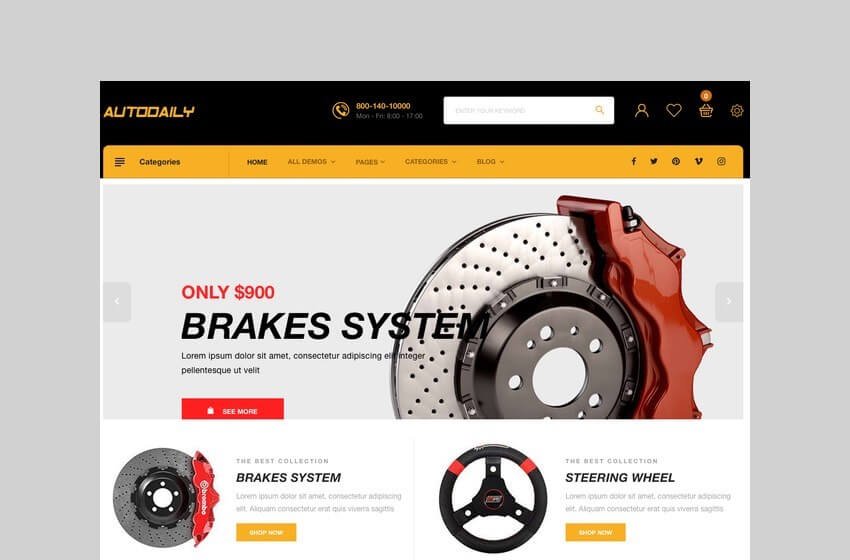 MegaShop is yet another Shopify theme well worth your consideration. In this case, it's a multipurpose theme, so it can be configured for use on pretty much any type of online store, including for the automotive niche. Features include:
15 layouts suitable for different industries.

Custom fonts.

Tabbed products.

Full-color customization.

SEO optimization.
MegaShop also comes with blog modules and is fully responsive.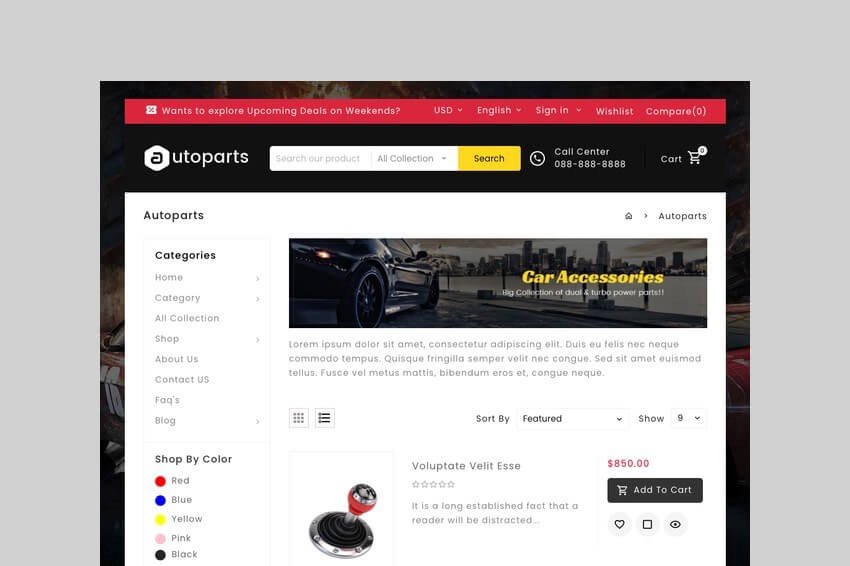 Another option worth considering is the Caren Shopify theme. It comes with a wide range of features custom-tailored to the automotive industry, including:
3 different home page variations.

Fast installation.

Drag-and-drop editing.

5 slider options.

Built-in newsletter popup.
Other features include tabbed products, product carousels, and mega menu support.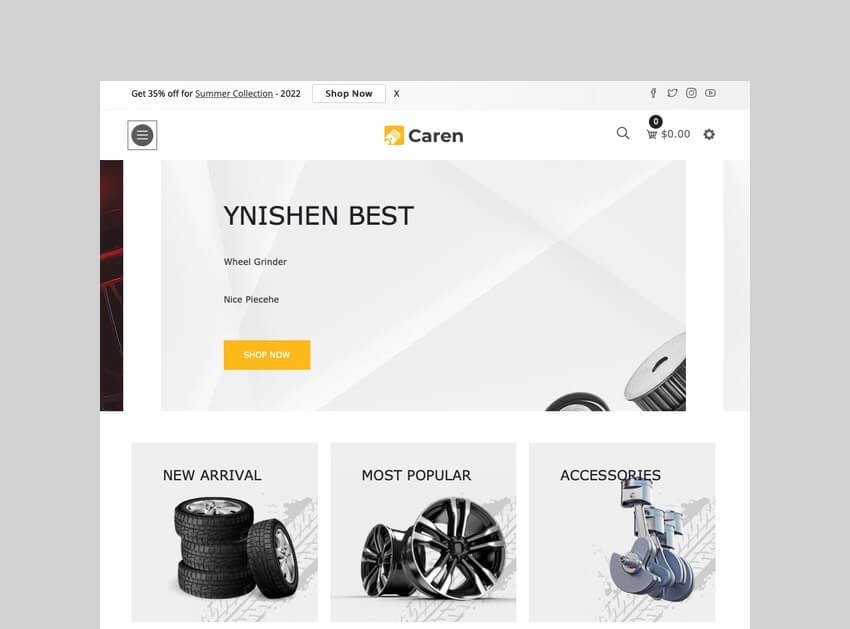 Then there's the Harrier Shopify theme, which provides and clean design that's both minimal and eye-catching. With it, you can sell car parts, bike accessories, and anything else related to transportation components. Features include:
Responsive design.

Drag-and-drop editing.

Tag, hot deal, color, and brand widgets.

Testimonials slider.
Once installed, the Harrier theme is easy to customize to suit your specific needs.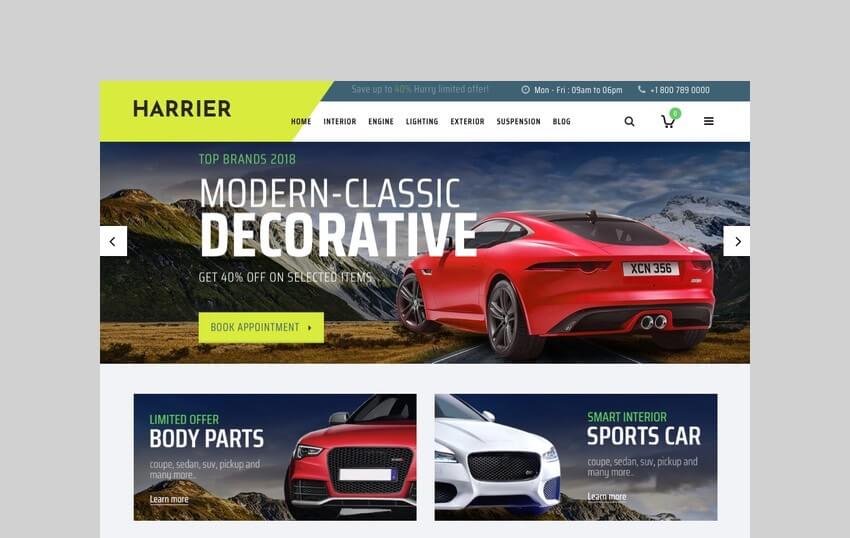 What to Look for in a Shopify Auto Theme
Before we dive into our list of suggested themes, let's talk about what features you should be looking for as prerequisites before selecting a theme to install.
Advanced search features. Any automotive store theme you select for Shopify needs advanced search features that support searching for make, model, and year; fitment, autocomplete, and local garages.

Industry-specific widgets. Any widgets included should be custom-tailored to the automotive industry like a fitment search widget, a directory listings widget, or what have you.

Sharp presentation options. Shopping for auto parts is a bit complex and there's a lot of information that has to be presented to customers by the nature of the industry. Ensure any theme you select offers a clean presentation that's not too cluttered. Tabbed display options may be preferable under product descriptions, too.

Robust contact features. Any Shopify theme you select needs to make it quick and painless to get in touch with you. Contact forms, click-to-call, social media icons, and prominent contact info are all must-haves.
Sell Car Parts and Accessories with a Shopify Automotive Store Theme
What can't you accomplish with a quality automotive theme, that's gotta be the real question here. After all, with the right tools in hand, you can create an eCommerce website that speaks to your target customers, encourages conversions, and generally performs well.
And be sure to check out the automotive store Shopify themes available from ThemeForest to get a leg up on the competition.