Hi everyone. We are proud to present our latest product : jQuery Slider Shock. A fully responsive slider and the most complete over the web right now. Available for you to download it as a jQuery code to use it wherever you need, or as a plugin for the most used CMS: WordPress. We wanted to make something that could take advantage of all the power that the jQuery code has to offer and this is the result. Take a look into this post and the features that our slider has to offer.
Do you want to build your own Slider? Sure, you can do it!. Look at the controls available to do so.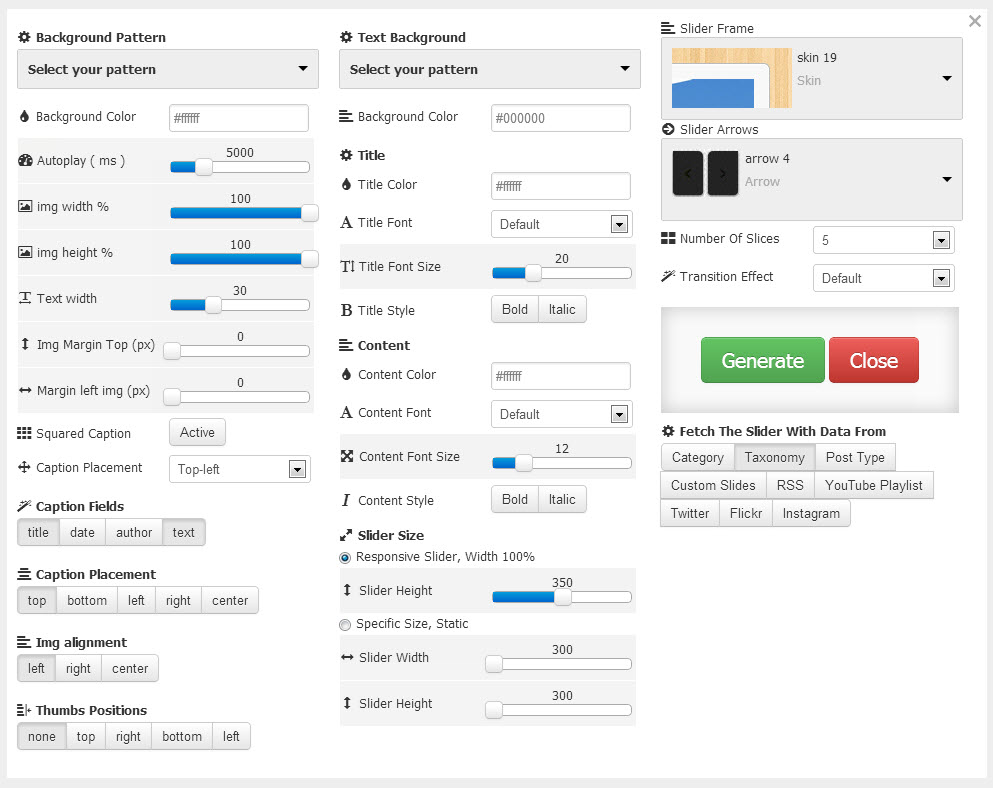 You can test these features in the jQuery slider shock demo site and clicking on the option Build your own. You will see that basically the slider can fit everywhere!. But that is not all, the Slider comes with some good features we cheer you to read below:
You can easily add thumbnails on any of the sides of the slider ( top, bottom, left, right ) allowing users to navigate easily between slides.
jQuery Slider Shock supports not only images but also allows you to show Videos from YouTube playlists, RSS Feeds, Twitter Feeds, Flickr and Instagram images from an account.
You can create an slider from each of the following sources: Custom Slides, Posts (WordPress), Custom Post Types (WP), Taxonomies (WP), External RSS, YouTube, Flickr, Twitter and Instagram.
Add videos from YouTube, Vimeo or Hulu.
Create a unique slider adding not only videos or only images, but both of them between slides.
Thanks to the shortcode the slider generates, you can add it anywhere inside your pages, posts or widgets. (for WP) or via JS code for non WP environments.
You can have as many sliders as you want in the a single page.
Add a flat color or a pattern based background the captions in the slides.
You can add text or html based captions, including title and description, for WP, caption can also include author and date.
You can adjust both the position and width of the slider captions.
You can also include external URL images. By doing that, you can add completely different background patterns to your slider.
Choose if your images or videos are shown slow or fast defining the delay time.
You can choose a fixed width for your images, or adjust them to the 100% of its parent width.
Adjust image to where you need them to be using margin values.
Add image descriptions within the thumbnail labels and display them on top, bottom, left or right side of your slider.
Like the images, the labels can have their own background.
Text formating for title and content. Color, size, bold, cursive and family available for them to be set and changed.
Show as many slides as you want.
Since the slider is fully responsive, you won't need to worry about your slider stop working on small screen devices.
You can adjust both the position and width of your captions.
Pick one from 31 available effects (premium) or let them be random.
Responsiveness can be deactivated, allowing your slider to remain the same disregarding the screen size.
You choose the skin that fits on your site the best from 39 skins.
Give your slider a completely different appearance just changing the look of the arrows.
Now going to the practice, Lets take a look into how this looks:
Editing the thumbnails, you can place them whenever you want.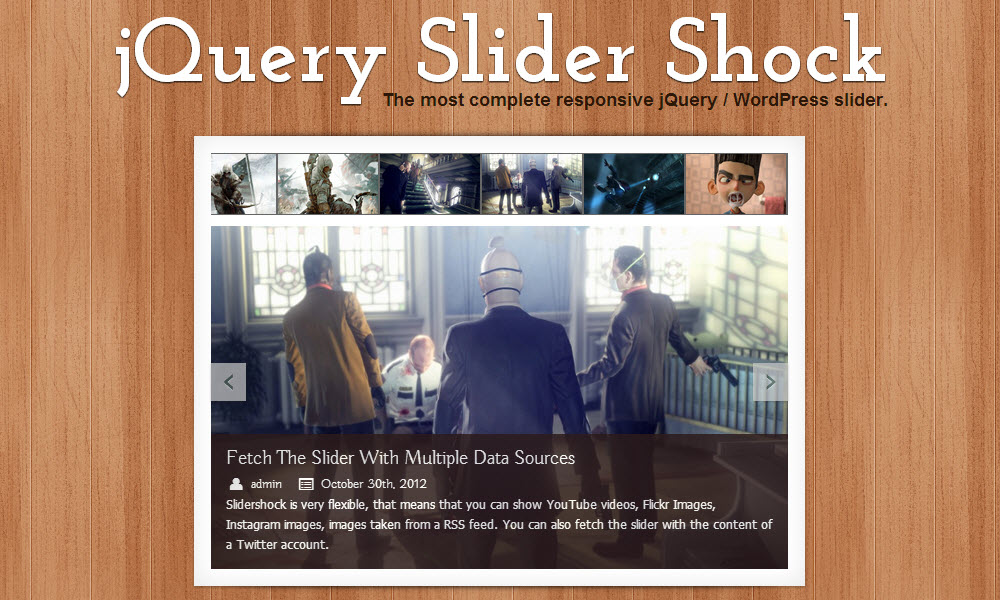 Adding content from twitter, or any other external source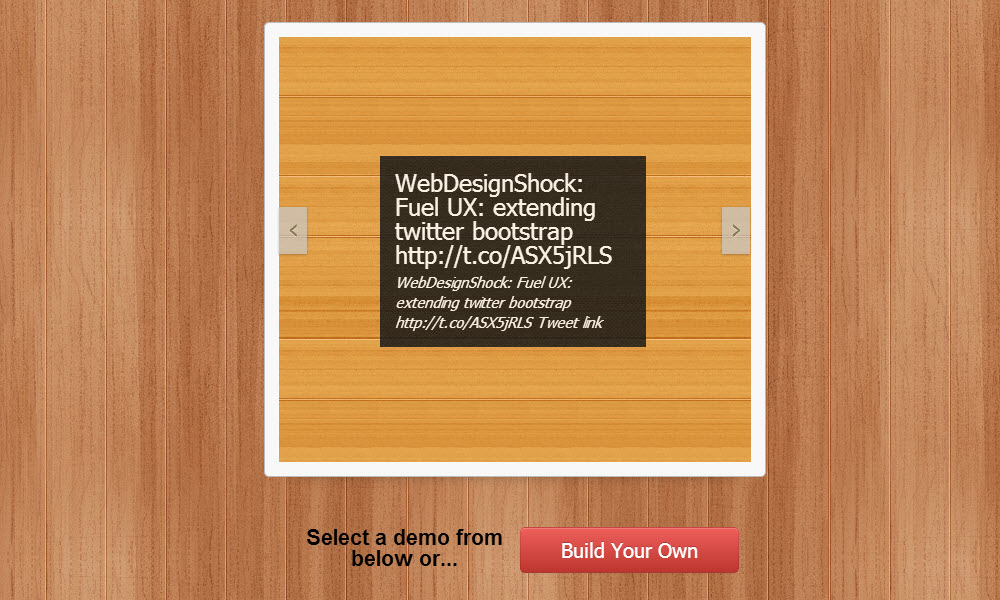 Adding images from flickr with a small review in the top left area.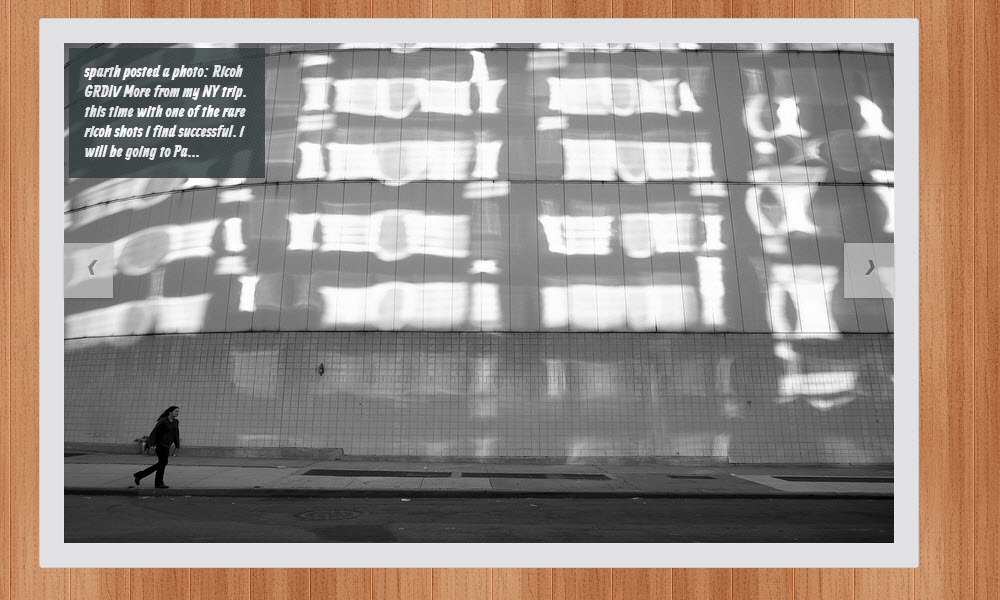 Adding content from YouTube with no captions or thumbs.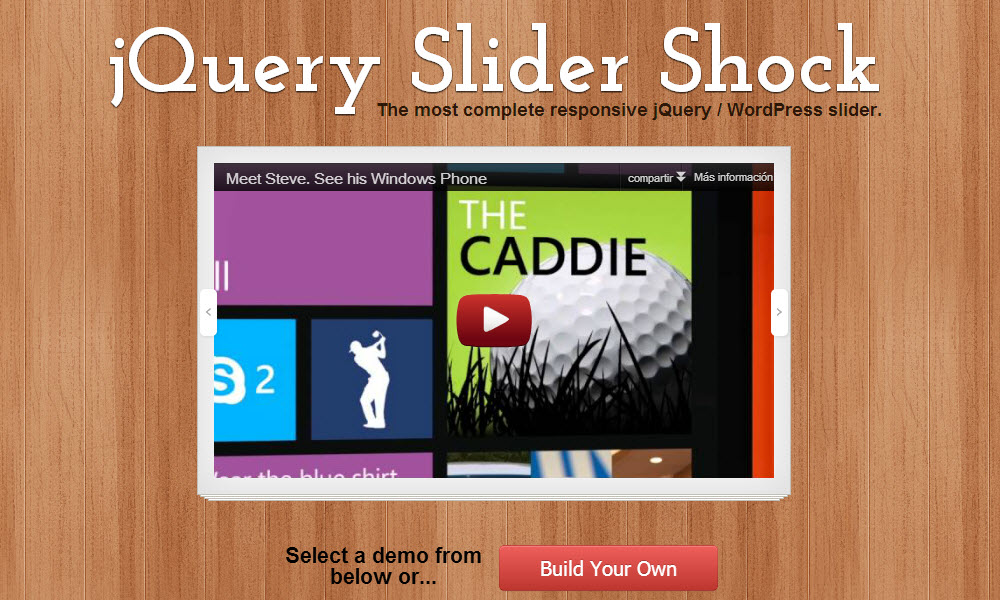 Setting Width and height, you can either set a fixed width and height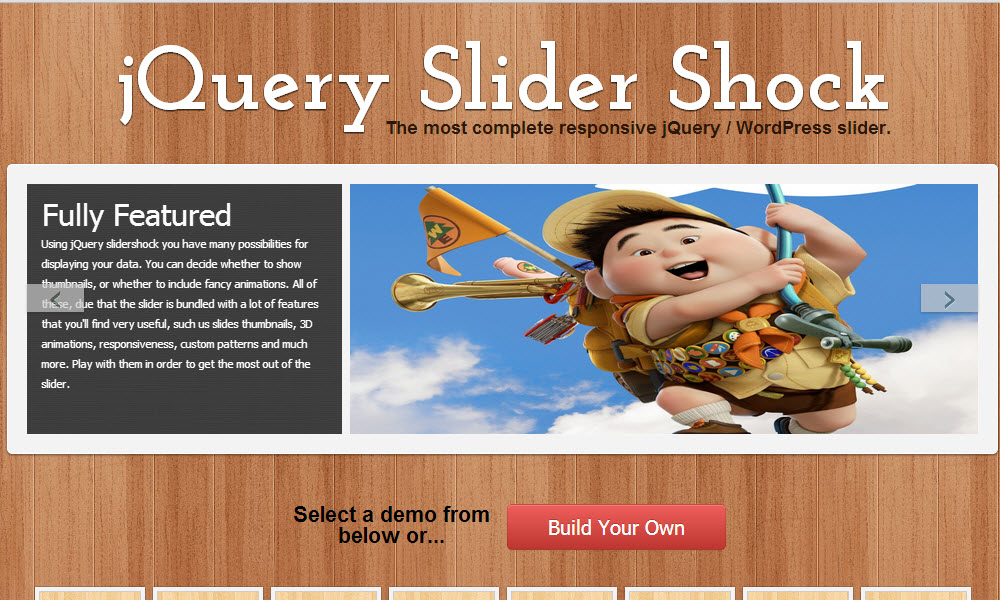 No captions at all, only images taken from custom post in wordpress or jquery.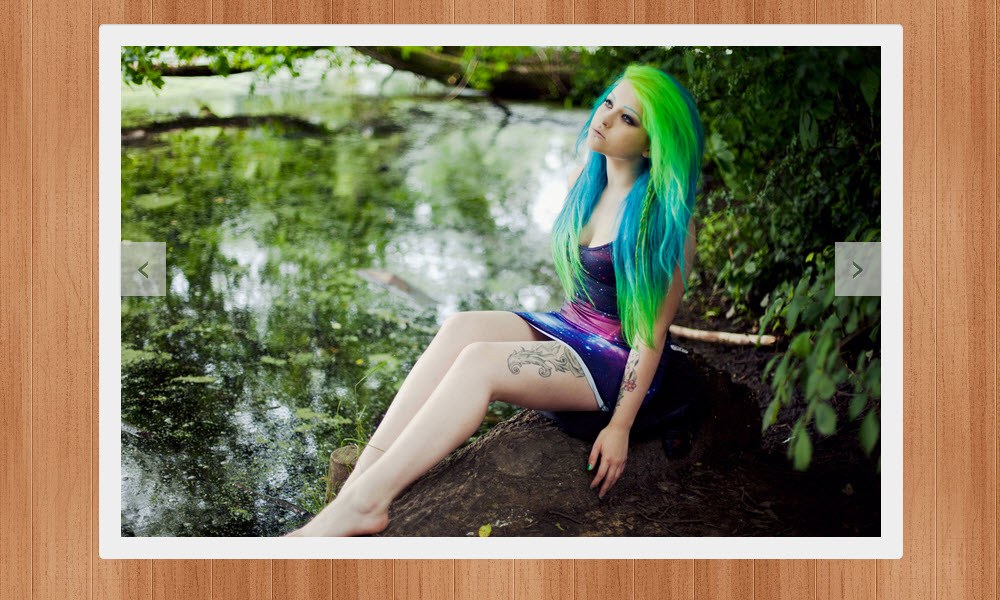 Inserting content from Instagram, you can change the colors and sizes.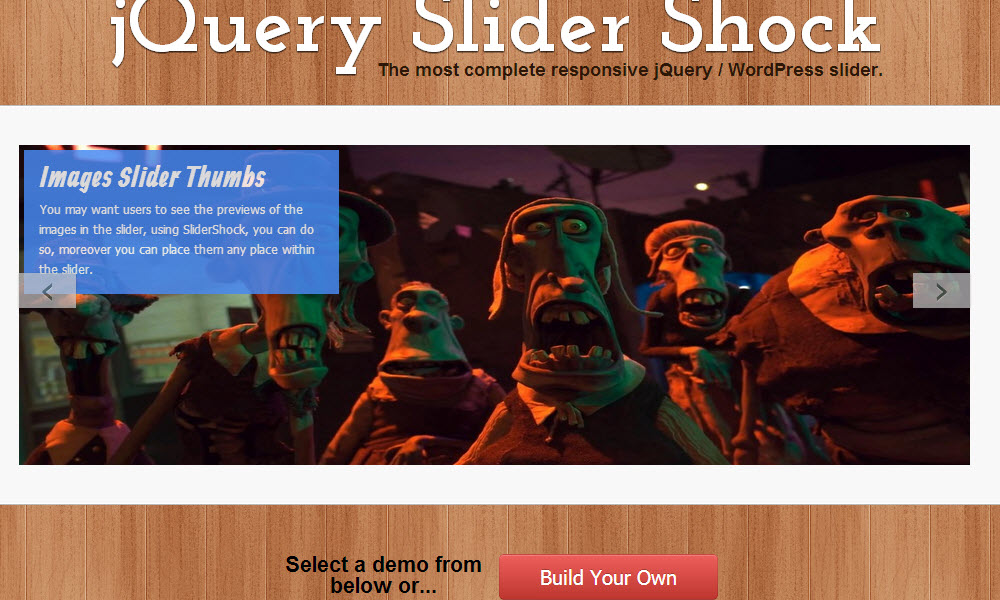 Changing caption settings, defining a custom width for caption and image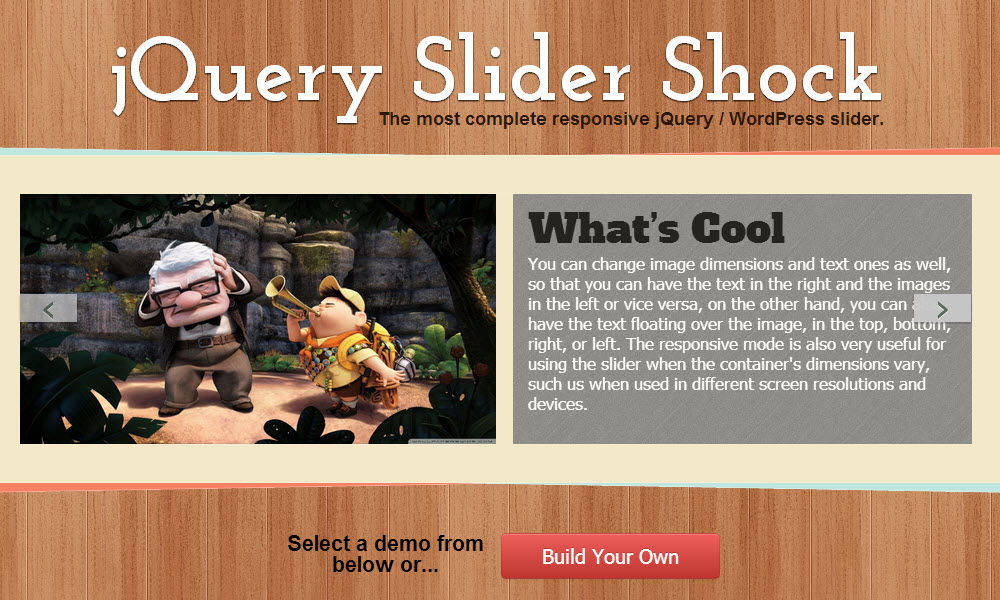 Changing the Skins, choose from 31 available skins. more to come.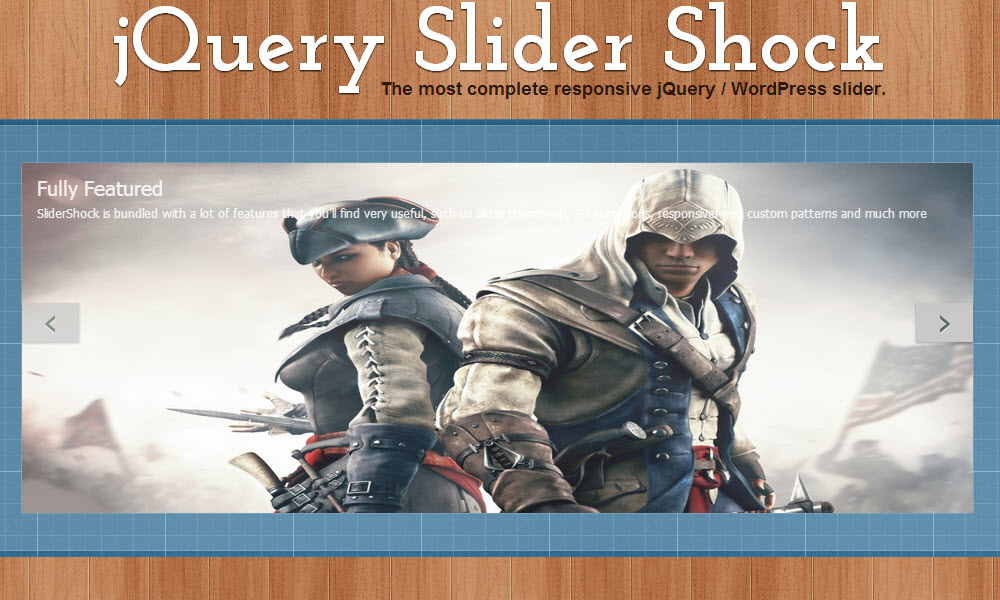 You may go now and feel free to start using the slider. Be one of the first people to have it and show it!. You can choose now between a personal license to start using the slider for free, or a commercial license to have access to everything. even to modify it. You can check the pricing options by going to the page. If you already have downloaded jQuery Slider Shock, dont forget to read the documentation to guide yourself for further assistance.
We hope you have enjoyed this post. We are always glad to bring you our material. Looking forward to bring you more in the future.