Good and free fonts are ideal if you find them but very few of the ones you find can reach up to your expectations if you have a big and really serious design project.
However, premium fonts guarantee to be the thing you want for every kind of design project. Of course, buying them for a non-commercial design would be pointless and it's out of the question but when we are talking about a contract where there is no room for mistakes, they are a good investment if you want your project to have top notch typography.
I know many of this site's subscribers want only free resources but an article like this one has to be written from time to time to see the difference between freebies and premium resources.
Fibon Neue Family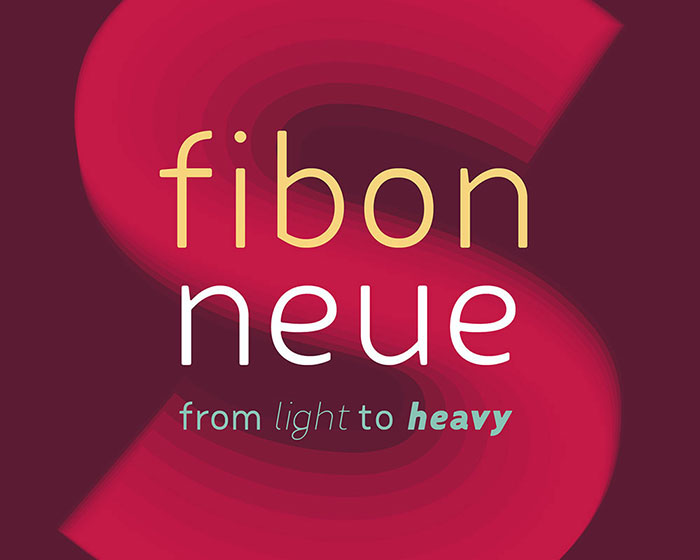 The Fibon Neue typeface is based on Fibon Sans, but brings an improved structure with optical compensations to look more balanced. Low contrast and smooth characters, friendly open counters make it highly legible. Great both for display and print.
Its curves make it a dynamic typeface when composing a text, ideal for those who want to add modern touch to their compositions. Fibon Neue is an excellent choice for logotypes, magazines, books and shops.
Proxima Nova

Designed by Mark Simonson, Proxima Nova is a Sans Serif. This typeface has 48 styles and was published by Mark Simonson Studio. Proxima Nova is a full-featured OpenType font family. It includes many typographic extras such as small caps, old style figures, and alternate characters.
Gilroy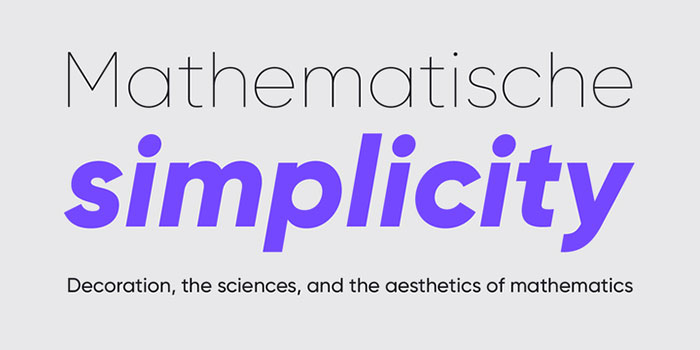 Gilroy is a modern sans serif with a geometric touch. An younger brother of the original Qanelas font family. It comes in 20 weights, 10 uprights and its matching italics. The Light & ExtraBold weights are free of charge, so you can use them to your heart's content.
Designed with powerful opentype features in mind. Each weight includes extended language support (+ Cyrillic), fractions, tabular figures, arrows, ligatures and more. Perfectly suited for graphic design and any display use. It could easily work for web, signage, corporate as well as for editorial design.
Texta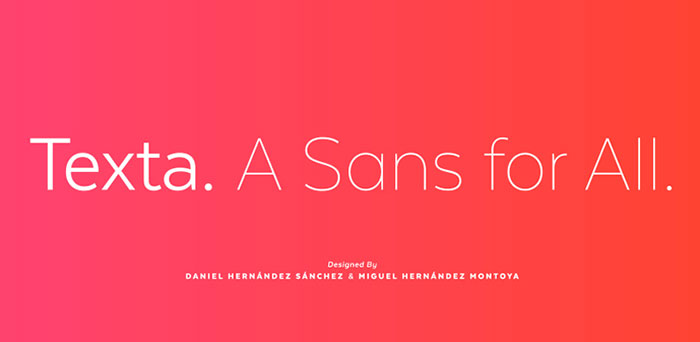 Texta. A Sans for All. Through studying humanists' models from Edward Johnston to Adrian Frutiger and the Gothic Alphabet made by sign painters comes Texta, a contemporary, rational, transparent and useful Sans to compose all kind of texts. We incorporated an Alt version that replaces lower cases like a-g-y with geometric constructions to get more versatility in neutral compositions.
Manifold CF Sans Serif Font Family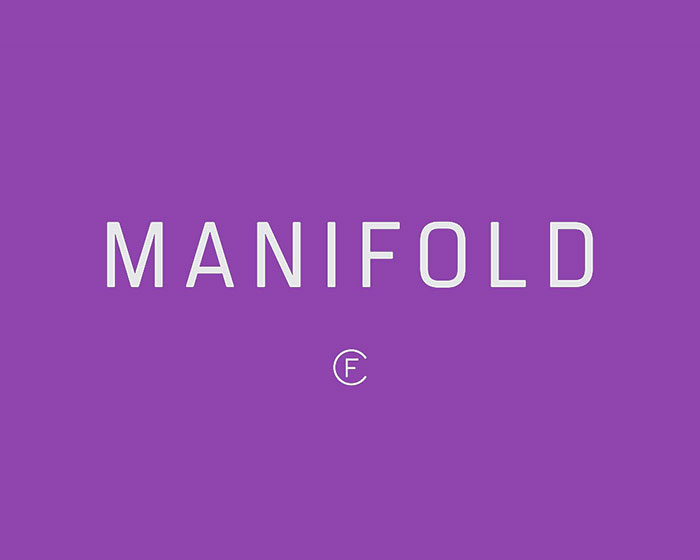 The Manifold Sans Serif Font Family is a utilitarian typeface created with the strict precision of a computer terminal, and polished by modern design influences.
This font family's unified letterforms and tall x-height makes it a great addition to modern UI designs, making them look sharp and sophisticated.
It contains 6 font weights and italics for each of them, being a versatile font which can be used in any situation. Another plus that this font family has is represented by the Latin and Cyrillic alphabets, but also the OpenType features.
Frutiger

World renowned typeface designer, Adrian Frutiger, was commissioned by the Charles De Gaulle Airport near Paris in the late 1960s to develop a typeface for airport signage. Instead of adapting his previously designed Univers® family, he developed something new that would also go on to become a classic – the Frutiger® typeface. The new design was completed in 1975 and installed at the airport that same year.
Jotia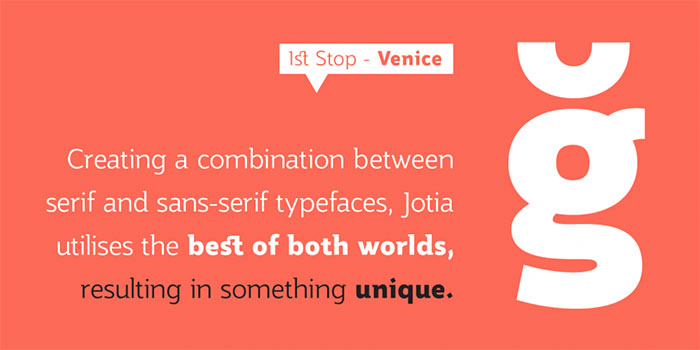 Designed by Rebecca Hurst, Jotia is a sans serif font family. This typeface has six styles and was published by The Northern Block. Jotia has extensive OpenType support including 1 additional stylistic sets, Stylistic Alternates, Lining Figures and Standard Ligatures making it a powerful font for experienced designers. Jotia features multiple weights and has extensive latin language support.
kjasdhkjasdasd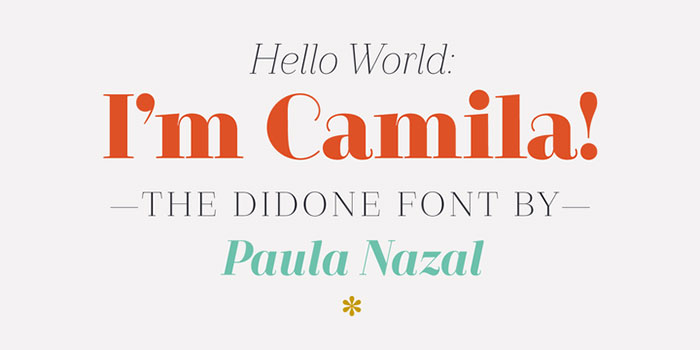 Camila is a delicate and smooth Didone typeface designed by Paula Nazal. The family is inspired by concepts such as elegance, simplicity, femininity, and primarily based on Coco Chanel.
A remarkable feature of this font is that it lacks of teardrop terminals, characteristic of Didone typefaces. This font family comes in 7 weights, ranging from Thin to Black, each with matching italics and includes a set of 426 characters that support 206 different languages.
Questa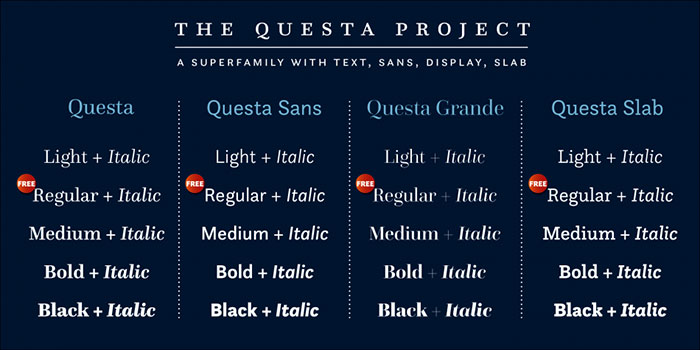 Designed by Jos Buivenga and Martin Majoor, Questa Complete is a sans serif, serif and slab serif font collection and was published by The Questa Project. Questa Complete includes 8 OpenType features including Lining Figures and Standard Ligatures making this font a great value. Questa Complete features multiple weights, includes 4 families and has good Latin language support.
Regime Grotesk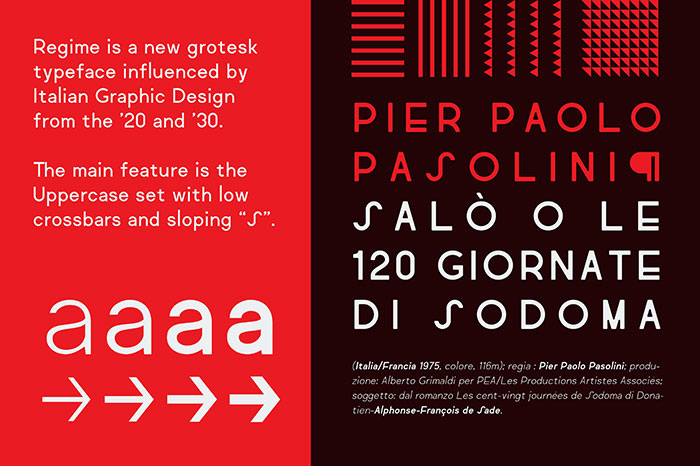 A new modern classic. Regime Grotesk is a versatile sans serif font family that's ideal for building a contemporary yet timeless brand look.
Inspired by Italian Graphic Design from '20 and '30. The fascist regime made a great work with propaganda by choosing certain aesthetic canons and fonts like Futura and Mostra. Regime inherits from them proportions, low crossbars and the peculiar Sloping "S".
It is designed to be balanced, modern and easily adaptable to web, print, and signage applications. From fashion to corporate industry, this font gives the designer full flexibility to express his/her vision.
Avenir

In drawing the Avenir® typeface, Adrian Frutiger looked to both the past and the future for inspiration. His goal was to reinterpret the geometric sans serif designs of the early part of the 20th century in a typeface that would portend aesthetics of the 21st century.
He succeeded handsomely. In doing so, Frutiger added a bit of organic humanism to the design, freeing Avenir from the rigid geometric overtones of the earlier designs.
Stolzl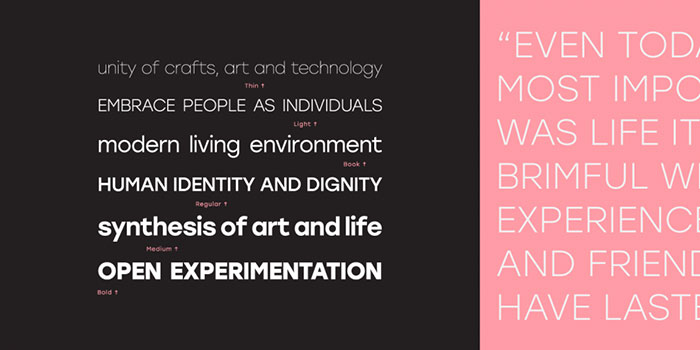 Designed by Mariya V. Pigoulevskaya, Stolzl is a sans serif font family. This typeface has six styles and was published by The Northern Block. Stolzl features multiple weights, has good latin language support and supports the languages Cyrillic, Greek and more (125).
Corporative Sans Rounded Condensed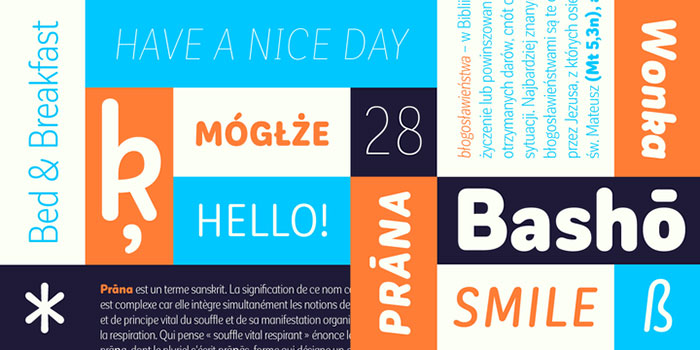 Corporative Sans Rounded Condensed is the narrowed version of Corporative Sans Rounded that offers high performance when using for text, what makes it the perfect match for Andes Rounded.
The font works well at both display and small sizes. Corporative Sans Rounded Condensed is the perfect choice for logotypes, posters, signs, branding, packaging and so on!
Corporative Sans Rounded Condensed comes with Latinotype's standard set of 350 characters, making it possible to use the font in 128 different languages.
Articulat CF Sans-Serif Typeface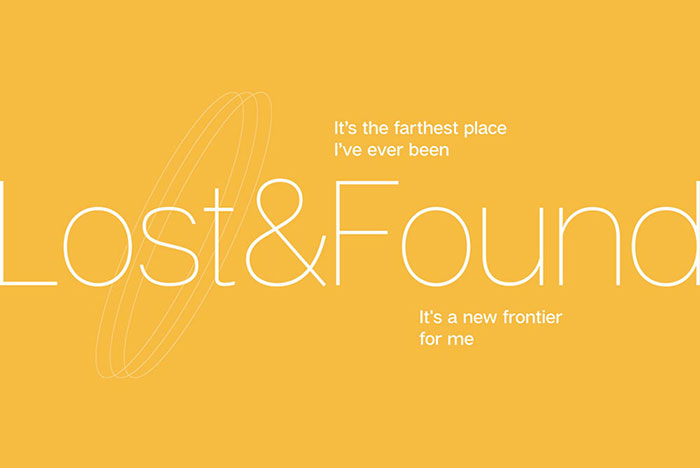 Articulat CF Sans-Serif Typeface is a new take on the timeless Swiss typography style. Strong, sharp and well-spoken, Articulat was built from scratch to be versatile, charismatic and legible. Always in style, use it for a hit of mid-century beauty – reimagined for the 21st century with more flavor and individuality.
Includes nine weights, obliques, fractions and more. Latin-script multilingual support.
Queulat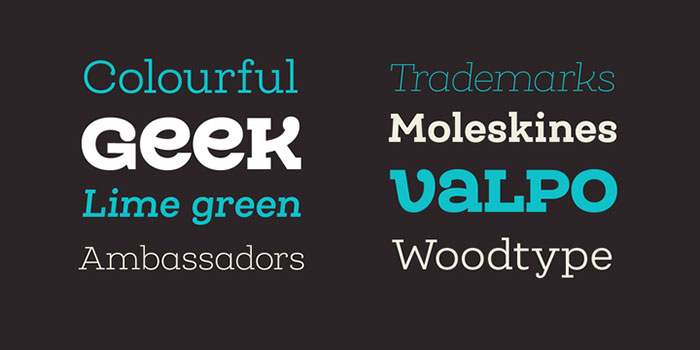 Queulat is a hybrid typeface that combines two different styles, reflecting charm, freshness and, especially, a strong personality.
The font is inspired by Modern and Grotesk styles. The former is shown in some characteristic features such as teardrop terminals, which give the typeface an attractive unique look, making it an ideal choice for logotypes and labelling. The latter, with its rationality, makes Queulat a stable and strong face for headings and subheadings.
The combination of styles can be clearly seen by comparing the regular with the alt version. The regular version is more simple than the alt one. Differently, the alternative version possesses more features of the Modern style, like teardrop terminals in 'k' and 'v'.
Nanami Rounded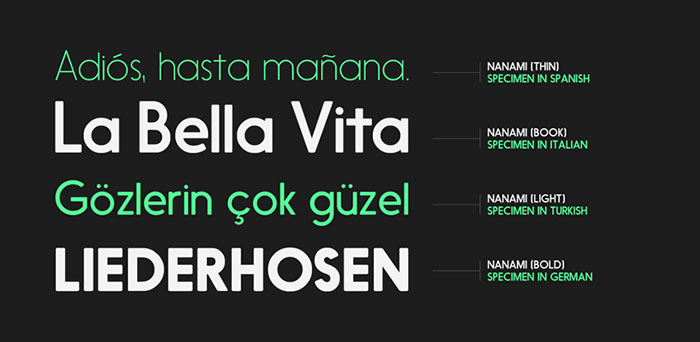 Nanami Rounded builds on the previous success of the Japanese-influenced Nanami with a huge new palette of looks and weights to play with. The rounded corners and even strokes of this super contemporary-looking display invite you to try out some inspirational logo work.
Argent CF Serif Font Family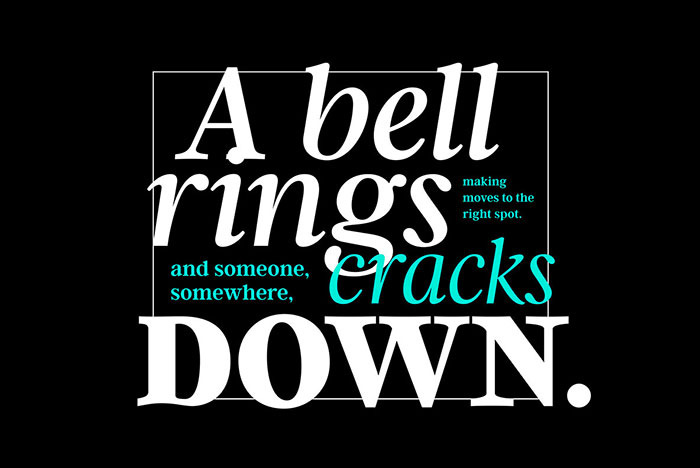 Argent CF is a new serif font family containing captivating and expressive letterforms, a tall, breathable x-height and beautiful italics.
You'll notice in the examples below that the thinnest weights are making use of the small whitespace between them, making them classy and modern. The superbold weight is ideal for headlines due to its candid and fearless image that it conveys.
Aptifer® Slab

Designed by Mårten Thavenius, Aptifer® Slab is a Serif. This typeface has 14 styles and was published by Linotype.
Brandon Grotesque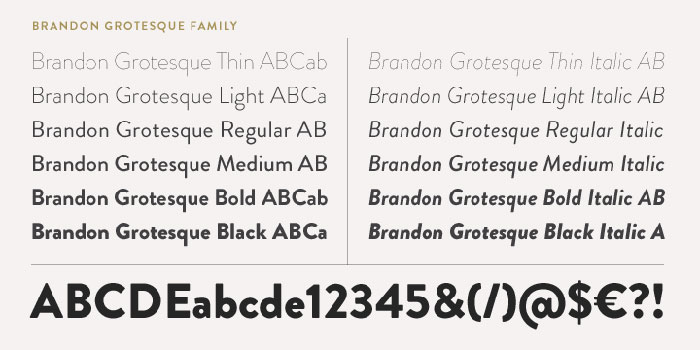 Brandon Grotesque is a sans serif type family of six weights plus matching italics. It was designed by Hannes von Döhren in 2009/10. Influenced by the geometric-style sans serif faces that were popular during the 1920s and 30s, the fonts are based on geometric forms that have been optically corrected for better legibility.
Brandon Grotesque has a functional look with a warm touch. While the thin and the black weights are great performers in display sizes the light, regular and medium weights are well suited to longer texts. The small x-height and the restrained forms lend it a distinctive elegance.
Reznik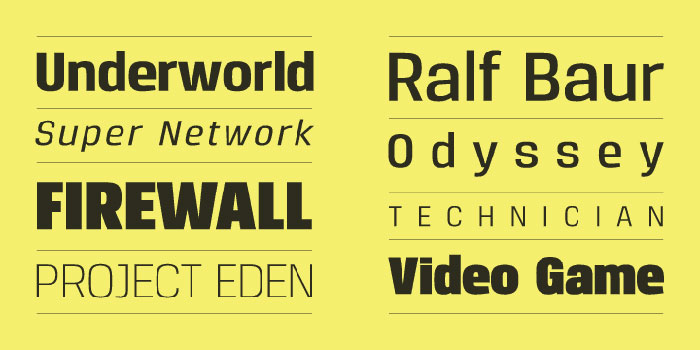 Reznik is a sans serif font family. This typeface has eighteen styles and was published by The Northern Block. This neutral typeface has extensive OpenType support including 1 additional stylistic sets, Stylistic Alternates, Lining Figures and Standard Ligatures making it a powerful font for experienced designers. Reznik features multiple weights and has extensive latin language support.
Latina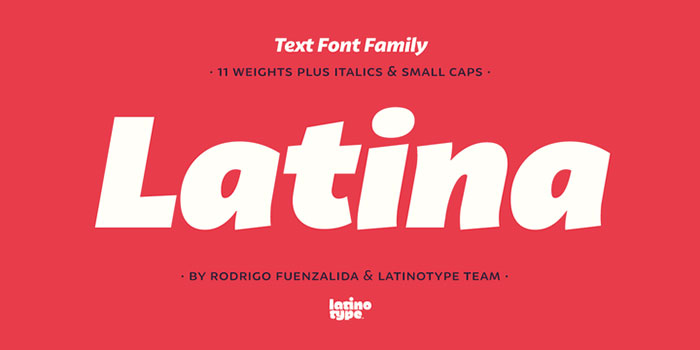 This font is based on calligraphy, but calligraphic features have been changed in order to make Latina a more neutral font. This prevents readers from losing their focus when reading continuous text. On the other hand, these same features get highlighted when using the font for headlines or display text.
Neretto Sans Font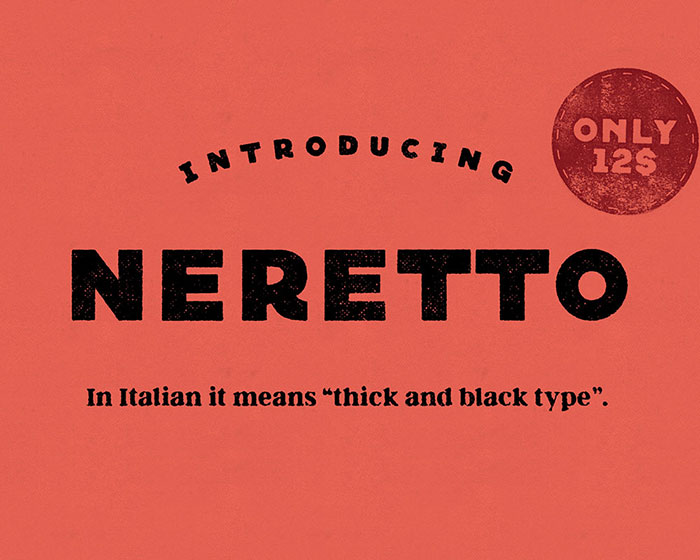 Say hello to the new NERETTO SANS font, a contemporary sans serif, based on Sensi Bold font, designed by Valerio Dell'Edera. Its name is an Italian word used to denote a thick and black type. Neretto is the perfect titling font to complement text faces in magazines, logotypes, etc.
Univers®

The Univers® typeface family is one of the most prolific grotesque sans-serif typefaces of the century. Like Helvetica®, Univers is based on 1898's Akzidenz-Grotesk. However, Univers is unique in that the design lacks superfluous features of any type, creating a design that is versatile and distinctive without being obstrusive.
Adrian Frutiger began work on Univers in 1954, completing his design in 1957. The Univers type family has grown to 44 different weights and styles, some of which include Cyrillic characters.
Regan Alt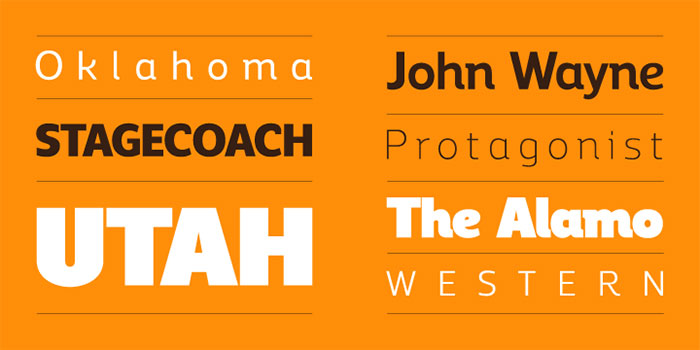 Regan Alt is a twenty font, sans serif family by The Northern Block. This informal typeface has extensive OpenType support including 1 additional stylistic sets, Stylistic Alternates, Lining Figures and Standard Ligatures giving you plenty of options to allow you to create something truly unique and special. Regan Alt has extensive latin language support and features multiple weights.
Fuse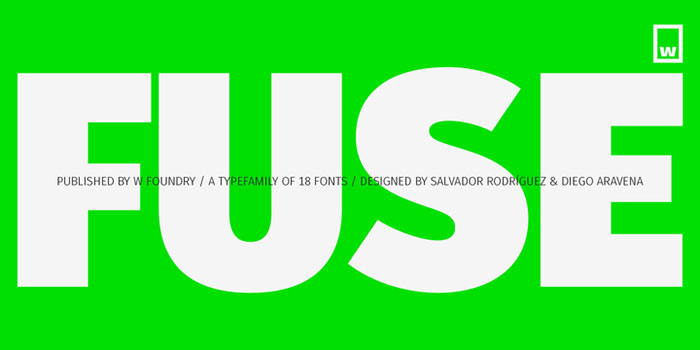 This font is inspired by two typographic styles, incorporating (both) geometry and humanism. It combines the rhythm of such typefaces as Meta Pro and The Sans, as well as terminations and structures from fonts like Din and Futura. This results in a font that plays with condensation and a parallel rhythm, simple and functional.
Fuse is perfectly equipped with Opentype, it contains alternative glyphs, fractions, modern and old numbers, superscripts and subscripts, ligatures and Small Caps. We always kept the idea of having Fuse be humanistic, rational and universal, which makes it ideal for graphic design, printed publications, web design, motion graphics, interaction design and branding.
Odudo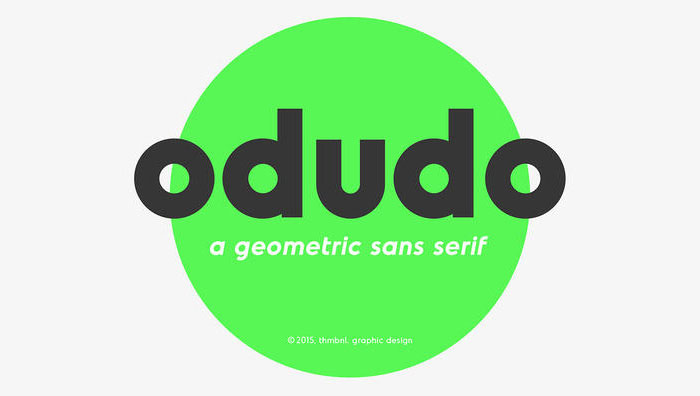 With almost the same geometric construction and proportions, Odudo is the new edgy brother of the rounded typeface oduda, designed in early 2015. Without the chubby rounded look, this typeface finds inspiration in some classic geometric fonts (Futura, ITC Avant Garde, and maybe even a little bit of ITC Bauhaus).
Visby CF Sans Serif Font Family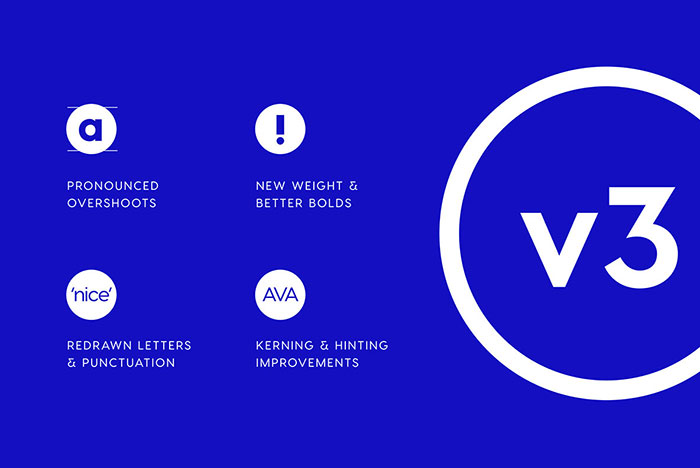 The newly updated Visby Sans Serif Font Family is friendly and charismatic in lowercase, while being sophisticated and authoritative in uppercase.
This geometric typeface was inspired by the start beauty and crisp air of the Arctic North. Its hard lines and sharp corners combined with smooth, rounded letterforms create a warm typeface with humanist tones.
It contains seven wights, a set of obliques for each of them, Latin and Cyrillic alphabets and several OpenType features.
Avenir® Next

The Avenir® Next font family was designed by Adrian Frutiger in collaboration with lead designer (now Linotype Type Director) Akira Kobayashi. It was an expanded reworking of the original font family (released as an OpenType font with both oldstyle and lining figures) and received considerable acclaim upon its publication by Linotype in 2004.
Woolworth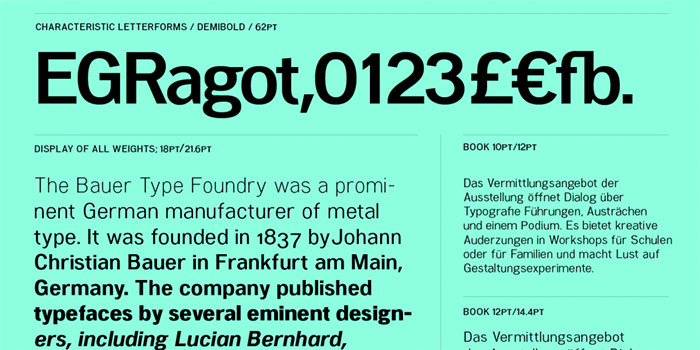 Woolworth is a sans serif font family. This typeface has twelve styles and was published by The Northern Block.
This neutral typeface has extensive OpenType support including 1 additional stylistic sets, Stylistic Alternates, Lining Figures and Standard Ligatures making it a powerful font for experienced designers. Woolworth features multiple weights and has extensive latin language support.
CA Normal Serif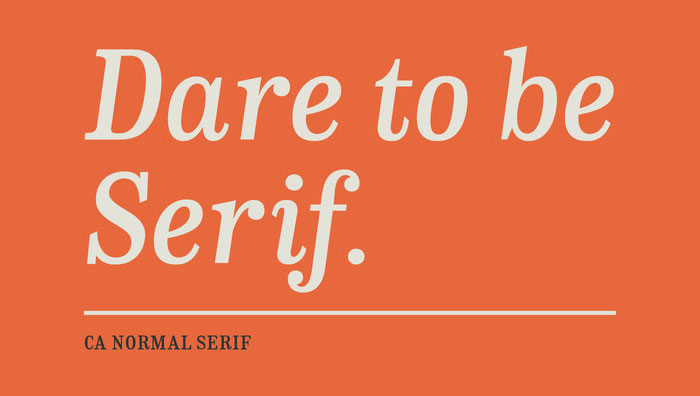 CA Normal Serif is the perfect companion to its grotesque brother CA Normal. But it is not just a serifed equivalent. It has a character of its own while preserving the principal proportions and the idea of quirkiness.
It was not the aim to build a typeface that can immediately be identified as a relative of CA Normal. The intention was to create a matching typeface in aspects of aesthetic and concept. Whereas commonly serif-companions to grotesques are old-style or slab-serif, CA Normal Serif is situated between modern and slab-serif typefaces.
Volterra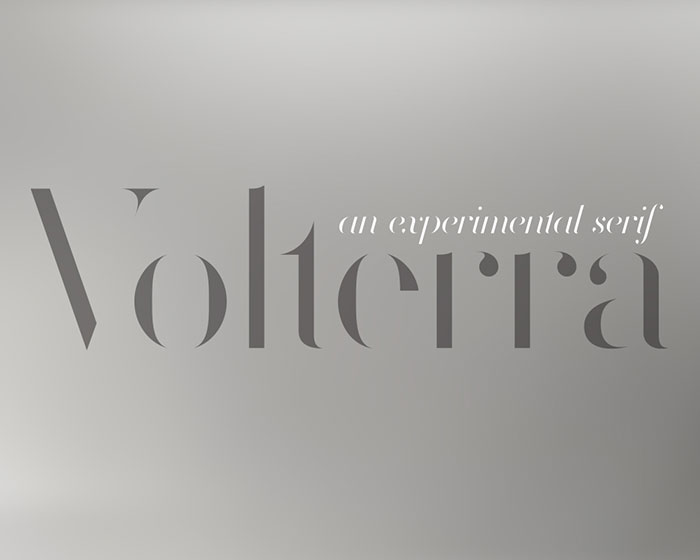 In today's typographic landscape, few would still consider Bodoni to have a "modern" feel in the larger sense of the word, but there was once a time when it's vertical axis and thinned horizontal strokes were considered radical.
Akhand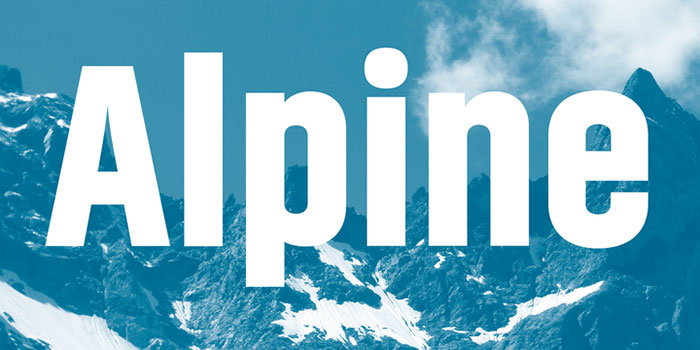 Akhand is a family of eight fonts for display applications. Featuring condensed straight-sided letterforms, Akhand is a virtually mono-linear sans serif. The design of the face is based on a modular structure, but not every aspect looks constructed. Its forms look great on their own in logos, and headlines function well when different weights are combined together. The fonts are part of the larger Akhand super family, which covers a variety of Indian scripts.
Hoxton North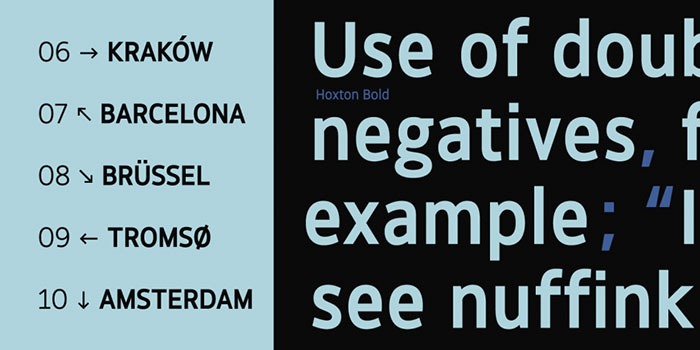 Designed by Jonathan Hill, Hoxton North is a sans serif font family. This typeface has twelve styles and was published by The Northern Block. This neutral typeface includes 16 OpenType features including Contextual Alternates and Proportional Figures making this font a great value. Hoxton North features multiple weights and has extensive latin language support.
Taxon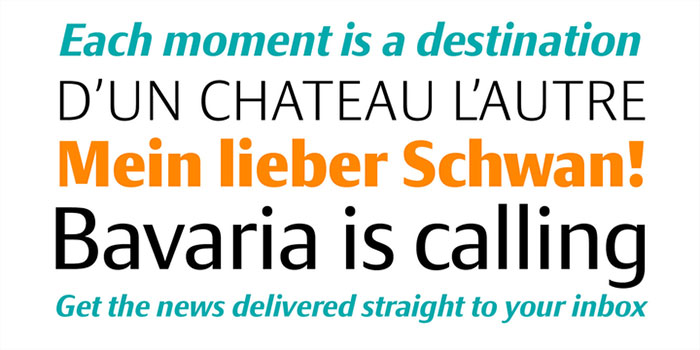 Taxon is a straightlined Sans with a clean, fresh and unsentimental look. Related to classical faces like Optima and Imago, it appears more contemporary and merges the austere linearity of the Grotesk with the elegance of the Antiqua.
The Taxon family consists of 12 styles and is well suited for ambitious typography. It comes in OpenType format with extended language support. All weights contain ligatures, superior characters, proportional lining figures, tabular lining figures, proportional old style figures, lining old style figures, matching currency symbols, fraction- and scientific numerals, matching arrows and alternate characters.
Jovial Font Family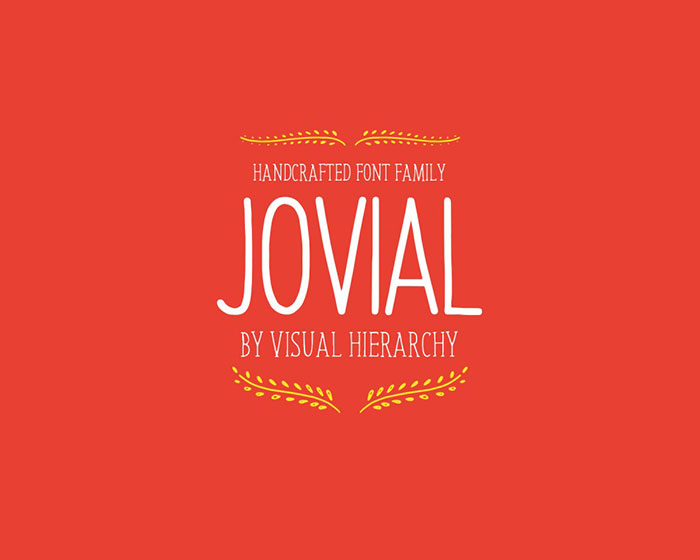 Jovial Font Family (6 fonts) is a cool and groovy handcrafted typeface that will fit your projects like a glove. Jovial is available in both Serif and Sans-Serif, each coming with three weights: Light, Regular and Bold.
As a bonus, we have handcrafted some really cool elements that you can use in your projects. With Jovial you will be sure that your projects will stand out from the crowd.
Rift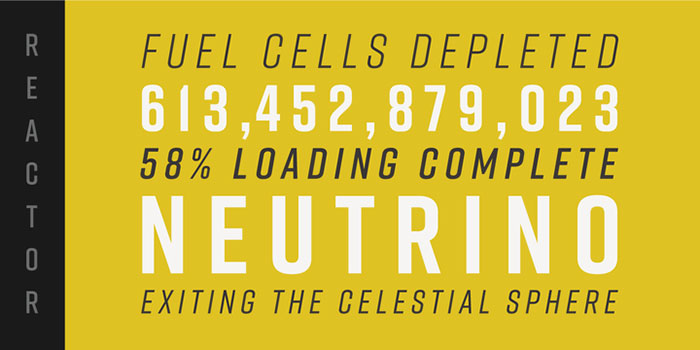 The idea for Rift was conceived while designing a board game called Control. The time-travel theme and sci-fi overtones of the game pushed me to find inspiration in the titles and lettering on campy sci-fi posters from an earlier age. What was found was tall, geometric type often rooted in the square-sans genre. From that exploration, a bold typeface was built for the titles on the cards and logo of the game.
An interesting phenomenon occurred as Rift was placed in other scenarios—it adapted. Though sci-fi usage was the original influence, the end-product became something much-more versatile. This led me to develop new weights, italics, and soft styles for the face in order to accommodate a wider array of use.