Email marketing still has the highest ROI of any marketing channel available. Successful email marketers can expect an ROI of around $40 per every dollar spent, but getting there isn't possible without knowing how to design marketing emails to reach the inbox.
If you aren't optimizing your marketing emails for deliverability, you are probably not getting the highest ROI on your email marketing efforts. Below, we explain some essential marketing email design do's and don'ts to help you ensure that your emails always reach their intended audience and generate interest.
Plain Text vs. HTML Emails (Graphic)
When most people send an email to a friend or coworker, they send what's called a plain text email. As the name suggests, a plain text email contains only characters, some of which control simple arrangement of text, such as spaces and line breaks.
Plain text emails tend to be very small because they don't contain any colors, graphics, or special formatting. Because of their simplicity, they look the same on all devices and are highly accessible. Such emails, however, all look more or less the same, which is why HTML emails have come to dominate email marketing in recent years.
HTML (Hypertext Markup Language) is the standard markup language of the web, supported by all web browsers and email clients. With HTML, it's possible to format text as titles, headings, paragraphs, and lists, include links and images, and do a lot more to make emails more interesting and interactive.
The biggest problem with HTML emails is that they don't always display as intended. An HTML email that looks perfectly fine on one device might be completely unreadable on another device. To overcome this problem, its best to send a hybrid of both plain text and HTML emails and get the best of both worlds.
Marketing Email Design Do's and Don'ts
There are many different types of marketing emails that you can send to accomplish anything from announcing a new product to summarizing your latest content to inviting newsletter subscribers to attend an upcoming event. But regardless of the type you use, there are some marketing email design do's and don'ts that you need to keep in mind to ensure high deliverability.
Do Write a Copy That Attracts Attention
According to researchers, the attention span of the average adult human is just eight seconds. Since the average adult reading speed is 250 words per minute, you have approximately 30 words to attract attention and generate interest. If you waste this opportunity, your intended recipients will close your email and perhaps even unsubscribe or mark it as spam.
Therefore, your emails should always begin with an attention-grabbing headline and follow the inverted pyramid model, with the most important content placed at the very top.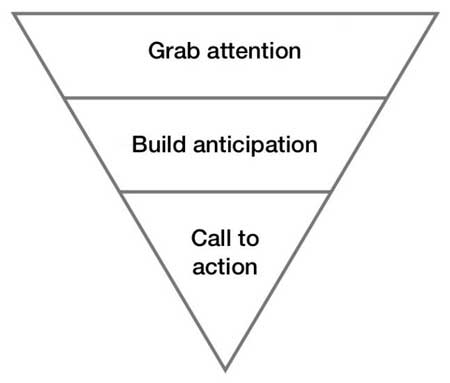 All supporting information, as well as visual content, is placed below the headline to build anticipation and prime readers for the last part of the inverted pyramid model: the email's call to action.
The call to action is there to prompt an immediate response with just a few words. Examples include Subscribe, Sign Up, Try for Free, Get Started, Learn More, and Join Us.
A single marketing email can contain multiple inverted pyramids, and they can be arranged vertically and horizontally.
Don't Use Spam Words
Modern spam filters take into consideration many different factors to determine which emails are legitimate and which should be sent to the spam folder. Apart from reviewing the information contained in email headers, they also review the content itself to check if it doesn't contain any words that are commonly found in spam emails.
Here are some spam words to give you an idea of what we're talking about: 100% free, earn extra cash, free money, you are a winner, credit card, Viagra, Valium, drugs, hacked, make money, lose weight, don't delete.
Of course, most spam filters are not stupid, and they won't mark an email as spam just for containing a single word associated with spam emails. But multiple spam words in combination with spelling and grammar mistakes might just do the trick.
Do Use an Email Scrubbing Service
One surefire way how to increase email deliverability is to use an email scrubbing service to clean your email list and reduce hard bounces and spam traps. By removing unengaged subscribers from your email list, you can protect your email sender reputation score, achieve better open and click rates, get less spam complains, and improve email marketing ROI.
On average, email marketing databases naturally degrade by about 22.5% every year, which means that your email marketing campaigns will become less effective over time unless you do something about it. Fortunately, doing something about it is simple since a reliable email checker can do all the heavy lifting for you.
The best checkers run advanced checks to validate MX records, detect and remove all duplicate emails, pot domains that return valid for all emails, get rid of trash email addresses that live short, send undetectable verifications to emails that can't be accurately validated, clean spam traps to improve your reputation score, removes emails with invalid syntax, and perform domain and SMTP validation.
Don't Send Image-Heavy Emails
Not all email clients have images turned on by default, and not all recipients would know how to turn them on even if they wanted to do so. If you're sending emails that don't work without images, then you're robbing yourself of many clicks, visits, and purchases.
Image-heavy emails have other downsides as well. To start with, they tend to be much larger than plain-text and hybrid emails, causing them to load slow, especially on mobile devices that are not connected to Wi-Fi. Emails without any text are not searchable, and they are certainly not accessible by visually impaired users.
When including images in your marketing emails, make sure to get the image size right, use the most appropriate file format (typically JPG or PNG), and don't forget ALT text to communicate your message even to recipients who don't have images turned on.
Do Pay Attention to the Width and Height of Your Template
Today, more email is read on mobile devices than on desktop computers and laptops. More than 70% of people read their email in a mobile app, and mobile users check their email 3x more often than desktop users.
To make marketing emails mobile-friendly, it's paramount to keep their width within 600 pixels and stick with single-column templates because mobile users are not used to side-to-side scrolling. You can even take your marketing emails to the next level and make them responsive so they display well on any device by automatically adapting to its resolution.
Just because email height is theoretically unlimited doesn't mean long emails perform as well as shorter emails. If you have just one call of action at the bottom of your email, you don't want your recipients to scroll for so long that their thumbs begin to ache. Staying within 2,000 pixels is a good practice, but you can make very long emails more effective by including a call of action every 500-700 pixels.
Don't Forget to Make Your Emails Recognizable and Attractive
Your marketing emails are an extension of your brand, and they should be just as recognizable and attractive. Use the same colors, fonts, and logos you use on your website and keep things consistent over time. You can test that your email template is recognizable and attractive by showing it without any content to people who are familiar with your brand and asking them to guess which brand uses it.
The good news is that you don't need to be a professional designer to create a beautiful email template because there are many tools that can hold your hand as you build a template that captures what your brand is all about just by dragging and dropping various elements onto a canvas.
Popular email template builders include Stripo.email, Campaign Monitor, MailChimp, Mosaico, and BEE Free, just to give you a few options to choose from.
Conclusion
Even though email marketing is one of the oldest tools online marketers have at their disposal, it remains the most effective channel there is. But it doesn't matter how effective email marketing is if you don't know how to design marketing emails to reach the inbox. In this article, we've covered some of the most important marketing email design do's and don'ts that you need to keep in mind to ensure high deliverability and email marketing success.