Your assignment is to create a website for a creative agency, perhaps the one you work for. Hence, your goal is to design a website that will attract and engage potential clients and customers. And have them beating on the door.
You need to address what these potential customers expect from a creative agency. They obviously expect quality work. And they expect creativity. Whether the agency in question is a web design, marketing campaign, or PR agency.
A creative agency's capabilities need to reflect its website. If the agency is legitimately capable of doing the impossible, its website should reflect it. And that could be a challenge.
Fortunately, all you need, besides some creative skills of your own, is a design tool to make your designs as creative as possible. Use a pixel-perfect theme, like this one, and you are on your way to satisfying the most pretentious and demanding clients. Or your boss.

Uncode's Creative Agency concept
The Top 5 Most Important Pages and Areas in a Creative Agency's Website
The Homepage
Your creative agency's homepage should be awesome to look at. That would seem to be a reasonable expectation for this type of a business. What is even more important yet, is your homepage needs to tell a visitor who you are and what you do – instantly.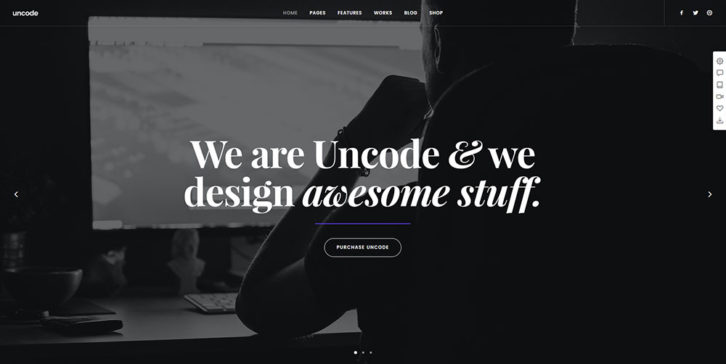 You home page should also reflect how you do what you do. In doing so, it needs to be crisp, clean, and modern – like this Uncode concept.
The Portfolio
If your visitor finds your crisp, clean, and modern home page not only appealing, but impressive, he or she will want to check out your portfolio. The second of your five most important pages.
The key here is to only show your agency's best work. This is mandatory. Showcasing second-best or mediocre work will not draw in customers. Quite the opposite in fact. You have but a few seconds to show your agency at its best.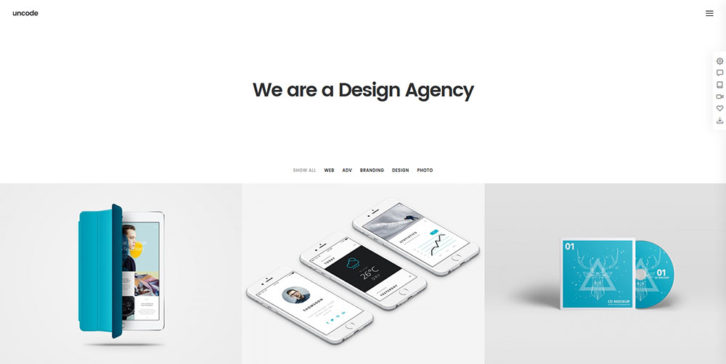 Uncode's portfolio Agency concept
"The portfolio is the most important page of a creative agency's website, because this is where a potential client actually decides if the agency is suited for the work. A cloggy design or an incoherent style is a risk. We chose, in all of Uncode concepts, to keep clarity and simplicity as essential ingredients in the design." – David Salvatori, Uncode's co-creator.
Uncode's advanced grid system and masonry formats are the ticket for showcasing portfolio items in the best light. Like this.
The About Page
Once a potential client has an understanding of what your creative team can do, he or she will want to learn more about your background and your team. The purpose of the About page is the to communicate the essentials of your team and of your business.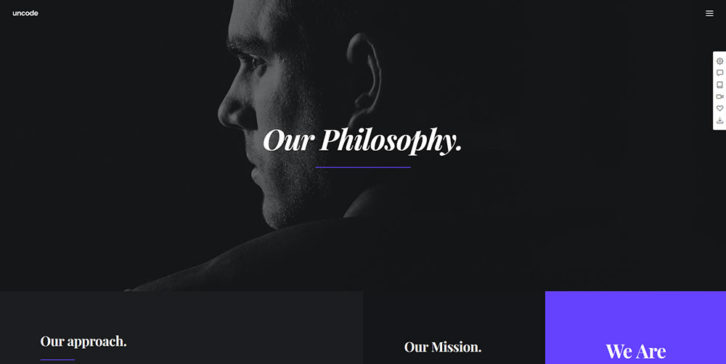 This is what a modern About page should look like – simplicity and focus, aided by a smart use of white space.
"Absolutely perfect theme. First time ever I achieved 90/100 in GTMetrix. I've been able to optimize this theme to load below 500ms with plenty of images! Incredible" – Tomalla (ThemeForest User)
The Contact Page
The contact page is not a page devoted to details or to a presentation. It is devoted to conversion – and nothing more. As such, it has two main features; a clear and simple contact form, and a call to action.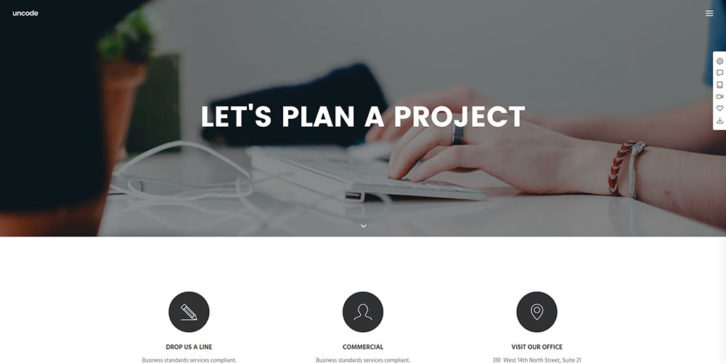 This contact page is clean and simple.
The blog
Blog posts are an efficient way of communicating.  Or showcasing case studies, experiences, and your creative team's ideas and beliefs. Blogs are a good way to help customers relate to the agency and its team. They should look great, as demonstrated in this Uncode concept:
A parallax effect that adds depth

Engaging Typography

Relaxing Color and font size choices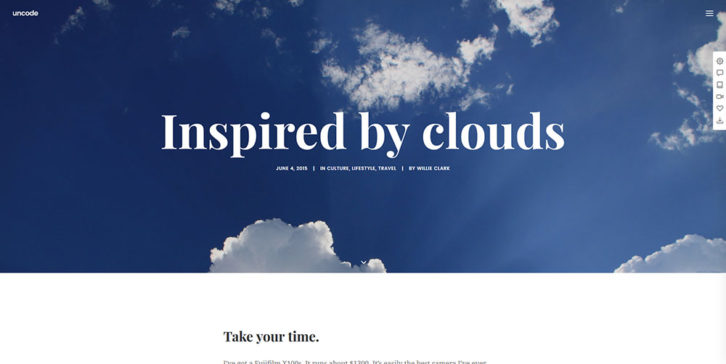 The blog concept that comes with Uncode
"Great design. It's got a learning curve, but if you need a beautiful WP site with serious backend design, layout and customization, take a serious look at Uncode. I'll purchase extended support rather than a new theme" – Mackay – ThemeForest User
Creatives as Clients?
A creative agency can at times be a difficult, pretentious client. The same can apply to you when you are building your own portfolio. You can be extremely demanding — and you have to be. But the rewards are great. High standards lead to award-winning agencies, and to award winning websites.
What makes up the creative mind? Here is what a study done in the 1960s discovered:
A creative mind is introspective.
It is often characterized by complexity and ambiguity.
It can extract order from chaos, and –
It is unconventional, and willing to take risks.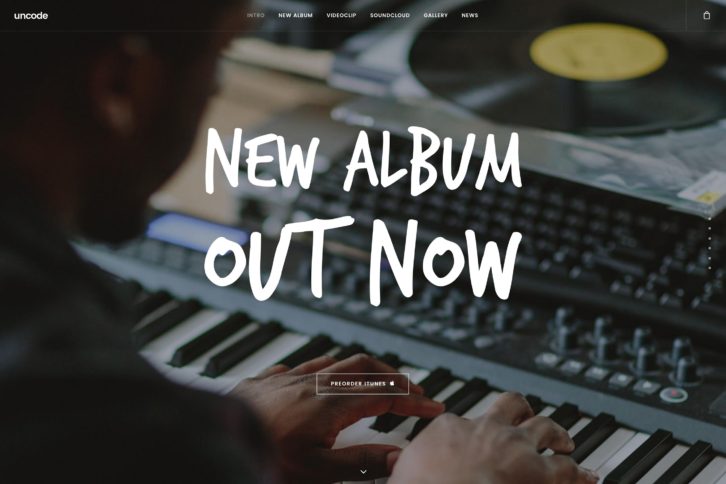 This represents your client – the creative agency you're working with. Thus choose a tool that gives you the flexibility and fine tuning ability to effectively deal with these creative traits.
Uncode will do this for you.
Uncode's authors created the most advanced grid system of a WP theme. You have dozens of options to create every type of possible, near-impossible, and even impossible, layouts. That's what creativity can do. It can translate abstract ideas into beautiful websites.
Speaking of showcases; spending a few minutes viewing Uncode's should convince you that it is the creative's best choice for a WP theme.
"I have purchased this theme because it is by far one of the most amazing themes I have seen and that I have worked with. The clean look and the choices of different layouts and design ideas was truly outstanding." – Honor Records – ThemeForest User
Uncode – The Creative's WordPress Theme
What makes Uncode the ideal choice for creatives?
First, there are the 30+ concepts that you can load and use with one click.
Uncode's hierarchical options system gives you full control over your customization options. Now, it's time to imagine and create.
The Advanced Grid system gives you cutting-edge layout possibilities. Coupled with the Adaptive Images system, it allows your layouts to be displayed on any device.
Uncode uses the ever-popular Visual Composer; complete with enhanced functionalities.
Uncode's enhanced media library will store any type of media you choose for your website. You can create external sections of content for later integration or replication into your pages too.
Uncode is smooth and sleek, ultra-professional, pixel-perfect, and super flexible. If you can think of it – you can build it.
0 Comments