At the mention of the appeal to 4K video, definitely, the clearer and brighter visual effect. However, there are many factors that may stop you from enjoying 4K videos in crisp image. For example, your computer configuration is not strong enough to play 4K 10-bit HEVC at 60fps. Your 4K videos are too large to upload to YouTube, Facebook, Instagram for sharing with the public. Or the 4K footage takes too much space of your cellphone or camera's SD card, which stops you from shooting or doing anything else.
Given this, how to make 4K videos playable on your devices? How to share the oversized 4K, high frame rate video in your circles instantly?
In addition to upgrading the configuration of your device, all of this requires a 4K video converter to convert video format or resize the 4K file size.
WinX Video Converter offers the ability to decode, encode and resize 4K videos fast with the highest possible quality reserved. In the past decade, more than 90 million users have ever used it for 4K or HD video conversion and compression. As for why is it so highly favored and attentioned, you may have a clear understanding after checking the following features.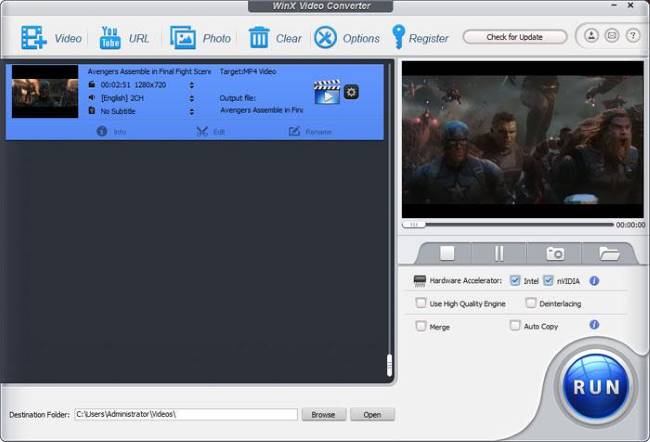 Convert any 4K videos to your preferred format
WinX Video Converter accepts any types of HD or 4K video footage, no matter you recorded it with mobile, DLSR, action camera, drone and camcorder, ripped from UHD Blu-ray discs or downloaded from online. It allows you to convert 4K videos to MP4, MOV, AVI, FLV, and MOV, iPhone, iPad, Android, Xbox, PS4 and 420+ preset profiles.
Reduce 4K video size up to 90% without visually quality loss
With the support of compression engine, de-interlacing and high quality engine, WinX Video Converter can maximally shrink 4K video file size by up to 90% without quality loss visually. It offers multiple ways to compress 4K videos.
For example, you can convert a lower compression efficiency video codec or format to a higher compressed one, such as M2TS to MP4, and H.264 to HEVC. Downscaling video parameters like 4K to 1080p, 60fps to 30fps, 4:3 aspect ratio to 16:9 aspect ratio and simply lowering bitrate is also a way to make your 4K video smaller.
If your 4K video is still too large, for example for sending with Whatsapp/ email or uploading to Instagram, you can consider cutting or cropping your videos physically. This could help you customize your video length or remove black bars of your video.
Save online video to MP4 MP3 from 1000+ sites
Besides conversion and compression, WinX Video Converter is also available download 4K UHD videos from online. You can save YouTube videos or playlists to MP4, MOV and more in 4K, HD or SD as you need. It also converts URL to MP4 or MP3 from sites like Facebook, Dailymotion, Instagram etc.
Conclusion
4K is not futuristic, it's current. You can see 4K videos everywhere in your life, while 4K video playback issue is also around you. WinX Video Converter is designed to solve such issues by converting and compressing 4K videos. If you're precisely get stuck into 4K video playback or sharing problems, get started with WinX Video Converter to convert and resize 4K videos now.