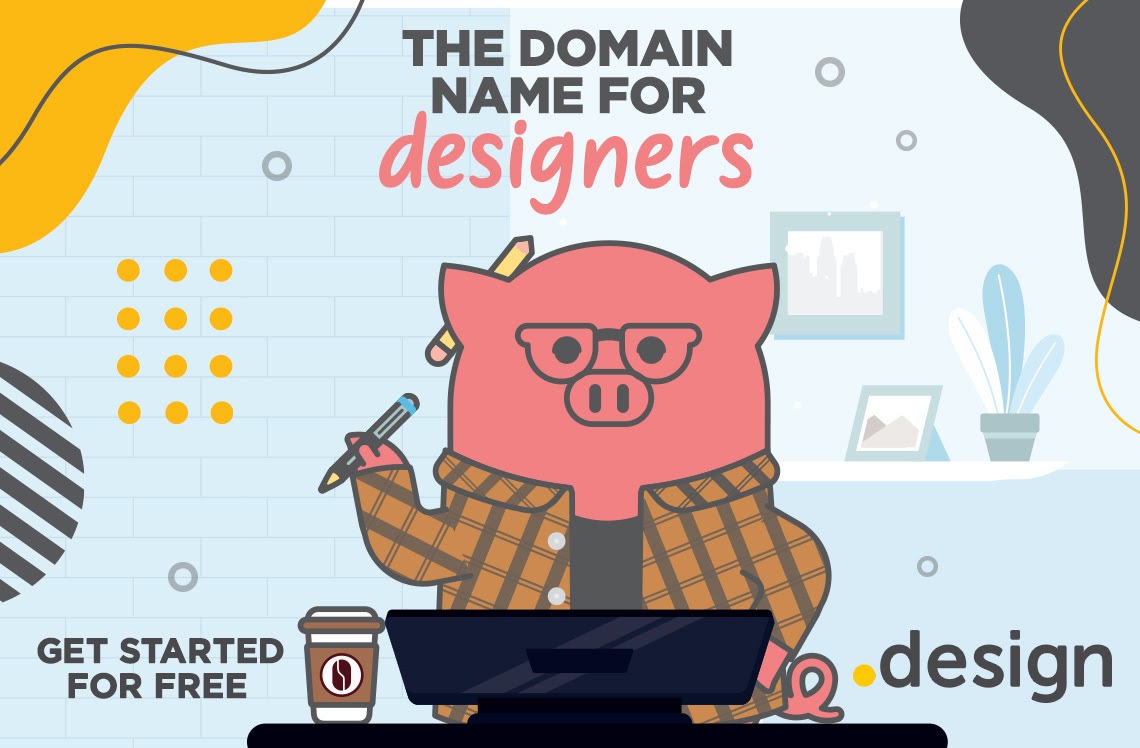 Picking a domain name for your website can be tricky since it's everything to your website's future. What's even trickier, however, is picking the domain name extension for your website; it also determines how your domain is prioritized over others. A domain name for designers, for that matter, needs to be especially notable.
The usual .com or .net simply won't convey what your website is all about whether you're a web designer, graphic designer, or in the design field in some capacity. For that special kind of website, you might benefit from a domain name dedicated to designers, one that ends in .design, aptly so.
The .design domain extension best represents and reflects what you do as a designer. More than that, it also gives better branding for your website. That is correct, the domain extension is also a big part of the branding in addition to the domain name itself.
Now, the problem with this is that getting a custom domain extension can get costly just for branding purposes, which is why some free or affordable solutions are in order, read on to find out more.
Domain extensions are just as important
Now, before we move further, let's just back up a bit.
For those who are unaware, domain extensions are what you see at the end of each domain name. Be it .com, .net, .org, or .info. Those are the usual common ones used by many websites today and they require proper registration and some form of online rent since you're basically using webspace.
There are also different tiers or levels of domain extensions. These come in the form of Top-Level Domains, Secondary Domains, Third-Level Domains, etc. If you want to learn more about how they differ from each other, you can refer to this link as it explains the different types of domain extensions and tiers.
Bottom line is, if you're going to get a domain extension, you usually aim for Top-Level Domains with just a single "." That very well means .design is a Top-Level Domain assuming it's what comes after the actual domain name. Doing .com.design is usually not great for your overall branding and ranking. In any case, just one extension looks better aesthetically and for SEO.
Why .design is better
As for why you might want to get a .design domain… well, the more appropriate question would be 'why not?'
The .design extension is more relevant compared to the usual .com, or .net. It also resonates better with your target audience. They can immediately know who the website belongs to.
Turns out every big brand out there is using it already. Some of the big examples are Facebook.design, Airbnb.design, Adobe.design, and Amazon.design. As such, your site would also do well to follow these industry leaders and learn from their examples.
Heck, you don't even have to be as big or as successful as those sites and companies mentioned above in order to use a .design domain. The .design extension works perfectly for
Portfolios
Resumes
Storefronts
Email Addresses
Business Cards
Websites
Last but not least, a .design extension would be doing your customers, clients, employers, and partners a favor as they'll immediately understand what your website is all about the moment they see it. This can eliminate small talk and unnecessary questions or introductions about your skills or expertise. It's like a mini digital calling card.
Free solutions
Of course, a free domain name for designers is in order, we can't just say how good .design domains are without suggesting some free solutions, after all. That link from Porkbun also contains an easy way for you to get your own branding. That link serves a free coupon for a .design domain.
It lets you choose the domain name of your choice which comes with free email hosting, SSL security, free site builder, and free WHOIS privacy. It's likely the best .design bundle you'll see out there on the internet, especially since it also has the best price: free!

That doesn't mean it won't come without support either. That aspect also comes free with the bundle. If that's not enough, the Porkbun also offers free content for your newly created website which is a huge boost depending on how you build it.
That's whether you built your website (or plan to build it) with other services like WIX, SquareSpace, you'll easily be able to connect your .design domain to your website platform. You can even connect WordPress or even a custom coded website!
Taking advantage of this offer also lets you bypass the payment for web hosting, they'll take care of it. This makes it perfect for those without experience or tech knowledge; even if you have no idea how to code, Porkbun's site builder lets you create a domain with ease.
This makes it perfect for beginners who want to get a jumpstart for their websites. It's also great for those looking to add more personalized designer sites without spending too much.
You might want to hurry, as usual. As is the case with .com or .net extensions Domain names get taken quickly and can sell out like hotcakes. Do yourself a favor and secure yours for free.
Author:
Sidlangan Natividad