Designing an online store should be relatively straightforward.
Still, some web designers have a tendency to overdesign their sites, or invest in themes encourage overdesign or inventiveness.
You can avoid these pitfalls by following a few simple rules:
Give Your Store a Familiar Look.
"Don't make me think."
This brief cautionary message is the title of a book on website usability by Steve Krug. It has come to be known as Krug's first law of usability. What it says is this; when designing an eCommerce website, innovation has its place, but the best online stores have a certain familiarity about them. Their web pages are self-evident.
A shopping cart, for example, doesn't have to be in the upper right hand corner, but that's where shoppers expect it to be. Product pages tend to look alike as well. You don't need to think outside the box to build a site that will have shoppers streaming to your store.
Consider Your Resources and Your Product Lines.
Dynamic visuals can play a key role in engaging your visitors, but they can be overdone, they are not absolutely necessary, and they can be expensive. If your store "looks like a conventional store", that's usually more than sufficient to draw visitors in.
When you are looking for a theme to work with, don't forget the mobile shopping crowd, and pick a theme that is lightweight and fast – like any one of these:
XStore-Responsive WooCommerce Theme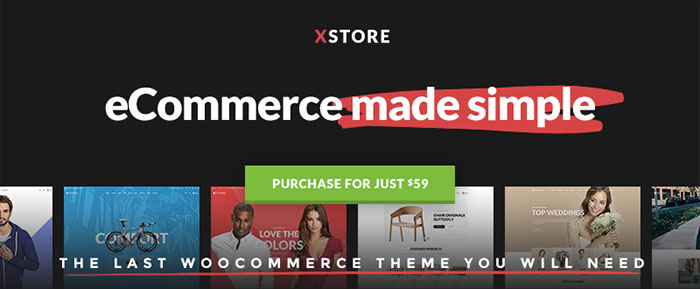 [1]
XStore does a couple of things for you. It makes eCommerce easy, and it gets you off to an awesome start. In keeping with the maxim that visitors to a store should feel like they are in familiar surroundings, the XStore demos do precisely that.
Familiar-looking page layouts still need to be designed with high quality in mind, as is the case with the pages that make up these demos
XStore's 25 demos are of course only part of the story. This remarkable eCommerce theme is 100% compatible with the WooCommerce plugin. It's Visual Composer compatible as well, so you will have a premium page-building and editing tool to work with. And it is also RTL ready and has video tutorials that show you how to install and modify it.
If you are looking for an eCommerce theme that is easy to use and gets the job done, you need look no further. Whether the upcoming eCommerce website project will be your first, or the latest in a long line, you can start experiencing eCommerce design as it should be.
If you subscribe to the principle that simplicity is the ultimate sophistication, both in website building and in website building themes, you'll love Merchandiser. Like any minimalist theme worthy of the name, Merchandiser is packed with everything you need to create an awesome online store, and nothing you don't need.
This translates in to lightning-fast, reliable performance. Your store can offer a UX that has everything a user needs, and nothing that is unnecessary. Merchandiser is powered by WooCommerce, and it is built to WordPress best practices. You'll be working with an easy-to-use interface, and plenty of modern pre-built page layouts.
The Theme Customizer enables you to preview and modify your site's appearance settings, and with Visual Composer as your page builder, you can build any layout you want to, and you won't have to worry about coding a thing.
MyStile is a free download. This lightweight WooCommerce theme takes the form of a canvas that you can use to create a unique design of your own, or use as-is. It is built on the same WooFramework as are the WooCommerce commercial themes.
MyStile is a responsive theme, and it comes with plenty of useful options, including layouts, banners, image sizing and dimensioning, featured products and product categories, and alternate color schemes. This is an ideal theme for blogs as well. MyStile is not supported, but with the purchase of another WooCommerce product, you can access their support resources.
Uncode – Creative Multiuse WordPress Theme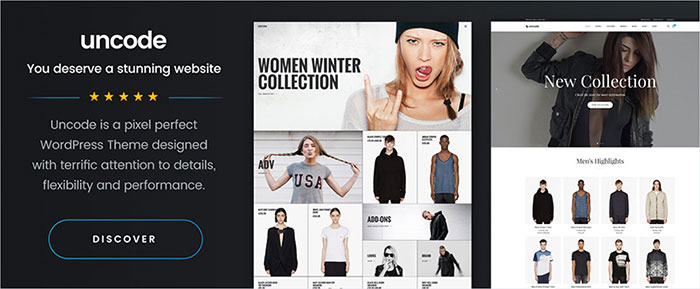 [4]
Uncode will take your WordPress website building adventures to a whole new level. This premium theme's new hierarchical options systems gives you full control over your layouts. Start by choosing a pre-made design or layout. Uncode calls them concepts, and there are more than 30 of them to choose among.
With the help of this WP theme's innovative Adaptive Grid System and Adaptive Images feature, along with an enhanced, specially tailored version of Visual Composer, you'll be on your way.
Uncode is affordable, flexible, WPML certified, and features an elite support team.
Divi is the smartest and most flexible theme in the ElegantThemes collection. This wonderfully responsive theme ships with 18 pre-made layouts from which you can quickly jumpstart your online store-building effort. A key feature is the Divi Builder which was made with user experience in mind.
The Divi Builder transforms design elements into visual building blocks. Simply hover over the elements in a layout, and you can see the building blocks that were used to create them Its 46 ultra-customizable content modules it makes it easy for you to understand how well your design is progressing and where it is going, since you will have complete control over your content and your design settings.
To sum it up, Divi is one of the most powerful and flexible WP themes on the market.
KLEO – Pro Community Focused, Multipurpose Theme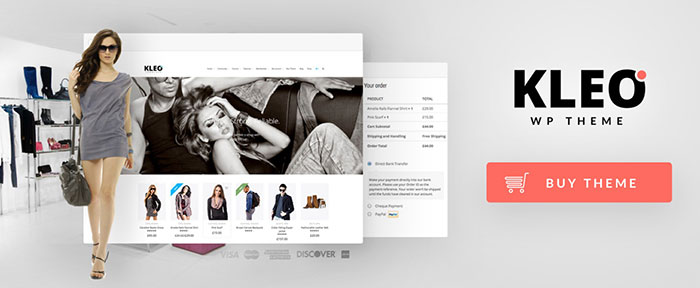 [6]
Pick a KLEO demo, or several, to build your online store. There is much you can do with this WP theme, including building an online shop or a community, publishing a professional blog, showcasing your portfolio, selling e-books using the Sensei plugin, or creating your own business directory with the Geo Directory. KLEO has the tools you need – including 24 (at last count) plugins, — to do any one or all of these things, and do them to perfection.
No coding skills are required, the support is unparalleled, and you will find the demos reflect the latest design trends.
Merchant is a straightforward, hip, and beautifully advanced eCommerce theme. It is super responsive, so your pages will look great on screens of all shapes and sizes. Merchant comes with a nice selection of high-impact full-screen layouts, and and Easy Layout Creator, that gives you the speed and flexibility you should expect from a premium theme.
There are plenty of color options, and if you need to publish an online catalog or showcase your offerings in a portfolio, this WP theme will do the job. View the demo to find out for yourself why Merchant is well worth a closer look.
Conclusion
Each one of these premium eCommerce themes is worth looking into. Several are multipurpose; others are more specialized; but each one is fully capable of providing you with the technology you need to build awesome websites, blogs, online stores, or portfolios.
You really can't make a poor choice. It's simply a matter of finding the theme that will best support your particular needs.
Once you've started building the store of your dreams, keep our tips in mind. Don't make the users think.