Over the last few years, the ability to rapidly create responsive web pages using Bootstrap has taken the development community by storm. Although other front-end frameworks like Foundation exist, Bootstrap has no doubt become the most popular.
With such a large following, it's no surprise that many web designers and developers are using the framework to create beautiful themes and templates. The growing demand is evidenced by communities like BootstrapBay, a niche marketplace for premium Bootstrap themes & templates.
The following gallery contains 40 high quality themes & templates for your next project. They cover a variety of categories including admin & dashboard themes, corporate & business themes, landing pages and portfolio templates. Enjoy.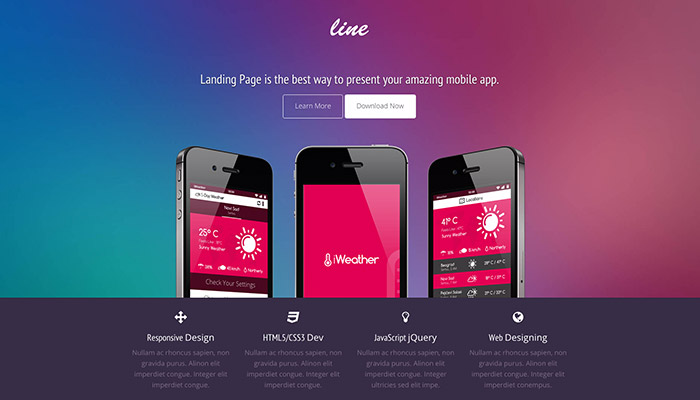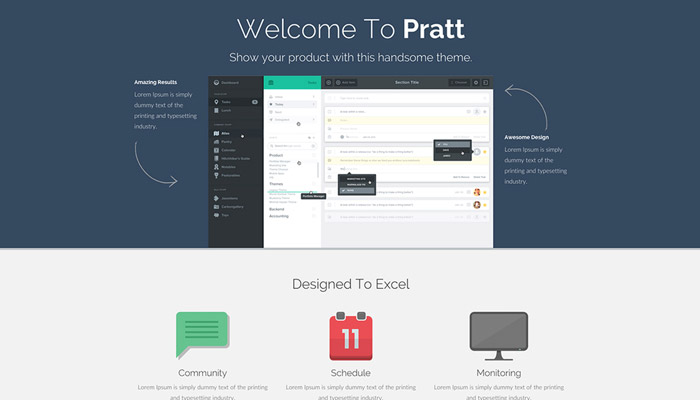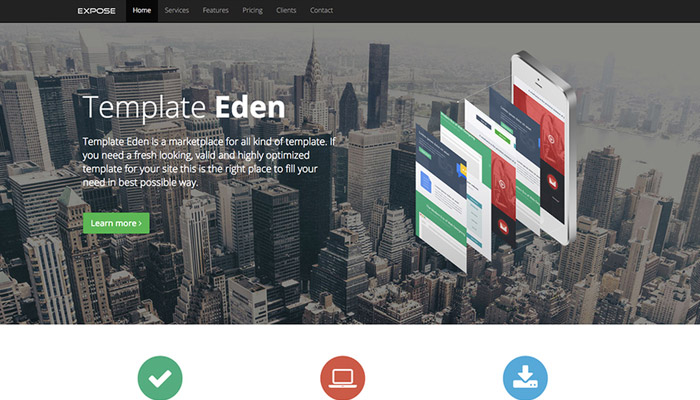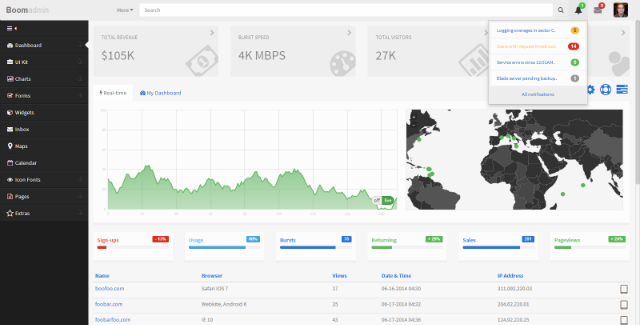 Boom Admin is a full-featured versatile web app and dashboard template featuring Bootstrap 3.1, AngularJS and JSON data services. Boom Admin contains over 40 HTML template pages, 3 dashboard layouts and a plethora of components and widgets.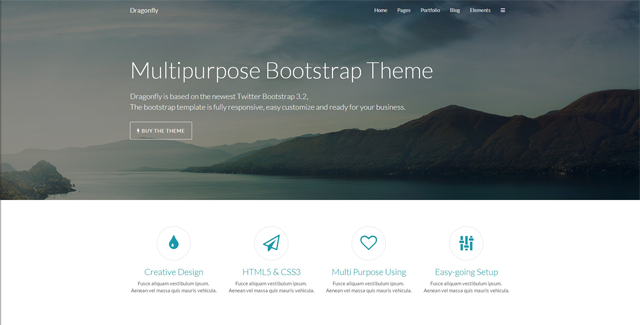 Dragonfly is a full-featured 22 page business theme built on Bootstrap 3.2. This modern theme is very easy to customize and uses PHP for basic functions like generating a header from one file on all pages.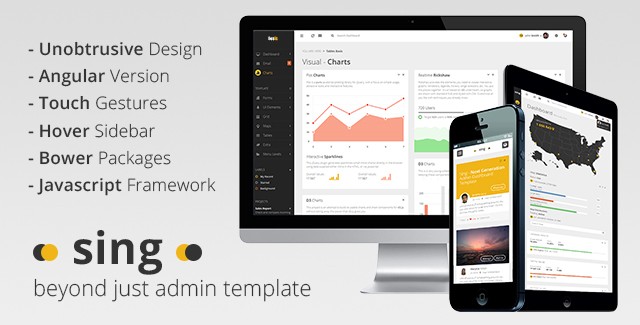 Sing Web App is a brand new admin dashboard template with pixel perfect stylish design and tons of ready-to-use programming features. Sing App goes beyond normal admin templates and provides you entire intuitive programming framework which boosts the speed, quality and maintenance of your web application.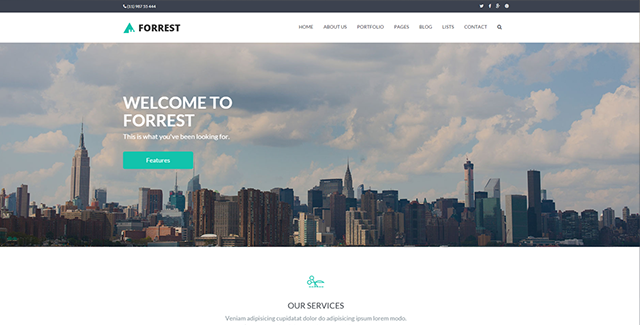 Forrest is a clean, multipurpose and fully responsive HTML5 & CSS3 template. It's built on the Bootstrap framework, includes 13 pages and beautiful Pixeden and Font Awesome Icons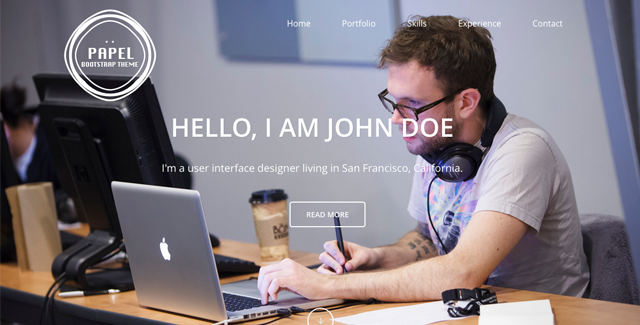 Papel is a modern one-page creative portfolio template built on Bootstrap 3.2. It's the ideal template for web designers, graphic designers and creative professionals. The template is very clean and uses modern design techniques.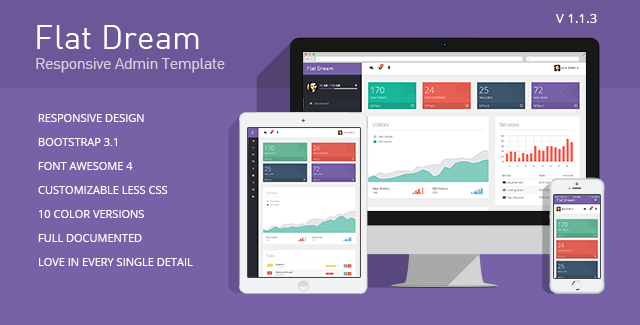 Flat Dream is a fully responsive Bootstrap admin template with a stunning flat design. Flat Dream includes 10 preset color themes with customizable less files, a wide variety of modals with colors and effects, as well as great email pages and a beautiful inbox.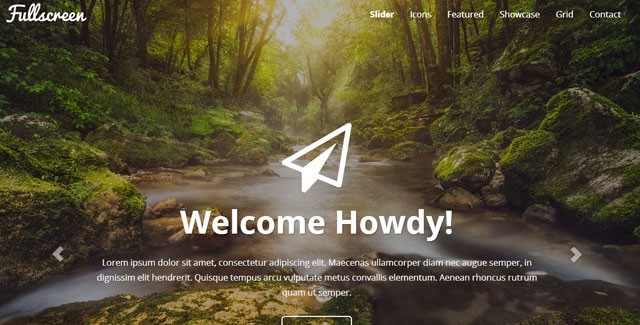 FullScreen is a Bootstrap template that uses a parallax scroll with a slideshow background. The template comes in both plain and animated versions and will definitely catch your attention.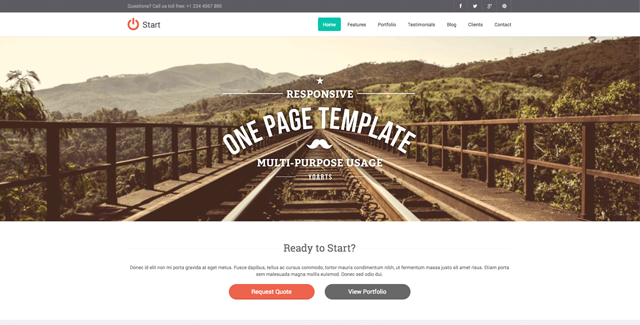 Start is a beautifully designed one page Bootstrap template. It's perfect for any businesses or corporations looking to showcase a product or service.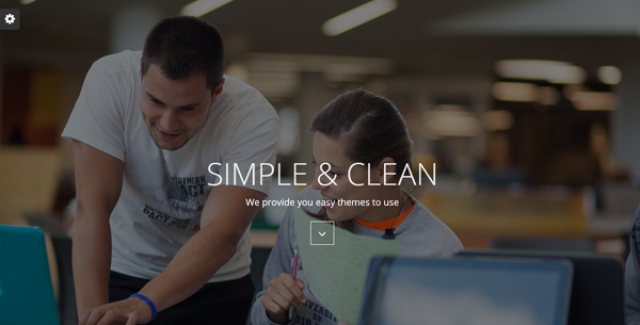 Easy is a very lightweight Bootstrap template due to the very minimal design and clean markup. There are 6 pre-configured color options, 2 different layouts and an additional coming soon page. The template also features a working contact form with validations.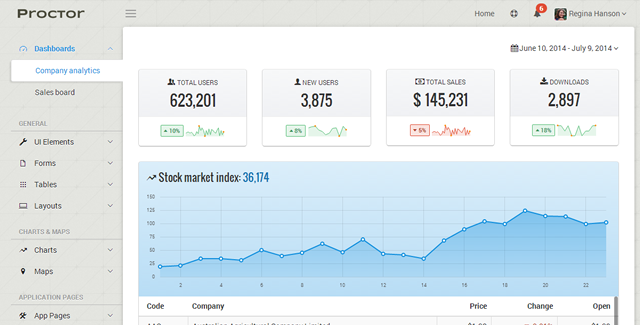 Proctor is multi-page admin and front end Bootstrap theme that comes stocked with essential UI elements. Both themes follow the same design philosophy to maintain consistency and impact. The clean minimal design also enables users to focus effortlessly on the data.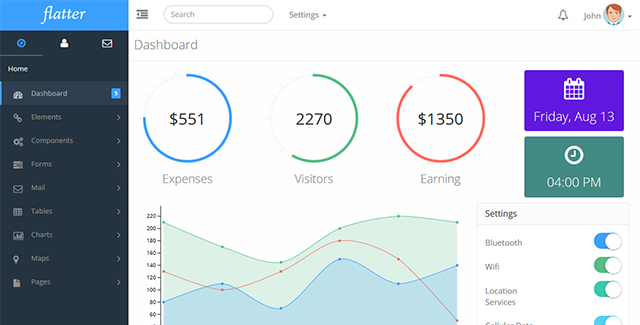 Flatter is a mobile first Bootstrap admin theme, carefully coded from head to toe. The responsive charts scale beautifully to any size and it also comes with a well designed mail application.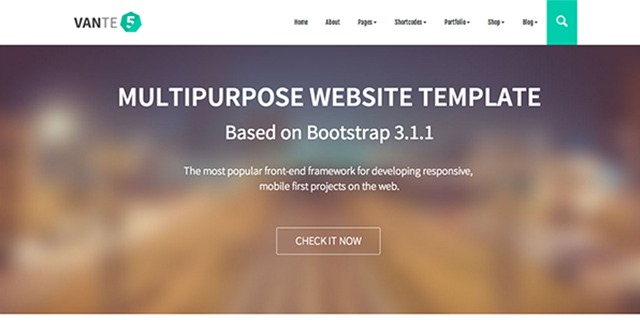 VANTE5 is a multipurpose Bootstrap theme with over 35 HTML files. VANTE5 comes equipped with a content slider, 15 modern element shortcodes and tons of other features.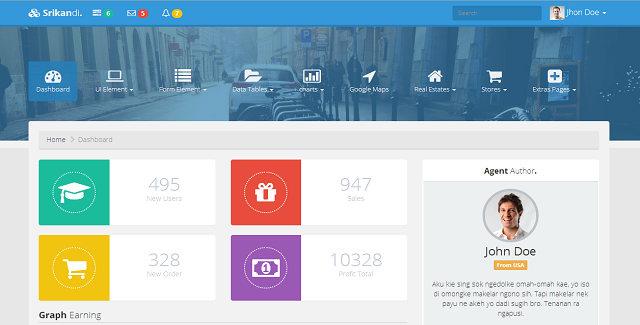 Srikandi is a unique Bootstrap admin theme that uses a top header navigation to set itself apart from other admin themes. It comes fully equipped with over 40 pages and tons of components and widgets.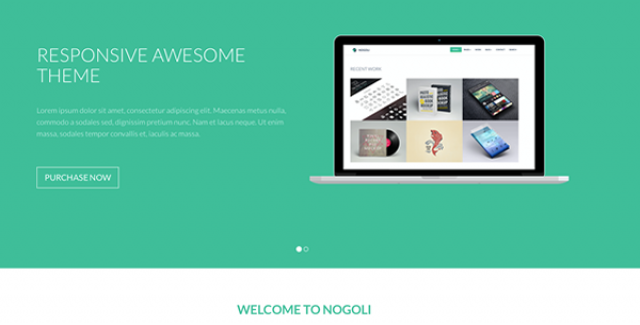 Nogoli is an awesome Bootstrap theme that combines the best of current trends with a clean, pixel-perfect minimal design.This theme is ideal for a business, corporation, startup or other type of organization.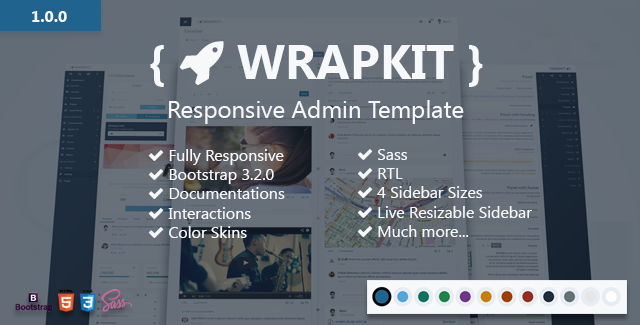 Wrapkit is a Responsive Admin Template powered with Twitter Bootstrap. Can be used for any type web application. Designed with attractive look, rich features and easy to customize. Works well with frontend/backend frameworks like angularjs, etc. Wrapkit has a huge collection of plugins and UI components and works well on various sizes devices (desktop, tablets, and phones).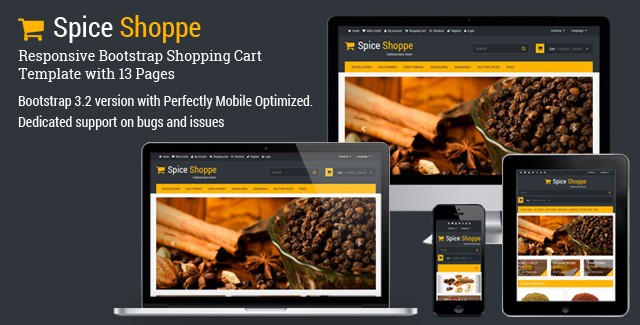 Spice Shoppe is an e-commerce template built on Bootstrap 3.2. It is fully responsive in order to take advantage of the growing number of people shopping on mobile devices. The template features over 13 pages and comes with helpful documentation.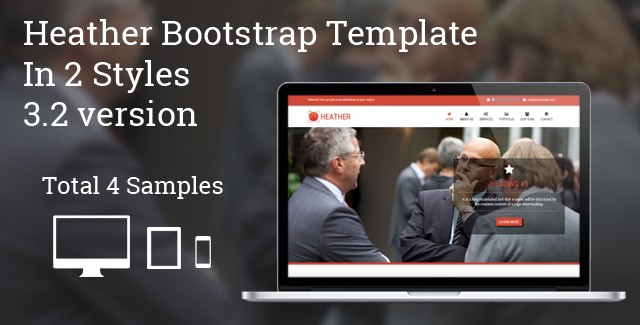 Heather is a Bootstrap template that comes with 2 different layouts in both animated and non-animated formats. The template includes a variety of different sections, PSD files and detailed documentation.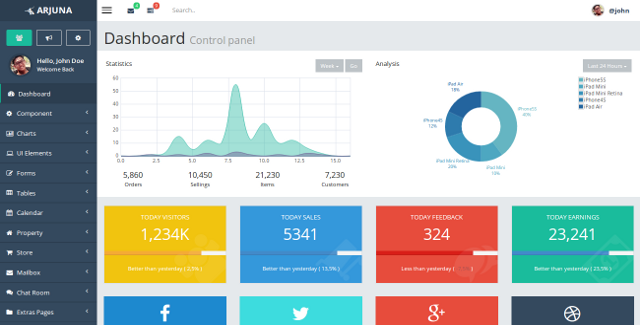 Arjuna is a fully responsive admin & dashboard theme built on Bootstrap 3.2. It has tons of features and ready-to-use UI elements, widgets, charts and pages.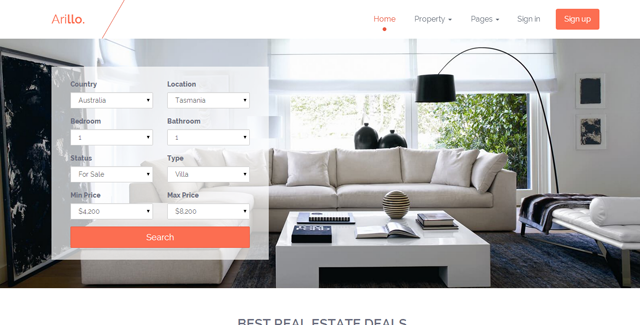 Arillo is a responsive Bootstrap template intended to showcase real estate or properties. Arillo enables real estate agents or realtors to build their own brand while showcasing all of the properties they have for sale. The theme includes 10 pages and a variety of different features.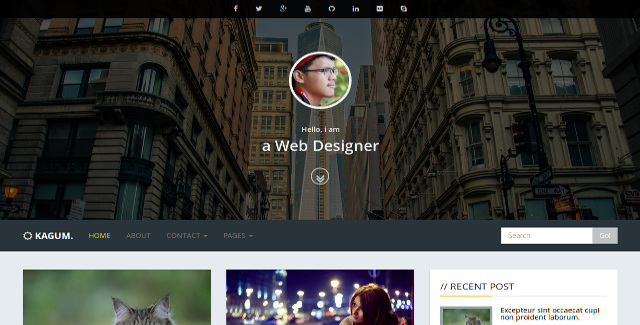 Kagum is a Bootstrap template that can be used for blogs, magazines, or personal web pages. The clean, modern template comes equipped with all the necessary pages to setup a beautiful blog.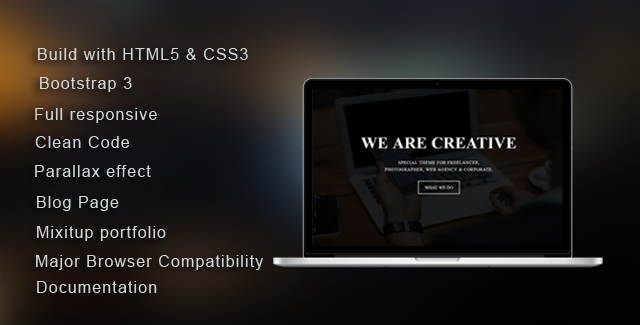 Makers is a clean responsive theme for your agency, business and portfolio. The template features a parallax scroll design with blog page, pricing tables and portfolio pages.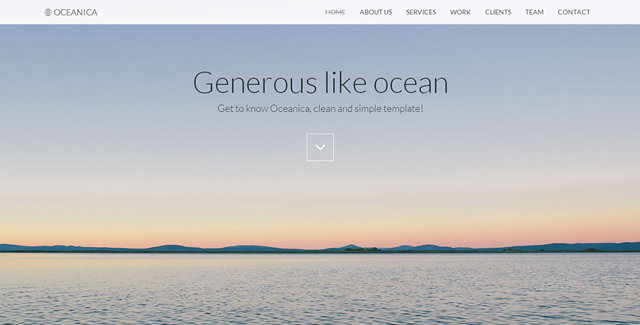 Oceanica is a clean and professional Bootstrap template with a beautiful parallax scroll design. The theme is ideal for creative professionals, digital agencies, photographers and all other types of businesses with a portfolio.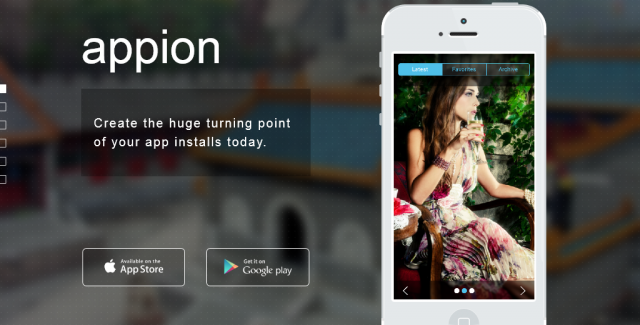 Appion is a simple, minimal and responsive Bootstrap theme designed to showcase your app or product. You can choose between three different variations depending on whether you want a static background, slideshow background or a video background.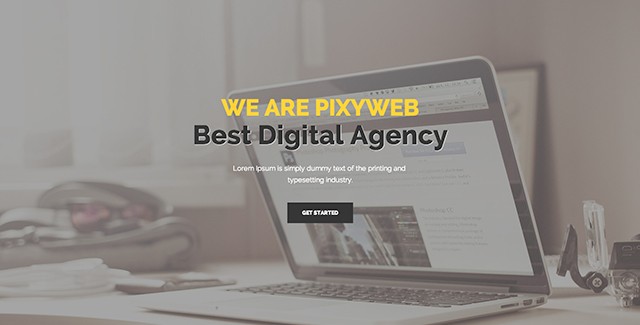 PixyWEB is a 100% responsive one page Bootstrap template. The template is ideal for creative agencies, digital studios, personal freelancers and photographers.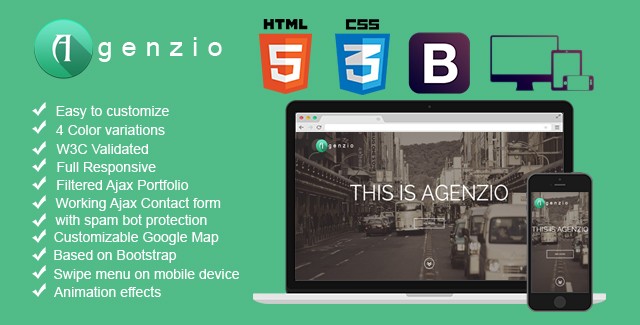 Agenzio is a multipurpose and fully responsive Bootstrap template with 4 different color variations. The template features a filtered Ajax portfolio, a working contact form and swipe menu on mobile devices.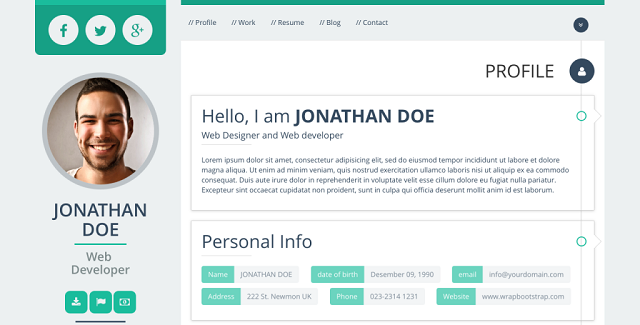 Marinka is a fully responsive resume and CV template built off Bootstrap 3.2. This clean and beautiful template is perfect for showcasing your background and experience to potential employers or clients.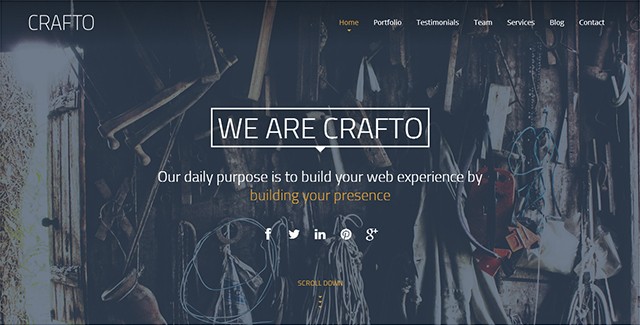 Crafto is a one page Bootstrap template perfect for freelancers and creative agencies. Crafto will catch your attention because of its clean deasin, CSS3 animations, and stunning parallax effects.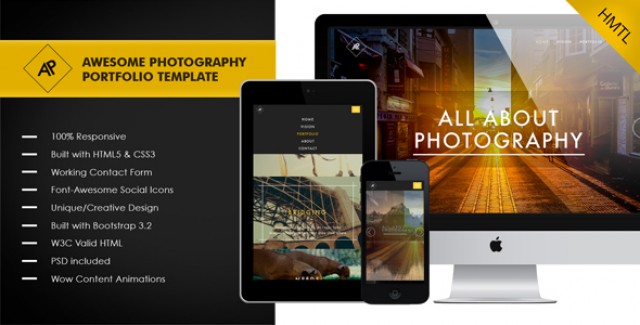 Awesome Photography/Portfolio template is the perfect Bootstrap template for photographers and other creative professionals with a visual portfolio. Creatively designed to present your artwork in the most clean and beautiful way.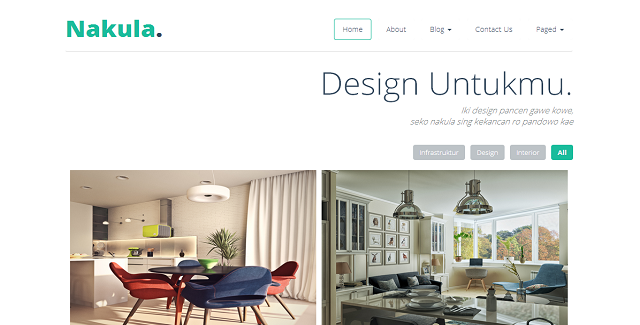 Nakula is a simple and clean Bootstrap template suitable for any sort of portfolio. The template comes equipped with 2 different blog variations, login & register page, and a contact page.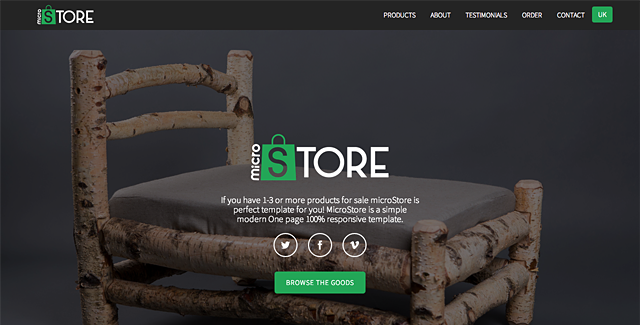 microStore is the perfect Bootstrap template if you're looking to sell 1-3 products. The theme comes equipped with everything needed to showcase your products and collect relevant contact information from your customers.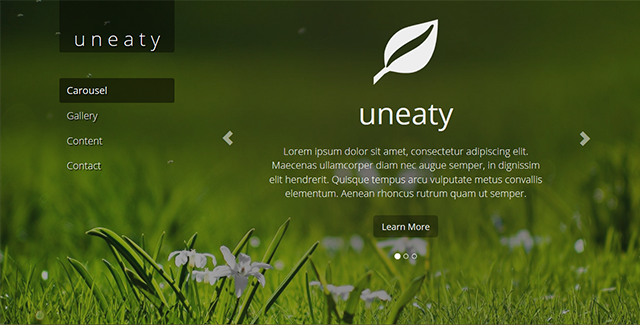 Uneaty is a lightweight and responsive Bootstrap theme with an easy to use two-level navigation menu on the side which converts to a neat drop down menu on smaller screens. The template uses full screen backgrounds and minimal custom CSS rules.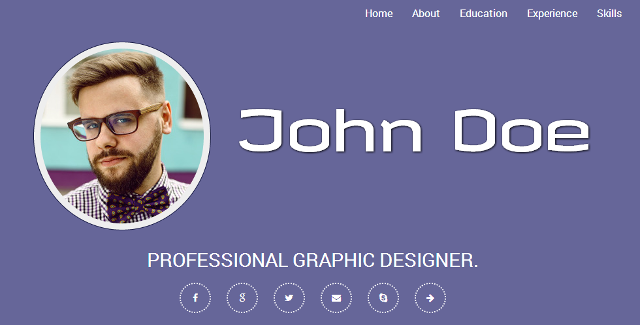 Flip Resume is a unique book style resume template built on Bootstrap 3.2. The template comes with 8 pre-set colors and also uses SASS to facilitate customization. Furthermore, all pages are divided into sections, all of which having their own identifier in order to easily add/remove/edit sections.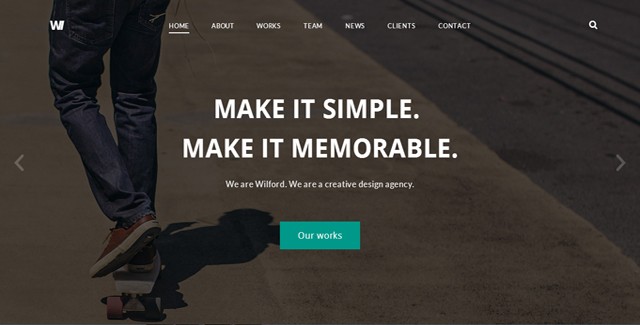 Wilford is a one page Bootstrap template for creative agencies and freelancers. The template is clean, fully responsive, easy to customize and handles corporate or personal projects very well.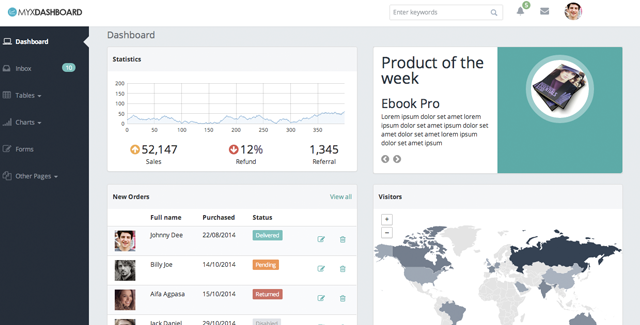 MyxDashboard is a clean and elegant Bootstrap template suitable for any back-end application. It is intended to be a very lightweight and easy to use admin panel.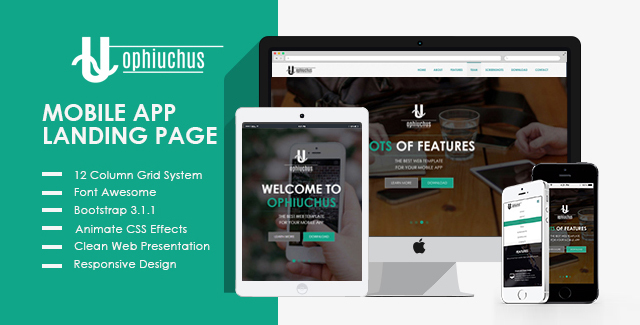 Ophiuchus is an interactive and modern landing page template for your mobile application. The template comes with 4 different variations depending on your design preferences.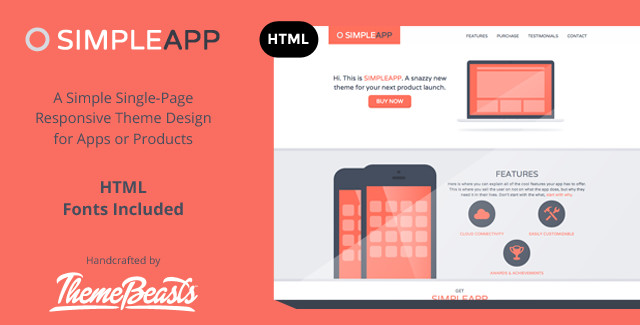 SimpleApp is a clean and simple landing page for your mobile app. This snazzy Bootstrap template features a beautiful flat design and a cool minimal form.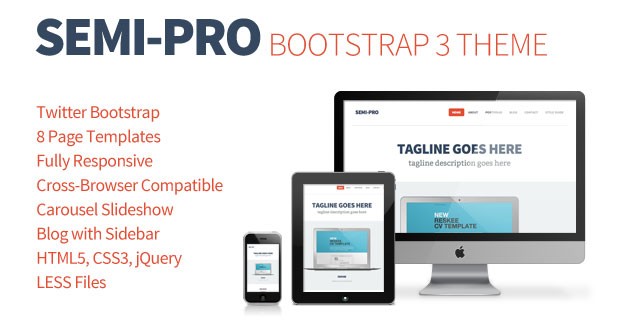 Semi-Pro is a portfolio theme ideal for freelancers and creative agencies. It includes 8 HTML templates with fully skinned components.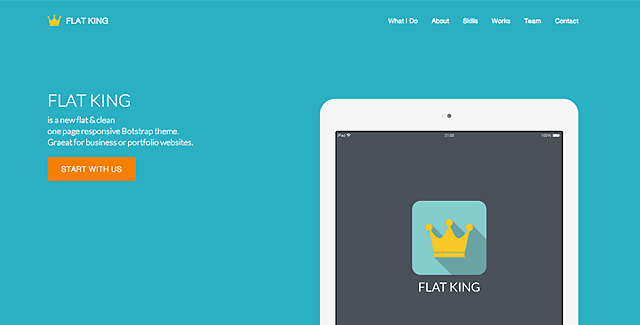 Flat King is a clean one page responsive Bootstrap theme. Flat King is great for any kind of business or agency looking to showcase the products and services.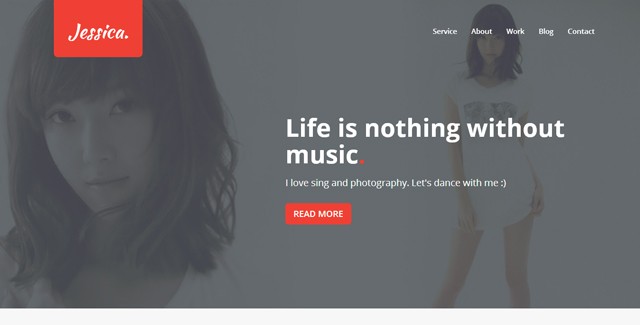 Jessica is simple and clean one page Bootstrap resume / cv template. This template is suitable for anyone looking to publish a clean and elegant resume online.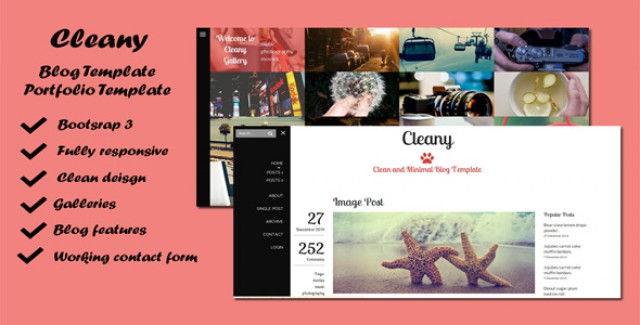 Cleany is a clean and easy to use Bootstrap template that can be used as a blog or as a portfolio website.