WordPress is a very popular blogging platform and many people choose to host blogs on it. This comes as no surprise since WordPress is a free platform and also very easy to comprehend. Even beginners can create a blog with a beautiful design and get the traffic they are hoping for if they take a few things into account.
First of all, a blog will be much more successful when some cool WordPress themes are used to enhance its overall appearance. If you plan to start an online business with your blog, check out some of the free business WordPress themes. The better the interface of your blog looks, the more visitors will get and thus placing it higher on the searches. Most website builders choose to use free WordPress themes at first, which will lessen the maintenance costs. Another thing you should pay attention to is how convenient to access your website is. Numerous people nowadays view websites from a mobile device or a tablet so your theme should feature a responsive design and be retina ready.
A blog should be easy to customize and a reliable admin panel will be needed thus the 3 columns WordPress themes may be the best choice for you. Make sure the theme features support for different languages and is easy to install or comes with a guide. The best free WordPress blog themes incorporate all these features and more. For example, the unlimited colors allow you to change the way your website looks daily and switching the layout will stop things from getting boring.
It is easy to find a premium theme for your website, but usually you will have to pay quite a high price for one. If you want to find some free WordPress blog themes, you will need to dig deeper and do more research. Take a look at the below WordPress blog themes and you may find what you are looking for without much hassle. If you are unsure what theme fits your website best, download several of them and try them out before deciding upon only one.
You may also like:
Time WordPress Blog Theme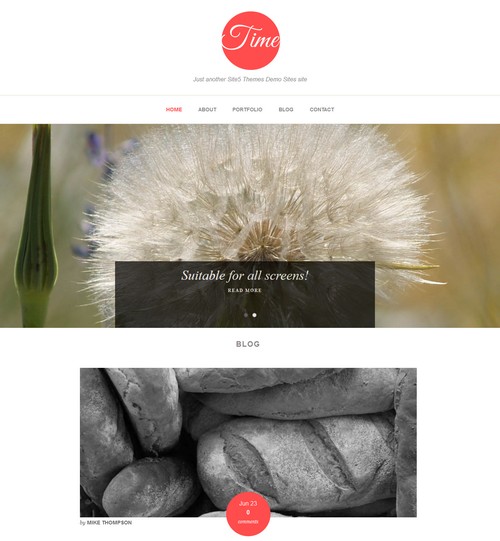 The Time theme looks clean and minimal and is easy to navigate. The theme is fully responsive and features important field a personal blog needs, such as the about page, a contact page and more. The theme is available on a monochrome color palette.
Live Demo / Download Time Theme
Twenty twelve Theme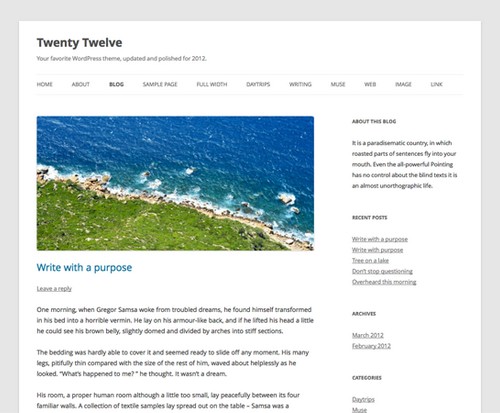 The Twenty Twelve theme has anything you could need for your blog. The theme is retina ready and can be used on both desktops and smartphones. Featuring a clean design, it is fully responsive and operates well in any browser.
More Info Twenty twelve
Gadgetry Free Blog Theme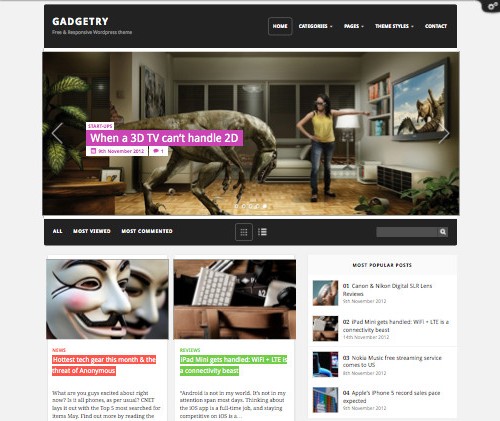 The Gadgetry theme has a chic and cool design, and it is suitable for both personal blogs or business websites. The theme can be easily use on mobile devices and tablets and the language can be changed with the click of a button.
Live Demo / Download Gadgetry Theme
Suffusion WP Template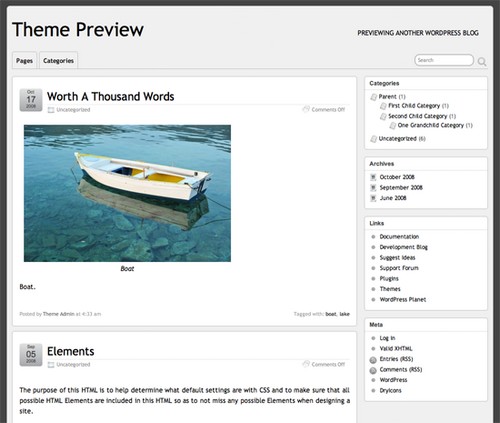 Suffusion is an extremely versatile theme that will make your blog look professional and modern. This theme offers widgets for social media websites, unlimited color options and many different languages. Suffusion is a fully responsive theme that works in any browser.
More Info Suffusion Theme
Responsive WordPress Theme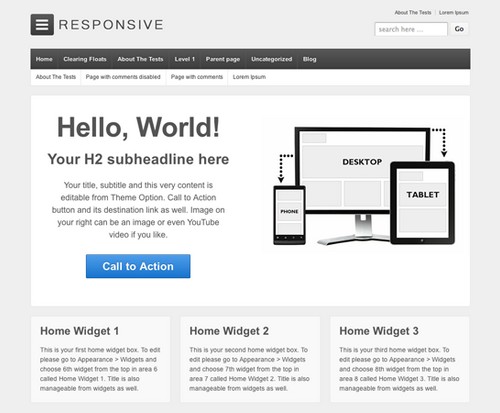 Responsive Theme includes some of the many important features a professional blog needs. The theme has 6 different Template Layouts, widgets for social sites like Twitter and Facebook and an easy to adjust admin panel. The theme is free for download.
Live Demo / Download Responsive Theme
Clippy Free Blog Personal Theme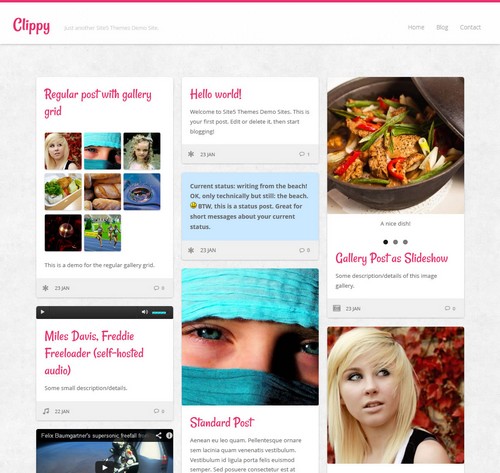 The Clippy theme is simple looking yet very effective in managing a personal blog. The theme has a clean look and is fully responsive thus it can be used on any kind of device. Clippy is suitable for beginners who need a theme that installs easily.
Live Demo / Download Clippy Theme
DW minion WP Blogging Theme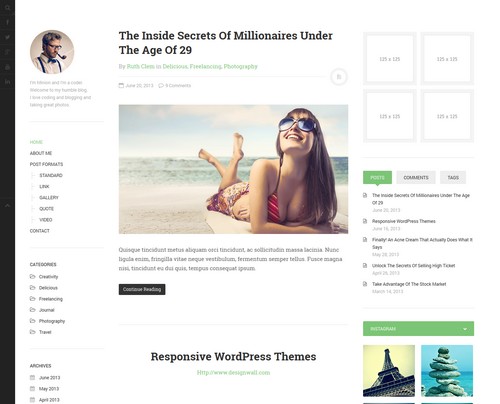 DW Minion is suitable for WordPress blogs and has a modern but clean look. The theme can be customized in any way you wish and includes unlimited colors, social media widgets and several different layouts.
Live Demo / Download DW minion
Swift Basic Theme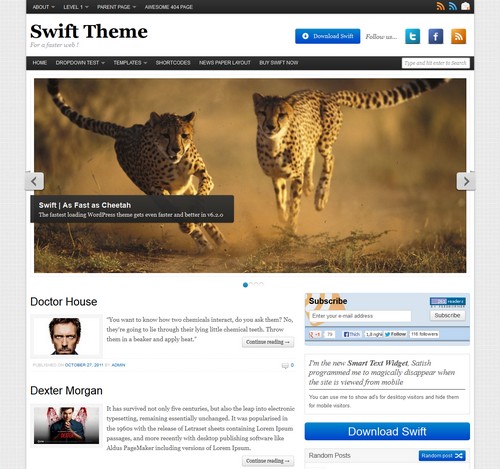 The Swift Basic theme is a free version of the swift theme. This free theme features SEO tools that will place your site at the top of the searches, and an unlimited number of layouts that allow you to change the look of your blog daily.
Download Swift basic
Focused WordPress Blog Theme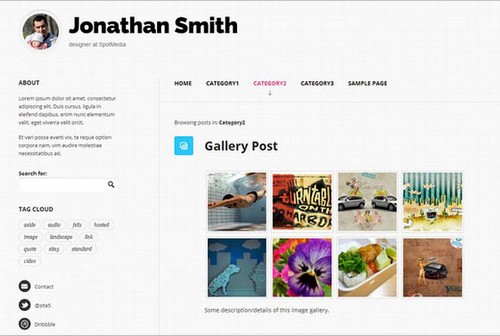 Focused is a minimal theme suitable for magazine and personal blogs. This theme is fully responsive and includes widgets for social media sites. It can be installed with one single click and is available in 5 different languages.
Live Demo / Download Focused Theme
Destro WordPress Free Theme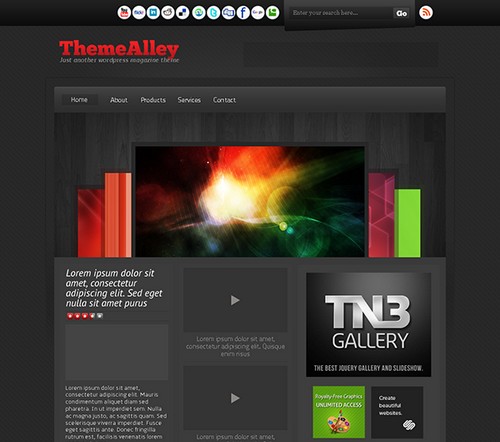 If you want to build a magazine website you will need the Destro theme to help you with it. This highly customizable theme includes 3 ready to use layouts, social media icons and much more. You can use the theme in any browser.
More Info Destro Theme
Playbook WP Theme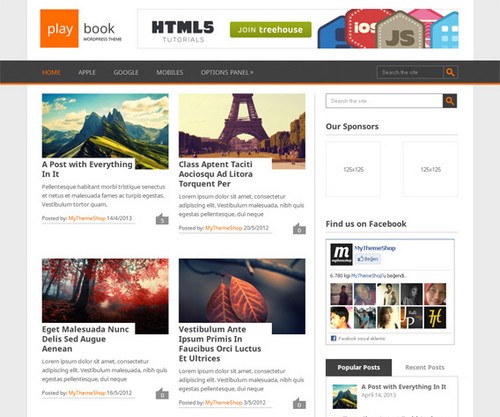 Playbook is a retina ready, fully responsive theme with a clean design fit for mobile use. It features a customizable options panel, is SEO ready and is also free to download. The theme can be used for business websites.
Live Demo / Download Playbook Theme
Retro Blog Free Template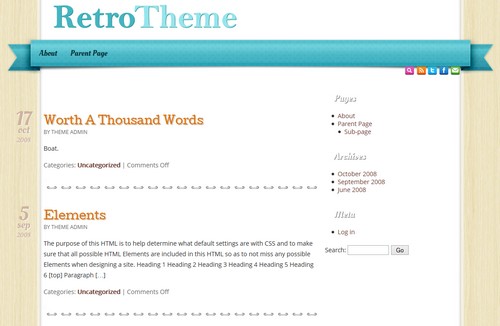 The Retro theme fits a playful blog and personality. The theme has a vintage feel and includes 2 columns, buttons for the twitter and facebook sites and a cool adjustable option panel. Retro is free to download and use.
More Info Retro Theme
Short Notes Template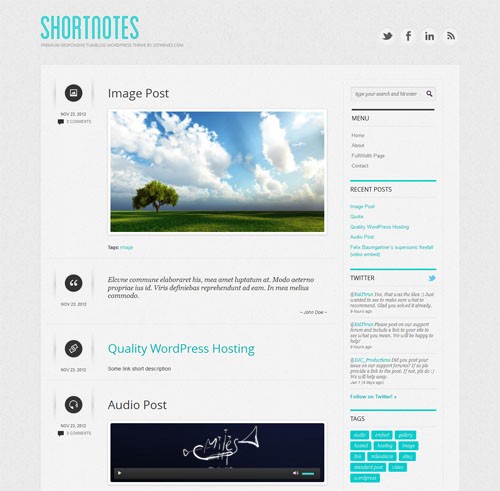 The Short notes is a WordPress theme that has a serene and clean design. It features a drop down menu with various pages and widgets for the most recent posts and social media sites. This theme is fully responsive and SEO ready.
Live Demo / Download Short notes
Attitude Theme for Blog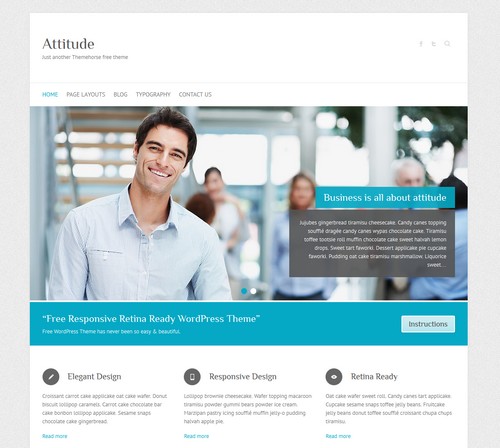 Attitude perfectly adapts to smartphones and features 3 different languages. The theme is SEO ready and includes many different theme options. Attitude has an easy to comprehend and use admin panel and is retina ready. It works in all major browsers.
More Info Attitude Theme
Wallpress WordPress Blog Theme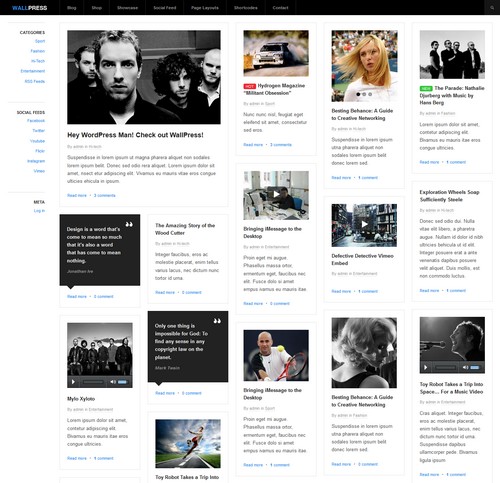 Check out the Wallpress theme if you plan on building a magazine website. This cool and modern theme can be easily viewed from mobile devices and showcases the content of your website. It features a 7 column design and 3 different languages.
Live Demo / Download Wallpress Theme
Graphene WordPress Theme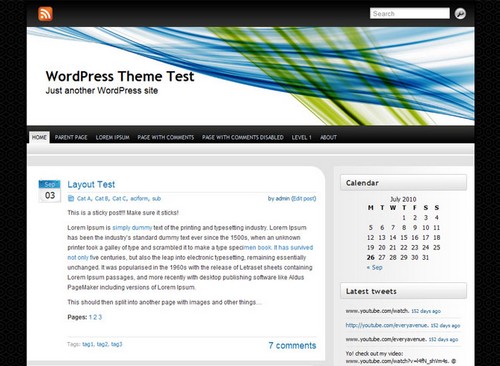 If you are a writer you will surely love using Graphene as a theme for your blog. This wordpress theme is beginner friendly and includes over 30 languages plus social media buttons and an adjustable admin panel.
More Info Graphene Theme
Simple Corp Free Template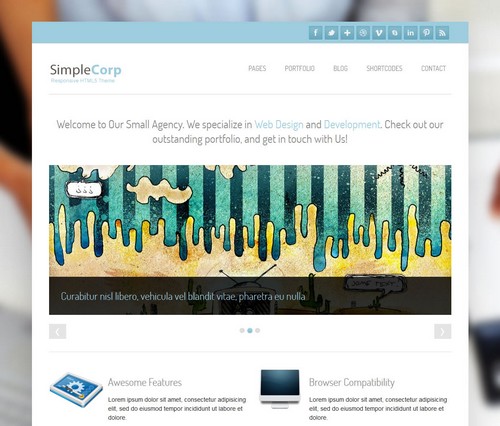 SimpleCorp is an ideal theme for a business website or a personal blog. Minimal looking, this theme is compatible with IE, Firefox and Opera and can be viewed from desktops, tablets or mobile devices. SimpleCorp is free and can be installed with one click.
Live Demo / Download Simple corp
Mantra Blog Personal Theme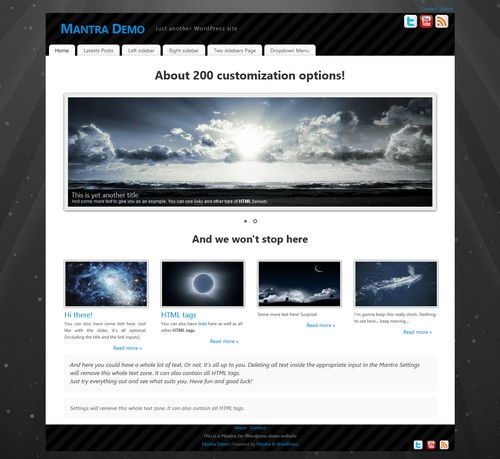 Mantra is a wordpress theme suitable for beginners or people who don't have time to waste when building a website. Responsive and modern, Mantra includes more than 100 personalizing options such as the layout or the fonts.
More Info Mantra Theme
Pinboard Free Business Template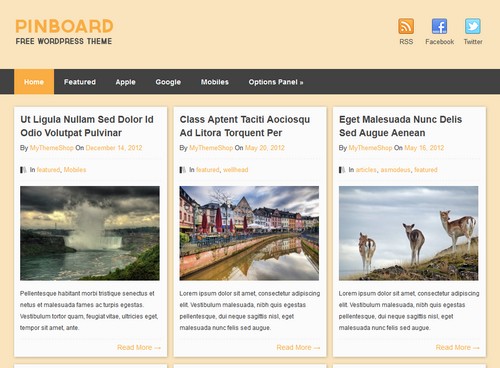 Pinboard is a fully responsive, highly customizable theme that is perfectly suitable for mobile device use. Pinboard is a free but premium theme with an unlimited color scheme, social media widgets and much more. It operates in any browser.
Live Demo / Download Pinboard Theme
Diary WordPress Theme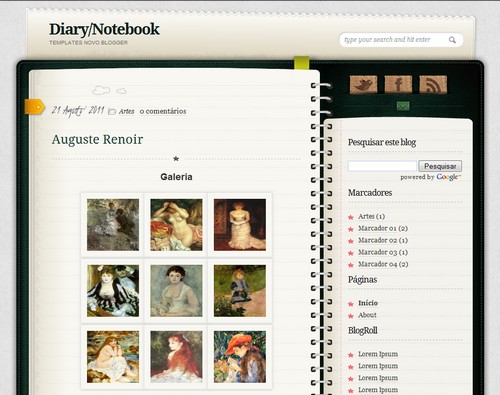 If you need a theme for your writing blog or your personal one, Diary could be what you are searching for. This theme includes several pages, has a vintage look and 5 different categories. The theme can be viewed from desktops or smartphones alike.
Live Demo / Download Diary Theme
Pinboard Clean Design Theme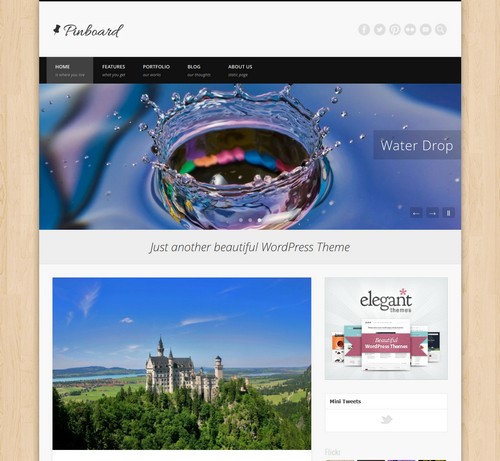 The Pinboard theme is fully responsive and looks good on any device you may be using. The theme includes a portfolio section so it is best suitable to a business or creative writing website. Pinboard operates in any browser.
Live Demo / Download Pinboard Theme
Bresponzive WordPress Blog Template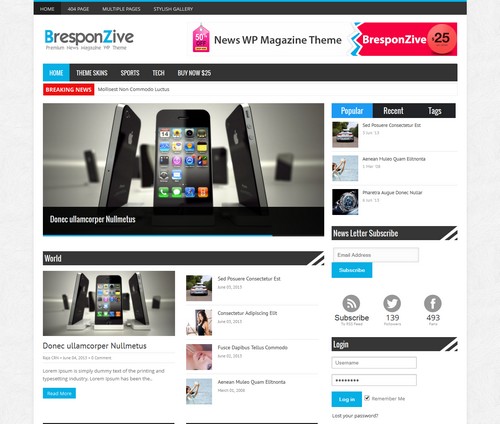 BresponZive Mag Pro, as the name suggests is a theme that can be used for magazines. This theme is SEO ready, features a one click installation process and can be bought for $45. You will get unlimited support and a quick guide on how to use it.
Live Demo / Download Bresponzive Theme
All tuts Free Pro Blog Theme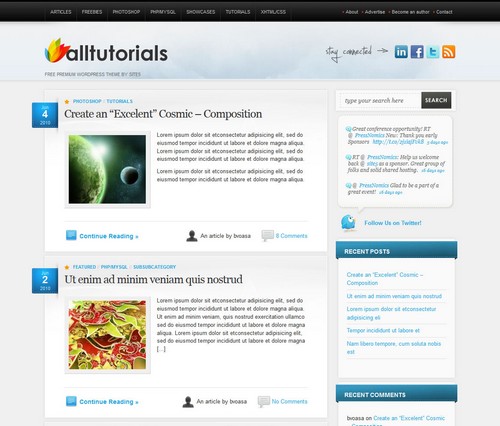 Alltuts is the right theme for creative users and it lets you showcase your work. The theme includes a portfolio section, a threaded comment section and social media buttons. It is retina ready and responsive with a clean and chic design.
Live Demo / Download All tuts
Expound WP Theme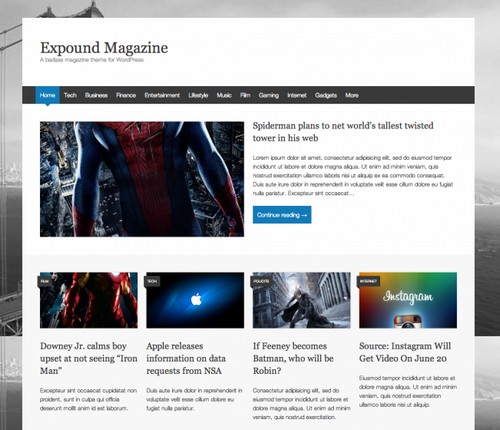 Download the Expound theme is you have a WordPress website. This theme is free and includes many layout options, icons for social media websites and numerous fonts. The Expound theme can be viewed from any device and is SEO ready.
More Info Expound Theme
Ribbon Elegant WordPress Theme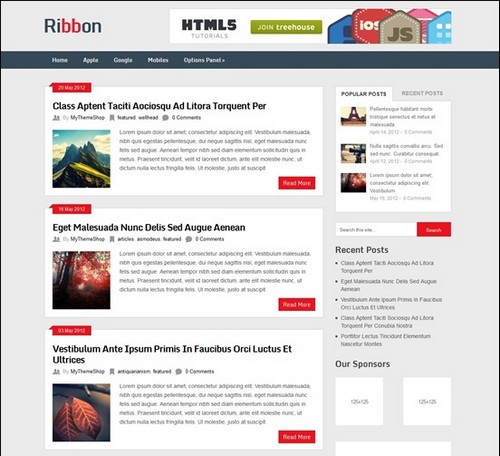 The Ribbon wordpress theme comes has a monochrome layout and includes unlimited pages for you to add your content. The theme is perfect for wordpress blogs and can be downloaded for free. A demo is included and you will also receive unlimited support.
Live Demo / Download Ribbon Theme
WP Anniversary Blog Theme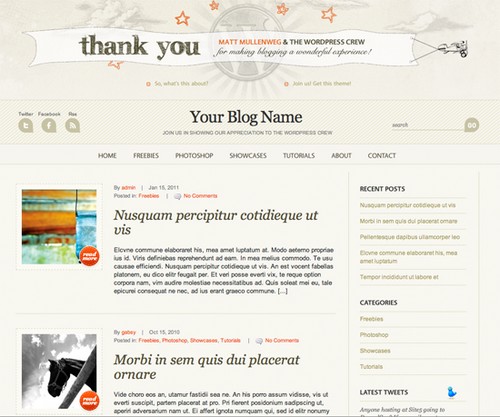 WP Anniversary is a theme that can be used for special occasions such as an anniversary of your website. It is ideal for business blogs and features more than 10 sections, widgets and unlimited colors. WP Anniversary is fully responsive.
Live Demo / Download WP Anniversary
iMag Simple Magazine Theme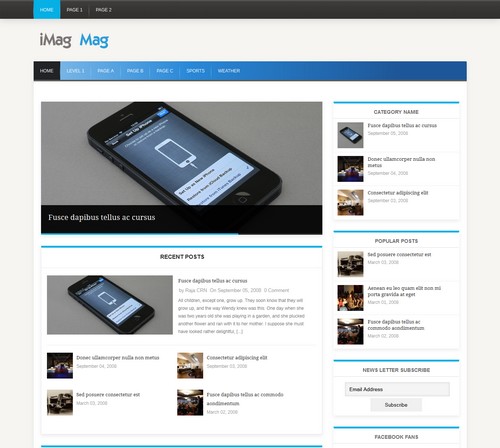 This free WordPress theme is responsive, comes with free updates and can be used for free with no limits. This theme has 6 custom widgets, is created with the latest SEO practices in mind and will give your site a professional appearance.
Live Demo / Download iMag Theme
Design Pile WP Theme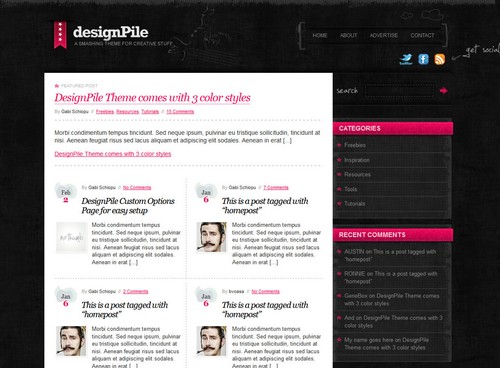 Design pile has a vintage appearance for it uses cursive header fonts, and a thumbnail image next to the posts' preview. The theme comes with 3 color styles and many widgets for additional text and information, links and more.
Live Demo / Download Design pile
Great WordPress Blog Theme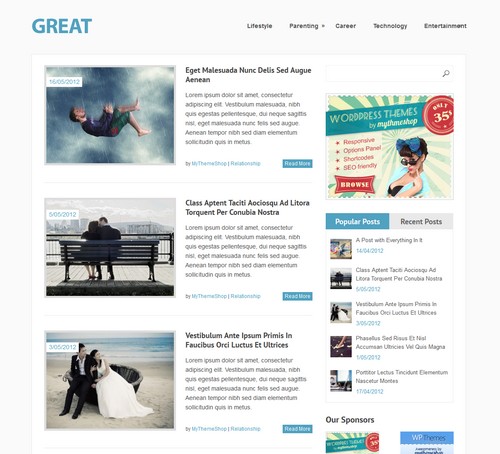 Great has been designed for those who have a magazine style blog or website and it has a clean minimalistic appearance. This responsive theme has unlimited colors to choose from, custom widgets and much more so go check it out!
Live Demo / Download Great Theme
Xmas Free WP Blog Template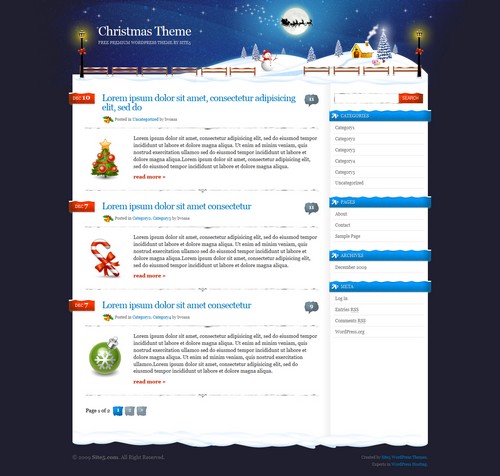 This theme is perfect if you want to change the look of your website for the winter holidays. The right side of the page has a panel with many useful links, and the whole site looks professional as there are not many used colors.
Live Demo / Download Xmas Theme
Coco WordPress Theme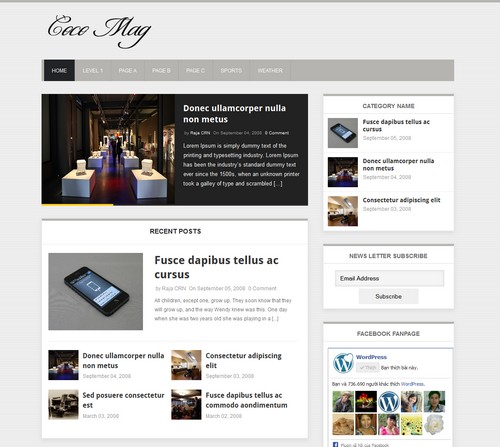 This theme is a really nice fit for a personal blog or an online magazine. It comes with 2 columns and unlimited news sections. The updates for this theme are free of charge and you can check out the live demo to see if you like it.
Live Demo / Download Coco Theme
Simplo Personal Blog Theme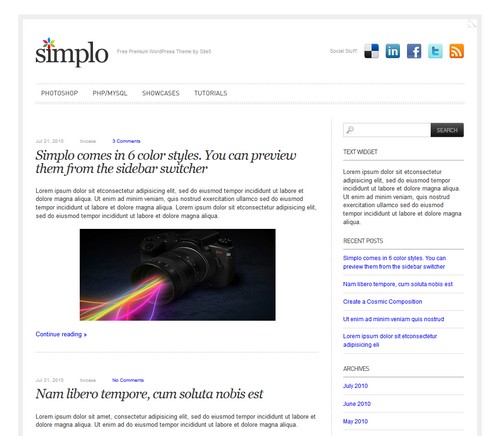 Simplo has a clean, professional appearance and has 3 skins to offer. The main page can display full or partial posts and has a right side panel with various options, while even more options are located at the bottom of the main page.
Live Demo / Download Simplo Theme
Green Chilli Theme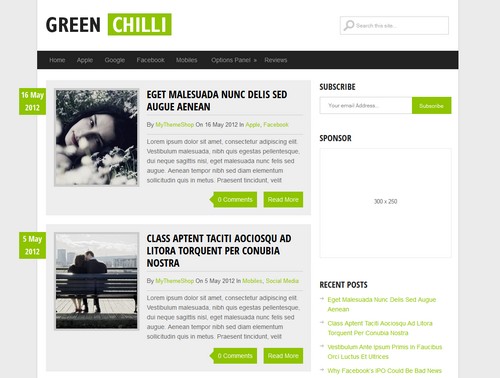 This theme can be fully customized with your own backgrounds or by choosing any color scheme you want. The theme is a multipurpose one and has been built with the latest SEO practices in mind thus you know your site will be ranked high quite fast.
Live Demo / Download Green chilli
Rockwell Simple Design Theme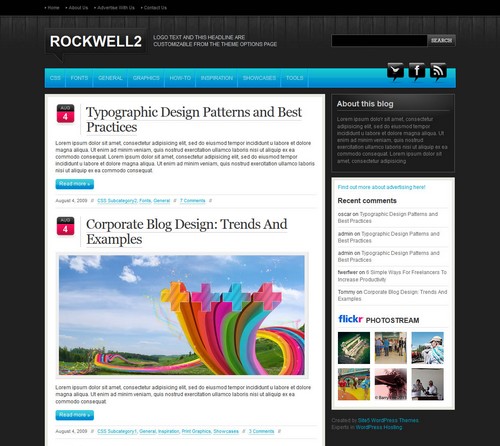 Rockwell is available in 3 color schemes and allows the customization of the text logo and the headline. This is done on the theme's options page. The main page has a side panel to the right with several widgets. There are also several social sites buttons nicely integrated in the theme.
Live Demo / Download Rockwell Theme
Color Cold Clean Free Blog Theme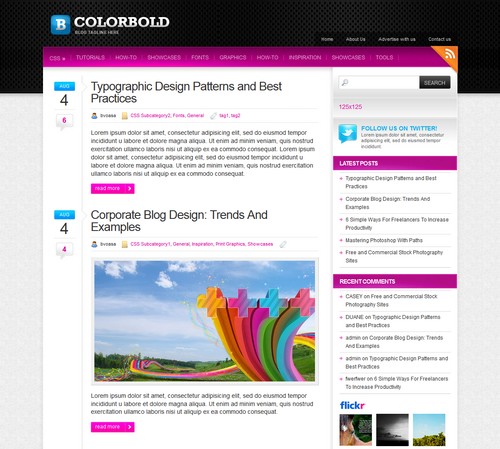 This theme has 3 color schemes available and no matter which one you choose, your posts will be quite colorful. The theme is a multipurpose one, each post can be viewed in its own page with a little preview on the main page. The preview can have a related image as well.
Live Demo / Download Color bold