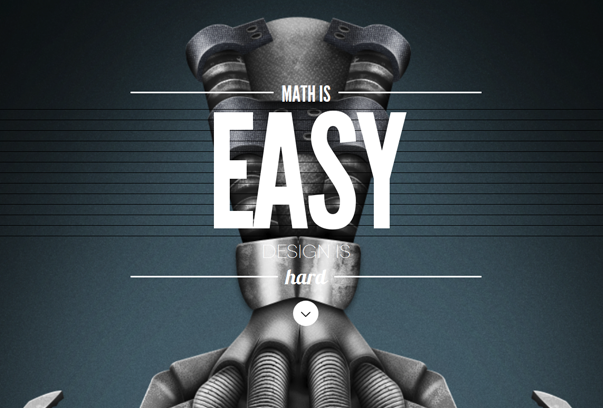 The parallax effect is a scrolling effect which is now being used in websites, it used to be used in 2D video games where items nearer the screen would scroll quicker than those at the back to give the illusion of depth, made popular in the early days of gaming with games like Mario and Sonic :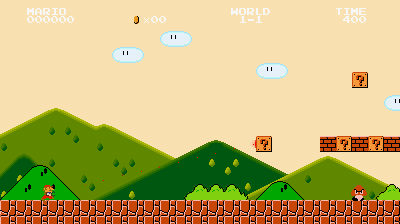 Today web designers are making use of this effect in their designs for things like header backgrounds that scroll slower than text over the top of it, or for section backgrounds, logos etc. Some methods can cause browsers to slow down or stutter a bit, especially on mobile devices and tablets. The solution to this is to use a CSS method for implementing it which is actually quite easy to do. Check out this tutorial if you would like to start using this in your designs.
Of course there a number of themes and plugins you can also use to add this to your site, this post was first published back in 2012 when the selection wasn't huge, since then there have been many more themes released which include this feature so we have updated this article – check out the updated selection which now includes many more free themes and plugins at the bottom.
Enjoy …
Parallax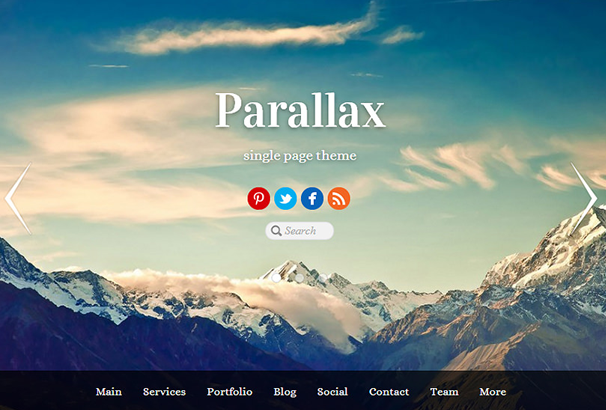 Parallax theme is a combination of two cool trends – parallax scrolling and single-page design. It is designed to help you to build a stunning parallax scrolling site with ease. Showcase your work and services responsively on a single page.
Parallax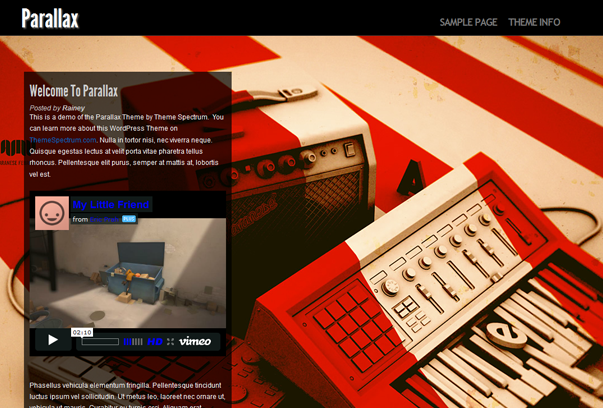 907 – Responsive WP One Page Parallax
Great one page WP theme with tons of options and features. Not only will the PARALLAX feature be on the main one page, but you can also select a DEFAULT PARALLAX section and even a "page section" to be displayed across all other pages…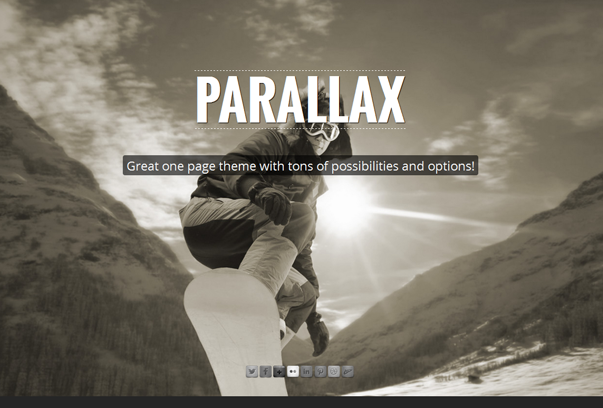 Salient
Salient is an ultra responsive, beautiful WordPress theme that is perfect for freelancers, photographers, designers and creative agencies alike. Its stunning design and layout capabilities will give your portfolio pieces the attention they deserve.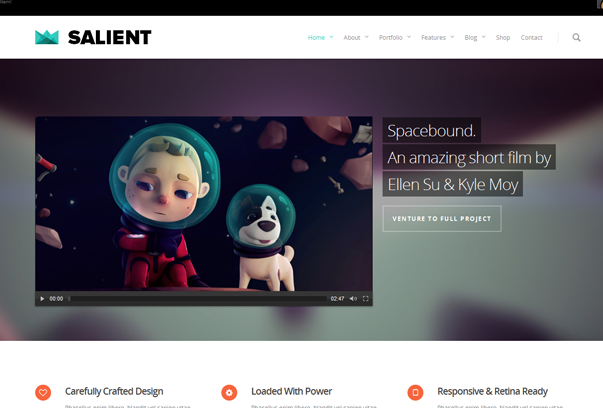 Mercurial
Mercurial is the simplest way to build your new website fast and easy! With its pre-made custom shortcodes, you will be able to create beautiful typographic effects, insert portfolios, skill bars, clients logos, social sharing icons, awesome sliders, pricing tables, build up incredible team pages, or even add your twitter feed in just seconds.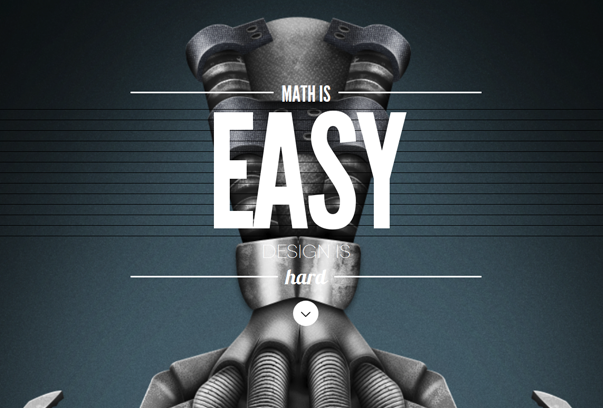 Parasponsive
Parasponsive is perfect for companies, studios, private photographers, designers, blogs, and other web-projects. Adaptive theme for all mobile and tablet devices. A huge number of effects, including parallax are already inside.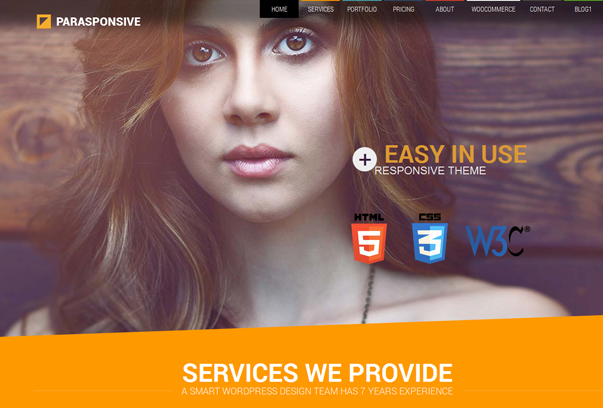 Ego Onepage Parallax Responsive WordPress Theme
Ego is a sleek, fully responsive, onepage WordPress theme that screams with attitude. It boasts a fullscreen slider with custom captions, an AJAX portfolio and contact form, a blog and tons of styling options.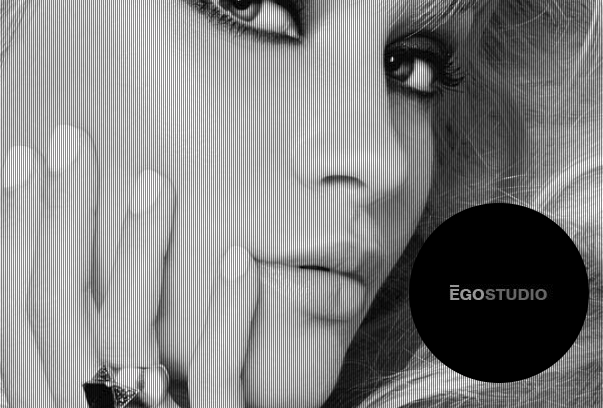 Scroller
Scroller is clean, minimalistic and elegant WordPress theme with fully responsive layout. Theme is suited for all photographers, creative, business and portfolio websites. Theme includes lots of advanced features like full-screen sliders, Parallax effects, And scroll – One Page Homepage.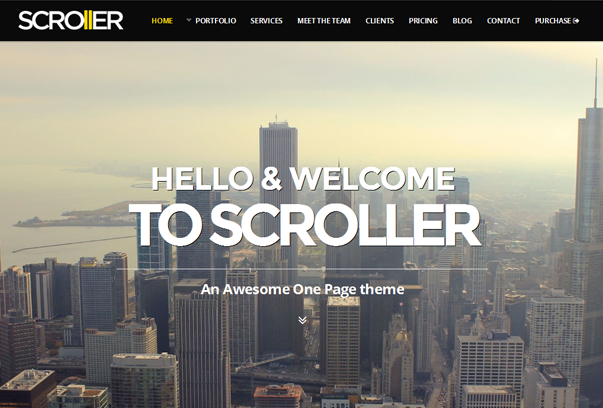 Status
Status is new parallax WordPress theme with modular and fully responsive layout. Theme is suited for business or portfolio websites. Theme includes lots of advanced features and functions and is based on solid backend framework.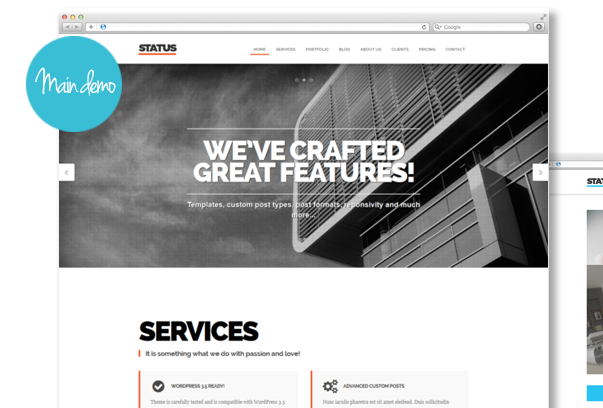 Parallax WP
Parallax WP is a perfect choice for a portfolio site with strong blogging component and convenient, easy to use photo gallery. It is translation ready and iOS-devices friendly. Parallax WP is very easy to use, and it takes only a couple of minutes to set it up.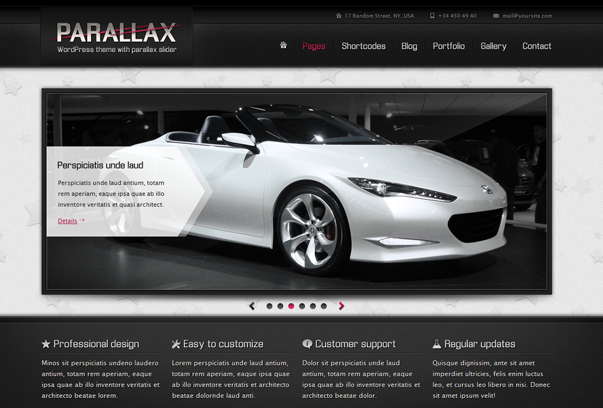 Parallaxr
Parallaxr is a first of it's kind horizontal parallax based single page wordpress theme. With this theme you can design a website like Indofolio.com in minutes. Parallaxr is perfect for designers, photographers, design agencies to showcase their portfolio.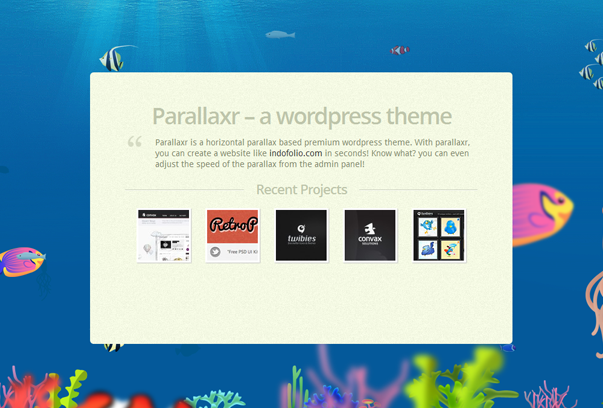 Slide One
Slide One is the most awesome one page theme. It makes your online presence more stunning with Super Cool Parallax background and Ajax post loading.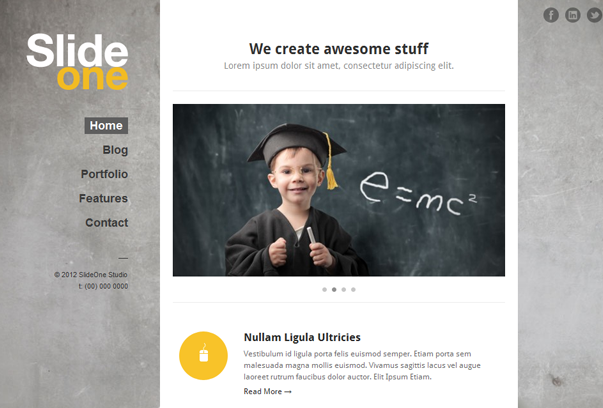 Crea WP
Crea WP is a flash-like WordPress premium theme. It utilizes the power of HTML5 to bring you stunning animated transitions between pages, awesome parallax backgrounds and 2 unique sliders (fade- and carousel-mode).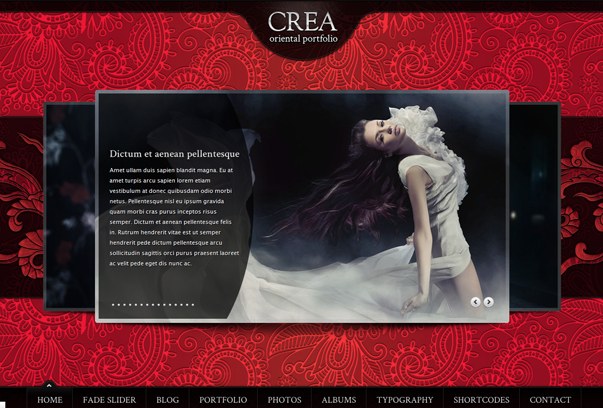 For Mother Nature 2
For Mother Nature 2 is creative and modern theme witch is suited for an environmental, eco-friendly organizations or comunities. This web template includes unique smart3d parallax system, clean dropdown navigation menu, featured images box with captify jQuery script, Aller font, participate form, contact form.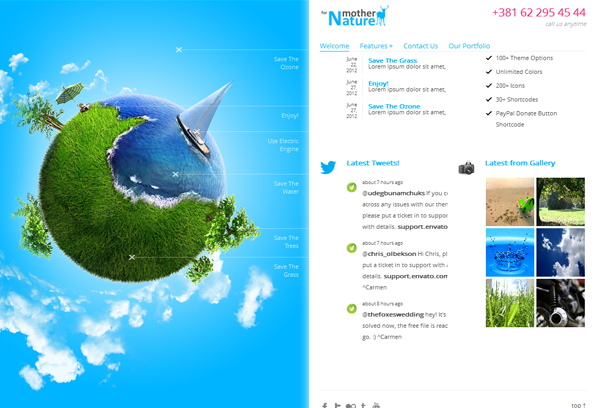 Corvius
Corvius is simple, modern and unique theme designed for a business purpose, but can be used for anything. Packed with a lot of cool features, sliders, galleries, shortcodes & widgets, page templates and much more, this can become the perfect starting point for your website.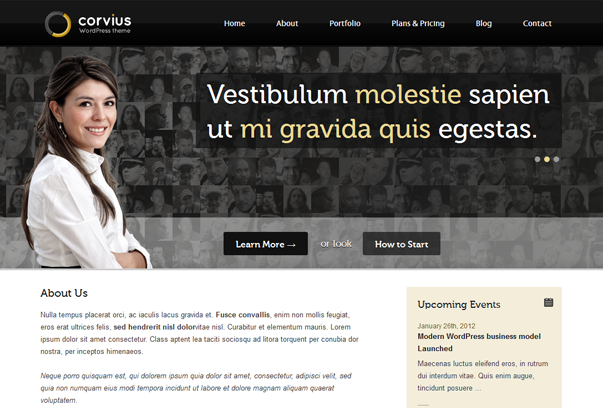 Blue Box
For months, we've worked hard not to simply make a beautiful theme but a tool that makes it easy to build, setup and manage all key elements for a sophisticated design. Design as it is in your imagination and what your customers want.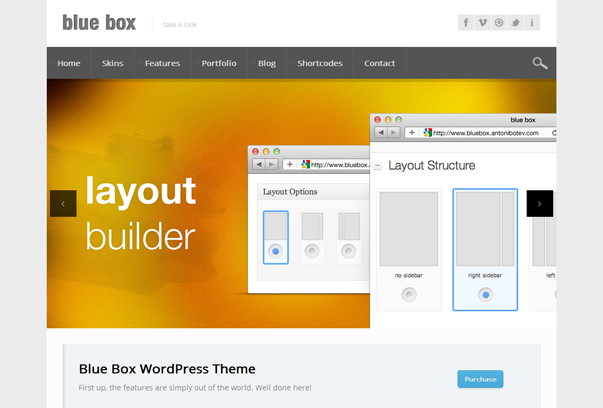 Viewpoint
Viewpoint is a single responsive portfolio wordpress theme with parallax effects. Perfect to promote your work or your business. Is compatible with all modern mobile devices. Other htan the minimalistic single page design, it also has a blog.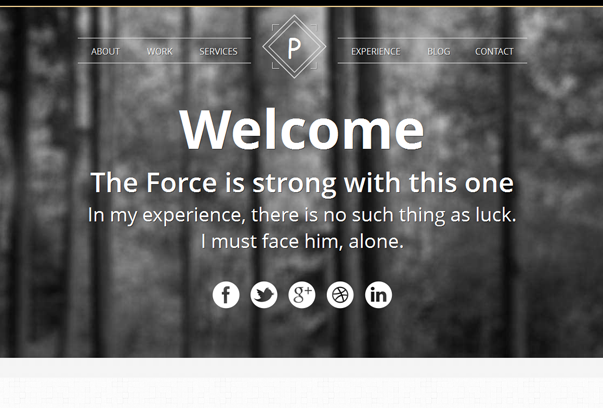 Increative
An elegant WordPress theme for everyone. The theme has a fullscreen parallax backgrounds, custom gallery, twitter ticker, paginated portfolio layout and blog, awesome hover effects, and an ajax contact form and yet many more. The template offers a quick and easy setup.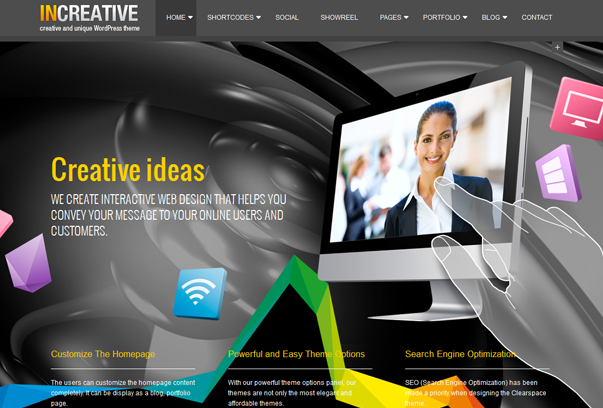 Award
Award is a premium wordpress theme built on 960 grid system, it has numerous features, 21 color variations, 3 theme styles, 4 slider variations, an integrated Google custom search engine, filterable portfolio and more that 100 massive abstract backgrounds. It's very modern design which is perfect for any business.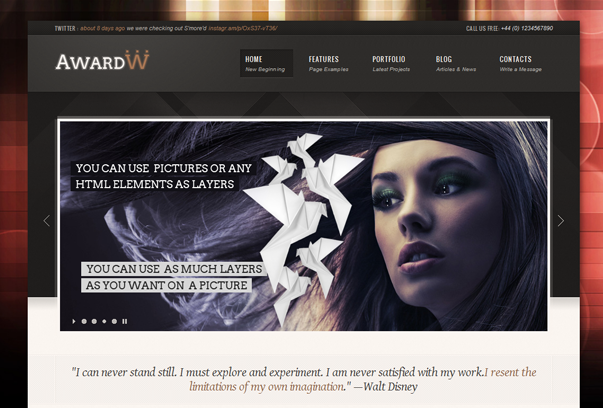 Fusion
Fusion v1.0 is a responsive premium WordPress theme built on Skeleton's base grid system, it has numerous features, powered by OptionTree, 5 color variations, 2 premium slider plugins, filterable portfolio, 20 pattern backgronds, and more that 17 premium backgrounds. It's very modern design which is perfect for any business.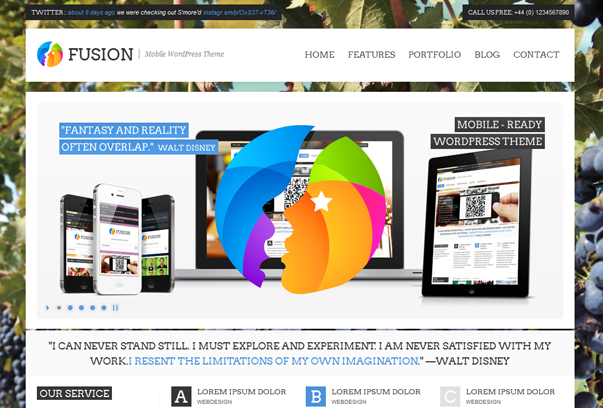 Bloora
Bloora is a feature-rich responsive WordPress theme, it is scalable from mobile to HD.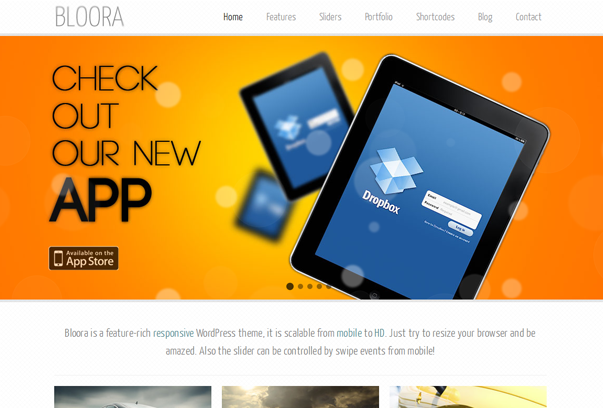 Pilot Fish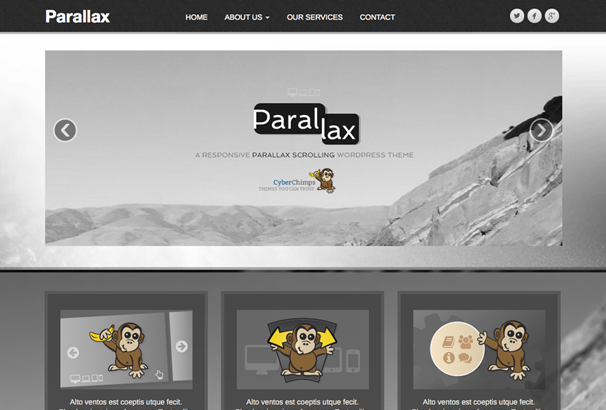 Parallax is a new responsive theme from CyberChimps WordPress Themes that enables you to create stunning websites. Parallax is responsive and works on smartphones, tablets, and desktop computers and uses the latest in parallax scrolling to present beautiful background images
SKT Parallaxme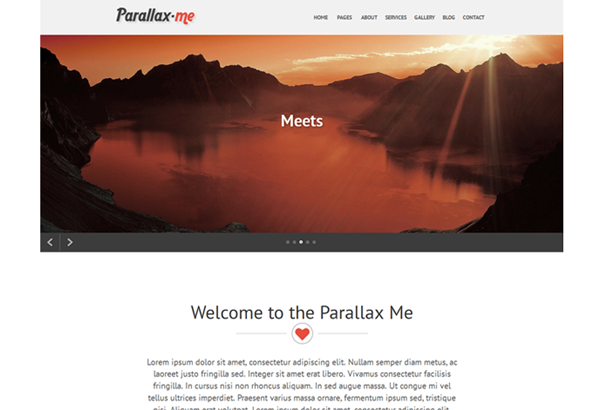 SKT Parallax Me is a beautifully crafted parallax one page WordPress theme. It has got a nice parallax slider, ability to add upto 10 sections on single one page home.
Inkzine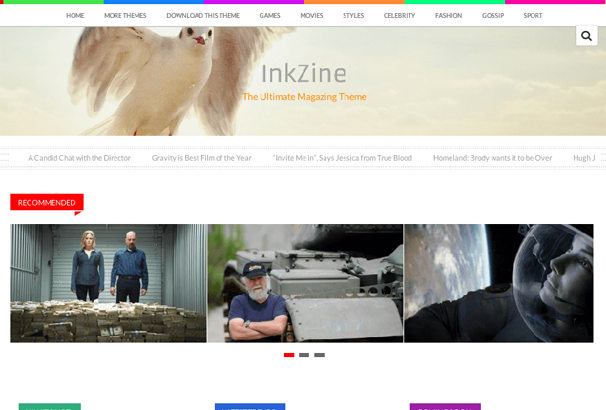 Inkzine Is a High Quality Magazine theme for your WordPress Blog. It comes with Parallax Header, Responsive Layout, Custom Widget, Theme Options, Full Width Pages, etc.
Hemingway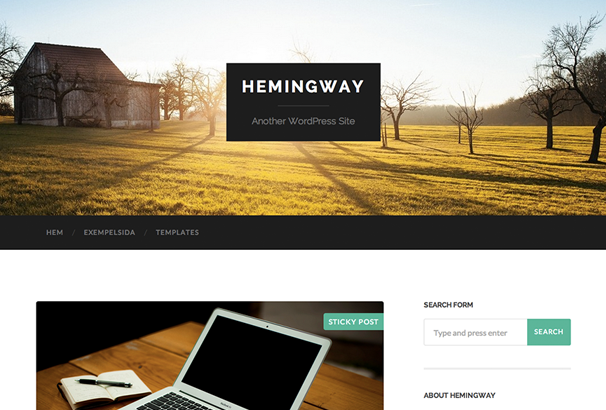 Hemingway is a clean, beautiful and responsive two-column theme for bloggers. Features responsive design, retina-ready assets, full-width header image with parallax scrolling effect.
Aldehyde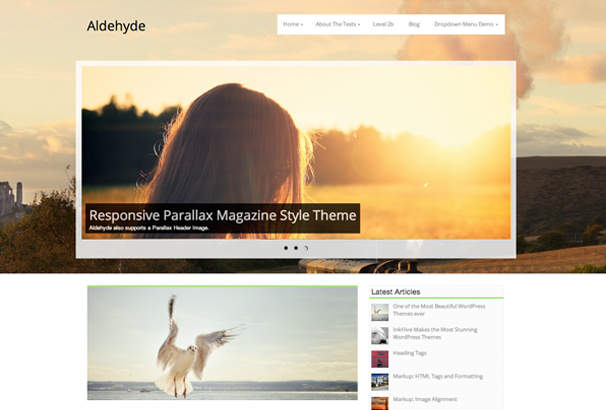 Aldehyde is a Minimal Responsive theme with Plenty of premium features including Parallax Header.
Radiate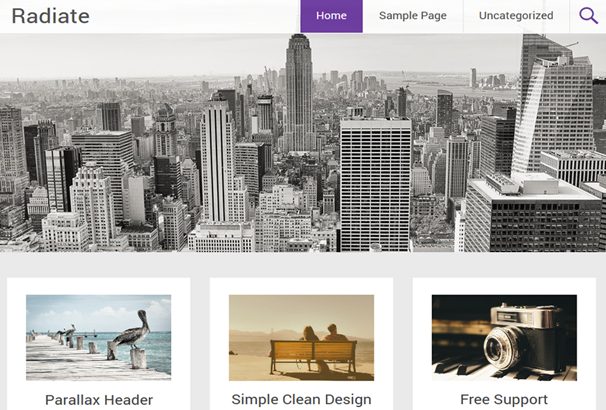 Radiate is a clean, creative and light retina ready responsive blogging theme supporting parallax header image.
Pilot Fish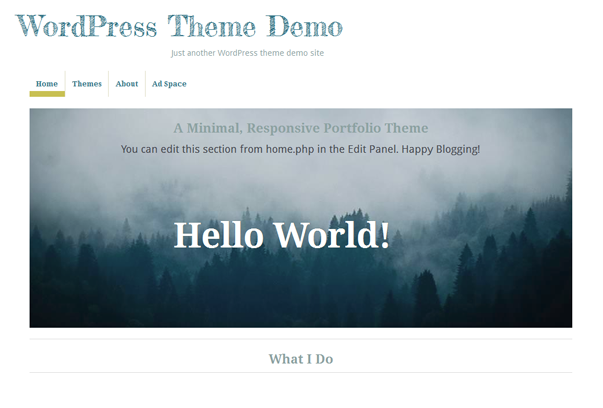 minimal, full width, portfolio, responsive design with one custom post type and parallax scrolling
BlackMesa
A graphically intense theme with alternating, semitransparent headline-boxes, parallax moving backgrounds and beautiful text styles. Supports featured thumbnails, custom headers, custom menus and multiple widget areas.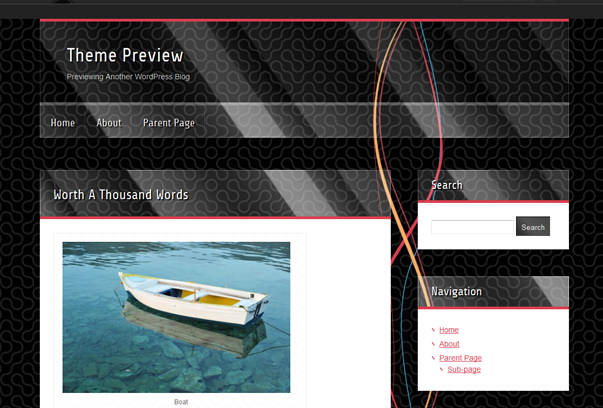 WP Parallax content slider plugin
WP Parallax Content Slider is a plugin which adds automatically a content slider of your last posts where you want on your WordPress blog or website. Transitions between slides are made using a powerfull combination of CSS3 and JQuery to display a beautiful parallax effect.

Image Parallax
Well, if you want to generate a kinda 3D "parallax" effect on your pictures in a second (after you spent an hour to separate every single layer and made a .PNG file of each ground) and publish it into your blog post, this is the WordPress Plugin you're searching for .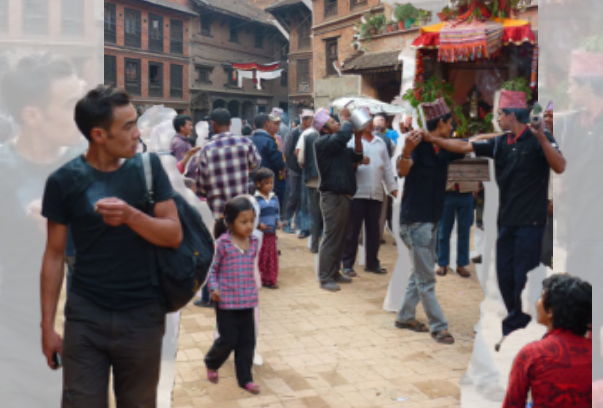 jLayer Parallax Slider
This plugin can create parallax sliders using varity of objects such as images, text titles, background boxes and youtube/vimeo videos. The jquery plugin used by jLayer parallax slider is highly optimized and features video autoplay and supports different types of animation easing options.