First impressions are lasting impressions. Whether you realize it or not. Sites that rely heavily on photography and typography for their style cues tend to create a strong and lasting impression upon visitors. Whilst many trends and techniques soon become outdated, minimalist web design principles are being successfully applied to all sorts of different websites. It looks like this one is here to stay.
So if you're looking to jump start your blog, portfolio or business website for the upcoming new year, here top 25 free minimalist WordPress themes. I can bet right away that you'll find it tough to ignore any of these themes as they are extremely simple in looks and faster in operation.
Fukasawa
Fukasawa is a minimal masonry style blog theme for photographers and collectors.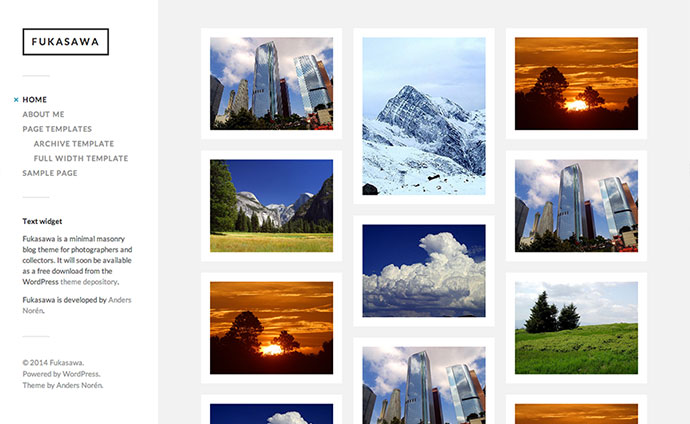 Apex
Apex is a sophisticated, minimalist theme. It looks great and performs wonderfully on phones, tablets, laptops, and everything in between. As a fast, responsive, accessibility-ready, and translation-ready theme, Apex is a theme you can trust to present your content to the world.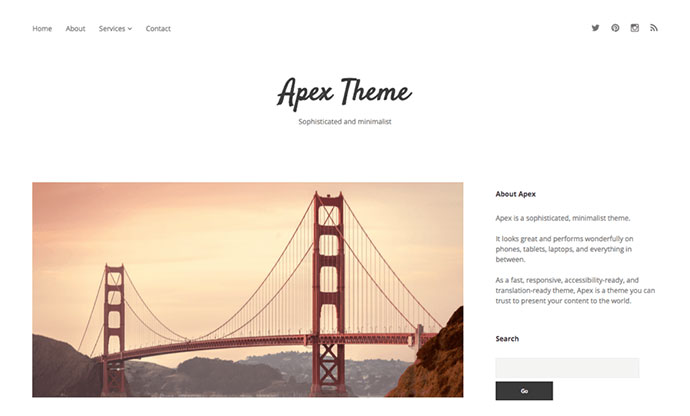 Gridsby
Gridsby is a pinterest style gallery theme which is a simple way to showcase a beautiful photo collection. Gridsby is responsive and retina ready, and includes an easy method for posting photos to a front page gallery.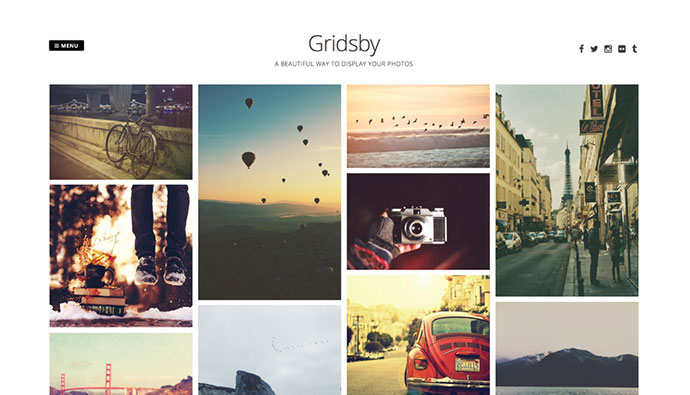 Tracks
A bold, beautiful, and responsive theme. Tracks is perfect for personal blogs, magazines, and photography websites. It includes a logo uploader, social media icons, search bar, comment display controls, premium layouts and features, and more.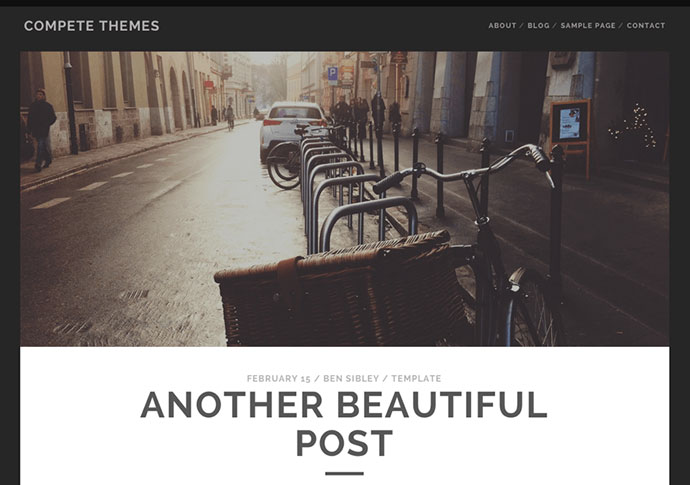 Modern
Modern is responsive, retina-ready blog and portfolio WordPress theme. It's perfect for personal and small business portfolios.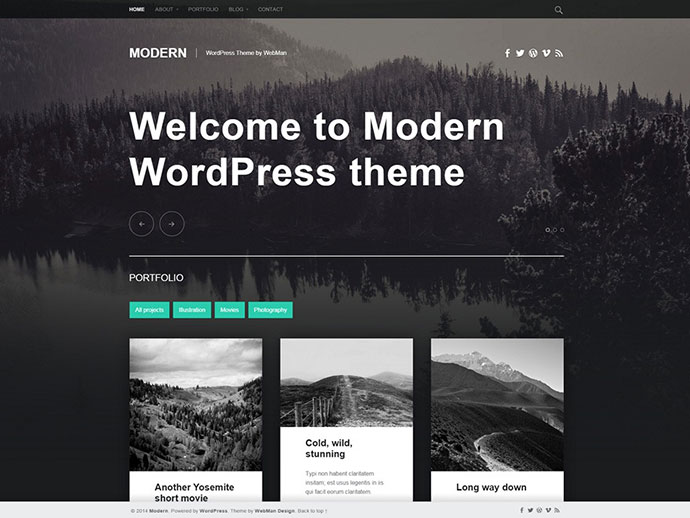 Cubic
A minimalistic square theme.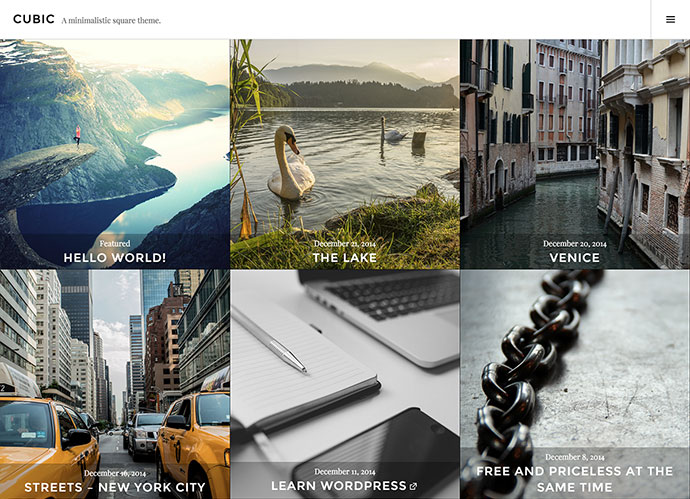 GK Portfolio
If you're a photographer, designer or creative blogger, you know how much of an impact strong visuals can have. It's not enough to just write about your skills, or talk about what works in design; it has to be seen to be understood. With the clean, elegant design offered by this free Portfolio WordPress theme that puts all the emphasis on your creative work, you can craft an alluring, attractive and relaxed website that echoes the qualities that you put into your writing and images.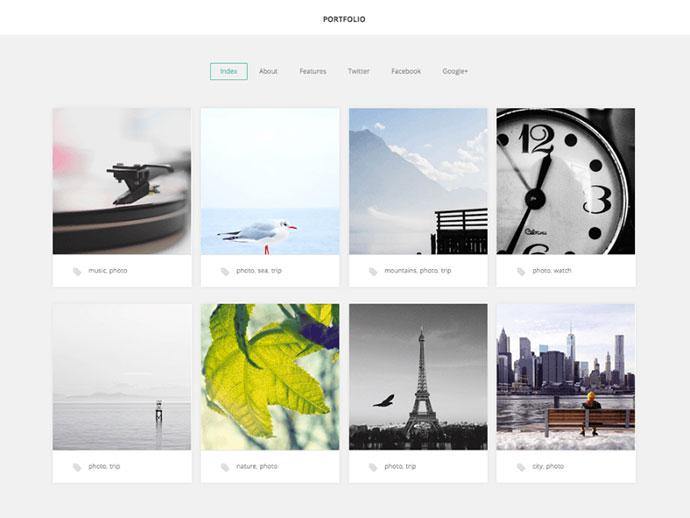 Hoffman
Hoffman is a beautifully minimal, responsive and retina-ready theme for bloggers. It features a social icon menu, Jetpack support for infinite scroll, five custom widgets, two page templates, editor styling, translation-ready code, custom accent color support, custom background support, support for the gallery post format and much more.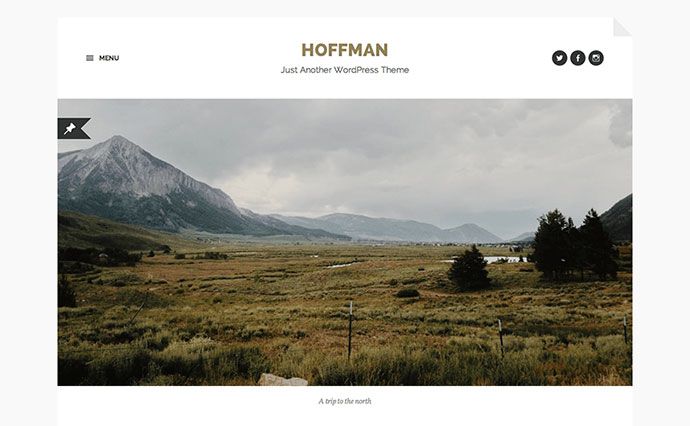 Decode
A minimal, modern theme, designed to be mobile first and fully responsive, Decode features the ability to change all the colors in the theme and an elegant sidebar conveniently accessed by tapping on the menu icon.

Kouki
A beautiful and minimal theme for personal blogs. Kouki is meant for publishers who like to display their content in a delightful and minimal way. Ideal for food blogs, photographers, minimalists, tumble logs and everyone else who likes an unobstrusive WordPress theme. Non-mandatory theme options help you to individualize the theme. Change colors, choose fonts from the Google libary and add social icons. The theme is responsive and looks good on small devices.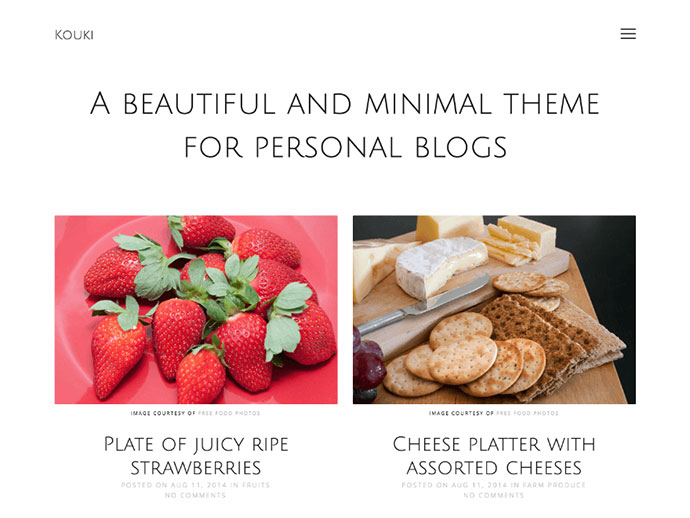 Graphy
Graphy is a WordPress theme for blogs that are designed to have beautiful typography. It is developed using mobile-first responsive design, ensuring that your blog will be no less beautiful when viewed on a smartphone or tablet.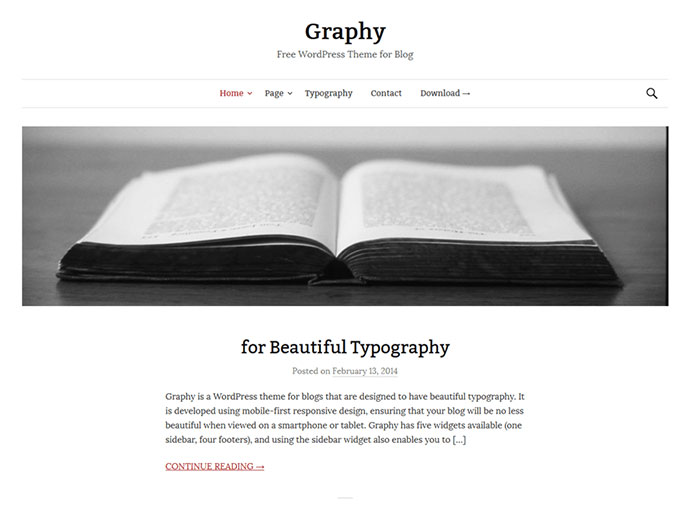 Adler
Adler is a personal blogging theme for sharing your own thoughts and write about your latest findings!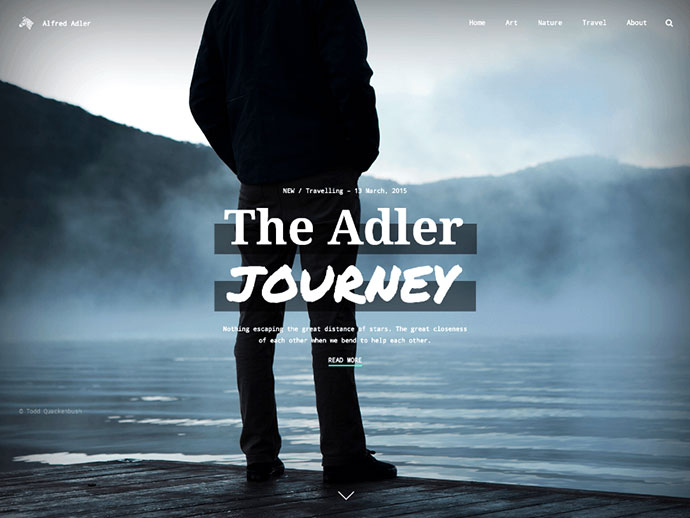 Sketch
A clean, responsive portfolio theme with options for a custom site logo, a featured content slider, and lots of room to share your work.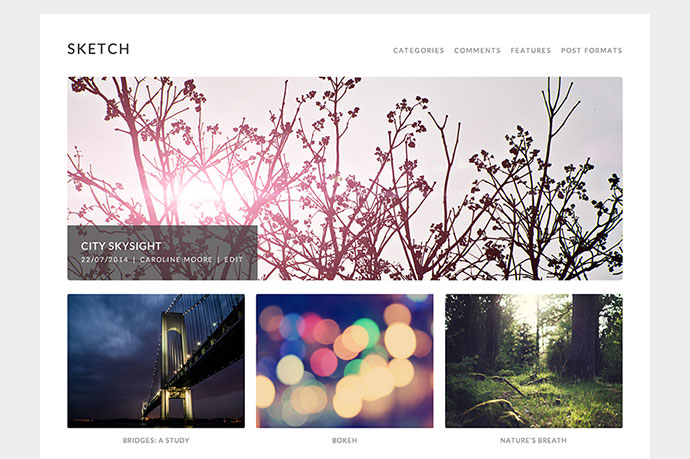 Libre
A stylish, classic look for your personal blog or long-form writing site. The main navigation bar stays fixed to the top while your visitors read, keeping your most important content at hand, while three footer widget areas give your secondary content a comfortable home.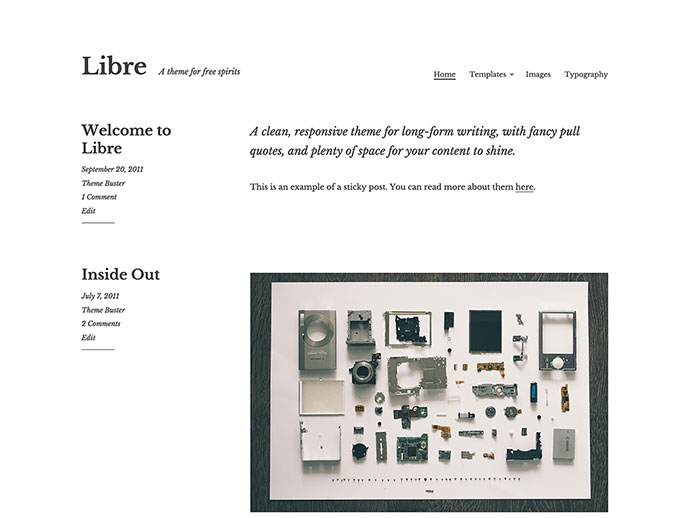 Scrawl
A clean, responsive theme for long-form writing, with bold featured images, fancy image captions and pull quotes, and plenty of space for your content to shine. A slide-out sidebar provides ready access to all your secondary content, including social links, custom menu, and widgets.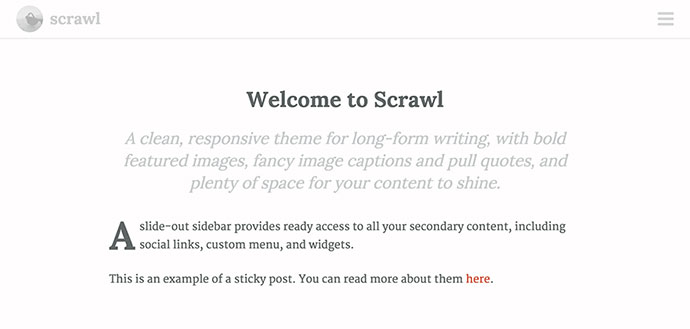 Amalie Lite
"Amalie Lite" is a feature rich, uniquely designed free blogging theme built upon the free "Twenty Fifteen" WordPress theme. Responsive grid is a standard these days and "Amalie" makes a good use of it to preserve its unique looks across the whole range of internet capable devices.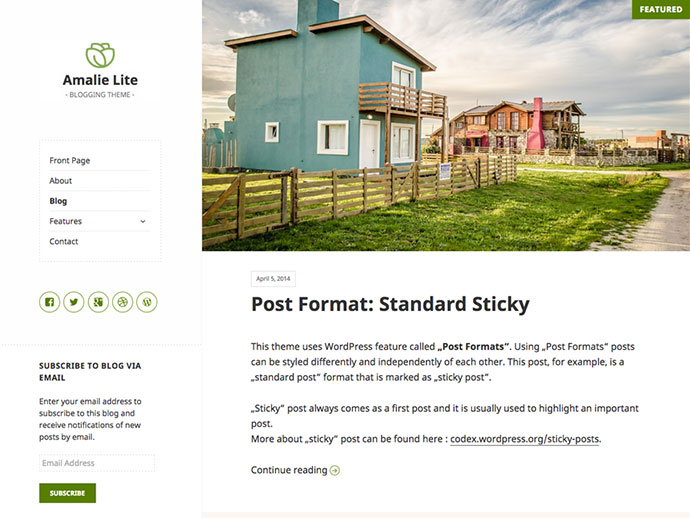 Crawford
Crawford is a responsive minimalist theme designed for writers.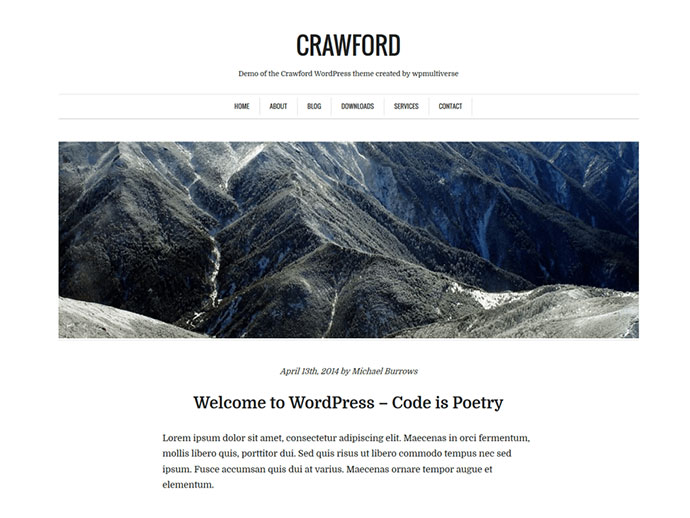 Ryu
Ryu is a clutter-free theme for personal bloggers. It has great readability with a large font size, and the one-column layout is perfect for displaying large images. Optional widgets are located at the top panel with social media links and a search field. Background color for an image post will automatically match the uploaded image in the post.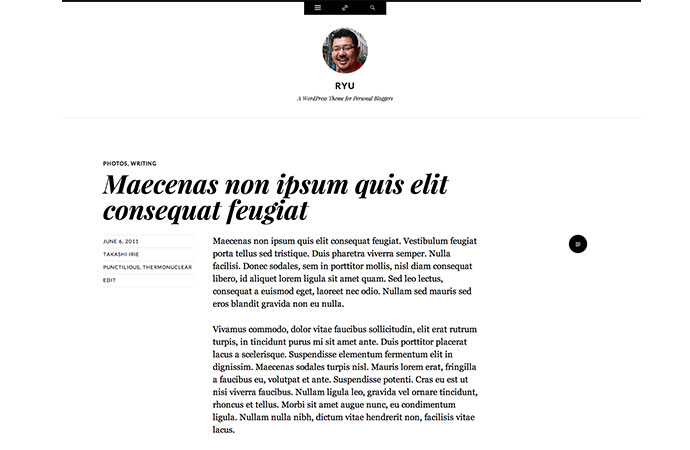 tdPersona
tdPersona is a responsive WordPress theme with a clean, simple and elegant design. Perfect theme for any bloggers.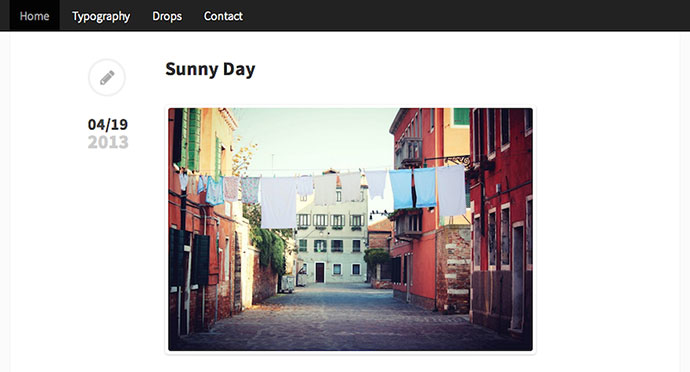 Chosen
Chosen is a bold and minimalist theme for publishers who want to get their visitors' attention and keep it. Present your best content in a clean, uncluttered fashion on phones, tablets, and desktop computers with Chosen.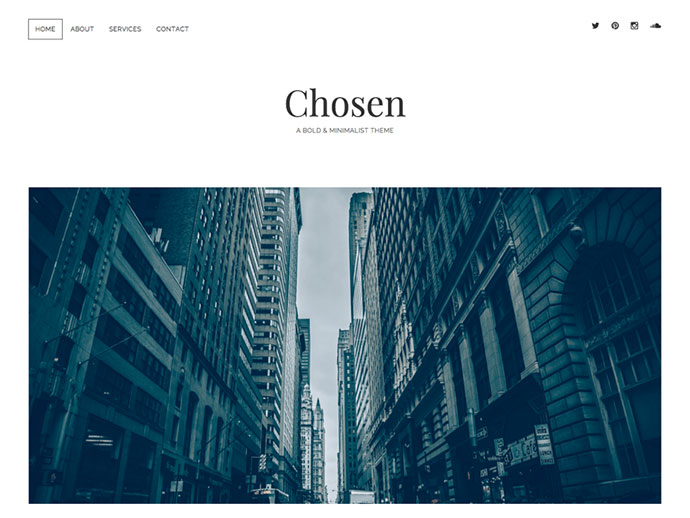 Planum
Responsive full screen theme for bloggers. The choice of color, background image, custom header images and other settings using the WordPress Customizer with a live preview.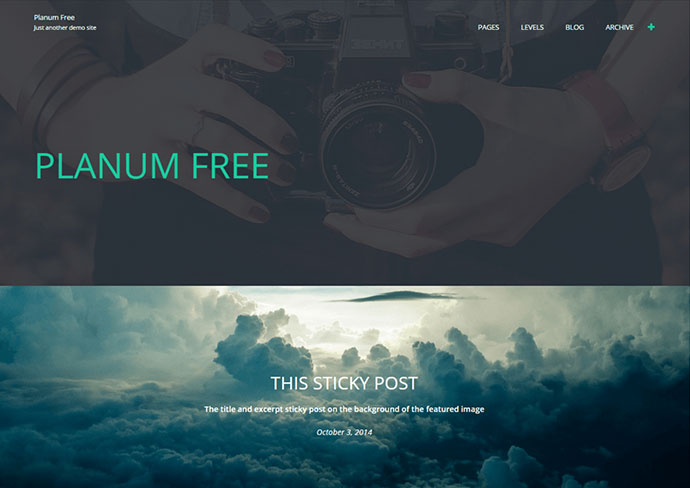 RokoPhoto Lite
RokoPhoto Lite is an elegant WordPress theme for photographers, writers, and bloggers. This design focuses on your content and is perfect for an elegant blog site.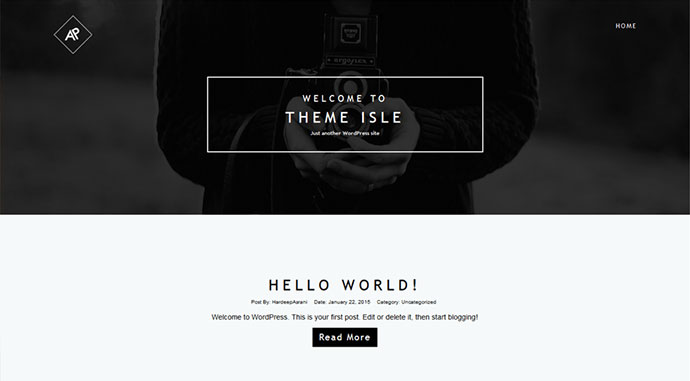 Garfunkel
Garfunkel is a stylish and responsive Pinterest-style theme with Masonry layout. It features responsive and retina-ready design, support for six post formats (including a gallery slideshow), six custom widgets, two page templates, Jetpack Infinite Scroll support, editor styling and translation-ready code.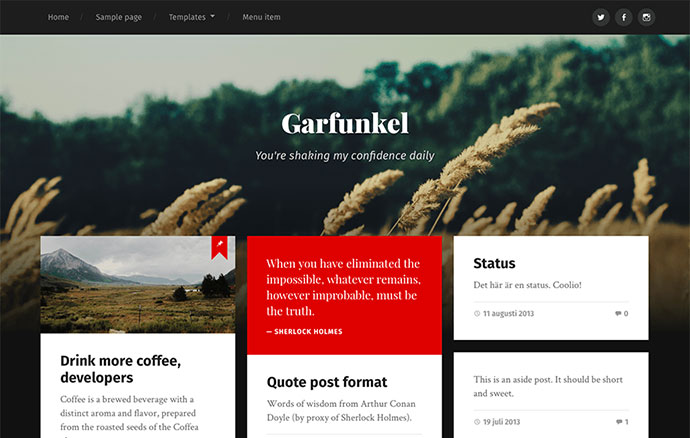 Jkreativ Lite
Jkreativ Lite is 100% Responsive also featured masonry blog layout. This themes is retina ready so your themes will seems perfect on every modern device and cross browser compatibility.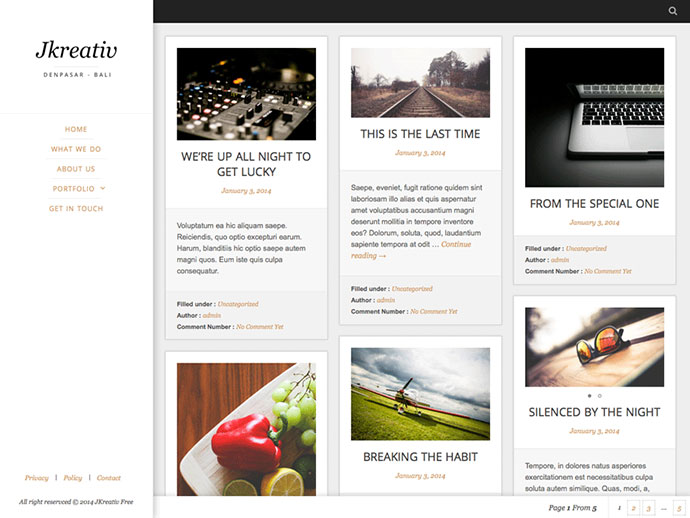 Libretto
Libretto is a responsive one-column theme with classic styling and careful typographic details. It's ideally suited to showcasing longform writing interspersed with beautiful images and inspiring quotes.