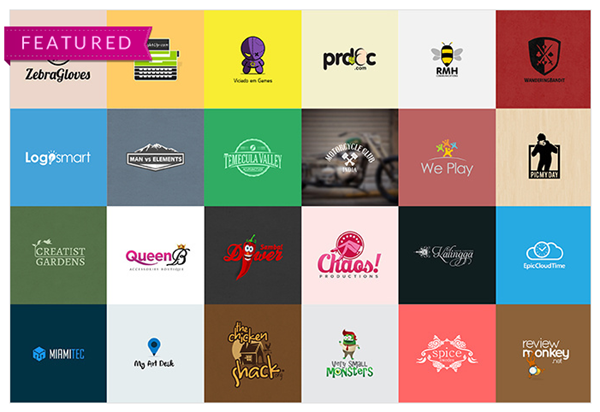 For any product or service a logo can be vitally important and websites and blogs are no exception. From instantly conveying to visitors what your site is about, as well as making a memorable first impression and building a brand, using the right logo for your site can have many benefits.
But while shopping for a new WordPress theme is relatively straightforward thanks to all the options available, the generally comparable prices, and the many places to buy them, the same can't always be said of finding a logo. With so many different ways to find and work with designers, and a vast disparity in the prices charged, not to mention the temptation to create one yourself, it can be hard to know where to start when it comes to commissioning a logo for your site.
In this guide we will take a look at some of the popular ways to find a logo designer and go about hiring them. Most options have their ups and downs and there often isn't a one size fits all approach to sourcing a logo for your website.
Logo Design Services to Suit any Budget
Getting a custom logo designed for your site needn't cost the earth. No matter what your budget, there is no reason why you can't acquire some kind of logo for your site.  While there is virtually no limit to the amount you can pay for a logo, it is also possible to get one designed for very little or even at no cost at all.
While the results at the lower end of the market can be hit and miss, if you shop around you could get a bargain. Although paying a higher price doesn't guarantee better results, you will often get access to better designers with more experience and better design skills.

Create your Own Logo
There is nothing stopping from you having a go at creating your own logo. While you can fire up Paint, Gimp, or Photoshop and start getting your ideas down on the canvas, there are also some free online tools that can help you in your mission. While it's probably best to avoid the flaming text logo generator, there are some good free tools out there, that at the least can provide a stopgap until you get something better:
You might be surprised by some of the results you can get with these free logo design tools.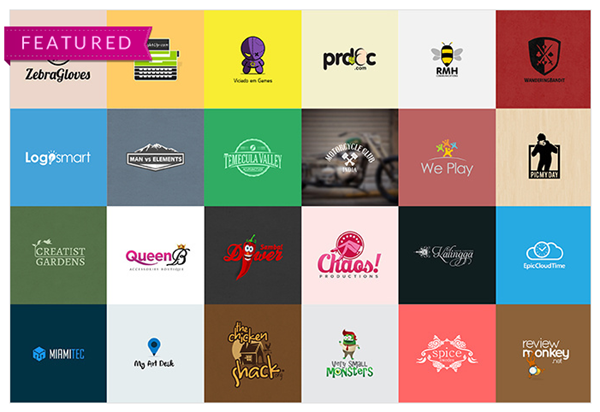 Fiverr
For as little as $ 5 you can choose from a large number of people willing to design a logo for your site. If your site is new, you don't have a budget, and just want to get something to put on your site to give it that finished look, then Fiverr can be a good compromise.  You might even end up with the next Nike Swoosh or Coca Cola logo.
Many Fiverr users offering their logo design services will often charge extra for the editable source files of the image, or allow you to jump the queue and use their express service at an additional cost. This means if you want open the file in Photoshop or Illustrator, and make adjustments, or get your new logo as soon as possible, you might have to pay more. However, even with the optional extras the fee is still going to be amongst the lowest you will find.
I've experimented with Fiverr for a few logo designs and have had mixed results, even from the same designer. As ever, when commissioning a design, the more information you can give the designer, the greater chance you have of getting something you want.
Some Fiverr logo design gigs you might want to check out include:
While the rates are undoubtedly some of the lowest, you might have reservations about paying so little for someone's time.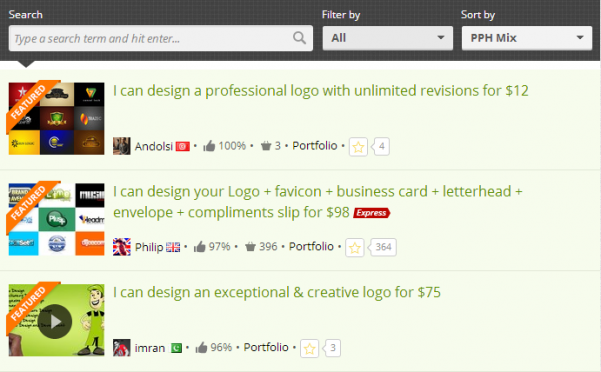 Freelance Bidding Sites
Websites like oDesk, Elance and Freelancer allow you to post a job and then wait for the applications to flood in. You can then evaluate the candidates and hire one to work on the job; think of these sites as an EBay for freelancers.  In most cases you can offer a flat fee for the logo, or hire the designer at an hourly rate.
The problem many people have with these services is that they are a race to the bottom for the designers, who are all essentially competing with each other on price, rather than ability and the value that they can offer to the client. With so many freelancers competing for each job, it becomes difficult to assess each application, and their rates often end up being used as the fastest way to make a selection.
These sites do however allow you to browse the portfolios of the freelancers and select one based on their previous work and portfolio, as opposed to starting a bidding war for your work. Another factor to consider is that these services all use feedback and rating systems as well as handling the delivery of payments. This means the chances of getting ripped off are slimmer than coming to an arrangement independently with an unknown contractor.
From my experience, both of freelancing on oDesk and hiring through the site, in most cases it is a race to the bottom in terms of who can offer the lowest quote for a job, with little to distinguish applicants apart from their rates. This can make the environment unattractive to better quality freelancers who would rather compete on their abilities as opposed to going up against someone prepared to do the job for just a few dollars. This can result in the better freelancers leaving the service in search of better paying clients. However, this doesn't necessarily mean you won't find capable designers on these service auction sites:
There are definitely large numbers of contractors from around the world available on these freelance biding sites, but finding the right one can be a real challenge. However the ethics of services like oDesk and Elance can be off putting for both freelancers and those doing the hiring due to the system almost forcing workers to outbid each other with the lowest rate usually winning.

Crowdsourcing Contest Sites
Crowdsourcing your design work through a site like 99designs is a way to harness the talents of a large pool of designers by posting a design specification, and then picking your favourite submission. That's right, on sites of this type you submit a brief, and the interested designers enter the contest and produce the work, while you get to choose the best submission with only the winner getting paid.
This approach to design and work in general is pretty controversial: in how many others profession can ask for the job to be completed by multiple people and then only pay the best one? You wouldn't watch 10 films then only pay for the best one. However, there seems to be a large enough number of designers willing to work within this model across the many sites offering crowdsourcing opportunities.
For the person seeking a new logo or design, the advantages of this model are obvious. The risk of getting an unsatisfactory result is reduced as there are multiple submissions to choose from. Due to the competitive nature of these sites, the chances of getting a good deal are also increased (although a set price is agreed upfront).
For the designers however, it can be a less enticing arrangement. Having to practically do the entire job upfront, with only a small chance of having your design chosen, and therefore getting paid, is understandably a not wholly appealing situation. However, for all those who rail against these design contest sites, there are as many tales from those who have embraced the system and used the contest model as another way to find clients and build ongoing relationships with them.
Many of these crowdsourcing contest sites that offer design services allow you to ask for revisions of the submitted designs. This allows you to get closer to your ideal logo with each edit. As the initial crowd of applicants is whittled down through the selection process, the more the final product should match your requirements.
Like other ways to commission a logo or design, the more details you can provide in your specification, the higher your chance of getting exactly what you are looking for. If this kind of approach to commissioning a logo for your site appeals, these are some of the more popular design contest sites:
Use a Freelancer or Agency
Compared to using a freelance bidding site or starting a design contest, this is perhaps the least controversial or revolutionary approach to commissioning a logo or finding a designer. Approaching a designer or agency whose work you admire can be a great way to get exactly the type of logo you want for your website or other projects.
With no shortage of freelance graphic designers or design agencies advertising their services online, via their portfolios or homepages, finding one shouldn't be too hard. Word of mouth recommendations can also help ensure you find a good designer that can not only produce good work but is also reliable and easy to work with.
This is perhaps the most preferable way for a designer to work. The relationship with the client is usually one to one, rather than part of a contest or bidding war against other designers. The absence of the severe time constraints of contests, and high pressured competition, can also allow the relationship to develop, helping the designer to better understand the needs of the client, resulting in a more satisfactory end product for both parties.
For those seeking a design, this approach does have its downsides. First the client has to find the designer without the help of a bidding site or contest service. Secondly, by only working with one designer, or a single team or designers, there could well be less versions of your logo to choose from. To quote a famous logo designer, when asked if he would come up with a few logo options:
"No. I will solve your problem for you. And you will pay me. And you don't have to use the solution. If you want options, go talk to other people. But I'll solve your problem for you the best way I know how. And you use it or not. That's up to you. You're the client. But you pay me."
Paul Rand according to Steve Jobs on the design of the NeXT logo
However, this could be the most ethical way to source a new logo design and is a more traditional model for procuring the services of a professional. It also allows both parties to vet each other before agreeing to the contract, increasing the likelihood of the client and their product and the designer being a good match for each, which in turn can yield better results. Some places to find a graphic designer include:
Conclusion
As you can see there are many ways to find the right logo for your site, from creating one yourself, running a design contest, or reaching out to a designer who has impressed with their work elsewhere.
While WordPress themes often have the ability to forgo a graphic logo in favour of a text based logo, it doesn't mean you have to miss out on getting an original, individual and  personalised design for your site, whether that be an icon, text, an image, or a combination of all three.
Who made the logo for your site and how did you find the experience?