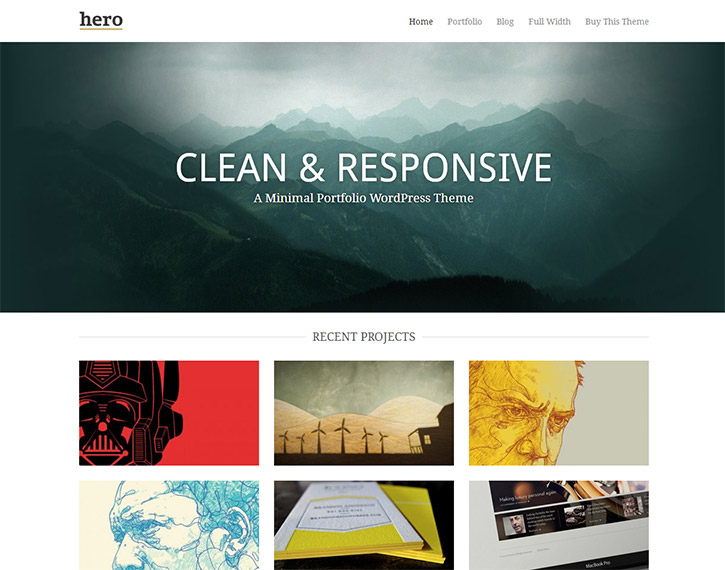 With the huge amount of freelance designers, small studios, and agencies out there offering web and graphic design services it can be difficult to maintain a steady flow of new clients.
While it would be nice to have all the clients you need coming to you for work, the reality for most designers is that some type of promotion, marketing, or networking needs to take place in order to maintain a full work load.
The good news is that there are plenty of different ways you can go about promoting your own design services. Some are more aggressive than others. Some will require only a small amount of your time, and others will require more time and/or money.
The Basics
In this article we'll look at more than 65 different methods you can use to promote your design services. Of course, this is not a suggestion that you need to do all of these things, but if you are looking to pick up more client work browse through the list and find some options that are a good fit for you. Before you start aggressively promoting your services it is important to consider these basics:
1. Decide What Services You Want to Offer
There are a lot of different services and types of projects that can fall under the umbrella of web and graphic design. Just some of them include customer website design, web development, e-commerce design and development, custom WordPress themes, website maintenance, search engine optimization, social media marketing, logo design, print design, illustration, package design, and the list could keep going for a long time.
It is important to know specifically what services you want to be able to offer to clients. Without narrowing down your list of services you may find that your marketing efforts are not effective because they are not focused, and potential clients may have a hard time knowing if you would be a good fit for their projects.
2. Define Your Target Audience
Once you now what services you want to offer, the next step is to specifically define your target audience or your ideal customer. This doesn't mean that you won't be able to work with clients that do not fit this description, but defining your ideal client will help you to know how and where to market your services.
An example target audience could be small businesses in your local metro area with no existing website, or an outdated website. Once you know who you want to key in on, it's easier to find the right types of potential clients and craft your marketing materials and your approach to them.
3. Know What You Have to Offer
Your clients will have no shortage of designers that they could hire for their project. If you are targeting local clients they will most likely have several other local designers that they could hire, and countless designers from around the country and even the world. It's important to know what you have to offer, and what makes you unique. Use your strengths to your advantage.
Your Portfolio
The portfolio is a critical marketing tool for designers of all kinds. Here we'll look at some things you can do to get more impact with your portfolio.
4. Have a Great-Looking Portfolio Site
If you are a web designer potential clients will be judging you based on the design of your portfolio site, so make sure you take plenty of time to perfect it. Even if you are not offering web design services, the quality of the work samples showcased in your portfolio will have a big impact on the overall look of the site. Many portfolio sites are clean and minimal in style, allowing the work samples to stand out and capture the attention of visitors.
5. Create the Site with Your Target Audience in Mind
Don't forget about your target audience when you are designing your portfolio site. Too often it seems like portfolio sites are created with other designers in mind rather than focusing on the ideal client. If you have a very specific target audience, showcase work samples for clients that also fit within that audience. Show how you have been able to get results for other businesses and organizations like them.
6. List Your Address and Phone Number
If you are targeting clients in your local area it is very helpful to list your mailing address and your phone number. Even if the potential client does not use these methods to contact you, listing your address and phone number can give added credibility, especially to local clients. It can also help to improve the SEO of your site for local searches and allow you to reach more of your ideal clients.
7. Submit Your Portfolio Site to Design Galleries
Design galleries like CSS Mania are not as popular as they were a few years ago, but they still provide an opportunity to increase your exposure with just a small amount of effort or money. First, you'll need to have a great-looking custom design for your portfolio site in order to get it showcased in the best galleries. Once that is done, all you need to do is submit your site for consideration. You can do this manually by submitting to the galleries of your choice, or you can use a service like The CSS Gallery List to do it for you. They will submit your site to 100 galleries for $ 49. While gallery sites are mainly viewed by other designers, having your site showcased at a few popular galleries can still provide some good exposure and some links that will send traffic to your site.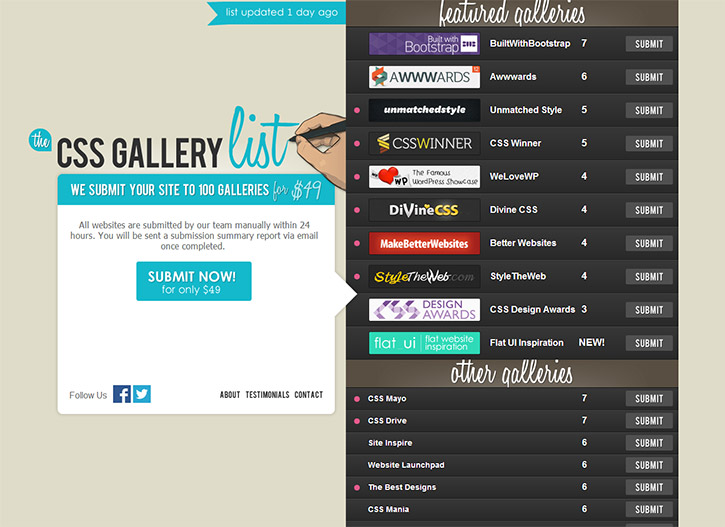 8. Showcase Your Best Work
One common mistake that is made with portfolio sites is showcasing too many work samples. You don't need to show every project that you have ever completed. Just showcase your best work and let it tell potential clients what you can do. Every designer faces situations where the client insists on things that may not be in the best interest of the design. If you have projects that you are not extremely proud of because of decisions made by the client, don't showcase it in your portfolio. Remember that you will be judged based on the work in your portfolio.
9. Publish Case Studies
Instead of simply showing images of your work, consider adding case studies as well. A case study will provide some background information on the client and the project, explain the services that you provided and what you accomplished, and (ideally) the results or outcome for the client. Case studies take your portfolio to the next level and can help potential clients to get a better idea of what you can do for them, aside from just designing something that is pretty.
10. Showcase Testimonials from Your Clients
Including testimonials from certain clients can be a great way to establish your credibility. Whenever you have a client that is happy with your work it is a good practice to ask if they would be willing to provide a testimonial. If you do this consistently you will always have a number of client testimonials that you can use on your portfolio site and in your marketing materials. Including a photo of the person providing the testimonial can also help to make it feel more personal and relatable to potential clients.
11. Focus on the Results
Potential clients are more interested in the results of your work than how it looks. You can show them a beautiful website that you designed for a client, but just because it looks good doesn't mean that it add value to their business. If you want to really capture the attention of potential clients focus on the results that your work has delivered for clients. For example, rather than just showing a screenshot from an e-commerce site that you designed, show your work and mention that it helped to increase the client's revenue by 15% (or whatever the real results were).
12. Create Your Own Design Concepts
If you are just getting started and you don't have much to showcase in your portfolio, consider working on a design concept of a popular website. There are loads of design concepts and re-designs posted on various sites. Not only will it give you some work to showcase in your portfolio, but it can also bring some added exposure to you if the design concept gets shared and passed around. At our blog we've recently published two posts that showcase design concepts from various designers, one focusing on Craigslist and the other on Gmail. If you do choose to use design concepts in your portfolio it is recommended that you mention that your work was not commissioned by a client and is just a personal project.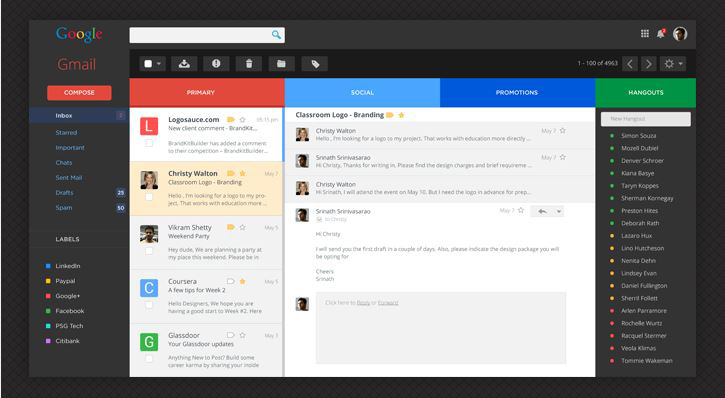 13. Offer Free Estimates or Consultations
One way to get in touch with more potential clients is to offer a free estimate, or even a consultation. For a free estimate you can set up a web form that the potential client can fill out to give you the info that you need for the estimate (you may need to speak with them as well), and then you can promote that form on your portfolio site and suggest that visitors complete the form to get the free estimate.
A free consultation can take this even a step further. The good thing about a consultation is that it gives you a chance to interact with a potential client, and its easier to gain their trust. Hopefully a decent percentage of the free consultations will result in paying customers and you can justify the time and effort of offering the free consultations. If you are going this route you'll need to track things closely (the amount of time you spend and how much paid client work it results in) to make sure that it is a good use of your time.
14. Use a Call to Action
At your portfolio site you don't want to simply showcase your work. Potential clients are browsing your portfolio because they are looking for a designer that might be a good fit for their project. Be pro-active and include a call to action. It could be a button that encourages them to get a free estimate, it could be a simple contact form that let's you know they are interested, or you could even ask them to call you to talk about your services.
Don't assume that everyone who is interested in your services will take the necessary action to get in touch with you. Lead them to the desired action and make it as easy as possible.
15. Use Third-Party Portfolio Sites
In addition to your portfolio on your own domain, third-party sites like Dribble, Behance, and Coroflot can also be a great way to get some exposure. These sites will allow you to set up a profile in a matter of a few minutes, showcase your work, and start interacting with other designers and possibly with potential clients.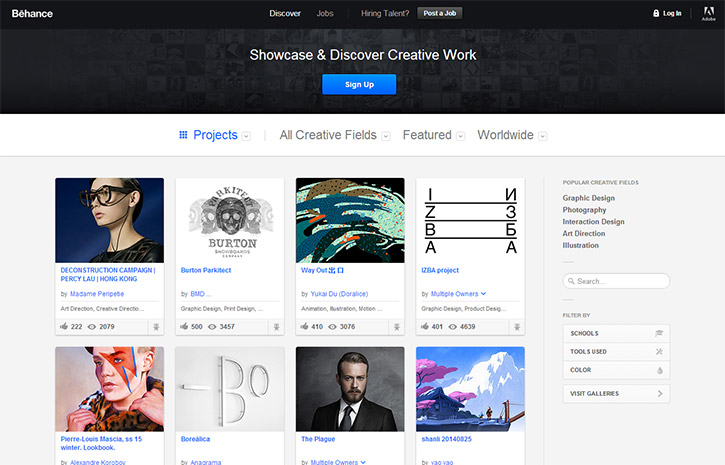 Proposals
Once a potential client has expressed some interest in your work and in possibly hiring you, your proposal will become a major factor in whether or not you are able to secure the work. Here are some tips related to proposals.
16. Use Professional-Looking Proposals
As a designer you should be presenting a proposal that looks attractive and professional. You could use a proposal template, design one yourself, or use a web app like Bidsketch to help you craft your proposals. Having a professional proposal will add to your credibility and help your work to look more desirable to a potential client.
17. Only Show the Totals
Rather than including an estimated number of hours, hourly rate, and subtotal for each line item, just provide the client with a total price. In 5 Elements of a Persuasive Web Design Estimate Ruben Gamez of Bidsketch tells us "This is better than an invoice style for two reasons. One, as we discussed, because it doesn't let your solution be compared to others. And two, because you want to keep your clients focused on results, not on hours."
18. Emphasize What the Project Will Do for Them
Clients are more interested in results than they are about design. In the same article about estimates Ruben Gamez states "when you're writing up the estimate for this client, keep their business' needs in mind. Instead of calling your service 'Marketing Website Redesign,' call the project 'Increasing Leads through a Marketing Website Redesign.' Not only will your clients be thrilled that you know what they want, but this will give you the knowledge of what needs to be the focus within the project itself."
19. Give Them Choices
You can increase your rate of converting proposals to paying clients be giving the client a few options. They may want to hire you, but their budget may restrict them from being able to get everything they initially wanted. If you offer them a lower-priced option that would give them all of the most important things it may help you to save the sale.
20. Provide Your Own Ideas
When you are talking to potential clients don't forget to use your own expertise. Of course you want to know what they are looking for and what they want from you, but you can also add some value by taking advantage of your experience and your expertise. If you think there is something they are missing that would be beneficial to the project and to their business, mention it. Show that you are interested in doing the best job possible for them, not just simply following instructions.
21. Avoid Industry Jargon
As you are talking with potential clients and drafting proposals, be sure that you are using language that they understand. Most likely they will not know all of the industry terms and jargon that you read, hear, or say to others in your industry, so keep this in mind. Explain things clearly and in simple terms.
22. Follow Up After the Proposal
After the proposal is provided to the client, follow up to see if they have any questions or if they are ready to move forward. When I first started freelancing I was really surprised to find out how many potential clients never followed through with their plans for a new website or a re-design. If I talked to someone and it didn't result in hiring me I assumed they were working with another designer. But when I would go back and check, sometimes several months later, most of them had never taken any action at all. Just because a client doesn't sign on right away don't assume that the project is a lost cause. Follow up and stay in touch and you'll be much more likely to earn their business.
Blogging/Writing
Blogging can be one of the best ways to gain exposure, establish your reputation in the industry, and ultimately attract clients. Here are some tips for using blogging to promote your services.
23. Add a Blog to Your Portfolio Site
Adding a blog to your portfolio site is simple. With a CMS like WordPress you can maintain your portfolio and blog together, quite easily. There are a number of beautiful portfolio themes available, and you can always create a custom theme from scratch or add some customization to an existing theme to make it more unique.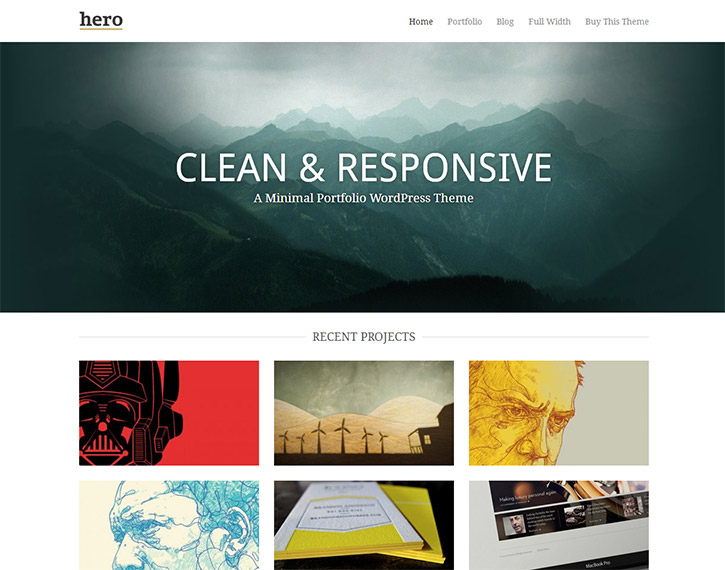 By having your blog at your own site, rather than using a free option like Blogger or WordPress.com, you will have full control over the content and the site, and you can also use it to build the strength of your domain.
24. Use Blog Posts to Target Long Tail Search Phrases
Phrases like "web design" and "website designer" draw huge numbers of searches every month, but the competition for top Google rankings for those phrases is insane. Realistically it is almost impossible for a new site to be able to move in to the top ten for a search phrase like that. And even if you were able to rank on the first page it would probably take an extremely large commitment of time and money to make it happen.
What is far more realistic is being able to rank at the top for long tail search phrases, and blog posts can be very helpful for this. You can do some keyword research with a tool like the Google Keyword Planner or Long Tail Pro to find less competitive search phrases. If you create blog posts too target specific phrases you can see a jump in search traffic thanks to the power of the long tail. These phrases may only receive a fraction of the search volume of the major phrases, but ranking on the first page is an attainable goal.
25. Write for Other Design Blogs
Not only is at beneficial to publish posts on your own blog, but writing for other blogs can also provide great opportunities. There are countless design blogs out there and many of them accept article submissions. Some pay writers and some do not, but either way you can benefit from the added exposure. Writing for other blogs is a great way to build your name recognition, and it's also a fantastic way to network with influential bloggers and editors in the industry.
One of the best clients I ever had (I worked with her for several years on an on-going basis) found me as a result of an article that I wrote for Smashing Magazine. Not only did I get paid by Smashing Magazine for the article, but it led to a client that brought in several thousand dollars over the course of a few years.
26. Use a Photo of Yourself
If you are blogging and are active at social media I recommend using a photo of yourself on your blog and on your various social profiles. People will feel more connected to you if they can see your photo, and those stronger connections help with gaining trust and securing client work.
27. Write a Book or E-book
Blogging isn't the only way to use your writing skills. If you want to establish your expertise and reputation, one way to do it is to write a book or e-book. You could sell it and make some money, or if it is an e-book you could give it away for free to generate some exposure for yourself and your business. The added exposure and the credibility that comes along with it could help you to land more clients for your services.
28. Write an Article for a Magazine or Newspaper
Another option for writing aside from blogging is to write for a magazine, newspaper, or journal. There are a number of magazines in the design industry that accept article submissions. If you are targeting local clients writing an article or even a regular column in the local newspaper can be a great way to get some valuable exposure.
Social Media
Social networks provide unlimited possibilities for exposure. If you do choose to use social networking be sure that you are not spending too much time to justify the results that you are getting, as it is easy to lose track and spend hours on social networks without any real direction.
29. Set Up Profiles at the Major Social Networks
One of the keys is to be where your target audience will find you. The major social networks like Facebook, Twitter, LinkedIn, and Pinterest all have massive user bases, and so they are great options. You don't have to be extremely active at all of the major social networks, but it's helpful to at least have a presence. Find one or two that are the best fit with your target audience and dedicate most of your resources and time there.
30. Design Custom Graphics for Your Profiles
As a designer you have an opportunity to stand out and make a positive impression through the use of custom graphics for your social profiles. Almost every social network has become increasingly visual over the past few years, so take advantage of this by creating attractive, branded graphics for your profiles.
31. Showcase Your Work Through Your Profiles
Use your social profiles to show off the work that you are doing for clients. You can share links to sites that you have completed and upload images and screenshots to showcase your work. At Pinterest you could even create boards for the different types of projects that you do.
32. Run a Contest
Another good use of social media is to run a contest. Apps like Heyo make it easy to create your own campaigns and contests, and this can result in a lot of exposure and possibly some new clients. Most social networks have rules regarding contests, so be sure that you check and follow all of the rules to stay in compliance.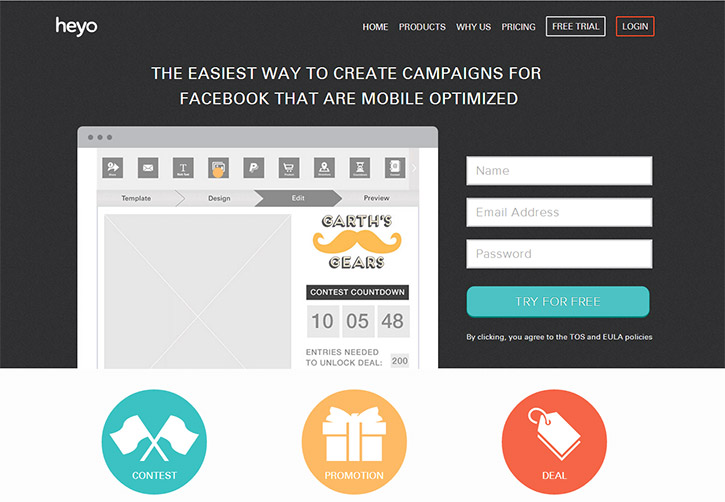 33. Promote Your Blog Posts Through Social Media
As you publish new blog posts you should also promote them through you various social media profiles. Sharing the links can result in added exposure, and possibly lead others to share the link with their own followers. You can also share links to older posts in your archives. Apps like HootSuite and Socialoomph allow you to schedule the sharing to make it hands-free.
Email Marketing
Email allows you the opportunity to stay in touch with clients and followers, and to reach a new audience. Here are some tips related to the use of email marketing.
34. Collect Email Addresses at Your Website
If you are not offering your visitors the option to subscribe to a mailing list you are missing opportunities. The vast majority of your visitors will leave and never come back. If you can convert some of those visitors to subscribers you can continue to stay in touch with them in the future, and maybe some of them will wind up becoming clients.
Email marketing services like AWeber will provide you with a simple form to put on your site so your visitors can subscribe to your newsletter. If you really want to maximize your conversions you can offer some sort of free bonus or incentive for people to subscribe.
35. Set Up an Autoresponder Sequence
After visitors join you list you can send newsletters periodically, and you can also set up specific emails to be sent at certain intervals after they subscribe. Setting up an autoresponder sequence of several emails is a great way to stay in front of your potential clients without dedicating a lot of time to it. Once your autoresponder is set up (again, this is easy to do with AWeber) it will work on its own without any involvement from you.
36. Send Emails Regularly
If you have an email list it is important to stay in regular contact with your subscribers. As an active designer you don't need to send emails every day, but sending 1 or 2 per month is a good start. If you go months without email your list your subscribers will forget about you and it will defeat the purpose of even having the list in the first place.
37. Showcase Your Completed Projects
Your email list is another excellent option for showcasing your client projects. In your monthly or bi-monthly emails you can show screenshots from projects that you have been working on, and link to case studies on your portfolio site.
38. Mention New Services or Options
Whenever you add new services or offer new options to clients it is a good practice to mention this to your email list. For example, if you opened a re-seller hosting account you could send an email to your list and let them know that they can get hosting from you. Or if you recently started working with a particular CMS you can let them know that you are available for projects of that kind.
Referrals
Getting referrals is one of the best ways to build your business. Referrals are not only great because they come to you, but also because many of these potential clients will be more likely to hire you since you have been referred by someone they know and trust.
39. Ask Your Clients for Referrals
This is a simple thing, but many designers fail to do it. Be sure that you are asking your clients for names and contact information of people that may be able to benefit from your services. Don't wait for them to make an unprompted referral because many clients will not think of it on their own.
40. Ask at the Beginning and at the End
There are a few different times when it is ideal to ask your clients for referrals. When you have first secured the project and received the signed contract is a good time to ask if they know of anyone else who might be a good fit for your services. And then when the project is completed and the client is excited about the great work that you have done you can ask again.
41. Ask Your Friends and Family for Referrals
Friends and family can also be an excellent source of referrals, especially if you are just getting started. Let them know a little bit about the services that you offer and chances are they will be able to refer you to some people that they know.
42. Stay in Touch with Your Clients
Some clients may be able to give you a great referral right away, but you can also get referrals down the road if you stay in touch with your clients. Even if you only did a one-time project for the client make an effort to stay in touch. Things like sending Christmas cards or birthday cards are examples of opportunities. And when you need some work you can always reach out to them and ask if they know of anyone that they can refer to you. You're much more likely to get these referrals if you stay in touch, rather than suddenly contacting clients that you haven't spoken with in a few years just to ask for referrals.
43. Exchange Referrals with People Offering Complementary Services
Another possibility for referrals is to partner with someone who provides services that would target the same audience. For example, someone who does SEO may be able to refer clients to your for web design, and you could refer clients to them for SEO services.
44. Develop Relationships with Other Designers
There are also opportunities to get referrals from other designers if you are well connected. It's possible that a particular client may be a better fit for your services, or perhaps they are currently booked and have no availability for the new client. Maybe you typically work with entrepreneurs and small business owners and you have a friend that runs an agency that focuses on medium and large businesses. That friend might send some referrals to you for projects that are too small for their agency but would be perfect for a freelancer.
Networking
Networking is a critical aspect of building just about any type of business. Here are some tips to get more out of your networking efforts.
45. Attend Local Networking Events
You may be able to find clients in your local area by attending events sponsored by a chamber of commerce or some other local organization. These types of events are great for meeting new people, especially small business owners.
46. Lead a Seminar or Workshop
There is also an opportunity to lead a seminar or workshop that might introduce you to potential clients. You could check with your local chamber of commerce and see if there are opportunities to run a seminar on having an effective web presence for small businesses and you are likely to meet some people who would be ideal clients. Don't use the seminar to push your services, but if you demonstrate a level or expertise some of those attending may be interested in hiring you.
47. Offer Free Webinars
Webinars are a great way to hold online seminars and reach people outside of your local area. The same thing applies here. You don't need to push your services, just provide valuable information and people may be interested in hiring the expert.
48. Respond Promptly to Inquiries
Whenever someone reaches out to you, whether it be by email or phone, always make an effort to get back to them as quickly as possible. Potential clients will want to work with someone that is easily accessible, and they won't want to work with someone that keeps them waiting for a few days. When a potential client reaches out to you they are showing interest in your services, and if they don't hear from you quickly they may move on to another designer that responds before you do.
49. Talk to Potential Clients on the Phone
Email is a great method of communication for client work, but many clients will like to speak with you on the phone at some point. You can still use email as your main mode of communication, but even having a brief phone call can help clients to feel more connected to you.
50. Meet with Local Clients Face-to-Face
Likewise, face-to-face meetings can help to sell your services if you are working with clients in your local area. You don't want to waste time with face-to-face meetings, but if you are trying to secure a project or looking to build rapport with a client, a face-to-face meeting can go a long way.
Advertising
Advertising is not a preferred method for many designers, but it can be effective. This section includes a few tips for both paid and free advertising.
51. PPC Ads
Pay-Per-Click ads, like Google AdWords, allow you to get your services in front of your target audience pretty easily. You can target particular searches, keywords, and phrases, and you can also target your local area to really keep it tightly focused. A local PPC campaign can be surprisingly affordable. PPC is also flexible because you can stop or pause the campaign when you are busy and don't need any new projects.
52. Facebook Ads
Facebook ads are another option for paid advertising. Facebook has such a huge user base, and with their ads you can target people very specifically, so it is a good option.
53. Craigslist
Over the years I have been surprised at how many designers I have met that got their first clients through Craigslist. Now, you're probably not going to pick up high-priced projects from a classified on Craigslist, but if you are looking for small projects there are a lot of possibilities. Just writing a quick ad and post it in a relevant thread in your local area and you may get some inquiries.
54. Local Business Directories
Business directories, both online and in print, can also provide some opportunities. This includes directories through your local chamber of commerce, as well as major business directories like Manta, Google My Business, and MerchantCircle.
Stock
Creating stock graphics or templates is not only an alternative way to make money as a designer, but it can also lead to more client work.
55. Sell Templates/Themes and Offer Customization Services
You can sell website templates or WordPress themes and offer your services for those who would like to have the template customized. You can list your templates for sale at a marketplace like ThemeForest, or you can sell them on your own. Going with a marketplace is a good option if you don't want to invest the time to build up your own audience. The marketplace allows you to reach a large audience quickly.
Having your own templates and themes can also serve as starting points for clients who are working with a limited budget. Instead of being forced to pass on a project because the budget is too small you may be able to offer them a customized version of your template that will take a lot less of your time and save them some money.
56. Use Free Graphics or Templates to Attract Links and Traffic
In addition to selling stock graphics and templates you can also give them away for free and attract some links to your site as a result. Quality free resources often attract a lot of links from design blogs and through social media, but if you don't already have a large following you may need to reach out to bloggers and social media users to tell them about your freebie and ask for the link.
57. Include Your Best Stock Designs in Your Portfolio
If your portfolio is limited you may want to use some of your stock designs to add to your portfolio.
Branding
Branding yourself and your services is a great way to attract more clients, and the right kinds of clients. Here are a few tips.
58. Specialize
Rather than simply offer design services consider specializing. There are plenty of possibilities. If you are a web designer you could specialize in a particular platform like WordPress, or you could specialize in terms of the types of clients that you work with. For example, you could target a particular audience like photographers, churches, restaurants, or other types of businesses. Specializing allows you to narrow in on your ideal client and become an expert. This wouldn't mean that you couldn't take other types of clients as well, but specializing can help for marketing and for allowing you to stand out from other designers.
59. Become an Expert
This is especially relevant if you are specializing. If you can brand yourself as an authority or expert people will want to work with you. For example, if you are known as a leading WordPress developer clients will want to hire you when they are looking for someone to design and develop a custom WordPress theme. To brand yourself as an expert you could write blog posts about WordPress, write guest posts at other blogs that focus on WordPress, write a book or an e-book on the subject, speak at WordCamps, or anything else that will help you to demonstrate your knowledge and experience.
60. Master a Platform
There are a lot of CMSs and website platforms out there that have the potential to bring a lot of business your way. For example, e-commerce platforms Shopify and Bigcommerce both have directories of designers/developers that users can hire for custom projects. I've read in multiple places that some of the leading Shopify experts get about 1/2 of their clients directly through the Shopify directory. If you master a popular platform and get listed as one of their experts it can send a lot of new business your way. Mastering the platform also gives you a specialization that you can use in your own branding and marketing aside from just relying on a directory listing.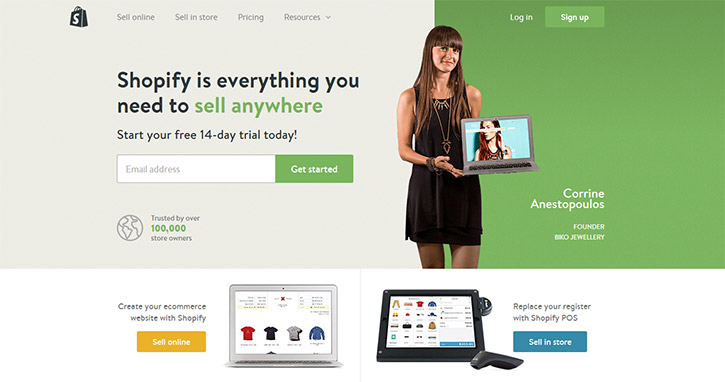 Be Pro-Active
Some of the things we have covered so far involve doing things that will help potential clients to find you. There are times when you may get the best results by being more pro-active and taking action.
61. Cold Call Potential Clients
If you are looking to find a new client quickly sometimes the best thing to do is call people and businesses that would be an ideal fit for your services. You could look for small businesses in your local area that need some improvement to their website, have no website, or would fall into your area of specialization.
62. Email Potential Clients
Another option is to reach out to potential clients by email. In many cases getting a phone number is easier than getting an email address, but this is still an option. Many businesses get lots of solicitation through their contact forms so expect that many people will not respond to you. But if you reach out to the right people you may be able to find some new clients this way.
63. Offer Additional Services to Your Current and Past Clients
Your current and past clients are also a great audience for you to target. Instead of trying to find new clients you could try to increase the amount of work that you are able to do for each client. It's a good practice to reach out to past clients every now and then just to stay in touch and see if there is anything that you can do for them. You can also add a new service and reach out to past and current clients to see if they would be interested in hiring you for these services. For example, if web design is your main area of focus you could add a package that would provide clients with a custom designed business card, stationery, letterhead, invoices, etc. Some of your clients may be happy to hire you to design these items for them.
64. Offer On-Going Services
One of the best ways to reduce your need to constantly find new clients is to provide on-going services for the clients that you have. This could involve general website maintenance, management of social media profiles, email marketing, web hosting, or anything else that the client would need on a regular basis. This type of work is great because you won't have to be constantly looking for new clients and you can dedicate more of your time to billable services.
65. Follow Up with Past Clients
Make sure you are following up with past clients. This could be just to see how their business and their website is doing, to see if they need anything from you, or to let them know about something specific that you can do for them. Pro-actively following up with past clients and identifying ways to help them is one of the best ways to stay busy with client work.
66. Run a Limited-Time Discount
You could also consider running a limited time special and promoting it to your past clients or to those who would fall into your target market. The discount could be on a new service that you are offering, or you could just use this method when you don't have enough projects and you need some income quickly.
67. Ask for the Sale
Most designers struggle with the sales aspect of landing clients. You don't have to be an expert salesperson, you just need to communicate effectively (which includes listening to the clients wants and needs). One thing that you will need to do is ask for the sale. Don't just provide the client with a proposal and then leave it open ended. Let them know that you want their business, that you are excited to work on their project, and ask them when you can get started.
68. Identify and Overcome Objections
As you are talking to potential clients who are slow to take action, make an effort to identify the objections that are holding up the project, and find ways to overcome them. If the objection is price you can show them how the project will benefit their bottom line and make more than enough sales to offset the cost. You can also offer them a smaller package that would be less time for you and thus a lower cost for them. Whatever the objection is, you first need to identify it and then find a way to overcome it.
Get Started!
If you are looking to get more clients pick a few items from this list and get started today. Taking action is the best way to make progress towards your goal of getting more clients.