The process of putting together a good user experience design has always been talked about as a deliverables-based practice where bureaucracy, specification documents, wireframes, mockups and site maps took the center stage. This deliverable based practice, meaning that everything, each step of the process, has to be delivered with proper timing and documentation, witch often demands a lot of time and creates a lot of waste (something that won't be used in the working product). Fast forward to times where the web changes quickly than we would like to, and times where we have to make sure our users get what they need, and the process of ux design has to evolve too. Enter the Lean UX practice, which allow us to remove waste from the UX design process while letting designers focus on what works instead of having them worrying about features and documents.
Lean UX takes some agile principles to reduce cycle times and deliver faster. A lot of the documentation is discarded or simplified to its core, having only necessary information to start implementation. Instead of long cycles, Lean UX focus on short interactive cycles where all members of the team give feedback and collaborate.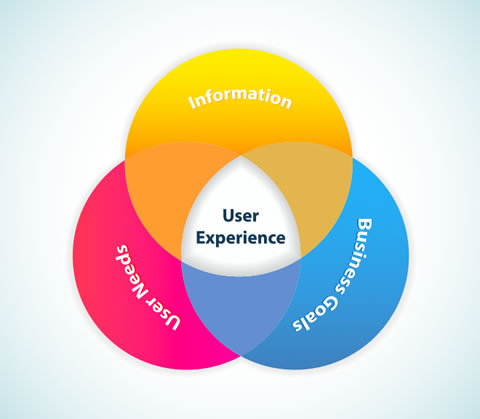 Image via Shutterstock
"Inspired by Lean and Agile development theories, Lean UX is the practice of bringing the true nature of our work to light faster, with less emphasis on deliverables and greater focus on the actual experience being designed." by Jeff Gothelf via Smashing Magazine
The good thing about adopting the Lean UX approach is that since it is a more designed focused process you can focus on validating and improving ideas using the cycle think – make – check. The point of the process it to reduce cycle time, not build time. The process also suggest designers to show their work often to collect insights from the team and put them into practice. Instead of working in isolation, the designer should be totally integrated with the team.
With the lean ux thinking progress equals outcomes, not outputs. For example, a feature is an output, the business goal the feature will achieve is an outcome, which makes outcomes more important. This is also one of the reasons why in lean ux you don't need to make over analysis, there is more value in creating a first version than spending hours in a conference room talking about it. the value of shipping something is bigger than overanalyzing how to do it. The idea is that instead of talking hours about the next big feature of your project you should solve user's problem, as yourself "what are we trying to solve here?"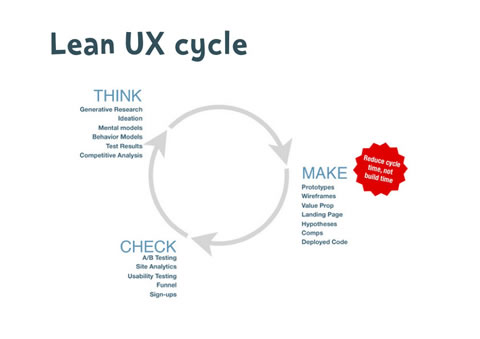 By adopting the Lean UX design you should agree in focus on minimal deliverables and in creating outcomes. Start with assumptions and test hypotheses based on the lean UX cycle. Keep the cycle fast and remember that Lean UX makes heavy use of the notion of MVP (Minimum Viable Product), specially because MVPs help you test assumptions. Also keep in mind that Lean UX is a flexible process, so you don't need to worry about following a strict plan, you can keep the think – make – check cycle in mind to make things happen faster.
Here is a quick summary – based on the book Lean UX: Applying Lean Principles to Improve User Experience by Jeff Gothelf – of some of the Lean UX principles:
Cross-functional teams: high collaboration between people
Small and dedicated teams: small teams communicate better, have more focus and better results
Problem-focused teams: a team should be focused on solving a problem not in delivering a random features
Removing waste: if it doesn't lead to the ultimate goal it should be removed, just like in lean manufacturing
Small batch size: create designs that are necessary to move forward and avoid things that won't be implemented
Continuous discovery: engage with customers/users to understand what they are doing with your product and why they are doing it, this way it becomes easier to validate things
Shared understanding: collective knowledge of the team builds up over time after working together for a while
Learning over growth: first you learn, later you scale
Permission to fail: it is ok to experiment, even if you fail, this way you will find the best solutions for your problems