Need a new free image editor? Today we're taking a look at four free tools you can use to design your own custom image graphics for sharing in blog posts or on social media.
While toiling away in advanced image editing programs will always allow for unparalleled sophistication, there are some incredible free tools online that simplify and streamline the image building process.
Some of these online image tools offer customization and advanced options than you'd never expect to find in a free tool. If you're looking to create beautiful images on a budget, don't miss out on these four favorite image-crafting tools!
Canva is a popular online graphic creation tool that let's you create gorgeous custom image graphics to complement blog posts.
Canva lets you select from a variety of templates, some specifically designed and sized for various social media sites. You'll see templates for Pinterest graphics, Twitter posts, and even templates with special dimensions for Facebook cover photos.

Regardless of the format you choose, Canva offers some nice pre-designed design templates to choose from. While most are paid offerings (marked by the $ sign that appears on mouse over), there are always at least a few free options that are great to start with.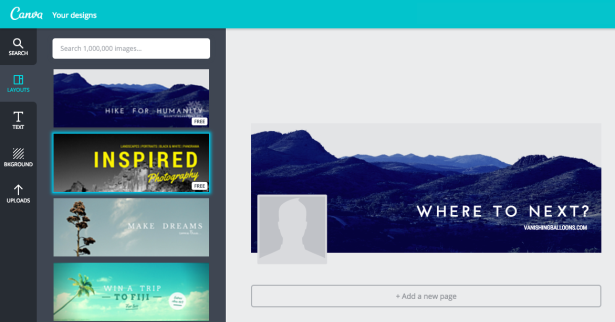 You don't need to use a template however – there's nothing wrong with tackling Canva freestyle. While Canva's selection of background designs are limited, Canva makes up for it with a plethora of free stickers, icons, banners, shapes, and any other kind of element you might ever need.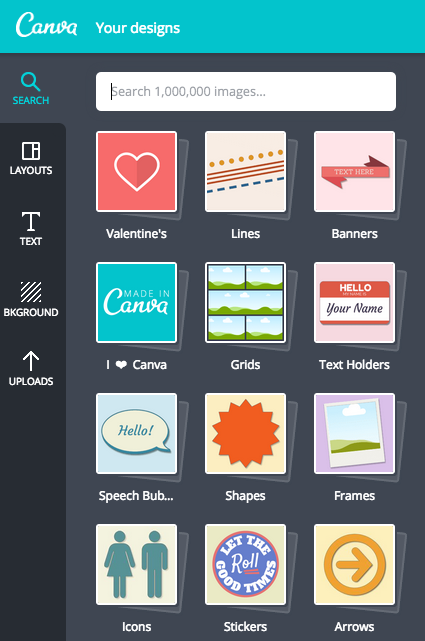 Some exceptional features of Canva includes:
Extreme Customization. Canva offers an exceptional amount of control. Not only can you choose from over 120 fonts with various sizes and styles, but you can also use layer functions (controlling the order in which elements overlap one another) and adjust transparency.
No Canva Watermark. Even the free version of Canva doesn't impose a Canva watermark.
Color Palettes. Canva keeps track of the colors you use in the color palette, making it easy to match text or icon elements. Canva even lets you adjust the colors of its sticker elements, which is a pretty unique and exceptional feature.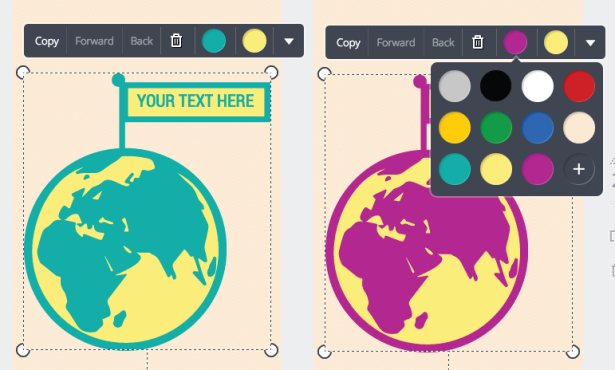 Canva Cons:
Forget the Search Bar. If you're aiming for a free creation, you're better of digging around in the icons, stickers, and shapes sections for elements to add. Finding free elements with the search function is nearly impossible.
Dodging the Dollar Signs. While there are plenty of free elements within Canva, there are even more paid elements. Paid elements are marked with a small dollar sign upon mouse over, while free elements have a free marker. Paid elements are $ 1 a piece, and while they are easy to avoid, there's no way to filter them out, and searching through them for free elements can be quite the nuisance.
Share As Image is a favorite tool of mine due to its simplicity. Its exclusive use is to put snazzy looking text over images. While it lacks the graphic bells and whistles of other tools, it's the perfect thing when you want a quick and easy creation.
Launch the Share As Image app or download the Chrome extension button. Upload the photo you'd like to work with, or if you're using the chrome extension, you can find a free photo using sites like PhotoPin and simply right click on any image to hit the "Share As Image" option.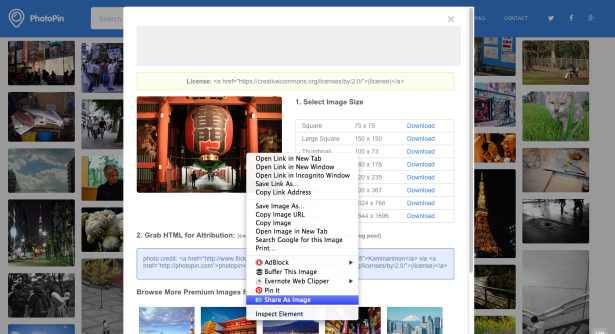 The free version of Share As Image gives you access to:
50+ fonts. Choose from over 50 different font styles.
Instagram-style filters. Filters allow you to adjust look and feel of your images.
Multiple Text Boxes. Use multiple text boxes to adjust different text elements with various sizes and colors.
SD Download. Download a basic version of your custom image.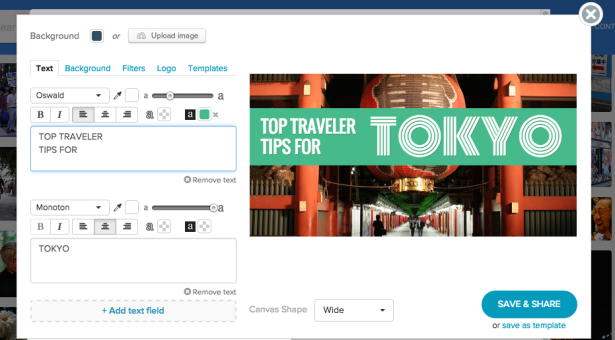 The $ 8/month paid version adds extra abilities like:
+1000 Free Stock Photos. Instead of hunting around for free images to use, you can pick from Share As Image's collection of over 1000 free stock photos.
Add Your Logo. Replace the Share As Image watermark with your own.
Store Your Creations. The PRO version stores your custom images in cloud storage, letting you easily access and edit them in the future.
HD Download. Get the high-res version of your image.
Template Options. Use Share As Image pre-crafted templates.
One other feature I love about Share As Image is that it's super easy to make different versions of your image to work across different social media networks.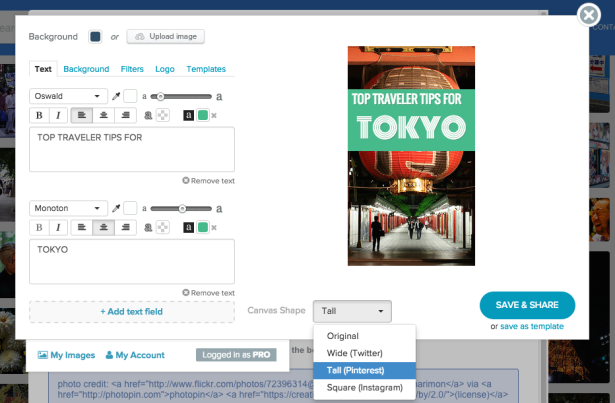 This canvas dimension is designed for Pinterest
Just choose the canvas shape your want to use. Once you've completed your creation, hit the "back" option and create a second or even third version for your different social networks.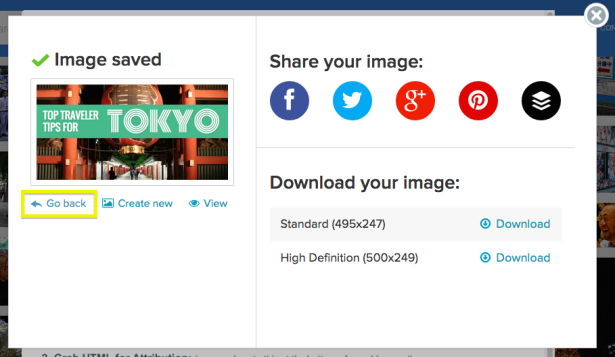 Piktochart is a tool that is similar to Canva in many ways. It has most of what Canva offers, but is designed more for infographic use than social media posts or blog graphics.
One of Piktochart's greatest assets is their theme options. They offer a great starting point for those looking to create custom infographics.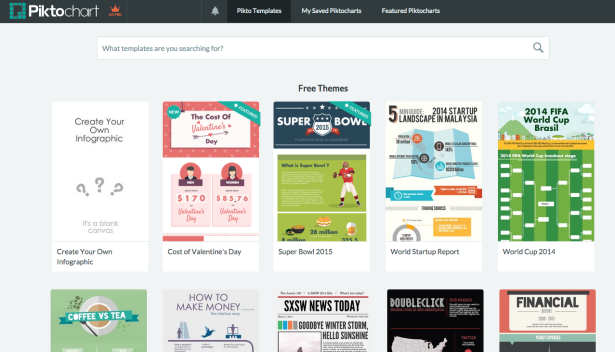 As with Canva, you are more than welcome to craft a piece from scratch, but with a tremendous amount of graphics, styles, and elements to choose from, it's nice to have a basic structure to start with by implementing one of Piktochart's themes.
In just ten minutes I was able to begin transforming one of Piktochart's themes into my own travel-oriented infographic.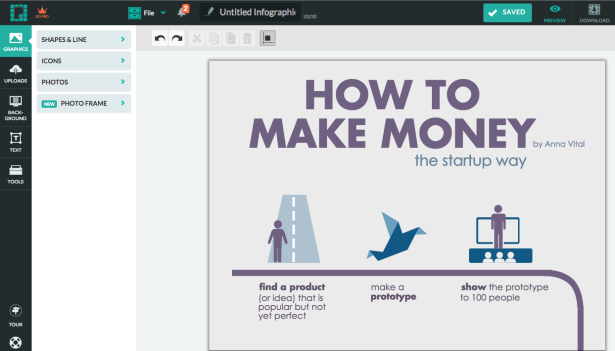 original infographic template from Piktochart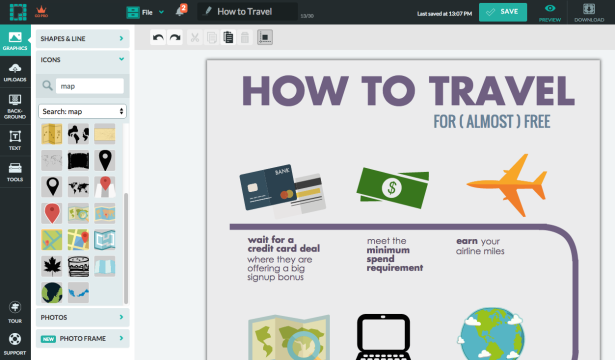 customized infographc after a few minutes of work
Free Version Offers:
4,000+ free icons
Limited free theme templates (approximately 10-12)
20 slots for your personal image uploads
Low-resolution image export
Images can only be published publically (no private options)
The paid version is $ 29/month or $ 290/year, and it adds:
Access to high-resolution image
Option to download a PDF
Watermark removal
More templates
Privacy options
Ability to upload 200 images
While Piktochart is marketed primarily for creating infographics, you can easily create custom visual pieces that can be resized to any dimensions. This means that Piktochart can also be used to craft graphics for various social media posts.
Cons:
I'd say that the only major pitfall to Piktochart is the watermark – it's not terrible, but I do find its colors make it distracting. Still, for everything Piktochart offers, I suppose it is a small price to pay.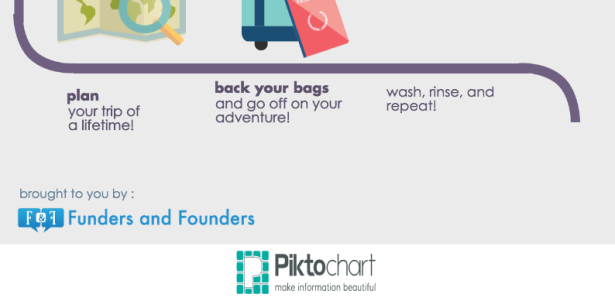 Infogr.am is another free tool for creating custom infographics, and it's my least favorite of the tools listed in this post. Still, if you're looking for an ultra-simple tool, you might want to give Infogr.am a look.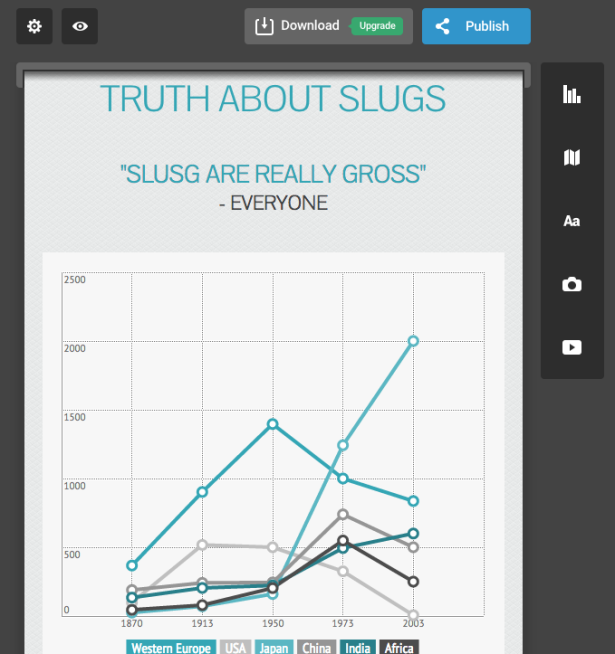 The biggest thing going for Infogr.am is that it's easy to use. You simply drag and drop elements into your infographic. This is an easy process as there aren't many options to choose from. You can incorporate:
Charts
Maps
Text
Pictures (that you upload)
Media (From YouTube, Vimeo, Flickr, or SlideShare)
The map feature might as well not exist, since there are barely a handful of maps you can use without upgrading to the paid version.
The charts feature is quite nice, letting you choose from a nice array of charts. They offer bar graphs, pie charts, line graphs, word clougs, bubble charts, and many more!
Infogr.am lets you add your data manually or import data from Excel. You have some basic style controls over the charts, as you can adjust colors, chart direction, and can toggle labels on or off.
One awkward aspect of Infogr.am is that the text options are ridiculously limited, not allowing users to even adjust the font size or font color.
Still, the lack of options make Infogr.am a speedy study, and if you're looking to crank out something that looks fairly decent in a short amount of time, Infogr.am is a solid option.
The Infogr.am watermark is fairly unobtrusive, and while you can download your creation without upgrading to the paid version, you can easily embed and share your free infographic on your website.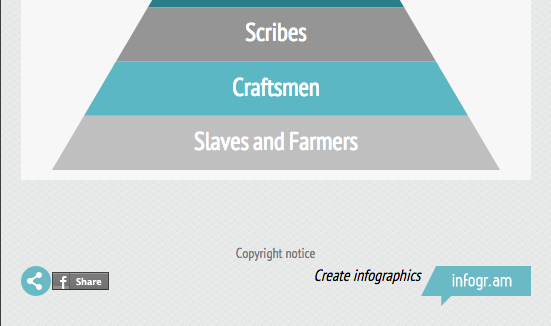 The free version of Infogr.am:
You can't download you infographic, only publish and embed it through Infogr.am.
The paid version of Infogr.am lets you:
Use Google Drive or other data sources to incorporate real-time data into your graphics
Access 100+ icons and graphics
Download and print your infographic
Which Tool is Best?
Each of these tools has its own unique advantages.
When you want detailed customization and style options, Canva and Piktochart are the best choices. Canva is geared more towards social media images, while Piktochart is the infographic idol.
When speed and simplicity are what you're after, hit up Share As Image to create custom text over image graphics and Infogr.am for basic but effective infographics that can be made with a few quick clicks.
It's also worth noting that Canva is the only tool that doesn't require a watermark with its free option, so if watermarks are your worst enemy, stick with Canva and pay up for the other tools' premium options.
Have you used any of these tools? Which tool is your favorite? Are there any tools we missed that you think deserve mentioning?