Every designer and design agency wants to design unique designs for visitors, user and potential clients. A worpdress is a great platform for blogs and websites it can be most valuable marketing tools to show your themes design and attract customer on your site.
When you go some  portfolio sites there are a lots of different possible design styles and approaches. A new trend of single page or One page theme design to use blog, images, video blog. In this post we show some 40+ different single page websites that can provide inspiration. many designer find more challenging to create their own single page or one page wordpress site. so if you stuck and looking to spark you creativity hopefully these examples can help your.
Creative
Creative Single Page Portfolio is the definitive template for showcasing visual portfolios, easily customizable with 7 (6+1) modules and a powerful fullscreen gallery to showcase big size works directly on homepage.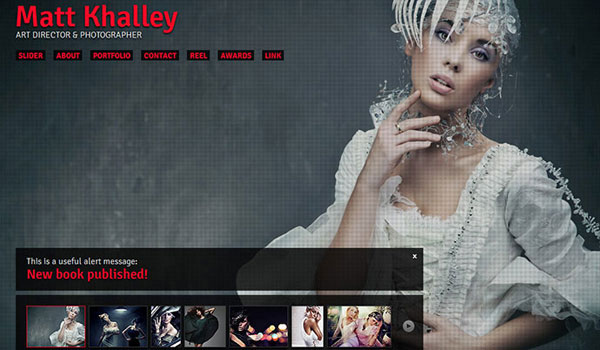 Omni
Omni is a high quality, flat and full responsive HTML theme for creative businesses or photographers. It comes with 4 header options, a fullscreen portfolio, a parallax header or a video header and a slider revolution header!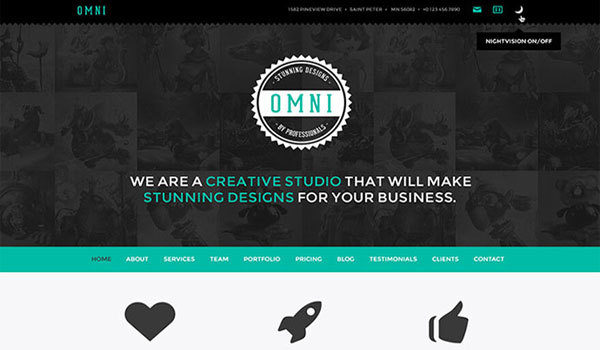 Smashing
Smashing is an extremly flexible and really good looking theme, built with the latest technologies. It included an amazing parallax slider, a filterable portfolio and loads of options to make you theme stand out from the rest.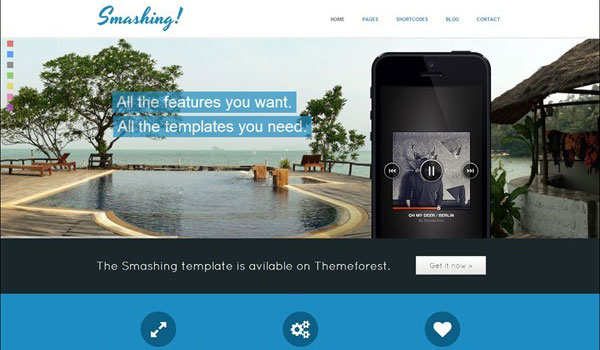 WeeDay
Awesomely elegant and stylish HTML template with timeline. It's clean, sharp, beautiful and elegant everything you need for a nice wedding website.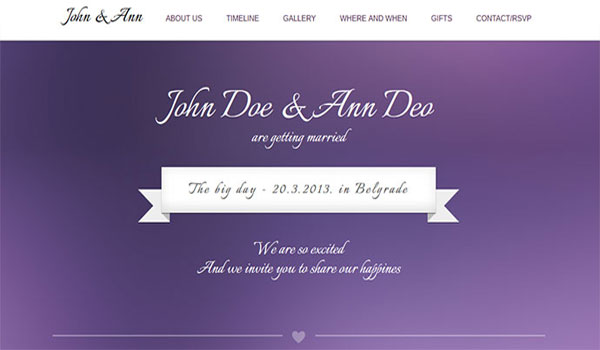 SCRN
SCRN is a single responsive portfolio wordpress theme. Perfect to promote your work or your business. Is compatible with all modern mobile devices. Other than the minimalistic single page design, it also has a blog. Now it also supports videos in the portfolios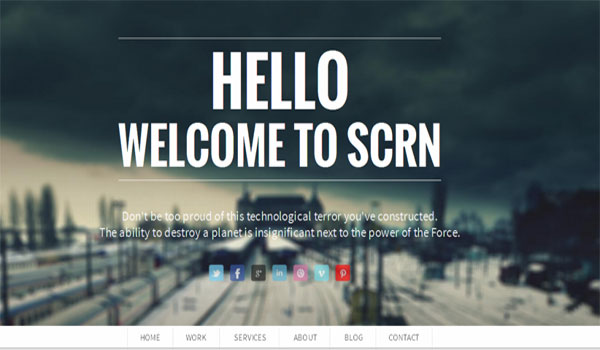 Myway
Myway is built with bootstrap, that sad it's super easy to customize or add any element.Also it supports high-resolution retina displays and it's enhanced with parallax scrolling effect.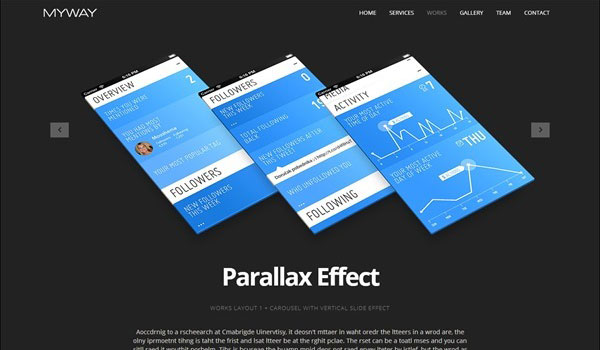 47
47 is a flat and responsive template that has been created specifically for startups, new apps, or companies looking for a fresh, modern, and flat design.The template comes complete with the latest responsive sliders, effective CSS3 Animations to capture your audience's attention.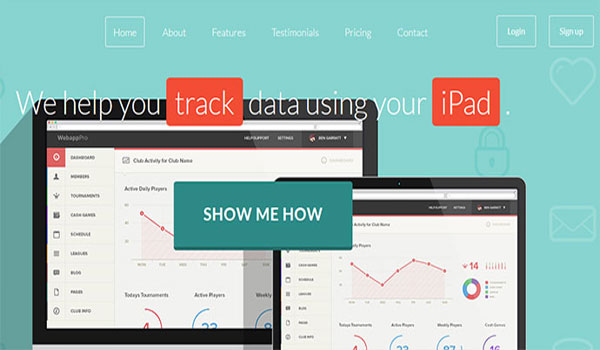 Landina
Landina is a Multi-Purpose and Responsive Landing Page Based on Bootstrap Framework with responsive layout and SEO optimized code. Functional ajax contact form with a lightweight documentation included.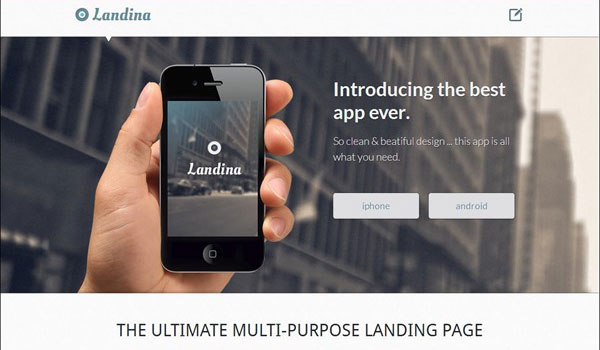 Smart
Smart is a clean, modern and minimalist one page template.Suitable for those who want to show their work in a simple and interesting way. Ideal for a web and graphic designers, personal and professional use, photographers etc.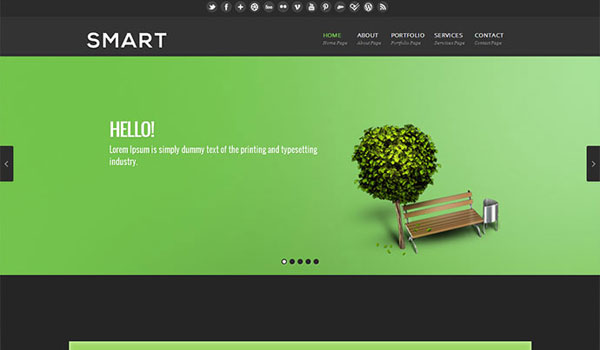 Bigbang
Bigbang is an incredibly designed and coded with very good structures so as to keep it responsive and can be seen from almost every device connecting to internet. It comes with all W3C valid pages and hence it is considered to be one of the best.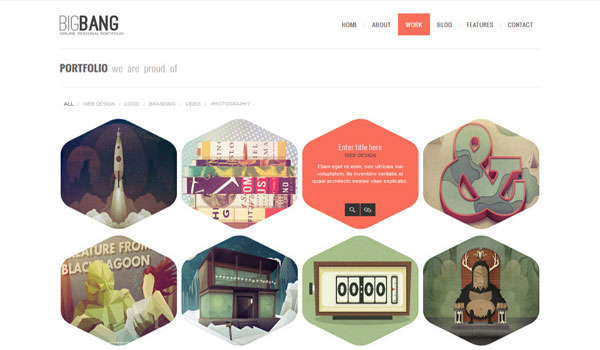 Element
Element is a multifunctional one page HTML template, suitable for company portfolio, showing your web or mobile app or simply a short brief. It's responsive and looks great on phones and tablets and most of all it's highly customizable.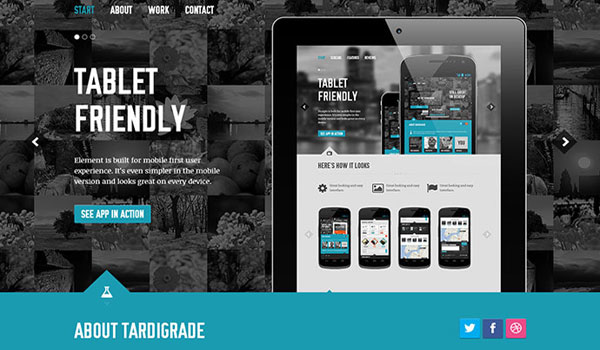 907 Parallax
907 is great one page WordPress theme with tons of options and features. This is clean design with fully responsive theme, supporting with option of fonts change. Super Slider with 3D option. Nice Gallery for selection. Unlimited Color/background options. This is best suited for company introduction, profile, services related to business.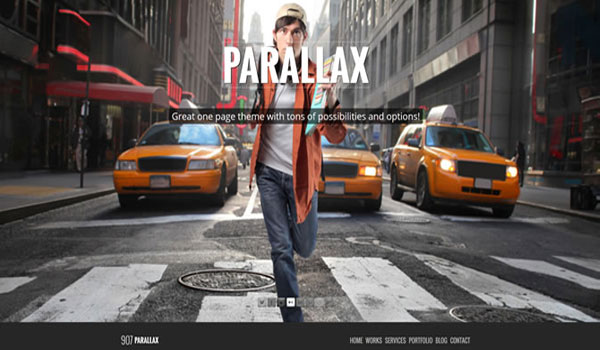 Wilder
Wilder is the ultimate and professional way for you to present your portfolio or the very best starting point for your own corporate website. If you are searching something different and out of the line, please check out the Wilder – Flat One Page Responsive Website Template!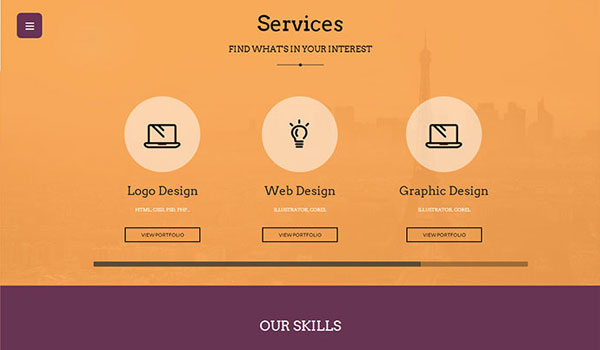 Woop
Woop is a single page portfolio template, perfect to promote your work. It uses the latest WordPress version and a full control of backgrounds and colors. It easily allows users to control the backgrounds and colors from front-end.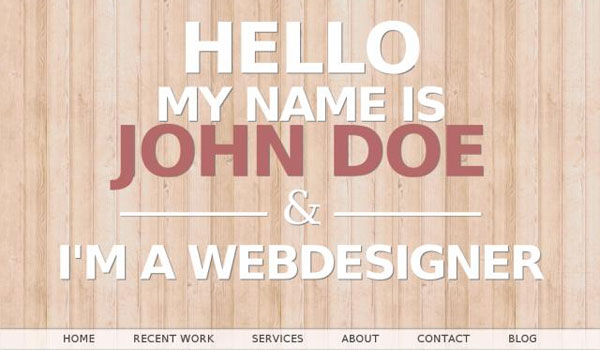 Inked
Inked Tattoo Portfolio is a One Page Responsive Template with a clean unique design. The theme is packed with some great features to display any kind of details for your website.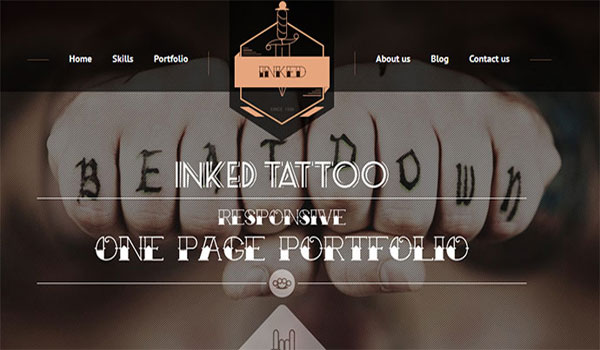 Rhino
Rhino is clean, powerful and responsive wordpress theme. Built in HTML5 and CSS3 it satisfies all current standards.With advanced theme options you're able add unlimited sections to the homepage and give each one it's unique style.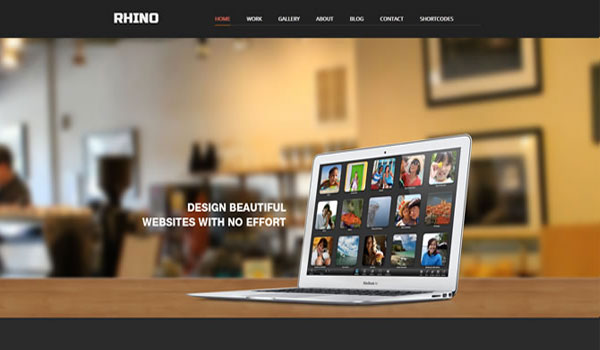 RENOVA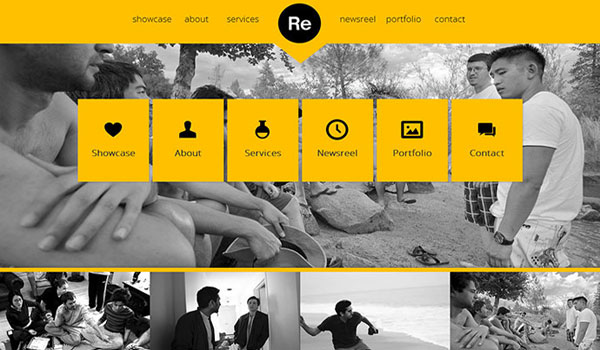 Renova is a highly unique and reusable, one-page creative portfolio theme with fully responsive layout built using Bootstrap framework version 2.3.2. Renova is a one page theme with flat design trend but a advanced blend of uniqueness.
Restart
Restart is your choice if you're looking for a way to promote your portfolio or your business.Fully responsive, with a modern interface and a blog and portfolio pages, it promises to be bullet-proof on both desktop and mobiles. It comes with a blog page and a blog post page for your personal use.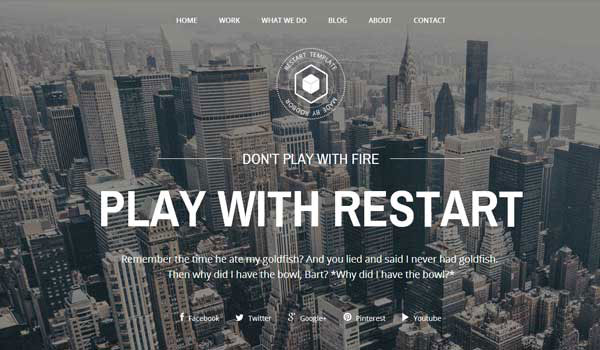 Jarvis
Jarvis is the perfect one page parallax template for corporate, agency, nonprofit, freelancer or general business.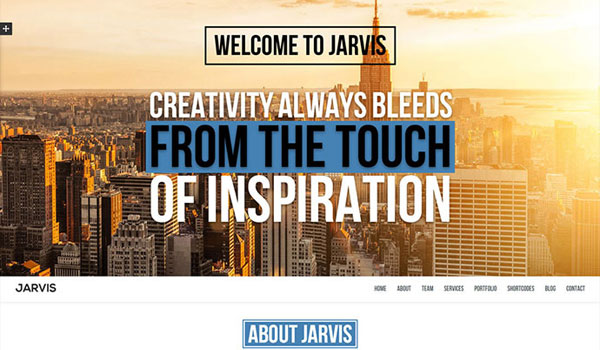 HalfCreative
It's a beautiful clean, minimal and elegant HTML5 / CSS3 One page Template. This template has been designed for an Digital Agency , small business, landing page or would be perfect for a portfolio.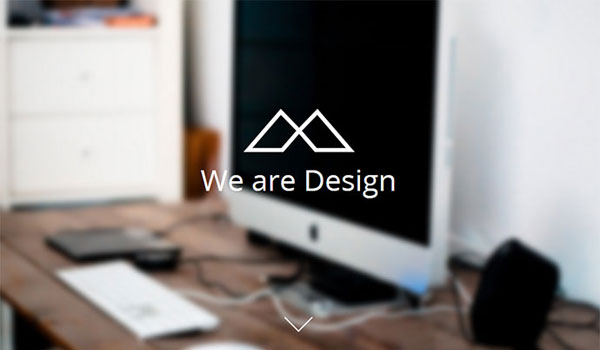 Parallax
Parallaxr is a first of it's kind horizontal parallax based single page wordpress theme. With this theme you can design a website like Parallaxr in minutes. Parallaxr is perfect for designers, photographers, design agencies to showcase their portfolio.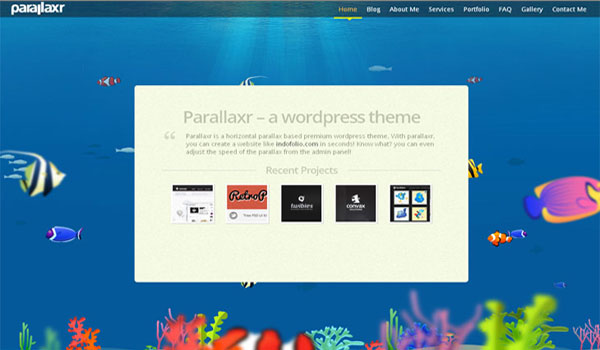 Temptation
Temptation is a single page portfolio template with a minimal and clean design with strong typography, well suited for personal and proffesional use.If you're in need for a template with emphasis on content with strong and bold typography, this is the template for you.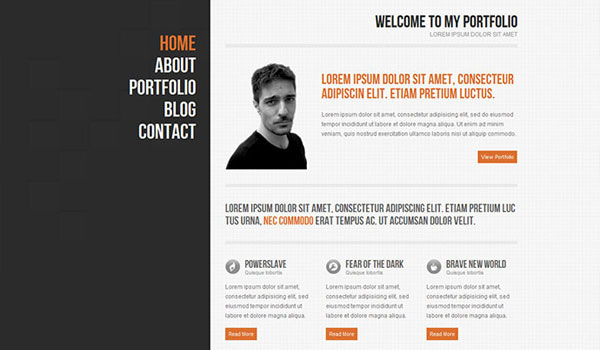 Zipfolio
This one page portfolio template was built for graphic designers, photographers, illustrators, artists and other creative freelance pros who want a simple, elegant and effective way to showcase projects and promote services.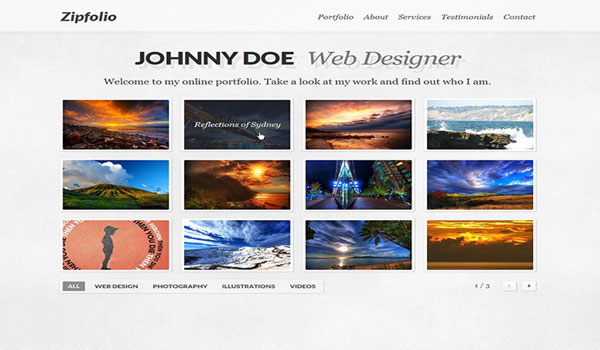 Galeria
Galeria includes two color variations (Dark and Light) and two portfolio options (Gallery and Slider). The slider used features 9 incredible transition effects.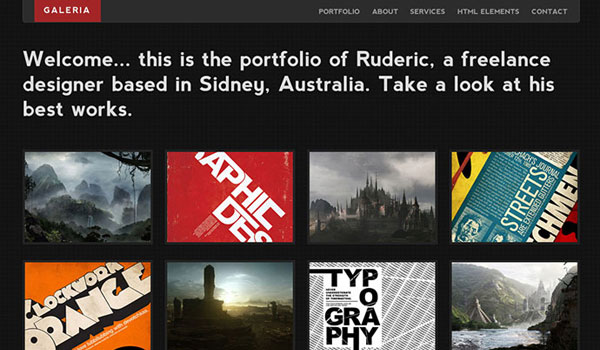 Super
Super Agency WordPress Theme is a beautiful theme because first, it has a simple, clean and fresh user interface that is good for any users. Second, it is EXTREMELY customization and have nine available skins that are ready to click.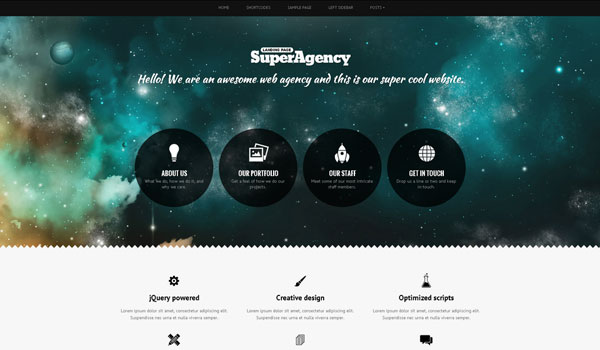 Imagery
Imagery perfectly designed and Coded (HTML 5 & CSS 3) for creative agency and creative folks, it comes up with six different pages, two different UI for about us section and two different style skins.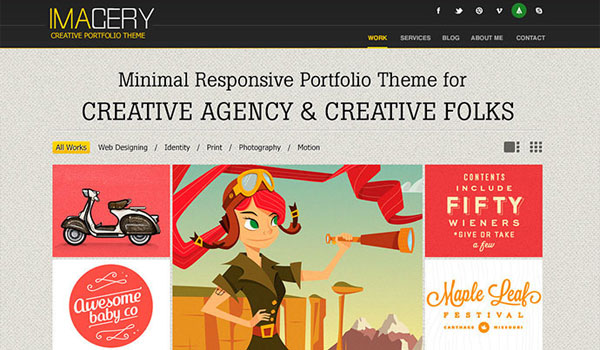 Wedding
Laura And Smith website template built with pure custom CSS frame work, which suits perfectly for Wedding, Albums, Invitation and Personal Portfolio websites.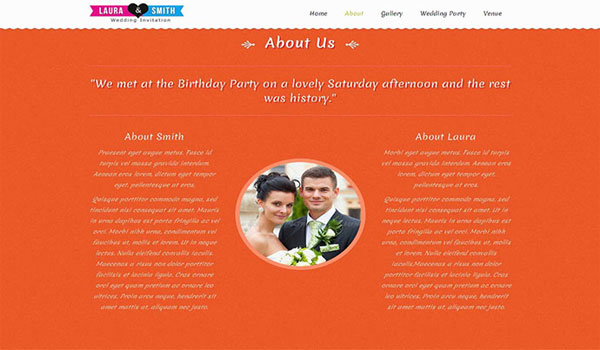 Simplekey
SimpleKey is a multi-purpose one page WordPress Theme. It will suit everyone who wants to show their portfolios or introduce their company services. If you are an iPhone or an Andriod APP developer, you can also use this theme for your APP products introduction, or you can simply use it for your daily blogging.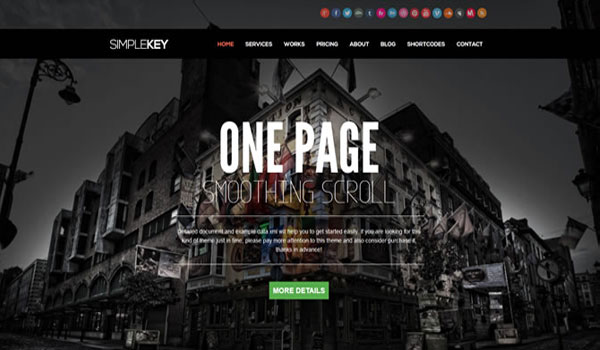 Bluri
BLURI is a definitive single page template with a clean and vibrant design which is best for professional, corporate portfolios and business websites.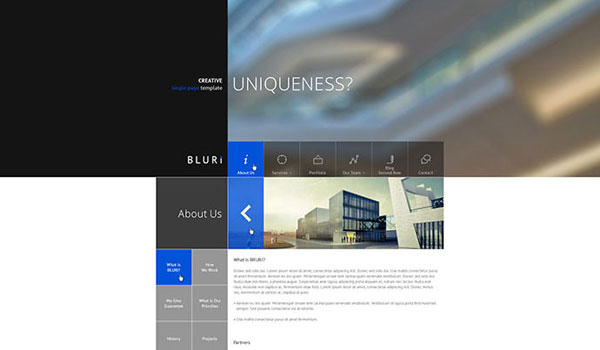 View
View is a Responsive and an HTML5 based template. This is minimalist design and is best for personal and portfolio site. A lot of features like gallery, video, flex slider, and a many more.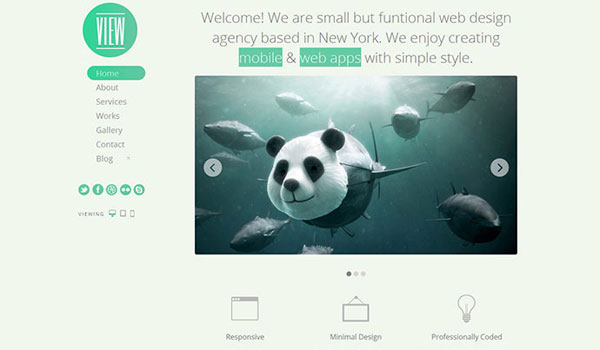 Folio Pro
FolioPro is an attractive, clean and easy-to-customize portfolio template. Your work is presented in a beautiful JQuery gallery with smoothly animated filters and colorbox popups for images and video. Microformat support is also included, to keep your Google ranking high and ensure clients can find you easily.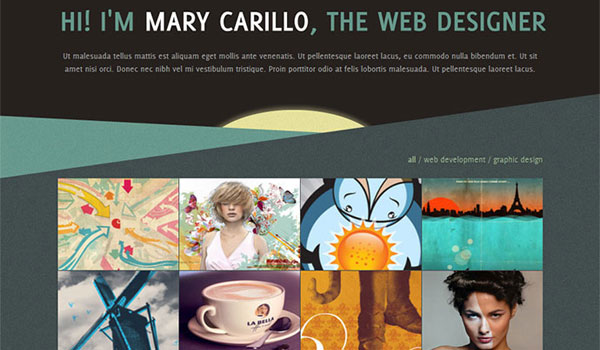 Ciel
Ciel is a high resolution clean One Page Theme suitable for any type of projects.Has a bold & modern style and , has a bright colors easy to replace and is fully named and organized to make it easy for anyone.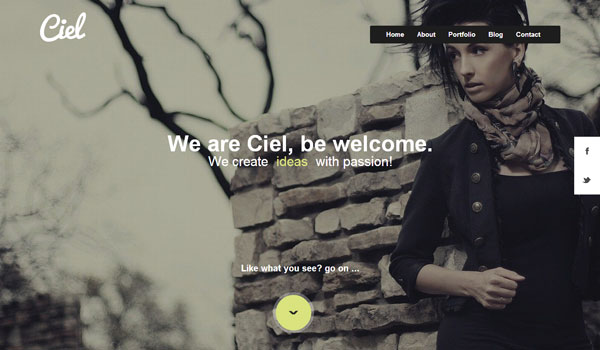 Terminal Velocity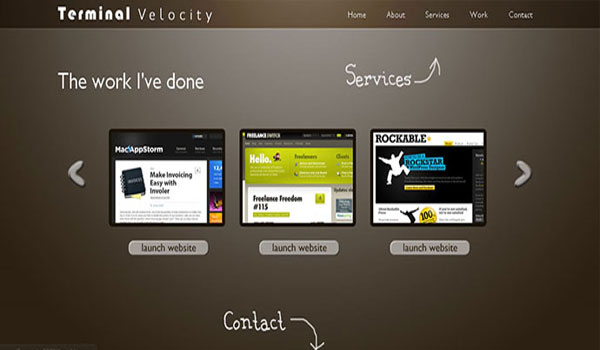 Terminal Velocity is a clean, simple and minimalistic single page portfolio theme. It uses the rock solid jQuery framework for its interactive tasks. It features smooth scroller, showcase slider equipped with prettyPhoto plugin and a beautiful ajax powered working contact form.
Detroit
Detroit – Jquery Single page website template built with "Bootstrap" frame work, which suits perfectly for Personal and Portfolio websites.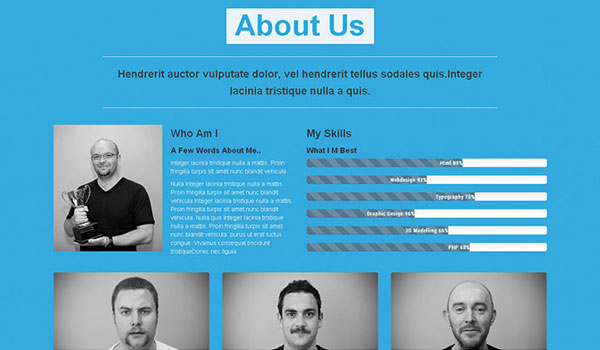 Excelsiorwp
Excelsior is a clean and professional one page template, perfect for all types of business, companies and personal web sites. This template is tested in all common browsers: Firefox, Chrome, Safari, Opera.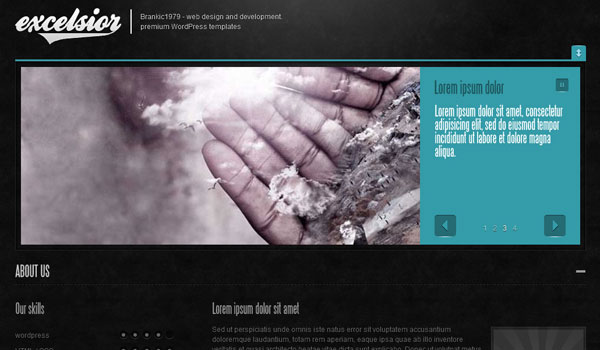 Viceroy
Viceroy is a jQuery single page website template, which uses latest CSS3 & HTML5 techniques and suits perfectly for Restaurants, Cafe, Hotels, Celebrities and Portfolio websites. It is cross browser compatible, uses Google fonts. It comes with ready to use Ajax based contact form, you just need to add your email ID to receive emails.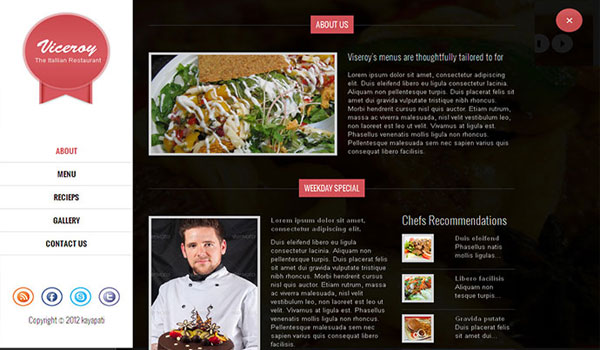 Red Page
Stylish and modern design makes this theme memorable for potential customers. It was made regarding the latest web trends.The theme is highly responsive.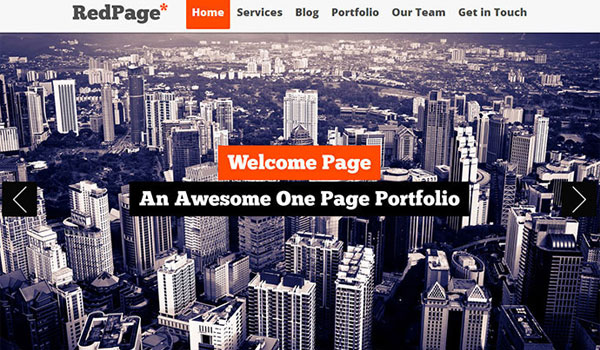 Esatto
Esatto is a One Page responsive site template built with Bootstrap.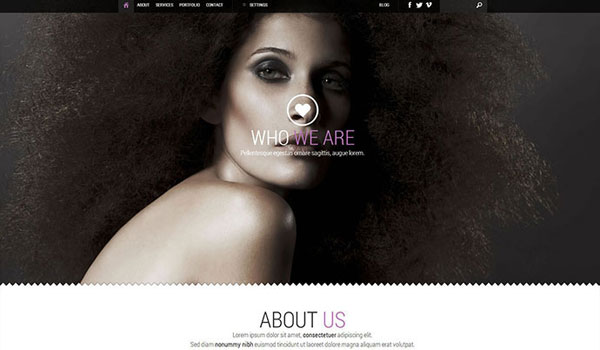 Proxy
Proxy is a single page portfolio theme for creative teams. It is based on simple, pixel perfect flat design, that is retina-display ready, ensuring that your content shows sharp and beautiful on devices with high resolution screens.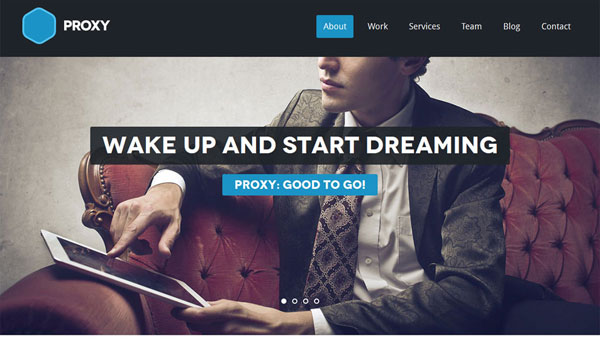 Ilone
Ilone is a one page website template suitable for creative minds that want to showcase their portfolio. ilone is powered by Ajax, this means that every requested page loads into the main page allowing ilone to stay truly one paged.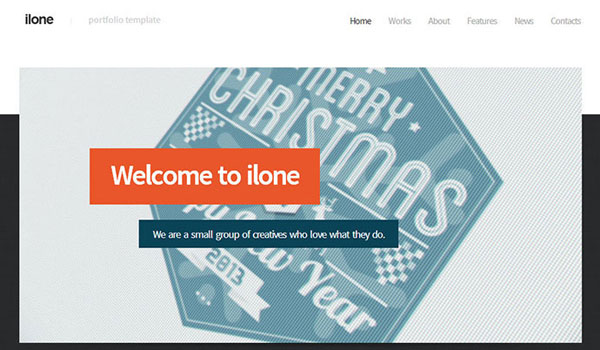 Lavender
Lavender is one page site template which is designed for weddings. If you drop some other content it can be suitable for any other purpose.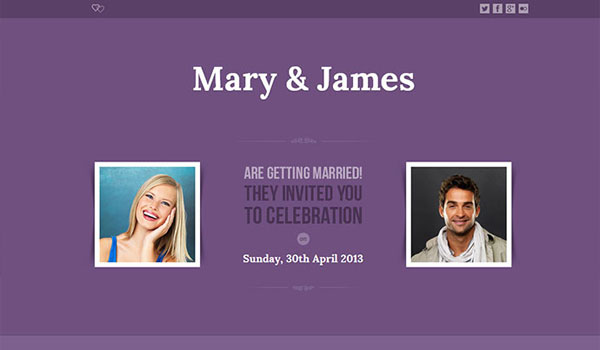 Dry
DRY is a simple and clean one page portfolio template, perfect for any designer, photographer, illustrator, creative person or agency. It focuses on displaying a high quality portfolio, large typo presented in a really elegant way.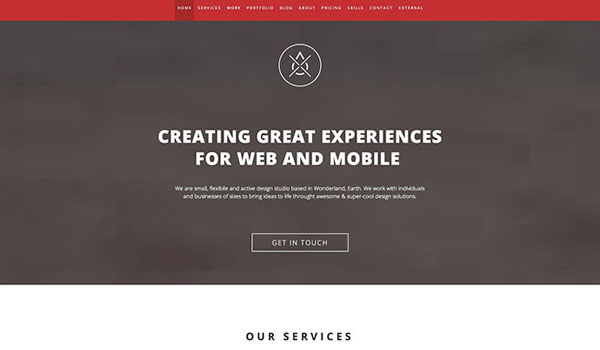 Selecao
Selecao is a one page site template built with responsive twitter bootstrap. This template suitable for web design company or agency to represent services and portfolio.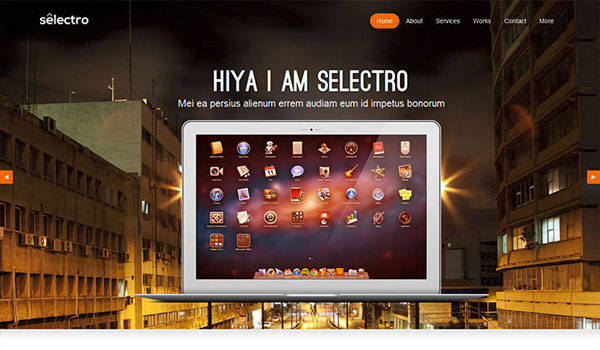 Unorium
Unorium is a One Page Parallax Theme. It is modern and clean, very easy to edit. It is prepared to use with jquery parallax effect. There are flat and simple graphics.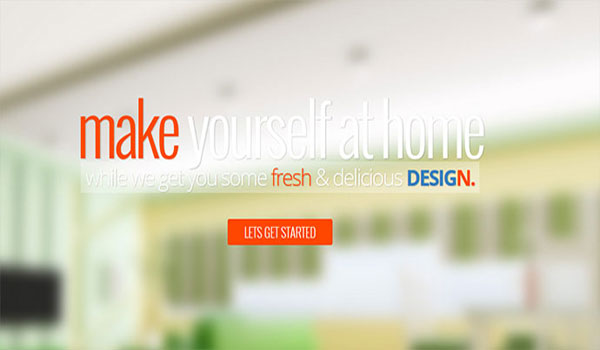 Scrollin
Scrollin comes with a parallax banner area, many styles, columns etc. for creation of your about and services sections, filterable portfolio using Isotope, team profiles section, testimonials, client logos, blog (just HTML/CSS) and contact section complete with a Google Map and PHP contact form.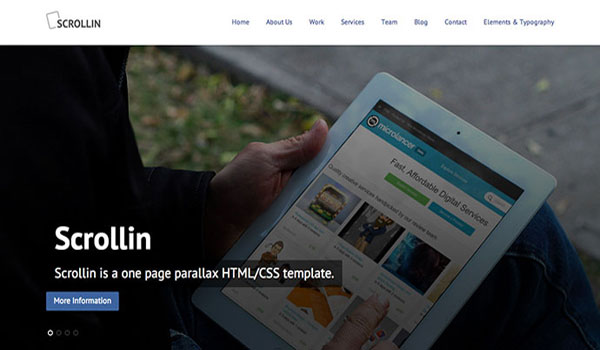 focused
focused is a single page html5 template for creative individuals, photographers, freelancers, creative agencies and all sort of creative people. It is a fully responsive template hence it works on all devices from desktop to tablets to smartphones handsomely.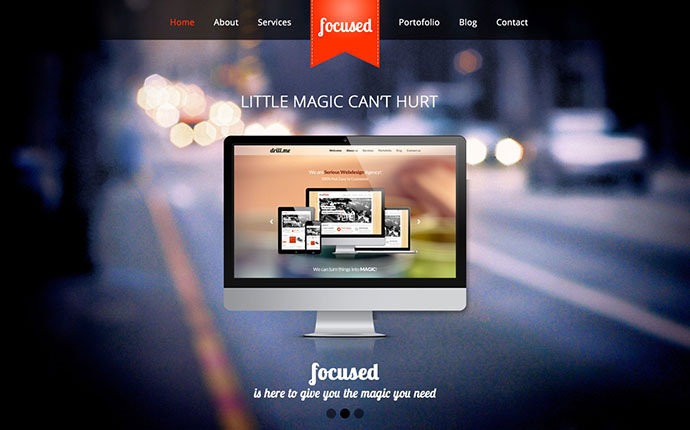 Rhythm
Rhythm is a one page responsive, agency wordpress theme.It has been designed with mobile-first practices, ensuring a smooth flow of the layout in mobile devices. The template is based on a 12 column 960 grid system and built with Twitter Bootstrap framework.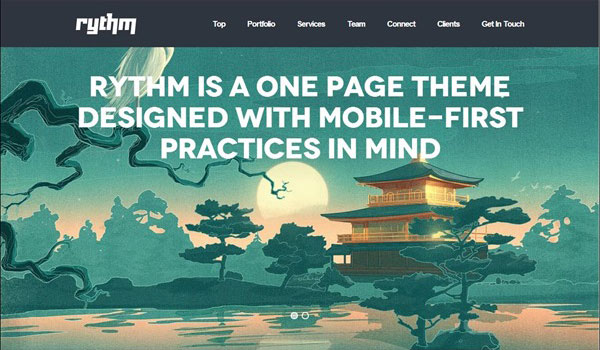 Zeitgeist
Zeitgeist delivers a contemporary website experience with bold, readable fonts and clean, minimalistic design. Hey and of course it's mobile optimized and responsive. customize a range of modules to build a homepage that suits your personal taste.