With 2013 beginning I decided to create a roundup of top rated WordPress themes for the personal blogger. Obviously as a professional blogger myself I have a special soft spot for themes designed specifically for that purpose. And 2012 was a good year for personal blogging themes! In this list I've compiled not only my favorites but the highest rated I could find. My hope is that if you're a blogger who wants to start the new year off right you'll snag one of these excellent themes and make 2013 a good year for your blog.
Charlton
Charlton is an ultra-clean blogging theme which makes use of Post Formats to allow you to post video, audio, quotes, photos, photo galleries.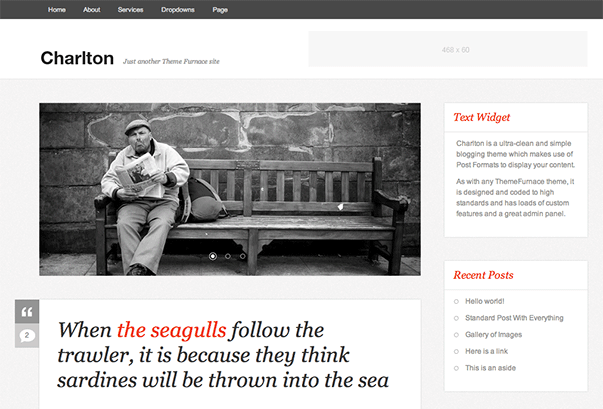 Perosan
Perosan is a simple personal blogging theme with some nice built-in extras such as social media count widgets, flickr widgets, lined paper style text widgets and a homepage slider.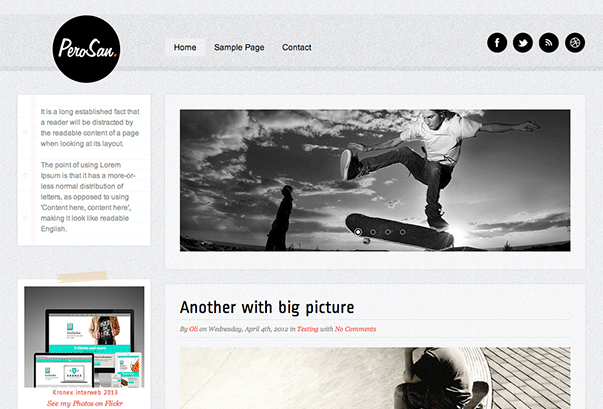 Roxy Bird
Roxy Bird is now a WordPress theme! Roxy Bird was built with copywriters in mind. It is modern and clean with a focus on typographical content.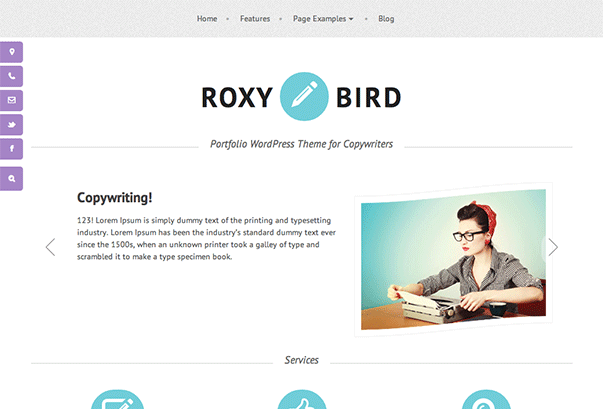 Lockhead
Lockhead is a powerful creative WordPress theme. Easy to setup and to use, even for people with no coding experience, our embedded shortcode system will help Users to add content easily and with style.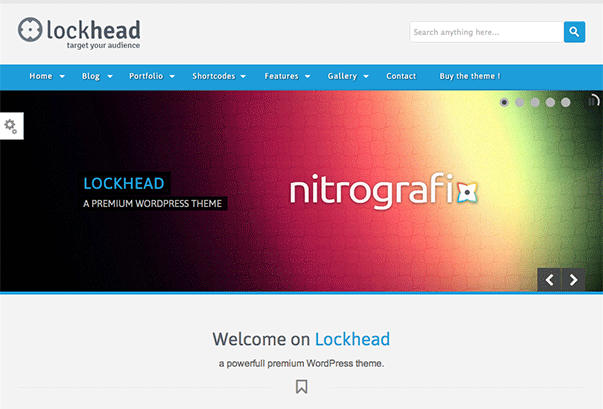 Simplee
Simplee is a great magazine wordpress theme clean designed and neat coded. The compact theme admin panel and widgets enable you to control over your content, show your latest tweet, photos and much more.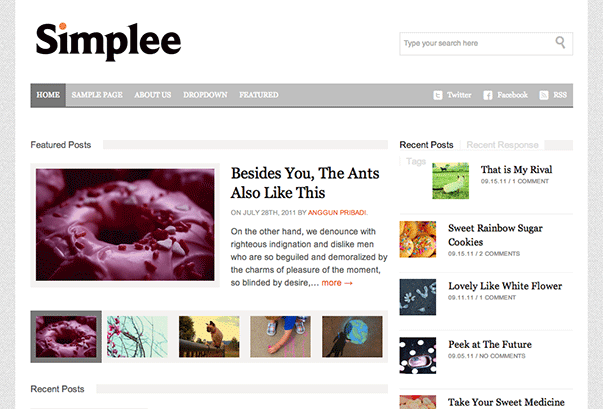 A
Unique classic blog WordPress theme, created with readability in mind. Clean and intuitive design, big font for easy reading, works great in handheld devices.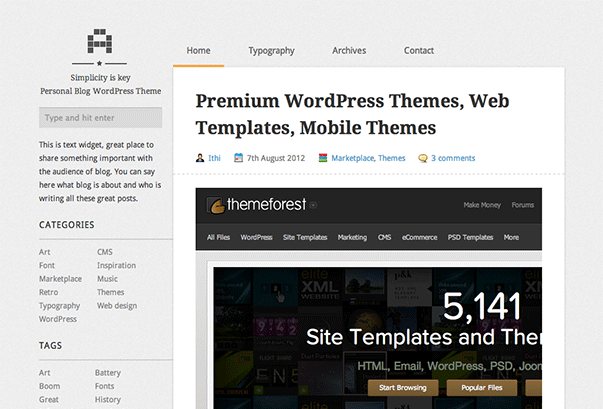 Tree
Tree is a minimal WordPress theme designed for primarily for blogs. The themes aims at making posting easy and informational to the end user while displaying a clean interface. It isn't only for blogs though, Tree is loaded with features and options so that you can customize it how you want.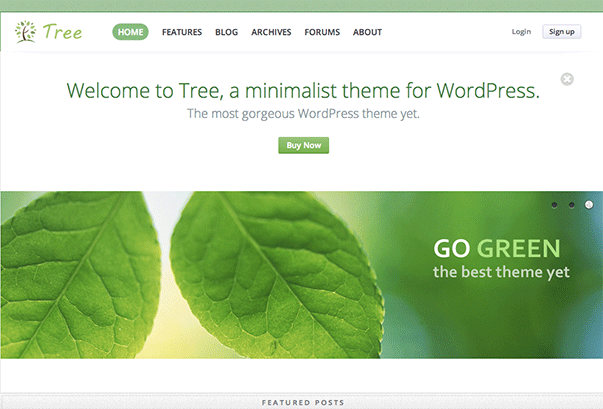 Ambition
Show off your skills, events, videos and so much more with Ambition, the talent theme from Obox.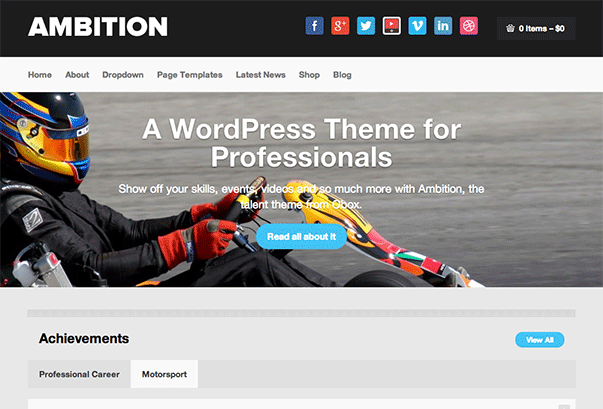 Paragraph
Paragraph is the perfect theme for the blogger, freelancer or general content creator. Smooth lines, clean feel, toned colors and a bunch of awesome features to keep you busy.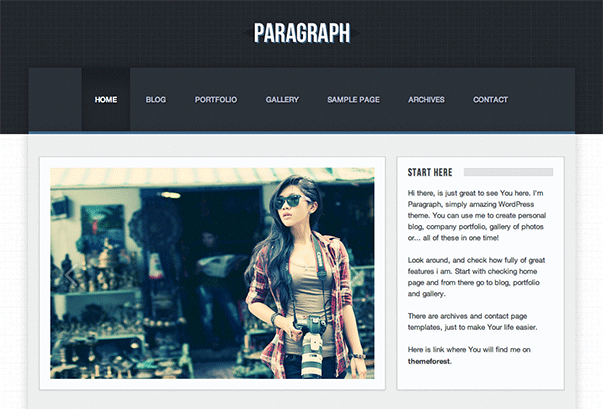 JRNL
JRNL is a super-awesome Premium WordPress Theme with oodles of features. JRNL comes packed with an easy-to-use un-branded Options Panel and great documentation. JRNL is perfect for the creative who loves to blog!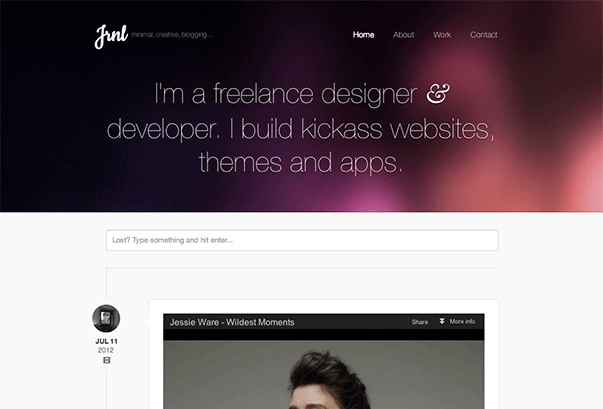 Float
Float is a responsive blog theme for WordPress. It's main features include a theme options panel, custom widgets, a shortcode manager, built-in contact manager, custom archive template, responsive design, and more.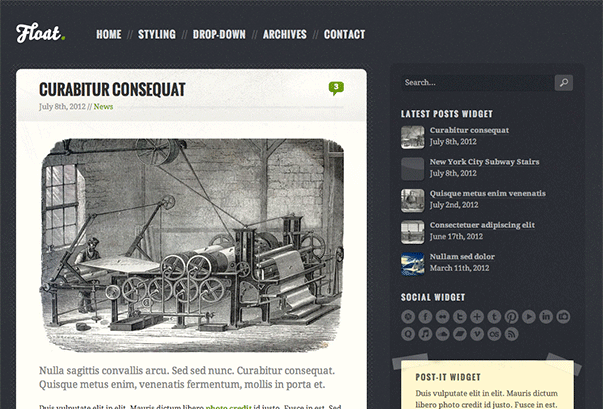 Compassion
Compassion is a Premium WordPress theme with Tumblog functionality. It has a crisp, positive design with rounded corners and lots of goodies for you and your readers to discover.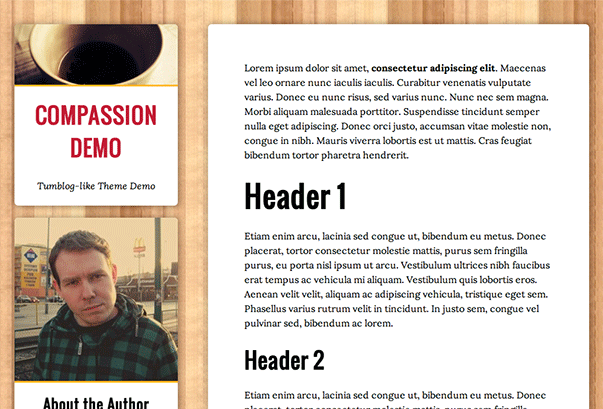 Author
Author is a responsive WordPress theme with a super clean, fluid design. Images, videos, galleries and text posts will scale down gracefully to iPad, iPhone and all mobile devices. This theme looks just as great on your phone as it does on the desktop.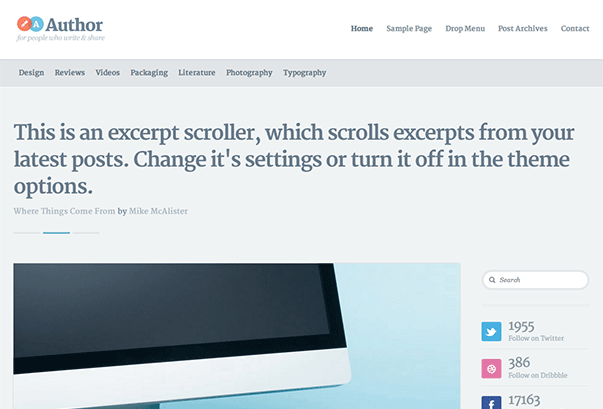 Sentence
Sentence is a responsive Blog and Portfolio Theme (try resizing your browser), suited for users who want to run a professional or personal blog and in addition to that want to showcase their work on a neat portfolio site.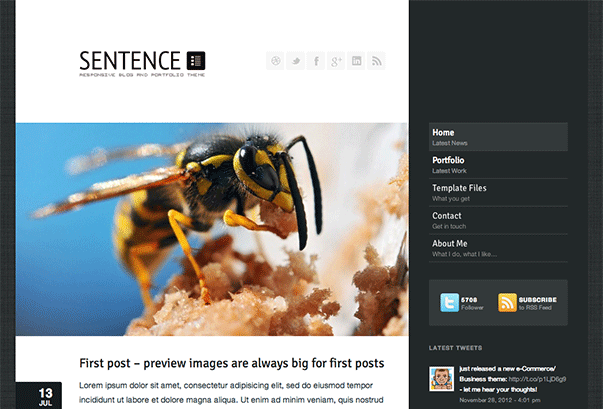 Typo
Create a Tumblr style blog with full control over your content with Typo. Share your images, videos, audio files and more all within your own WordPress install!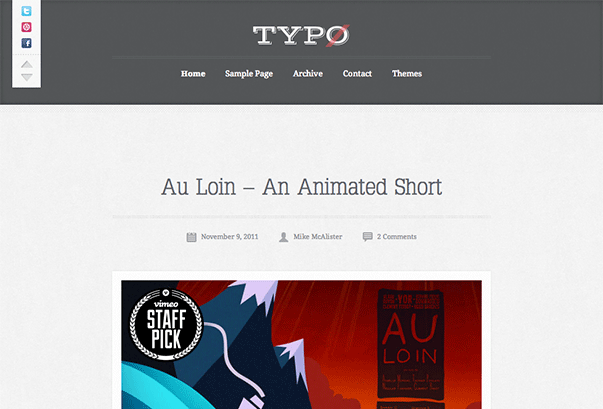 MobileFirst
MobileFirst is a super simple and modern WordPress theme for bloggers with an eye to the style, and the other to the future. Perfect for a personal blog or a simple portfolio. It was developed with (all) mobile devices in mind, using the last available technologies, providing an awesome experience from smallest screens to larger desktop monitors.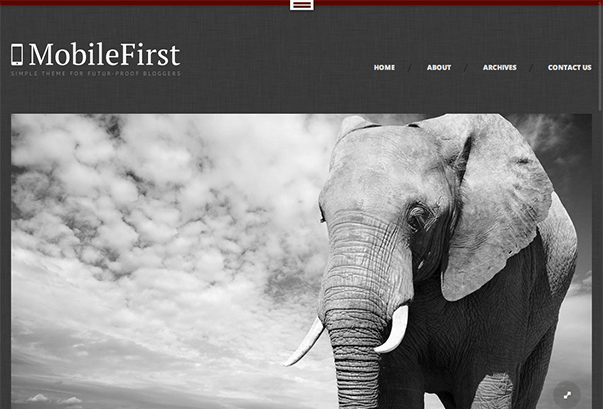 Daily
The Daily creators love photography and this theme is about showcasing that. They think bloggers with an interest in photography or photographers with an interest in blogging will love this theme.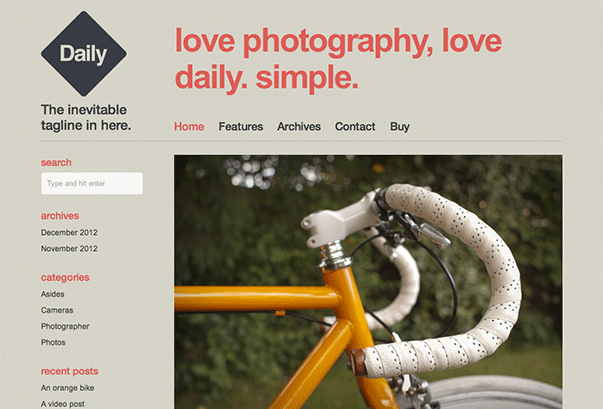 Fixed
Fixed is a super simple, photoblog-style WordPress theme for sharing your images, videos, articles, quotes, notes and more. Use it as a personal blog or a minimal portfolio to show off your latest works!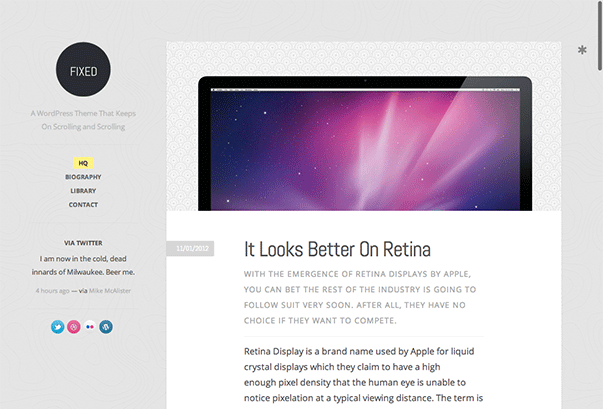 Explosion
Explosion is a Responsive WordPress Theme, best suited for Magazines and Blogs. It comes with 13 awesome widgets, 10 post formats, awesome Page Builder and tons of theme options. Explosion developed on the Bootstrap — beautifull boilerplate for responsive development so it look beautiful at any size, be it a 17" laptop screen or an iPad, iPhone.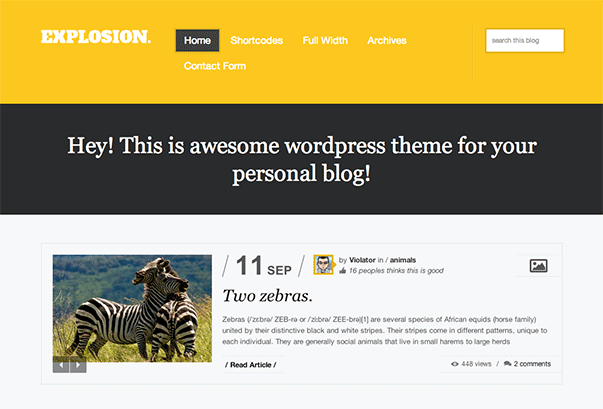 Moustachey
Moustachey – A WordPress Blog theme with extra gusto – Responsive for Mobile & Tablet.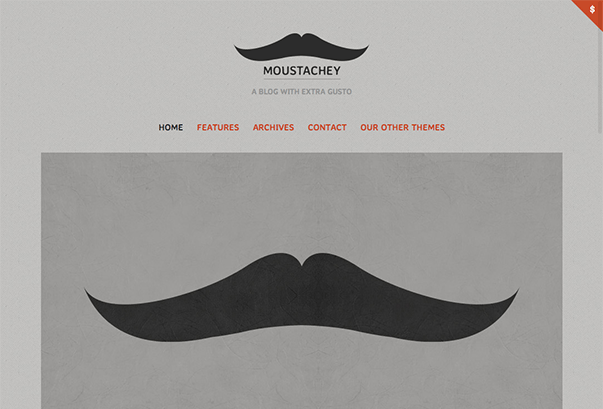 Memoir
Memoir is a Tumblog style WordPress Theme which makes use of WordPress's Post Formats feature and boasts awesome typography. Let's face it, it's time to get back to blogging and Memoir is ready to do that. Plus, it's also responsive and Retina Display ready. When reading on your iPad, posts in Memoir look like a native app. Absolutely stunning.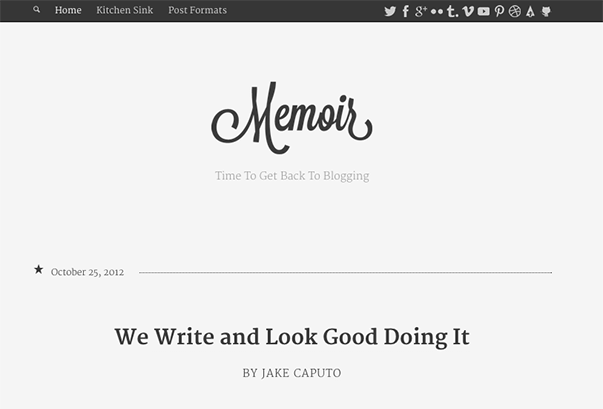 Structure
Structure is a responsive & beautiful theme focused on content. Content is king and with this theme, content is in the spotlight!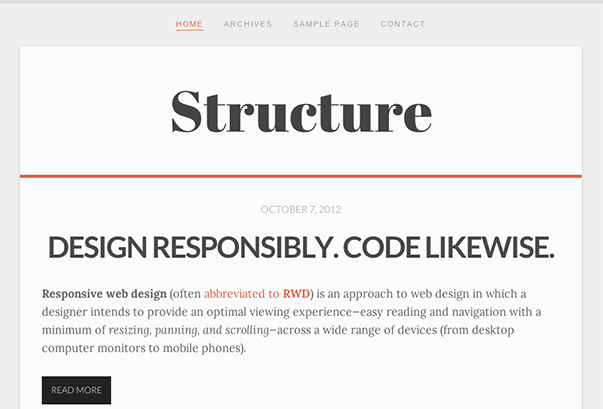 Ravage
Ravage is big, bold & beautiful theme helping writers & creatives alike share their work, your perfect choice in a WordPress theme for sharing your articles, photographs, videos or more.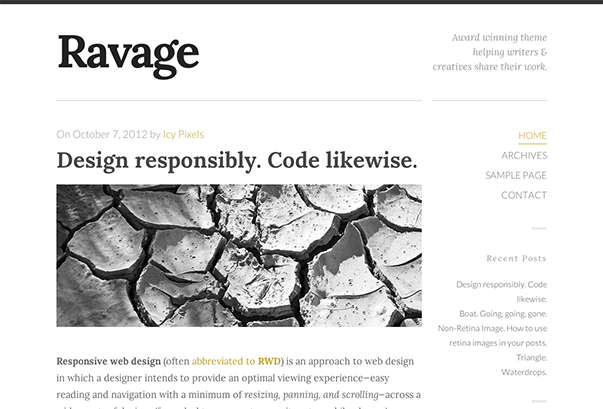 Pocket
Pocket is a super simple, photoblog-style WordPress theme for sharing your images, videos, articles, quotes and more. Use it as a personal blog or a minimal portfolio to show off your latest works!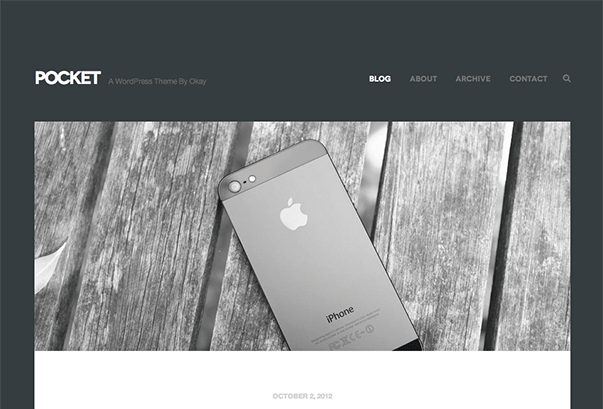 Remal
Remal is a personal blogging, fully responsive WordPress theme. It's packed with features and sports a gorgeous masonry style layout.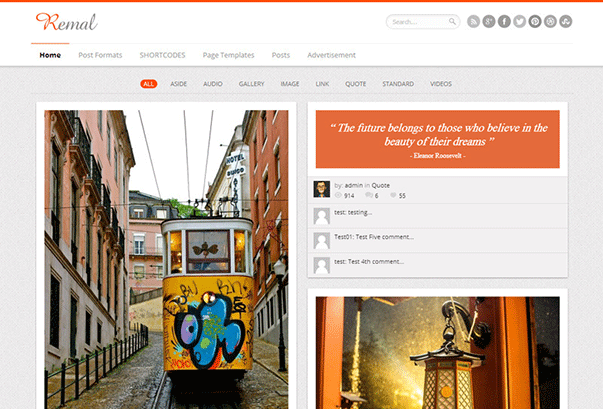 Sann
Welcome to Sann! Sann is a beautiful and minimalistic timeline oriented blogging theme .. like no other out there! Share your thoughts, photos, videos and everything else you'd like to share in a unique and beautiful way.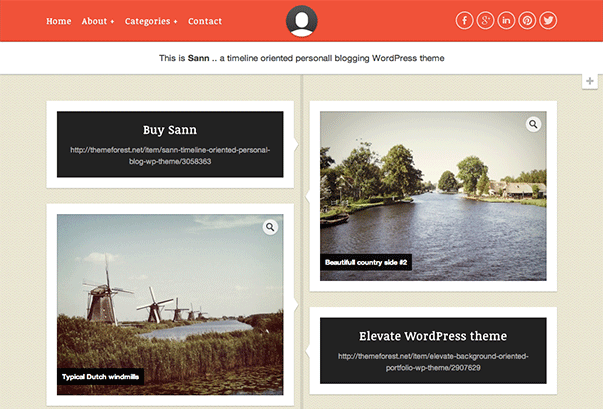 Accord
Accord is a Responsive WordPress Blog Theme, best suited for Magazines
and Personal Blogs. It comes with 9 awesome widgets, Post Rating System and 7 post formats (image, gallery, video, audio, quote, aside, standard) and tons of theme options. Accord developed on the Bootstrap — beautifull boilerplate for responsive development so it look beautiful at any size, be it a 17" laptop screen or an iPad, iPhone.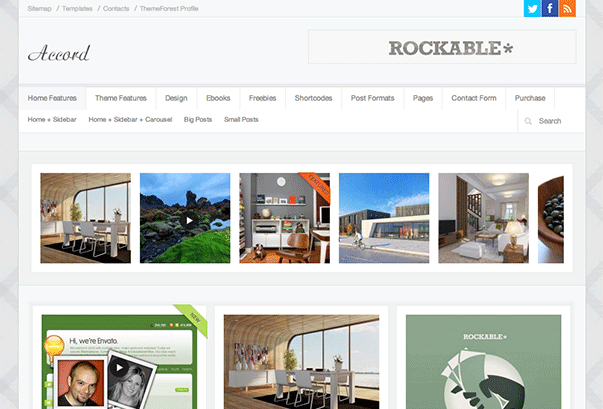 Hoarder
A grid-based, layout-shuffling, finger licking theme with support for all sorts of content – it's responsive to boot. Show off galleries, quotes, links, video, audio, or good old standard posts. With three different home page templates, you're sure to find a look to suit your blogging needs.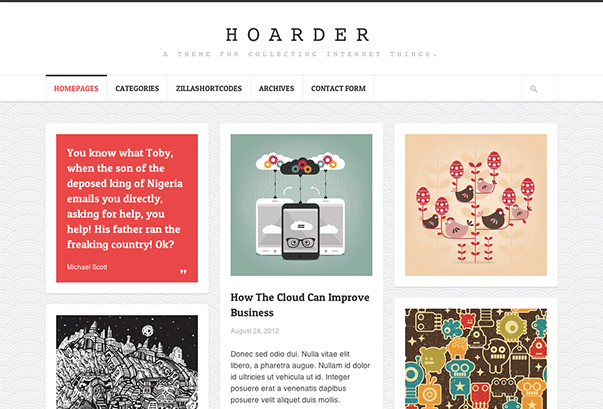 Project 10
Project 10 is a wonderful News/Magazine template, which will fit wonderful for your Blog. Project 10 includes more than 20 shortcodes (Quotes, Lists, Spacers, Audio Player e.c.), Custom widgets (Latest Tweets, Triplebox), 3 type of post thumbnails (Image with zoom, Image without Zoom and Video), lot of custom templates (Full width, Archive, Gallery), and more. If you are about to make a blog, then Project 10 is your best choice. Trust us, you won't regret it.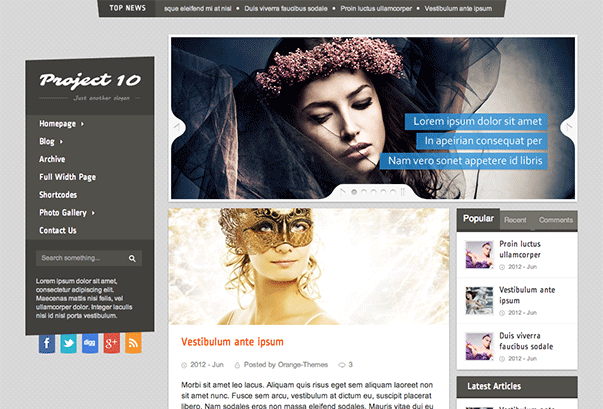 Website
Website is a responsive theme, which means it adapts to the device on which it's displayed.
The theme cares for your content so it looks great on all devices, but you can also decide to show part of a content on some versions only, and hide on others.